The 7 Best Optometrists in Toronto
Have you ever looked at someone and seen a bright halo surrounding their outline? It can only mean two things: one, they just exude a positive aura, and two, you need to see an optometrist.
Since you're here, you already knew the answer. Whether it's seeing halos or having blurred vision, only an optometrist can help you.
To help you regain your 20/20 vision, we reviewed the best optometrists in Toronto. We'll talk about the general services they offer, costs, and overall customer satisfaction.
The Cost of Seeing an Optometrist in Toronto
Let's do a price talk first before we get into each clinic.
Eye exams in Canada typically cost $80 to $300 in out-of-pocket expenses. But you can expect lower prices if you have the right insurance plan.
By the way, you might be wondering about the Ontario Health Insurance Plan (OHIP) coverage.
With this, people under 19 or over 65 can get a free eye exam every year plus coverage in follow-up appointments for certain eye conditions.
Unfortunately, many Ontario optometrists withdrew OHIP-covered services as of writing due to conflicts in negotiation. Still, there are clinics that accept other vision and insurance and government assistance programs, so don't hesitate to ask.
Anyway, without insurance, the average cost in Toronto is $170 to $200 for a comprehensive eye exam. You might be fully covered if you have a vision insurance plan or pay co-pay for as low as $50.
Routine eye exams (the ones that involve a refraction test where you read numbers and letters), cost $70 to $90 without insurance. With the right insurance coverage, the rates can go down to $10 – $50.
Top Optometrists in Toronto
Choosing the right optometrist is vital to assess your eyesight and give you the right treatment. Now that you know the costs, all that's left is to choose the right clinic that suits your needs at the moment,
1. View Eye Care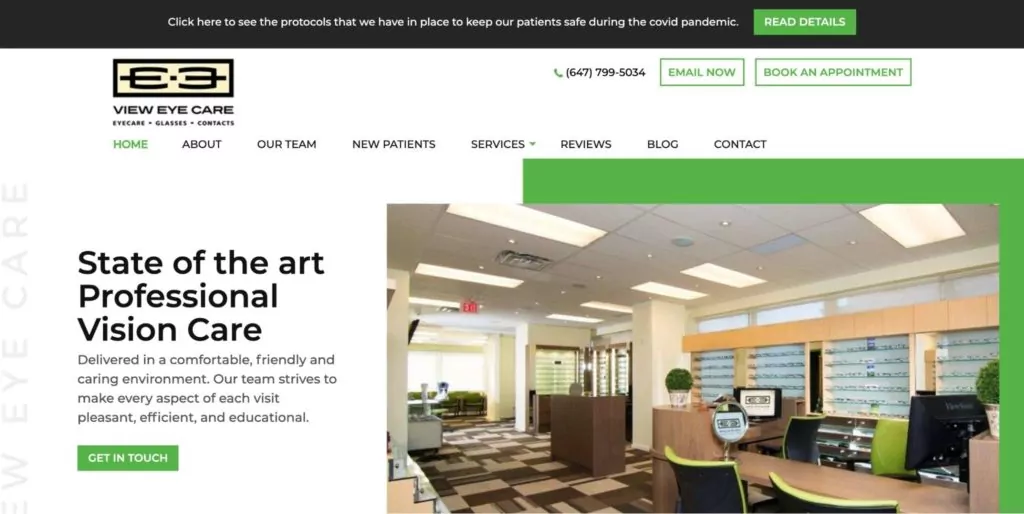 SERVICES
Comprehensive eye exam, eyewear boutique, contact lenses
WEBSITE
https://www.vieweyecare.com/
ADDRESS
151 Bloor St W #480A, Toronto, ON M5S 1S4, Canada
CONTACT DETAILS
+1 647-799-5034
OPERATING HOURS
Monday – Thursday: 8:00 AM – 6:00 PM
Friday: 8:00 AM – 4:00 PM
View Eye Care performs comprehensive eye exams, offers contact lens services and products, and sells eyewear. Basically, they're a one-stop clinic for all your vision health needs.
The clinic caters to a wide audience of clients, from infants to seniors aged over 60. They currently have six optometrists on board who are all certified in the management and treatment of ocular diseases.
We reckon that they're the best place to be for contact lens wearers, thanks to their great services for lenses. For starters, they have an in-office inventory of contact lenses, so they can give you a brand new pair instantly if you need it.
In case you need custom contact lenses, they also work with major manufacturers for those. This ensures wide access to major brands, which most likely include the one you like best.
The best part about this contact lens service is that you can get them delivered straight to your door. This delivery comes at little to no cost on your end so it's a plus for us.
Overall, as long as you don't mind spending a weekday here then you're all set. You can also simply drop by if you need new eyewear for a new look.
Comprehensive eye exams available for infants, adults, and seniors
6 certified optometrists on the team
Has an in-office inventory of major contact lens brands
Works with major manufacturers for custom contact lenses
Little to no cost of contact lenses delivery
Online appointment booking available
Get an email reminder before the appointment
Closed on weekends
Long wait times
Expensive examination package
Customer Reviews
Professional and friendly experience
My visit to View Eye Care was superb. They super professional, knowledgeable and friendly. They sanitize the room and instruments, to the highest quality, before you start your eye examination. They are serious about your safety and their staff. So, once the eye examination begins, they thoroughly check your eyes to make sure they are healthy and you have the right prescription for your glasses or contact lenses. They explain any details to make sure the client is up-to-speed, so you never feel rushed and you always feel that they truly are passionate about eye health. – Danielle Martin
Polite and helpful staff
I have been going to View Eye Care for over 6 years now. I go for general check-ups and I also order contact lenses. The staff is very polite and helpful. I also highly recommend Dr. Milonas who is very professional and a nice person. I like to ask questions, and he explains what is going on with all the details! In terms of cost, it is a bit on the pricey side I assume (as my insurance company thinks that way and they do not cover 100% of the cost). But, regardless I am not planning to change since the service I am getting is excellent. – Sevil Zeynep Lulec
2. Broadview Eyecare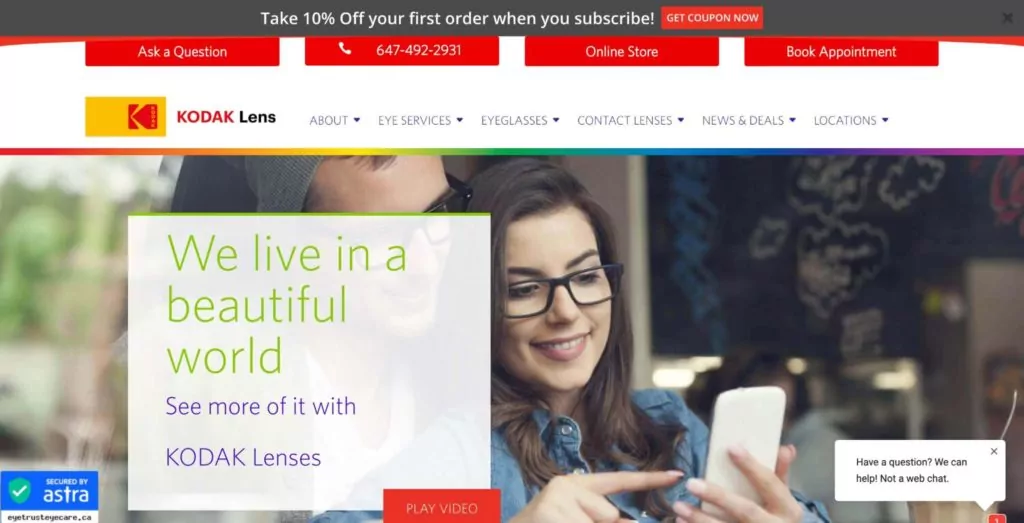 SERVICES
Eye health exam, lasik co-management, myopia control, police and RCMP eye exam, orthokeratology, specialty contacts, vision therapy
WEBSITE
https://www.eyetrusteyecare.ca/
ADDRESS
318 Broadview Ave, Toronto, ON M4M 2G9, Canada
CONTACT DETAILS
+1 416-466-6670
OPERATING HOURS
Monday – Friday: 10:00 AM – 6:00 PM
Saturday: 9:00 AM – 5:00 PM
If you want specialized eye exams and contact lenses, Broadview Eyecare is a great place to start. Here are some things that make them stand out from the rest:
Apart from the usual comprehensive eye exams, they also offer eyetrust visual analyses, visual field analyzer, and retinal photography & OTC.
In case you're wondering what these are, these are highly advanced technologies for diagnosis. This ensures more accurate findings for common eye conditions – of course, still under the guidance of optometrists.
Speaking of optometrists, they currently have 25 across various locations in Toronto. With that number of professionals, we think they can accommodate a lot of clients.
Apart from the average costs of services, we also like its eye health exam program for kids. They're part of the Eye See Eye Learn program where kids entering kindergarten can get eye examinations and eyeglasses for free!
We also took interest in their specialty contacts, which include Rigid Gas Permeable (RGP) Lenses and Scleral Lenses.
RGP lenses are made of oxygen-permeable material and give better vision. Scleral lenses are more comfortable than RGP lenses and can cure certain cornea-related eye conditions.
As a cherry on top, they also offer KODAK lenses on their eyewear, allowing wearers to have brighter vision in fuller colors. This and all the services they offer come with a 30-day satisfaction guarantee including a no-hassle refund or exchange policy.
Offers a wide range of eye health exams using advanced technologies
Has 25 optometrists across various locations in Toronto
Kids can get free eye examinations and eyeglass through the Eye See Eye Learn program
Offers custom specialty contact lenses
Uses KODAK lens technology on eyewear
Average pricing for basic services
Order contact lenses online via their web store
Still accepts OHIP-covered clients
Offers special deals, promotions, and referral program
30-day satisfaction guarantee
Open on Saturdays
Promotional rates can be a bit confusing and misleading
Customer Reviews
Outstanding experience from start to finish
I had an amazing experience at Kodak Lens. From the minute I walked in the door, the Kodak team took care of me. This team functions as a well-oiled machine. While I waited for Dr. Archie in the waiting room, I had a pre-screening assessment (I was a new client) and I chose a pair of frames with the help of his staff. I really appreciated this organization because it was an efficient use of my waiting time. Dr. Archie is very knowledgeable, thoughtful, and professional. He goes the extra mile to get you accurate results. I knew I was in good hands. I definitely recommend Dr. Archie to anyone looking for a true professional. – Demetra D.
Impressive service to children and the elderly
I've been going to Dr. Tse for nearly 20 years – she's very thorough and explains things clearly and patiently. She and Dr. Chung have built a knowledgeable, attentive team. I was especially impressed with how they adapt to deal with children and with elderly patients. They also have competitive prices on prescription eyewear and a broad selection of styles. I highly recommend! – Cherryl Ann Koylass
3. Yonge & College Optometry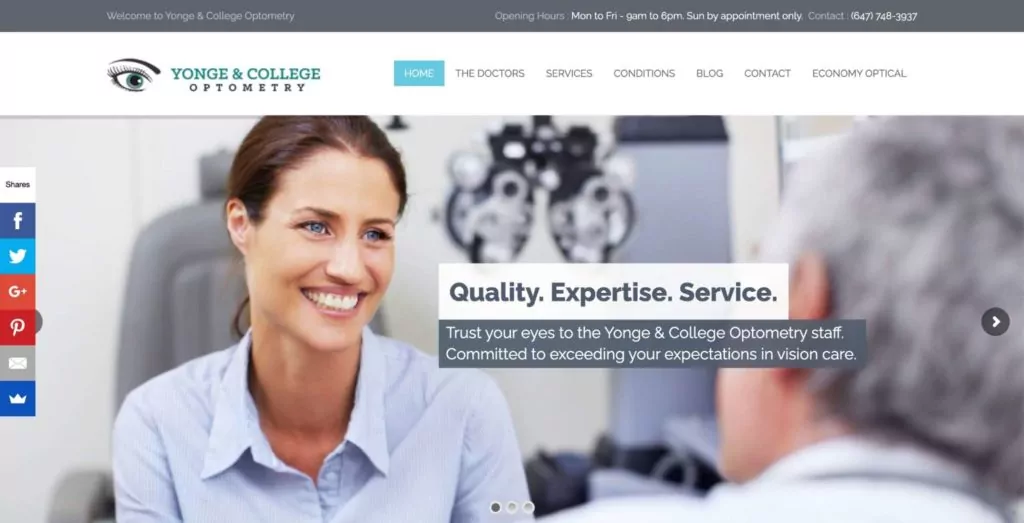 SERVICES
Advance diagnostic equipment, comprehensive eye exams, contact lens fitting and evaluation, diabetic eye exams, refractive eye surgery – Lasik referrals, dry eye syndrome, pediatric eye exams, cataract, and glaucoma testing and referrals.
WEBSITE
https://www.yongecollegeoptometry.com/
ADDRESS
6 College St, Toronto, ON M5G 1K2, Canada
CONTACT DETAILS
+1 647-748-3937


[email protected]

OPERATING HOURS
Monday – Friday: 9:00 AM – 6:00 PM
Sunday: By appointment only
Yonge & College Optometry offers basic ocular health services including comprehensive eye exams. Here's why this clinic made it to our list:
With their advanced technology, you can get better diagnostic results. Some of the technologies they use are retinal imaging, threshold visual field testing, and diagnostic ocular measuring.
The clinic, however, only has three optometrists at the moment who can offer service to their patients. But each is certified in various specialties that expand their reach.
Because the three doctors have their own field of expertise when it comes to eye care, they are able to treat a variety of conditions ranging from common eye problems to refractive eye conditions.
One of the services that caught our attention is their diabetic eye exams. In case you're wondering, diabetes is one of the leading causes of blindness, so it's great that they're offering services to detect this early.
Advanced diagnostic equipment
Each optometrist has a certified specialty
Laser eye surgery is available
Offers comprehensive eye care services
Offers diabetic eye exams for early detection of Diabetes Mellitus
Treats clients of all ages
Available on Sundays by appointment
Walk-ins are welcome
Customer Reviews
Solves all your vision problems
I 100% recommend Yonge & College Optometry. I've had such a great experience with them. Dr. Lisa Anidjar and her team are so knowledgeable and helpful and friendly, and Issac and team in the glasses store next door are equally amazing. Between them all they solved my vision problems and were able to get me in the right prescription and frames, where other places had failed before. Highly recommend! – Niamh Marsh
Highly recommended
I visited them for my eye and contact lens exam. They are very professional right from the time you call them for getting an appointment to all the way in helping with your contact lens fitting. Dr. Lisa patiently listened to all my queries and answered in the simplest way possible. She also walked me through my first lens fitting and made the whole experience very easy and hassle-free.I would highly recommend visiting Yonge & College Optometry for all your eye care needs and exams! -Gagandeep Rana
4. SeeRite Eye Clinic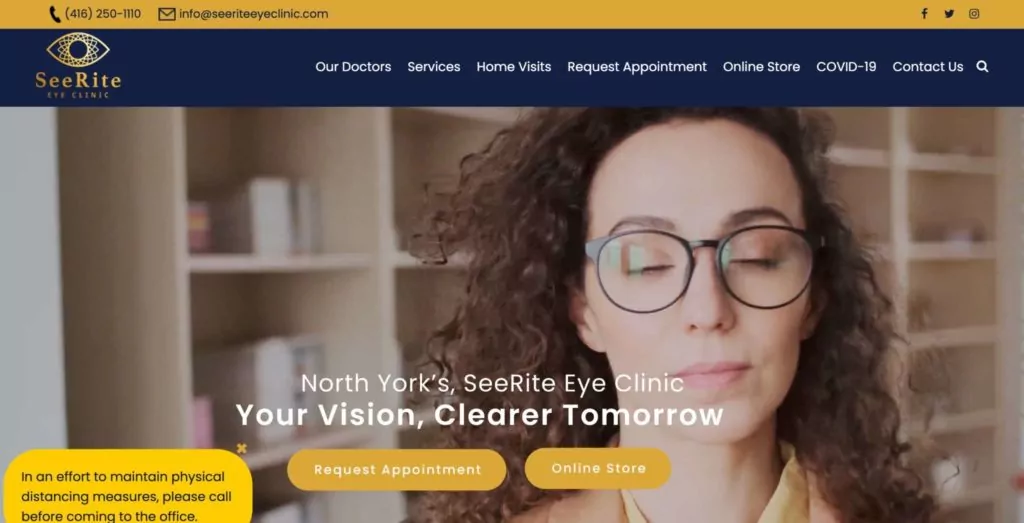 SERVICES
Specialty myopia control clinic, comprehensive eye exam, contact lens evaluation, pre and post-op lasik and cataract management, problem-visits and medically-focused exam, eye emergencies and injuries, nutrition, dry eye treatment
WEBSITE
https://www.seeriteeyeclinic.com/
ADDRESS
1110 Sheppard Ave E Unit 11, North York, ON M2K 2W2, Canada
CONTACT DETAILS
+1 416-250-1110


[email protected]

OPERATING HOURS
Monday & Wednesday: 9:00 AM – 5:00 PM
Thursday & Tuesday:10:00 AM – 6:00 PM
Friday – Saturday: 9:00 AM – 3:00 PM
If you're looking for a versatile optometrist who can perform eye care in any setting, then SeeRite may just be the place to visit. They offer certain unique services that really make them stand out.
One of their best offerings is their home visit service where they can drive to you if you can't. They have mobile optometric equipment for in-house eye exams that makes this possible.
Although they only have two optometrists available in their clinic, they are trained to travel all around the country. One of their doctors occasionally travels to nursing homes to provide eye care as well as residents with mobility issues and cognitive impairment.
The clinic specializes in myopia control, which basically reduces the chances of wearing glasses. Controlling myopia helps prevent vision-threatening diseases.
They are one of the clinics in Canada that are licensed to use the MiSightTM and MiyoSmartTM technology too, which is both Health Canada approved in the prevention and treatment of myopia.
Specializes in myopia control
Licensed to dispense MiSightTM and MiyoSmartTM technologies in Canada
Offers in-home eye exams
Optometrists have experience with patients with mobility issues and cognitive impairment
Order eyewear and other accessories on their online store
Open on Saturdays
Only has two doctors waiting times may be longer during busy hours
Inconsistent working hours
Customer Review
State of the art equipment
I have been seeing Dr. Georgatos for over 10 years and she has been keeping me and my entire families eyes healthy. I am in love with her new clinic. It is bright, and fresh with a great glass selection but most importantly it has 2 great women eye doctors with state of the art equipment. You should go. – Joanne Sable
Makes clients feel at ease
I had the best experience at this office. I hadn't had an eye exam in many years and was a little worried about it; however, Dr. Maria made me feel so comfortable and I felt very at ease. She thoroughly explained every aspect of the eye exam and all diagnoses. The technology at the office is state-of-the-art and, not to mention, the glasses selection is great. The front staff was so helpful in helping me chose my glasses and were so informative and nice. This office is so beautiful and so clean. I also noticed that they take COVID protocols really seriously. Highly recommend!! – Josh Rogers
5. Dr. Archie Chung & Associates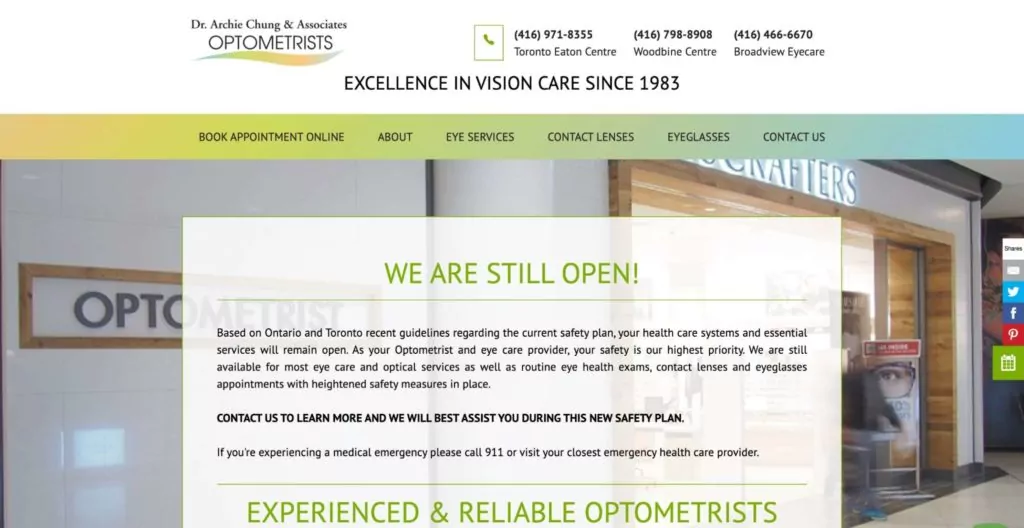 SERVICES
Cataract & Glaucoma management, retinal photography, visual field analysis, child eye exam, LASIK co-management, vision therapy, orthokeratology.
WEBSITE
https://www.chungandtseeyecare.com/
ADDRESS
220 Yonge St, Toronto, ON M5B 2H1, Canada
CONTACT DETAILS
+1 416-971-8355
OPERATING HOURS
Monday – Saturday: 11:00 AM – 7:00 PM
Sunday: 11:00 AM – 6:00 PM
Dr. Archie Chung & Associates has been in the eyecare business for 30 years, offering the best and most experienced doctors to their patients. Besides their long experience, there are also a lot of things that caught our eyes.
First, besides their extensive experience in the eyecare business, they also provide the most advanced technology for your eyes. They have specialized cameras to photograph your eyes in order to better assess the problem.
If you aren't familiar with this process, retinal photography allows doctors to properly assess a person's retina using a specialized camera. The retinas are the thin layers of tissue in the eyes that serve the same function as a camera film.
In addition to that, they also have 30 optometrists working for them if you don't count their assistants. This guarantees that you wouldn't have to wait too long to get a doctor, unlike other clinics.
The best thing about them is that they provided different types of glasses for all visual needs. And after picking the right visual solution, they will then introduce you to a variety of lens options based on your prescription.
Advanced technology for ocular exams
30 optometrists on board
30 years of experience
Offers eye care emergency services
Accepts various vision insurance
Accepts government assistant programs including OW, ODSP, Indian Affairs, Refugee Status, and Student Care Network
Three-month guarantee on prescriptions
Access your electronic medical records through their online portal
Free shipping on certain contact lens brands
Doctor availability might change
Extremely busy
Customer Review
Great and professional experience
I had a great experience at this place! The optometrist assistant ( I did not get her name. She was Asian) was very welcoming and inviting. And Dr. Kana is especially awesome and I really appreciated everything she did. Very professional and explained everything in details to me as this was my first thorough eye exam that I remember! Overall great experience here & highly recommend it!- Akam Mido
Goes above and beyond
I have been seeing Archie for 15 years. I have special needs due to poor vision and so need to see him every year. I find that Archie goes above and beyond just looking at my vision and uses the results of my eye tests to give me clues about my overall health such as telling me my cholesterol levels. I also appreciate that he gives me dietary advice on how to maintain good ocular health. Would definitely recommend his services! – Robin Bloomfield


6. Look & See Eyecare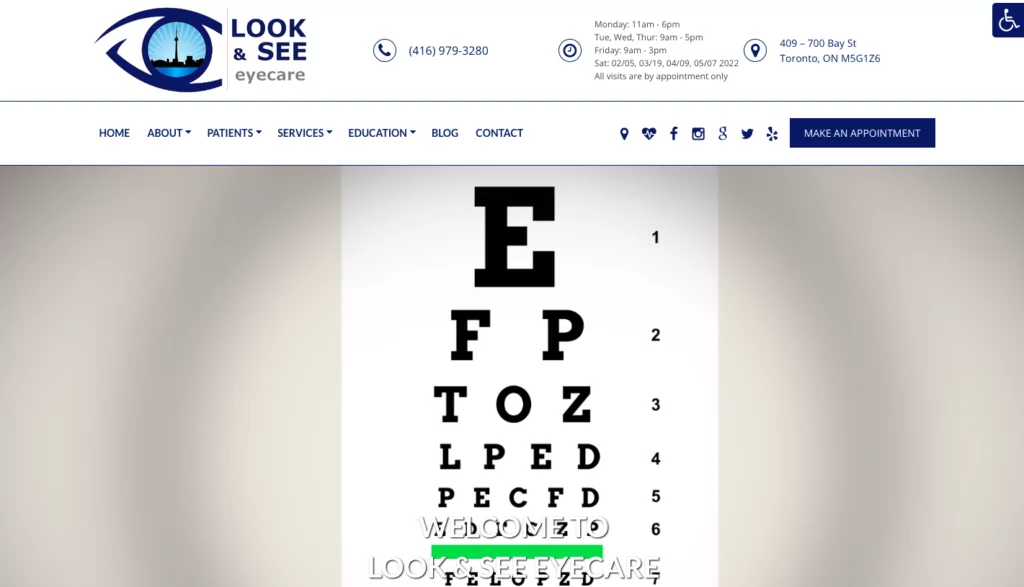 SERVICES
Eye & Vision Exams, Contact Lens Exams, Lasik Eye Surgery, Computer Vision Treatment, Retinal Photography, Sunglasses
WEBSITE
https://lookandsee.ca/
ADDRESS
409 – 700 Bay St, Toronto, ON M5G1Z6
CONTACT DETAILS
Phone: (416) 979-3280
OPERATING HOURS
Monday: 11am – 6pm
Tuesday to Thursday: 9am – 5pm
Friday: 9am – 3pm
Saturday: by appointment only
Look & See Eyecare's qualified team of professionals offer a range of services to help you address any of your eye-related concerns. Whether you just need a general eye exam or require diagnosis for a more serious condition, they've got it covered.
They'll closely collaborate with you to evaluate a plan based on your needs and their professional opinion.They provide full vision examinations and will diagnose and treat a number of different eye conditions.
Look & See Eyecare is always welcoming new patients, whether you're just walking in or scheduling an appointment beforehand. Aside from conducting eye exams, they offer a wide range of services that include Lasik surgery and retinal imaging.
Offers Lasik surgery and retinal imaging
Always accommodates new clients
Small team
Appointments only on Saturday
7. 20/20 Eye Care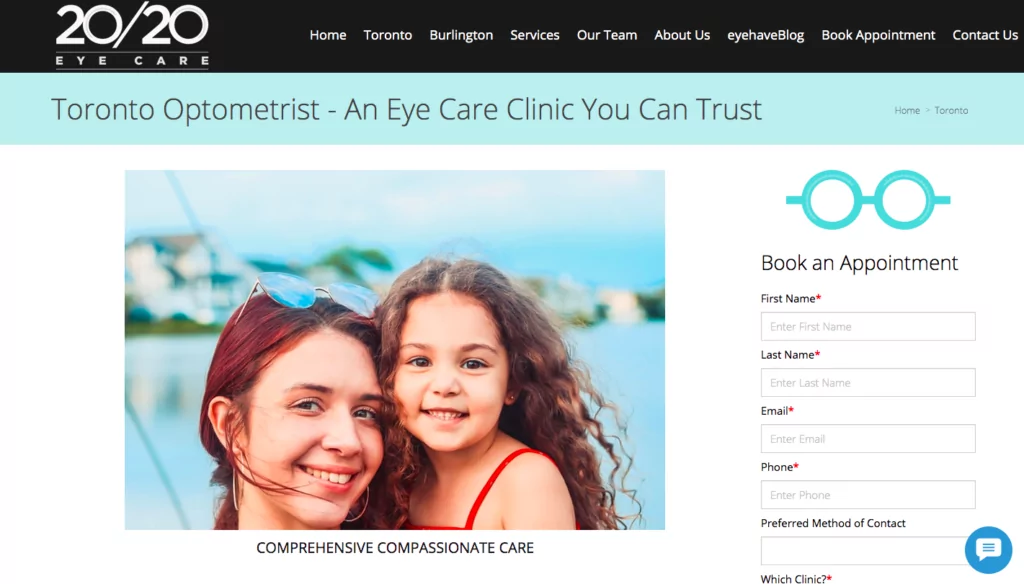 SERVICES
Advanced Eye Care, Computer Vision Syndrome, Dry Eye Clinic, Pediatric Care, Eye Wear, Contact Lenses
WEBSITE
https://my2020eyecare.ca/optometrist-toronto-on
ADDRESS
1370 Danforth Ave, Toronto, ON M4J 1M9
CONTACT DETAILS
Phone: (905) 766-3721
OPERATING HOURS
Monday to Friday: 10:00am – 7:30pm
Saturday:10:00am – 4:00pm
Sunday:10:30am – 3:00pm
Dr. Ampreet Singh received his Doctorate of Optometry from the Illinois College of Optometry and his postdoctoral specialization in Ocular disease at The University of Kentucky. He has completed extensive training alongside some of the leading counterparts in his field and has also taught students of optometry.
20/20 Eye Care reflects Dr. Singh's approach toward eye care, offering clients a range of services and compassionate care to people of all ages. They specialize in diagnosing, treating, and managing acute and chronic ocular conditions although they also accept consultations with pre and post-operative care of all corneal refractive surgeries, specialty contact lens fittings and cataract surgery.
Furthermore, 20/20 Eye Care collaborates with local family physicians, ophthalmologists and hospitals. They are a trusted resource for local eye emergency cases, able to diagnose and treat conditions in a timely manner.
So whether you require urgent eye care or just want to get a pair of fashionable frames for your vision, 20/20 Eye Care is a great option in Toronto. They have multiple locations as well, making it convenient to find the proper care if you reside in the GTA.
Offers pediatric care
Works closely with local physicians and hospitals for emergency eye care needs
Multiple locations in GTA
Small team
Inconsistent weekend hours
Factors to Consider When Choosing an Optometrist / Optometry Clinic
Once you start getting blurry visions coupled with headaches and discomfort, it's time to see an optometrist. Here are some factors to consider before choosing a clinic:
Reputation
There are a lot of places you can check in order to assess their reputation, like going through their e-profile or reading customer reviews. What's important is that you find a significant number of past clients who were satisfied with them.
Experience
Of course, it's essential to find out how long they've been in business. The longer they have been in business, the higher the chances that they can provide solutions to your needs.
Still, there are optometrists who are relatively new but still offer top-notch services. Just try to find the balance between experience and qualifications to make a choice.
Qualification
If you're still feeling a bit unsure, don't be afraid to search for your optometrist's credentials. These qualifications ensure that they are the right doctor for you, and should at least have an eye specialty degree, to begin with.
A simple online check can give you a wealth of information. Most optometrists have e-profiles now so checking won't be too hard.
Technology
Nowadays, a lot of equipment has been updated over the past years. Although there have been many changes, there is still some optometrist who uses the traditional way.
Simply put, some machines may not match the current standards in ocular treatment anymore. This is why it's important that an optometry clinic has these machines and tools.
FAQs About Optometrists in Toronto
---
Did our list help you find the right optometry clinic for you? Check out our other articles to further tend to your health: