THE 5 BEST CLINICS TO SEE A PAIN SPECIALIST IN TORONTO
Chronic pain can manifest in various ways: it may result from injuries, overuse during sports, aging, and more. With the help of pain specialists, a range of modalities are available to treat all sorts of pain.
Pain specialists are trained to carefully assess these conditions and assist patients in relieving and managing them through personalised treatments. So, if you or a loved one are experiencing pain, consider seeking help from these expert pain clinics. They'll put forth the painstaking effort to help you find relief from any painful situation.
How We Chose the Best Pain Specialists in Toronto
How Much Does a Consult with a Pain Specialist Cost in Toronto?
If you're a Canadian Citizen or a permanent resident, there's no fee for visiting a pain specialist as long as you provide your provincially-registered health card.Consult with your healthcare provider or insurance company for a clearer understanding of potential costs and coverage options.
1. Pain Rehabilitation Clinic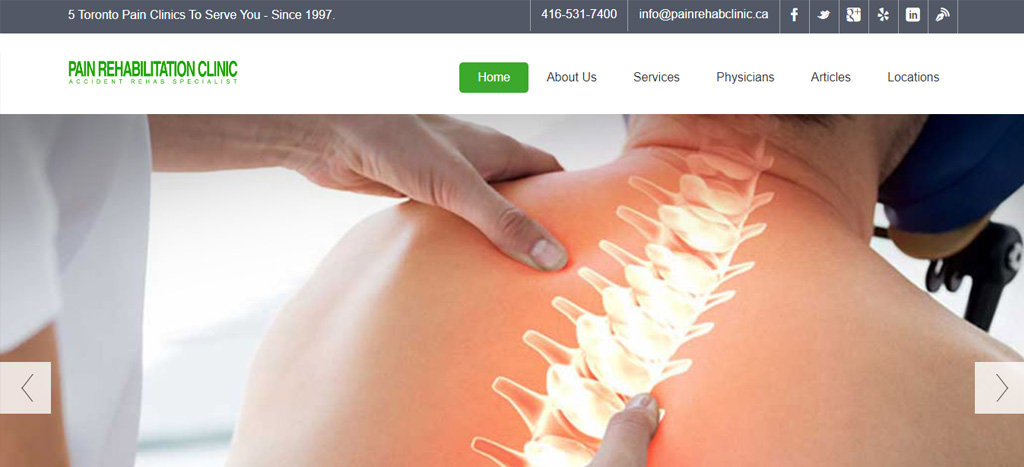 | Test | Info |
| --- | --- |
| WEBSITE | https://www.painrehabclinic.ca/ |
| ADDRESS | 801 St Clair Ave W, Toronto, ON M6C 1B9 |
| SOCIAL MEDIA | FACEBOOK |
| CONTACT DETAILS | PHONE: (416) 531-7400 |
| OPERATING HOURS | Monday, Wednesday, & Friday: 10:00 AM - 6:00 PM |
Established in 1999 by Dr. San Bui in Central Toronto, Pain Rehabilitation Clinic has expanded to multiple GTA locations, including Oshawa. Dr. Bui, with over 25 years of experience, holds a Doctor of Chiropractic degree from Life University in Georgia and is a certified physiotherapist. He specialises in therapeutic massages and spinal adjustment therapy.
The clinic's team comprises skilled physicians, some of whom are Dr. Bui's family, including a neurologist, acupuncturist, RMT, psychiatrist, naturopath, and urologist, among others. They provide comprehensive care for various injuries, including those from motor vehicle accidents, workplace incidents, and sports, even for cases not covered by insurance.
The clinic offers an impressive array of medical modalities, rehabilitation services, physical therapies, and drug-free treatments. They focus on diagnosing and managing both acute and chronic pain conditions. Their commitment to non-surgical care ensures that patients receive effective treatments tailored to their individual needs.
Multidisciplinary team of physicians
Treats a wide range of acute and chronic pain
Offers alternative therapies like Chinese Acupuncture
Genuine commitment to positive patient outcomes
Organised admin and operations
25+ years in clinical practice
Open only three days a week
Few minor appointment delays
Customer Reviews
Incredibly caring and supportive
"I have been getting treatment for a cervical spinal injury, with a few more serious issues, and the difference from when I first walked in is amazing! Dr. San Bui and all the staff at the clinic are incredibly caring and supportive. The Pain Rehabilitation Clinic looks to understand me and the problems I have and I wouldn't choose any other place to receive treatment and medical care." – Valentino Maggio, Google Reviews
Will do everything possible to make your situation have the best outcome
"Dr. Bui is one of the most caring doctors I have come across and regarding my motor vehicle accident, they do all kinds of treatment and therapy for people with long-term pains as well as physiotherapy. Dr. Bui is very caring himself when it comes to helping people with their claim/ MVA, I say this because he is helping me to build my case up to CAT due to me undergoing very serious life-changing injuries… they will help you every step of the way, and one major benefit of this clinic is, they WILL do everything possible to make your experience/situation have the best outcome." – Ahmed Mian, Google Reviews
2. Wilderman Medical Clinic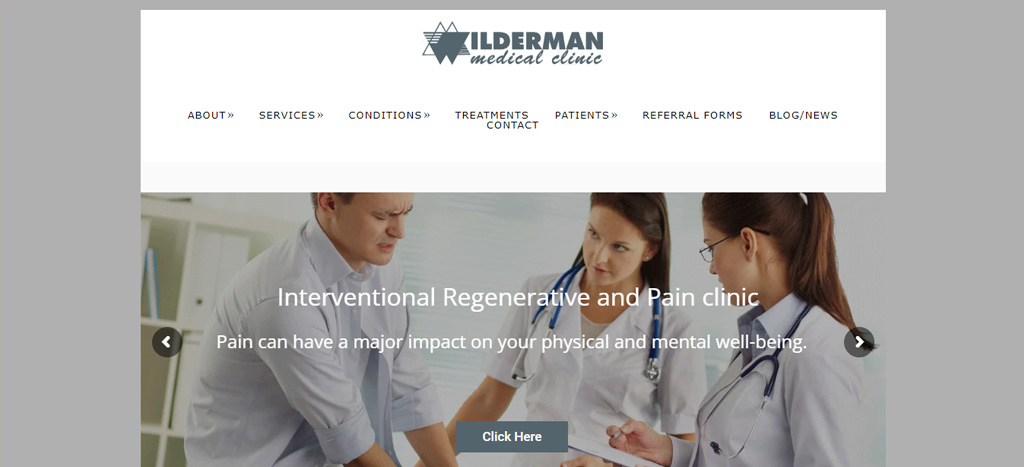 Test
Info
WEBSITE
https://drwilderman.com/
ADDRESS
8054 Yonge St, Thornhill, ON L4J 1W3
SOCIAL MEDIA
FACEBOOK
CONTACT DETAILS
PHONE: (905) 886-0248
OPERATING HOURS
Monday - Friday: 8:30 AM - 4:30 PM

Saturday: 6:30 AM - 1:00 PM

Sunday: 6:30 AM - 12:00 PM
Dr. Igor Wilderman founded his eponymous pain clinic in 2001, specialising in a wide range of chronic and acute ailments. Located in Vaughan, his clinic boasts a team of highly-acclaimed physicians skilled in interventional pain treatments, chiropractic care, naturopathy, and psychotherapy.
Dr. Igor himself has made significant contributions to the field of pain management, actively engaging in medical research as a Chronic Pain Consultant for the Ontario Medical Association (OMA). He's also a founding member of the Canadian Academy of Pain Management, showcasing his dedication to staying up-to-date with the latest medical developments in his field.
Offering comprehensive and personalised treatment plans, Dr. Igor and his team cover a full spectrum of conditions, including osteoarthritis, sports and overuse injuries, spine pain, myofascial pain syndrome, TMJ syndrome, and many more. In addition to injections, they also offer physiotherapy, regenerative medicine, and clinical trials.
Wide-ranging treatments
Long-established clinic
OMA's designated Chronic Pain Consultant
Advanced and medically-proven methods
Excellent bedside manners
Well-rounded team of physicians
Months of waiting time for some
Rude front desk staff
Reports of disorganised processes
Customer Reviews
Excellent bedside manners, compassionate, and caring
"I received and continue to receive the best possible care. Dr. Wilderman is extremely thorough in explaining the method of treatment. He has excellent bedside manners, compassionate, and caring. Oleg, my nurse is the same as Dr. Wilderman. Wilderman Clinic should receive 10 Stars if possible." – Emese Oseni, Google Reviews
I've never been treated better
"Couldn't ask for a better team of nurses and doctors to treat my pain. The clinic is beautiful and the receptionists are nice and friendly and helpful. I am treated with respect and care, they really are compassionate. I've never been treated better and will continue to come here. Happy to have found them." – Heather Storey, Google Reviews
3. The Pain Clinic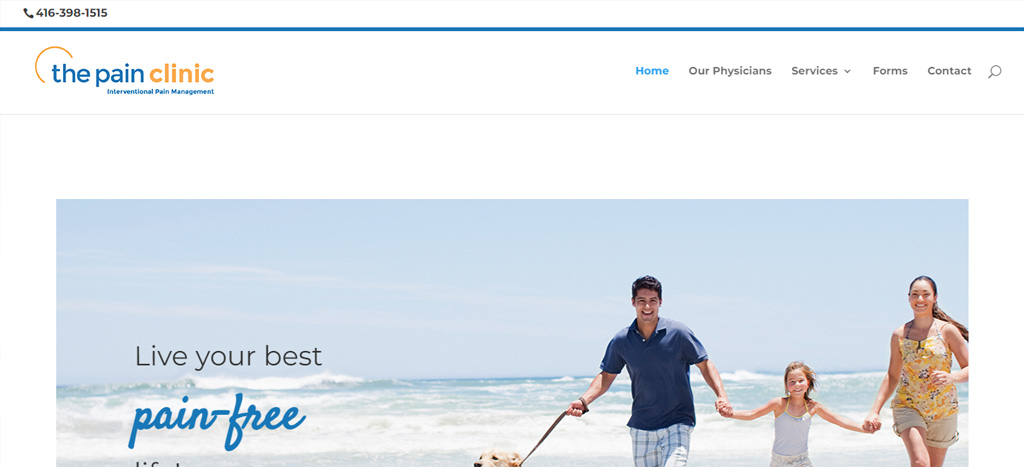 | Test | Info |
| --- | --- |
| WEBSITE | https://thepainclinictoronto.com/ |
| ADDRESS | 2 Champagne Dr Unit C8, North York, ON M3J 2C5 |
| CONTACT DETAILS | PHONE: (416) 398-1515 |
| OPERATING HOURS | Monday - Friday: 9:00 AM - 5:00 PM |
The Pain Clinic offers comprehensive pain management for common chronic conditions, such as back pain, sciatica, and headaches. A lot of their patients that seek their help suffer from osteoarthritis, tennis elbow, plantar fasciitis, and calcaneal spur. Patients benefit from the expertise of highly qualified and board-certified medical doctors, alongside a team of interventional pain specialists led by Dr. Dima Rozen.
Dr. Dima holds certifications in Anesthesia and Interventional Pain Medicine from the American Board of Anesthesia. He has received training from distinguished experts at Texas Tech Health Science Center, including Dr. Gabor Racz, the founder of Epimed.
The North York clinic, established around five years ago, boasts cutting-edge medical technology, featuring three fluoroscopy suites with radiofrequency generators. Treatment options include epidural steroid injections, joint injections, and radiofrequency ablation. Additionally, they offer non-OHIP-covered services like PRP and viscous supplement injections.
Board-certified and fellowship-trained staff
State-of-the-art medical equipment
Treats a wide range of chronic pain
Specialises in interventional procedures
Compassionate and attentive specialists
Doesn't offer non-invasive therapies
Few complaints of rude front desk staff
Customer Reviews
My experience with Dr. Rosen has been life-changing
"My experience with Dr. Rozen has been life-changing. His nuanced and compassionate care and medical guidance has provided me with significant pain relief, to the extent that I now feel like I am getting major aspects of my life back. I will forever be indebted to him for his service. I cannot express my gratitude (or endorsement) enough." – Sonia Deluca, Google Reviews
So professional and calm and it was so clear he knew his stuff!
"I had the good fortune of being referred to Dr. Rozen after developing such severe back pain I could barely get up from a seated position. Dr. Rozen was very thorough in his exam and review of my diagnostic imaging reports prior to my treatment. He was so professional and calm and it was so clear he knew his stuff! I had one treatment and within 12 hours I started to see improvement. Within 24 hours I was literally almost back to baseline! I've never had a recurrence and it's been 6 months." – Paula Podolski, Google Reviews
4. Interventional Pain & Spine Specialists of Canada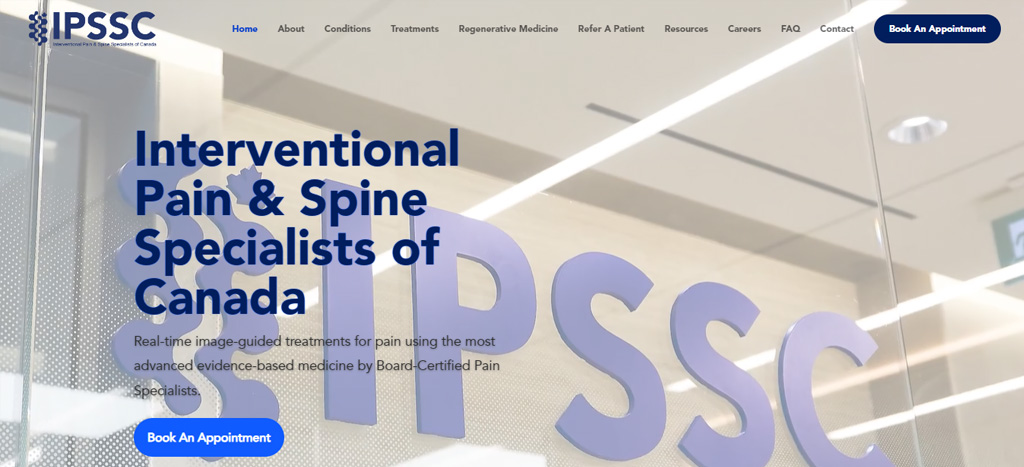 | Test | Info |
| --- | --- |
| WEBSITE | https://ipssc.ca/ |
| ADDRESS | 1262 Don Mills Rd. #62, North York, ON M3B 2W7 |
| SOCIAL MEDIA | FACEBOOK |
| CONTACT DETAILS | PHONE: (416) 335-7474 |
| OPERATING HOURS | Monday - Friday: 8:00 AM - 5:00 PM |
Launched in 2021, Interventional Pain & Spine Specialists of Canada is a relatively new and promising contender in the field. Their contemporary clinic in North York features cutting-edge technology with dedicated suites for fluoroscopy, ultrasound, infusion, and examination.
The medical team is equally impressive, consisting of five highly-trained and ACGME-accredited specialists who specialise in advanced evidence-based treatments.
Under the guidance of Dr. Andrea Wong, a double Diplomate of the American Board of Anesthesiology in Pain Medicine and Anesthesiology, these physicians treat a wide range of chronic pain conditions, including headaches, fibromyalgia, post-surgical pain, FBSS, and many others.
Their treatment approach mainly involves utilising epidural injections, RFA, regenerative and restorative medicine treatments, as well as spinal cord stimulation and nerve blocks.
New and state-of-the-art facilities
Board-certified and fellowship-trained pain specialists
Focuses on advanced, evidence-based treatments
Treats a broad range of chronic pain
Less than two weeks waiting time
Limited track record 
No physical, occupational, or massage therapy treatments
Customer Reviews
The expertise and compassion are exemplary
"Dr. Sohanpal along with his medical team and administrator extraordinaire—Melina always take such care to ensure patient comfort in scheduling of much-needed procedures, the day of, and follow up. The expertise and compassion are exemplary and I am so grateful to the entire team for allowing the quality of life with a chronic pain condition while awaiting surgery." – Ginny Zaccolo, Google Reviews
Dr. Khetani's treatments have given me my life back
"Dr. Khetani is an amazing pain specialist. I have struggled with low back pain that radiates into my legs for many years. Previous doctors prescribed opiate medications which had minimal impact, other than some temporary relief. Dr. Khetani's treatments have given me my life back. I am able to exercise and live my life without severe pain. The clinic itself is clean, bright, and welcoming. The staff are friendly and compassionate. Dr. Khetani's bedside manners are impeccable." – Dawn Wickett, Google Reviews
5. Silver Pain Centre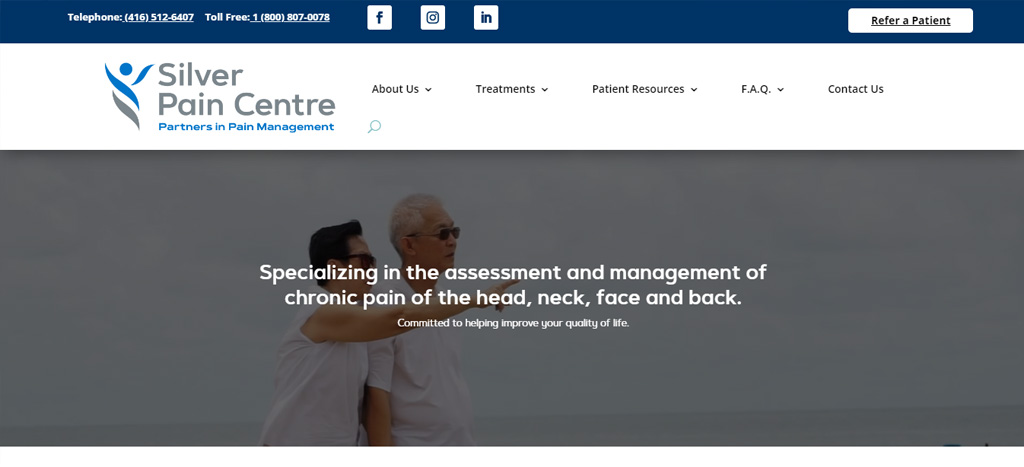 | Test | Info |
| --- | --- |
| WEBSITE | https://silverpaincentre.ca/ |
| ADDRESS | 4646 Dufferin St, North York, ON M3H 5S4 |
| SOCIAL MEDIA | INSTAGRAM |
| CONTACT DETAILS | PHONE: (416) 512-6407 |
| OPERATING HOURS | Monday - Friday: 7:00 AM - 5:00 PM |
Silver Pain Centre sees over 10,000 patient visits annually since its establishment in 2014. Their interventional clinic in North York spans 20,000 square feet and is equipped with the latest technology, including real-time diagnostic imaging while maintaining the highest safety standards.
Adopting an interdisciplinary approach to chronic pain treatment, the clinic's team comprises highly qualified physical medicine and rehabilitation specialists, surgeons, anesthesiologists, and physicians with additional training in sports medicine.
Guiding this expert team is Dr. Michael Gofeld, a renowned chronic pain expert with a diverse background spanning over 20 years. His areas of interest encompass musculoskeletal, neurological, and spinal interventions, and he serves as an expert witness in chronic pain cases.
The clinic's commitment to comprehensive care extends to personalising treatment plans for patients, addressing a wide range of conditions, from common ailments to complex forms of chronic pain.
Extensive range of treatments
Specialises in complex pain care
Fully-equipped and -staffed
Expert witness in Chronic Pain
Highly-trained and diverse pool of physicians
Long wait periods that can take months
Unhelpful and curt front desk staff
Customer Reviews
The staff is amazing, very friendly, and professional
"After more than two years of being frozen and in constant pain, my wife's shoulder is finally free! The staff is amazing, very friendly, and professional. From a spouse's standpoint, it was hard not to be able to help her at all. We heard of this place through a friend and we're a little skeptical at first… I was practically in tears to see her smile again knowing she could pick up her grand babies and our puppy dogs and get back to doing all the other things she loves. I cannot praise the doctors and staff of this facility enough!" – Ed Skewis, Google Reviews
This clinic is the best-kept secret that everyone needs to know about
"After 20 years of going to every specialist to identify and treat my condition, Dr. Morgan knew the source of the pain and treated it. In less than a year I can walk and drive pain-free without a cane and medications. Thank you is not enough for giving me the quality of life. This clinic is the best-kept secret that everyone needs to know about." – Genevieve, Google Reviews