The Top 4 Colleges in Toronto
Some of the colleges in Toronto are widely considered to be the best in the country. For your convenience, we've picked out the very best of the best for this list, as you'll see here.
We'll also cover some common concerns and queries people have about going to college in the city, by the way. Let's start with a big one: cost!
How much does it cost to go to college in Toronto?
On top of tuition fees, prospective students looking to go to college in Toronto will also have to buy books and supplies. Additionally, there will be ancillary fees to pay to their chosen institution, such as student activity fees, health insurance, and other miscellaneous fees.
They'll also have to cover living expenses, including housing, utilities, and transportation. Depending on the program they choose to complete, they may also be required to purchase extra equipment.
The table below details the average tuition costs for one (1) academic year in Toronto. The same information applies to the rest of Ontario.
| | |
| --- | --- |
| Diploma Programs | $2,400 |
| Graduate Certificate Programs | $3,600 |
| Bachelor's Degree Programs | $6,100 |
| Collaborative Programs | $5,000 |
| Ancillary Fees | $800 |
| Books & Supplies | $1,300 |
Another factor that can affect the price is whether you choose to go to a private or public college. Fortunately, going to college in Toronto is decidedly cheaper than going to a university, and there are several financing options available.
The Best Colleges in Toronto
Now that you know how much you should expect to spend going to college in Toronto, read on for our list. Our picks for the best colleges in the city all include a short review, as well as a pro/con list that you can refer to.
1. Ontario College of Art & Design University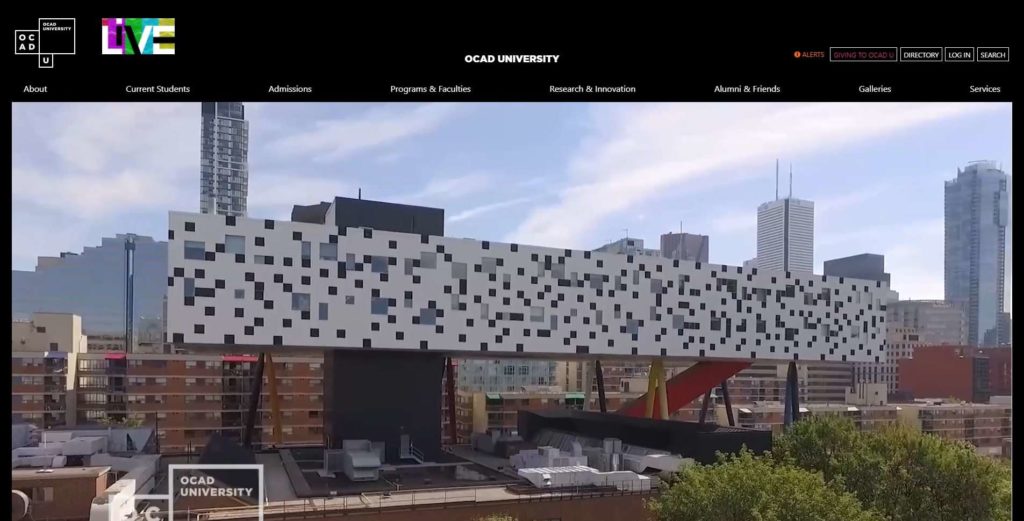 The Ontario College of Art & Design University, or OCAD U for short, is known for being the most comprehensive university for arts, design, and media in the country. Aptly, it's located at the very heart of Canada's art, design, and new media capital, only 5 minutes away from the Entertainment District and right next door to the Art Gallery of Ontario.
They offer a wide variety of undergraduate and graduate programs divided across three colleges: the Faculty of Art, the Faculty of Design, and the Faculty of Arts & Science. If you've ever wanted to be a museum curator, an advertising executive, or a graphic designer, OCAD U is the place to go.
We especially like their Portfolio Clinics, designed for learners aged 15 and up. Attending these OCAD U instructor-led programs allows a young artist to develop their portfolio of studio art and design in preparation for postsecondary education.
There are also no fewer than seven galleries on campus, all showcasing works by students, as well as professional artists, designers, and researchers. This means that it's possible to fully immerse yourself in art here, and we love that.
Former students of OCAD U praise the school for its focus on the fundamentals and excellent faculty members.
However, they also say that it can feel like a small school. If you feel that will take away from your college experience, you're probably better off applying elsewhere.
Excellent university for arts, design, and media 
Great location in the Entertainment District
Portfolio Clinic Programs offered
Online virtual events conducted regularly
Only offers programs in art, liberal arts and sciences, design, and media
Does not have its own students' residences
Reviews
An incredible school and by far the BEST.
"OCAD is an incredible school and by far the BEST. My son is graduating and we could not be more proud! The staff, the facility, the knowledge…everything has been so rewarding, and as a parent, there could not have been a better place for my son to be.
We look forward to the ceremony this Friday – And if anyone has an EXTRA TICKET for us, it would be very much appreciated, as we are one short for our family to all attend this very special occasion! We would be forever grateful.
Congratulations to all those who have achieved great success at this wonderful university!!" -Mon Ana
Impressed with the energy, positive vibes and the evident student engagement.
"Visited OCAD for the first time yesterday. So impressed with the energy, positive vibes and the evident student engagement. OCAD you care about your students and that's evident everywhere." -Cheryl Paglione
2. George Brown College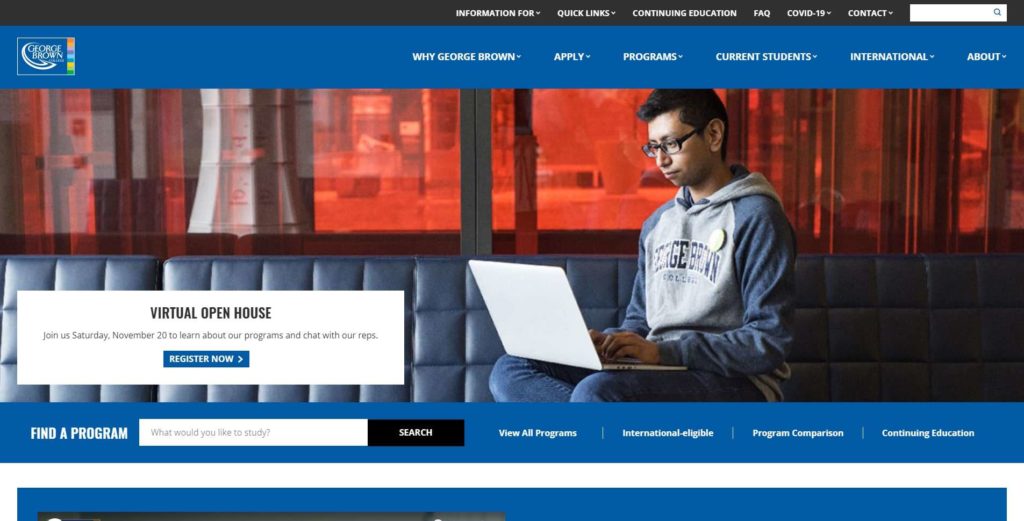 WEBSITE
https://www.georgebrown.ca
ADDRESS
Casa Loma Campus
160 Kendal Avenue
Toronto ON M5R 1M3

St. James Campus
200 King Street East
Toronto ON M5A 3W8

Waterfront Campus
51 Dockside Drive
Toronto ON M5A 0B6
CONTACT DETAILS
416-415-2000,

[email protected]
With three distinct locations all over Toronto, it's fair to say that George Brown College is one of the most accessible institutions for secondary education in the city. Here, you can enroll in 170 full-time programs that encompass a variety of interests.
We think that this institution's focus on experiential and real-world learning is worth highlighting. To hone their skills, students work at the college's many community and employer partners while going to school.
These employer partners are no small fry, either. George Brown College works with small businesses and start-ups, as well as esteemed organizations like IBM, Joe Fresh, and Quantum Robotic Systems to provide their students with experience and knowledge.
It's also nice that all three of the college's campuses and their student residence, The George, are located in downtown Toronto. This means that students are never too far from everything the fair city has to offer.
Speaking of The George, we think that choosing to live there comes with numerous perks.
It's located next to the popular Distillery District and close to several shops, cafes, restaurants and amenities. In addition to being equipped with wireless internet and cable TV, all of its two-bedroom suites come fully furnished, too, complete with a kitchenette and a 3-piece bathroom.
Professional bi-weekly cleaning of the bathroom and kitchenette is included in the rent, too. That's one less worry off any student's mind and we love that it's offered here.
We believe that George Brown College's well-rounded selection of programs makes them a great choice for any student seeking higher education. We also consider their emphasis on hands-on learning and connections to employers as major pluses.
However, former students of the college claim that some of the services and facilities here are due for a major overhaul. It's also worth noting that some applicants claim that the college never got back to them about their applications.
Well-rounded list of programs
Three (3) campuses in Toronto
Connections to local and international employers 
Student housing available
Some facilities are outdated
Can be unresponsive about application inquiries
Reviews
Staff are helpful and the teachers are phenomenal.
"Honestly I have nothing but good things to say. I find the GBC staff to be so helpful at the St.James location (Student Services, Welcome Desk, Library Staff). I am enrolled in a three year program, Im on my second year in the CYC program. The teachers in this program are phenomenal and so hard working. Strongly recommend the CYC Program! The Coordinators and other facility in the program that I have had the opportunity to meet are just as amazing! Such a lovely team of CYC's teaching future CYC's what they know best!" -Sara Dee
The quality of teaching is extremely high.
"I've been working towards an editing certification at George Brown for nearly two years now, and I don't regret my decisions at all. I first started here because I wanted to build on my background in writing/ communications and I've definitely got exactly what I came here for. The quality of the teaching I've got is extremely high and I'm honored to learn from those that continue to be a major part of my industry." -Rosemary May Richings
3. Humber College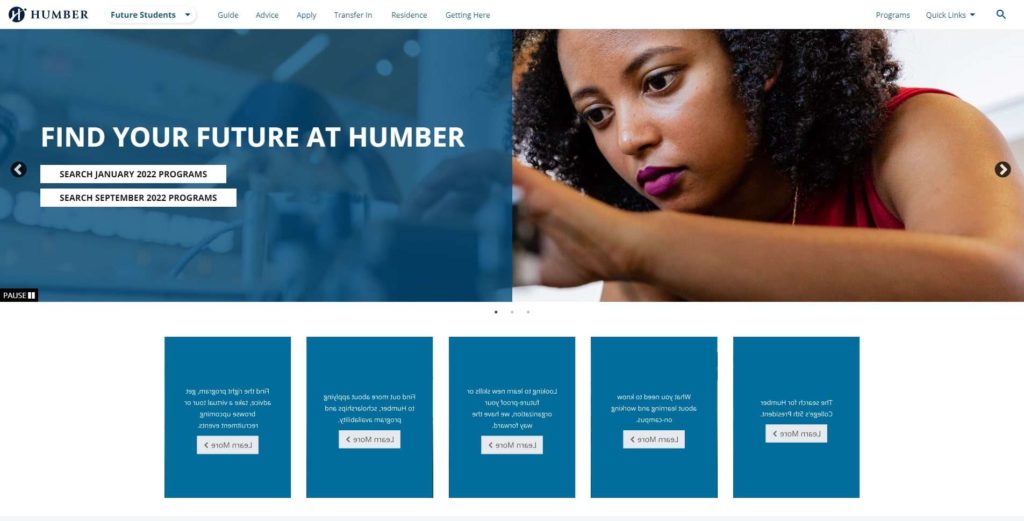 WEBSITE
https://humber.ca
ADDRESS
North Campus
205 Humber College Blvd.,
Toronto M9W 5L7

Lakeshore Campus
2 Colonel Samuel Smith Park Drive,
Toronto ON M8V 4B6
CONTACT DETAILS
416-675-3111,

[email protected]
Formally known as the Humber College Institute of Technology & Advanced Learning, Humber College is one of 24 publicly funded colleges in the province in Ontario. They have two campuses in Toronto, the North Campus in northwest Toronto, and the Lakeshore Campus along the shores of Lake Ontario.
We think that both campuses aren't just beautiful; they're also incredibly well-equipped.
In addition to its new library and athletic facilities, some of the things that stood out to us at the North Campus are its indoor pool, sauna, and a fully-functioning spa right on the premises. It is also home to the Humber Arboretum and Centre for Urban Ecology.
Not to be outdone, the Lakeshore Campus is a study in old-world elegance meeting new innovation. The beautifully-restored buildings here house a state-of-the-art recording studio, as well as ultramodern film and media facilities for students to use.
We also like that the college considers the health and well-being of its students and faculty a priority. Humber College provides its community with access to exercise equipment year-round, as well as opportunities to learn about healthier food and how to grow it at the Humber Food Learning Garden.
Additionally, there are two on-site clinics that offer specialized wellness services to those at Humber. Staff and students can take advantage of the unique treatments provided at Humber's North Campus Massage Therapy Clinic and the Tzu Chi Clinic of Traditional Chinese Medicine.
Finding somewhere to stay isn't a problem, either. Students can opt for Humber's on-campus student residences, available at both North and Lakeshore, or explore a myriad of off-campus housing options.
If you are looking for a complete college experience, you can't go wrong with Humber. The campus amenities alone make them a worthy contender.
Unfortunately, it is not without its downsides. The college's administration has been criticized for their passiveness with regards to certain student concerns, such as tuition reimbursement.
Two (2) campuses in Toronto
Outstanding amenities
Online, synchronous, and asynchronous learning courses available
Major focus on student and staff health & wellness
On-campus housing available
College administration can be frustrating to deal with
Inadequate parking for students
Reviews
Helped me achieve my goals and dreams.
"Humber has always been dear to me. Helped me achieve my goals and dreams, whatever I have today is thanks to my peers and teachers. The college campus has become even more beautiful and hi-tech. Loved every aspect of it." -Audrey Picardo
I have gained valuable knowledge and practical skills.
"I love my experiences with Humber. Everyone is friendly and the teachers really make you feel like you will be successful in the future with your career. I have gained valuable knowledge and practical skills. I would recommend Humber to my friends and family." -Ayla Mezurashii
4. University of Toronto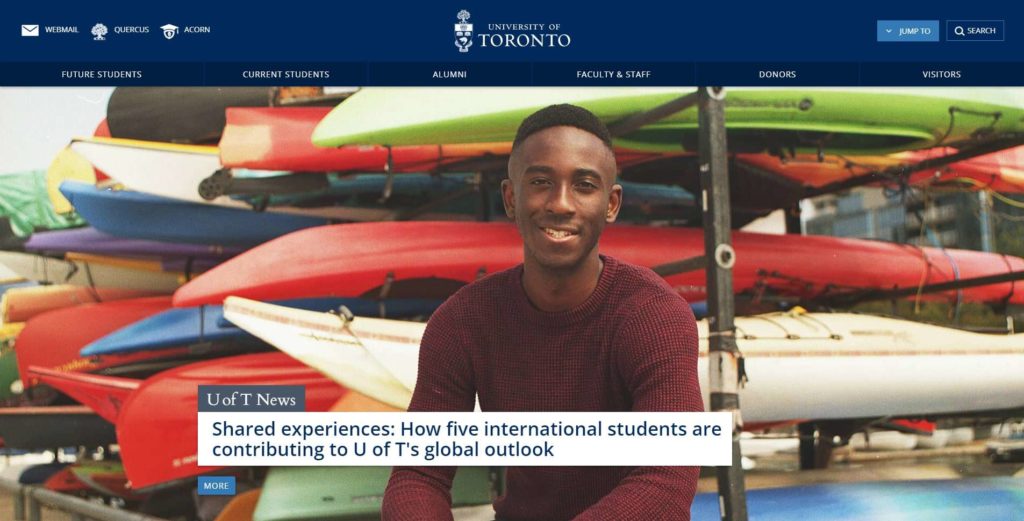 WEBSITE
https://www.utoronto.ca
ADDRESS
St. George Campus
27 King's College Circle
Toronto ON M5S 1A1

Scarborough Campus
1265 Military Trail
Toronto ON M1C 1A4
CONTACT DETAILS
416-978-2011 (St. George Campus), 416-287-8872 (Scarborough Campus)
No list of best colleges in Toronto would be complete without the inclusion of the venerable University of Toronto. Composed of eleven semi-autonomous colleges, this well-respected institution has consistently ranked in the top ten public universities in the world and is considered the top university in Canada.
That alone should be enough reason to consider applying here. But there's more—a lot more.
Firstly, we love the location. It's in the center of the city, north of the Financial district in the Downtown Toronto area, close to popular neighborhoods like The Annex and Yorkville.
With eighteen faculties to choose from, suffice to say that we think program diversity is going to be the least of your problems here. The university offers over 700 undergraduate programs and 200 graduate programs across its 3 campuses in the GTA.
Most of the courses in U of T's college system are administered by the Faculty of Arts and Science on the St. George Campus. At its heart is the Hart House, the university's student activity center.
Here, students can have a casual or formal meal, watch a show in the theatre, and even get a haircut. Other amenities within include a fitness center, an art gallery, and a reading room, among others.
Hart House is also home to many of the student clubs at U of T, such as the Hart House Chess Club, Hart House Music Committee, and Hart House Review, the university's literary journal.
Looking for other opportunities to belong? U of T also has a vibrant Greek life scene, with a number of collegiate fraternities and Greek-letter societies operating here.
Another thing we love is that each college at U of T runs its own set of residence and dining halls. Most of these dormitories are reserved for undergrads, which means that you can truly immerse yourself in college life during your first few years here.
Other housing options include fraternity houses and student housing cooperatives located in the university's adjacent neighborhoods. Finding a place to stay shouldn't be a problem.
Overall, we can think of very few reasons why you wouldn't want to go to the largest, most competitive school in the nation. It is a beautiful, well-equipped public research university that is known for being the birthplace of insulin and stem cell research, the world's first artificial pacemaker, and other achievements.
The people that work and study here are making real, revolutionary changes, and their work is supported and valued.
However, this university can be challenging if you aren't used to huge class sizes. Some sections can contain over a thousand students, and it can be difficult to keep up if you are more accustomed to a more intimate learning environment.
The campuses are as sprawling as they are beautiful, too. You will find yourself running from lecture to lecture here, especially when your classes are on opposite sides of campus.
One of the top 10 universities in the world and the top university in Canada
Centrally located just north of Downtown Toronto
1000+ undergrad and grad programs to choose from
7 colleges in the college system
Vibrant and dynamic student life
Plenty of on- and off-campus housing options 
Class sizes can be huge
Incredibly competitive learning environment
Inadequate mental health support
Reviews
Great research institution with diverse student body, faculty, and alumni.
"Great research institution with diverse student body, faculty, and alumni. Flexible work study program. Academics are challenging and can be a struggle at times due to relatively harsh and difficult grading schemes. Nice range of clubs and extracurricular opportunities." -Alum
My professors were very interesting and cared about my learning.
"Overall, my experience at University of Toronto is very positive. Its located at the heart of Downtown Toronto, so there is always something to do. So many places to eat and hang out. My professors were very interesting and cared about my learning. They made a lot of accommodations for students." -Senior
FAQs
---
Going to college in Toronto can be a transformative experience—one that will open up a slew of career opportunities for you upon graduation. Even taking a one-year certificate program can help you build relevant skills to land a job, fast.
Do you have any questions about our selections? Drop us a line and we'll do our best to get back to you ASAP.
And if you're looking for other education opportunities in the city, check out our guide to the best private schools in Toronto.