Top 7 Shops for the Best Printing Services in Toronto
Need printing solutions for your personalized products, marketing needs, and other corporate essentials? You're on the right page, if so!
In this review, we picked out the best printing services in Toronto and checked them out for you, assessing their services. You'll also get pertinent information such as the costs of the services and common products sold per shop.
The Best Printing Shops in Toronto
How did we evaluate the best shops, you ask? Here are the factors we checked:
The Cost of Printing Services in Toronto
The cost of printing services highly depends on the type of prints you need and the quantity. Below are some of the most common products to print so you can get an idea:
Item
Estimated Costs
Poster (Wide Format)
$9.99 - $29.99

$13 - $40 (custom sizes)

Banner
$25 - $78

$35 - $70 (custom sizes)

Business Cards
$14 - $14 (single sided)

$24 - $59 (double-sided)

$19 - $24 (higher-end, single sided)

$29 - $34 (higher-end, double sided)

Canvas Printing
$19 - $34 (lightweight)

$29 - $124 (premium)

$49 - $174 (premium & framed)

Engineering Prints
$2 - $8 (1 to 19 units)

$1 - $7 (20+ units)

$6 - $24 (colored)

Copying Service
19¢ - 49¢ (black & white, letter)

24¢ - 63¢ (black & white, legal)

54 - 93¢ (black & white, ledger)

25¢ - 63¢ (colored, letter)

32¢ - 85¢ (colored, letter)

73¢ - $1(colored, letter)
Average cost of printing documents (assuming that you meet the minimum quantity of the shop):
| Item | Estimated Costs |
| --- | --- |
| Labels | $3 |
| Business laser cheques | $90 |
| Notepads | $40 |
| Flyers | $10 |
| Brochures | $21 |
| Letterhead | $140 |
| Envelopes | $165 |
| Postcards | $18 |
| Gift certificates | $15 |
| Presentation Folders | $65 |
Average cost of personalized merchandise (per piece):
| Item | Estimated Costs |
| --- | --- |
| Mug | $14 - $32 |
| Tote Bag | $25 |
| T-shirts | $25 |
| Ornaments | $17 |
| Coasters | $30 |
| Keychains | $15 |
| Puzzles | $20 |
1. Printcloud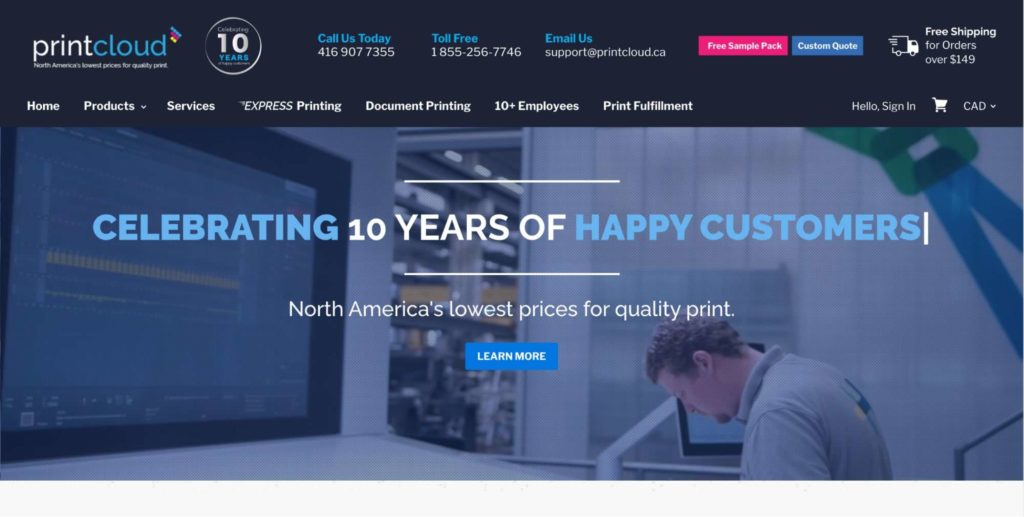 Test
Info
SERVICES
Document printing, marketing products, stationery, signs & banners
WEBSITE
https://printcloud.ca/
ADDRESS
217 Avenue Rd, Toronto, ON M5R 2J3,
CONTACT DETAILS
+1 416-907-7355 |

[email protected]

OPERATING HOURS
Monday - Friday: 9:00 AM - 5:00 PM

Saturday: 10:00 AM - 4:00 PM
Total Scores
| | |
| --- | --- |
| Range of printing capabilities | ★★★★★ |
| Quality and variety of products | ★★★★☆ |
| Customer assistance and guidance | ★★★★★ |
| Reasonable costs | ★★★★★ |
| Delivery time and guarantees | ★★★★★ |
When it comes to the range of products, Printcloud is beyond impressive. They print documents, marketing materials, signs & banners, and stationery products, just to start off the list.
Basically, they have all that you can expect in a print shop, except they do things a little bit better here, in our opinion. In addition to a great range of products, they also have various delivery options at a favorable price.
Clients get two options when it comes to turnaround times: standard and express. Both options meet the average waiting times in Toronto, so we can't complain.
Speaking of express, we're happy to note that there are certain instances where they can accommodate your needs in under one hour. Of course, this is subject to certain conditions, e.g. it's only possible if you have a low-volume order and it's not a busy hour.
As per pricing, we find theirs to be within the reasonable range based on the city's average too. Our only complaint is that the actual costs per piece can be confusing when totaled with the shipping costs.
Fortunately, customer service here is good: you get generally helpful staff who will give genuine recommendations on your orders. And the quality of the prints is just as good – if you're not too hawk-eyed when it comes to minimal errors, anyway.
10 years of experience
Free shipping for orders over $149
Design and order prints online
Customer Reviews
Fast, positive, and professional service
Super fast. I walked in last-minute and he both designed and printed both my greeting card and business cards in only one short hour. His positivity and competence was impressive. The quality of prints from PrintCloud was perfect and very professional looking. Thank you!! – Stephanie Tersigni
Excellent level of customer service
Printcloud is excellent and very professional. I turned to Printcloud to print my exam materials twice now. I was in search for a good print shop after a big-box print store made me wait for days and didn't return my calls. I thankfully found Printcloud. David and Mia are very courteous and efficient. All of my materials were printed same day. I really liked the notes they sent me with my printed materials wishing me "good luck" on my exams. I will definitely order from David and Mia again! – Maxim Basu
2. Just Print Canada Inc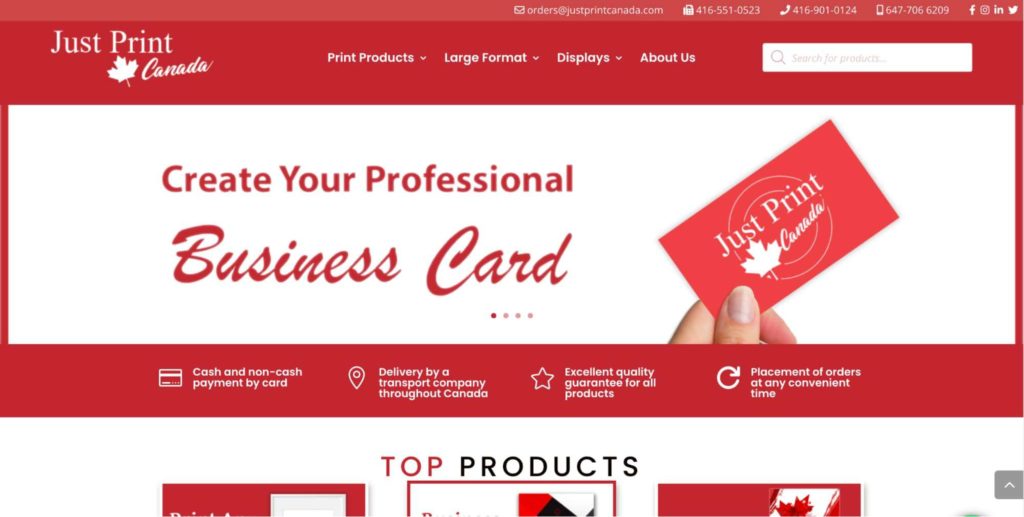 Test
Info
SERVICES
Digital press, stationery, stickers & labels menu, banners, outdoor graphics, rigid materials, indoor & outdoor displays,
WEBSITE
https://www.justprintcanada.com/
ADDRESS
386 Sheppard Ave E, Toronto, ON M2N 3B7
CONTACT DETAILS
+1 647-706-6209 |

[email protected]

OPERATING HOURS
Monday - Friday: 9:00 AM - 6:00 PM

Saturday: 10:00 AM - 3:00 PM
Total Scores
| | |
| --- | --- |
| Range of printing capabilities | ★★★★★ |
| Quality and variety of products | ★★★★★ |
| Customer assistance and guidance | ★★★★★ |
| Reasonable costs | ★★★★☆ |
| Delivery time and guarantees | ★★★★★ |
Just Print Canada seems to have it all when it comes to printing services. From standard marketing materials to large-format displays, they have it all.
Looking through their range of services, we do think they're more suitable for businesses that are in dire need of printed paraphernalia. But that doesn't mean they can't accommodate clients with low-volume orders for themselves.
In fact, one of the things we noted was how well they interact with customers. Clients we surveyed certainly attested to it and we found the same thing when we dropped by the shop ourselves.
This is where the shop takes the cake, actually: customer assistance. In over 400 reviews we collected, none of them complained about their experience – they even emphasized that the staff were extremely helpful and kind.
Apart from the onsite experience, the shop also wins in the online sphere. We tried their online ordering process ourselves and found that sending orders is easy: it takes only three steps with a very straightforward confirmation process.
Now, as for the price, the shop does land within Toronto's average. So again, we can't complain about that.
As a final note, delivery times with this shop are outstanding with zero complaints from past customers. We just wished that shipping options were clearer so clients can get a better grasp of the standard turnaround times.
Guarantee on all products
Order online anytime
Wide range of high-quality printing services
Lack of more flexible shipping options
Customer Reviews
Provides total customer satisfaction
I have been using Just Print Canada for some time. Just Print Canada is much more than just a print shop. The team has a total focus on providing excellent customer satisfaction and they will go above and beyond to assist you when needed. I deal mostly with Joseph, who recently helped me to locate a package when I lost my tracking number. I have no hesitation in recommending Just Print Canada. – Noel Muttupulle
Goes above and beyond for customers
Joe and his team are very friendly and go above and beyond to accommodate you. I had a bit of hiccup with my original print (not their fault), and they were kind enough to re-print it without extra charge. They were so patient with me and took the time to answer all my questions. I do not hesitate to recommend their services for all your printing needs! Thank you Joe and Edna! – Jacqueline Lau
3. Allegra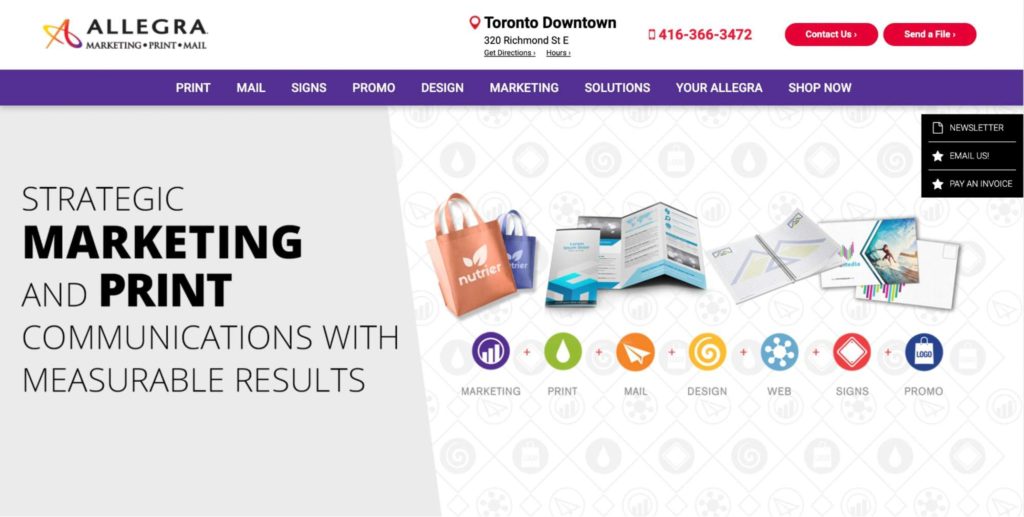 Total Scores
| | |
| --- | --- |
| Range of printing capabilities | ★★★★☆ |
| Quality and variety of products | ★★★★★ |
| Customer assistance and guidance | ★★★★★ |
| Reasonable costs | ★★★★☆ |
| Delivery time and guarantees | ★★★★★ |
If you're a business owner, you might want to look into Allegra and the range of integrated solutions they offer. Their services are not only enclosed within the sphere of printing but extend to more tangible marketing efforts.
Let's run through its range of products first. While the shop specializes in business-oriented printing, we find their range to be a bit lacking compared to the others on this list.
Still, you'll find most standard printing products available here so it doesn't feel like you're missing out on something big.
Moving over to their customer service, their assistance is nothing short of incredible. Even if you're just here for a quick printing service, the experience seems to be the same: we didn't have a hard time making extra requests even when testing them with a quick order.
Compared to the businesses featured in this list, though, there's a tendency for the costs here to lean towards the expensive side. It's definitely not prohibitively expensive, but you might want to think twice before sending low-volume orders.
In terms of delivery times, we didn't have major issues and couldn't find past clients with any notes on problems there either. In our own experience, the turnaround times were average.
35 years in business
Specializes in marketing-oriented printing
Easy file submission online
Offers integrated services to other marketing solutions
Certain set of services can be costly
Comparatively smaller range of products
Customer Reviews
Understands customer needs
Warren and his team made it seamless to work with. They understood my small business needs and made some valuable recommendation that made my life easier. I was very impressed with the speed of service. With other printing services I had to wait two weeks for a similar order, Allegra Toronto turned it around in less than two days. Thank you and I will not hesitate to recommend Allegra Toronto to my business and personnel network. – Raj Bimrah
Great level of trust throughout the years
I have been working with Allegra for six years now, and I trust them to the highest possible degree. They are always professional, always execute my projects perfectly and on time, and I consider them a partner. The constantly go above and beyond. Absolutely incredible. – Dijana Ebach
4. Print & Gift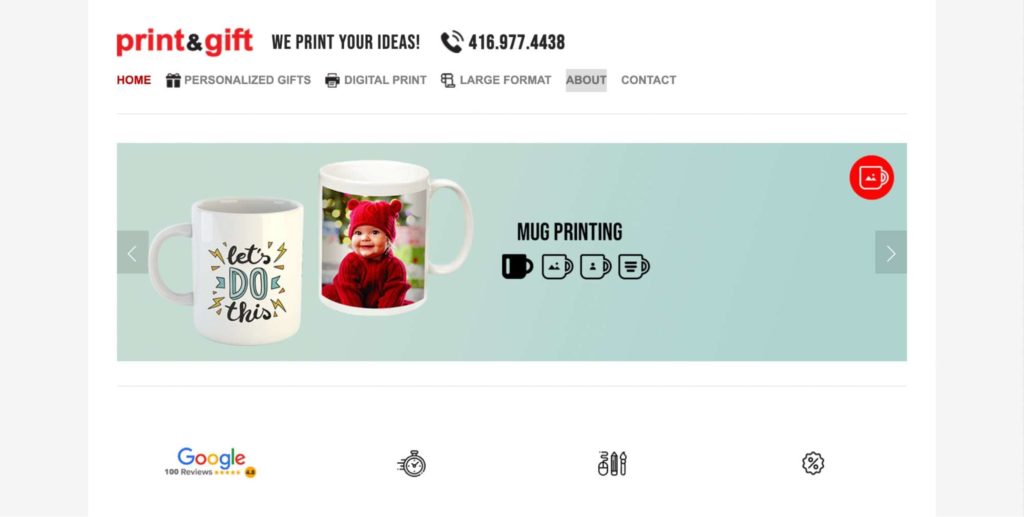 Test
Info
SERVICES
Personalized gifts, digital print, large format
WEBSITE
https://www.printkia.com/
ADDRESS
641 Bay St., Toronto, ON M5G 1M7
CONTACT DETAILS
+1 416-977-4438
OPERATING HOURS
Monday - Friday: 9:00 AM - 6:00 PM

Saturday: 1:00 PM - 4:00 PM
Total Scores
| | |
| --- | --- |
| Range of printing capabilities | ★★★★★ |
| Quality and variety of products | ★★★★☆ |
| Customer assistance and guidance | ★★★★★ |
| Reasonable costs | ★★★☆☆ |
| Delivery time and guarantees | ★★★★★ |
Print & Gift is packed with all the things we like in printing services, except for one thing. Let's run through its positives first before we get into the drawbacks, though.
First, we love that they can accommodate individual and corporate needs, meaning they can take on low-to-high-volume jobs. The best part is, there is no minimum quantity required – you can basically drop by just to print one item!
Second, they have the most insanely fast turnaround we've come across. Even for bulk orders, the company is able to deliver within 24 hours, and that's all without compromising on quality, mind you.
We found several clients who did bulk orders from them and confirmed that quality and delivery were as expected. That being said, there's a minor caveat here that we'll get into in a second.
Third for the good points, their customer assistance is up to par with most of the shops we mentioned. Communication is friendly as the response times are an absolute delight for impatient customers.
On the other end, you might encounter trouble when it comes to the costs, especially if you'll use their computers. Our interviews revealed that the shop has fairly high rates per hour of computer usage.
Even the products themselves tend to come with a hefty price tag that other customers didn't like. To be fair, most of the ones they put out meet the city's average – the price just goes up the lower the order.
That's the caveat we mentioned earlier: even if they have no MOQ, it may be offset by the way rates go up as your order gets smaller. That's why you may want to inquire first if their rates for the volume you want matches your budget.
Specialized in individual and corporate needs
No minimum quantity required
24 hours turnaround time for bulk orders
Fast response times
Expensive rates
Rates slide higher with lower-quantity orders
Customer Reviews
Fast service and high-quality products
Can't say enough great things. Incredibly responsive, super fast and beautiful product! I called this morning to ask about having 3 custom mugs made, and was able to pick them up this afternoon. Very helpful staff, would recommend! – Amelia MacLean
Best place for printing needs
Amazing color printing! They can do various printing products from commercial brochure to personal mug. Also they can print on canvas and the color is so authentic! And the service was quite effective. It is the best place for your print service. – Lu Shelly
5. The Printing House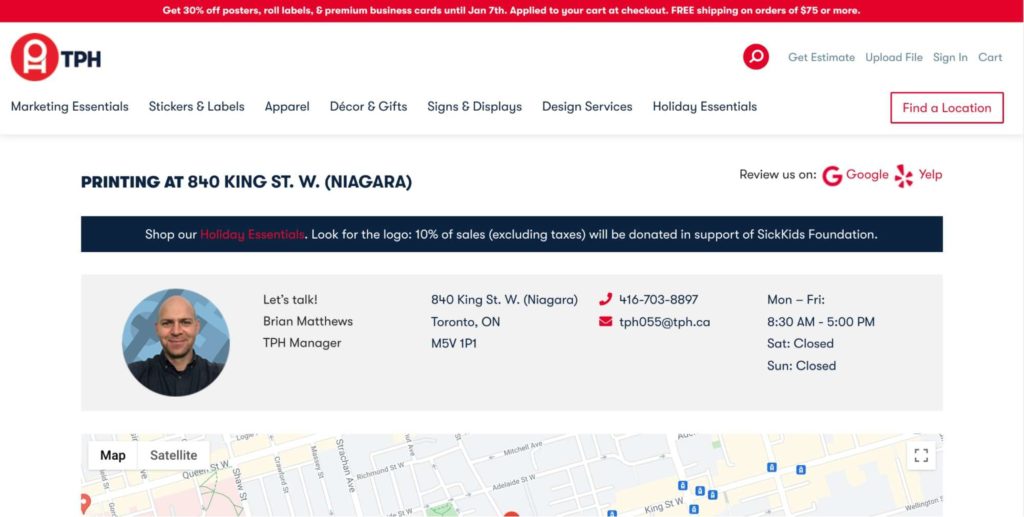 Test
Info
SERVICES
Marketing essentials, stickers & labels, apparel, decor & gifts, signs & displays, design services, holiday essentials
WEBSITE
https://www.tph.ca/055-2/
ADDRESS
840 King St W, Toronto, ON M5V 1P1
CONTACT DETAILS
+1 416-703-8897 |

[email protected]

OPERATING HOURS
Monday - Friday: 8:30 AM - 5:00 PM
Total Scores
| | |
| --- | --- |
| Range of printing capabilities | ★★★★★ |
| Quality and variety of products | ★★★★★ |
| Customer assistance and guidance | ★★★★☆ |
| Reasonable costs | ★★★★☆ |
| Delivery time and guarantees | ★★★★★ |
Before we get into the review, note that The Printing House (TPH) has various locations in Toronto. We're featuring branch 005 on this list because it has the best ratings from customers and the most flexible location.
Anyway, when it comes to range, TPH is like a gem within a treasure trove. They do personalized merchandise, marketing materials, apparel, decor, and even holiday essentials.
Placing an order is also a favorable experience… with just a few bumps. On their website, the process is easy-peasy and you can place a job order in no time.
However, the onsite experience may be a bit different, as some clients noted. Although we didn't see it first-hand, some clients thought that the customer service was a bit rough, with miscommunication taking place.
Nonetheless, the rest of the people who talked to us about them sang their praises. Many loved how helpful the staff were when dealing with them, even making quick changes for them when an error arises.
Their delivery times are pretty standard, by the way, but they can be faster than usual depending on your orders. In general, you can expect your orders to arrive on time or days before the set deadline.
Specialize in a wide range of printing services
Easy online ordering system
Fast turnaround times
Small issues with customer service
Customer Reviews
Brilliant quality and service
Bryan and the guys at TPH King west were incredibly responsive and really brilliant in sorting out a mistake I made when ordering postcards. Running a small business it can sometimes be difficult to source good quality suppliers but TPH has exceeded all expectations. Brilliant quality goods and brilliant service, would highly recommend Bryan and the staff. – Philip Callan
Amazing quality at lightning speed
I can be a massive procrastinator and Navneet always gets my last-minute projects printed on time. No hassle, amazing quality, lightening speed. Very impressed with the high-level of communication and the high standard of work. Thank you so much! – Jess Mili
6. DundasPrint.com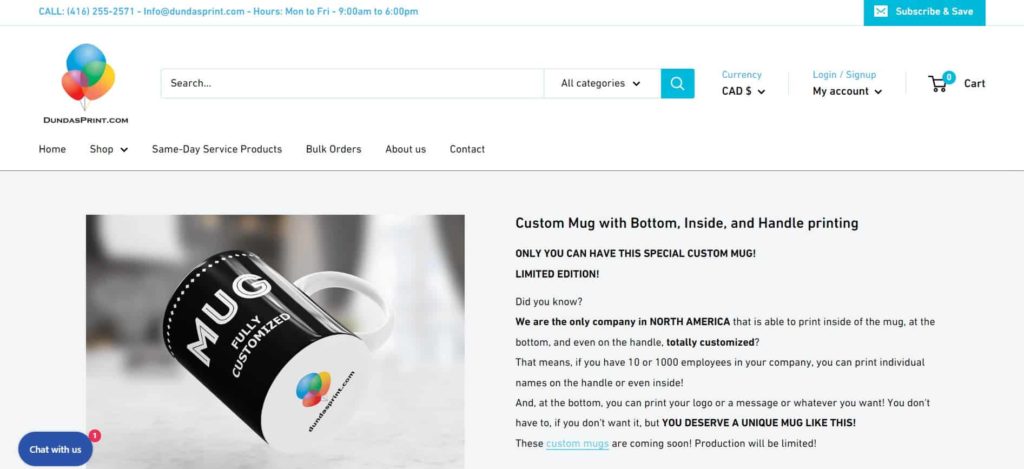 Test
Info
SERVICES
Drinkware, Clothing, Bags, Apparel, Custom Pillows, Custom Beanies, Custom Canvas Shoes
WEBSITE
https://dundasprint.com/
ADDRESS
Toronto
CONTACT DETAILS
(416) 255-2571 |

[email protected]

OPERATING HOURS
Monday - Friday: 9:00 AM - 6:00 PM
Total Scores
| | |
| --- | --- |
| Range of printing capabilities | ★★★★★ |
| Quality and variety of products | ★★★★★ |
| Customer assistance and guidance | ★★★★★ |
| Reasonable costs | ★★★★★ |
| Delivery time and guarantees | ★★★★★ |
DundasPrint.com is a printing shop that offers a wide range of print customization options for clients which are ideal for both personal purposes and bulk corporate orders that are perfect for employee distribution.
Highly equipped with innovative facilities and machinery, their production time on all of their products takes up to 3-5 business days only.
Furthermore, the whole ordering process is also made easy since all details are readily featured online and clients can also choose to pick up their products in their shop at Toronto.
Though note that their pick-up hours are only from Monday to Friday and clients who have intended to pick their order up during the weekends may not be adequately accommodated.
Overall, with their steadfast production time, bulk order discounts, and highly knowledgeable experts for the job, we highly recommend them to clients in the area looking for professional printing services.
Fast production times
Bulk order discounts are available
Innovative printing features
7. Bely.ca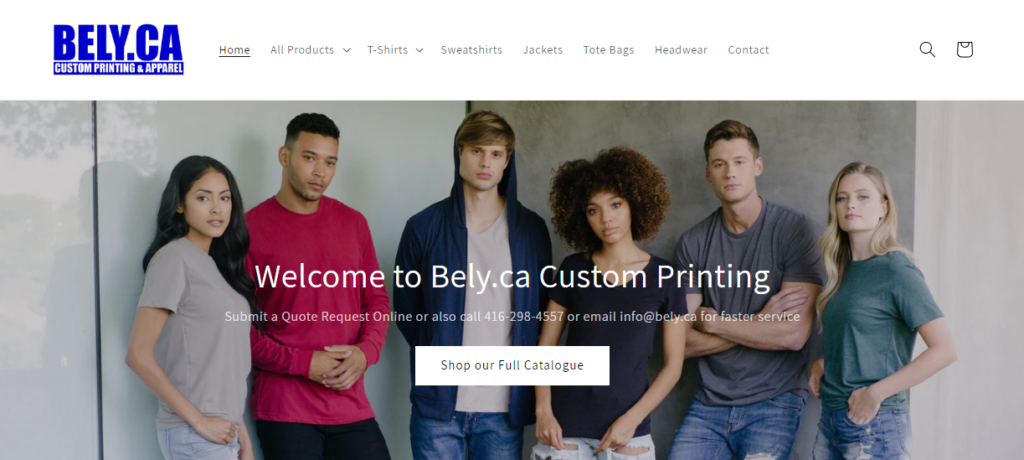 Test
Info
SERVICES
Shirts, Sweatshirts, Jackets, Tote Bags, Headwear
WEBSITE
https://bely.ca
ADDRESS
1120 Tapscott Rd, Unit 11, Scarborough ON, M1X 1E8
CONTACT DETAILS
416-298-4557 |

[email protected]

OPERATING HOURS
Monday-Friday: 11:30 AM–6:30 PM

Saturday: 12 PM–4 PM
Total Scores
| | |
| --- | --- |
| Range of printing capabilities | ★★★★☆ |
| Quality and variety of products | ★★★★★ |
| Customer assistance and guidance | ★★★★★ |
| Reasonable costs | ★★★★★ |
| Delivery time and guarantees | ★★★★★ |
Bely.ca is the shop to visit if you're in need of apparel printing. Their custom printing services are known for producing high-quality T-shirts, hoodies, sweatshirts, and more.
Not only do they use the best fabrics and the latest printing technologies to achieve excellent results, but their prices are also very affordable – no need to break the bank!
Furthermore, Bely.ca is conveniently located in Toronto and has friendly customer service that can help you with all of your custom apparel needs.
We recommend Bely.ca for anyone looking for custom apparel printing in Toronto because of their quality workmanship, competitive pricing, and convenient location. With custom apparel printing from Bely.ca, you can have confidence knowing that you'll always get top-notch results!
Wide range of products
Unbeatable price guarantee
Ships Canada-wide
FAQs About Printing Services in Toronto
---
Do you know more printing shops in Toronto that we didn't include in our list? Tell us about it and we'll be glad to give them a review if they meet our criteria!
Feel free to also explore our other reviews on our site: