A Guide to the 5 Best Cooking Classes in Toronto
They say that the way to the heart is through the stomach – and we agree with that, being foodies ourselves. Anyway, whether you want to play cupid or simply want to give yourself a hearty meal, we're here to help with today's article!
Today's review showcases the best cooking classes in Toronto to help you improve your culinary skills. If you're up for it, all that's left to do is to scroll down to your options and pick the one for you!
The Cost of Cooking Classes in Toronto
Let's talk cost first. On average, one-hour cooking classes usually start at $30.
But as you'll find, it's more typical for classes to go for 1.5 to 3 hours. This sets the starting cost at around $85 to $135 per class.
You may also find cooking classes for couples and teams. The starting prices for these usually range from $175 to $250.
Take a look at the table below to see the common prices for cooking lessons in Toronto:
| Class Format / Type of Cuisine | Estimated Cost |
| --- | --- |
| In-person classes for individuals (1.5 to 3 hours) | $85 - $135 |
| In-person classes for couples (1.5 to 3 hours) | $175 to $250 |
| Virtual classes | Starts at $40 |
| Skills classes | $75 - $85 |
| Cooking classes for groups (weekday rates) | $600 |
| Cooking classes for groups (weekend rates) | $1,000 |
| Brunch workshops | $70 |
| Steak with side dishes | $80 - $85 |
| Sushi-making classes | $70 - 100 |
The Best Cooking Classes in Toronto
Now, we don't really know exactly what you want to learn, but we tried our best to give you a variety of options to consider. So, we focused more on the overall service of each school, class formats, availability, and cost.
At the end of the day, here are the ones we liked best!
1. Dish Cooking Studio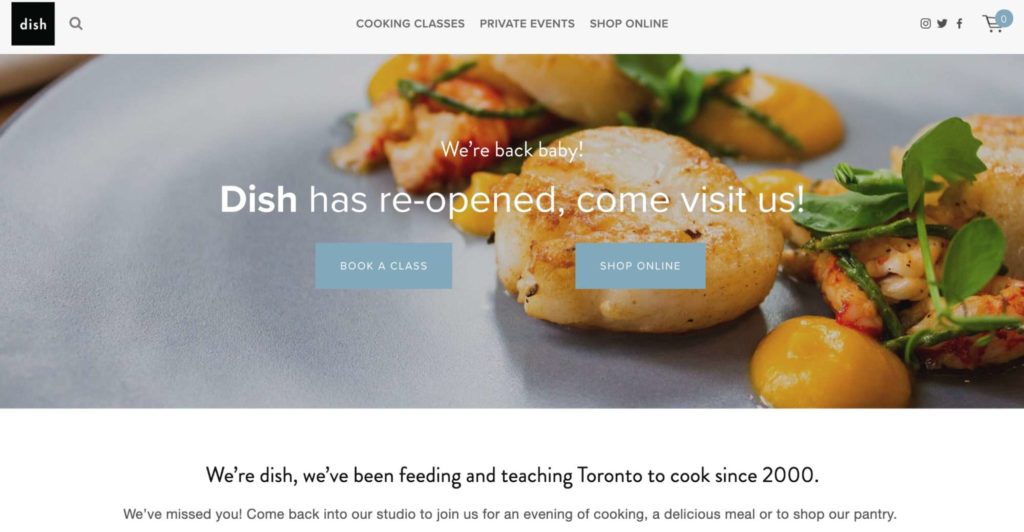 Test
Info
SERVICES
In-person and virtual cooking classes
WEBSITE
https://www.dishcookingstudio.com/
ADDRESS
587 College St, Toronto, ON M6G 1B2
CONTACT DETAILS
+1 416-920-5559 |

[email protected]

OPERATING HOURS
Monday - Friday: 10:00 AM - 6:00 PM

Saturday: 11:00 AM - 4:00 PM
Since 2010, Dish Cooking Studio has been providing in-person cooking classes in Toronto. Recently, they've added virtual cooking classes among their options too.
Prospective clients can choose from among three different class formats.
"Hands-On" is a 3 to 4-hour class focused on making a 4-course meal. It costs $145 per person and guests will be divided into groups to produce recipes from a menu.
"Own the Kitchen" costs $145 per person and lasts for 3 to 4 hours. Under this format, you can get to try all 3 courses on the menu.
"Skills" costs $115 and is more concentrated on improving specific cooking skills and techniques. This class is designed in a way where you can try one course in the studio and the rest at home.
All these cooking formats come with wine + beer available for purchase. Booking a class is also a breeze as you can easily view the availability through their virtual calendar.
Another thing that we like is that they offer corporate cooking experiences. These are great options for company parties, get-togethers, team buildings, and other private events.
Offers virtual and in-person classes
Three class formats to choose from
Offers a welcome drink in classes
Easy viewing of available classes on website
Corporate experiences available
Variety of cooking event formats to choose from
Popular courses run out fast
Customer Reviews
A fantastic way to bond
I have been to dish studio five times with my friend who loves to cook and learn but she had a personal situation so she gifted her space to my son. It was a great way to spend time with my adult son who loves good food and also enjoys cooking.After we prepared the meal we sat across from another Mom and her adult son. My son said it was awesome and he would definitely like to do other classes. For Christmas, I will be gifting my adult son & daughter the knife skills class. Learning an important skill, enjoying great food and having fun together.
Light and fun atmosphere
Thank you for a wonderful experience at Dish Cooking School. The chefs were knowledgeable and approachable. I felt comfortable asking questions. The atmosphere was light and fun. The food was amazing. I can't wait to receive my recipes. I have already begun to look for another class! – Cathy Nursall
2. Nella Cucina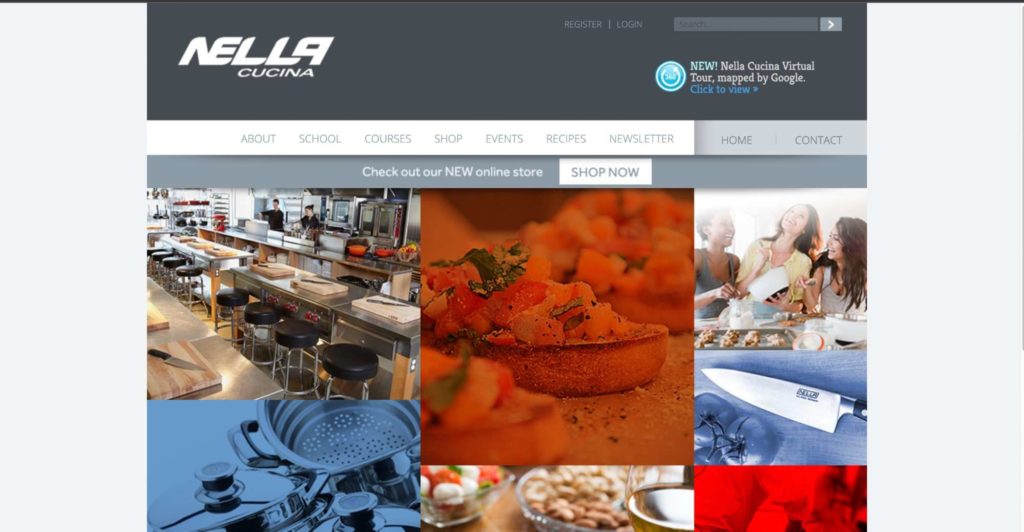 Test
Info
SERVICES
Basic skills classes, hands-on classes, demonstration classes, workshops, private classes
WEBSITE
http://www.nellacucina.ca/
ADDRESS
876 Bathurst St, Toronto, ON M5R 3G3
CONTACT DETAILS
+1 416-922-9055 |

[email protected]

OPERATING HOURS
Monday - Friday: 9:00 - 5:30 PM

Saturday: 10:00 AM - 4:00 PM
Nella Cucina provides a complete culinary experience from classes to equipment. Their classes are divided into four major formats that learners can look into.
"Hands-On Individuals" allows clients to learn individually or in pairs in their workstations. For $95 to $125, you master a skill or a recipe at your own pace.
"Hand-On Team" is a popular choice for couples or small groups of friends. Teams get to prepare 2 to 3 recipes together for $95 per person.
"Interactive Demo" is a lot like watching a live cooking show but with more chances to interact. You can learn various techniques from the chef and get to try the meals prepared at the event.
"Specialty Tastings, Guest Speakers, and Demonstrations " are various events you can also look into. These events are focused on informative presentations rather than making meals.
Apart from this, you can also reach out to them to plan a team-building event for you.
Available classes can be accessed via their website. But you do need to call them to register for a class.
Overally, we like the flexibility and range of choices here. There are a ton of options, both pre-designed and on-request, that can cater to just about any need.
Unfortunately, they are fairly popular – which means their lines can be so busy that it may take forever to get through to them at times.
Offers classes in various formats
Best for individual learners, couples, small and big teams
Can plan a team-building event for clients
Easily view available classes and related details on websites
Non-alcoholic beverages offered in classes
Can be difficult to contact at times
Customer Reviews
Worth the price
Came here for a knife skills class with my partner during the pandemic and loved the experience. Intimate and socially distanced class, with 2 great chefs who were also very personable. Will be back for future classes! Just wish the screens were clearer and that there were no ventilation sounds in thee background but otherwise it was perfect and well worth the price we paid. – Salena Gao
Great experience from experience chefs
I attended a virtual online class, we made a delicious curried butternut squash soup! Chef Brianne was fabulous, and well spoken which allowed us the opportunity to follow the recipe with ease. This was a great experience and would definitely sign up again and have a virtual girls night. – Brenda Geim
3. Roll This Way Sushi Making Classes and Catering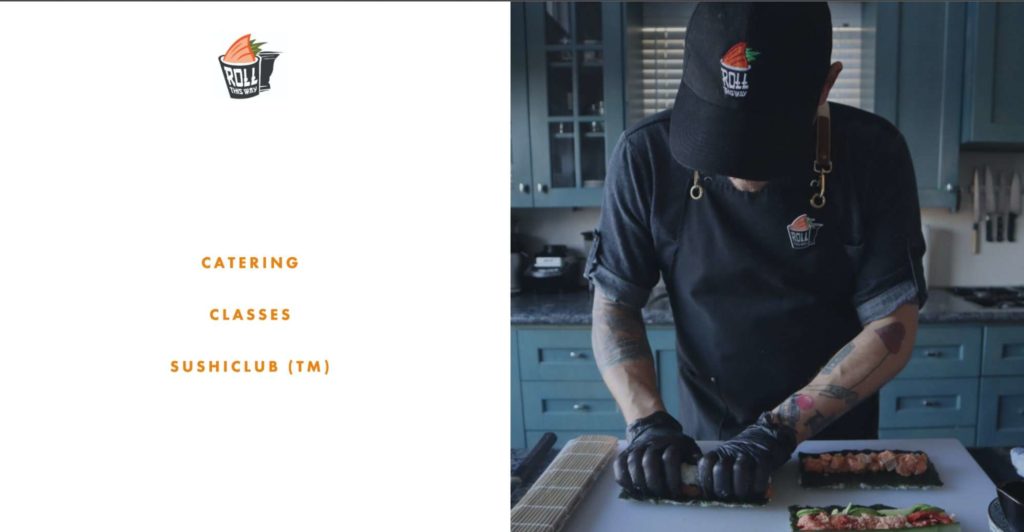 Test
Info
SERVICES
Virtual, in-person, and at-home sushi making classes
WEBSITE
https://www.rollthisway.com/
ADDRESS
14 Logan Ave Unit B, Toronto, ON M4M 2M8
CONTACT DETAILS
+1 416-738-8192 |

[email protected]

OPERATING HOURS
Monday - Sunday: 10:00 AM - 8:00 PM
Sushi making is one of the most popular types of cooking classes you can sign up for. And Roll This Way is our best option for this experience.
Their best offering is their virtual sushi-making class. You have the option to choose between live public glasses or pre-recorded classes.
The best part about all this is that everything is provided to you. No need to buy equipment and ingredients because each class comes with a complete kit.
The sushi-making kits come with a sushi rolling mat, cutting board, chopsticks, knife, rice, and seasonings. Delivery is free within the local area but charges apply for nationwide shipping.
Another thing we liked is their virtual class menu. There's Lobster California Uramaki, Avocado Cucumber Maki, Spicy Tuna Temaki, and more.
The virtual classes are best for virtual experiences such as birthdays, team buildings,and private dinners.
If you prefer an in-person class, a 90-minute lesson will cost you $70. They also have an option where they can teach you at your home or office for $250.
Best for virtual sushi-making classes
Complete sushi-making kit provided
Free local delivery of kits
Various sushi recipes
In-person and at home classes available
Open daily
Certain services are expensive
Customer Reviews
Exceptional and mind-blowing service
Roll This Way Experience was beyond exceptional! From the quality of service, sushi was unbelievably fresh, the variety of options available, and the experience itself was mind-blowing. The set up was classy and beautiful. John and his Team exceeded our expectations and really gave our guests an unforgettable evening. We look forward to having your team as a preferred caterer for events at our office in the future. – Crystal DeSouza
Professional and smooth process
We did this for a corporate event via zoom. The class was a lot of fun. For someone who'd never done this before they completely supplied everything needed, and what we made started easy but then led up to harder things. The instructor went at a good pace, and spoke clearly. Their two camera setup which showed him and then the sushi being made was very easy to follow. The lighting, etc. was professional level so you could clearly see everything. – David McKenna
4. Dickie's Cooking School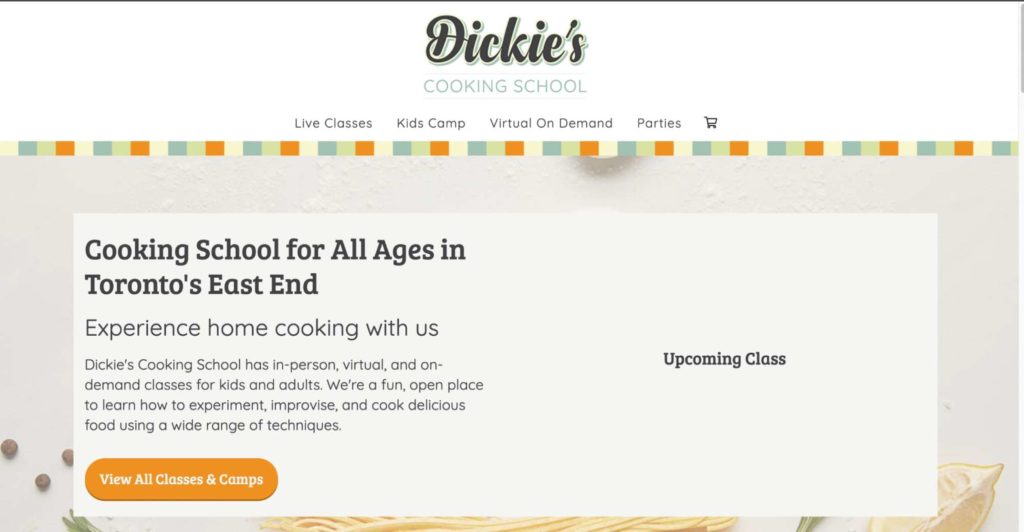 Test
Info
SERVICES
Virtual and in-person cooking classes
WEBSITE
https://dickiescookingschool.com/
ADDRESS
87 B Cedarvale Ave, Toronto, ON M4C 4J7
CONTACT DETAILS
+1 647-461-6440 |

[email protected]

OPERATING HOURS
Monday - Friday: 11:00 AM - 6:00 PM

Saturday - Sunday: 9:00 AM - 5:00 PM
Dickie's Cooking School offers various camps and classes for all ages. There are sessions made for kids, teens, adults, and those with intellectual disabilities.
The school offers both in-person and virtual classes. For instance, there are classes for kids that seek to introduce the fundamentals of baking.
One of our favorites is the cocktail of On-Demand classes they offer.
With this, you get unlimited access to a prerecorded lesson. This also includes recipe, equipment, ingredients list, and a video demonstration.
Some of the On-Demand courses they offer are the Dessert Course, Indian Cooking Course, and Easy Fast Lunches.
Each of these courses starts at $39.99. The course outline varies per class, as does the timeframe.
Another thing that sets them apart are their lessons made for individuals with intellectual disabilities. The classes are led by a former special education teacher so we believe they're in great hands.
Offers classes for all ages
Offers classes for individuals with intellectual disabilities
Intellectual disabilities classes led by a former special education teacher
On-Demand courses available for self-paced learners
Various kids camps available
Open daily
Popular courses get booked fast
Customer Reviews
Incredible program for kids
Simply an incredible program for our kiddo. 'Mom it is my favourite camp".Nothing makes you happier than your child coming home busting with things to share and anxious to go back the next day. Lisa has a special talent with children and also a bonus we do not have to pack food. Love the recipes and sharing them at home cooking time too. – Cassie St. Amand
Informative and enjoyable experience
I really enjoyed my doughnut cooking class. Lisa is a great teacher to begin with, and a wonderful cook. Her manner is fun, informative, patient and understanding. She listens well, and is thoroughly prepared. Lisa paced the class with finesse, demonstrating her obvious talent and understanding of her cooks' needs. – Barry Towson
5. Le Dolci Culinary Classroom & Studio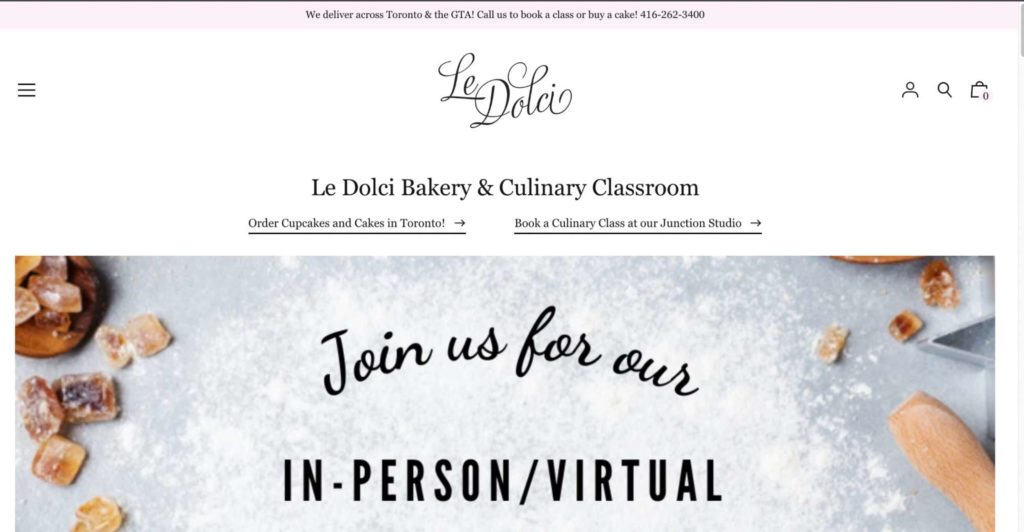 | Test | Info |
| --- | --- |
| SERVICES | Virtual, in-person, kids camps, adult bootcamps, single sessions, multiple week courses |
| WEBSITE | https://www.ledolci.com/ |
| ADDRESS | 12 Sousa Mendes St, Toronto, ON M6P 3Z5 |
| CONTACT DETAILS | +1 416-262-3400 |
If you want to get started with baking, Le Dolci Culinary Classroom & Studio is our top pick. Here are the top reasons why we believe you'll have a great experience here.
In general, they offer in-person and virtual cooking classes. But they also offer various formats to choose from.
They are public classes with a large selection of classes in Toronto. There are also private classes perfect for families, friends, and colleagues.
For companies and businesses, they also offer client groups and corporate team building. In addition to these, kids can also enjoy classes and baking camps.
Some of the things you can learn from there are cake decorating and cooking decorating. You can also learn how to make pasta, breads, cinnamon buns, and more.
If you're a complete beginner, you can try their online cake and buttercream class. This course takes 6 weeks to complete and is great for all ages.
As for the pricing, virtual classes start at $40 while in-person ones start at $129 per person. For corporate bookings, renting the studio costs $129 per person.
Best for baking classes
Course available for all ages and all events
Offers courses tailor-fit for beginners
Corporate bookings available
Offers holiday baking experiences
Customer Reviews
Artistic and creative classes
What a lovely way to start our day! Thank you to Chef Amanda for a great class. My 8yr old daughter and I attended the sugar cookie class and really enjoyed celebrating our artistic creativity with the tips and tricks shared as we decorated our cookies. We will definitely do this again! – Dalia Osman
Classes fit for all ages
Great way to spend a Saturday with a Zoom virtual class baking Macarons with Zoe at Le Dolci. Informative, nicely paced class with just the right amount of attendees. I would recommend this class to anyone who has a desire to attempt these special treats. Consider giving a class as a gift certificate to a family member or friend who loves to bake. Thanks to Kim Jenkins who gifted this to me! – Judy Westegaard
FAQs About Cooking Classes in Toronto
---
Tell us what you think about our list so we can improve our future content for you! And while we're at it, let's help you pair up these cooking classes with some dining inspirations to try out: