Amazing Activities to Feel The Spirit of Christmas Season In Toronto
December is just around the corner which means it's time to hang up those Christmas lights and get that festive spirit on! Everyone loves Christmas, especially Torontonians and they aren't afraid to show it with huge celebrations and annual events.
Christmas is a busy time, so expect lots of activities and festivals. To avoid the stress of making an itinerary, read our list for the best things to do this Christmas in Toronto.
1. Go Ice Skating at Nathan Phillips Square
Address: 100 Queen St W, Toronto, ON M5H 2N1, Canada
During Christmas, Nathan Phillips Square's fountain transforms into an ice skating rink. Locals love skating here for its lively and upbeat atmosphere, and most of all: it's free!
The skating rink is decorated with beautiful lights and a cute Christmas tree. There's even a DJ that spins some records to make the skating experience more vibrant.
Pro tip:

If you forget to bring your own skates or forget to bring a helmet, there are skate rentals on site that offer helmets and skating shoes!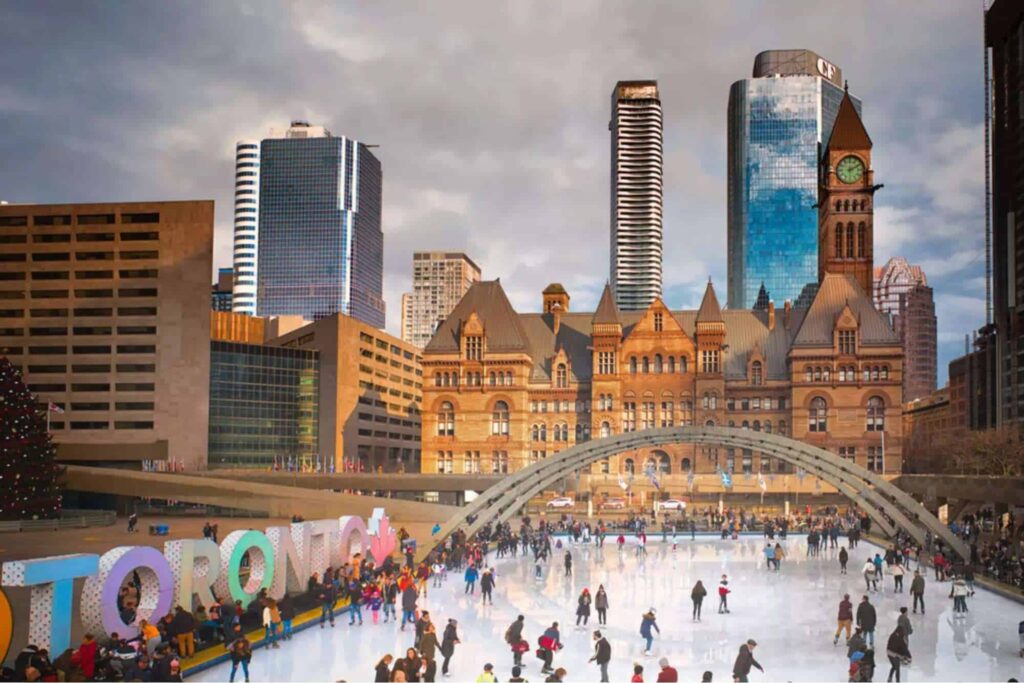 2. Shop 'Til You Drop at Toronto Christmas Market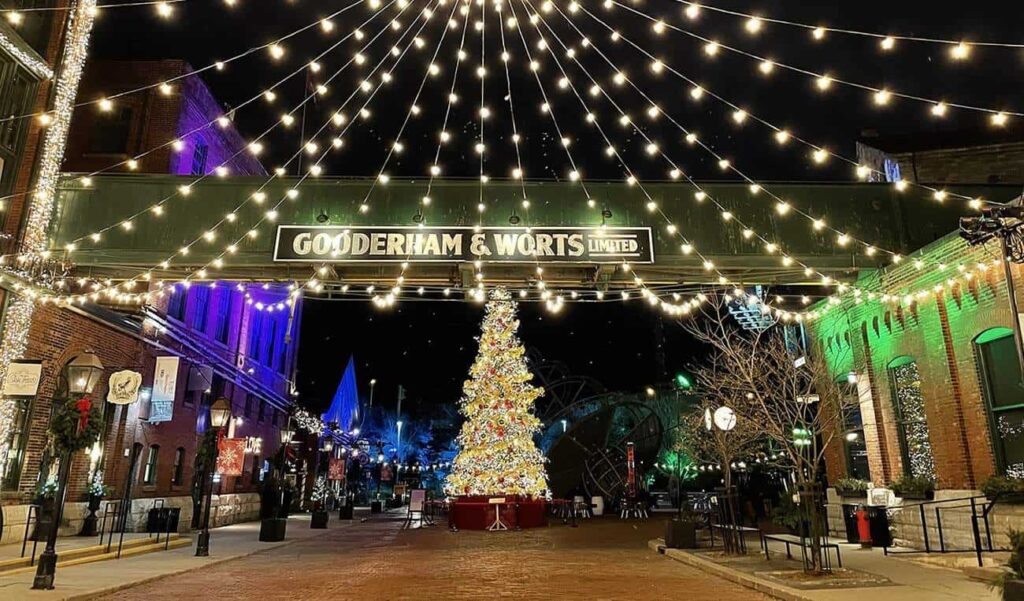 Address: 373 Front St E, Toronto, ON M5A 1G4, Canada
The Toronto Christmas Market secures the number one spot on any shopaholics wishlist. Also known as the Distillery Winter Village, this spot offers tons of shopping opportunities and almost every product imaginable!
This annual event is jam packed stores selling trinkets like mouth-blown glass and wood carvings. The market is beautifully decorated and has delicious holiday treats like turkey legs that are worth sampling.
Pro tip:

We suggest visiting the market at night because the bright Christmas lights compliment the Distillery district's ancient architecture, making it great for pictures.
3. Join in on the Festivities at Casa Loma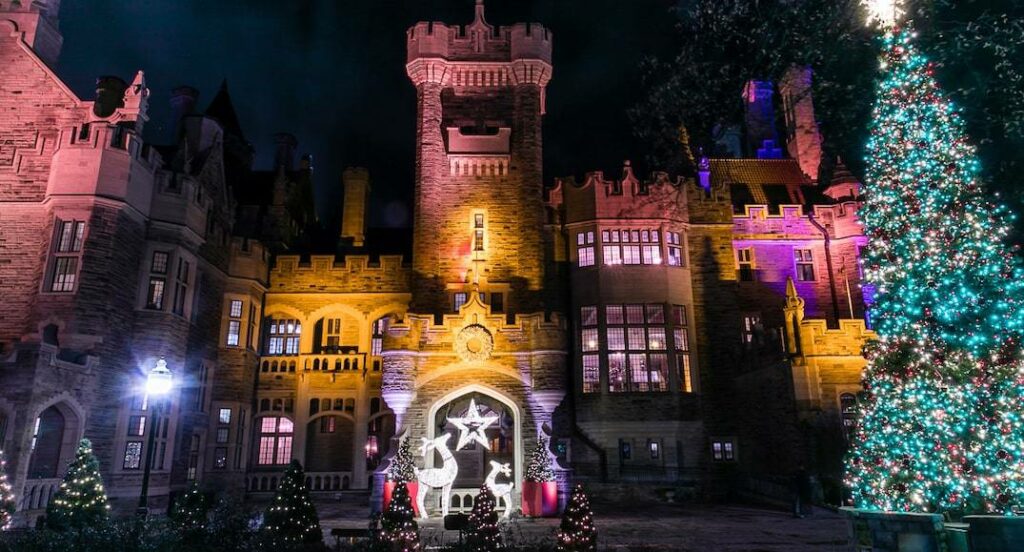 Address: Casa Loma, 1 Austin Terrace, Toronto, ON M5R 1X8, Canada
Price: Per person – $45
Christmas at the Castle is one of Casa Loma's biggest events annually and also one of the most popular. It's a great place for excellent performances and enjoyable activities for the whole family.
During this event, the castle is beautifully decorated and you can find a giant Christmas tree in the Great Hall along with 8 other unique trees. There are also Christmas mascots and a Santa Claus in the venue, making it great for kids and adults.
Pro tip:

There are several live events in the castle but we suggest visiting the Great Hall to watch an Aerialist perform amazing tricks while gliding through the air.
4. Attend the Cavalcade of Lights at Nathan Phillips Square

Address: 100 Queen St W, Toronto, ON M5H 2N2, Canada
Every year the Cavalcade of Lights kicks off the start of Christmas celebration in Toronto by lighting the city's official Christmas tree! It's one of the city's most iconic customs that has been going on for more than 50 years.
Aside from lighting up the 60 foot Christmas tree, there's also an awesome fireworks display to enjoy and lots of live musical performances.
Pro tip:

During this event, there is a special organized DJ skate party that you can participate in. It's a fun activity to experience with your family and friends.
5. Get Your Christmas Spirit on with Holiday Fair in the Square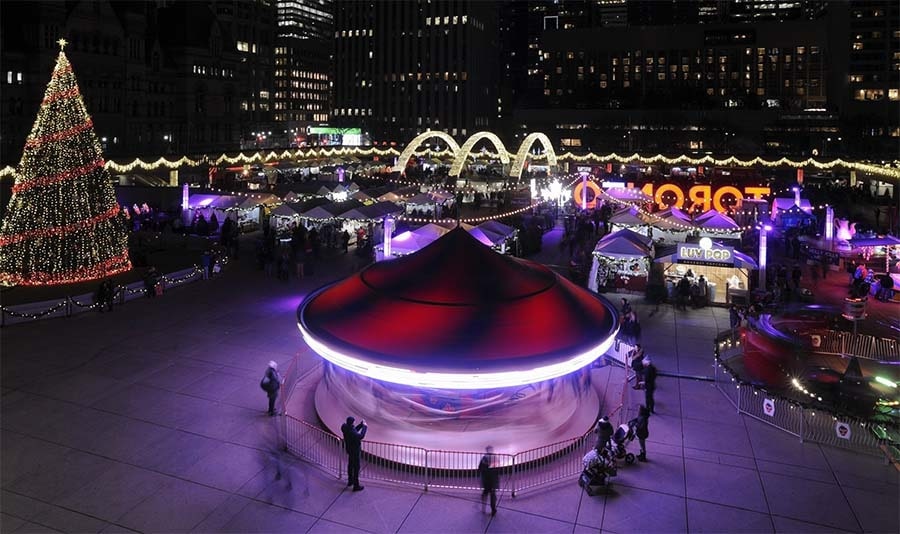 Address: 100 Queen St W, Toronto, ON M5H 2N1, Canada
The annual Holiday Fair in the Square is an event similar to the "Toronto Christmas Market" but it takes place at Nathan Phillips Square. It's a great place to snag affordable trinkets and items while enjoying festivities!
The fair is entirely free to visit and is filled with vendors selling delicious food and refreshing beverages! There's even a gigantic Christmas tree which is a sight to see.
Pro tip:

There are several rides in this fair for kids and adults to bond in. We suggest a ride on the carousell for a relaxing ride filled with bright lights!
6. Experience Holiday Magic at Yorkville Village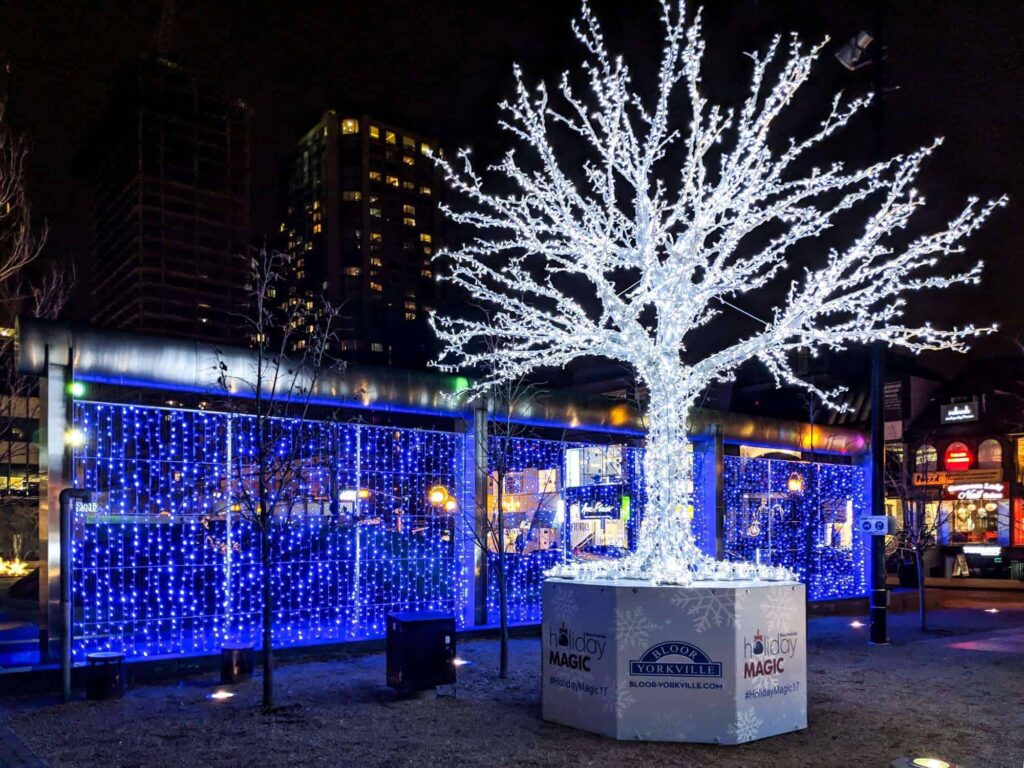 Address: 55 Avenue Rd Suite 2250, Toronto, ON M5R 3L2, Canada
One of the best things to do for free is to check the concerts in the Holiday Magic event at Yorkville Village. This annual event also has a tree lighting ceremony to celebrate the season!
With all the holiday lights and decorations lining the streets, Yorkville becomes especially lovely – which really compliments the music. You can also catch some carollers roaming around and singing classics!
Pro tip:

Once the annual tree lighting is over, we suggest you stick around a little longer till the crowds leave to get a great view of all the Christmas lights shining in harmony with the special tree!
7. Enjoy the Atmosphere at Winterfest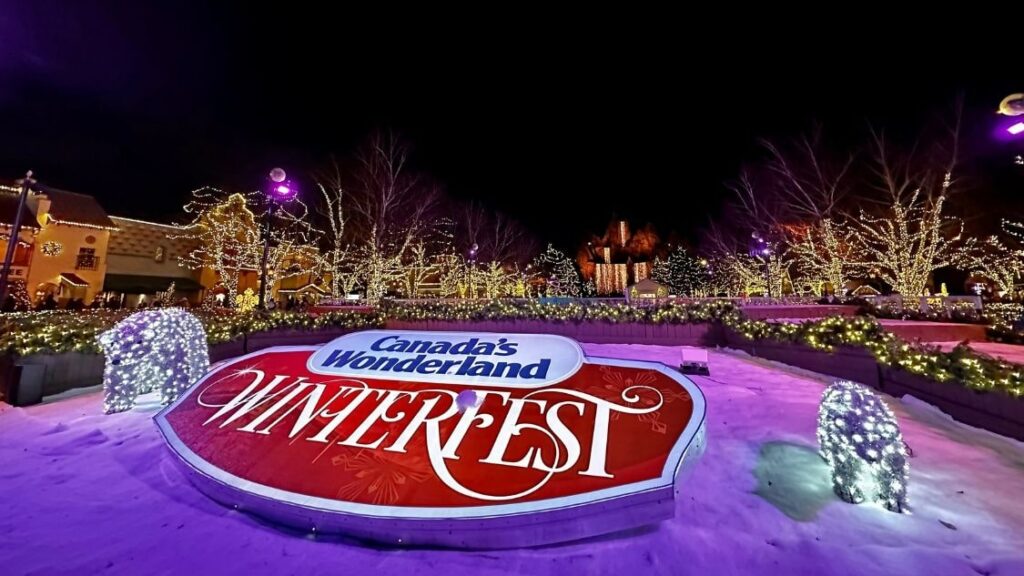 Address: Canada's Wonderland, 1 Canada's Wonderland Drive, Vaughan
Price:
Regular: $29.99 (online), $45 (gate)
Junior / Senior: $19.99 (online), $45 (gate)
Winterfest is one of the best theme parks and annual events, jam packed with live shows, and fun activities. The park is a sight to see, with millions of lights and christmas trees that will leave you in shock.
There's a bunch of activities like ice skating and theme park rides to have fun on, we suggest Charlie Brown's Christmas Town. Jack Frost's Igloo Village is also an awesome attraction to see, where you can rent out your own igloo and dine at the same time!
Pro tip:

Music lovers should check out the Cool Yule Christmas show. This high- energy show covers popular pop songs and holiday sons that you can sing along to with other people.
8. Say Hi to Santa at the Santa Claus Parade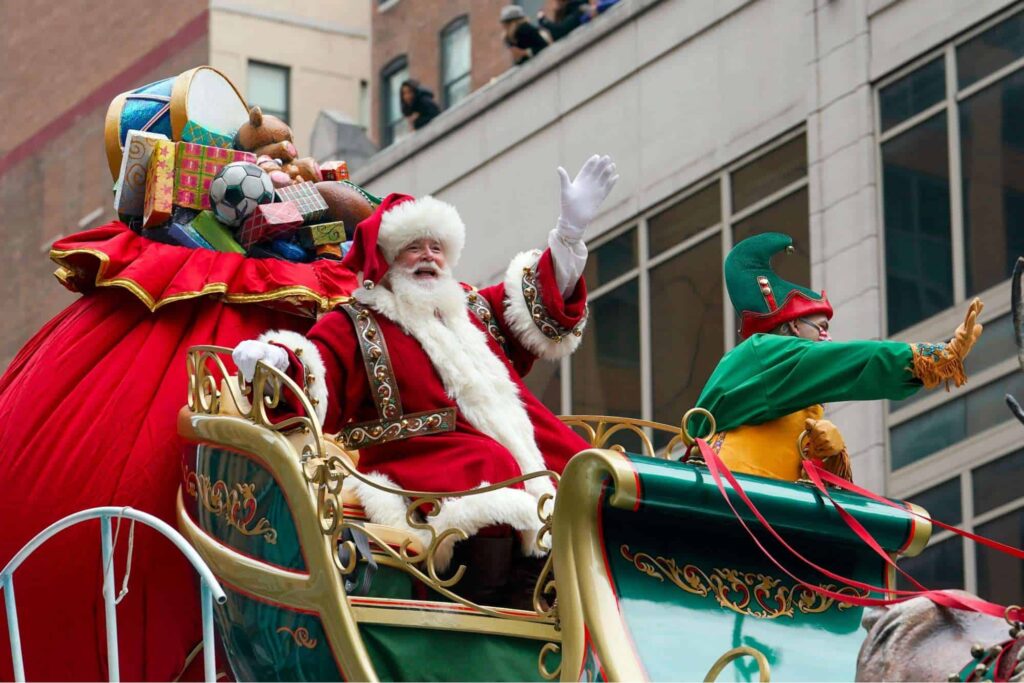 Address: 750 Bloor St W, Toronto, ON M6G 3K4, Canada
The Santa Claus Parade is a true Torontonian tradition. This annual celebration has been gathering huge crowds as far back as 1905, so this is the real deal.
There's a bunch of holiday mascots to see aside from Santa Claus himself, like Santa's helpers and even Mrs. Claus. The parade will also feature a marching band and cool holiday flotas.
Pro tip:

Since this parade always attracts loads of people, we suggest arriving to the venue hours before the parade begins to ensure you get to see Santa without anyone blocking your view.