THE 5 BEST PET RELOCATION SERVICES IN TORONTO
Pet relocation services specialise in facilitating the seamless relocation of pets, typically by car or airplane. They handle all the logistics, from flight bookings and accommodations to paperwork and health checks. It's like having a chau-fur for your pet, ensuring their comfort and safety at every step.
Whether heading downtown for a vet visit or preparing for a long-haul flight, a pet relocation service is your treasured companion's ticket to a safe journey.
How We Chose the Best Pet Relocation Services in Toronto
How Much Does Pet Relocation Cost in Toronto?
Overall, pet relocation can cost between $3,000 and $6,500. This depends on the type of animal being transported, expenses for paperwork, vaccinations, and potential airline surcharges.For example, transporting a medium-sized dog, such as a Labrador Retriever, to another country can cost as little as $700.
1. Your Dog Butler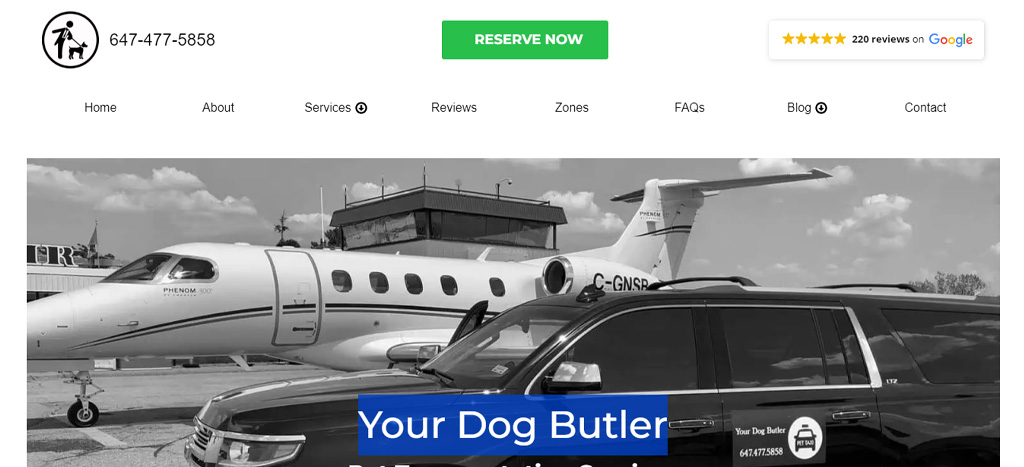 Test
Info
WEBSITE
https://yourdogbutler.com/
ADDRESS
2300 Yonge St, Toronto, ON M4P 1E4
SOCIAL MEDIA
INSTAGRAM
CONTACT DETAILS
(647) 477-5858
OPERATING HOURS
Monday - Friday: 8:00 AM - 7:00 PM

Saturday: 9:00 AM - 2:00 PM
For a first-class operation that pampers your furry friend with white glove service, consider Your Dog Butler. Arlene Lebovic started this pet concierge service out of sheer necessity when they had to pick up their own dog from the groomers.
This simple idea grew into a full-fledged pet taxi service for all domestic animals, offering two-way trips to cottage country, long-haul adventures across the US border, and importing pets into the country from breeders and rescue organisations overseas.
Your Dog Butler agents are exclusively fellow fur parents with a natural affinity for pets and trained in Pet First Aid. You can trust your four-legged pals are safe as they settle into fully-equipped and insured vehicles complete with a red-carpet ramp. With a keen eye, their drivers can easily tell when your pets require a pit stop or a few belly rubs!
Offers customised packages
Genuinely caring and attentive to the needs of pets
2021 Best Concierge Pet Services Provider
Strong extended network of pet services
Door-to-door and dog-walking services available
Trained in Pet First Aid and CPR
Doesn't offer overseas exports
Customer Reviews
Every step of the way was handled perfectly
"Our experience with Your Dog Butler was excellent! Every step of the way was handled perfectly. Arlene checked in regularly to let us know the status of the journey from the US to Toronto, and most importantly, if I had any questions, she ALWAYS answered the phone promptly and answered any concern I might have. Our dog arrived when they said he would and I know the driver, Mark, who delivered him, was a conscientious and caring person. Five Stars to Our Dog Butler!" – Kristin Finkleman, Google Reviews
Booking was seamless and friendly and my driver was a delight
"I had the best experience with this service. They helped me pick up a cat I adopted from Egypt. Booking was seamless and friendly and my driver was a delight. We had to wait for the cat to be cleared in customs and the driver was super understanding and patient. I will be using this service for any vet and grooming visits in the future. Highly recommend." – Lily Intrator, Google Reviews
2. Paws en route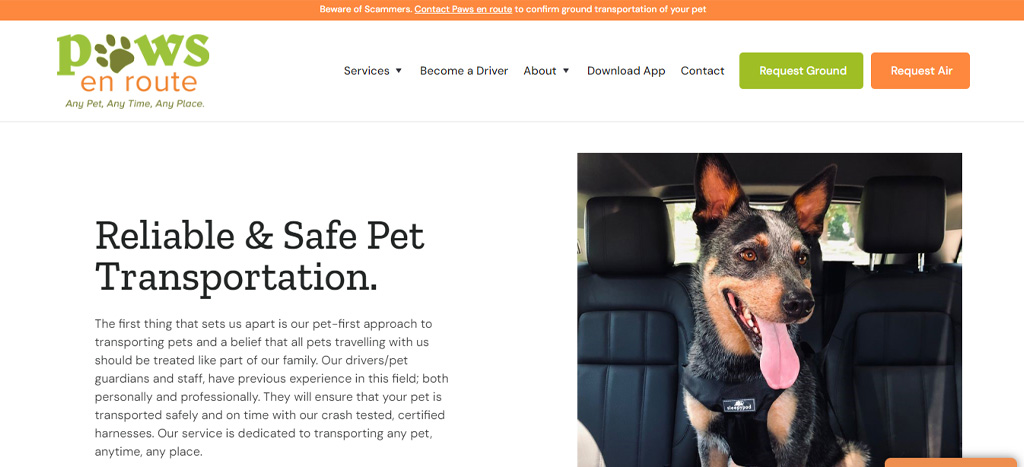 Test
Info
WEBSITE
https://www.pawsenroute.com/
ADDRESS
140 Yonge Street, Suite 293 Toronto, ON M5C 1X6
SOCIAL MEDIA
INSTAGRAM
CONTACT DETAILS
(888) 951-4161
OPERATING HOURS
Monday - Friday: 9:00 AM - 9:00 PM

Saturday - Sunday: 10:00 AM - 6:00 PM
Paws en route has been in business since 2017, with locations in Toronto, Montreal, Vancouver, and Calgary. Founder and CEO Dacia Rohlehr, a devoted fur parent for over three decades, established the pet taxi service out of her personal struggle to transport her beloved pets. Today, they've grown into a trusted name in pet relocation across the GTA.
They offer both ground transportation and air travel, catering to nearly every kind of domestic pet. Whether it's a short-hop journey within 50 kilometres or an extensive cross-country trip, they've got you covered. What's more, is that you don't have to break the bank since the cost of a pet taxi ride matches that of a regular taxi!
Rest assured, their drivers are not only carefully selected but also genuine animal lovers. Their vehicles are also equipped with crash-tested certified harnesses, ensuring carriers are safely secured.
Flexible ground transportation services
Crash-tested and insured vehicles
Competitive rates for local relocations
Proven track record of pet air travel
Caring and supportive pet care
Provides constant updates during transit
Few reports of repeated flight delays 
May be unresponsive at times
Harder to book due to high demand
Customer Reviews
They took care of everything flawlessly
"Paws En Route and its team were amazing in helping our fur baby move overseas. They took care of everything flawlessly from ensuring that all of the paperwork and documents were completed, properly to booking the airfare, and ground transportation to and from the airports and they even had an agent meet our dog when he landed. We honestly did realize the complexity of pet travel. They took the stress and worry out of our dog's move." – Marcia King, Google Reviews
Paws en route had been our guiding light throughout the process
"We migrated to Canada recently leaving our furry family member behind with the intention of bringing her at a later date once settled in as new immigrants in the country. Paws en route had been our guiding light throughout the process… Something that truly touched me was that Paws en route never addresses your pet as a cat or dog or a pet. They always address them by their name that was adding the personal touch of treating them as their own." – Janurius Fernando, Google Reviews
3. Worldwide Animal Travel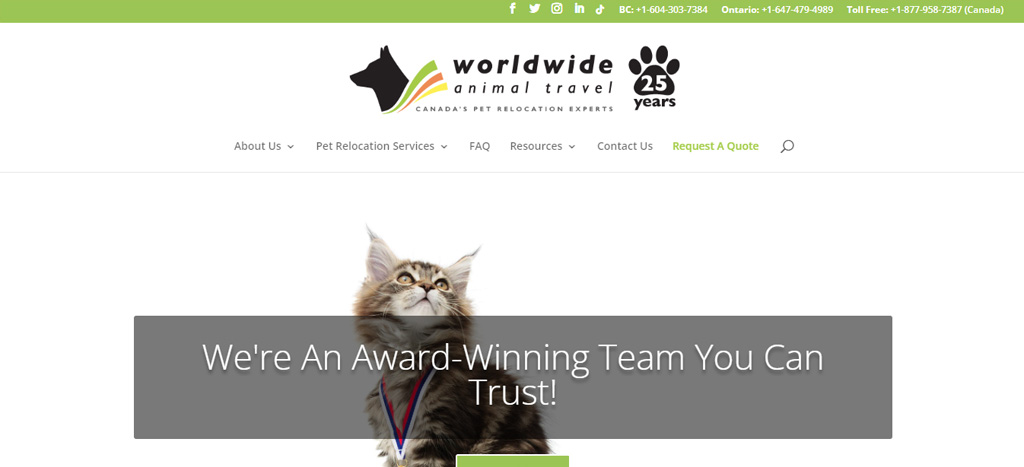 | Test | Info |
| --- | --- |
| WEBSITE | https://animaltravel.com/ |
| ADDRESS | 1-1071 Britannia Rd E, Mississauga, ON L4W 3X1 |
| SOCIAL MEDIA | INSTAGRAM |
| CONTACT DETAILS | (647) 479-4989 |
| OPERATING HOURS | Monday - Friday: 8:30 AM - 4:30 PM |
Worldwide Animal Travel was founded in 1998 by Bruno Mansueto, a former cargo agent at KLM Royal Dutch Airlines. Today, Dominyc Taylor-Pollitt takes the helm, overseeing operations in both Vancouver and Toronto. United by their shared passion for travel and animals, there couldn't be a more qualified duo to lead a pet relocation service.
If you're seeking a reputable company to assist with your pet's international move or travel, Worldwide Animal Travel possesses a deep understanding of regulations and requirements, ensuring a smooth and stress-free journey. They offer door-to-door transport between any two points within the country, complete with boarding services, airline-approved carriers, and IATA-approved kennels.
Furthermore, all agents are trained to assess a pet's fitness for travel. For example, puppies and kittens under 10 weeks old won't be permitted to travel for safety reasons, and short-nosed breeds require a temperature not exceeding 24°C to ensure their well-being.
Proven experience with international pet travel
Over 20 years in business
Extensive travel coverage within the country
Strong network of overseas agents
Trustworthy and caring with animals
Strict compliance to ethical pet relocation standards
Not available for importing pets into Canada
Relatively higher rates than others
Lacks timely responses after initial quote inquiry
Customer Reviews
Went above and beyond to make sure my cat was comfortable
"I had to move my senior cat (10 years old) from New Brunswick, Canada, to Sweden in 2021, and not only was the staff very helpful and friendly they went above and beyond to make sure my cat was comfortable and had all the right papers. They made the process much so much easier and it was worth every penny. My cat was flown from NB to Ontario where spent a few days with the staff and got a vet final vet checkup. We were sent an update with pictures before his flight to Europe. He arrived in great shape and has adapted great within the past year." – Celia Levasseur, Google Reviews
From start to finish, the service we received was outstanding
"Recently, my family and I relocated to a new country and needed to transport our beloved pet with us. We were initially worried about the logistics of transporting our pet internationally, but the team at Worldwide Pet Travel quickly put our minds at ease. From start to finish, the service we received was outstanding. The team was incredibly professional, knowledgeable, and efficient, and they made the entire process seamless." – Mark Quejado, Google Reviews
4. Lyon Petmobile Services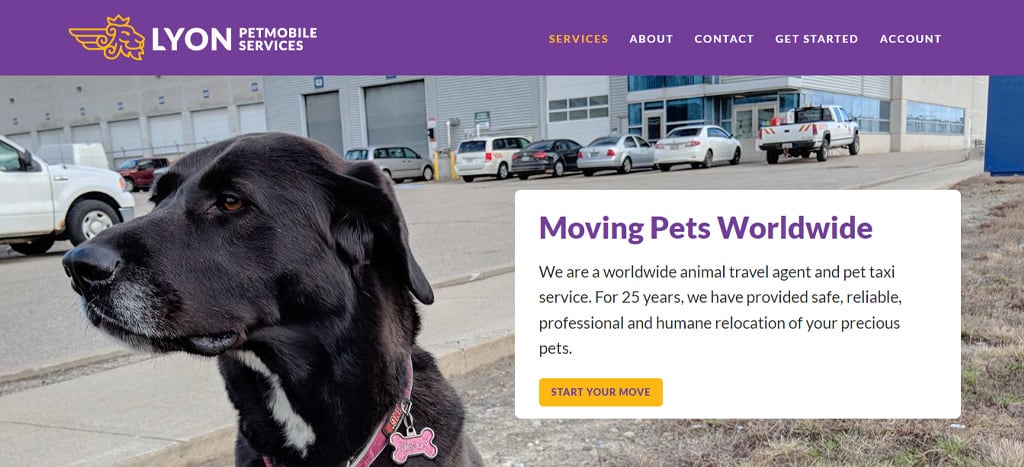 | Test | Info |
| --- | --- |
| WEBSITE | https://www.lyonpetmobile.com/ |
| ADDRESS | 6305 Northam Drive, Unit 7 Mississauga, ON L4V 1W9 |
| SOCIAL MEDIA | INSTAGRAM |
| CONTACT DETAILS | (905) 471-3042 |
| OPERATING HOURS | Monday - Friday: 8:30 AM - 6:00 PM |
Established in 1993, Lyon Petmobile Services stands as one of the longest-running pet relocation experts catering to the GTA. Founder Lorna Barkey's dedication of nearly three decades in the industry has earned her a Lifetime Achievement Award from IAPTA. What began as a personal experience relocating her own pets has turned into an agency that offers comprehensive worldwide and local travel services for animals, both domestic and exotic.
The Mississauga-based agency can arrange simple round-trips within the Greater Toronto or big international moves. Partnering with trusted boarding care providers and veterinarians, they ensure that your furry friends receive both short and long-term care, while also handling every detail of the relocation process to guarantee their safe journey.
Lyon Petmobile prioritises comfort with an array of carriers and custom-built kennels to create a cosy environment, all while keeping you in the loop about your pet's every move.
Specialises in domestic and exotic overseas relocations
2020 Lifetime Achievement  Award Recipient
Comprehensive relocation services
Thorough and compliant paperwork
Almost 30 years of industry experience
Limited experience with importing animals
Customer Reviews
I would trust [them] again with my parrots or any other pets
"I used Lyon Petmobile Services to move my macaw and Amazon parrot from Toronto to Indianapolis during the pandemic… Jason helped me navigate through the process and answered every question I had. He helped calm my worries through his preparedness and anticipating my concerns for the safety of my parrots through their transportation. In addition to his professionalism, his friendliness made the entire process much better. I would trust him again with my parrots or any other pets…" – Brad Anderson, Google Reviews
Set the gold standard for my family and our rabbits
"This company right here set the gold standard for my family and our rabbits. We were posted from Ottawa, Ontario to Germany and couldn't find an airline that would fly my rabbits, then we found Jason and his crew. They were so easy to work with. They answered all of my questions, even the ones I felt bad asking. They reassured me, even when my vet tried scarring me into giving them up, that they would be fine. If you ever need to move your beloved pet please use Jason! He is so so great." – Lauren Soo, Google Reviews
5. Goober Rides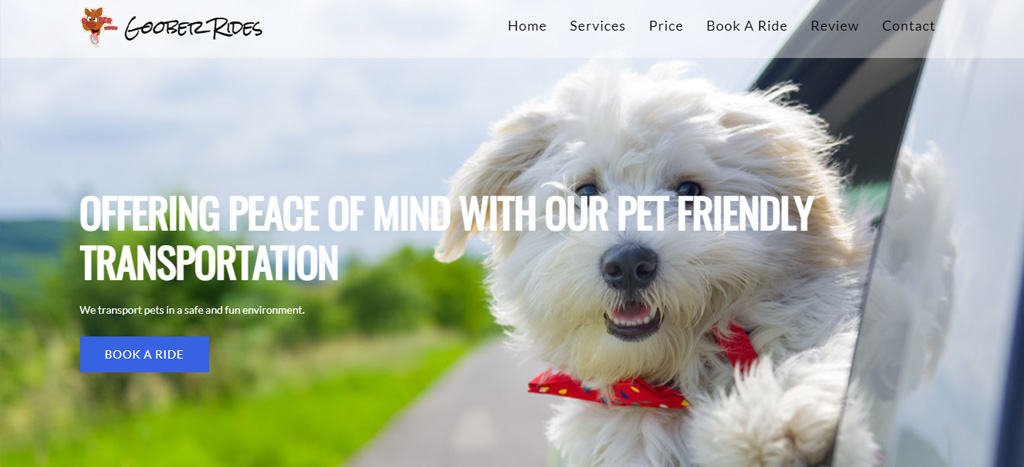 Goober Rides, aptly named after its adorable clientele of four-legged, feathery, and prickly passengers alike, was founded in 2018 by Aaron Dubros. Growing up surrounded by animals and with a hospitality background, it was only natural for him to extend a helping hand to Torontonians looking to get around with their pets.
The lack of pet-friendly taxis and ride-hailing companies ultimately inspired Aaron to lead a small team of dedicated drivers. You can find comfort in knowing that each member is insured and happens to be a professional dog walker as well. Need more than just transportation? They're ready to take your dog for a potty break or even pick up food and supplies for them. Goober Eats, anyone?
While owners are welcome to accompany their pets, Aaron and his team are fully equipped to ensure your pets have a pawsitive experience on their own.
Steady and loyal clientele
High reports of comfortable experiences for pets
Fully licensed and insured vehicles and drivers
Accommodating with special requests
Consistently on time
Reliable with pet emergencies
Doesn't offer air transportation relocation
Vehicles not equipped for pets (harness, kennel, etc.)
Rides limited within the GTA only
Customer Reviews
They really came through and I am so grateful and appreciate their kindness
"I cannot thank Goober Rides enough for helping our family when we were running late on our trip from Toronto to Ottawa, for a funeral. They really came through and I am so grateful and appreciate their kindness. They didn't have any drivers immediately but the man who arranges rides, called me back and said he'd do it himself." – Angela Sandrowicz, Google Reviews
Helped make the trip so much more comfortable for my already anxious bud
"I'm so thankful that this service is available and even more so for Aaron for being so incredibly accommodating. Took my newly adopted pup Huey to the vet today and Aaron helped make the trip so much more comfortable for my already anxious bud. He was ready with treats and pets and was super kind. I needed a ride home as well and Aaron was able to accommodate that, even waiting for the vet visit to finish." – Rose Perera, Google Reviews