THE 5 BEST CURTAIN ROD INSTALLATION SERVICES IN TORONTO
Curtains serve various purposes: providing privacy, shade, and showcasing your home's style. But, of course, they don't hang themselves! That's where skilled installers come in. They expertly set up curtain rods, ensuring perfect alignment and stability.
These professionals do much more than just hanging drapes, which we considered in our selection. They also help you choose the ideal window treatment tailored to your preferences. Whether you're renovating, moving, or refreshing your curtains, these pros have the knack for setting the bar high — in more ways than one!
How We Chose the Best Curtain Rod Installation Services in Toronto
How Much Does Curtain Rod Installation Cost in Toronto?
The cost of installing a curtain rod for a standard-sized window typically falls within the range of $70 to $300. The final rate will depend on factors such as the materials, hardware, and labour.
1. Budget Blinds of Southeast Toronto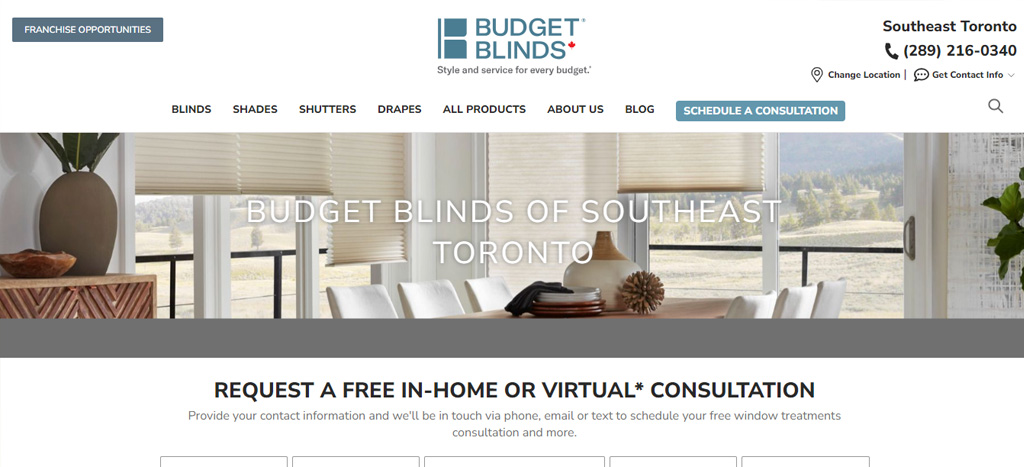 Budget Blinds of Southeast Toronto, a delightful husband-and-wife venture established in 2010, specialises in crafting tailored window coverings. Linnaeus and Karen Pemberton lead a team of five who ensure precise measurements, personalised designs, and flawless installations. With Karen's artistic touch and a shared passion for interior design, they bring homes to life through exquisite yet affordable window treatments.
With a widespread presence, Budget Blinds proudly offers an extensive selection of drapes, blinds, shutters, valances, and hardware. Their curtain rods, available in cast iron or stained wood, are adorned with meticulously hand-finished finials. These rods encompass an array of styles, including elegant stained glass and ornate bronze knobs.
Curtain rods also cater to specific needs, ranging from decorative single rods to enhance living spaces, space-saving double rods, sleek traverse rods for a clean appearance, and even motorised options for modern smart homes.
Free comprehensive in-home consultation
Budget-friendly pricing
Customised window treatments 
Detailed and meticulous installers
Impressive inventory of window coverings and hardware
Offers child-friendly cordless options
Doesn't offer ready-made panels
Long lead times to procure products
Customer Reviews
The installation was seamless, smooth, and quick
"I had an excellent experience working with Budget Blinds to revamp all the window coverings in my apartment. They were quick to respond and tailored everything to my needs! The installation was seamless, smooth, and quick. I'm very happy with my new blinds and highly recommend working with them on any of your future projects!!" – Mark Khoury, Google Reviews
They were able to bring my vision to life and their attention to detail is remarkable
"Budget Blinds of Southeast Toronto is really top-notch. They were able to bring my vision to life and their attention to detail is remarkable. I've worked with them on two projects and both projects were executed perfectly and on time. I appreciate how well of a job they did measuring the space and installing the shades with such precision. The install didn't feel rushed and the installer took the time to make sure I knew how to operate the shades and configure the controls on my phone." – Trevor Ludgate, Google Reviews
2. Blinds To Go Inc.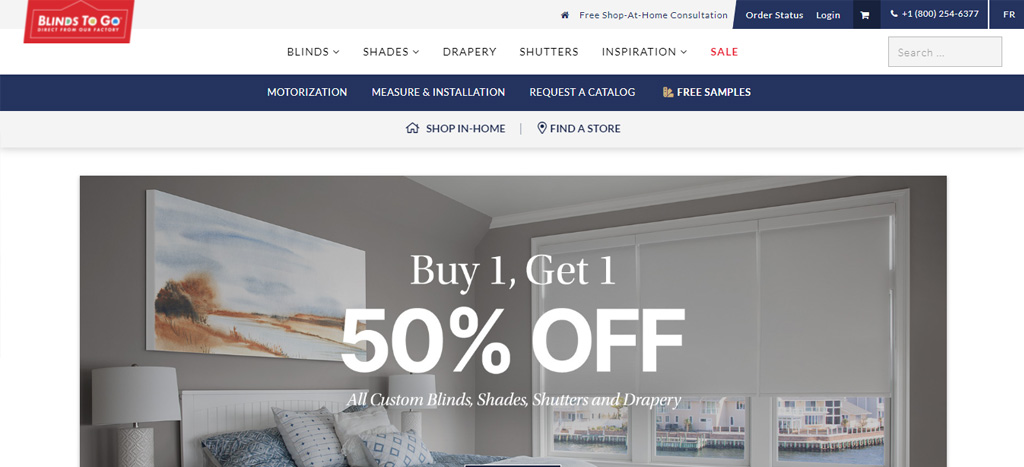 Blinds To Go Inc. emerged from humble origins in Montreal when founder David Shiller personally delivered household items door-to-door back in 1951. Today, with a dedicated focus on window treatments, it expanded to 80 locations across Canada and the US. Their North York showroom proudly offers window coverings and hardware straight from their very own factory since 1997.
Guided by their principle of "making things easy," they eliminate the middleman, ensuring factory-direct prices that set them apart from the competition. This also provides them with absolute control over product quality. Moreover, each installer undergoes thorough screening and is licensed and insured to expertly handle measurements and installations.
When it comes to drapes, personalisation extends beyond fabric choices. You can tailor top treatments, pleat styles, light filtering capabilities, and lining options to your preference. Their rods and finials offer a diverse range of decorative finishes to enhance your window treatments.
Lifetime warranty on custom-made products
Canada-made
Competitive pricing
Offers cleaning and maintenance
Respectful with property during installation
Extensive range of curtains and hardware sets
Some reports of inaccurate measurements
Has a record of delayed shipment for custom orders
Customer Reviews
They knew exactly what I was seeking for and helped achieve it
"From beginning to end, the service was outstanding. They knew exactly what I was seeking for and helped achieve it. The install was also flawless and I couldn't be happier about the outcome of my beautiful blinds. I highly recommend them for any window service." – Jackie Wallach, Google Reviews
All the measurements were correct… exactly what we wanted
"Excellent service. We had our blinds custom made for our very new home. Our very first home together as new parents! Hisika Cyril ensured all the measurements were correct and the color scheme and design were all exactly what we wanted. Very much hassle free – excellent customer service. Thank you so very much Blinds to go – for addressing all our window/ door blinds needs! After 3 years they are still looking gorgeous!" – Gwyneth Williams, Google Reviews
3. Myshades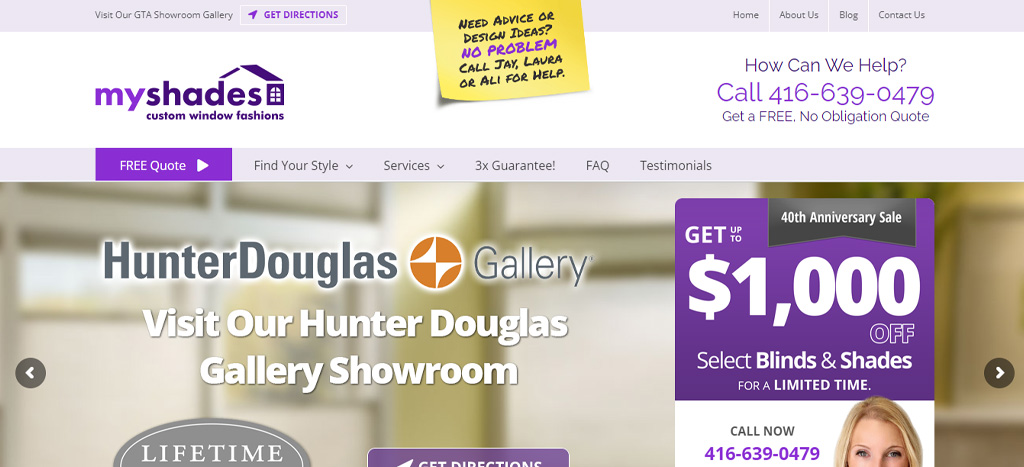 Test
Info
WEBSITE
http://www.myshades.ca/
ADDRESS
96 Doncaster Ave, Thornhill, ON L3T 1L3
SOCIAL MEDIA
INSTAGRAM
CONTACT DETAILS
(416) 639-0479
OPERATING HOURS
Monday - Friday: 10:00 AM - 4:00 PM

Saturday: 10:00 AM - 2:00 PM
Myshades is a family affair led by Jay and Laura Debora alongside their daughter Ali Rotman. Jay established the company in 1980, exclusively serving homeowners and business proprietors throughout the GTA. With an established presence of over 40 years, they've earned the trust of clients and interior designers alike.
As an authorised Hunter Douglas dealer, one of Canada's leading window covering manufacturers, they offer comprehensive services that cover customisations, installations, maintenance, and repairs.
Their products boast an industry-leading warranty, reinforcing their commitment to quality. What's more, their drapes come complete with hardware sets, eliminating the need for separate purchases.
Going beyond precise measurements, their expert installers consider your home's lighting requirements and offer inside mount options for a sleek and flawless result.
Offers cleaning and repair services
Hunter Douglas Certified Consultant
100% Installation Guarantee
40+ years of industry experience
Timely and polished installations
Limited options for curtain rods and finials
Customer Reviews
Installer was experienced and finished the whole house within 2 hours
"Best experience. Jay and Ali were absolutely amazing to work with. Measurements were taken during in-home consult and we were given a reasonable turnaround period. Installer was experienced and finished the whole house within 2 hours. Jay and Ali then revisited just to make sure that we were 100% happy." – Chloe Deng, Google Reviews
From our first appointment to final installation, [they] were an absolute pleasure to work with
"From our first appointment to final installation, Jay and Ali were an absolute pleasure to work with. Outfitting an entire house with curtains and blinds can be a daunting task, however, Ali guided us the entire way through. We decided on custom curtains and motorized Hunter Douglas blinds. We are thrilled with the end result. 5 stars for service and 5 stars for an overall incredible experience." – Brittany Sparks, Google Reviews
4. Night and Day Window Decor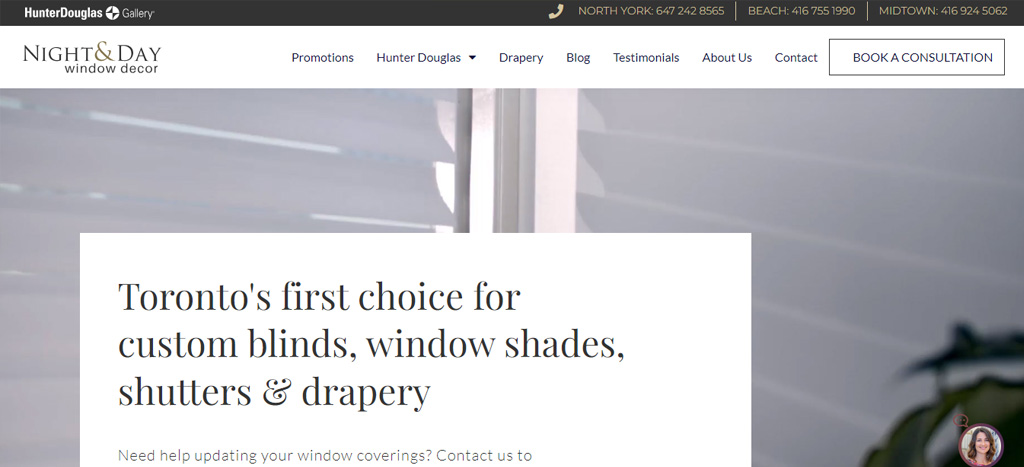 | Test | Info |
| --- | --- |
| WEBSITE | https://nightanddaydecor.com/ |
| ADDRESS | 990 Kingston Rd, Toronto, ON M4E 1T2 |
| SOCIAL MEDIA | INSTAGRAM |
| CONTACT DETAILS | (416) 755-1990 |
| OPERATING HOURS | Monday - Friday: 10:00 AM - 5:00 PM |
If you have specific style preferences in mind and seek a personal touch for your interiors, Night and Day Window Decor boasts a talented team of dedicated designers, product specialists, and installers ready to assist. What started as a business endeavour between university friends Ana Pilling and Jason Bewers, have evolved into a trusted name for exceptional services among homeowners and interior designers in Greater Toronto.
They have stunning showrooms in North York, Midtown, or the Beaches, where you can browse their exquisite merchandise or consult with one of their designers. Their selection is thoughtfully curated, featuring handmade fabrics and custom-cut rods tailored to various aesthetic preferences. Additionally, their comprehensive inventory includes Hunter Douglas products, ranging from timeless drapes to contemporary motorised solutions.
Trusted by a network of interior designers
Design-centric approach
Updated and curated inventory of window coverings
Reliable customer support
Friendly and time-efficient service
Doesn't offer ready-made products
Relatively higher rates
Customer Reviews
The whole team worked tirelessly to make it perfect
"Do not hesitate coming here. We have had an amazing experience the entire time. Our in-store meeting was incredibly helpful, laid back, and informative, our in-home response and subsequent dealings with our rep Corrine were amazing and always positive, and our installer Michael was a gem. When the initial install was slightly less than perfect, the whole team worked tirelessly to make it perfect. Our blinds are excellent and the service was beyond top-notch. Do not hesitate to use them!!" – Sumeet Vats, Google Reviews
The end result exceeds our expectations
"Our experience with Night and Day Window Décor was effortless and fulfilling from beginning to the very end… What a dream team! Not only were we treated with the utmost respect but also the service was impeccable, quick and we got a fantastic discount on both the product and the installation. The end result exceeds our expectations and I would not hesitate for a moment to recommend them to friends or family." – Joanna Czub, Google Reviews
5. Golden Needle Drapery
Test
Info
WEBSITE
https://goldenneedledrapery.com/
ADDRESS
3545 Lake Shore Blvd W Unit 302, Toronto, ON M8W 1P4
SOCIAL MEDIA
INSTAGRAM
CONTACT DETAILS
(905) 483-6767
OPERATING HOURS
Monday - Tuesday: 10:00 AM - 6:00 PM

Wednesday - Friday: 9:00 AM - 6:00 PM
Established in 1997 at the heart of Toronto, Golden Needle Drapery uses only the highest-quality materials available in the market, all while elevating your home's interior and decor. Owner and lead designer Natalie Nova has 20 years of interior design experience and leads the company, which is also a family-run endeavour.
Golden Needle has skillfully handled various window types, from bay windows with intricate nooks to clerestory windows at 2-story heights. While you're welcome to explore any of their three showrooms located across Greater Toronto, they extend the warm gesture of bringing their showroom to your doorstep.
This includes a complimentary home assessment and swatches showcasing an array of fabric types, including polyesters, cotton, silk, and velours. Alongside options for shades, blinds, and shutters, their true mastery lies in crafting custom drapes and providing impeccable installation services.
Direct and personalised support
Free in-home consultation
Reasonable turnaround
Proven track record with residential and commercial clients
Over 25 years in business
Slightly higher rates
Limited options for materials and hardware
Customer Reviews
The whole team is amazing, fast, reliable, and experienced
"I am so happy I chose Golden Needle Drapery to custom make the curtains for my newly renovated house. The curtains were the touch my house needed to go from great to wow! Natalie is a true artist! I constantly get compliments on my curtains from new visitors that come over to our house. Cannot recommend her enough. The whole team is amazing, fast, reliable, and experienced." – Stela Gjergji, Google Reviews
Their time estimate is always very accurate and install is done perfectly!
"It's always a pleasure working with Golden Needle and Dana. She is always on time and very informative and helpful. Their time estimate is always very accurate and install is done perfectly! They clean up and won't leave until the customer is 100% satisfied. I highly recommend them!" – Daiana Steele, Google Reviews