How much does it cost to be Drake's neighbour?
The Bridle Path is a popular place for celebrities, business magnates, and rich families to settle down at. Many visitors from the area actually love driving around hoping to catch a glimpse of a famed personality
One of its most well-known residents is Canadian rapper and Grammy-winning artist, Drake.
He also famously had the house renovated by a luxury interior designer, so we can safely assume that its value is way higher today than it was 4 years ago.
We know you're just as curious as we are, so we did some digging into how much it'll set you back to live in the opulent neighbourhood.
How much does it cost to be Drake's neighbour?
It will cost you anywhere from $2,000,000 to $20,000,000 (or more) to be Drake's neighbour.
Drake famously resides at 21 Park Lane Circle within Bridle Path, and the property is just as extravagant as you'd imagine.
On Bridle Path, the average cost of a single-detached is at $2,653,000, and you'll even find properties here that go for as high as $30,000,000.
Of course, the actual cost would depend on several factors such as property size, inclusions, area lot, and more.
Areavibes.com reported that the median home value in this neighborhood is 300% higher than the Canadian average. We're not tax lawyers, but we can just imagine just how much those property taxes would be.
For one, it spans over 50,000-square feet and features 4 guest bedrooms, a piano room, a theater, an indoor NBA regulation-size court, a 10-car garage, and more. It's often referred to as "The Embassy".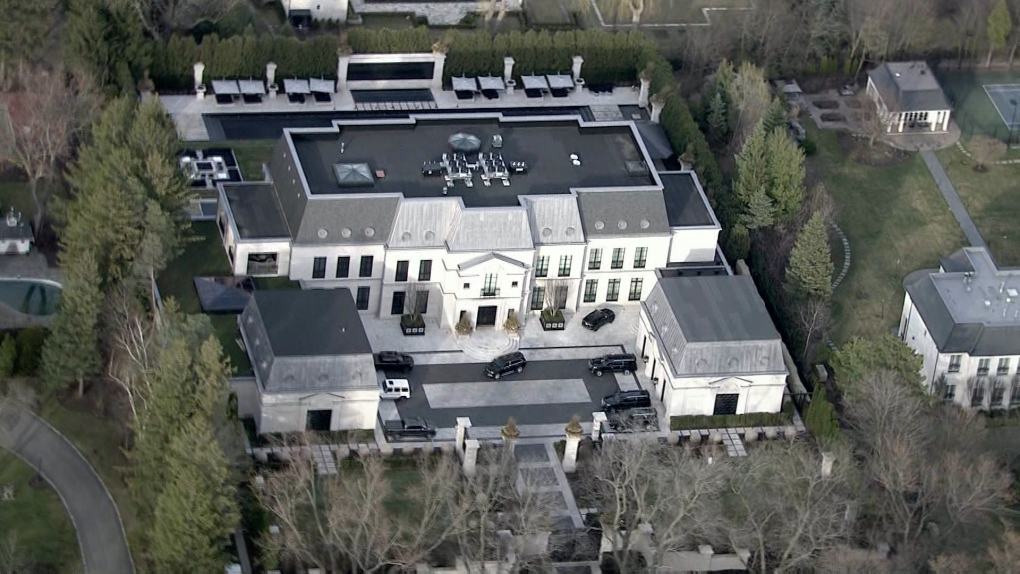 How much does it cost to live in Bridle Path?
Now if you want to be Drake's neighbour and are looking to move to Bridle Path, we did some digging into how much properties cost here. Spoiler alert: the prices are as extravagant as the houses themselves!
30 High Point Road
30 High Point Road, just a little ways down the street from Drake's house, is currently in the market for a whopping $20,588,235. It's 8-acres big, has 8 bedrooms, and has 12 full bathrooms.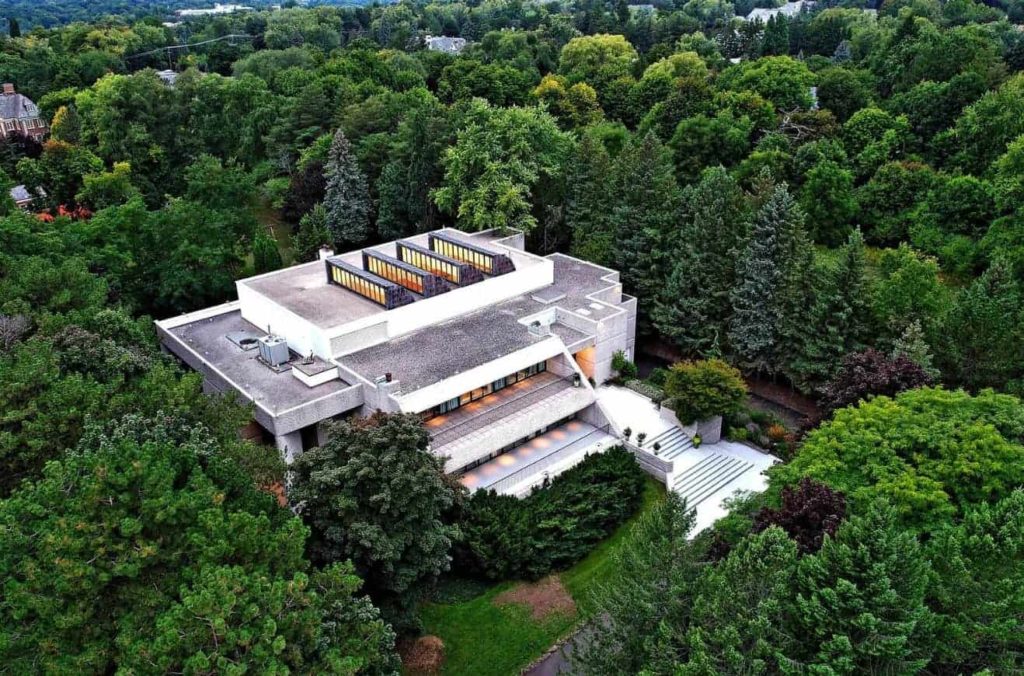 It also features a 7-car heated garage facility, an atrium and a zen garden, and elevator access to all 3 floors. A little over 2 acres of the property covers the rolling lawns, terraces, and putting green.
Apparently, the land has been pre-sculpted for maximum privacy. One can sit from any window and enjoy the lovely vistas.
The front entry (elegantly emphasized by a black granite clad interior bridge) provides an awesome view of the soaring atrium. Massive light shafts also give way for natural sunlight to peek through the gorgeous glass windows.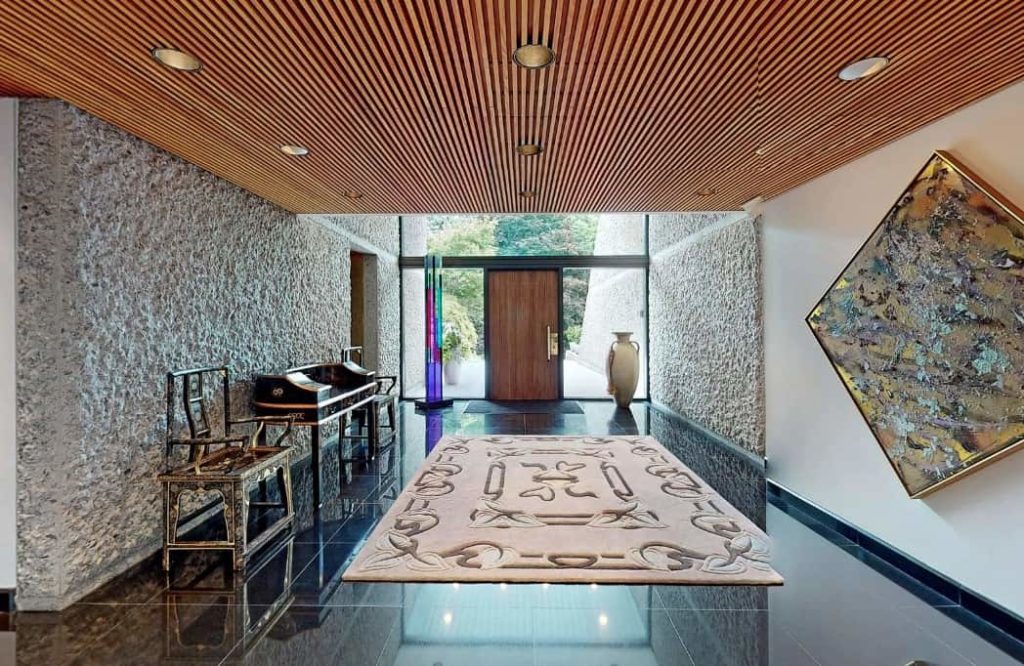 Just below, you'll find a zen garden built to encourage peace and relaxation. We usually settle for a little quiet nook in our non-marbled rooms, but good for you, future 30 High Point Road owners.
We're not done, by the way. The entire house was designed for everyday family living, which is apparent in the palatially-proportioned living rooms.
The dining room, on the other hand, is decked with an ostentatious hand-painted oriental mural which was meant to depict a "fascinating eternal story". We're not entirely sure what that means, but we're assuming that it's something agents can tell you about.
Oh, and on the main floor, there's a wet bar for guests to choose drinks from before descending the elegant floating staircase to the recreation room. There's an adjoining second kitchen below, too.
And of course, a house of this grandeur would not be complete without an indoor and outdoor pool. The former can be seen through the breakfast area; while the latter can be accessed through a massive glass wall.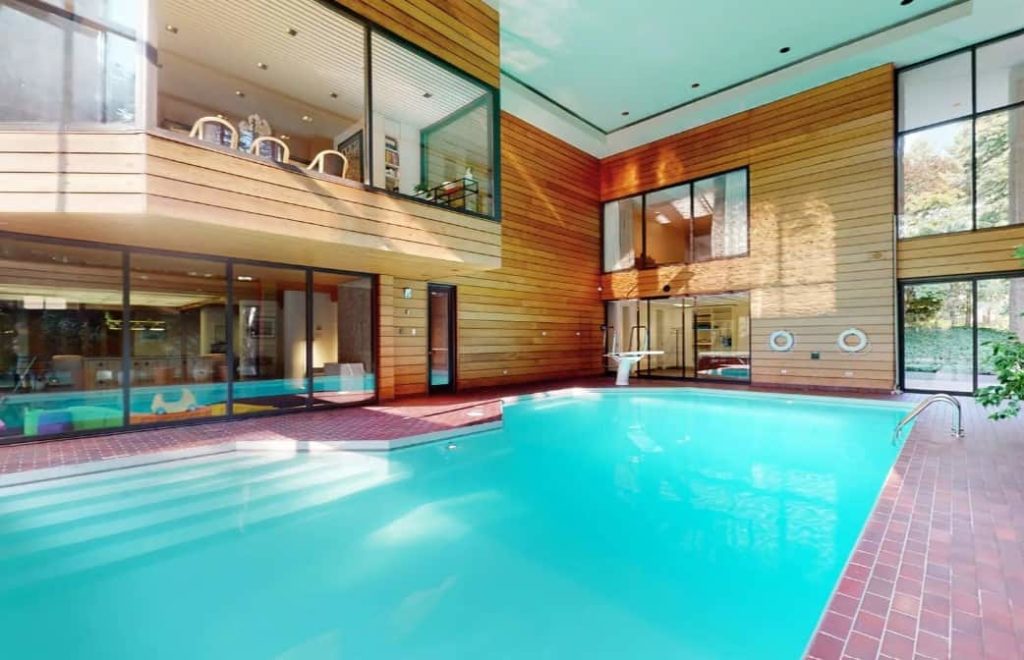 11 High Point Road
As if the mansion wasn't impressive enough, we found another property within Bridle Path that's even more expensive. 11 High Point Road is a private gated estate currently in the market for an eye-popping $27,000,000 CAD.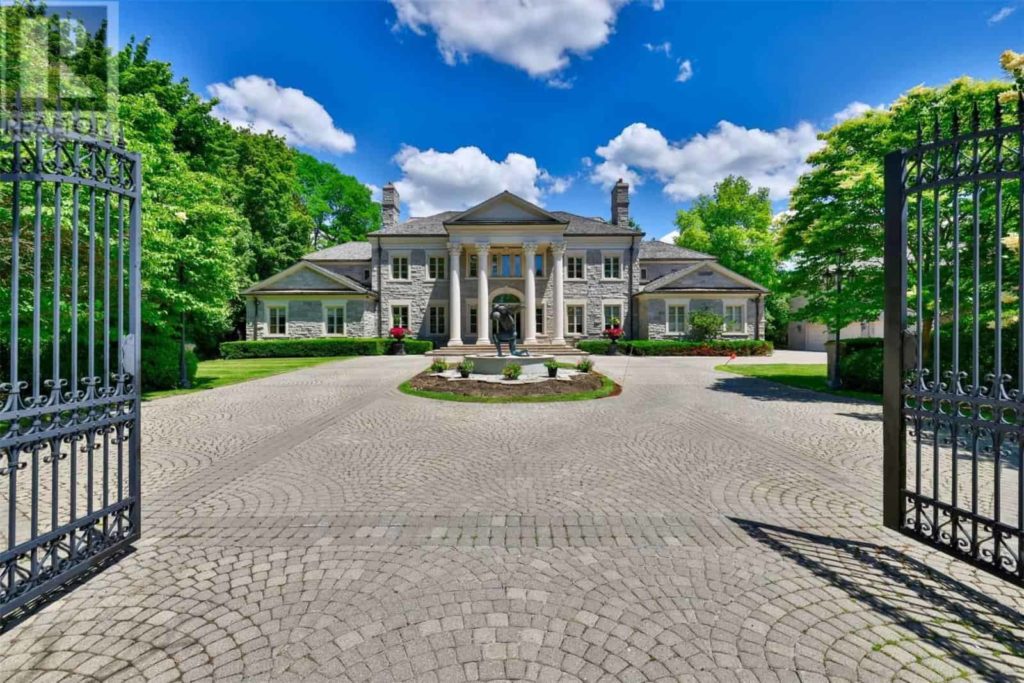 This one only spans 2-acres in lot size, but it features 13 bedrooms, 14 bathrooms, with "timeless finishes and utmost craftsmanship". It's described by the realtor as a house of true elegance and grandeur.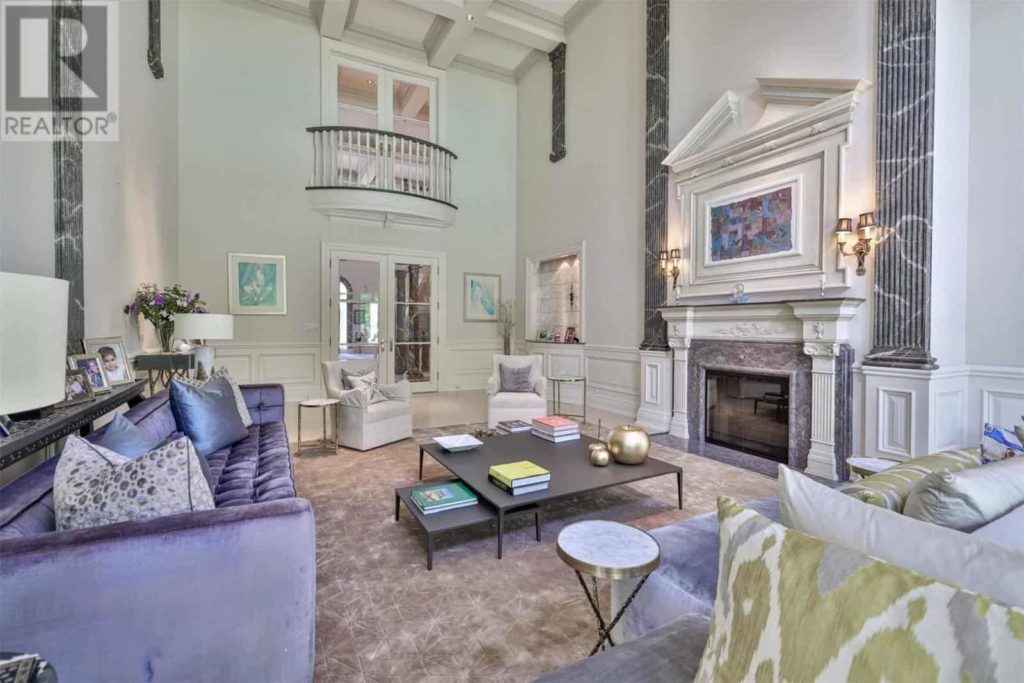 Apparently, it has a soaring reception hall that could be the envy of cathedrals – gorgeous marble tiled floors beneath a Scarlett O'Hara staircase. The lawn is manicured and lush, which we think would be perfect as an intimate wedding venue.
The house also features a detached coach house suite, a kitchen furnished with quartz countertops and Wolf appliances, and a third-floor recreation room.
The pool is also super extravagant and is lined with cabanas. Above is a big terrace, and beside are tennis courts and a lush rolling greenery.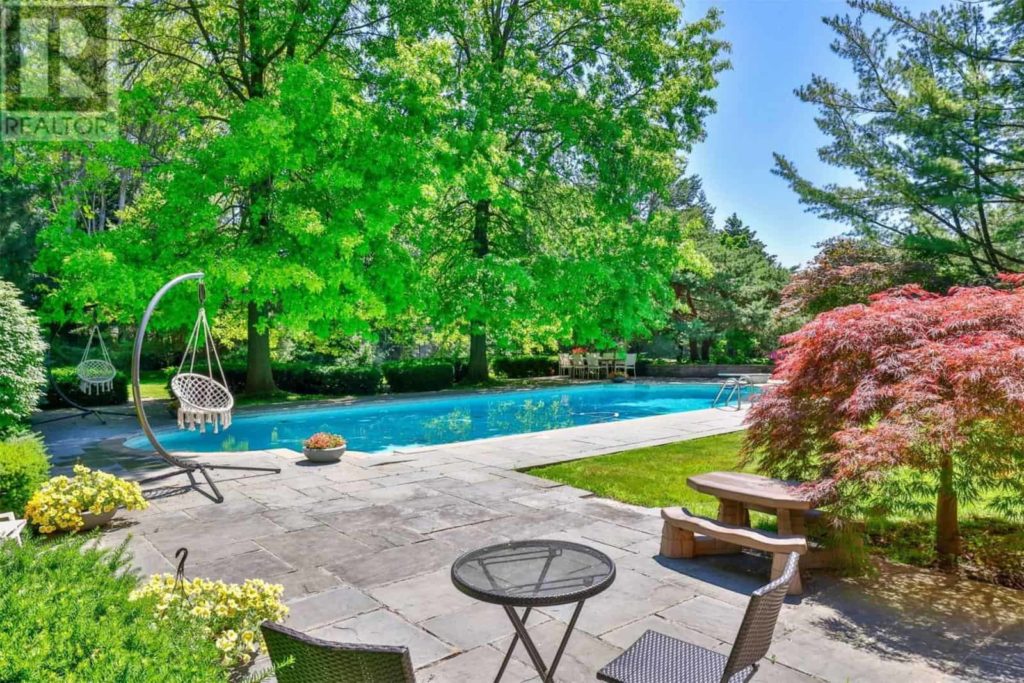 9 Post Road
A few streets away from Drake's house is 9 Post Road, Bridle Path-Sunnybrook-York Mills. It's currently listed on the market for a "relatively" affordable cost of $10,750,000.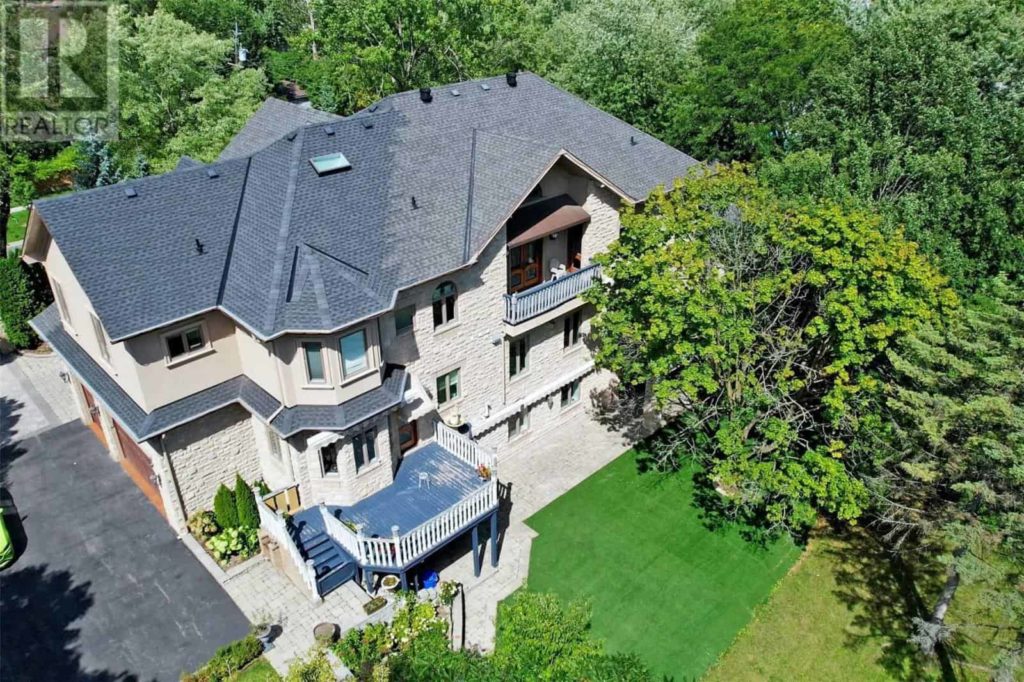 The French Chateau-inspired gates lead to a private, circular driveway and a stone porch. You get soaring high ceilings, a 2-storey foyer, and intricate mouldings that just scream luxury.
It's a single family home that has 10 bathrooms and 8 bedrooms. An elevator is also fully-operational inside the home, and there's a wet bar, a wine cellar, a movie theater, and an opulent en suite marble-tiled heated basement.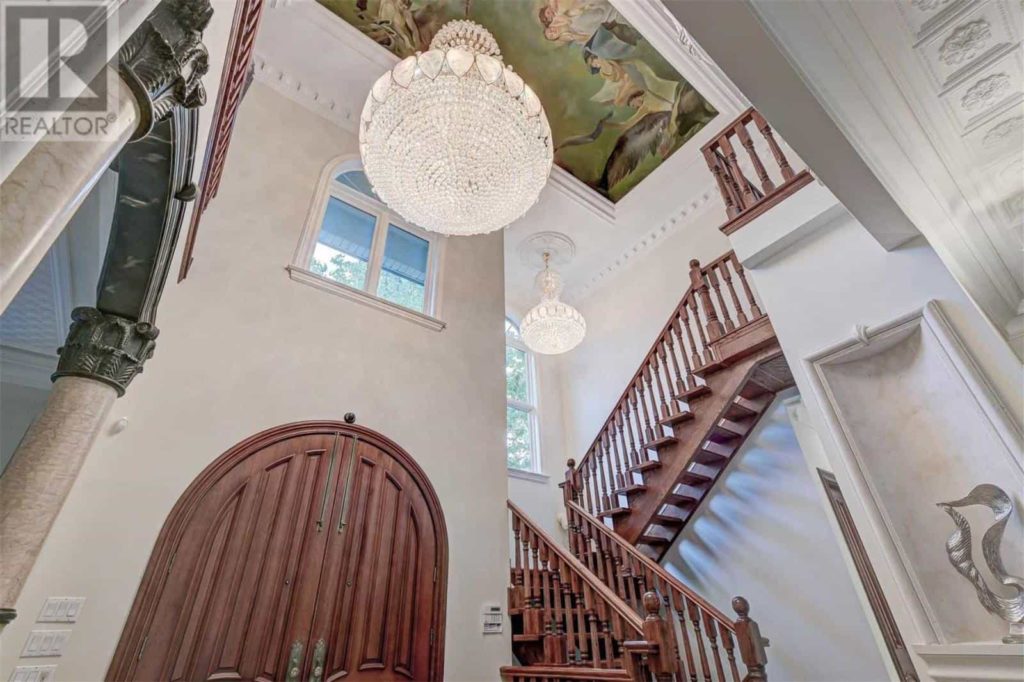 Naturally, they have an indoor hydro pool and a sauna. Just imagine letting the waters wash your troubles away with these modern luxuries.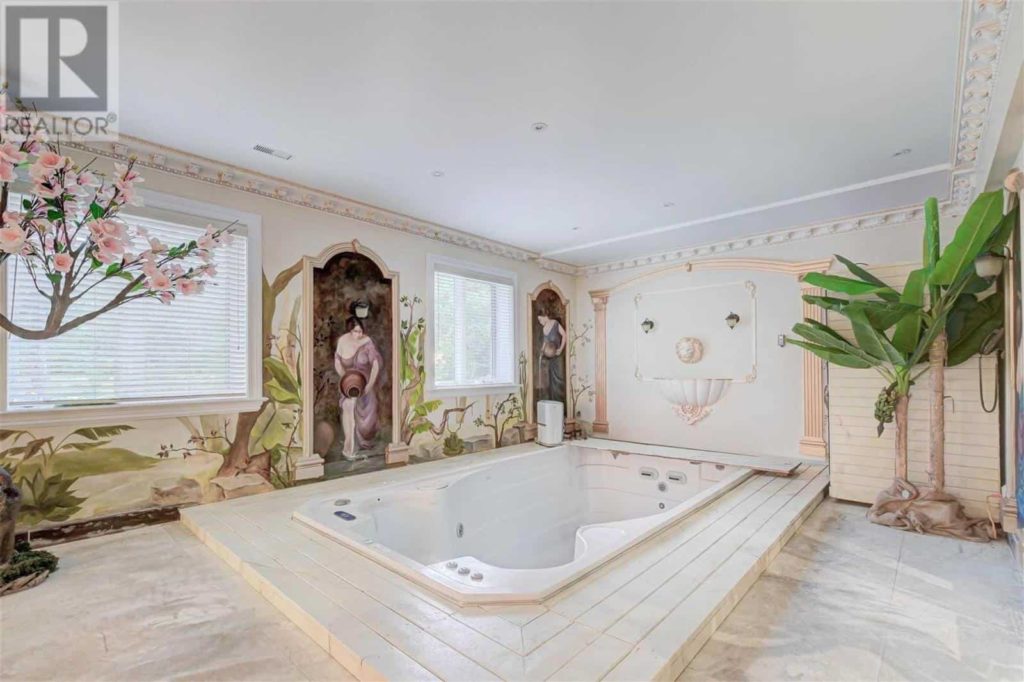 45 Bayview Ridge
One can argue that 45 Bayview Ridge is one of the most iconic estates in this neighbourhood. The French-style chateau sits on over 3 acres of land and is currently valued at a whopping $24,500,000.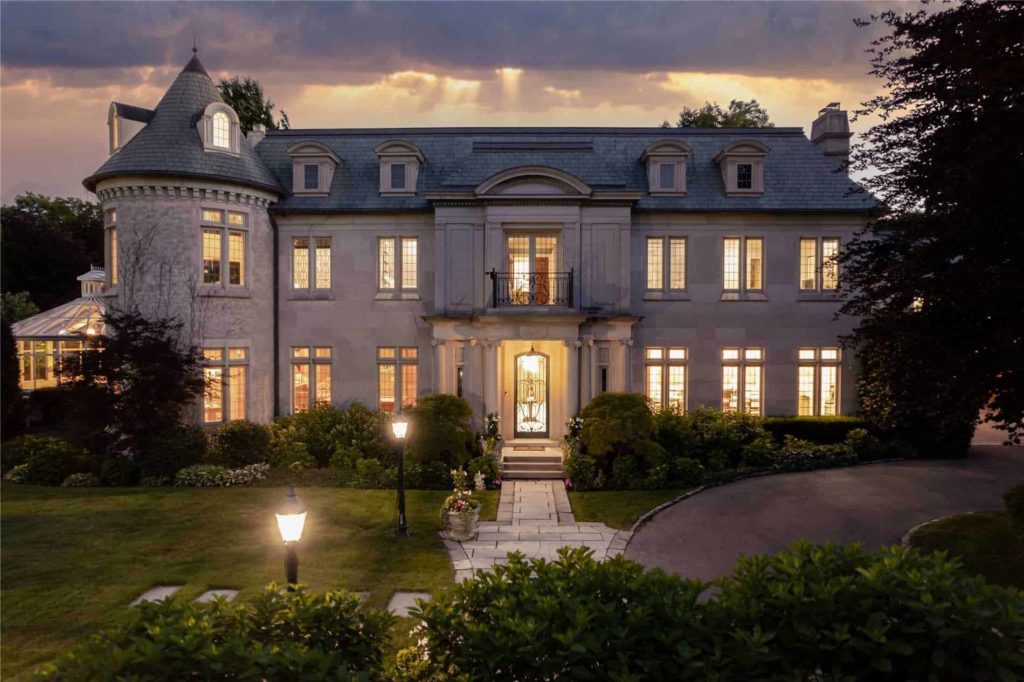 The prestigious enclave provides visitors a gorgeous view of Bayview Ridge. It has unobstructed views of both the south and west side of Rosedale Golf Club.
The house was designed by popular Canadian architect, Gordon Ridgely, who's known to be a master at luxurious properties.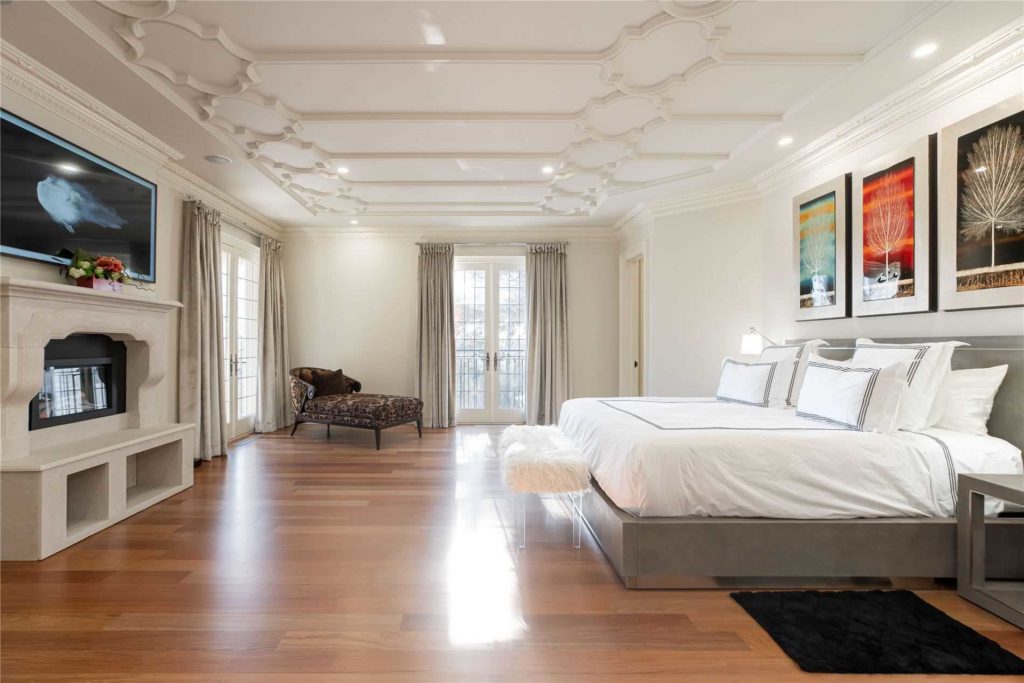 The estate also features up to 8 bedrooms, 10 bathrooms, 7 fireplaces, and a grand dining room. The bordeaux-inspired wine cellar and cigar rooms were also tasteful additions, at least, in our humble opinion.
Outside, there are 2 large pools and a sauna room. A tennis court sits beside those, alongside a reflecting pond and a nearby gym.
3 Knightswood Road
3 Knightswood Road is another French Chateau-inspired stone manor that boasts of unparalleled allure. Its most prominent feature is the stone exterior of the house, which is quite reminiscent of Hoggs Hollow homes.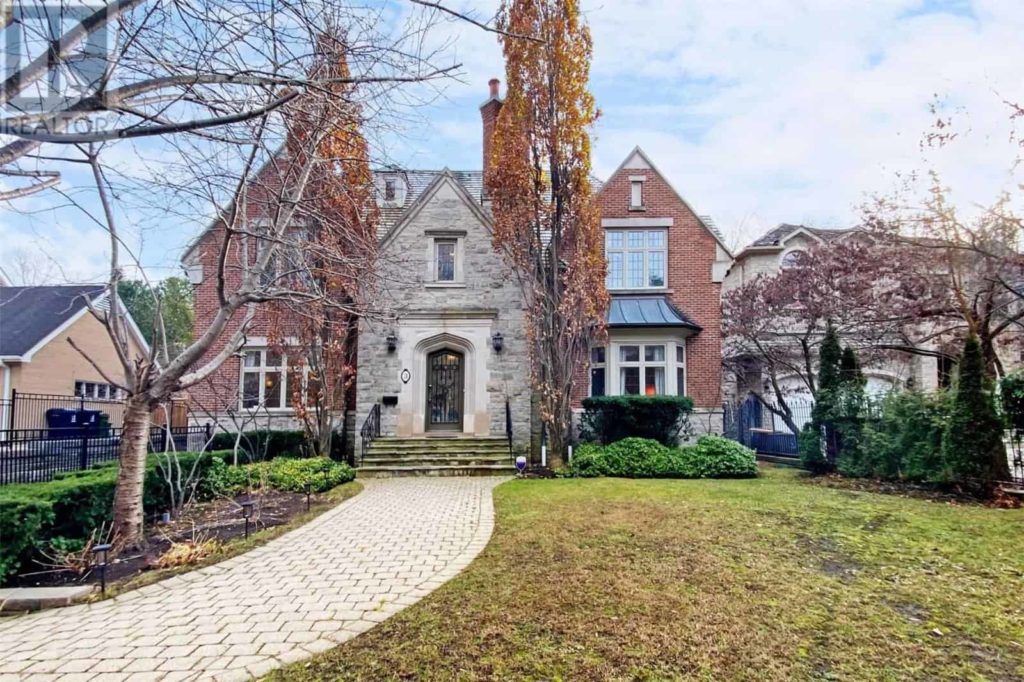 The landmark location presents a breathtaking view of Rosedale Golf Club. It's a detached 2-storey house that covers nearly 5,000-square feet of land.
Apparently, there's a luxurious above-ground living space inside, along with a spacious recreational basement. There are even nanny suites for utmost convenience.
The house was designed by renowned architect, Peter Higgins. And, it was built by an equally recognized reliable builder, Leboeuf.
The house is often described to feature superb craftsmanship and exquisite millwork. It's been said that the floor layout is outstanding and thoughtfully-created with functional living space in mind.
Built-in speakers also line the walls and the ceilings are high on all levels of the house. Opulent natural light pours in through the windows, as there are more than a few skylights installed.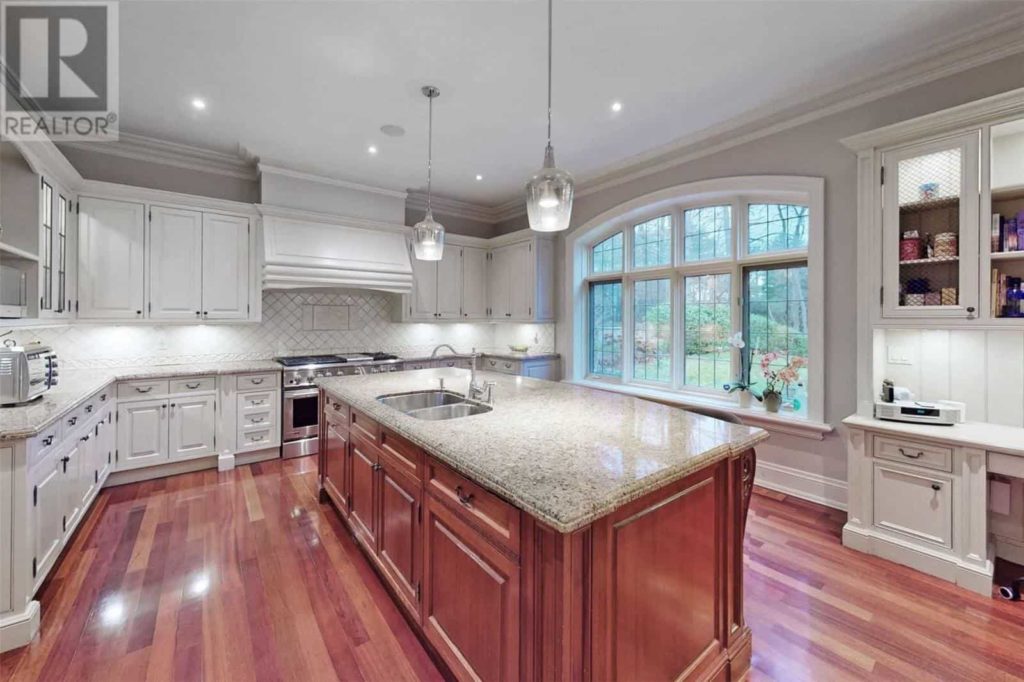 We don't know about you, but to us, a kitchen should be the pièce de résistance of every home. And in this case, it comes in an open concept with a massive central island, built-in appliances, and a wood burning/gas fireplace.
The house location is a few streets away from The Bridle Path, but it is still in the same Bridle Path-Sunnybrook-York Mills neighborhood. Honestly, we think the price is worth it (not that we'd be able to afford it anytime soon).
43 Cosmic Drive
Now we're really headed into the relatively affordable homes in this neighbourhood. 43 Cosmic Drive is currently on the market for just $3,490,000.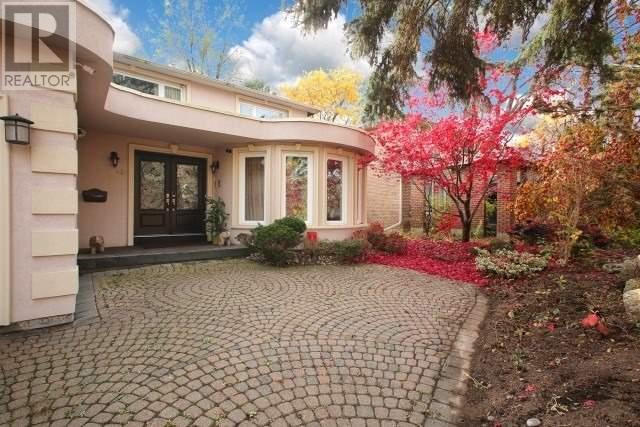 It's another detached type of house with 2-storeys and nearly 5,000 square feet of land area.
The thing about this house is that it's a custom build. It was recently renovated and that alone cost another half million dollars.
The kitchen is also a lovely open concept and quite large. The basement features several family games, an entertainment room, and a spacious gym room.
It has 5 bedrooms and 5 bathrooms, which is quite ideal for a family home. In fact, it's only a stone's throw away from nearby public and private schools.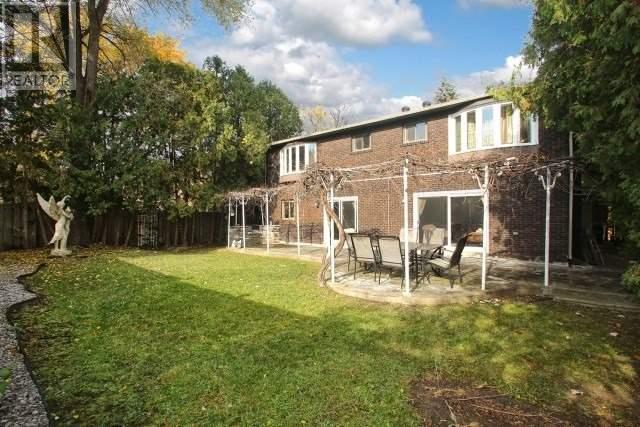 What really caught our attention, though, is the private cedar-hedged garden. It's absolutely charming to see the evergreens, shrubs, and the wistful overhang of grapevines!
We can imagine ourselves building a lovely garden here, sipping on wine, and watching the sun dip behind the horizons. Hey, we can dream, can't we?
Who bought 68 the Bridle Path?
68 The Bridle Path is famous for being one of the most extravagant mansions in this neighbourhood and is only a street away from Drake's house. It was once known as the most expensive home in Canada and in Toronto.
The property spans nearly 30,000-square feet of land and was owned in 1985 by real estate developer and financier, Robert Campeau.
Apparently, it features 10 bedrooms, 14 bathrooms, a large indoor pool with retractable floors, a gourmet kitchen, a ballroom, and more. And, it's been said to comfortably fit 40 vehicles in its massive parking space.
Unfortunately, Mr. Campeau experienced quite a few financial hurdles. In 1990, he was forced to sell the house under his wife's name.
In 2002, the property was bought by Harold and Sara Springer who spent a few years renovating it. The house was sold to a couple of other owners throughout the years, but the last known owner is a company called Nascond in 2020.
There are no other updates as to who currently owns the property, but demolition equipment have been spotted on-site as of July 2022.
What is the most expensive house on Bridle Path?
As of writing, the most expensive house on Bridle Path is 24 Park Lane Circle, which has a value of a dizzying $45 million.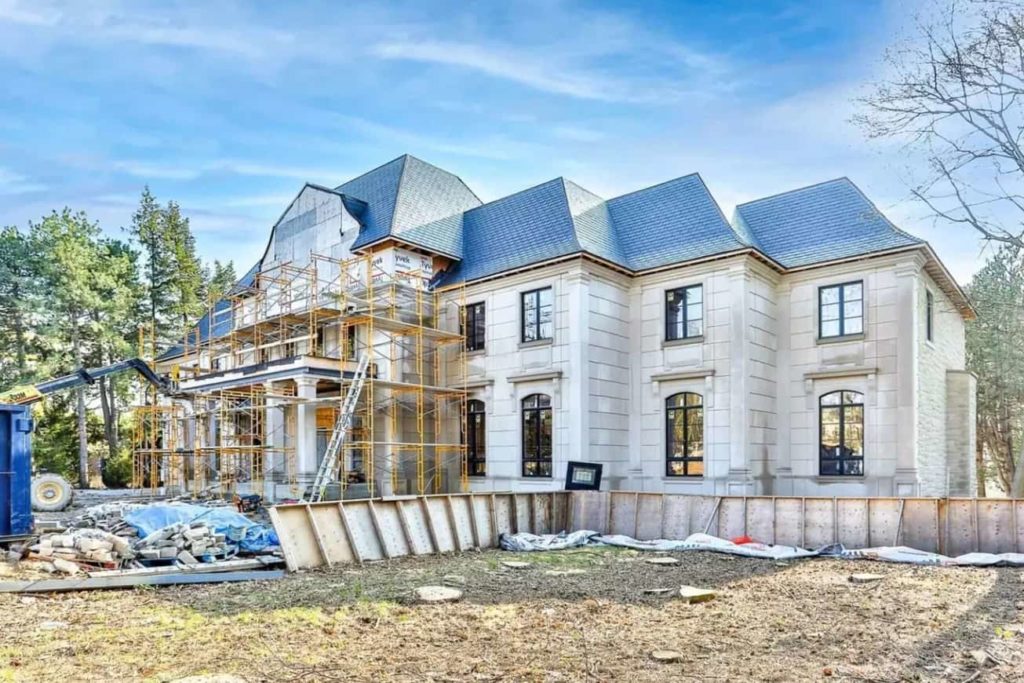 The house is currently under construction and sits on 28,000-square feet of land. According to realtor, Barry Cohen, the property is worth its price, considering the land value alone.
What famous people live in Bridle Path?
Many big names live (and lived) in Bridle Path. Apart from Drake, other known celebrities who once resided here are Mick Jagger, Prince, and Gordon Lightfoot.
Business tycoon Robert Herjavec, former US President Richard Nixon, and late British Prime Minister Margaret Thatcher also spent a few visits at 26 Park Lane Circle.