Top 5 Insurance Lawyers in Toronto
Insurance claims can involve a lot of money. For 2021 alone, property and casualty insurance claims reached $42.5 billion.
For disputes, insurance lawyers can help claimants fairly and legally. When you hire one, you are assured that the lawyer will fight for what is rightfully yours.
If you're in need of legal counsel, read on to find out how we rated the top insurance lawyers in Toronto.
The Best Insurance Lawyers in Toronto
Here are the criteria we based our choices on for the top insurance lawyers in Toronto:
How much is the fee of an insurance lawyer in Toronto?
Insurance lawyers usually get paid when they win the case. Here are the average fees of different claims excluding taxes:
| Insurance Claim | Average Fee |
| --- | --- |
| Canada Pension Plan Disability | $6,000 |
| Worker's Compensation | $7,500 |
| Long-term Disability and Life Insurance | $16,000 |
| Disability Tax Credit | $7,500 - $15,000 (fixed rate |
The fee of an insurance lawyer is based on the type of case and the scope of work.
However, policyholders don't usually pay by the hour as this is expensive. Rather, it is paid based on the contingency fee agreement.
The lawyer only gets paid when the policyholder receives the claim. Most lawyers receive 33% of the amount received.
1. David Brannen – Resolute Legal Disability Lawyers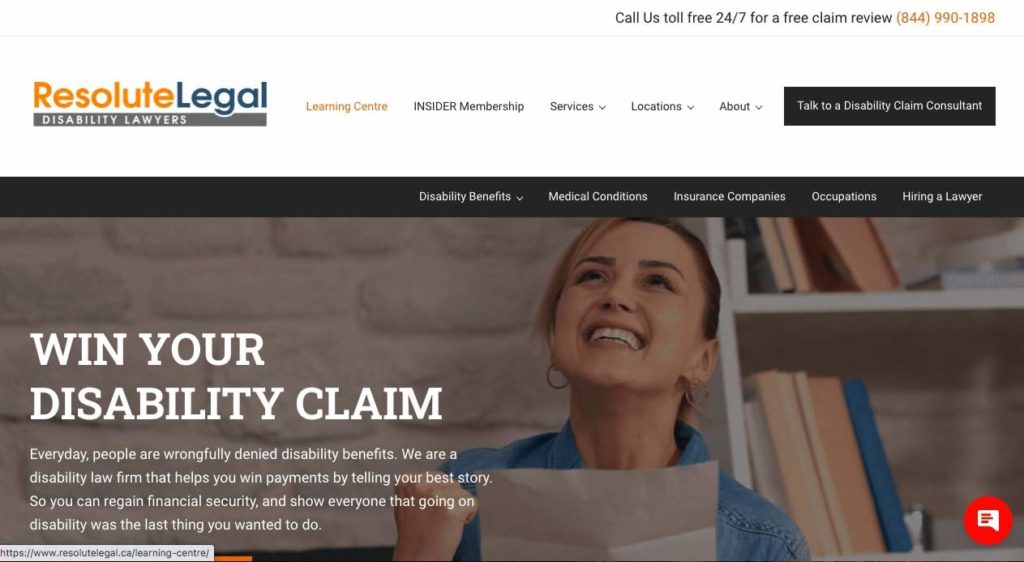 Test
Info
Services

Short-term Disability lawyers

Long-term Disability Lawyers

CPP Disability Lawyers

Workers' Compensation Lawyers

Disability Tax Credit Lawyers

Life Insurance Lawyers

Website
https://www.resolutelegal.ca/
Address
25 Adelaide St E Suite 1719, Toronto, ON M5C 3A1
Contact details
647-492-5088
Operating hours
Monday - Friday: 9 am - 5 pm

Saturday - Sunday: Closed
| | |
| --- | --- |
| Criteria | Rating |
| Availability | ★★★★☆ (4/5) |
| Initial Consultations | ★★★★☆ (4/5) |
| Lawyer's Experience | ★★★★★ (5/5) |
| Client Servicing | ★★★★★ (5/5) |
| Fees | ★★★★★ (5/5) |
At the helm of Resolute Legal Disability Lawyers is David Brannen, who believes in educating clients and the general public. He wrote books on disability insurance and claims to help clients make better decisions.
The firm's focus on disability claim disputes stems from David's family's experience of injustice when his grandfather had an accident.
Since then, his passion is to helping clients win their disability claims through "The Story Alignment Method". David and his team focus on how to align the claim with the outlook and standards of the opposing side to get a favourable result.
The firm follows the contingency fee standard of 33% for its services. But the good news is that they reportedly have some wiggle room on the percentage, depending on the type of case.
We like that they offer a free Insider Basic membership, where you can access courses, live events, and written materials to help you solidify your own claim. This more than makes up for their unavailability for client consultations on weekends.
Free consultations are available for disability claims, which clients can appreciate. But outside disability claims, you'll have to pay a one-time consultation fee.
They also have a great advocacy via the Access to Justice Programme, which helps police insurance companies not act in good faith. Under this program, they also defend clients with no means to go against insurers.
Different specialisations on disability claims
Focuses on education to empower clients
Books and other related written materials on disability insurance and claims
Free membership to access additional resources on filing claims
Access to Justice program for financially-challenged clients
Charges one-time consultation fee for specific legal issues
Unavailable for consultation on weekends
Customer Reviews
Courteous and knowledgeable
"The lawyer we spoke to was both courteous and knowledgeable. She responded immediately and we were able to set up a meeting same day. She answered all our questions and gave us practical and valuable insight. They also provide information sessions, monthly newsletters and information packets which are extremely helpful when navigating LTD applications. If you have questions or concerns I would definitely recommend contacting them." – T. Bennette
Friendly and genuine communication
"I came to Resolute Legal Disability Lawyers because I was having problems getting approval for long term disability from my work place insurance company. I selected Resolute Legal to represent me because they were so understanding, knowledgeable and helpful. I had called another law firm first but was not impressed. My favourite thing about working with Resolute was everyone that I communicated with was very friendly and genuine. They also have the most informative website with videos and articles on accident/disability/CPP claims that have been very useful to me. In the end, the result of working with the Resolute Team was that my insurance company finally approved a claim they had been declining without Resolute for almost 2 years. I highly recommend David and his talented team!. Thanks to this outcome, I can finally focus on continuing my medical treatment without the financial stresses and dealing with my insurance company alone. Resolute has really been there for me." – Christy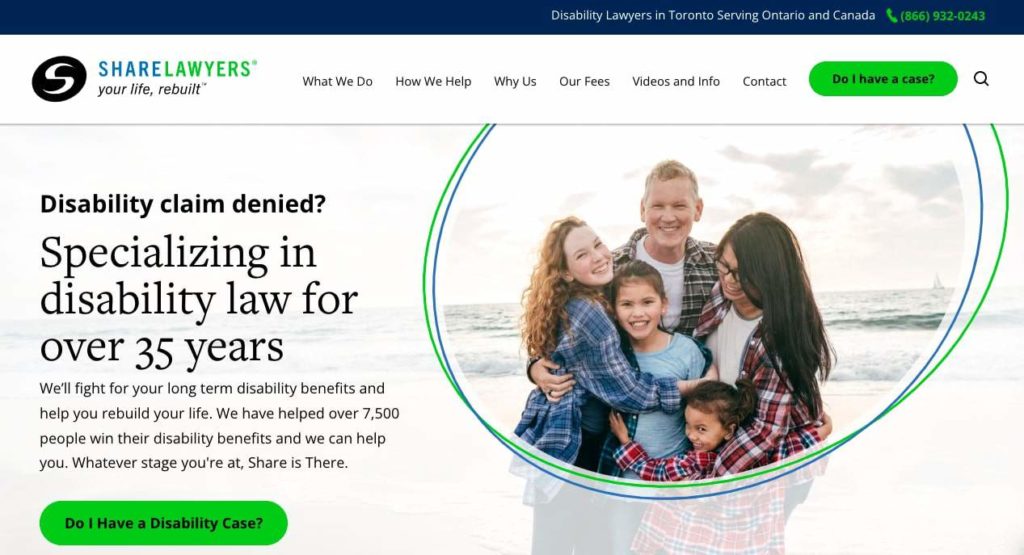 Test
Info
Services

Employee Long Term Disability Benefits

Employee Short Term Disability Benefits

Privately Purchased Disability Benefits

Employment Law

Instance Claims

Website
https://www.sharelawyers.com/
Address
3442 Yonge St, Toronto, Ontario M4N 2M9
Contact details
866-240-8730
Operating hours
Monday - Sunday: Open 24 hours
| | |
| --- | --- |
| Criteria | Rating |
| Availability | ★★★★★ (5/5) |
| Initial Consultations | ★★★★★ (5/5) |
| Lawyer's Experience | ★★★★★ (5/5) |
| Client Servicing | ★★★★☆ (4/5) |
| Fees | ★★★★★ (5/5) |
Share Lawyers has been in the business of insurance claims for the past 35 years. The firm is open 24 hours daily as they understand short-term or long-term disability claims can be stressful.
At the helm is David Share, a member of two prestigious bars – Ontario and New York. As a well-respected member, he has been consulted by colleagues and presented at conferences on his vast experience in dealing with disability insurance claims.
This firm has a fantastic program called Life ReBUILDER, where a team of legal counsel – a lawyer, with support from litigators and legal assistants – work together on your case.
By availing of this feature, you get access to perks such as access to OnTrack Review, a private portal that collects and streamlines all data on your case to help it move along efficiently.
The program also connects clients to medical professionals to ensure the validity of the claim. For their recovery, they get access to physical and mental therapists as well as financial counseling.
We also like that the fee for disability cases is only up to 30% of the amount approved, below the standard contingency fee rate.
Also, for insurance claims, clients can opt to pay by the hour or on a contingency fee basis – so they can decide what's best for them. Of course, we think it would have been nice to have the option to pay a fixed fee instead, which other clients may prefer.
For added convenience, phone consultations are free. However, there were instances when lawyers apparently did not return calls especially after the case is done.
35 years of service
Open 24 hours daily
Maximum contingency fee of 30%
Life reBuilder program
Flexible fee options
Some instances of lack of follow-through post-case
No fixed fee for insurance and other claims
Customer Reviews
Various means of communication
"Excellent experience. I felt good care from Share Lawyers all the time during the process. They have done everything possible to help me with the case, very good communication with all communication means such as phone, email, Zoom, etc. Highly recommended for all struggling with the disability cases. Thanks!" – Serguie
Great customer service
"Great customer service from beginning to end. I actually switched law offices due to poor service and it was the best decision to go with Share Lawyers. Great communication, great at setting expectations and great at always being there to answer questions or address any of your concerns." – Bernard
3. Jeffrey Neinstein – Neinstein Personal Injury Lawyers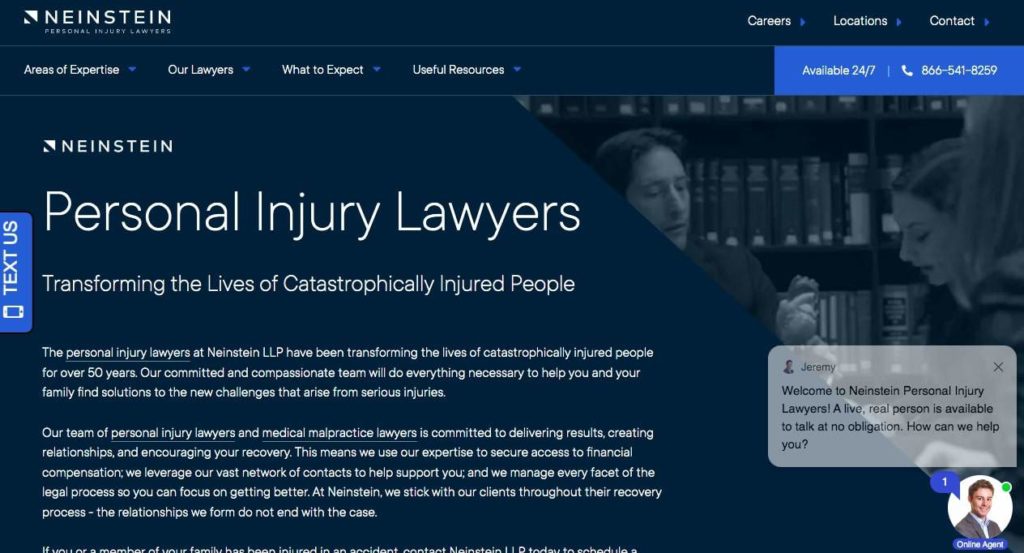 Test
Info
Services

Motor Vehicle Accidents

Accidents

Injuries

Claims

Mass Claims

Website
https://neinstein.com/
Address
1200 Bay St. Suite 700, Toronto, ON M5R 2A5, Canada
Contact details
416-920-4242
Operating hours
Monday - Sunday: Open 24 hours
| | |
| --- | --- |
| Criteria | Rating |
| Availability | ★★★★★ (5/5) |
| Initial Consultations | ★★★★★ (5/5) |
| Lawyer's Experience | ★★★★★ (5/5) |
| Client Servicing | ★★★★☆ (4/5) |
| Fees | ★★★★★ (5/5) |
Neinstein Personal Injury Lawyers has been in the business for over 5 decades helping clients in personal injury and insurance litigation. They ensure that the clients and their families get the best service and fair compensation.
In fact, Jeffrey Neinstein, head of the Personal Injury Group, believes in helping clients get better after serious accidents. He ensures that they don't just get the compensation they deserve, but also that their physical rehabilitation needs are addressed.
Jeffrey has been recognised since 2013 by his colleagues for his expertise in vehicular accidents and malpractice. With Jeffrey is a team of 16 lawyers whose extensive knowledge and experience have helped the firm win more than 100,000 cases.
These lawyers are fluent in various foreign languages, making it easy for non-English speaking clients to deal with them.
The firm also offers free consultations but does not obligate anyone to take on its services. Even so, lawyers review the case to determine the claim's validity and steps to take.
However, we found out that they don't necessarily accept all cases that come their way. If the firm thinks the claim is not a viable case, they will be upfront and honest with the client, which we think is really an act of kindness.
There were instances though when clients fell unattended. They felt left out of the process as there were no updates on the cases unless they send emails.
To help clients focus on recovery, they are only charged a legal fee when the case is resolved. The base fee percentage though for medical malpractice is 25%, higher than its personal injury fee of 15%.
5 decades of legal service
Plenty of well-experienced and knowledgeable lawyers
More than 100,000 cases won
Lawyers can speak various foreign languages
Offers free consultations
Fee charged only when the case is resolved
Some reports on being selective about cases
A few reports on needing to improve client servicing
Customer Reviews
Exceptional service
"I had a motor vehicle accident in 2019 and Neinstein Lawyers went above and beyond to resolve everything far past expectations and swiftly as well. I had the pleasure of working with Michelle Kuldats who was extremely responsive to all my questions and needs, even when I made some things difficult for her. Along with Julia and Erik who answered all my emails quickly and did an amazing job during the mediation There is not a better team of lawyers to have work on my case. If there is any firm to recommend it would be this one, I am extremely grateful and satisfied for all their hard work and efforts." – Marko
Results were higher than expectations
"Erik Joffe was recommended to us by a friend of a friend, after we had gone through a scary car accident. We weren't sure it was something we wanted to pursue, but after meeting with Erik we felt comfortable to move forward with the case. Erik demonstrated professionalism, patience and compassion. He really listened and cared about our interests and was super honest with us from the beginning. His responsiveness was great, and all of our questions were answered. He fought for us and didn't give up. 2 years later, we got a resolution that was higher than our expectations! Thank you Erik, for helping our family out when we needed it most! You made the scariest time of our life much easier, and you are our go to person for any legal matters that may arise."
4. Jeffrey A. Preszler – Preszler Injury Lawyers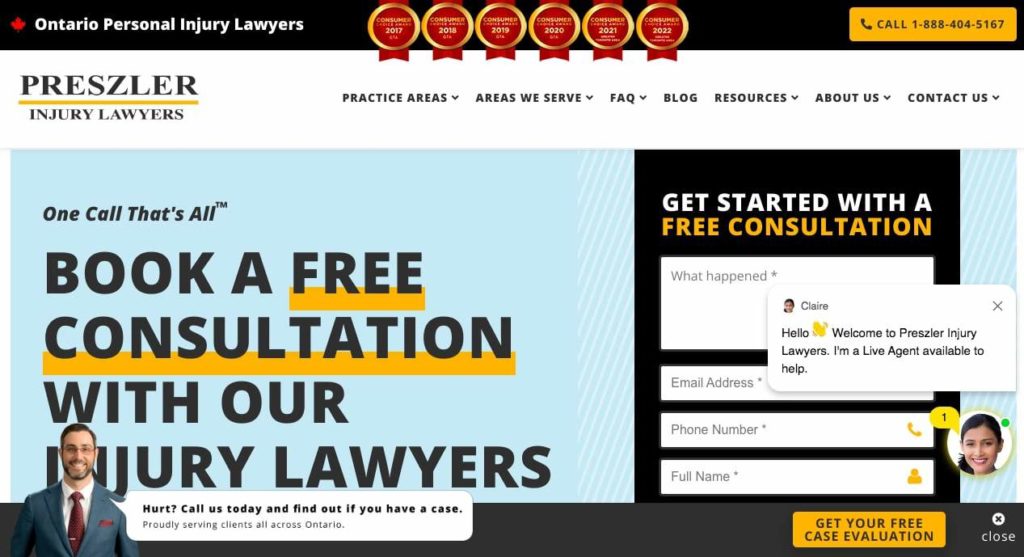 Test
Info
Services

Accidents

Injuries

Long-Term Disability

Mass Tort

Website
https://www.preszlerlaw.com/
Address
151 Eglinton Ave W, Toronto, ON M4R 1A6
Contact details
647-492-9410
Operating hours
Monday - Sunday: Open 24 hours
| | |
| --- | --- |
| Criteria | Rating |
| Availability | ★★★★★ (5/5) |
| Initial Consultations | ★★★★★ (5/5) |
| Lawyer's Experience | ★★★★★ (5/5) |
| Client Servicing | ★★★★★ (5/5) |
| Fees | ★★★★☆ (4/5) |
Preszler Injury Lawyers' extensive experience since 1959 has helped numerous clients get the compensation they deserve.
One of its partners, Jeffrey A. Preszler, is an expert on personal injury and insurance law. In fact, since getting his law license in 2007, he continues to mentor students and colleagues on personal injury claims.
With his practice focused on personal injury, he has helped clients in disastrous accidents with their benefits claims. We've heard of one client who was able to get $400,000 compensation for a debilitating injury, which is quite impressive.
Jeffrey and the rest of the team of lawyers are known to provide honest and straightforward opinions but might be misconstrued as being unsympathetic to the client's case.
They also value confidentiality by not sharing client information even if they do not proceed with the firm's service.
This firm itself is easy to contact with several options – hotline, text message, or chatting online with a live agent. What's great is that 90% of the requests for a free consultation get a reply within 30 minutes.
However, due a high demand for their services, there were instances when clients had difficulty contacting lawyers to get updates on their cases. This may be a no-no for extra-anxious clients who need a bit more handholding.
As with other law firms, Preszler also only collects legal fees once the client is successful in claiming what is due to them. What is good is that The firm makes clear the breakdown of fees before the retainer's agreement is signed.
Operational since 1959
Responsive lawyers 
Fee collection based on the outcome of the case
Help clients meet the timeline of claims submission
High demand and caseload
Some instances of difficulty in contacting lawyers for updates
Customer Reviews
Awesome team
"It's been a wonderful and great experience with all of you. Thank you for your concern, patience, prompt attention, and tolerance. Your team are awesome and so polite. Mr Jeffrey Preszler and Sean Tanha are always ready to explain into detail every single thing for me to understand. There was a time Mr Jeffrey Preszler called me to explain something to me but within a second a forgot everything he told me because of my forgetfulness, then I asked him to write it and send it to me in my email. I was so amazed at how he understood my situation and quickly emailed it. I appreciate the good work. I would always recommend PRESZLER LAW FIRM to anyone who needs legal help and advice. Thank you once again." – Anita
No cash out of the pocket
"This was our first experience dealing with an attorney and Aaron couldn't have made it easier for us. If you need a lawyer do yourself a favor and call Pressler injury law. Fast, friendly and no cash out of pocket. Thanks again for all your help. If I could give more stars I would." – Cheryl
5. Ryan Naimark – Naimark Law Firm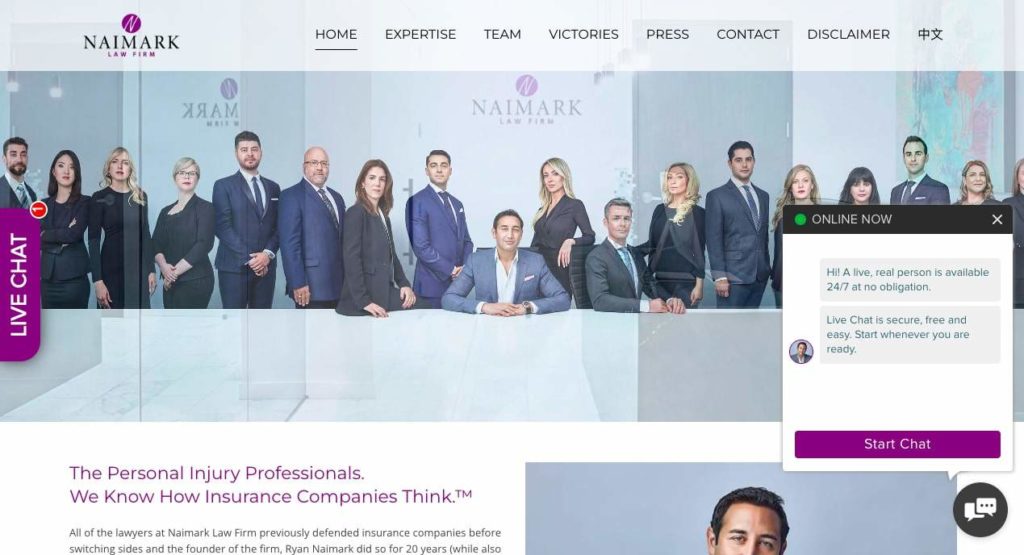 Test
Info
Services

Motor Vehicle Accidents

Catastrophic Claims

Brain Injuries

Medical Malpractice

Slip ad Fall

Fatality-related Claims

Assault and Battery

Website
http://naimarklaw.com/
Address
141 Adelaide St W #330, Toronto, ON M5H 3L5
Contact details
416-366-7246
Operating hours
Monday - Friday: 9 am - 5 pm

Saturday - Sunday: Closed
| | |
| --- | --- |
| Criteria | Rating |
| Availability | ★★★★☆ (4/5) |
| Initial Consultations | ★★★★★ (5/5) |
| Lawyer's Experience | ★★★★★ (5/5) |
| Client Servicing | ★★★★☆ (4/5) |
| Fees | ★★★★★ (5/5) |
Naimark Law Firm's unique position in helping claimants is backed by years of defending insurance companies. So, they know the way these companies work, as well as their thought processes.
Ryan Naimark, owner and founder, has 20 years of representing insurance companies. Many used to turn to him to handle cases involving large claims.
However, after handling cases of injured individuals and their families, he decided to play for the other team. Clients now have an advocate to fight for their rights against insurance companies.
Together with his team, they apply their expert insight on the insurers' side in order to maximise compensation for their clients. They try to avoid claims reaching litigation also as this will be time-consuming for clients, not to mention expensive.
We found out that lawyers can discuss clients' situations in different languages, which makes non-English speakers feel more at ease. Free consultations are also offered to potential clients.
This firm operates only on weekdays. But its website has a live chatbot available 24/7, which we think offsets these limited operating hours.
Just be warned that some clients have had difficulties reaching their lawyers-in-charge at times, which can be frustrating and stressful if your case has an urgent timeline.
Knows the ways and processes of insurance companies
Owner has 20 years of experience representing insurance companies
Unique experience has turned lawyers advocates for the insured
Avoids claim reaching litigation as its a long process
Represents for personal injury and wrongful dismissal
Can speak in different foreign- languages
Live chatbox available 24/7
Closed on weekends
Instances of lawyers being difficult to contact
Customer Reviews
Service beyond expectation
"Ryan Naimark of Naimark law was fantastic. I had no problems or concerns dealing with them. Just a phone call away and time. Went above and beyond and provided great service. The only firm i will recommend to anybody in a accident or fighting for any compensation. Thank you ryan and the whole team behind them from clearks to paralegals. He even pushed me while i was in a wheel chair and had to meet with him. A1 5 star Service when dealing with this law firm." – Clayton
Lawyer experienced in his craft
"I had a great experience with Paul Giuliano he worked very hard to ensure I got the maximum amount in my settlement he's easy to understand, he explained everything in details. Very experienced at what he does, I strongly recommend anyone trying to find a lawyer to fight for them, Paul Giuliano is your guy." – Anawatie
FAQs on Insurance Lawyers
---
This wraps up our list of insurance lawyers. Hopefully, this points you in the right direction in finding the best lawyer for your insurance claim.
For those interested in other types of lawyers, check out these informative articles on What Personal Injury Lawyers Do and Best Real Estate Lawyers.