A Guide to the 8 Best Hair Transplants in Toronto
Are you one of those people whose hair started thinning out at an unexpected age? If so, maybe now's the time to consider undergoing the best hair transplant in Toronto.
For today's article, you'll learn about the clinics in the Greater Toronto Area known for offering hair transplants for both men and women. We looked for the ones with professional services, experienced medical staff, and positive track records.
We've answered a few commonly asked questions about hair transplants as well, including queries about their safety, effectiveness, and cost.
(Note: This list is in no particular order. )
1. Toronto Hair Transplant Clinic
| | |
| --- | --- |
| BEST FOR | Men and women's hair transplant |
| SERVICES | Follicular Unit Extraction (FUE), NeoGraft, SmartGraft, Scalp Micropigmentation, and PRP Therapy |
| ADDRESS | 59 Hayden St Suite 702, Toronto, ON M4Y 2P2, Canada |
| CONTACT NUMBER | 647-351-0061 |
| WEBSITE | https://torontohairtransplantclinic.com/ |
| OPERATING HOURS | Monday – Friday: 8:00 AM – 5:00 PM |
Toronto Hair Transplant Clinic is headed by Dr. Cory Torgerson, a well-known head and neck surgeon with more than 18 years of experience in facial, head, and neck surgery. He's well-versed in all types of hair transplant procedures viable for both men and women.
Some of the services provided by Toronto Hair Transplant Clinic are PRP therapy, Neograft, Smartgraft, Scalp Micropigmentation, and Follicular Unit Extraction, commonly known as FUE.
It's a private clinic accredited by the College of Physicians and Surgeons of Ontario, so it adheres to their safety standards. Aside from being experienced, its medical staff is known for being approachable and friendly towards all patients.
The Toronto Hair Transplant Clinic is open for consultation to all patients, where all their questions will be answered. Dr. Cory conducts most of the procedures, supported by a team of registered nurses, all of whom have years of experience in cosmetic surgery.
Only one to two patients are accommodated every day for quality assurance, so patients may have to wait a first week before their turn.
18 years of experience
Personalized hair restoration
Has services for both women and women
Equipped with cutting-edge medical technologies
Headed by one of the most famous head and neck surgeons in Canada
Can only accommodate one to two patients a day
Long waiting slots
Customer Reviews
Take a look at what previous patients had to say about its services:
"The experience that Brian and Dr. Torgerson bring to their practice is clearly upper level. I recently got a hair transplant at their clinic and not only was I impressed with their professionalism, but the knowledge and experience they have in this field was very reassuring, as they were able to answer my questions down to the science. Very impressive. Needless to say, I'm extremely happy with the result! Would give more than 5 stars if I could!"
-Jordan Brooks
"Came 3 months ago to have a hair and beard transplant. The staff was very professional, helpful and accommodating throughout the whole process, the clinic was very clean and welcome and comfortable while at their care. Being only 3 months in the process I already see a lot of results and I am beyond happy with seeing this much development in my hair growth. I would recommend their services to anyone who's looking for a hair or beard transplant, I also would recommend checking out all of the other services they provide if you're looking for excellent service over all!"
-Kareem Hassan
2. Nova Medical Hair Transplant Clinic
| | |
| --- | --- |
| BEST FOR | Personalised and natural hair restoration |
| SERVICES | Follicular Unit Extraction (FUE), FUT hair transplant, hair implants, PRP therapy, scarless hair treatment, hair transplant maintenance, and facial hair restoration |
| ADDRESS | 890-A Yonge St, Toronto, ON M4W 3P4, Canada |
| CONTACT NUMBER | 647-478-2202 |
| WEBSITE | https://www.hairtransplantinstitute.ca/ |
| OPERATING HOURS | Monday – Friday: 9:00 AM – 6:00 PM |
If you're looking for a reputable hair clinic in the Greater Toronto Area, then look no further than Nova Medical Hair Transplant Clinic. It even boasts a perfect rating on Google Reviews, with most patients praising its medical staff and customer care.
What makes it an ideal hair clinic is its commitment to personalised hair restoration services. It doesn't believe in a one-size-fits-all solution, so its doctors take their time to get to know their patients, their needs, and their goals.
Dr. Kolenda serves as the resident hair specialist at Novo Medical Hair Transplant Clinic. He's a world-renowned specialist in the field of aesthetic plastic surgery and hair restoration procedures.
On top of that, Dr. Kolenda is supported by an experienced and licensed team of hair technicians, most of whom have been doing hair transplants for over 15 years now.
Nova Medical Hair Transplant Clinic offers different types of hair transplant surgeries, from surgical ones down to scar-free procedures. The follicular unit extraction remains one of its most in-demand services, though.
Other services provided by Dr Kolenda's clinic include hair transplant maintenance, facial hair restoration, hair implants, PRP therapy, and hair transplants for women, among others.
Faster recovery time
Services for men and women
Personalised hair treatments
Uses state-of-the-art medical tools
Offers free consultation to all patients
Has another branch in Mississauga – Oakville
Customer Reviews
As one of the top clinics in Toronto, it's received several praises from past clients. Here's what some of them had to say:
"The doctors were smart, profesional, courteous, and friendly. I have nothing but good things to say about everyone here and would highly recommend going in for a consultation. I was not fully aware and did not understand the procedure as much before meeting the doctor but once I met with him, he gave me all the details and let me ask the hundreds of questions I had without rushing me. It was a stress-free environment and the hair transplant went flawlessly. Looking forward to seeing this transformation."
-Mike L.
"Nova is fantastic! Spoke to some very uplifting gents on the phone who booked me in for a consultation at the Toronto location. Upon arriving I was amiably surprised! Very luxury feel to the clinic and the staff. I spoke to the nurse for the consult and even briefly met the doctor. They are not only very informative but extremely professional! They showed me the surgery rooms, equipment and everything related. Very cool experience and I will be going ahead with my procedure in a few months."
-Matthew Murray
3. Seager Hair Transplant Centre
| | |
| --- | --- |
| BEST FOR | Stringent quality control |
| SERVICES | Follicular Unit Extraction (FUE) and Follicular Hair Transplantation (FUT) |
| ADDRESS | 99 Yorkville Ave, Toronto, ON M5R 3K5, Canada |
| CONTACT NUMBER | 416-287-3733 |
| WEBSITE | https://www.seagerhairtransplant.com/ |
| OPERATING HOURS | Monday – Friday: 9:00 AM – 5:00 PM |
Another top-rated hair clinic in Toronto is Seager Hair Transplant Centre. It regularly performs corrective hair restoration and transplants for patients who've had mediocre and unsatisfactory procedures from others as well.
Established more than 30 years ago, it's grown into one of the most trusted hair clinics in Canada. It's founded by Dr. David Seager, one of the first surgeons in the world to use minigraft hair transplantation, instead of punch grafts.
Seager Hair Transplant Centre offers only two types of hair transplants: Follicular Unit Extraction (FUE) and Follicular Hair Transplantation (FUT). Both of these hair loss procedures are available for men and women.
It's also known for its superb patient care and focus, making sure that each service is designed to fill the needs and expectations of clients. All patients can feel safe and secure, from initial consultations down to follow-up visits.
Seager Hair Transplant Centre offers free and no-obligation consultations to all interested individuals.
Natural-looking results
Open for men and women
Easy booking of appointments
Personalised hair loss treatments
Uses the most advanced hair transplant techniques
No operations on weekends
Customer Reviews
Here are some comments shared on Google Reviews by previous patients:
"I had a hair transplant with Seager hair clinic. I am extremely satisfied with the results so far (after 5 months). The doctor and the administration folks are very approachable. I have regular follow ups bi-monthly and get the best consultation from the doctor. I highly recommend this hair clinic for anyone looking for a hair treatment. This treatment helped me revive my confidence and gave me a fresh start. Thanks to the doctor & staff."
-Manoj Kumar
"Amazing staff and doctors are very excited to see my new hair. The Dr. and his team are professionals and they make you feel at home while going through the procedure. The Dr. was always checking on me to make sure I was alright. Again a great thanks to The Dr. and his team."
-Gerry Di Ruscio
4. HairForever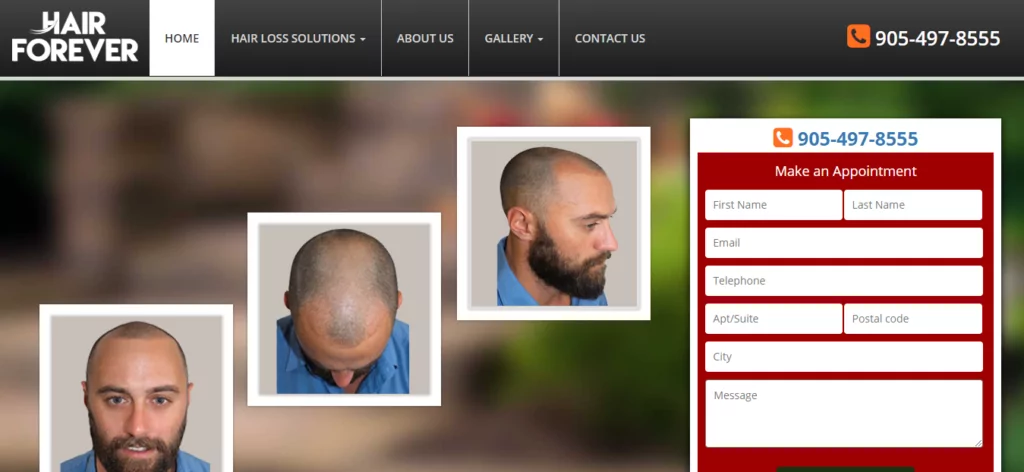 | | |
| --- | --- |
| BEST FOR | Robotic FUE |
| SERVICES | FUT, FUE, laser therapy, PRP treatment, micropigmentation |
| WEBSITE | http://hairforever.ca/ |
| ADDRESS | 2250 Bovaird Dr E #608, Brampton, ON L6R 2T3 |
| CONTACT DETAILS | (905) 497-8555 |
| OPERATING HOURS | Monday – Sunday: 9:00 AM – 10:00 PM |
HairForever's main goal is to help improve confidence among men and women alike. It offers surgical and non-surgical treatments as well as products to aid hair growth.
When it comes to non-surgical treatments, HairForever offers the cosmetic procedure, scalp micropigmentation. But do know, this treatment isn't exactly hair transplantation as much as it is a tattoo of hair.
As for the surgical treatment, HairForever offers both FUT and FUE. But what really makes this clinic special is that it offers robotic FUE using ARTAS Robot.
Because of such technology, HairForever can guarantee minimal scarring and a reduced healing time for hair restoration. The clinic also does PRP treatment and laser light therapy to promote hair growth.
Should you choose this clinic, you need only fill out their simple online forms.
Advanced robotic technique

Minimal scarring

Reduced downtime
Cosmetic pigmentation treatments
Treatments for men and women
Some treatments don't promote hair growth
Customer Reviews
Read these reviews to help you decide whether or not HairForever is the best hair transplantation clinic for you:
"Just wanted to THANK YOU Hair forever, I am very pleased with my procedure. Very professional woman and informative regarding different options and my budget. Extremely helpful which made things more comfortable for me at least knowing the outcome would be successful and my money was put to great use… thanks again I would recommend Hair Forever to anyone who wants to improve their hair situation"
-Yakuza Blade
"Hair Forever is a bright and clean clinic. They were able to fix my hair loss within three treatments. I'm very happy with the results and I would recommend any women dealing with hair loss to go to here."
-Susan McKill
5. Toronto Hair Transplant Centre
BEST FOR
Hair Restoration Procedures
SERVICES
Hair Loss Solutions and Hair Restoration
WEBSITE
https://torontohairtransplant.com/
ADDRESS
435 Reynolds Street
Suite 206
Oakville, Ontario
Canada, L6J 3M5
CONTACT DETAILS
Phone: 1-877-789-4247.
[email protected]
OPERATING HOURS
Monday To Friday: 9AM – 4PM
Saturday and Sunday: Closed
If you're on the lookout for a hair transplant centre with trusted and proven results, then Toronto Hair Transplant Centre should be on your list.
This humble clinic located in Oakville is the brainchild of Dr Robert Jones and Dr Jonathan Huber. Dr Jones and Dr Huber make up a pair whose extensive background in medicine and surgery makes them two of the most qualified experts in the field of hair care, particularly, hair loss solutions and hair restoration.
Coming together, the two established Toronto Hair Transplant Centre, endeavouring to provide personalised solutions that give clients the opportunity to have luscious locks once more. They accomplish such a feat by offering extensive consultation to each and every patient, learning more about their hair history and current issues before moving forth and curating a treatment plan that suits them best.
Aside from the thoroughness of their procedures, we also like the fact that the clinic is open to helping out-of-town clients as well. All that is needed is a booked consultation before the centre can start offering the necessary procedures.
Wide array of hair care solutions
Experienced surgeons with necessary credentials and training
Proven track record in hair restorations
Accepts out-of-town clients
6. Sure Hair International
| | |
| --- | --- |
| BEST FOR | Non-surgical hair loss treatment |
| SERVICES | Follicular Unit Extraction (FUE), Follicular Hair Transplantation (FUT), ARTAS hair transplant, eyebrow hair transplant, hair transplant repair, and laser hair therapy |
| ADDRESS | 180 Bloor St W #604, Toronto, ON M5S 1T6, Canada |
| CONTACT NUMBER | 416-263-9898 |
| WEBSITE | https://surehair.com/ |
| OPERATING HOURS | Monday – Friday: 9:00 AM – 6:00 PM |
Sure Hair International is a leading hair restoration clinic that specialises in both surgical and non-surgical hair loss procedures. It's been voted as one of the top hair clinics in the Greater Toronto Area by the Consumer Choice Awards for more than six years now.
When it comes to experience, Sure Hair International doesn't fall short. It has conducted more than 25,000 hair transplant procedures over its 25 years in the business, helping adult men and women regain their confidence.
On top of that, its hair transplant team boasts more than 130 years of cumulative experience in doing all forms of hair restoration procedures between them.
Sure Hair International's services range from hair transplants to scalp treatments, including laser hair therapy, hair transplant repair, Follicular Unit Extraction, Follicular Hair Transplantation, and eyebrow hair transplant, among others.
Free on-site or online hair consultations are available to all interested individuals. All you have to do is go to their website and sign up the form.
Free online consultations
130 years of cumulative experience
Treatments for both men and women
Offers surgical and non-surgical treatments
Services lean toward the pricey side
Customer Reviews
Here's what some customers had to say about their experience with Sure Hair International:
"Very nervous going in for my FUT process, but Dr Gupta and his team was one of the best I have seen. The process from 1st consultation meeting, to the surgery date, and to follow ups were all you could expect from a top class Team. I had daily follow ups from Dr Gupta after the procedure, once I had some questions and he got on a call right away. The front desk was great, the nurses were friendly – through and through I was impressed. Last, why we all go there is to have better hair. My results came out more than what I had expected. No more bald spots. Feels nice to get my original hair back. I would highly recommend this surgery centre!!"
-Ed Masood
"I'm a customer of Sure Hair and I cannot recommend them enough. Their professionalism and expertise has given me a newfound confidence in myself. I've had wonderful results with my hair treatments and will continue to recommend them to my friends and family. I cannot say enough good things about my experience. Thank you Sure Hair!"
-Rosanna S.
7.   Rahal Hair Transplant
| | |
| --- | --- |
| BEST FOR | Money-back guarantee |
| SERVICES | Follicular Unit Extraction (FUE), Follicular Hair Transplantation (FUT), hair transplant surgery, and eyebrow transplant |
| ADDRESS | 1131 Leslie St #300, North York, ON M3C 3L8, Canada |
| CONTACT NUMBER | 647-559-2811 |
| WEBSITE | https://www.rahalhairtransplant.com/ |
| OPERATING HOURS | Monday – Saturday: 9:00 AM – 6:00 PM |
Rahal Hair Transplant is a hair restoration clinic that caters to the needs of balding adult men. It's headed by Dr. Rahal, a hair transplant surgeon with more than 25 years of experience in helping men regain their youthful appearance.
As of today, Dr. Rahal has conducted more than 13,000 hair transplants and hair restoration procedures. In fact, he's even regarded as the Hairline King in Canada, given the number of hairlines he's restored.
Another thing to know about Rahal Hair Transplant is its money-back policy. If your new hair doesn't grow or look natural, you'll get your money back, down to the last coin.
It's worth noting that Dr. Dahal's Follicular Unit Extraction method is different because it doesn't involve scalpels, stitches, and staples, which then accelerates the healing process.
If you're interested in consulting with Dr. Dahal, you may do so by going online and booking an appointment using his website.
25 years of experience
Competitive rates
Operates during Saturdays
Money-back policy
Doesn't accept female clients
Customer Reviews
Patients who liked Dr. Rahal's services posted the following comments on Google Reviews:
"Just absolutely incredible work. I had my hairline fixed and the difference is night and day and I'm not even all the way done growing in. These photos are 9 months post op. I had FUT done, as I have longer hair and did not want to cut it. It also helped tremendously in covering up the recipient site. My experience from beginning to end with everyone involved has been A+. Larissa has been a dream to correspond with and Dr. Rahal and his technicians have impeccable bedside manner. The experience was very smooth and easy. They are always happy to answer any questions and always stay in touch and follow up. The pricing was very reasonable and well worth it and then some. My hairline has been nagging at me for the better part of ten years and I am glad I took the plunge. Healing was fast and the guest house onsite is very good. Rahal and his team are world class."
-Miles Johnson
"I began researching hair transplant options in August of 2019. I scheduled an appointment with Dr. Rahal in January 2020 and it was the best decision I ever made. He wasn't the cheapest, but if there's one place you don't want to skimp on it's your face/head. The first 4 to 5 months after a hair transplant are difficult, but its worth the payoff for the rest of your life. I feel so much more confident and look younger and less tired than I did before. If you are on the fence and researching where to get your procedure done, I promise you that Dr. Rahal is the best. I saw many horror stories on people who tried to save a few bucks and their hairlines ended up looking fake. I couldn't be happier with choosing Dr. Rahal and my results."
-Jeff Boyce
8. Hair Transplant Clinic Toronto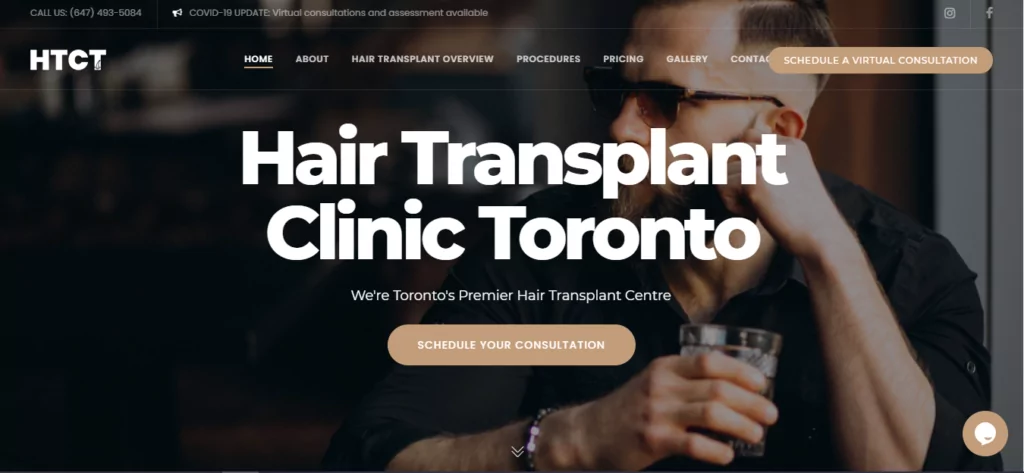 BEST FOR
Localized hair loss solution
SERVICES
FUT, FUE, beard transplant, eyebrow translant, PRP therapy, hairline lowering surgery
WEBSITE
https://www.hairtransplantclinictoronto.com/
ADDRESS
305 Davenport Rd Unit 2,
Toronto, ON M5R 1K5
CONTACT DETAILS
(647) 493-5084
OPERATING HOURS
Monday – Friday: 9:00 AM – 5:00 PM
If you want your hair touched only by cosmetic surgeons, then seeking Hair Transplant Clinic Toronto (HTCT) services may be the way to go. HTCT is a clinic for men and women.
This clinic is led by Dr. Mark Korman, a board-certified surgeon by the Royal College of Physicians and Surgeons of Canada.
Now, under his management, HTCT uses modern techniques and state-of-the-art equipment to make proper assessments even before going through with its effective treatments.
Like many other hair restoration clinics, HTCT also offers FUT and FUE treatments. Additionally, the clinic also does PRP therapy and hairline lowering surgery.
Patients who also want to have hair growth in localized areas can also benefit from HTCT's beard and eyebrow transplant services. And should you wonder about its sustainability, the answer is yes, these treatments are natural-looking and permanent.
While HTCT accepts all major credit cards, debit, and cash payments, it also offers financing options to help clients who can't seem to find the budget right away.
Treatments for men and women
Financing options available
Localized hair treatments
Award-winning and recognized reconstructive surgeon
Virtual and on-site consultations
Customer Reviews
Read these customer reviews to know what to expect should you choose Hair Transplant Clinic Toronto to solve your hair issues.
"Thank you, Dr. Korman and a team of Hair Transplant Clinic Toronto for the outstanding experience I had while my first and second hair transplant surgeries. I had a beard transplant and a small area on my back head where I had a scar so I can cover it up. Great experience, professional surgeons and super friendly staff. I must say they are very reasonably priced so I'll definitely recommend you to anyone"
-Grant Oakes
"I would like to recommend Hair Transplant Clinic Toronto to anyone who's looking for a hair transplant. Great team, very friendly attitude and knowledgeable doctor. Had my eyebrows transplanted after a work-related accident back in 2019 and everything turned out perfect."
–Harry Beasley
FAQs about Hair Transplant in Toronto
---
That's it for our list of the clinics that can offer the best hair transplants in Toronto. If you've consulted with any of these clinics in the past, share with us your experience!
Know other clinics in the GTA with hair transplant services? Tell us their names so we can check if we can add them to our picks!