The 8 Best Digital Marketing Agencies in Toronto
Are you looking for ways to increase your business's online presence? Well then, maybe now's the perfect time to consider looking for the best digital marketing agencies in Toronto!
Luckily for you, we have your needs covered! We combed through the entire Greater Toronto Area in search of trusted and reputable digital marketing agencies that work with businesses of all sizes and industries.
You'll get to know more about these agencies here, together with the expected cost of hiring one and the queries that most clients have.
Let's start with the average rates of the most common digital marketing services.
The Cost of Digital Marketing Agencies in Toronto
We'll be the first to admit it: digital marketing agencies can be expensive, which explains why a chunk of their clients are established businesses and large corporations.
When it comes to return of investments though, there are financial benefits to hiring a marketing agency rather than creating an in-house team. After all, few businesses have the budget to hire more employees just for that.
In order to understand the cost of hiring digital marketing agencies, we'll break down their services into three categories: pay per click campaigns, social media marketing, and search engine optimization.
These three are the most common services bought by small and medium-sized businesses anywhere, including those here in Toronto.
Keep in mind that whatever our averages are, they may differ from the quote of the agency you're going to hire.
On average, the cost of pay per click campaigns ranges from $300 to $1700 per month, depending on the number of people working on a single project.
The industry average cost of social media marketing, on the other hand, can get as high as $4,000-$7,000 per month. It's expensive because it uses different social media platforms to connect with audiences and there's extensive research involved in each project.
Finally, when we asked digital marketing agencies about the cost of their SEO services, most of them quoted a price that didn't go below $1,000. The highest quote we got for this service is $2,000.
With these rates in mind, it's easy to get discouraged from hiring the best digital marketing agencies in Toronto if you're running a small business and don't have that much money to spare.
But one way to look at this is to think that every coin spent is an investment. In a way, the money given to the agency goes to your budget because it's working towards widening your reach and increasing your sales.
The Best Digital Marketing Agencies in Toronto
After revealing the cost of digital marketing services, it's time to reveal our picks for the top digital marketing agencies in Toronto.
Continue reading below to see which agency can provide the service that your business needs in order to reach a wider audience online.
1. Mrkt360

BEST FOR
Customised digital solutions
SERVICES
Search Engine Optimization
Google Advertising
Facebook & Instagram Advertising
DV360
Bing Advertising
YouTube Marketing
Amazon Advertising
Social Media Management
Digital Marketing Services and Optimization
Website Services
WEBSITE
https://mrkt360.com
ADDRESS
1 Saramia Crescent
2nd Floor, Concord,
ON L4K 3S6
CONTACT DETAILS
Email:

[email protected]


Phone: 1-888-215-0005
Whatsapp Number: 647-797-9773
Local Number: 416-477-0587
OPERATING HOURS
Monday – Friday: 9:30 AM – 6:00 PM
Mrkt360 is a digital marketing firm offering a full suite of services to all of its clients. Most known for its SEO, Mrkt360
Mrkt360 is a digital marketing firm led by Eran Hurvitz, a man with a passion for technology and over 20 years of experience in the field. With his team of marketing experts, Eran and Mrkt360 offers a full suite of digital marketing services to their clients, all of which serve to boost the clients' visibility on the internet.
SEO with Mrkt360 means finding your website on the first page of Google search, an optimal spot to increase traffic for the site and draw in more potential customers.
These feats are achieved with the help of market analysis, real-time algorithm checking, full website audits, keyword optimisation, and various types of SEO. Mrkt360 sees to it that these tools are personally customised to fit your business, further boosting the chances of growth.
Marketing packages available

Personalised digital marketing solutions

Wide range of SEO services
Customer Reviews
Learn more about Mrkt360's services from their Google reviews:
"Excellent customer service, quick response time, and very knowledgable staff … I've been working with them since 2005 and am very satisfied with MRKT360! My account manager has been an excellent resource. He provides me with a wealth of information and strategic concepts to help further succeed my business. We are very pleased with our results!"
"We have been using the services of Mrkt360 for several years. They have been handling our online marketing and other aspects of our law firm's corporate website effectively and professionaly. Eran Hurvitz and his team are highly knowledgeable in Google marketing and SEO etc. They have contributed immensely to our online success. Highly recommend."
2. Search Engine People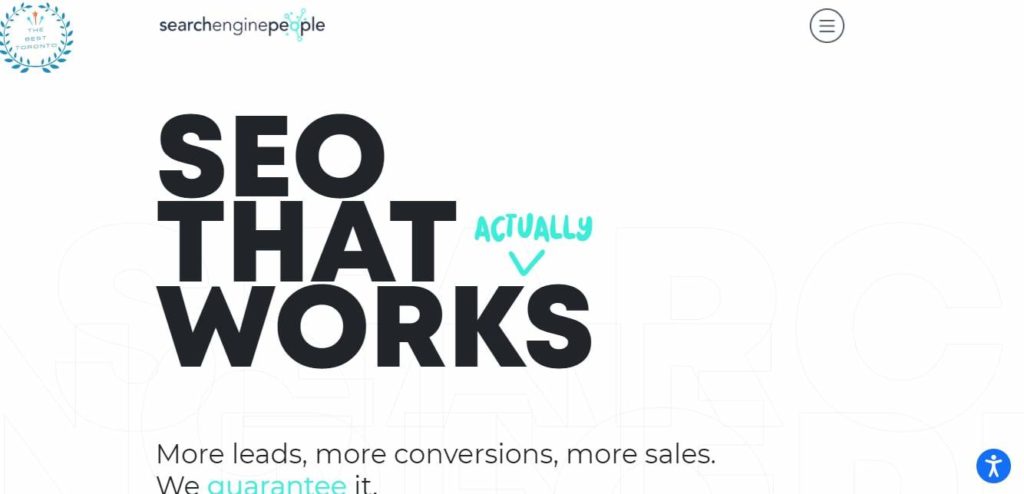 BEST FOR
Search engine solutions
SERVICES
Search engine optimization and search engine marketing
WEBSITE
https://www.searchenginepeople.com/
ADDRESS
1305 Pickering Pkwy #500, Pickering, ON L1V 3P2, Canada
CONTACT DETAILS
905-421-9340
647-699-2838
OPERATING HOURS
Monday – Friday: 9:00 AM – 5:00 PM
Established more than 20 years ago, Search Engine People has grown into one of the most trusted digital marketing companies in the Greater Toronto Area, catering to the digital needs of small businesses and startups.
In fact, it can even be considered Canada's most beloved search engine company because it's worked with both emerging businesses and some of the world's biggest brands. Its portfolio includes over 2,000 successful local and international projects.
As a search engine-centric agency, it focuses on search engine optimization and search engine marketing. Its marketing team uses effective SEO strategies formulated using insights from comprehensive audits, organic factors, and keyword researches.
Its daily Google queries, on the other hand, have reached the 200 million threshold, proving that its strategies are working until this day.
More than 2,000 successful projects
Large team of search engine experts
Can promote businesses internationally
Offers only search engine optimization services
Customer Reviews
Here's what clients had to say about their experience with Search Engine People:
"Search Engine People has provided exceptional value to our small but mighty team. We look to SEP to manage a large and important part of our workload so we can focus on other important initiatives. They are knowledgeable, professional, and truly understand our needs. Our account manager is friendly and operates at a high level of professionalism. We look forward to our meetings with our account manager."
-Duliban Digital
"I have worked with Search Engine People for close to 10 years. We started the relationship with the goal of SEP helping us grow our organic search rankings and overall online presence, and every year we keep achieving stellar results. Our rep Michael brings unique ideas and tips every month during our calls, which I find invaluable. Thanks for the great work SEP!"
-Tania F
3. Let's Get Optimized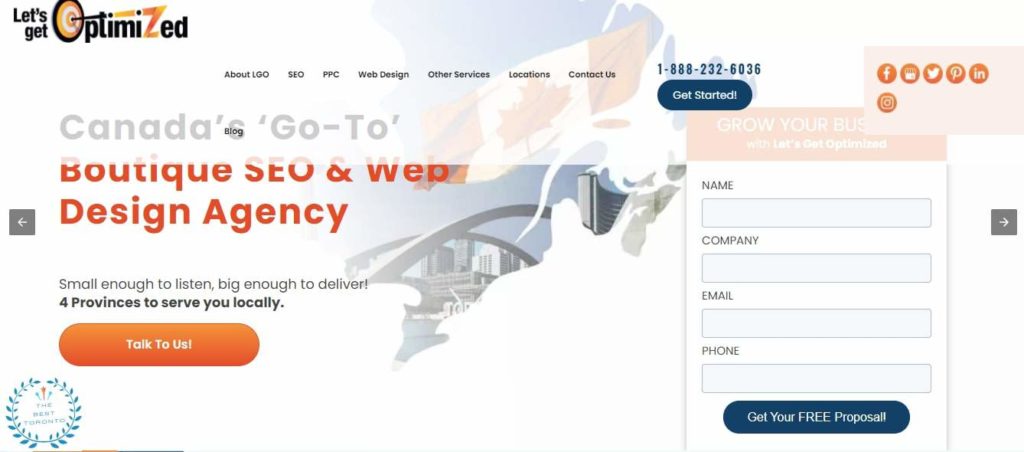 BEST FOR
Online marketing services
SERVICES
Search engine optimization, web design, pay per click campaign, content marketing, conversion optimization, email marketing, landing pages and squeeze pages, and social media marketing
WEBSITE
https://letsgetoptimized.com/
ADDRESS
80 Bloor St W #411, Toronto, ON M5S 2V1, Canada
CONTACT DETAILS
905-431-9550


[email protected]

OPERATING HOURS
Monday – Thursday: 9:00 AM – 5:00 PM
Friday: 9:00 AM – 4:00 PM
If you're looking for a digital marketing agency with an excellent track record, then you might want to check out Let's Get Optimized. It takes pride in being a firm that's been named Canada's best SEO company by SEMfirms for the second time.
It caters to mostly small and medium-sized businesses, offering them an extensive range of online marketing services. This includes search engine optimization, email marketing, social media marketing, web design, blogging, content marketing, and ad management, among others.
As a digital marketing company, its passion lies in delivering increased website visibility, using exceptional organic and local search optimization results. It leverages its connection with Google to drive trackable and measurable PPC results that result in exceptional ROI!
It's worth noting that its founder is currently a Google Ambassador and Google Small Business Advisor, so he knows what it's like to work from the inside.
And aside from Toronto, Let's Get Optimized also has branches in Oshawa, Halifax, and Montreal, making its services more accessible to more businesses.
All-around digital marketing agency
Its founder is a Google Ambassador
Competitively priced services
Multiple branches
Trusted by famous brands
Shorter operating hours on Fridays
Customer Reviews
Take a look at some of the comments shared by previous clients:
"Working with Let's Get Optimized over the past year on behalf of our company Quest Audio Visual has been a truly insightful and rewarding experience. Our LGO point person, Carla, has taken the time to educate us on how we can work together to meet Quest AV's SEO goals and spent valuable time with us explaining the "why" instead of just the "what". We look forward graciously to our continued partnership with Let's Get Optimized. Thank you team!"
-Brandon March
"We started our first business, Learning Tree Montessori in Whitby, Just over 2 years ago, and were absolute rookies when it came to our web presence. We knew it was important, and LGO took all the guesswork out of everything. What to do, what not to. Explanations with as much detail as we needed. We've learned that you need an SEO that's professional and won't cut corners. Realistic ideas on what needs to be done, and where you can expect to be in what timeframe."
-Sudath Tennekoon
4. Brand & Mortar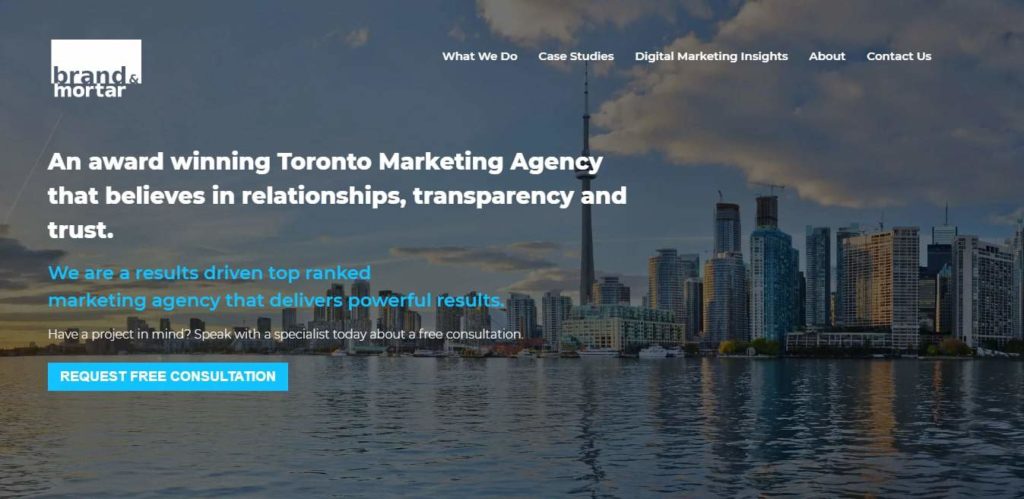 | | |
| --- | --- |
| BEST FOR | Website design and search engine optimization |
| SERVICES | Search engine optimization, brand marketing, content marketing, public relations, social media advertising, mobile application and development, website design, video marketing, |
| WEBSITE | https://www.bakerandbakerlaw.com/ |
| ADDRESS | 31 Powerhouse St suite 203, Toronto, ON M6H 0C7, Canada |
| CONTACT DETAILS | 416-729-1154 |
| OPERATING HOURS | Monday – Sunday: 8:00 AM – 9:00 PM |
Brand & Mortar is a full-service marketing and SEO agency that aims to help businesses of all sizes widen their reach online. It specialises in website design, search engine optimization, brand marketing, and social media marketing.
If you want to promote your business through informative videos or mobile applications, Brand & Mortar can help with that as well. Its team is made up of experienced and professional marketing individuals.
One thing to know about this digital marketing agency is that it's helped several businesses in Canada and across North America become household names. Its services are open to every business too, regardless of the industry.
Free consultations are offered to all interested business owners who want to know how Brand & Mortar can promote their business online.
Free consultations
Multi-awarded digital marketing agency
Works with small and medium-sized businesses
Accepts businesses from any industry
Open on weekends
Rates are mostly above average
Customer Reviews
Here's what some of its clients had to say about Brand & Mortar:
"I worked with Brand and Mortar on brand design and web development for a new company. From the beginning, I received excellent service from Jordan and his team. He met with me to discuss the design process and answer all my questions to make sure I was comfortable with moving forward. Once we got started, his team worked hard to turn my vision into reality. They worked tirelessly through many rounds of revisions without hesitation or frustration. They adapted to my evolving needs and were flexible throughout the process. In the end, they delivered an excellent final product that exceeded my expectations."
-Jeff Johnson
"Brand and Mortar provides marketing solutions to any business in Canada. Honestly, I've dealt with lots of agencies in the past- these guys are just the best. They're a full service agency and extremely detail oriented at everything they do. They helped consult me for my brand, and designed a logo and website for us. They're quite easily an extension of our team and I've felt supported the whole way through. I highly recommend them to all businesses looking to grow! Beyond impressed with their work!"
-MaryAnne Rapea
5. BrandLume Inc.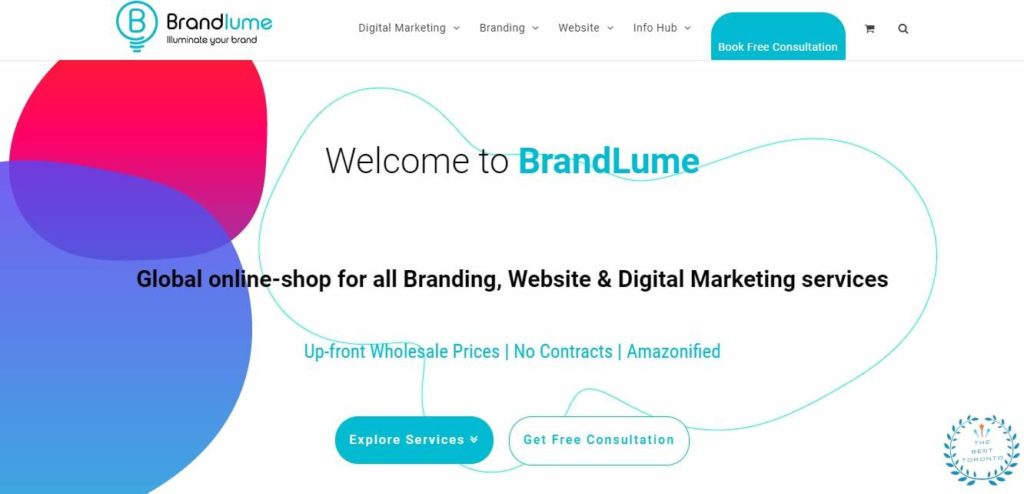 BEST FOR
Brand identity and marketing
SERVICES
Brand marketing, SEO marketing, content marketing, social media marketing, press release, reputation management, video marketing, web design and development, and web hosting
WEBSITE
https://brandlume.com/
ADDRESS
91 Oxford St, Toronto, ON M5T 1P2, Canada
CONTACT DETAILS
855-864-6283


[email protected]

OPERATING HOURS
Monday – Friday: 9:00 AM – 5:00 PM
Brandlume is a digital marketing agency that aims to guide businesses that are just starting out. It specializes in brand identity and marketing, which is about creating the image of a new company and making it distinct from other businesses.
If your brand can be easily differentiated from other companies, there's a higher chance of customers being attracted to your business, which then leads to more traffic and more sales.
Another reason most businesses love Brandlume is its competitive and transparent rates. Its ala-carte services make it possible for clients to save money because they're only paying for the service their business needs, nothing else.
Unlike most agencies, it doesn't care about the size of your business. All of its services have fixed prices and won't change based on how successful your business already is.
Other services provided by Brandlume are search engine optimization, social media marketing, reputation management, web design and development, and domain registration, among others.
Competitive and fixed rates
Open to business of all sizes
Cheaper than most digital marketing agencies
Dependable customer service team
Constantly deals with a large volume of clients
Customer Reviews
Brandlume has an average rating of 4.9 out of 5 on Google Reviews. Here's what clients had to say about its services:
"Really great digital marketing agency! They really know what they are doing when it comes to SEO/Digital Marketing. They got my company to the first page of Google after 5 months, and have been at the top of my competition for the past year now. Very happy I chose BrandLume to work with."
-Neala Noa
"BrandLume did a fabulous job developing our website. I was well informed throughout the process. They moved quickly and efficiently with designing the site and making changes. The team is very easy to work with and are always available to answer questions or to guide you on the right path. They are true partners!"
-Tracy Baker
6. Maguire Marketing Group
BEST FOR
Business to business marketing
SERVICES
B2B marketing, content marketing, social media marketing, video marketing, brand marketing, website design, and public relations
WEBSITE
https://www.maguiremarketinggroup.com/
ADDRESS
375 University Ave suite 102, Toronto, ON M5G 2J5, Canada
CONTACT DETAILS
647-622-7504


[email protected]

OPERATING HOURS
Open 24 hours
Maguire Marketing Group is a great match for businesses looking for ways to gain more profitable customers and stable revenue. It's a digital marketing agency that focuses on B2B marketing and business consulting.
Other services offered include content marketing, lead-generation strategy, SEO services, website design and development, automated marketing, demand generation, sales enablement, and social media management, among others.
Its digital marketing team is composed of marketing consultants, copywriters, website designers, web developers, and digital specialists.
Maguire Marketing Group might not be as well-known as other digital marketing agencies in Toronto, but it's managed to earn the trust of startups and small companies. It's open to working with businesses of all sizes and industries as well.
Some of the companies that have been working with Maguire are Life Works, PEMECO Consulting, Smart Monitor, Columbus, and The Mortgage Coach, all of which are established names in their own industries.
It's also the only digital marketing agency we know that operates 24 hours, allowing clients with urgent needs to seek out its services.
Open 24 hours
Competitive rates
Excellent customer service
Can accommodate urgent services
Small agency, so limited staff
Customer Reviews
Here are some reviews posted by clients on Google Reviews:
"Maguire Marketing Group has been able to perform a feat of magic with my brand. I am a professional brander and I have been struggling to define my own brand for years! Within a very short time, Maguire Group helped me sort through the muck and clearly define my brand and objectives. Dare I say – LOTS of patience was needed and given. I wholeheartedly recommend Maguire Marketing Group."
-Tyler Smith
"Can't say enough good things about Michelene and her team. Maguire Marketing has recently rebranded our site, and engaged with us in a way that allows us to be an integral part of the design and implementation process. Her team's approach in offering both the tools and knowledge to maximize our marketing strategy within our budget have been appreciated at Ascent, and we are glad to be partnered with Maguire Marketing."
-Jason Stratton
7. Mediaforce Digital Marketing Agency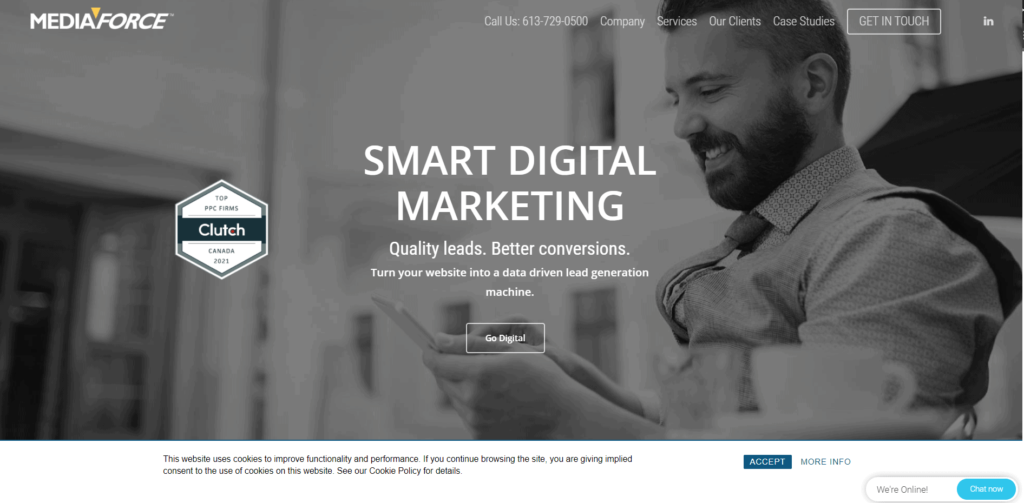 BEST FOR
Business to business marketing
SERVICES
Website design, digital marketing (paid search PPC, SEO, social media marketing), analytics, website maintenance & secure hosting
WEBSITE
https://www.mediaforce.ca/
ADDRESS
439 University Ave.
Toronto, Ontario, Canada
M5G 2H6
CONTACT DETAILS
416-639-5925
OPERATING HOURS
Mon to Fri: 9am – 5pm
Mediaforce has been a player in the digital marketing arena since 1996, which gives them leverage in terms of the experience and advancement of methodologies and processes. During this span of time, they've been able to partner with other organizations across a broad variety of industries.
In their long experience, they've also been able to learn and develop new tactics and methodologies from leading global institutions such as MIT and Google. These partnerships and affiliations should attest to the quality of their work.
To further affirm their position as a key player in the field, they were also included in the top B2B companies in Canada in 2020 by Clutch. Their influence and reputation has spanned the entire nation for the decades they've been in business.
Another thing we thought was notable was how fast the responses and actions of their dedicated maintenance team were as told by some customer reviews. They were said to be very prompt in handling any issues that customers had faced and was very fast to respond, which makes them a good choice for those who may still need some hand-holding when it comes to maintenance of their digital presence.
Decades of experience in the field
Learns tactics and methods from leading institutions such as MIT and Google
Caters to a wide array of industries
Included in the top B2B companies in Canada list in 2020 by Clutch
Customer Reviews
Here are some reviews posted by clients on Google Reviews:
"The team at Mediaforce has been fast to return a call, email and help with our e-commerce business issues. They helped us stay current and active on our website without making us wait for a return call or email. They handled our backend website CS Cart issues with lightning speed! Joe and his team are proactive and never hesitate to pick up the phone and return a call."
-Joe Granitz
"I was referred to Mediaforce by a business associate here in Toronto. We were looking for a digital marketing agency to help us with our google rankings and social media marketing. They were extremely knowledgeable and able to assist us in not only raising our google rankings but getting us better qualified leads from all channels. I highly recommend Mediaforce."
-Wendy Morrison
8. SlyFox Web Design & Marketing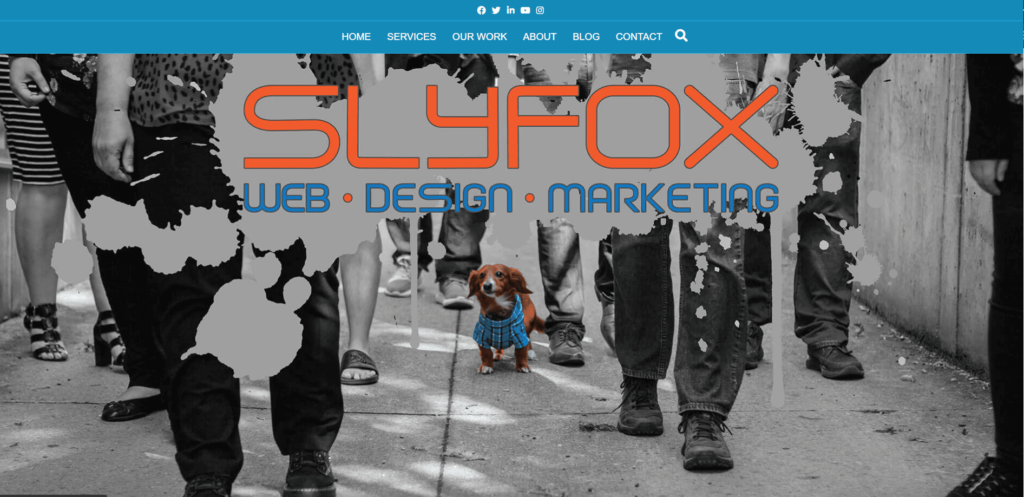 BEST FOR 
Comprehensive digital marketing
SERVICES
Digital marketing packages, web design, cannabis dispensary web design, online ceremony websites, SEO, pay-per-click, graphic design, social media, e-commerce, radio advertising
WEBSITE
https://www.sly-fox.ca/
ADDRESS

202-120 Wellington Street, London, ON N6B 2K6

2967 Dundas St W #618, Toronto, ON M6P 1Z2, Canada

CONTACT DETAILS
519-601-6696
SlyFox Web Design & Marketing's most notable offering is their full-service monthly digital marketing package. Claimed to be their customer's choice, this provides the whole shebang – beyond simply creating a website, brochure, and other basic digital needs – which includes logo & branding, graphic design, website creation, maintenance, SEO, pay per click, wriing, no interest financing, and social media.
Aside from this crowd favorite, they also have highly customizable packages that can cater to specific requirements and budgets. They recognize that every industry, organization, and individual business comes with its own unique set of challenges and requirements, which is why they don't try to offer a fixed package menu.
One thing customers found to be valuable in SlyFox is that they have exceptional creativity. Just from looking at the homepage of their website, you can already see the visual impact their designing skills have on any potential customer.
Has comprehensive full-service monthly digital marketing packages
Has highly customizable packages that can cater to specific needs and budget
Highly recommended in terms of their creativity
Operating hours are not available
Customer Reviews
Here are some reviews posted by clients:
"A seamless experience from start to finish with incredible creativity! The team took my thoughts and transformed them into a design that I loved. The process was easy and efficient and I would recommend SlyFox to anyone looking for design work!"
–Christine Stowe
"I totally appreciate their guidance and expertise. They came to my rescue when I needed help with my website. They are quick to make requested changes. I trust their advice and look forward to moving into the next phase of my online presence with SlyFox."
–Mary Dalziel
"SlyFox has been instrumental in increasing and improving traffic to my website and various social media pages. I am beyond happy with the work provided and would highly recommend them to anyone."
–Alan Trickett
FAQs about Digital Marketing
---
And with that, we conclude our list of the best digital marketing agencies in Toronto. If you've worked with any of these agencies in the past, don't hesitate to share how they were of help to your business
If you know other digital marketing agencies worth hiring, drop their names so we can check if we can add them to our picks.
For more options, we recommend checking out our list of the best web design companies in Toronto. We also include trusted digital marketing agencies on that list.