Top 5 Firms to Find the Best Wills Lawyer in Toronto
Want to make a will that's legally sound and binding? Make sure that your properties get to the right people by getting a wills attorney!
In today's reviews, we'll look into the top firms to go to if you want the best wills lawyer in Toronto. We'll discuss the basic services you can get, state how the process works, and even give a bit of background on each option.
The Cost of Hiring a Willis Lawyer
Let's get straight to a crucial matter first - costs. Naturally, a lawyer's time is expensive, but what matters is the level of value you get out of their service.
Lawyers usually charge a flat fee for will drafting services. Something low-end will cost you about $300 but it can also throw some doubts on the validity of your will.
It's not rare to find drafting fees ranging from $1,000 to $1,200. And if the lawyer actually charges on an hourly basis, the rates are about $150 to $200 per hour.
That being said, you don't need a lawyer to draft a will. You could probably buy a DIY will drafting kit online for $150.
The thing is, you might end up adding something to your will that is legally impossible. With a wills lawyer, you can ensure that your final wishes can be granted as the will shall follow the law.
The Best Wills Lawyers in Toronto
Planning for your death seems scary, but having your hard-earned possessions go to the wrong hands is more frightening. Let an experienced person write your will so you can soon rest in peace with peace of mind.
To that end, let's get started with our picks for the top options in the city right now!
1. Hummingbird Lawyers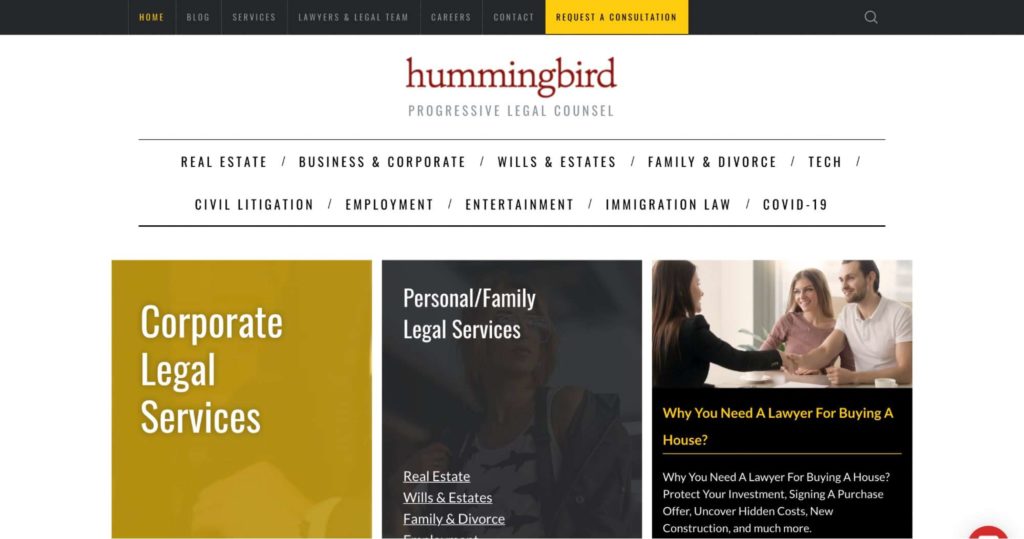 | | |
| --- | --- |
| SERVICES | Real estate, business and corporate, wills and estate, family and divorce, civil litigation, employment, immigration law |
| WEBSITE | https://www.hummingbirdlaw.com/ |
| ADDRESS | 80 Bloor St W #1401, Toronto, ON M5S 2V1, Canada |
| CONTACT DETAILS | +1 905-731-1911 |
| OPERATING HOURS | Monday – Friday: 9:00 AM – 5:00 PM |
Hummingbird Lawyers provides legal services ranging from immigration law and family law. As of writing, they have three lawyers specializing in wills and estate law.
They offer a full suite of wills and estate services for a personal last will and testament or corporate will. If you want to see their fees, you can easily send a request form through their website.
One of their strongest advantages is that their wills lawyers speak second languages. One lawyer can speak Russian, for instance, while another speaks Chinese.
This makes them a viable choice for bilingual clients who are more comfortable with those languages. After all, Toronto is home to many nationalities from around the globe.
Another service that makes them stand out is their virtual estate planning. Through a video call, they will guide you through the estate planning of your will and review your drafts in real-time.
Full suite of wills services including power of attorney for personal care, probate, estate planning, etc.
Bilingual wills lawyers on board
Virtual estate planning of wills
Multi-awarded law firm
Easy quote request for wills services
Offers subscription-based services for business
Has cloud-based services for documents and communication
Fees are only available upon request
Closed on weekends
Customer Reviews
Knowledgeable and responsive lawyers
I had a very positive experience working with Jonathan Kiang who assisted me in preparing my will and power of attorney. Jonathan was knowledgeable and responsive and made the entire process very easy. Would strongly recommend! – Jillian Chandler
Expeditious and intelligent
I was having a hard time finding an attentive "professional" lawyer. While searching for a new lawyer, I read an online article from hummingbird lawyers. Impressed by the article, and a positive conversation with Jag Bhathal I decided to hire this firm. Jagjit Bhathal's expeditious and intelligent responses have allowed me to deal with an extremely difficult situation in a timely manner. I consider myself lucky to have found a good person that is also a great lawyer. – Shneur Or Bielak
2. Blake Chapman – Wills Lawyer & Estate Planning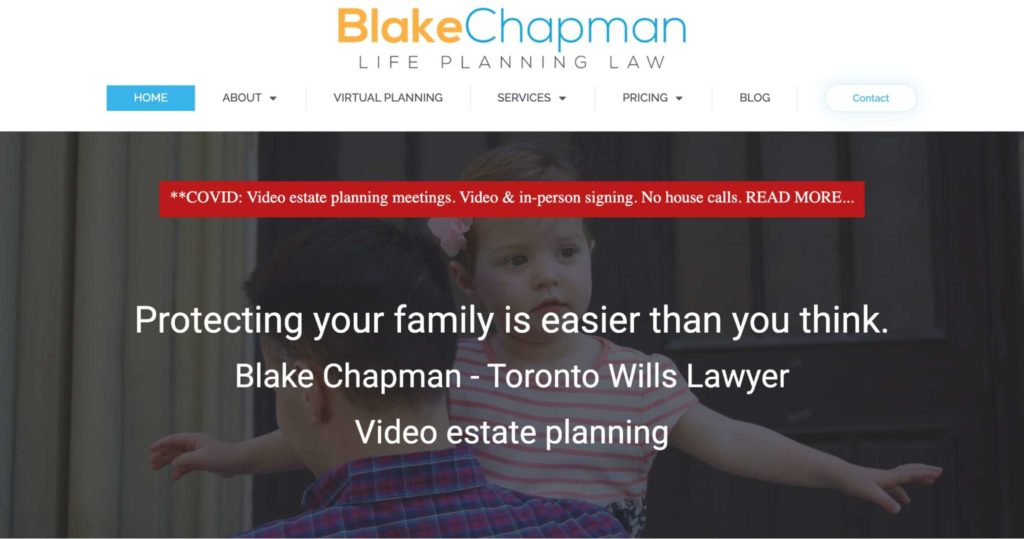 SERVICES
Wills and power of attorneys, virtual estate planning, corporate will, estate help, professional executor
WEBSITE
https://www.lifeplanninglaw.ca/
CONTACT DETAILS
647-360-9519


[email protected]

OPERATING HOURS
Monday – Friday: 9:00 AM – 5:00 PM
Blake Chapman is a wills lawyer who offers services both in-person and virtual. In his practice, he has already drafted 2,052 for various clients in Toronto – an impressive feat for a wills lawyer!
What's best about him is that he offers comprehensive service packages at excellent costs. None of his packages exceeds $1,000, making his fees lower than Toronto's average.
To give you an idea, he offers a Willis and POAs Protector Package at $795 per individual. If you're a couple, you'd have to pay $995 for the same package.
In addition, you can also get add-on services for complex planning. Prices for these add-ons range from $150 to $800, so we have no complaints about the cost.
If you're unable to go out, we recommend going for a virtual appointment instead. Once you book, you'll get a 5 to a 10-minute phone call with the lawyer to know the process and finalize the pricing.
Low-cost wills services
Solid experience: has already drafted 2,052 wills 
Willis and POAs are written in easy-to-read, plain English
Offers comprehensive service packages and add-ons
Offers both virtual and in-person signing of documents
Responds to emails and calls right away
Gives you option to communicate directly with a lawyer, not a clerk
Limited booking options after business hours
Closed on weekends
Customer Reviews
Client-oriented and down-to-earth
Blake is that rare breed of lawyer who combines quality work, professionalism, responsiveness and client-orientation with a down-to-earth, easy to understand approach! I highly recommend him. PS On a lighter note, I found out that we share a love of nature/travel, jazz and tennis!! – Dee Shukla
Impressive wills services
My husband and I just had our wills done by Blake and if there were more stars to give him we would rate him higher. We are grateful to have found him. We were so surprised and impressed with the time he took in speaking to us, the package he has for you regarding the process and transparency in terms of his fees. In addition, his response to questions we had by email were responded to immediately. What I appreciated most was the questions he had for us and his ethical framework in terms of our moral obligations in respect to my father should something happen to the both of us. His gentle soft spoken approach and ability to provide examples in layman terms was very helpful to us. We found him online and went by the ratings on the reviews. Everything you read about him is 100% accurate and then more. We highly recommend him. Thank you Blake! – Tazim Lakhani
3. Axess Law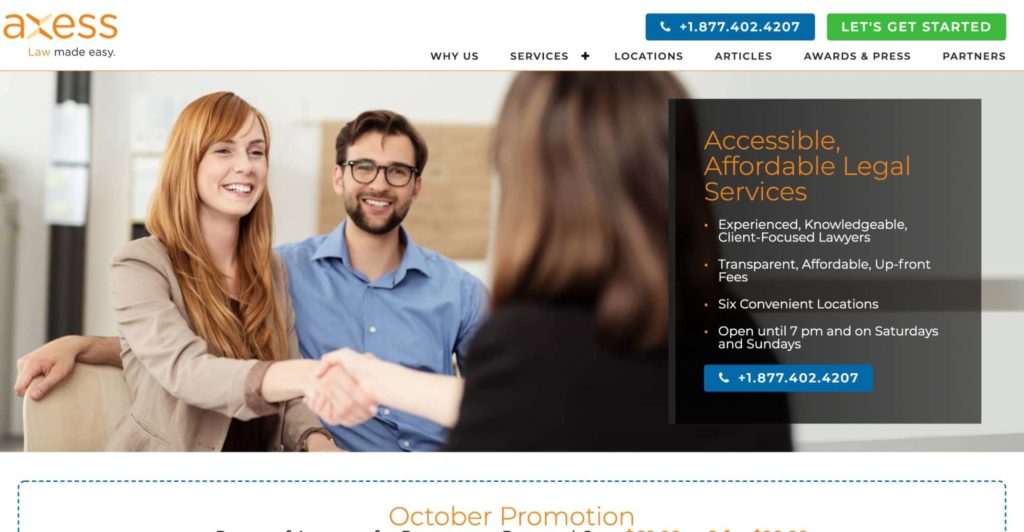 SERVICES
Real estate law, family law, wills and power of attorneys, business law, probate law, notary public
WEBSITE
https://www.axesslaw.com/
ADDRESS
439 University Avenue, Suite 2210, Toronto, ON M5G 1Y8
CONTACT DETAILS
+1 844-470-5020
OPERATING HOURS
Monday – Friday: 9:00 AM – 5:00 PM
Saturday: 10:00 AM – 6:00 PM
Axess Law offers a range of services, from wills and POAs to family law. As one of the most prominent firms on our list, they've already served more than 150,000 clients in Ontario.
One of their greatest edges is their availability since you can contact them from Monday to Sunday. Just take note that they have certain business hours in their Toronto office – but at least they're open on Saturday.
We also like that they offer certain promotions each month. For example, they offered a power of attorney for property in October this year for only $69.99 (usually around $350).
And if that's not enough yet, they also offer the cheapest will drafting service we've encountered in Toronto. An in-person will starts at only $249.99, while the virtual option is only $199.99.
Apart from Toronto, they also have offices in Vaughan, Ottawa, Mississauga, and Scarborough. Office hours vary per location but you can contact them any time through their website.
Has experience serving 150,000 clients
Available from Monday to Saturday 
Offers great value promotions
Fixed and affordable prices
Has offices in four more locations
Virtual conference is available via Zoom
Lawyers were featured on the Top 25 Most Influential list of Canadian Lawyer Magazine
Can be difficult to book at times
Communication and follow-ups may be an issue
Busy most of the time
Customer Reviews
Fast and Professional Service
I have been wanting to get a Will and Power of Attorney done for so long. Before Christmas, Axess sent an email for a great price to do it over Zoom. The Zoom meeting with Walter was on time, and he was very professional. In just over an hour we had everything laid out, and within a week I was able to go pick up my completed Will. All I had to do was sign the Forms. I am so glad I accepted this offer. Now I have peace of mind, and have referred Axess to a few of my Family Members and Friends. If you are needing to get a Will done, Axess Law is super easy, very convenient and very affordable. I would definitely use them again. You won't be disappointed. – Linda De Pelteau
Seamless transaction for a reasonable price
Axess Law helped close our house and we had the best experience. As first time home buyers, we were not only nervous about choosing the right law firm, we were also unsure of the process and had tons of questions. From the get go, Axess Law made us feel comfortable and our clerk Anastasia, and lawyer, Shangami were friendly and answered every question thoroughly. Shangami provided us with tons of information and even made sure we asked the sellers the right questions to ensure we were informed before we signed our documents. We highly recommend them to anyone looking for real estate services and to top it off, they provide other services like wills and powers of attorney at such reasonable prices! Thank you for such a seamless transaction. – William Lafosse
4. Isenberg & Shuman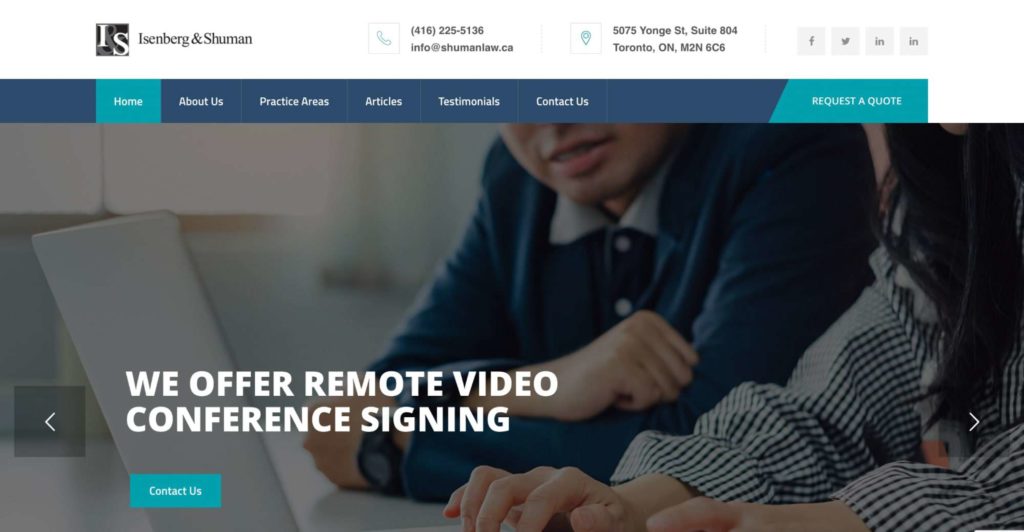 SERVICES
Real estate law, wills, power of attorney & estate planning, estate administration and probate, business law, corporate and commercial law, notarizing and commissioning
WEBSITE
https://shumanlaw.ca/
ADDRESS
5075 Yonge St, Suite 804, Toronto, ON, M2N 6C6
CONTACT DETAILS
416) 225-5136


[email protected]

OPERATING HOURS
Monday – Friday: 9:00 AM – 5:00 PM
Isenberg & Shuman specializes mostly in wills and estate law. As a firm, we found that they're one of the best for communication and client care.
For starters, we like how they respond to emails almost instantly. Calling their office is also a breeze as someone is always ready to pick up.
The lawyers here can execute wills or update an existing one. They also make this convenient for you via video conference signing.
We're a bit disappointed that we can't see the fees right away but many of the clients we talked to said that it was reasonable. Plus, requesting a quote is super-easy as they only ask for basic details.
This is a zero-obligation quote and you're free to walk away if the terms don't meet your needs. We recommend still asking for clarifications, though, as they're very open to questions, no matter how silly they may sound.
Great communication lines via email or calls
Best for executing or updating wills
Video conference signing available
Free zero-obligation quote 
Fees are only available upon request
Closed on weekends
Customer Reviews
Updates wills in a timely manner
We contacted Bonnie to update our wills and power of attorney just prior to the COVID 19 crisis. Bonnie was very well organised and helped us adapt our outdated wills to our current situation by providing advice on the best way to meet our current objectives. We very much appreciated the fact she was able to complete the documents including final signatures in a timely manner despite the restrictions imposed in response to the health crisis. – Marilyn Laver
Refreshing experience
Bonnie Shuman prepared new wills for our family. The experience was refreshing in that she walked us through all of the different scenarios, addressed our questions and made sure that before we left we understood the many nuances of our new will and future issues to be aware of. Very different than our previous experiences. So would highly recommend her services – you will be in great hands! Thanks Bonnie – I will be recommending you to friends and family! – Vicky Cioci
5. Real Estate Lawyers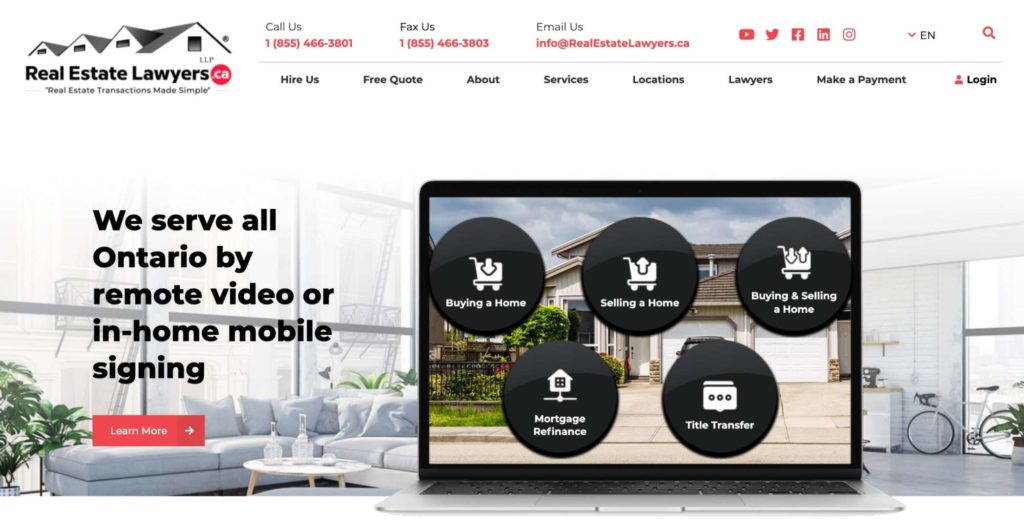 SERVICES
Real estate, mortgage transactions, transfer or ownership/title, assignment of property, wills and power of attorneys, estates and probate, incorporations, joint venture and lease agreements, corporate and commercial, notarizing and commissioning
WEBSITE
https://realestatelawyers.ca/
ADDRESS
100 King St W #5700, Toronto, ON M5X 1C7, Canada
CONTACT DETAILS
+1 416-485-3425


[email protected]

OPERATING HOURS
Monday – Friday: 9:00 AM – 5:00 PM
Real Estate Lawyers specializes in, well, you guessed it – real estate. And they made it to our list for the following reasons.
First, everything is quick and efficient. Plus, they make things smooth and convenient for you using Docusign.
Second, their fees are very competitive at $500 for individuals and $850 for couples. For power of attorney, they charge a pretty fair $200.
Third, their offices are all over Ontario, located in various key areas to make them accessible. In Toronto alone, they have four offices in Yonge and Bloor, Yonge and Eglinton, Yonge and Dundas, and Shepard and Adelaide.
Finally, apart from video conference signing, they also offer mobile signing services. They can come to your home or office 7 days a week from 7:00 AM onwards for $100 to $450, depending on your location in Ontario.
Quick and efficient service
Competitive costs lower than average
Many office locations in Toronto and across Ontario
Video conference signing available
Offers mobile signing services
Can be difficult to cancel once booked
Closed on weekends
Customer Reviews
Brilliant mobile signing service
Excellent experience and very professional service! All the information were shared in a clear timely fashion. The mobile signing service was brilliant that came to me over the weekend. I was referred by my friend and I will refer Mark and his team to everyone. – Mukesh Jha
No surprises or hidden fees
Great professional service! The instructions for me as a buyer were clear and there were no surprises or hidden fees. They offer a mobile signing service that was available to meet me at any location at any time between 6 am and midnight, which is really a unique selling point. – Richard W.
Factors to Consider When Hiring a Wills Lawyer
Trying to find a proper lawyer for your will might be overwhelming. With over a hundred lawyers available on call, finding the right one sounds impossible.
So, let's go over some things you have to consider before hiring a wills lawyer. Knowing these things can help you filter your search.
Your Budget
Before you go around looking for an attorney, you first have to consider how much you're willing to pay for satisfactory service. This allows you to narrow down to the lawyers you can choose from.
You might not want to spend too much money on a lawyer, so you can cancel out all the ones that are too expensive. However, a cheaper lawyer isn't exactly the best either, so it's best to do a bit more research about your options before hiring one.
Years of Experience
A good wills lawyer to hire is someone who can guide you about things you can put on your will and how, preferably in plain language.
A lawyer who has been in business for many years can do just that and even more. Although someone young might just know the same amount of things as a veteran, it's still better to hire the latter.
Reviews
Another factor to consider is how well their past clients think of them. You probably have no idea what kind of treatment lawyers should give you, so it's best to ask around or look up some reviews.
This allows you to get to know the lawyers more and discover how professional they are with their job. This also makes sure that you won't get mistreated as a client.
Location
Location is an important factor when making a will. If your attorney is located far away from you, then it might take a while before you can meet.
In addition to that, it is more convenient for both of you if you aren't located on either end of the city. Wills attorneys might often come and visit you in order to rewrite or update the will, so it isn't surprising that you need to be closer to each other.
FAQs About Wills Lawyers in Toronto
---
Hiring the best wills lawyer in Toronto can help ensure that your wishes are granted once the time comes. If you want to see more estate-related content, you can check out our review on the best real estate lawyers in Toronto to learn more.