8 Unbelievable Places to Watch the Sunset in Toronto
Now that summer is in full swing, finding a place to watch Toronto's beautiful sunsets is crucial!
Here, we share the top 8 spots in Toronto to view the sunset. We hope you will find something for your liking, whether it be busy or nice and quiet.
Gather your friends, family and loved ones, and get ready for a beautiful view!
1. Riverdale Park
Riverdale Park is located on the East End of Toronto, featuring a big hill that can be busy during all four seasons of the year.
This park features many amenities such as tennis courts, ice rinks and running tracks. During the winter, it is also used for tobogganing!
This beautiful sunset can be viewed from behind a panoramic dispaly of the city's skyline. Grab a spot from the many benches at the top of the hill or from your very own cozy blanket on the grass.
You can pack up your favorite snacks and drinks and enjoy a much-needed breather.
Many events take place at the park and include outdoor DJs, so if listening to good tunes while relaxing during golden hour is your style, this is the perfect place for you!
Price: Free
Transport:
Riverdale Park is located at 550 Broadview Ave, Toronto, ON M4K 2N6.
Street parking is available on residential streets surrounding the park.
The 504B King Streetcar stops at Millbrook & Broadview, located 30m from the park.
Accessibility:
Steep hill
No wheelchair accesses
No washrooms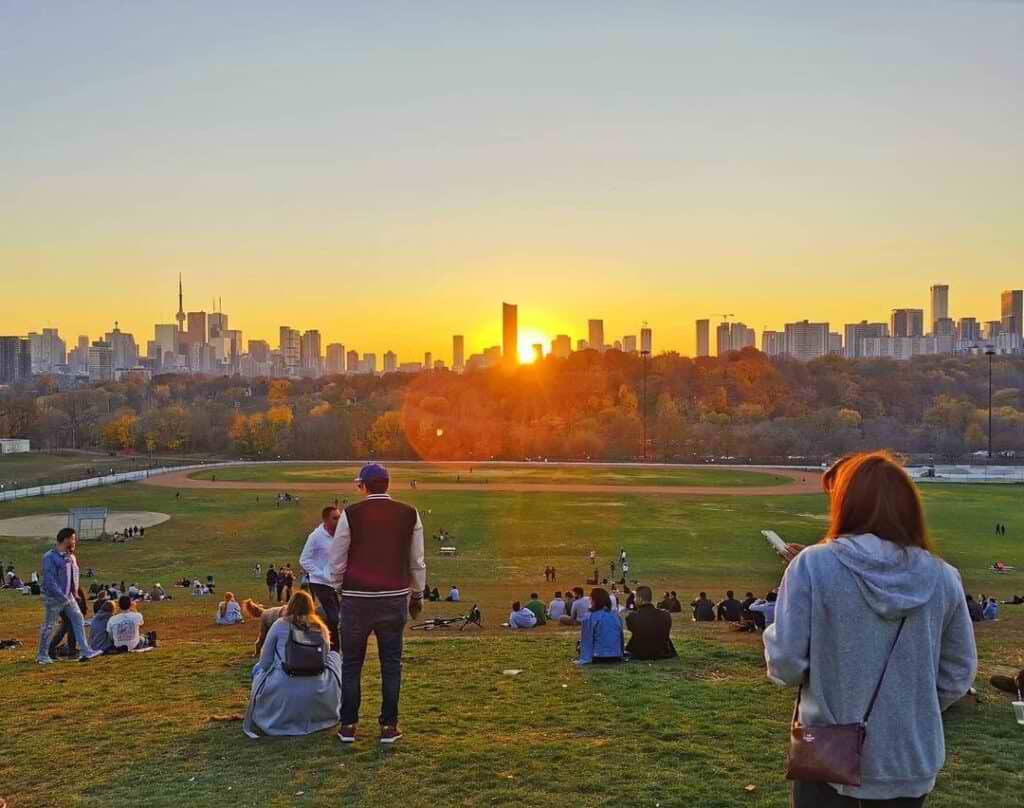 2. Polson Pier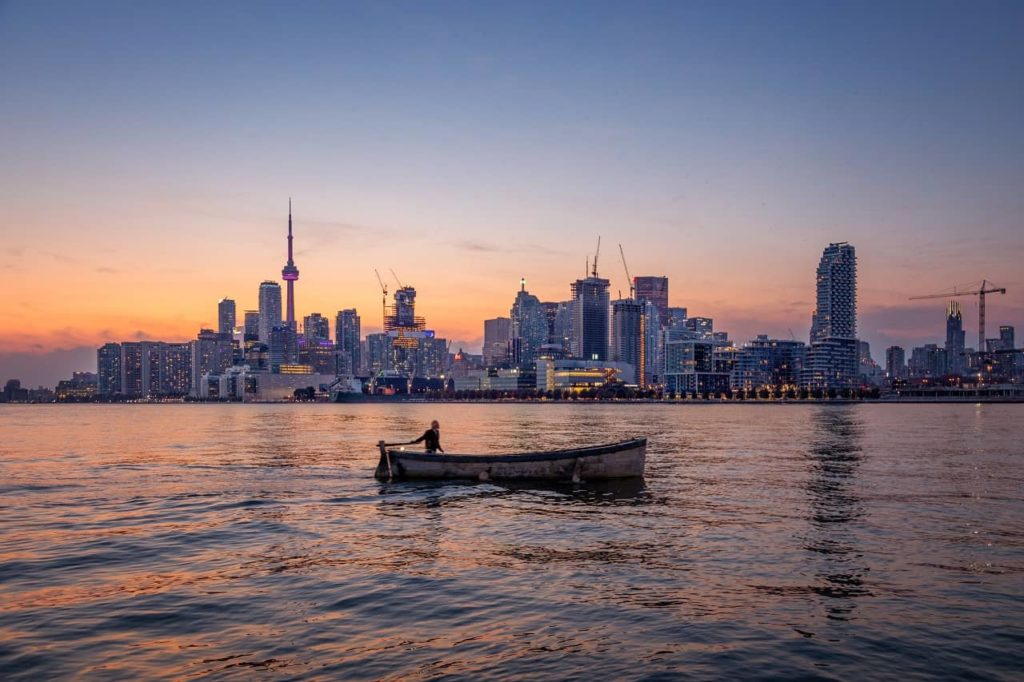 Polson Pier, formally known as The Docks, is located on the East End of Toronto. This Pier holds many activities such as a driving range, mini golf, and swimming.
During sunset hours, this area features an iconic glow of orange over the CN Tower and the lake. There are benches located near the boardwalk to sit on and many places to stand by the boardwalk's fences.
Cabana Pool Bar is conveniently located right at the end of the boardwalk, so you may also enjoy the breathtaking sunset alongside some cocktails, food, and music.
Rebel Nightclub is also situated alongside the boardwalk, so sunset-viewers are advised to reach the grounds earlier to find parking.
Because of both the nightclub and the pool bar, the crowds can get busy.
On the other side of the boardwalk, Lake View Drive transforms into a drive-in theatre, which makes for a great activity post-sunset.
In a nutshell, Polson Pier is wonderful for that perfect photo worthy experience.
Price:
Boardwalk: Free
Cabana Pool Bar: Prices of food and Drinks may vary
Rebel Nightclub: Prices may vary
Lake View Drive: Prices may vary
Polson Pier is located at 11 Polson Street, Toronto, ON, M5A 1A4.
It's open 24hrs with paid parking and no street parking.
Flat Surface to walk
Wheelchair-accessible
3. Toronto Island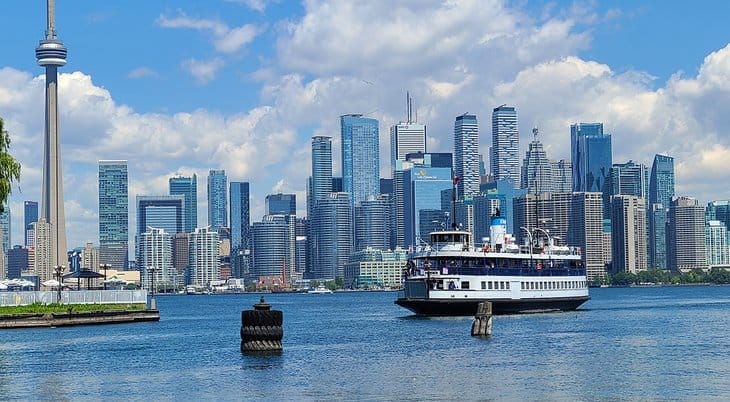 Toronto Island is located on Lake Ontario, and is only a 13-minute-or-less ride via ferry. The Island is a beautiful spot to spend the day as they offer various activities on the grounds, feauturing picnic spots with tables, bike trails, and beaches.
If you like the crowds and the busy lifestyle, head over to the beach where you can find many people playing music. Or, if you're looking for a quiet space to relax, head over to the parks and soak in the lovely greenery!
Sunsets at the Island are picture-worthy as they cast over the Toronto skyline and the CN Tower.
The ferry stop is located at Harbourfront. Note that lines can get long if you go later in the day, so try to head there early!
You can also take a water taxi, which is much faster as more go during the day!
Price:
Ferry: $8
Water Taxi: $8
Jack Layton Ferry Terminal is located at 9 Queens Quay W, Toronto, ON M5J 2H3.
Streetcar 510 stops near the Ferry Terminal.
Paid parking is available.
Wheelchair Accessible
Washrooms Available
4. Woodbine Beach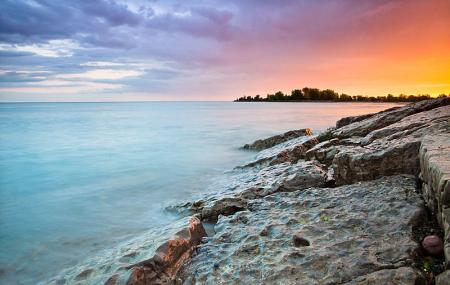 Miss having your toes in the sand while in the city? Woodbine Beach is located on the East End of Toronto.
This beach has many activities if you're looking for some exercise, including bike trails, volleyball nets to rent, and a park for the kids!
The beach is on the lake and is safe to swim in – and no worries, there's a lifeguard so you can relax and feel at ease.
Woodbine beach is located near Queen Street and has many restaurants nearby, as well as some food trucks available right at the beach for your convenience.
The sunset view is a must-see as the sun falls right on the water, casting that beautiful golden glow.
Bring your picnic blanket or towel, spend the day at the beach and watch the sun go down as you call it a day.
Price:
Food Trucks: Prices may vary
Beach: Free
Woodbine Beach is located at 1675 Lake Shore Blvd E, Toronto, ON M4L 3W6
TTC 92 Woodbine Beach Loop & Lake Shore Blvd East Stop
Street Parking
Paid Parking
Flat Surface
Boardwalk
Washrooms Available
Dogs Welcome
5. Sugar Beach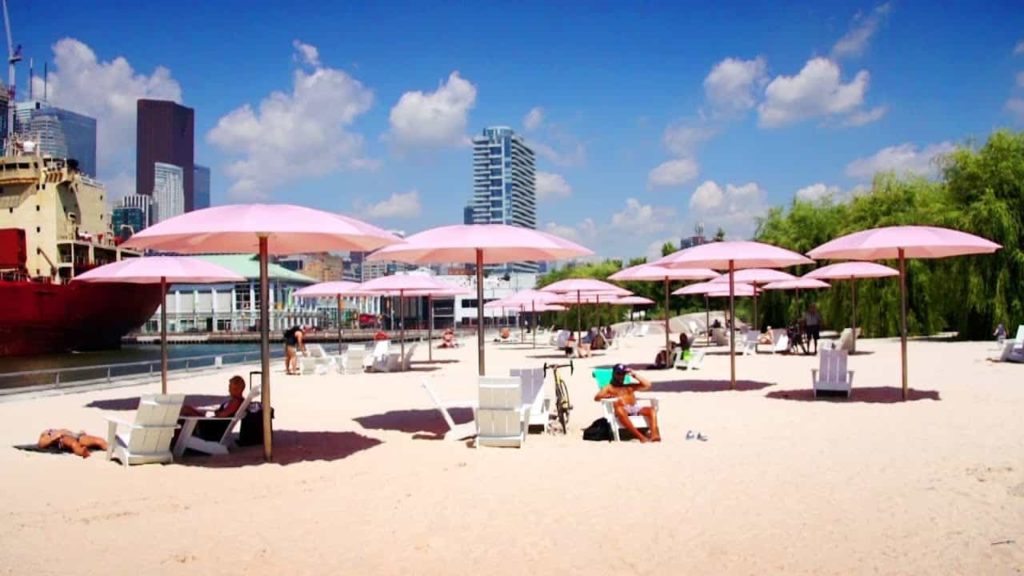 Sugar Beach is in downtown Toronto and is a man-made beach at the pier on Harbourfront.
Most of the pier is hidden in shadows because of all the skyscrapers, but if you head to the southern tip of the beach, you'll get a stunning view of the sunset on the harbor.
This beach offers many chairs and umbrellas that the public can use and is quiet and relaxing. The sand is clean, and it is a perfect spot for that iconic Instagram moment!
You may even get lucky and see some planes landing and taking off from the city centre airport. It is a perfect area to spend quality time with friends and family.
Price:
Free
Sugar Beach is located at 11 Dockside Drive, Toronto, ON M5A 1B6
Street Parking
Paid Parking
TTC Bus #19 towards Queens Quay stops right in front of Sugar Beach
Flat Surface
Seating
No Washrooms
Dogs Welcome
6. Broadview Hotel Rooftop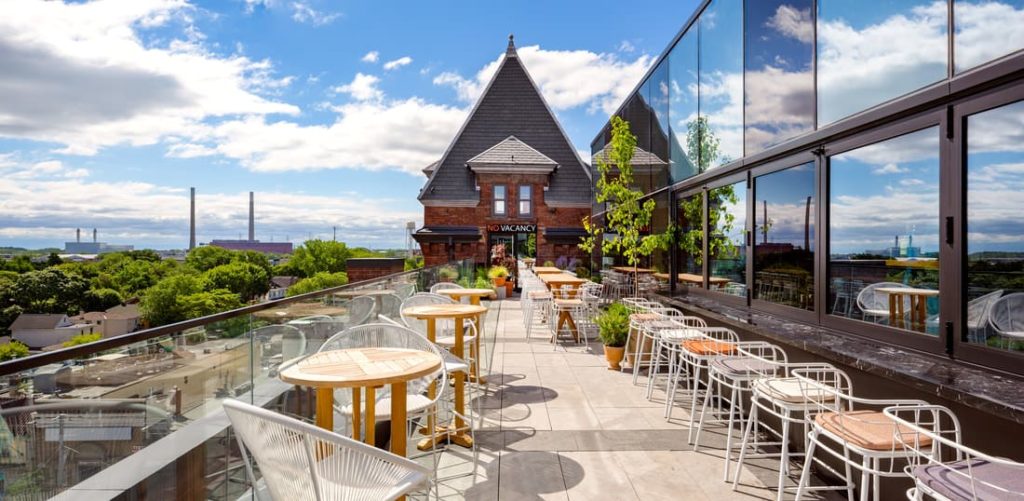 Broadview Hotel is located on the East End of Toronto. It is a ritzy hotel that has a rooftop space for everyone to enjoy, even those who aren't guests of the hotel.
There is an indoor lounge with glass windows that can be used all year round; or, during the warmer months, the outdoor terrace. This modern rooftop is built on a historic building, offering spectacular views of the Don River and the Toronto skyline.
This rooftop bar can be casual or fancy depending on your vibe. It's on a first-come, first served basis, so try to head there before the crowds sets in!
Broadview offers lovely signature cocktails, shareable bar bites and weekend nights with a live DJ playing tunes.
Watch the beautiful sunset with your friends or family and enjoy the atmosphere with their bestselling Kimchi Fries or Ceviche Shooters!
Price:
Prices may vary
Broadview Hotel Rooftop is located at 106 Broadview Ave, Toronto, ON M4M 2G1
Paid Parking
TTC King 501 stop at Broadview & Queen
Wheelchair Accessible
Washrooms Available
7. Scarborough Bluffs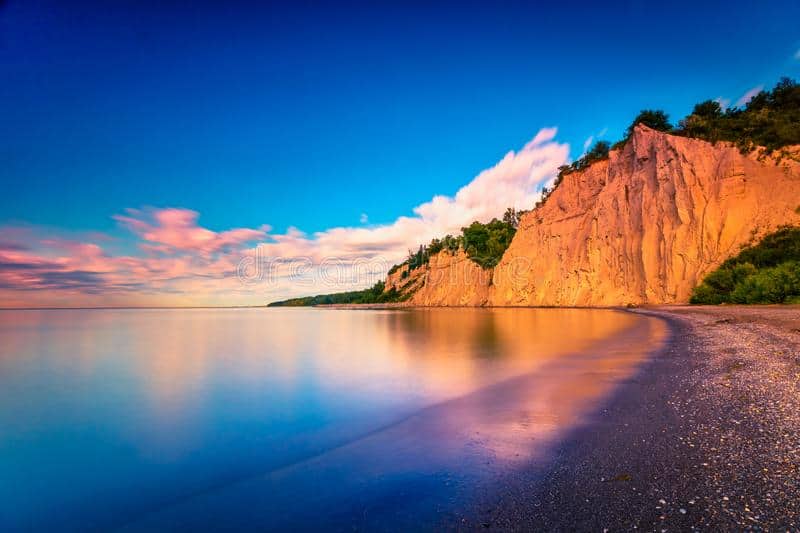 These sandy dune beaches are located at the edge of Scarborough. This popular spot holds many picnic tables and benches and trails to enjoy the beautiful views.
This beach has the most natural scenery in the GTA, featuring soft sand, dunes, and swimming rocks. The sunset at this beach is stunning because the vast view is constantly changing colours.
If you're looking for a refreshing and calm atmosphere, this is the place for you. The bluffs can get busy during the daytime with families playing at the beach.
We recommend that you bring your equipment, your blankets and food for the perfect setup.
On some weekend evenings, groups of friends play music on the beach, so be warned that it could get a bit noisy. The Scarborough Bluffs closes at 11:00PM.
Price:
Free Entrance
The Scarborough Bluffs is located at 61 Undercliff Drive, Toronto, ON M1M 1A5
Free Parking
Closest TTC stop is Kingston Rd & Ridgemoor Ave on bus 12C
Washrooms Available
8. Stadium Road Park Boardwalk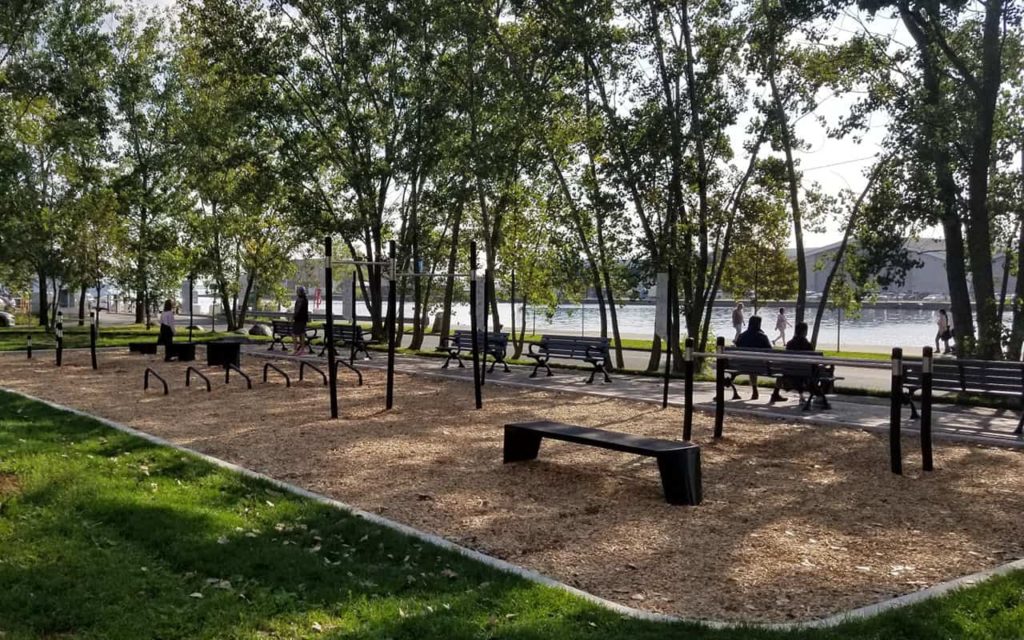 This beautiful boardwalk is located near Billy Bishop Airport in Downtown Toronto. The Stadium Park holds a large boardwalk along the water.
We recommend following the path right to the end and watching the sunset while sitting on the edge. Benches are available to the public, along with grass areas where you can bring your own blankets.
If you're lucky, you'll be able to see some planes landing and taking off admist the beautiful sunset colours.
Price:
Free
Stadium Road Park is located at 10 Stadium Road, Toronto, ON M5V 3W5
TTC Streetcar 509 stops at Queens Quay & Bathurst
Street Parking
Paid Parking
Public Washrooms
---
Nothing beats watching the sunset in a beautiful place. This is why we gathered the best places to watch the sun go down in Toronto.
Did we miss any good spots? Let us know in the comments!
In the meantime, check out the following articles for great activities to do indoors: