A Guide to the Best Furnace Repair in Toronto
Did your home furnace suddenly break down without any warning? In that case, you need to hire contractors who can provide you with the best furnace repair in Toronto.
To save you time and effort, we've already listed our top picks for the most experienced and reliable furnace contractors in the city. But before we proceed with our list, we'll walk you through the cost of furnace repairs, the type of repair services offered, and commonly asked questions about furnace repairs.
Without further ado, let's start!
The Cost of Furnace Repair in Toronto
When looking for a furnace contractor in Toronto, you need to keep in mind that the actual repair cost will be based on two things: the part that needs to be repaired/replaced and the coverage of your insurance.
Currently, the average cost of furnace repair in Toronto is somewhere between $200 to $400 if a single part needs to be repaired. If multiple parts need to be repaired, then expect to pay more.
Your actual repair cost will depend largely on which parts need to be replaced or fixed. However, the cost of furnace parts differs by brand, so it's really hard to give an actual estimate.
Here's a table of the common furnace parts and their estimated costs to give you an idea of how much you can expect to pay:
| | |
| --- | --- |
| Furnace Part | Expected Cost |
| Thermostat | $75 to $200 |
| Heat exchanger | $150 to $275 |
| Electronic ignition or pilot light | $250 to $375 |
| Heat exchanger replacement | $1,500 to $3,300+ |
| Flame sensor | $80 to $250 |
| Blower motor | $140 to $440 |
| Transformer | $100 – $175 |
| Relay switch | $150 – $300 |
| Condenser and evaporator coil | $600 – $2,000 |
If your furnace comes with insurance, then you might be able to escape the expenses of having it repaired. Most furnaces come with either of two types of insurance:
Parts warranty: This usually covers the cost of replacing and repairing defective furnace parts for at least five years. Some warranties cover only defective parts due to manufacturing issues.
If you bought an extended warranty, their coverage may last more than five years. Most manufacturers offer limited warranty on the heat exchanger because it's the most expensive furnace part.
Labor warranty: Contractors who installed your furnace will usually offer at least a one-year of labor warranty that covers the cost of labor of repairing a faulty furnace.
The Contractors with the Best Furnace Repair in Toronto
Now that we've detailed the cost of furnace repair in Toronto, it's time to reveal the furnace contractors we believe are worth hiring.
Check them out below to know which one offers the type of service you're looking for.
1. Air Makers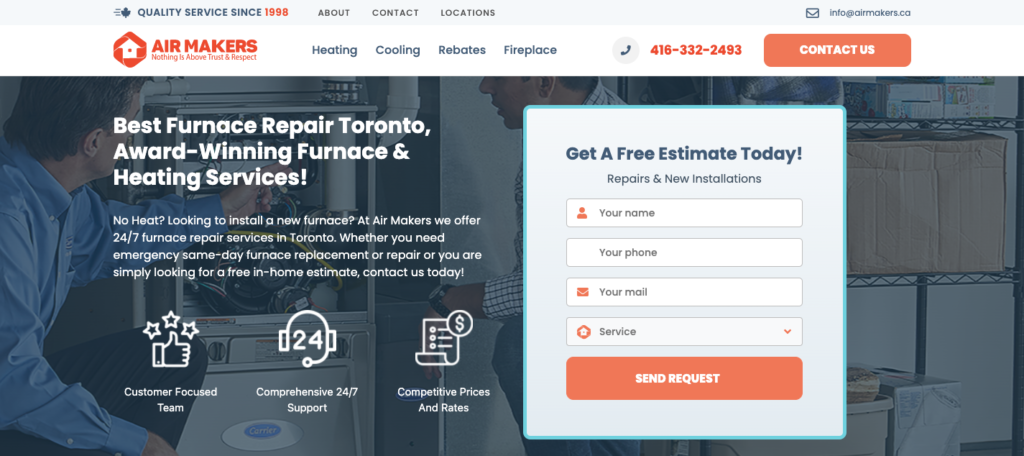 BEST FOR
Furnace & Heating Services
SERVICES
Furnace Installation and Repair, Air Conditioner Installation, Repair, Gas Boilers Installation and Repair, Water Heater and Air Humidifier Installation, Installation and Cleaning of Air Cleaners and Purifiers, Mid-efficiency Furnace Installation, Fireplace Installation, Repair, and Maintenance and Furnace Rentals
WEBSITE
https://www.airmakers.ca/furnace-repair-toronto/
ADDRESS
Main Showroom and HQ: 535 Millway Ave #2 Vaughan, ON, L4K 3V4
Air Makers' Toronto Heating and Cooling Admin Office: 110 Ironside Crescent #7
Toronto, ON M1X 1M2
Air Makers' Toronto Heating and Cooling Warehouse: 8600 Keele St #50-51
Vaughan, ON, L4K 4H8
CONTACT DETAILS
416-332-2493


[email protected]

OPERATING HOURS
Monday to Friday: 8:00 AM – 4:00 PM
Saturday & Sunday: CLOSED
Fred Zolfaghari, a prominent Mechanical Engineer with over 40 years of unequaled experience and expertise, created Air Makers in 1998.
With a recognized name in the Greater Toronto Heating and Air Conditioning industry in both residential and commercial applications, it is presently Toronto's most trusted source for the most economical Heating and Cooling installations.
Aside from that, they also offer furnace repair, furnace installation, and as well as rental services.

We are impressed by their mission that goes beyond simply running an HVAC company. In fact, they make every effort to establish a foundation of mutual trust and respect with their clients, as well as a long-term and reciprocating relationship.

When you put your trust in them, you're dealing with a reputable and professional company that values your trust. This is supported by being a 16-time winner since 2013 of being the most awarded dealer for Carrier, Lennox and Goodman.
So, whether you're considering a new furnace, air conditioning system, or fireplace, or if you have any other HVAC-related questions, make sure to call them.
Customer Reviews
Here are some comments providing that it can provide the best furnace repair in Toronto:
"We've been using their services for years and recently purchased a Goodman furnace. We took time to visit their showroom (we live in Scarborough), the representative was really caring and helpful, so we could pick the right furnace size and model for our home. Overall good company :)"
"At the beginning of winter 2021 the 20 year old furnace started shutting down. I called Faisal (the best dependable guy) and he had the new furnace and air conditioning unit fixed the very next day. The pricing was reasonable and the installation work done very professionally. This is the second furnace & air conditioning installation done by Faisal for me, and for one of my close friend's house. Highly recommend Faisal for your new Air conditioning and furnace requirements in future. Very dependable and professional services."
"Wanted to get new furnace to replace an almost 20 year old one and to take advantage of some of the rebates out there. Dealt with Faisal who was awesome and was able to answer all my rookie questions. He had someone out the next day to install. Installers were also very nice and professional. Would highly recommend."
2.   Certified Mechanical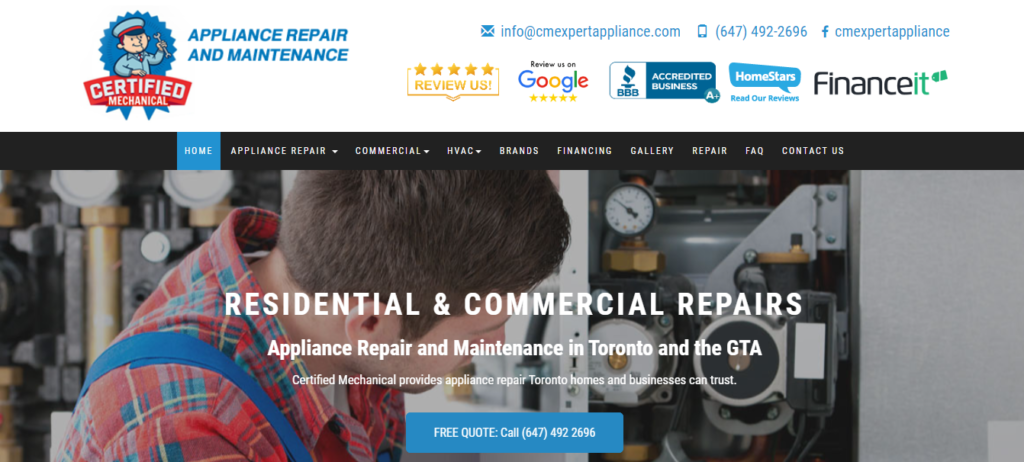 BEST FOR
Appliance repair and maintenance
SERVICES
Fridge Repair, Freezer Repair, Stove Repair, Oven Repair, Washer Repair, Dryer Repair, Dishwasher Repair, Bath and Sauna Repair, Coin Laundry, Cooler Repair, Commercial Appliance Repair, Ice Machines, Furnace, and Air Conditioning
ADDRESS
29 Lloyd Avenue Toronto, Ontario M6N 1H1
CONTACT NUMBER

[email protected]

| (647) 492-2696
WEBSITE
https://www.cmexpertappliance.com/
OPERATING HOURS
Everyday: 8:00am – 6:00pm
Hiring Certified Mechanical will make you wonder why you haven't contacted them before.
Given their years of experience in the industry, their technicians can basically fix anything. From domestic to commercial appliances, they can serve you.
If you are reading through this list, you must be experiencing something weird while using your furnace. We all know that a well-functioning furnace is essential for Canadian right?
Well, with Certified Mechanical, they can make your furnace work again. Unlike other companies, they can handle all kinds of gas and electric furnaces, conventional or high-efficiency.
We believe that you should make them your go-to company for repairs as they offer a great range of services. From different appliances repair to commercial and HVAC, they got you covered.
An additional reason why we love them is that if you are on a budget you do not need to worry as they have payment plans to match it. You are free to customize your plan, you may opt to pay monthly or biweekly depending on your preference.
Can repair any brand of furnace
Can do installations and tune-up
Loans are available
Rates are unavailable on their website
Customer Reviews
Here are reviews from their previous customers:
"My furnace broke down during cold snowfall here in Toronto. I called many companies to come by and fix my furnace, but no one could help me other than Certified Mechanical. They came in, and within 1 hour, my furnace was working again. They did a complete service for my furnace. The Issue was the igniter and flame sensor. They gave me a reasonable quote, especially during this situation where they could have ramped up the price because of how desperate I was. I appreciate how honest they were. They're a company that wants to help out their clients. I would highly recommend them!"
"When I called and spoke to the lovely receptionist, she made sure she connected me to the right person to help. The service is fast and reliable, and I highly recommend Anthony and his team to get the job done!! Thank you a million times."
3. Toronto Air Conditioning & Furnace Repair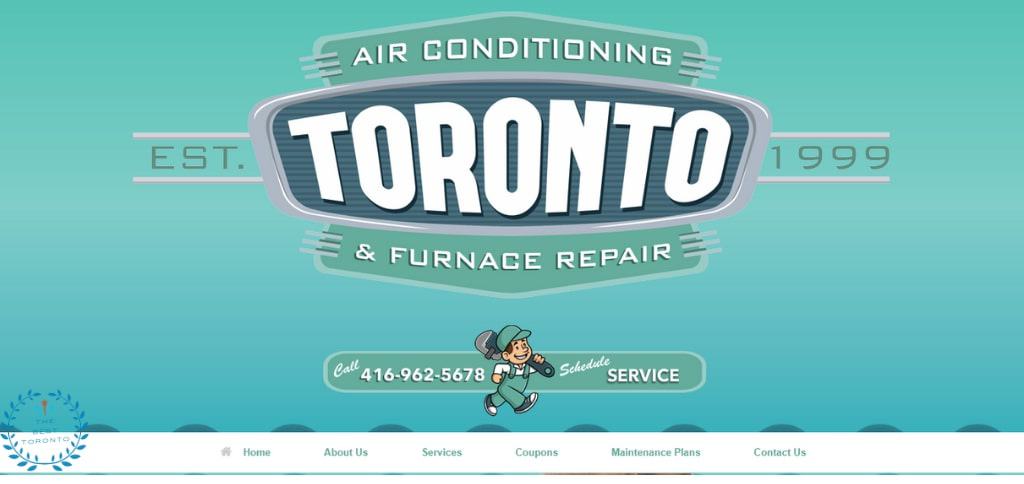 BEST FOR
Residential services
SERVICES
Furnace repair and installation, heating inspection and maintenance, furnace diagnostics, furnace cleaning, humidifiers and dehumidifiers
ADDRESS
35 Ormskirk Avenue, #305 Toronto, ON. M6S 1A8
CONTACT NUMBER
416-962-5678

[email protected]

WEBSITE
https://www.acandfurnace.com/
OPERATING HOURS
Monday – Sunday: 6:30 AM – 11:00 PM
Toronto Air Conditioning & Furnace Repair services most of Toronto and other surrounding areas, such as Oakville, Etobicoke, Vaughn, Woodbridge, King City, Aurora, North York and Richmond Hill, among others.
It's among the few furnace contractors that are open throughout the entire week, from morning until late night. Its office hours are from 6am to 11pm, but clients with emergencies can ask for its technicians to come over any time of the day, including midnight.
Another thing to know about its technicians is that every single one of them is trained to deal with all types of furnaces and air conditioning units. Even if your furnace is one of the oldest units, its technicians will surely know how to repair it.
In terms of fees, Toronto Air Conditioning & Furnace Repair tries to keep most services as affordable as possible. It offers frequent coupons and promos as well: just go to its website to print the coupons.
Quick services
Accept emergency services
Upfront and transparent fees
Offers discounts and coupons
Customer Reviews
Here are some comments providing that it can provide the best furnace repair in Toronto:
"Vince was our technician today – he was very professional and thorough. It may be difficult to have these sorts of interactions in the COVID era but he took all the right precautions I expected. I very much appreciate the good, tidy work done throughout the maintenance job. I was billed a very reasonable amount. Thanks again to Vince and the crew at Toronto Air Conditioning & Furnace Repair!"
"Efficient, affordable and friendly… Called them expecting a repair service in a couple of days BUT they were able to make it over to my house in just an hour. The serviceman really respected our restrained time. Managed to make it out of the house before guests arrived, and we could eat in peace with a decent temperature. Perfection!"
4. Furnace Pro Inc.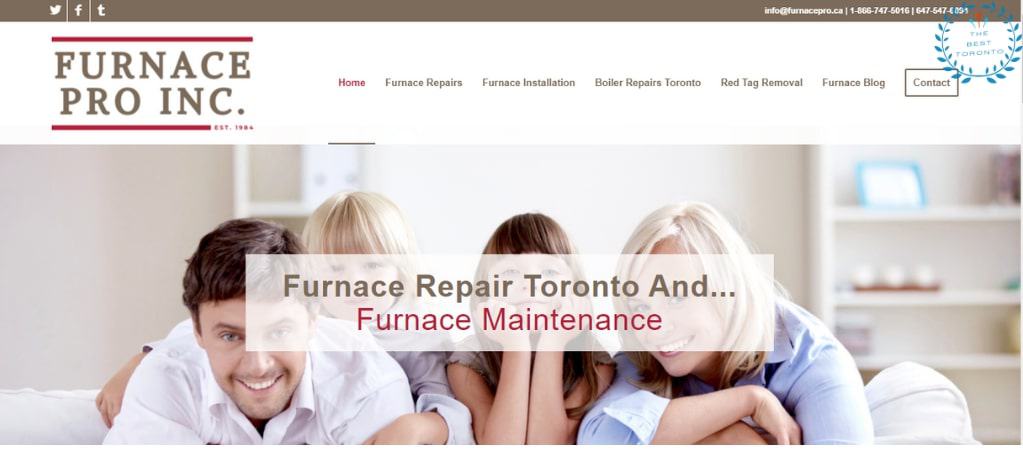 BEST FOR
Emergency repairs
SERVICES
Furnace repair, furnace installation, boiler repairs, boiler maintenance, boiler installation, and red tag removal
ADDRESS
3044 Bloor St W Suite 144, Toronto, ON M8X 2Y8, Canada
CONTACT NUMBER
647-547-6094

[email protected]

WEBSITE
https://furnacepro.ca/
OPERATING HOURS
Open 24 hours
Furnace Pro Inc. is a HomeStar-accredited furnace contractor that specializes in furnace repair and installation. It's open 24 hours a day, allowing customers to ask for its help any time of day, even during the wee hours of the night.
Aside from the best furnace repair in Toronto, Furnace Pro Inc. offers furnace maintenance, boiler repairs, boiler maintenance, and red tag removal. Its services aren't as extensive as those of the other furnace contractors here, but its technicians can get the job done.
Furnace Pro Inc. also continuously sends its furnace and boiler technicians to training to ensure that everyone is updated with the latest trends in their own field. As such, you can be sure that you're in the hands of the most capable people for the job.
Its technicians are trained to repair different brands of furnace as well, including Lenox, York, and Napoleon.
30 years of experience
Open 24 hours a day
Reliable customer service
Customer Reviews
Take a look at some of these comments shared on Google Reviews:
"Furnace broke down last week. Had four quotes for either variable fan motor repair or outright furnace replacement. Furnace Pro came in with a competitively priced option on the new furnace because they scoped the work correctly vs the other companies. Furnace Pro was able to provide costs for the repair and replacement. They also were able to provide next day service for either option. The decision to replace the furnace resulted in a new install. The crew that came to install was friendly, professional, clean and timely. Would recommend this company to my friends and family."
"Ash did a great job on the furnace maintenance. He did not rush through but ensured that all parts were in good working order. Then he took his time to explain everything he did and what areas needed his attention. The job took less than 40 minutes and the price was reasonable. Thanks for your professionalism."
5. Laird & Son Heating & Air Conditioning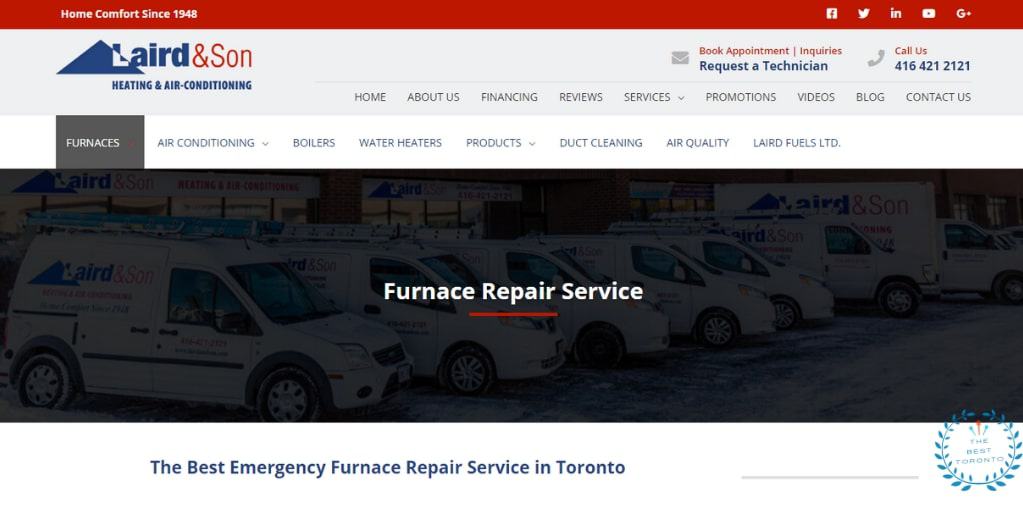 BEST FOR
Cooling and heating services
SERVICES
Furnace repair, furnace installation, oil to gas tank conversion and removal, air conditioner repair, boiler repairs, water heater repair, duct cleaning and repair, and air quality control
ADDRESS
120 Dynamic Drive #22, Toronto ON M1V 5C8
CONTACT NUMBER
416-421-2121

[email protected]

WEBSITE
https://www.lairdandson.com/
OPERATING HOURS
Monday – Friday: 8:30 AM – 4:30 PM
Known for offering a broad range of cooling and heating services, Laird & Son Heating & Air Conditioning has become one of the most trusted furnace and aircon contractors in Toronto.
Laird & Son Heating & Air Conditioning is a family-owned business that's been around since 1948, making it one of the oldest furnace contractors in the area. It's home to licensed and trained technicians who are compliant with state regulations and workplace safety.
In terms of its furnace repair service, Laird & Son Heating & Air Conditioning can repair both traditional and modern home furnaces, even gas-powered models. Customers who want to have their furnace checked regularly may avail of its annual maintenance services.
It also has a partnership with furnace manufacturers such as Goodman, Lennox, and Napoleon. In fact, it's considered the oldest independent Lennox distributor in the entire Canada.
Beyond furnaces, Laird & Son Heating & Air Conditioning can take care of high-velocity duct systems, full duct systems, attic air conditioning systems, and ductless air conditioning systems as well.
Has a partnership with top furnace manufacturers
Can fix traditional and modern furnaces
Offers annual furnace maintenance
Expensive
Short operating hours, closed office on weekends
Customer Reviews
Here's what some of its clients had to say about its furnace services:
"I have always used Laird & Son and will continue to do so. They are professional, knowledgeable, prompt and always personable. Maxim came to do my yearly maintenance and was able to answer all the questions I had regarding my 15 year old furnace. I feel very confident with everything their servicemen do. I prefer to put my trust in a company that has proven themselves with me. Thanks for your superior service!"
"Very pleased with my annual furnace maintenance. The technician, Paul was so personable and thorough. He also helped me identify a rattle noise that was driving me crazy and I now have a quiet furnace. Also appreciate the Laird reminder emails re the appointment and sending me a photo of the technician who would be arriving. Covid protocols all in place. Thanks so much. Good for another year of heat!"
6. Reliance Home Comfort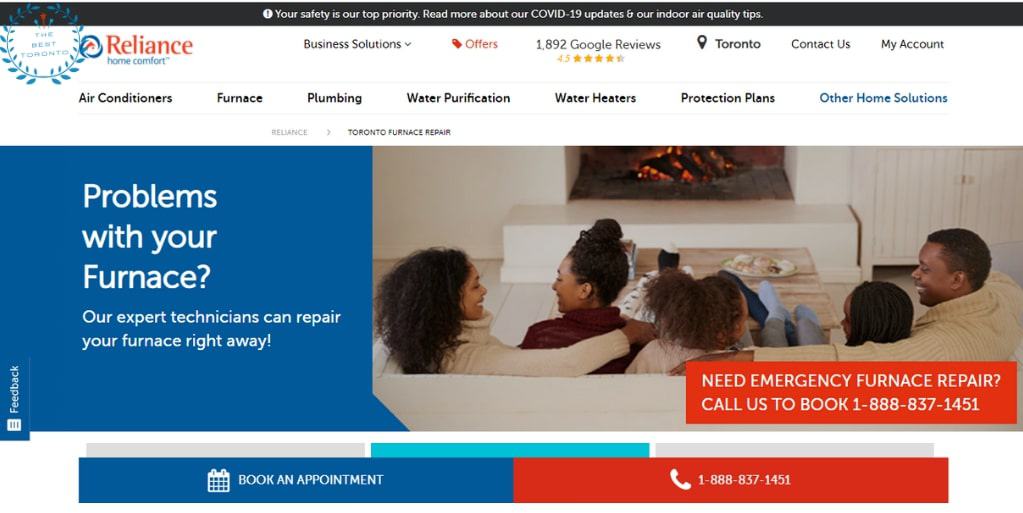 | | |
| --- | --- |
| BEST FOR | All-around repair services |
| SERVICES | Furnace repair, air conditioner repair, plumbing services, water purification, electrical services, and water heater repair |
| ADDRESS | 2 Lansing Square, North York, ON M2J 4P8, Canada |
| CONTACT NUMBER | (647) 837-2866 1-888-837-1451 |
| WEBSITE | https://reliancehomecomfort.com/ |
| OPERATING HOURS | Open 24 hours |
Reliance Home Comfort is a repair company based in North York but it services most of the Greater Toronto Area, including residential and commercial spaces in Toronto. It offers repair services for a variety of household items, including furnaces, aircons, water pipes, and water heaters, among others.
From our survey, there's no doubt that Reliance Home Comfort is one of the top repair companies in the area, but it tries to keep its rates as affordable as possible. Its transparent pricing tells customers how much the entire repair cost before the service begins.
Most of its customers like its reliable and fast customer service that operates 24 hours a day, making it easy to get their queries answered. Its customer service team is accessible even during weekends and holidays.
What we like the most about Reliance Home Comfort is that there's no need to call other contractors for non-furnace related services as it repairs almost anything. Clients may even get a discount when availing of more than one of its services at the same time.
Reliance Home Comfort also offers flexible payment options through cheques, Mastercard, and Visa.
Reliable customer service
Upfront and honest pricing
Open 24 hours for emergency services
Flexible payment options
Expensive
Always fully booked
Customer Reviews
Here are some comments posted on Better Business Bureau and HomeStars's website, respectively:
"Made an appointment to have an annual furnace maintenance check. Technician called prior to the arrival window and was onsite shortly afterward. Did a thorough check of the furnace and gave tips on things to be watched out for in the future. Answered all questions in a friendly professional manner. I hope Tony is the tech I get every year for any service or maintenance calls."
"Today Reliance's technician (Brad) came and fixed my furnace issues in less than 45 minutes. He was very good and identified the issue very quickly and logically. He replaced parts and after that the furnace is working very fine. I have a maintenance contract for my furnace, air conditioning and plumbing and I am very satisfied with Reliance's services. They are easy to contact, easy to book an appointment and very quick to attend. They fix the problem every time very quickly without giving any illogical answers. I sincerely thank BRAD and Reliance for this great service."
7. Husky Heating and Air Conditioning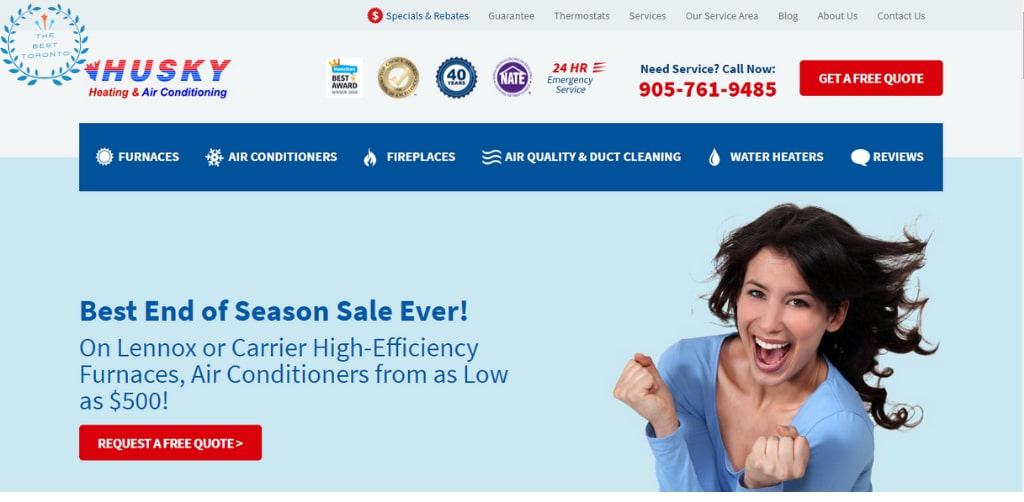 | | |
| --- | --- |
| BEST FOR | Air quality solutions |
| SERVICES | Furnace repair, installation, and maintenance, air conditioner repair and installation, fireplace installation and maintenance, air duct cleaning, air quality testing, and thermostat repair |
| ADDRESS | 2104 Highway 7 West #17/18, Vaughan, ON L4K 2S9, Canada |
| CONTACT NUMBER | 4905-761-9485 |
| WEBSITE | https://www.huskyair.com/ |
| OPERATING HOURS | Monday – Sunday: 9:00 AM – 5:00 PM |
Husky Heating and Air Conditioning is an award-winning repair contractor with a wide range of services, including furnace repair, air conditioner repair, fireplace maintenance, air duct cleaning, and air quality testing, among others.
Some of the common furnace problems that its technicians can fix are unusual noises, ignition problems, overheating, thermostat problems, and inadequate heating. Its technicians can repair any furnace make as well as because it carries a variety of high-quality furnace repair parts.
In case of an emergency, Husky Heating and Air Conditioning will be at your home in no more than four hours after confirming the service call. You won't have to wait all day because its technicians will arrive at your doorstep fairly quickly.
Customers will know the actual cost of the services upfront, with no hidden and last-minute fees. Every furnace repair job also comes with a repair guarantee of up to 90 days, covering the cost of failed repairs.
Quick response time
90-day service guarantee
Can repair any furnace model or brand
Rates for most services tend to be pricey
Customer Reviews
Husky Heating and Air Conditioning has an average rating of 4.7 out of 5 on Google Reviews, making it one of the best-rated furnace contractors in Toronto. Here are some comments shared by customers:
"I highly recommend this company. They provided a timely and fair estimate, arrived on time and introduced themselves. They were respectful and friendly. This a/c replacement was the best experience I have had with any maintenance. Thanks to Greg and Steve and the two installers. I will call you for my furnace when it quits. Thank you all."
"Very prompt and professional! Great and knowledgeable experience. We got my furnace and ac replaced by Husky Heating and Air Conditioning and very content with the service provided. Not to mention, the prices are very reasonable. We would definitely recommend them to all our friends and family!"
8. A Plus Quality Inc.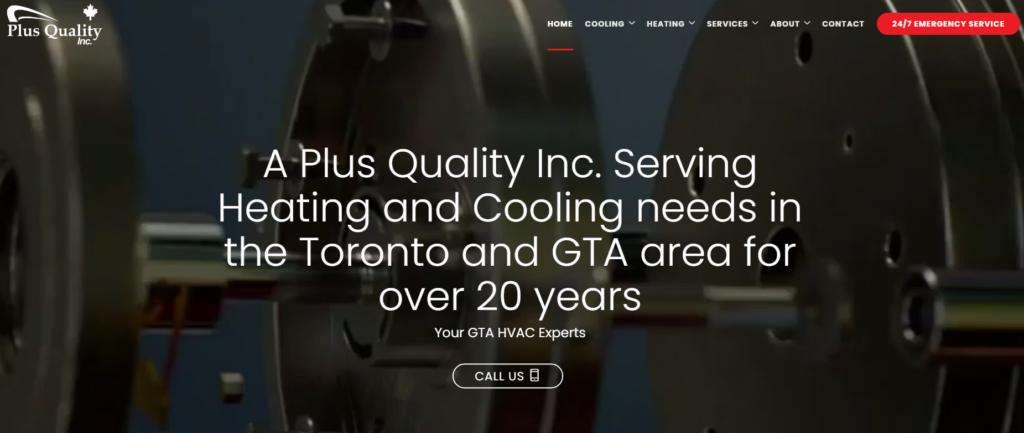 As you can expect from a company named as such, A Plus Quality Inc. provides top-notch cooling and heating services to people in the Ontario area.
A Plus Quality Inc. has earned the trust of the locals, having been operating for 20 years and consistently delivering results in every job they take on. The company is open 24/7 and even specialises in 24-hour GTA HVAC emergency services, making them an excellent choice for short-notice requests.
Aside from emergency services, A Plus Quality Inc. also offers regular furnace installation, repair, replacement, and maintenance; as well as airconditioner repair and maintenance.
The company also caters to commercial jobs within the Ontario area, providing the same services as well as seasonal maintenance in preparation for summer and winter, duct and equipment care and maintenance, and environmental assessments.
Accurate and prompt diagnosis by trained technicians
Quality repair on various major brand furnaces
Excellent customer service to ensure customer comfort and safety
Customer Reviews
A Plus Quality Inc. has an average rating of 4.8 out of 5 on Google Reviews, making it one of the best-rated furnace contractors in Toronto. Here are some comments shared by customers:
"A+ from beginning to almost the end. Final cleanup was quite average. Overall experience still good. Very happy with the new furnace. Will have to wait till warmer/hotter weather to see how well the new AC works."
"First experience was on New Year's Day, 2020, when furnace stopped. Called A-Plus and they had a rep (Jack) out quickly. He did some troubleshooting. He wasn't giving BS. Gave me options on repairing or replacing. Non-biased, no pressure. I chose replace and it was done the next day. Good experience all around. Second experience was early March, 2021 when a harsh chemical smell emanating from the furnace room, and pushed through the HVAC venting, permeated the house. Very concerning. Was late night, called A-Plus, immediately answered and suggested some safety moves for the evening. Booked a visit for the morning. Jack again came and assessed the issue and advised where the smell came from (outside). Again, very professional, quick, no BS, good guy. Completely satisfied with the service after often being given the BS treatment from other service providers for the house. Would definitely recommend."
9. Vese Heating & Cooling

BEST FOR
Furnace Repair & Installation Expert
SERVICES
Furnace Repair, Furnace Installation, Water Heater Repair, Boiler Repair, Air Conditioner Repair, Air Conditioning Installation, Humidification, Air Quality, Rooftop HVAC Services, Gas Line Installation, Ductless Air Conditioning
ADDRESS
405 The West Mall Suite 910, Etobicoke, ON M9C 5J1, Canada
CONTACT NUMBER
(647) 859-8450
Email: [email protected]
WEBSITE
https://vese.ca/furnace-repair-in-brampton/
OPERATING HOURS
24/7
Restricted airflow and an overheating heat exchanger are two of the most common causes of non-working furnaces. Like the furnace blower fan, it is the most commonly broken part of the furnace. This keeps air from circulating around your furnace's heated coils. So if these things happen during the hottest or coldest time of the year, it is really stressful.
Being trusted by locals in Brampton, Vese Heating Heating & Cooling will be there for you for your furnace repair. As they operate 24/7, may it be a time sensitive issue of your furnace or not, just call them and they'll be there to ease your worries.
Their local team of top-rated techncians is ready to come to your home, give you a competitive and transparent diagnostic, and provide you with a straightforward pricing quote to repair or replace your home furnace.
Aside from Brampton, they also provide cater to their customers in Toronto, Mississauga, Etobicoke, Oakville, North York, Vaughan and Milton.
Fast, On-Time Service
100% Satisfaction Guaranteed
Licensed and Insured
Cutting Edge Technology
Expertly Trained Technicians
Customer Reviews
Vese Heating & Cooling has an average rating of 4.7 out of 5 on Google Reviews, making it one of the best-rated furnace contractors in Toronto. Here are some comments shared by customers:
"Furnace needs repair or Air conditioner not blowing cold air no problems Vese got your back. Fast reliable and affordable services always on time."
"I woke up on a Sunday morning (during a heat wave!) to find my A/C was not working. Not only was I lucky enough to find a company that could service my A/C that same day, I ended up finding someone who I will use for all my future furnace, air conditioning and water heater needs. Alex took the time to trouble shoot what the problem could be, he gave me tips on what I could to do make the system run more efficiently, he patiently explained every step of what he was doing and he didn't charge a premium fee for the emergency service. I wouldn't hesitate to recommend Alex and Vese Heating & Cooling!!!"
FAQs about Furnace Repair in Toronto
---
And that's it for our list of the top contractors with the best furnace repair in Toronto. If you've dealt with any of these contractors in the past, share with us your experience with them!
Since there are hundreds of furnace contractors in the Greater Toronto Area, we admit that we weren't able to look at every single one of them. If you know other contractors worth hiring, tell us their names so we can check them out.