A Guide to the Best Air Conditioner Repair in Toronto
Don't know where to find the right technicians to fix your AC? That's okay – we have you covered. We're here to share our picks for handyman companies that offer the best air conditioner repair in Toronto!
Before that, we're going to detail the expected cost of air conditioner repair services in the area. That's so you have an idea of what you may have to shell out for the repair.
Finally, we'll also talk about air conditioner maintenance tips and common problems at the tail end of the article!
The Cost of Air Conditioner Repair in Toronto
The cost of repairing an air conditioning unit in Toronto can range from $75 to $2,350, depending on the problem and the parts that need to be replaced. Most households in the area spend about $413 on average.
Generally, simpler air conditioning repairs are cheaper, costing somewhere between $75 to $590. They usually involve rain line, fuses, control board, and contractors.
More complicated repairs for parts like the refrigerant, fan motor. condensate pump, and drain pans can cost about $240 to almost $800.
On the other hand, some of the most expensive services can cost about $400 to $2,900. These usually involve replacing the fan motor, condenser coil, and compressor.
It's quite common for repair companies to charge clients by the hour, but most aircon technicians charge by the service provided. What influences the cost of the service is usually the replacements parts and the labour.
If you're carrying an old air conditioning unit, you might end up spending more because some of its parts are difficult to find. With older aircon units, it's more likely that larger system parts like the evaporator coil or the compressor need to be replaced or repaired.
Here's table detailing the cost of the common air conditioning repair and services:
| | |
| --- | --- |
| REPAIR | ESTIMATED COST |
| Flushing the condensate drain line | $75 to $250 |
| Fuses, circuit breakers, or relay repairs | $75 to $290 |
| Contactor replacement | $150 to $350 |
| Condensate pump replacement | $240 to $450 |
| Refrigerant leak repair | $200 to $500 |
| Control circuit board maintenance | $100 to $590 |
| Outdoor condensing unit fan motor service | $200 to $650 |
| Replacing drain pans | $250 to $575 |
| Condenser fan motor repair | $450 to $750 |
| Refrigerant recharge | $250 to $750 |
| Replacing the fan motor | $400 to $1,200 |
| Replacing the condensing unit coil | $400 to $2,900 |
| Replacing the compressor | $1,350 to $2,300 |
The 7 Options for the Best Air Conditioner Repair in Toronto
Now that you're aware of the costs of air conditioner repair in Toronto, we assume that you're ready to see the aircon repair companies we believe are worth hiring.
Check them out below to see the range of their services and where they are located in the Greater Toronto Area:
1. Toronto Air Conditioning & Furnace Repair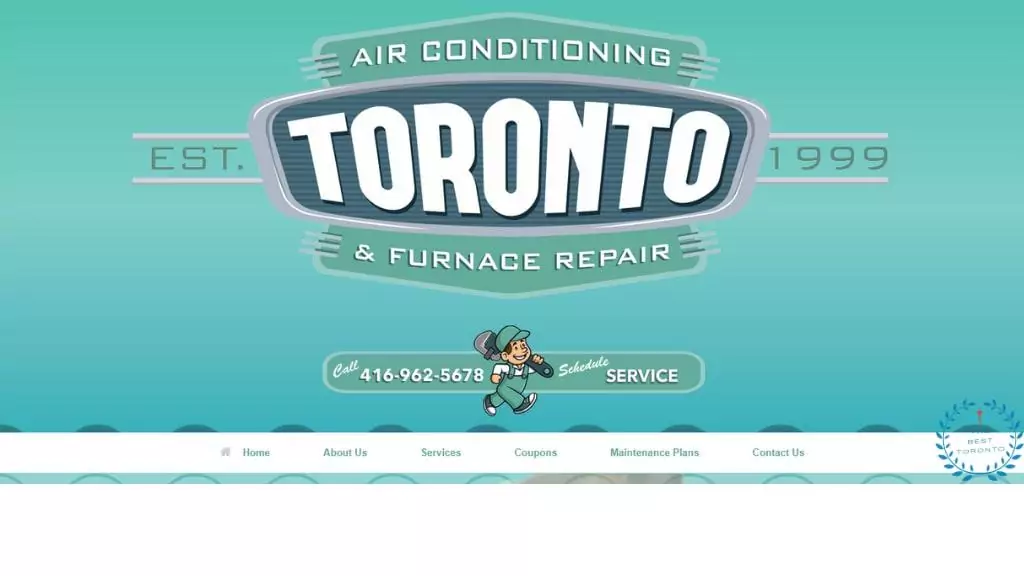 | | |
| --- | --- |
| BEST FOR | Residential and commercial services |
| SERVICES | Air conditioner and furnace repair repair, air conditioner and furnace maintenance, air conditioner and furnace installation, humidifier and dehumidifier repair, HVAC repair, and furnace cleaning |
| ADDRESS | 35 Ormskirk Ave, Toronto, ON M6S 1A8 |
| CONTACT NUMBER | 416-962-5678 |
| WEBSITE | https://www.acandfurnace.com/ |
| OPERATING HOURS | Monday – Sunday: 6:00 AM – 11:30 PM |
We had to begin our list with one of the best-rated repair contractors in the GTA: Toronto Air Conditioning & Furnace Repair. It has a near-perfect rating of 4.9 out of 5 on Google Review, with customers mostly praising its fast and friendly repair services.
It services most residential and commercial addresses in Toronto and other surrounding areas such as Markham, Scarborough, Whitby, Oakville, Mississauga, Ajax, Oshawa, Woodbridge, Vaughan, Unionville, and North York, among others.
Its experienced technicians can take care of all sorts of aircon problems, from repairing fuses down to replacing compressors. Its services are open for both residential and commercial aircon units, but it specializes in large residential repair projects.
Toronto Air Conditioning & Furnace Repair's office hours are from 6am to 11:00pm, but its services run round-the-clock. Customers who need emergency repairs are encouraged to call any time of the day.
Aside from providing the best air conditioner repair in Toronto, it repairs furnaces, heaters, humidifiers, and air quality systems as well.
24/7 services
Accepts residential and commercial clients
Open for emergency calls
Good customer service
Coupons and discounts for new customers
Customer Reviews
Take a look at some of the comments left by its customers:
"High quality service provided by high quality individuals. They came out during the last heat wave and fixed our AC unit with literally just hours of the initial call. Wickedly quick job – easy to see they're experienced. Individual approach and highly professional. Highly recommended."
"Can't thank Vince enough for the work that was completed. My furnace broke on us last week right when it started getting cold. I called that evening and Vince showed up 30 minutes later (I'm in North York). That is great service. Quickly troubleshooted the unit and gave me different service options with prices. He was wearing a mask and was conscious of social distancing. I am a happy customer and would be happy to refer him to others."
2. Reliance Home Comfort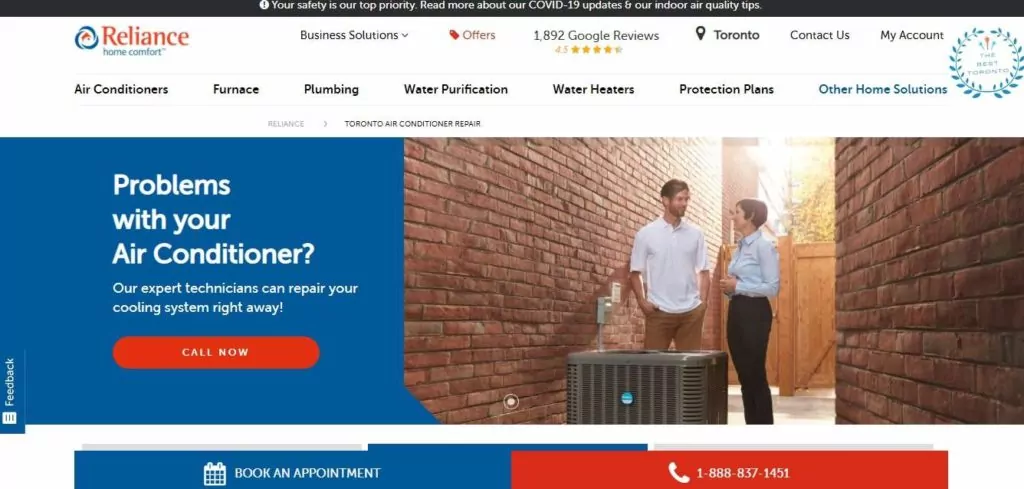 | | |
| --- | --- |
| BEST FOR | Commercial and property management services |
| SERVICES | Air conditioner repair, air conditioner maintenance, furnace repair, furnace cleaning, furnace maintenance, plumbing repairs, water purification systems, and water heater installation |
| ADDRESS | Toronto, ON, Canada |
| CONTACT NUMBER | 1-888-330-9167 |
| WEBSITE | https://reliancehomecomfort.com/toronto/air-conditioning/ |
| OPERATING HOURS | Open 24 hours |
If you're looking for an aircon repair contractor that specializes in commercial repairs, then you might want to check out Reliance Home Comfort. It's an all-around company that provides all sorts of handyman services, from appliance repair down to electrical work.
Some of the services provided by Reliance Home Comfort are air conditioner repair, furnace repair, plumbing works, installation of water purifying systems, installation of water heaters, and electrical works, among others.
Reliance Home Comfort is one of the few repair companies that can accommodate urgent repair requests because it operates 24 hours a day, seven days a week.
Its technicians can repair all types of air conditioning problems involving filters, thermostats, circuit breakers, compressors, and any types of leakage.
In addition, it's upfront when it comes to fees to give customers a complete picture of the coverage of the repair and how much they're expected to pay. No worries about last-minute and hidden charges.
Transparent fees
24/7 services
Works with top AC brands and units
10% off for long-term partnerships
Better for commercial and retail spaces
Customer Reviews
Here are a few samples of customer feedback posted on HomeStars:
"My heating system failed, I called in on Jan 13. Technical came, sighted and said something wrong with the hot water pump. Next day, Jan 14, 2021, another perhaps more senior Technician came – Ringo Team No. 2466. In no time, he found out the control board was malfunctioned, replaced and back to work in 30 minutes. Ringo is a very competent technician, courteous and fully explained to me the operational system. I have lived here for over 10 yrs. I just learnt that there is so much "unknown" to me. eg a small knob to adjust the fan speed. Very happy with the service rendered by Ringo although I need to bear a 2 day-cooling time."
"The customer service we had with reliance was great. They called us in advance to let us know when they would be arriving, and they were on time for our apportionment. The installers were very professional, efficient, knowledgeable, polite, and the installation went very smoothly. We would highly recommend this company. The cost is on a monthly basis."
3. SunnySide Heating And Air Conditioning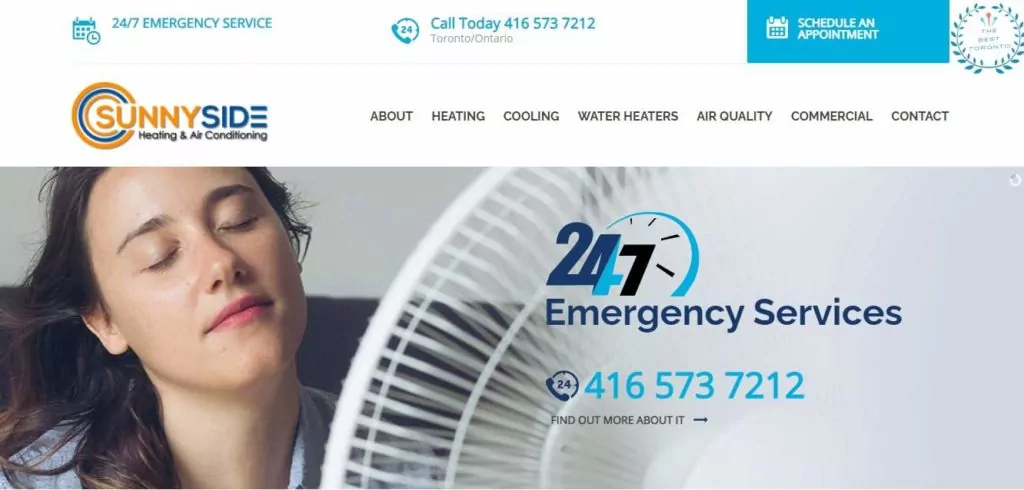 BEST FOR
Competitive and flexible rates
SERVICES
Air conditioner repair, air duct cleaning, furnace repair and installation, boiler repair, air conditioner tune-ups, garage heaters installation, water heater repair and installation, and property management services
ADDRESS
3283 Danforth Avenue, Unit # 111, Toronto, ON M4K 1N2
CONTACT NUMBER
416-573-7212

[email protected]

WEBSITE
https://www.sunnysidehvac.ca/
OPERATING HOURS
Monday – Sunday: 7:00 AM – 8:00 PM
Equipped with more than 25 years of experience, SunnySide Heating And Air Conditioning has earned the trust of thousands of residential and business owners in Toronto and in neighbouring areas.
SunnySide Heating And Air Conditioning is an all-around repair contractor that deals with air conditioners, furnaces, water heaters, boilers, and even humidifiers.
If other repair companies offer same-day services as an option, SunnySide Heating And Air Conditioning provides it as a default service. All requests are checked and repaired within the same day.
SunnySide Heating And Air Conditioning admittedly has shorter operating hours compared to its competitors, but its repair services are available 24 hours a day. Customers just need to book an appointment before 8pm to be accommodated within the same day.
Maintenance services are also open for those who want to minimize the downtime of their air conditioning units. Its technicians will regularly check their AC units to know if there's a problem that needs to be addressed immediately.
All of its services are covered by a one-year guarantee as well! In case your AC unit starts malfunctioning again after a month, its technicians will check it again free of charge.
Affordable fees
One-year service guarantee
24/7 services
Same-day repair services
Customer Reviews
As one of the top sources of the best air conditioner repair in Toronto, it's received close to a hundred positive comments from its customers. Here are some of them:
"Honest, trustworthy and reliable. They came and did everything they said they would in the time that they promised. All great from the front office to the service technicians. Great experience and I felt like Ersi provided me with honest advice that I knew I could trust in every discussion I had with him. The technicians were courteous and respectful of our home and were easy to talk to and get along with. I'd have no problem referring them to anyone in the future. Thanks everyone."
"I have multiple rental houses throughout Toronto and have really come to rely on Sunnyside Heating and Air Conditioning for all of my HVAC needs. I find them to be extremely professional, competitive, reliable, and am always happy with their work. They have even helped me out with last minute issues in record timing prior to having new tenants move in. I highly recommend them, and love supporting a local business."
4. Fixed Right Toronto AC Repair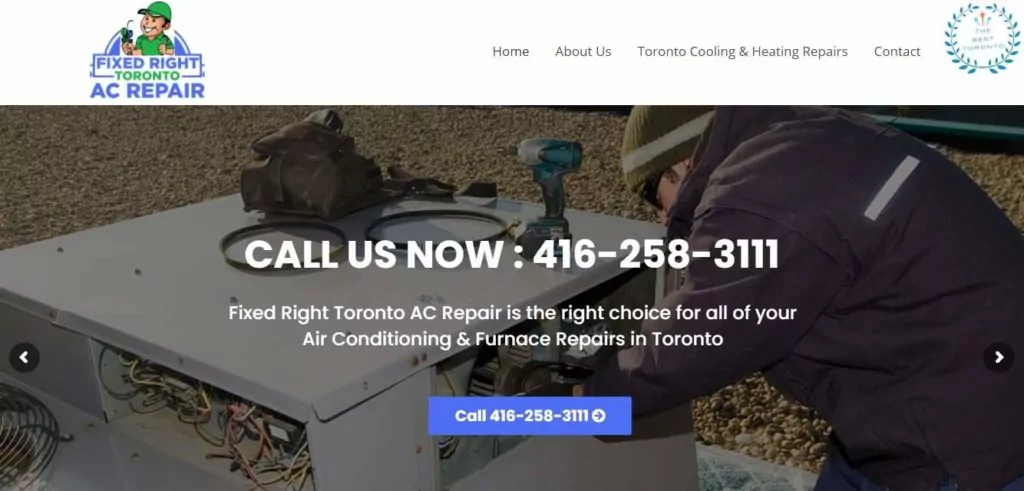 | | |
| --- | --- |
| BEST FOR | Quick repair services |
| SERVICES | Air conditioner repair, air conditioner maintenance, air conditioner installation, furnace repair, furnace maintenance, and furnace installation |
| ADDRESS | 7-B Pleasant Blvd., Toronto ON M4T 1K2 |
| CONTACT NUMBER | 416-258-3111 |
| WEBSITE | https://fixedrighttoronto.com/ |
| OPERATING HOURS | Monday – Sunday: 6:00 AM – 11:30 PM |
Another top-rated air conditioner contractor in Toronto is Fixed Right Toronto AC Repair. It boasts a perfect 5 out of 5 rating on Google Reviews, with most customers praising its quick and effective repair services.
Fixed Right Toronto AC Repair isn't as huge as some of its competitors, but it's managed to stand out due to its competitively priced and efficient services. It can deal with all sorts of aircon problems, from dirty filters down to busted fan motors.
Speaking of quick services, a customer noted that its technicians reached his home within an hour of placing a call. Of course, that largely depends on the location of the client, but we haven't received feedback about Fixed Right Toronto AC Repair ever being late.
Oh, and Fixed Right Toronto AC Repair's expertise isn't limited to repairing air conditioning units. Its technicians know how to repair and install a variety of furnaces as well.
Competitively priced services
Punctual technicians, according to customers
Small team of technicians
Doesn't operate 24/7
Customer Reviews
Here are some comments proving that Fixed Right Toronto AC Repair can offer the best air conditioner repair in Toronto:
"These guys are simply awesome. Showed up right when they said they would. My technician quickly fixed my AC – much faster than the last guy I called. If you want it fixed right, call Fixed Right! :)"
"Provided a flawless furnace and aircon repair. Booked them since they managed to beat a couple of other quotes I got. Were in and out of the home pretty quick, and the young man just so happened to have the exact part that required replacement in his van. Working good as new. I can be warm in my home again."
5. Climax Heating & Air Conditioning
| | |
| --- | --- |
| BEST FOR | Free in-home consultation |
| SERVICES | Air conditioner repair, air conditioner maintenance, furnace repair, furnace maintenance, and water heater repair |
| ADDRESS | 586 Gordon Baker Rd, North York, ON M2H 3B4, Canada |
| CONTACT NUMBER | 866-625-4629 |
| WEBSITE | https://www.climaxair.ca/ |
| OPERATING HOURS | Monday – Sunday: 8:00 AM – 12:00 AM |
Climax Heating & Air Conditioning is an aircon and furnace contractor that services almost every corner of Toronto and its surrounding areas, helping homeowners and business owners deal with their malfunctioning AC units.
Other areas covered by Climax Heating & Air Conditioning are Maple, Pickering, Richmond Hill, Vaughn, East York, Markham, Woodbridge, Unionville, Etobicoke, and many more.
Its technicians are certified by major air conditioning manufacturers, including Whirlpool, Goodman, American Standard, John Wood, Rinnai, Mitsubishi, Heil, Tempstar, Carrier, and Coleman, among others.
As such, all of its technicians are trained to repair different air conditioning brands and makes, even the oldest ones. You won't have to worry even if you have an outdated air conditioning unit at home.
Climax Heating & Air Conditioning is licensed and insured to conduct aircon repairs for residential, commercial, and industrial spaces.
For interested customers, you may book an appointment online through its website, so there's no need to call and risk being put on hold for minutes.
Licensed and insured technicians
Services most of GTA
Certified by trusted aircon brands
Verified by HomeStars
Expensive rates
Limited service hours
Customer Reviews
Climax Heating & Air Conditioning has an average rating of 5 out of 5 on Google Reviews based on more than 400 reviews. Previous customers posted the following comments:
"Great customer service! Not only they replied quickly but also accommodated all my requests, gave me reasonable options and did not try to sell me something I didn't need. They care about your satisfaction and explain everything in detail. Moe was the technician that installed the furnace, digital thermostat and humidifier and he really was patient and knowledgeable. Super happy!"
"Exceptional service from Ehsan (Sam) – he was super responsive, came to us quickly and fixed everything. Most importantly, he saved us hundreds of dollars by avoiding part replacement that we already agreed upon once he discovered that it would not be necessary. Will definitely recommend – thank you for your honesty and hard work."
6. Home Trade Standards
Home Trade Standards proudly provides complete HVAC solutions for Condominium High Rise Appartments, Commercial Buildings, and Residential Homes in Toronto & GTA Area. Home Trade Standards mainly specializes in Condominium & Commercial HVAC applications and has built an established reputation as a fair, reliable contractor.
They offer a wide array of services such as full installation, maintenance & repair for Water Source Heat Pumps, Fan Coil Units, Condo Packs, PTAC Units, Commercial Rooftop Units, Boilers, Fireplaces, Air Handlers, Gas Furnaces, Air Conditioners, HRV, ERV, Dryer Vents, Water Tanks, Tankless & Water Heaters systems for your home & business properties.
On top of this, their online platform also enables users to go through a seamless digital check out & booking process for all major residential and commercial HVAC installation, retrofit & replacement services.
Buy and replace your next heating and cooling system online with confidence at a fixed pre-determined installation rate in less than 5 minutes.
TSSA-licensed technicians

Online booking
Accepts all major credit cards
Diagnostic deposit fee
Additional fee per hour
Customer Reviews
Here are a few reviews that previous clients have left:
"Kevin and his team at Home Trade Standard are very efficient, reliable and professional. I used the company for a furnace replacement on one unit and then again 2 months later for maintenance on another unit. Thank you Kevin and team for your quick service and great customer service! Your team kept me updated throughout the process, which was much appreciated. The processes and systems that you have in place are quite efficient and user friendly. I would 100% recommend Home Trade Standards for your Residential and Condo needs."
"Kevin and team were fantastic!. Kevin listened to my needs and were able to conduct a thorough condo heating & HVAC repair & report to help determine if there were any heating issues with my condo unit. I was very satisfied with their feedback and professional opinion and expertise. They were honest and told me everything was working fine despite my tenants complaint on issue which was never expressed by previous tenants in the past. I had received a honest non-bias 3rd party opinion. They were quick, and effective. I strongly recommend."
7. Airtronic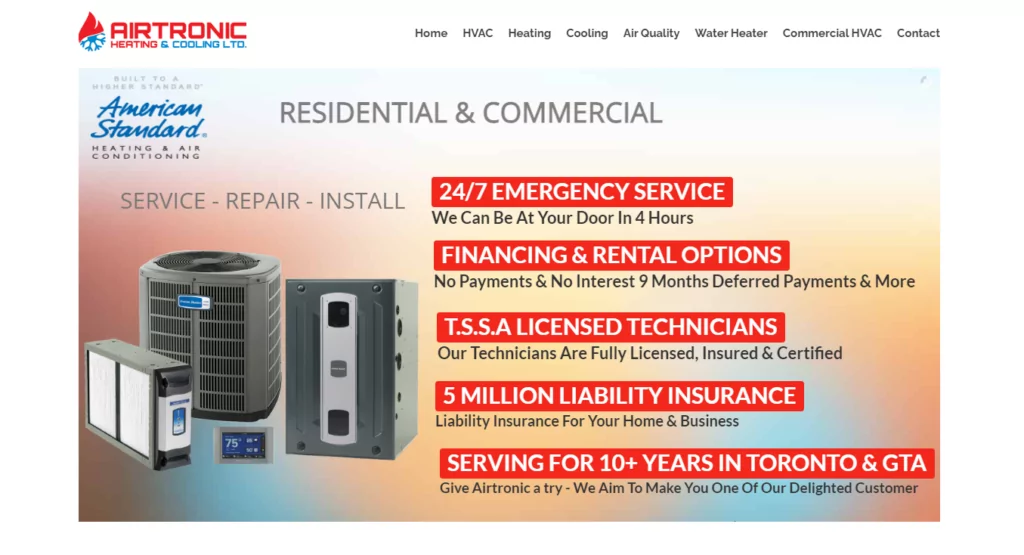 | | |
| --- | --- |
| BEST FOR | Heating and Cooling repairs |
| SERVICES | HVAC, Heating, Cooling, Air Quality, Water Heater Repairs |
| ADDRESS | 11 Quinby Ct, Etobicoke, ON M9V 2V3, Canada |
| CONTACT NUMBER | 647-406-4328 | [email protected] |
| WEBSITE | https://airtronic.ca/ |
| OPERATING HOURS | Monday – Friday, 8:00 AM to 6:00 PM |
Airtonic Heating and Cooling Ltd offers you hassle-free HVAC repair, maintenance, and installation. Their highly qualified, certified and licensed team of HVAC technicians can service your system no matter the make or model.
Their services include repairing furnaces, boilers, air conditioning units, rooftop heating equipment, water heater tanks and a whole host of other heating and cooling equipment. The best part is that they repair all makes and models as well as offers HVAC system replacements and installations.
With Airtonic's crew being trade experts, they are known to give quality services to both residential and commercial units. They also serve Toronto, the GTA, and surrounding areas. On top of all this, they provide quick response times for all HVAC calls!
Coupons and discounts

24/7 Repair Services

Quick Response Time

No Hidden Fees
Customer Reviews
Here are a few reviews that previous clients have left:
"The staff were very friendly and kind, they finished their job efficiently and professionally. I would highly recommend them to anyone who needs any HVAC assistance. We originally called Reliance who ended up deliberately destroyed our furnace and giving us a red tag to replace our furnace, they called their sales associate to our house who gave us a "deal" that would have cost us over $10,000 but Airtronic came to the recuse and install a brand new furnace for less than half the price, really happy and would definitely call them for any future assistance."
"When our boiler died, we chose Airtronic Heating & Cooling LTD. to install a brand new replacement, as they were a local company and we heard several good things about them from our neighbours. The guy who came to visit make us feel comfortable in our home and he was genuinely concerned. The job was completed and done exactly right. Now our heating system has been working good for the last 2 months. Thank you really appreciate it!"
8. Service Pro Group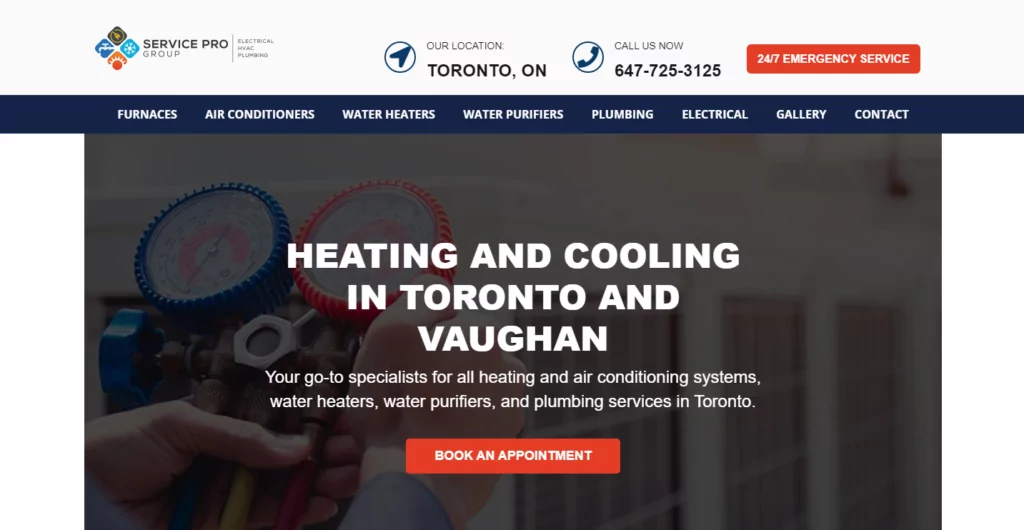 | | |
| --- | --- |
| BEST FOR | Heating and Cooling Services |
| SERVICES | Services for furnaces, air conditioners, water heaters, water purifiers, plumbing, and electricity |
| ADDRESS | 28 Charlton Blvd North York, ON M2M1B9 |
| CONTACT NUMBER | 647-725-3125 |
| WEBSITE | https://serviceprogroup.ca |
| OPERATING HOURS | 24/7 |
Every component in the house plays a critical role, and the airconditioner is known to keep it cool during the hotter seasons.
Should it break down when we need it the most… Well, there's no time to fret. It's best to quickly find a company whose services benefit us the most.
Here is where Service Pro Group comes in.
This service company is known for its extensive list of services, which include work with heating, cooling, plumbing, and electricity. The team at Service Pro Group comprises experienced, professional individuals who are all dedicated to providing quality work, which is why the company comes highly recommended.
Now, Service Pro Group may specialise in installations, having installed countless airconditioners and heaters during its time since first opening, but its repairs aren't lacking either.
The company's technicians are always ready to respond to any issues reported online and by phone 24 hours a day, seven days a week. You can count on them to deliver the solution that will fit your unique requirements for the summer, winter, and the seasons in between.
Wide array of services include repairs and installations for heating and cooling
Experienced, professional technicians
Open 7 days a week
9. High Efficiency Cooling & Heating Inc.

Accolades serve to show a company's prowess in the field that they work in, and the next company on our list have plenty to prove theirs.
High Efficiency Cooling & Heating Inc. is a locally owned and operated HVAC company. It operates 24/7, making it an excellent choice for those who are in need of emergency heating, cooling, or air quality services in Ontario.
It's worth noting, however, that the company's operating hours aren't the only reasons why we strongly recommend High Efficiency Cooling & Heating Inc.
As previously mentioned, accolades mean a lot in this business, and High Efficiency Cooling & Heating Inc.has won numerous sales awards from Carrier including the prestigious President's Award.
These awards are all thanks to High Efficiency Cooling & Heating Inc.'s dedication to customer satisfaction. The company makes use of the latest technology and products in every job they take on, which guarantees effective and thorough services.
Aside from the equipment, High Efficiency Cooling & Heating Inc. also offers exemplary customer service, and is always prompt, professional, and friendly to every customer they take on.
All in all, the hours of operation, quality equipment and services, as well as excellent customer service make High Efficiency Cooling & Heating Inc. a top choice for heating and cooling services.
Excellent customer service
Uses top of the line equipment and products
Carrier® Factory Authorized Dealer
Award winning company
Common Air Conditioner Problems
---
And with that, we conclude our list of the options for the best air conditioner repair in Toronto. Already made a choice? Or have a certain aircon contractor in mind worth checking out? Tell us all about it!
If you have other appliances at home that need to be checked or repaired, don't hesitate to read our guide to the best appliance repair in Toronto. We include the most trusted repair contractors in there, along with the average cost of repairs and a few answers to questions about them.