A Guide to the 6 Best Snow Removal Services in Toronto
A thick blanket of snow blocking your driveway, entrances and sidewalks? We've curated a list of the best snow removal services in Toronto to help you out!
We handpicked each contractor based on the packages they offer and the quality of service. Of course, we also reached out to some of their past clients to gauge their customer satisfaction levels.
Before we get into each review, we'll discuss the potential costs first, so read along!
The Cost of Snow Removal Services in Toronto
Many variables affect the cost of snow removal services. These include property size, service area, and depth of snow.
Most companies offer packages for seasonal snow removal. For this type of service, you would have to pay per month plus HST.
Depending on all the factors we just mentioned, the cost can be as low as $179 per month and as high as $949 per month. Some companies may also offer discounts under certain terms and conditions.
The Best Snow Removal Services in Toronto
Now, the cost estimate we gave may not be enough for your liking, but don't fret! In the following reviews, we'll talk about the packages each company offers and how much they cost (if disclosed).
Hopefully, this will help you compare each option based on value for money. So, let's move along and go through the best snow removal services in Toronto:
1. Monster Plowing Company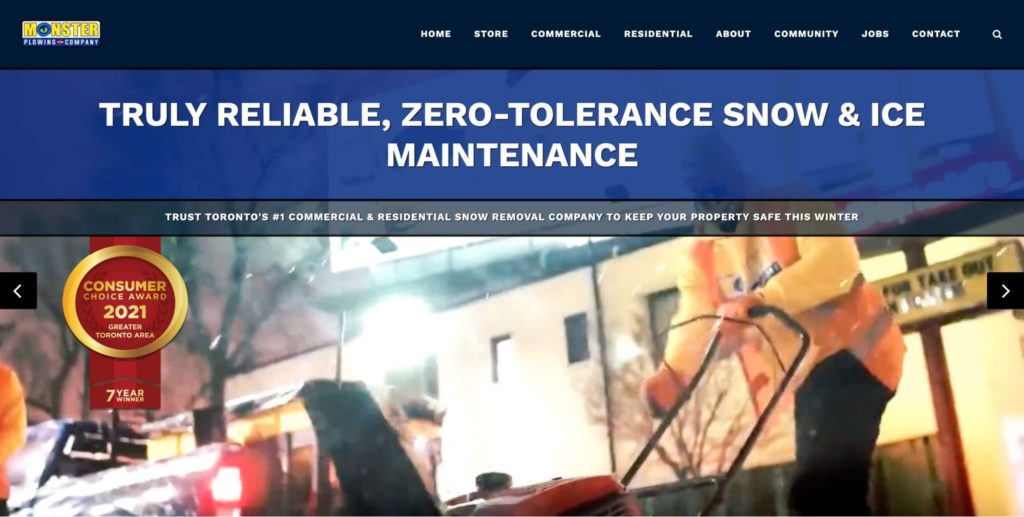 | | |
| --- | --- |
| SERVICES | Residential and commercial snow removal services |
| WEBSITE | https://www.monsterplow.ca/index.html |
| ADDRESS | 1145 Lawrence Ave W, North York, ON M6A 1E1, Canada |
| CONTACT DETAILS | +1 647-967-7569 |
| OPERATING HOURS | Open 24 Hours |
If you're a fan of quality services like us, you might love Monster Plowing Company. After all, they didn't bag the Consumer Choice Awards seven times for nothing!
Let's get right into the basics first – they service both residential and commercial clients in Toronto. They specialize in condos, building communities, boutique homes, landmarks, and more.
The first thing that won our favor was their 24/7 availability combined with rapid response. In fact, many past customers shared that they arrived at the scheduled time, even in tough weather.
Their service packages are also set on flat-rate pricing and are all-inclusive. They currently offer two packages: Package A, which is a "Complete" service, and Package B, which is considered "Priority".
Honestly, their rates lean on the more expensive side. Package A and Package B cost $499 and $949 per month respectively.
Fortunately, the services you get all make up for the slightly steep price. For both packages, you'll get commercial snow and ice maintenance, emergency daytime visits, and automatic crew dispatch.
The main difference between these two packages is how fast certain services are done. Getting the "Priority Package" means that services are performed twice as fast – which is why it also costs twice as much.
Apart from these packages, you can also get customized services. All you have to do is request a quote and a crew member will get right to you.
To wrap it up, we also love that they use an eco-friendly ice melter that is 84% less corrosive than salt. The 24/7 weather monitoring is also useful when you want to get weather updates straight to your email.
We should mention that they still don't have a perfect record, though. During our search, we found a few issues with bad attitudes among the employees.
What saved them was that we've also seen the company reaching out to fix these complaints, so it's not too terrible really. It would still be best not to see any complaints at all, but when there are any, it's ideal for companies to actually address them instead of brushing them aside.
Available 24 hours
Comprehensive, all-inclusive packages
Offers customized snow removal services
Uses eco-friendly ice melter
Pricier compared to most companies
Customer Reviews
Here are some of the reviews left by satisfied customers on Google Reviews:
I have been with Monster Plow for about 5 or 6 years now, they have the most professional team, from George, to Samantha, to the snow removal team on the road. They come by the the guaranteed time, and they make multiple visits during freezing rain, sleet events. I never have to worry about them not showing up, as I had experience with that with the company I hired before Monster. I cannot say enough good about them. If you're looking for reliable service, give their team a call! – Sandra D'Amato
This is the 3rd year I have entrusted monster plowing company with my building and let me say there will be many more years to come. Top notch service and very professional. The proprietary ice melter they have is the only pet safe one we have found that works great without harming our many dogs feet. I would confidently be able to recommend their services to anyone. – Matt Casullo
2. Gardenzilla
SERVICES
Landscape maintenance services, gardening and yard work services, installations and repairs
WEBSITE
https://gardenzilla.ca/
ADDRESS
618 O'Connor Dr, East York, ON M4C 3A1, Canada
CONTACT DETAILS
(647) 461-0285


[email protected]

OPERATING HOURS
Monday – Friday: 7:00 AM – 3:00 PM
If you prefer straightforward and simple plans, you'll like Gardenzilla's services. And you'll like them even more for their relative affordability.
This company offers excellent garden services with complete coverage through the winter. This includes unlimited visits and a pricing scheme divided into five months.
What we like best are their competitive prices, with packages starting from $250 to $468 per month. The price varies depending on the service areas such as driveways, sidewalks, and basement entrances.
To give you an idea, if you only want snow removal on your driveway, front door, and sidewalk, you can expect to pay around $250 per month.
Another thing we liked is the optional ice melter, which allows you to save money. What this means is that you have the option to use and apply an ice melter of your choice.
By the way, this company isn't all about snow removal – in fact, they do more landscaping services. But we're not counting this as a point against them because we reckon that it's good in case you want some landscape makeover or maintenance after the snow.
Overall, the only thing we weren't happy about is their response time, as some clients said that they never got a reply or had to wait a while for an answer after an inquiry. Other than that, we're pretty happy with what they currently offer.
Competitive monthly pricing
Optional ice melter
Great for residential clients
More expensive compared to other service providers
Doesn't serve commercial clients
Customer Reviews
Here are some reviews from past clients:
We found our service from Gardenzilla excellent and have dealt with them for many years. Garden and the last year snow removal. Dealing with Michael and all his employees has been very pleasant. – Margaret Durrant
Excellent landscape maintenance service, couple with winter season snow removal, best part is their customer billing and payment processing all done online which makes it super convenient. – Patrick Jabbaz
3. S.N.G. Landscaping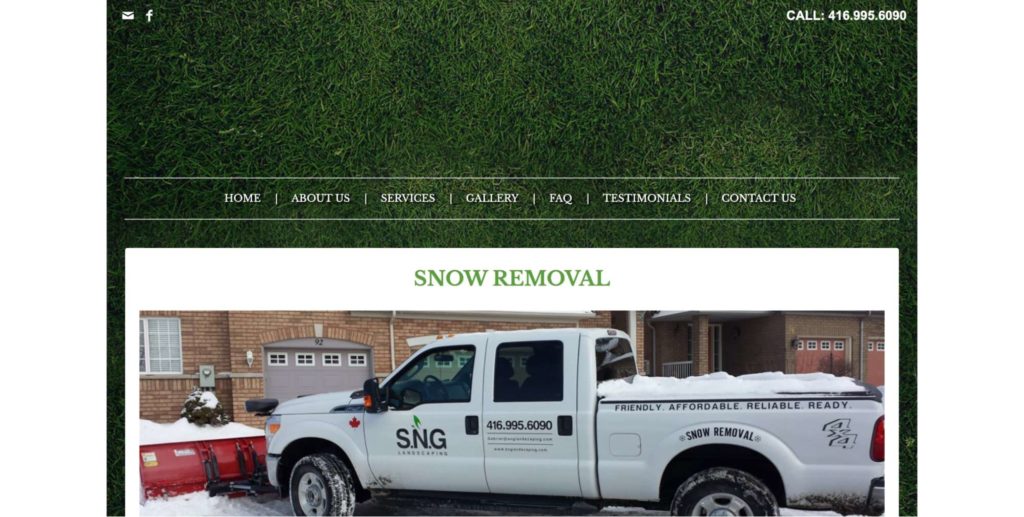 | | |
| --- | --- |
| SERVICES | Garden maintenance, lawn maintenance, tree services, snow removal |
| WEBSITE | https://snglandscaping.com/ |
| ADDRESS | 101 Heintzman Cres. Vaughan ON L6A |
| CONTACT DETAILS | +1 416-995-6090 |
| OPERATING HOURS | Monday – Sunday: 7:00 AM – 7:00 PM |
Snow removal may not be their specialization, but they still hit the mark for this service. Here's why S.N.G Landscaping made it to our top list:
First of all, we love how their crew goes above and beyond to deliver great services. One client even shared that an employee constantly gave her weather updates and helped her in sourcing an alternative salt.
Second, it's very easy to communicate with them, in our experience. In line with this, requesting a quote is super easy via phone call or email.
Third, they'll immediately notify you via text message once the job is done. And if a second clean-up is required, they'll keep you updated by sending messages of their estimated arrival.
Finally, while they aren't very upfront with costs, many past clients agree that their prices are affordable. Plus, they're known to be thorough and fast in their cleanup, leaving your path snow-free fairly quickly.
With a perfect 5-star rating on Google Reviews, this business is great for residential owners, no matter how big or small the area is.
As a final note, we hope to see more comprehensive service packages in the future, but we'll let the 24/7 availability make up for it now.
Easy communication experience
Job complete notification via text message
Affordable prices according to past clients
Clean and thorough snow removal service
Available 24/7 for emergencies
Prices available upon request only
Lack of service packages
Customer Reviews
Here's what past customers have said about this company:
SNG was amazing to deal with. Wonderful and constant communication. The service was efficient and always reliable. Highly recommend. We will definitely be using this service again next season for our snow removal. – Jessica
I sought Gabriel out for his snow removal services and am very pleased. He always notified me after he did the snow removal and of any incoming bad weather to prepare. He also went out of his way to help me keep track of salt availability and kindly sourced out a replacement when my salt froze. Overall, Gabriel is very responsive and a pleasure to work with! – Alfonso
4. Yardly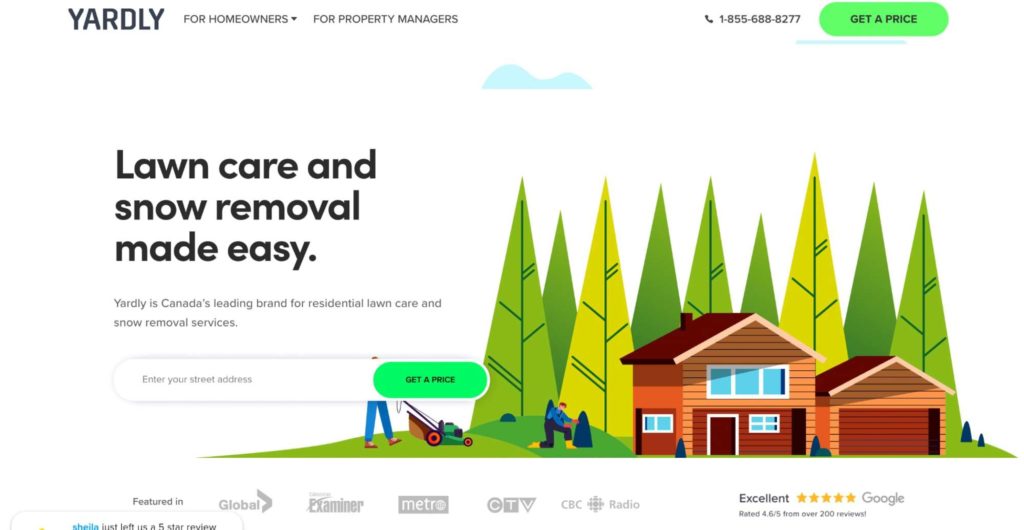 SERVICES
Snow removal services, lawn care services
WEBSITE
https://www.yardly.ca/
ADDRESS
20 Camden St Suite 200, Toronto, ON M5V 1V1, Canada
CONTACT DETAILS
+1 647-493-1881
+1-855-688-8277
OPERATING HOURS
Monday – Friday: 9:00 AM – 7:00 PM
Yardly made it into the list by combining some of our favorite features for snow removal services. Plus, they make the whole buying experience seamless and easy online.
Let's start with their monthly plans on a flat-rate pricing scheme. Through this setup, you get an advantage because they won't charge or penalize you in case your situation changes.
Their prices are also among the cheapest we've encountered in Toronto. Their premium plan starts at only $179, while their VIP plan is their most expensive at $309 – still remarkably cheaper than other companies' top-tier plans.
If you don't like the services included in their plans, you can always customize your service. The best part is that you can get a quote almost instantly because they can immediately view your property through satellite imaging.
Finally, we love their customer support that you can reach out to seven days a week. We'll also give them a point for clean services performed with a friendly attitude.
Unfortunately, we didn't like the inconsistencies we saw about how long it takes them to respond. One client even complained that it took them 24 hours (literally one whole day) to remove the snow after the snowfall.
On the bright side, they've hit almost everything else we're looking for. So, even with that one little hitch, we think they remain among the best options in the city.
Easy buying process online
Flat-rate pricing on monthly plans
Competitive pricing
Customizable services
Instant quote request
Customer support is available seven days a week
Not open 24/7 for emergencies
Occasionally slow response time
Customer Reviews
Take a look at what past customers have said about this company:
I've been using Yardly for their snow removal service this winter and my driveway is cleaned down to the pavement every time; as well they clean my porch and steps and the salt/ice melter I provide is then applied. The workers are friendly and work quickly and efficiently and they get the job done! Very happy with this service. – Anne K.
This is the first season using Yardly snow removal services and, so far, they have done an exemplary job. Of particular note, is the way the sidewalk, front stairs and porch have been kept free of ice and snow. Salting has been done when necessary, and they arrive in a timely manner following a snowfall. We are very pleased with the service. – Nadine Rayner
5. UrbanScapes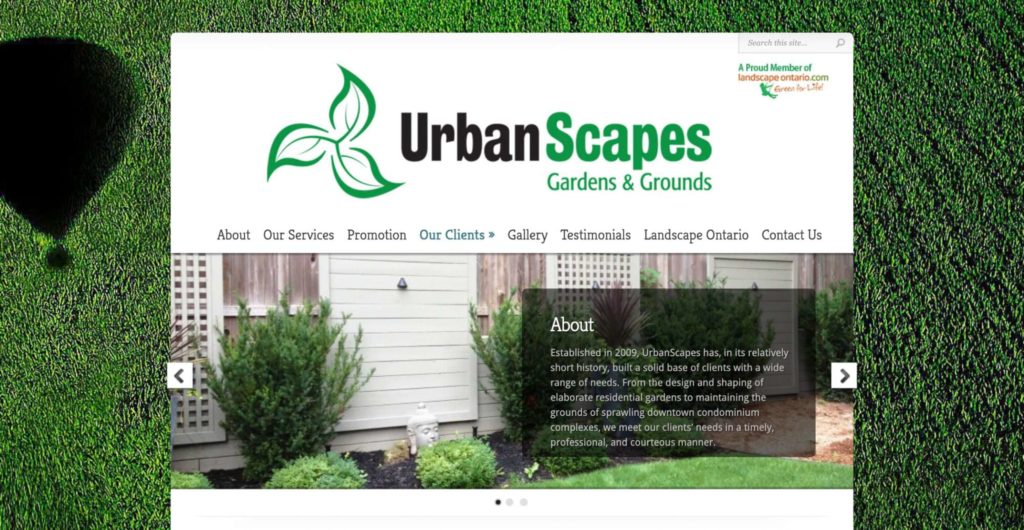 If great results are what you're after, then UrbanScapes is your best choice. Here's why we think they could give you remarkable service.
For starters, their response time is just impressive. To give you an idea, it only took them 30 minutes to get to the client's place after our trial client contacted them via email.
Speaking of fast, they also work with speed without compromising quality. A past client noted that the snow cleanup was done even before he woke up for the day, as an example.
Their snow removal services have been praised many times by other past clients. Most of them emphasized how efficient they were and how happy they were with the results.
Lastly, they can take on various residential clients regardless of the property size. They even serviced a 100-unit complex before and the building's president commended them for a job well done.
While it's a shame the company doesn't offer any monthly plans for customers, it shines in many other ways instead. So we'll take what we can get for now as long as it means getting exemplary results.
Prompt and works fast
Efficient snow clean up for small to big residential buildings
Customer Reviews
Here are some comments from past clients of this company:
We had used Urbanscapes Snow Removal this winter for clearing off our driveway and all our paths. The guys were always early and on time. They quickly would clear our property of snow sometimes before we would even wake up. They would also salt everything to make sure we had a save passage. We will definitely rehire them again for next year, they are just really hassle free and thats what we appreciate. Thank you very much – Jose
Clayton and Rich provided great service this past winter. This was my first experience with a snow service and I am extremely exacting about my sidewalks and driveway. Anytime something wasn't the way I wanted, I emailed and a crew was here in under 30 minutes. – Janet
6. Mr. Plow King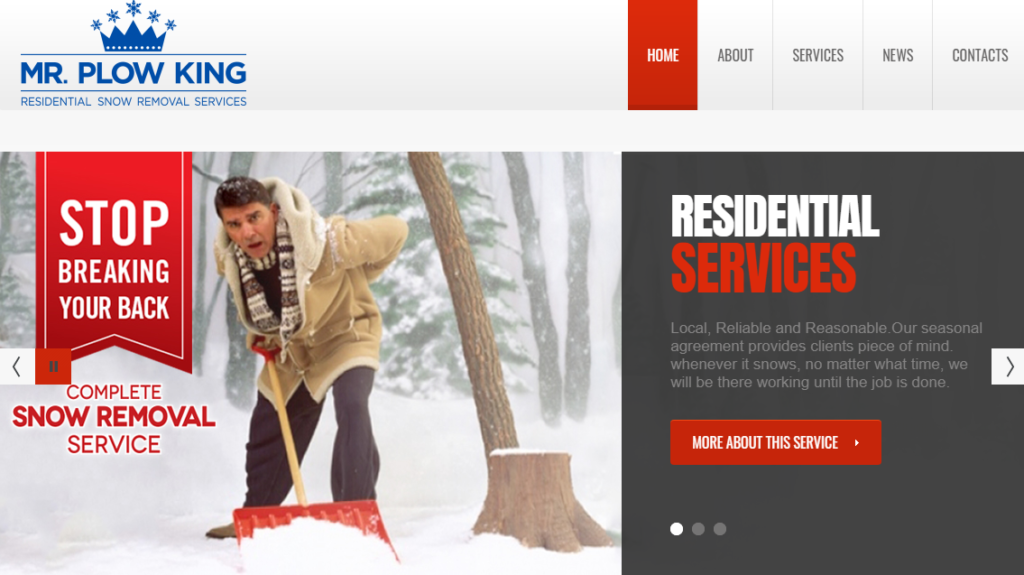 SERVICES
Complete Snow Removal Service
WEBSITE
https://mrplowking.ca
ADDRESS
5863 Leslie Street,
Suite 1010,
Toronto, ON M2H 1J8
CONTACT DETAILS
Telephone:+1 647 839 0335
E-mail: [email protected]
OPERATING HOURS
By appointment
Mr. Plow King is the top choice for the royal treatment in the field of snow removal. The company has been serving the Willowdale (East North York) area for quite some time now, steadily building up a reputation for quality services.
They offer complete snow removal services for residential clients, including but not limited to seasonal driveway plowing and reflective markers and salt. Mr. Plow King's team consists of trained, skilled technicians so you can expect them to get the job done right the first time around.
It's also worth noting that Mr. Plow King's service excellence is also thanks to their equipment. They make use of satellite weather tracking devices and information networks to be updated about potential snowfall in the area.
Lastly, Mr. Plow King offers free estimate and on-site consultation for more informed prices.
Skilled snow plowing team
Offers free estimate and on-site consultations
Factors to Consider When Choosing a Snow Removal Service
There are many factors to consider when hiring a snow removal company and picking what kind of service to get. Here are some things you might consider when deciding on a snow removal service:
Turnaround Time
The first thing you must consider is how fast the company can get to your house after it snows. When can they get to work after it snows? What is their turnaround time?
Fast and efficient snow removal is important for both businesses and homeowners in the winter. It is important to get the job done fast and efficiently to ensure the safety of everyone, especially if you own a commercial property.
Insurance
Everyone should have proper training on how to work in difficult weather. But you have to make sure that the company is properly insured in the case of an accident.
If you decide to hire someone who would simply hook up a plow to their truck, then they probably aren't insured. Working with someone like that puts everyone at risk, so make sure to ask for their insurance before hiring them.
Safety
The best thing about hiring an experienced snow removal company is that they have industry-standard safety measures in their business practices.
As long as they implement the correct safety measures, then it could lower the risk of accidents or injuries. Of course, accidents can still happen even in the best conditions, so hire a snow removal service that is always prepared for all emergencies.
Equipment
Having the latest snow removal equipment is another essential thing. This proves that the company takes great pride in its work and is fully invested in delivering the best possible results for you.
Snow removal companies are responsible for updating their equipment and replacing gear that's already beyond repair. Besides showing that they can do their job well by having that equipment, it also ensures safety.
FAQs about Snow Removal Services in Toronto
---
The best snow removal services in Toronto can deliver what you need, from top-quality service and flexible plans. If you need more help with property maintenance work after the winter snows, you can start with our list of the best waterproofing companies in Toronto, which can help keep you safe from unwanted water problems.