When in Toronto: 10 Things You Can't Miss
Toronto is home to many attractions that appeal to tourists and locals alike.
Whether you're a Toronto native who has never really explored your city or a first-time visitor, here are 10 essential Toronto experiences to check off your list.
1. The CN Tower
The CN Tower is the undisputed number-one spot for Toronto newcomers.
This iconic structure is the symbol of Toronto – standing 553.3 metres tall, it holds the title of tallest structure in the city. It is also among the tallest free-standing structures in the world.
Make your way to 290 Bremner Blvd and take that climb to the top. You can take the elevator up to the observation deck, which is 346-metres high.
There, you'll soak in panoramic views of the city, as well as lie on the glass floor to get a sense of the height, if you're feeling brave!
If you feel up for a challenge, you can skip the elevator and climb up the stairs if you happen to be around for the annual "Climbing for a Cause" fundraiser.
We see great participation during this event, where people climb the stairs for free to raise money for WWF-Canada and the United Way of Greater Toronto. Not only do you get a great workout, but you also get to contribute to a noble cause.
Cap off your visit with a booking at their revolving 360 Restaurant. Apart from the spectacular views, you'll be in for one of the fanciest dinners you'll ever have in town – plus, you get to go down to the observation deck for free.
If you want the ultimate CN Tower experience, you should think about booking tickets for Edge Walk. Prepare to get strapped in and walk on the edge of the CN Tower – definitely the thrill of a lifetime, not to mention an amazing photo opportunity!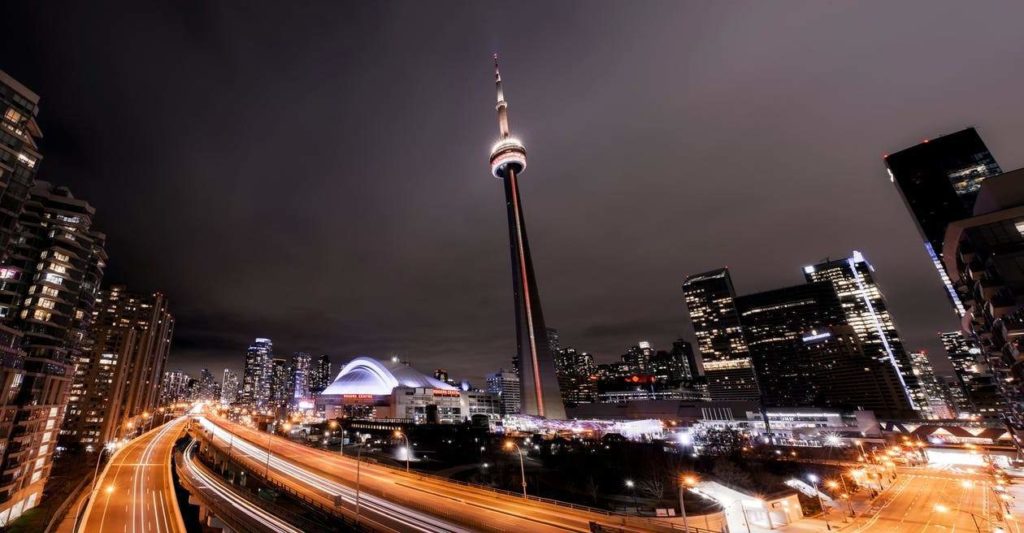 2. Ripley's Aquarium

Ripley's Aquarium is right beside the CN Tower, so it's a convenient and perfect combination for a fun and fruitful all-day event!
Come and explore the great unknown that Ripley's has to offer, including over 20 000 aquatic animals.
What sets this aquarium apart is that it houses North America's longest underwater viewing tunnel, holding 5.7 million litres of water. You'll be able to see many species swimming above your head, almost close enough to touch!
There is also an exciting touch exhibit that is exciting for kids and adults alike. You can get up close and personal with sharks, scarlet cleaner shrimp, horseshoe crabs and stingrays.
You will see species from all over the world, as well as species that are from here in Toronto – particularly from the Great Lakes Basin.
Oh, and make sure that you stick around for a dive show that happens every 2 hours.
3. The Toronto Blue Jays: Roger's Centre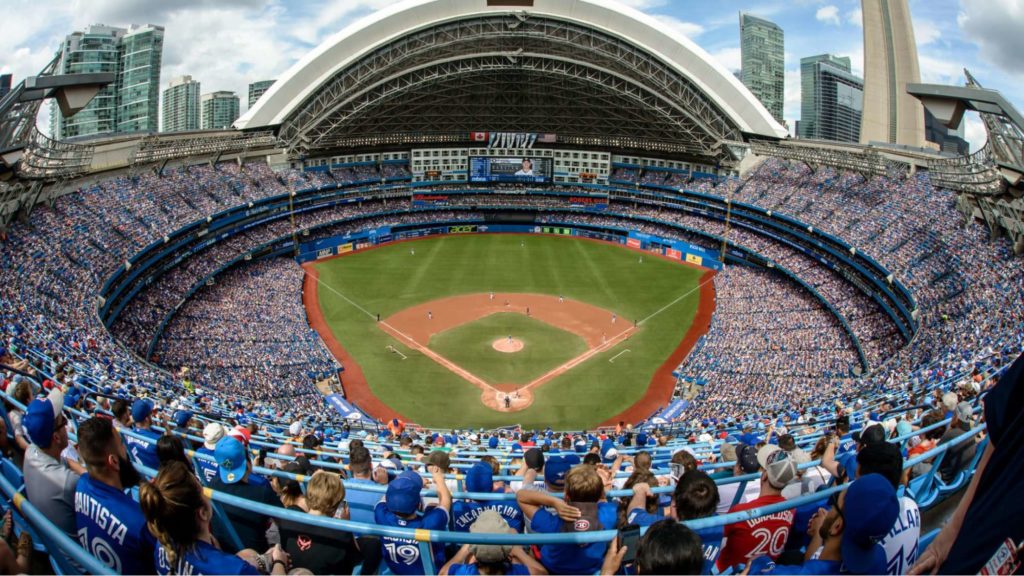 Sports are a big part of Toronto's culture. If you're in Toronto this summer, make sure you catch a Blue Jays game!
The Rogers Centre is a state-of-the-art stadium equipped with a retractable roof for those perfect clear-sky days. The stadium was opened in 1989 and is known as the home of the Blue Jays Major League Baseball team.
So far this season they have won 46 games, and we're rooting for them to win a lot more!
Don't forget to grab something from the concession stand – the ball-park food is honestly to die for.
P.S. Lady Gaga will be performing at the Rogers Centre on August 6th – you still have a chance to book those last-minute tickets!
4. AGO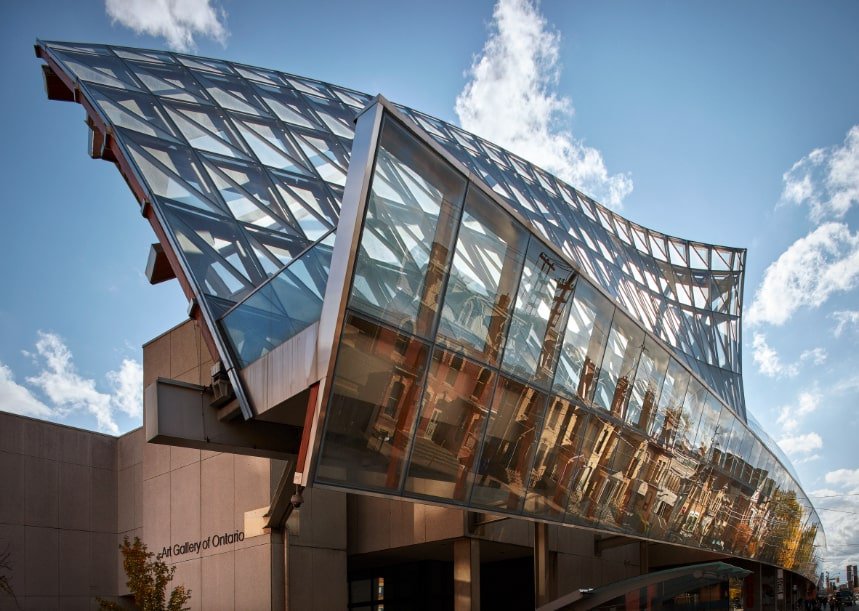 The AGO is one of the most popular museums in Toronto. It was established in 1900; to date, it is home to more than 90 000 pieces – a historic collection spanning over 2000 years.
Inside the AGO you will find a wide array of art, Canadian and Indigenous art being particularly notable. There is also a lot of European, African, and modern art.
For those looking for historically-known artists, you will also discover works by artists such as Rembrandt, Pablo Picasso and Auguste Rodin.
The AGO also hosts new exhibits quite frequently. Some of the latest exhibits have featured works by Pablo Picasso, and Andy Warhol.
Something that has been a long-standing Toronto tradition is the free Wednesday night admissions. If you attend the gallery from 6pm-9pm, you won't need to pay the entrance fee – perfect for popping over before or after dinner.
5. The Toronto Zoo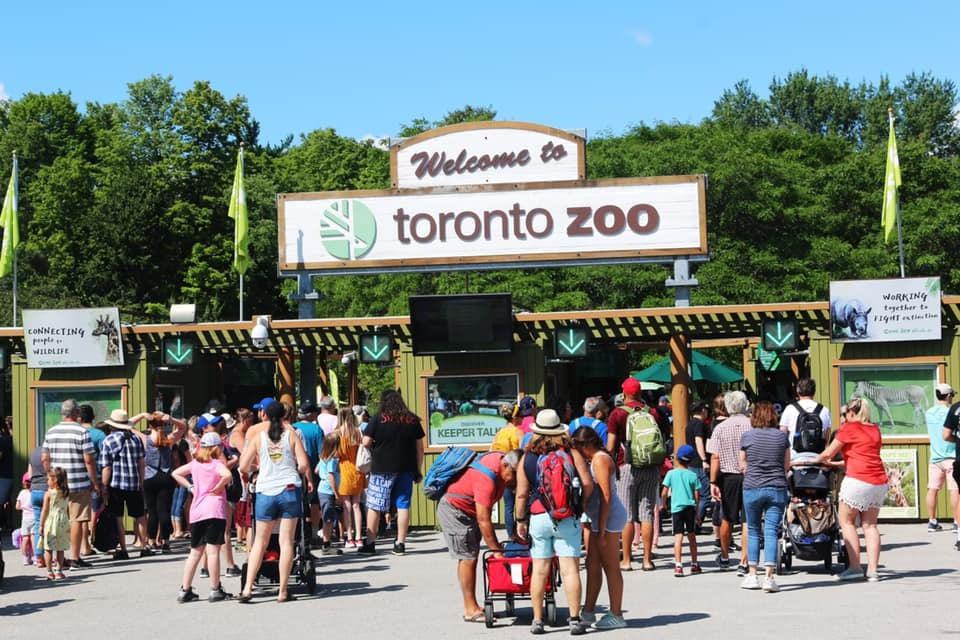 The Toronto Zoo is one of the biggest attractions that Toronto is known for. People even travel from across Ontario – even across Canada – just to check out this zoo.
Seated on 710 acres of land, the Toronto Zoo is the largest zoo in Canada. It has one of the most diverse animal collections seen in a zoo, worldwide.
The zoo is divided into seven zoogeographic regions: Africa, Tundra Trek, Indo-Malaya, Americas, Australasia, Eurasia, and a slice of Canada, of course! You will find some animals in indoor exhibits, as well as many outdoor exhibits.
If you are bringing your kids, note that there is also a kids' zoo within the zoo, and a water park area with a waterside theatre and splash island.
The Toronto Zoo is home to over 5000 animals, including fish and invertebrates. This place is so big that an entire day might not be enough to see it all!
If you're a zoo enthusiast, you should check out their membership passes. The pass gets you perks and year-round access to the zoo – that's right, year-round.
Toronto zoo is open through all of the seasons, every day, except December 25th.
6. Yonge-Dundas Square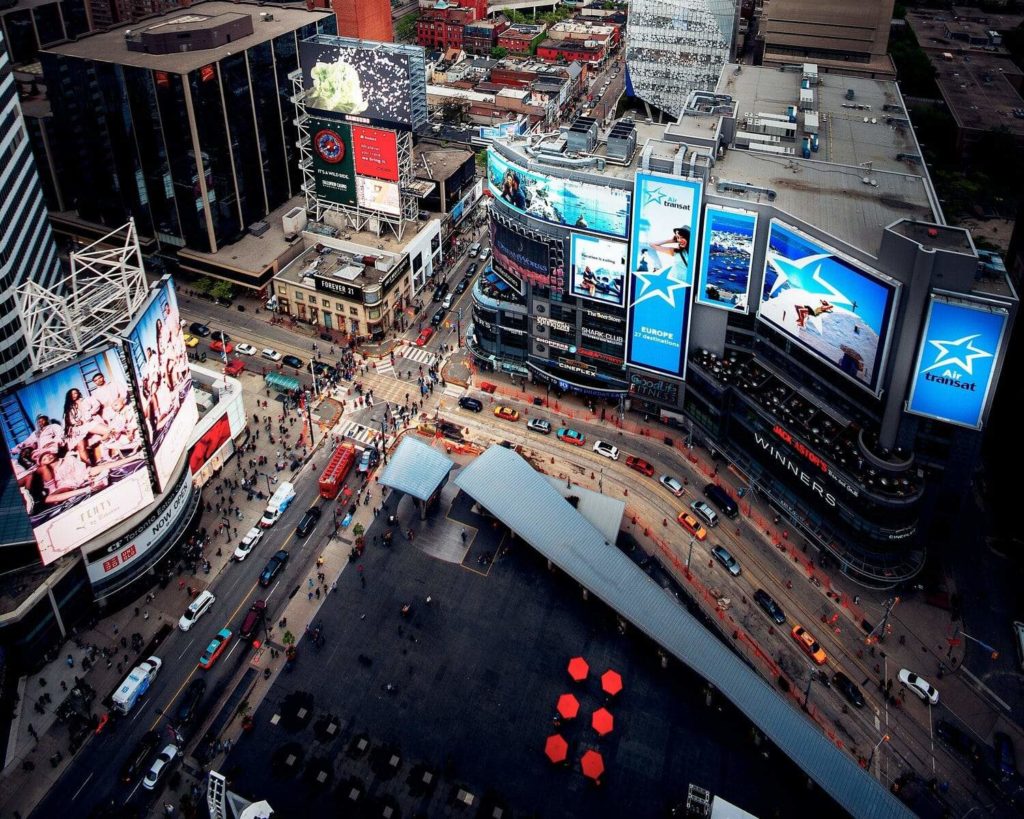 Yonge-Dundas Square is essentially Toronto's version of The Big Apple's Times Square.
The square is famous for its billboards. When you walk out of Dundas subway station and into the square, you will feel like you're walking into a slice of NYC.
The square is especially breathtaking at night with all the bright lights.
There's a big open space where people like to take pictures, and where you also might find some singers or street preachers. Although, there are also events that happen in that square such as concerts and food festivals.
While you're in the square, make sure chow down at any of its restaurants as they all have amazing views.
A must-try is Spring Sushi's All-You-Can-Eat, which has picturesque window seats that will have you in awe of the lights, bustling crowds, and rushing traffic. Then be sure to walk across the street to the famous Eaton Centre!
7. CF Toronto The Eaton Centre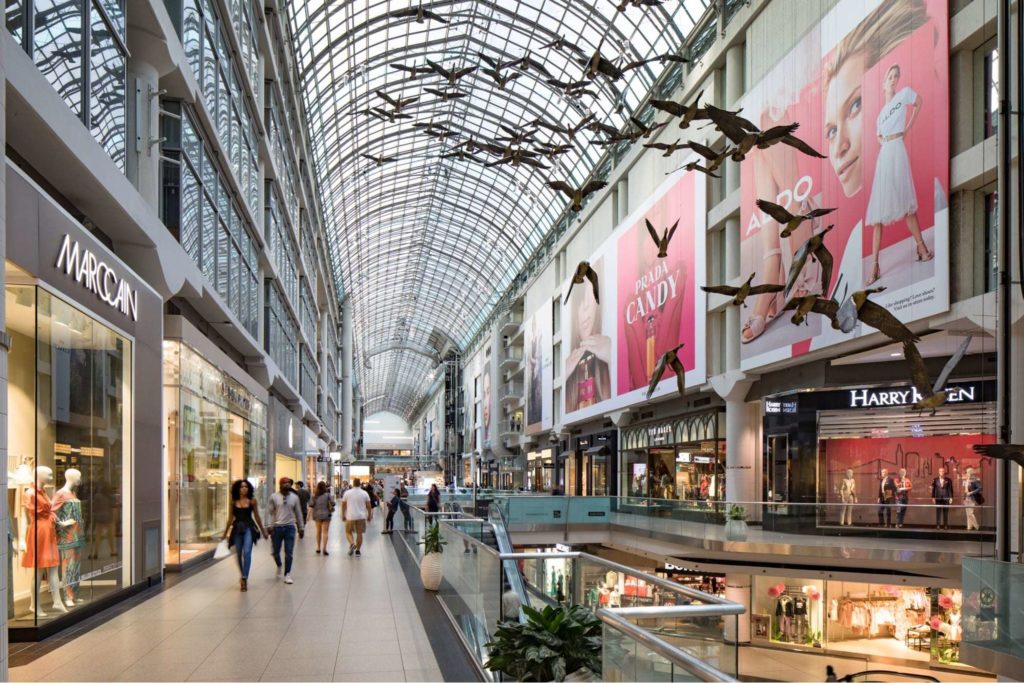 The Eaton Centre can be accessed from Dundas subway station, but this gigantic mall can also be accessed from Queen subway station. 
The mall attracts more visitors than any of Toronto's top tourist attractions as it has an easy transportation access point, and a wide array of stores.
While the mall houses over 230 stores and restaurants, it's still smaller than other popular malls in the Toronto area like Yorkdale and Square One. However, it's definitely the most populated – in fact, it calls itself North America's busiest mall.
The Eaton Centre got its name from the late Timothy Eaton, of the Eaton's department store chain. It was then taken over by the Cadillac Fairview, but the iconic name remains.
A must see come December is the iconic christmas tree which is the tallest tree in Toronto!
8. Casa Loma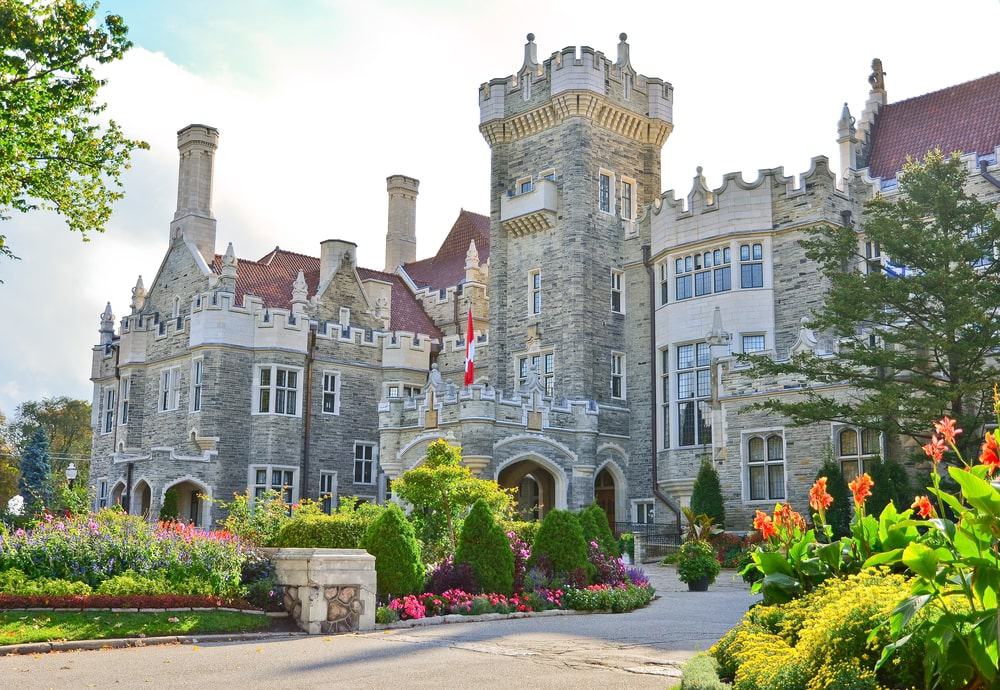 Casa Loma is a historic castle seated on a beautiful land in the St. Clair West area.
It's a 98-room château which was built by Sir Henry Mill Pellatt, a Canadian businessman, in 1914. Pellatt went bankrupt shortly after completing the construction of his house.
Now, Casa Loma serves as a museum open to the public. Inside you can find rooms that offer a realistic glimpse of how one lived in 1914.
If you're planning to tour the castle, make sure to check out the underground pool, beautiful gardens, tower lookout points, and secret passageways.
You can do a self-guided tour to make your own way through the castle, or choose a guide to ensure you won't get lost and get fully immersed in the rich history of the place.
Make it a posh affair and explore the castle grounds, glass of champagne in hand. If you're lucky, you may even be serenaded in the lobby of the castle by its gifted musicians!
By the way, this beautiful castle is also a popular filming location. You may remember it as the setting of Professor Xavier's School for Gifted Youngsters in X-Men
9. Kensington Market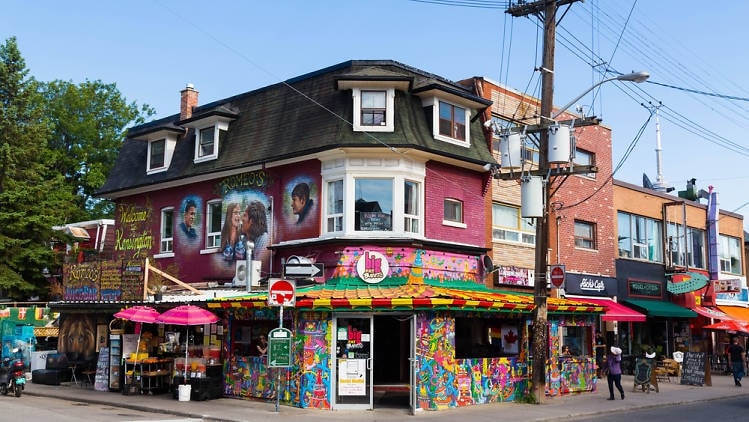 Kensington Market is well-known for its colourful market-style shops that mostly consist of vintage shops, food markets, specialty boutiques, artist studios, and trendy restaurants and cafes.
It's also known as Toronto's most vibrant and diverse neighbourhood. Walking down the middle of the street, which isn't very populated with cars, you'll be surrounded by interesting people and sights that can only be described as hippy, vintage, and fun.
Now, foodies rejoice, because this market is home to some of the best Mexican, Jamaican, Vietnamese and Ethiopian food in Toronto.
Popular restaurants and bakeries include Wanda's Pie in the Sky, Seven Lives Tacos, Rasta Pasta, Hibiscus, and Eative Film Café.
10. The Toronto Raptors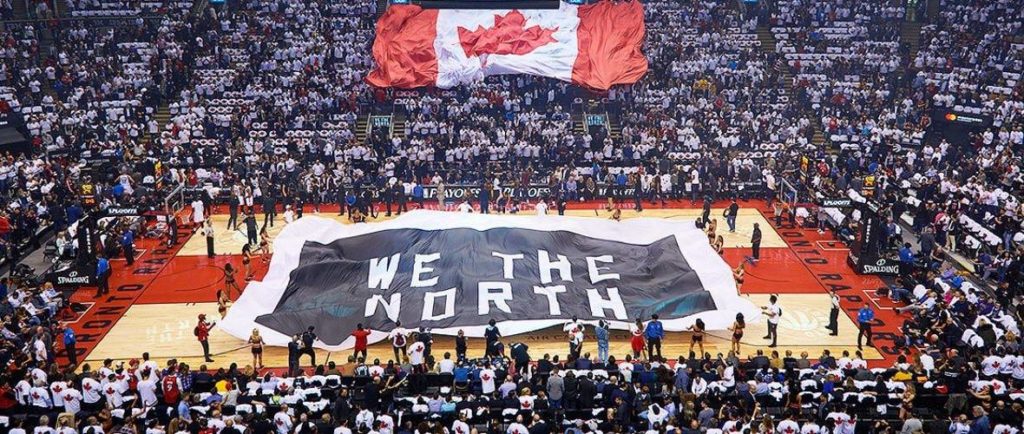 The Toronto Raptors play at the Scotiabank Arena, which is also the home of the Toronto Maple Leafs of the NFL. While hockey fans flock to the Arena for the Maple Leafs, the Raptors' games tend to bring in some of the most enthusiastic fans in Toronto.
The Raptors may not have always had the best of luck, but on June 13th, 2019, they did when they defeated the Golden State Warriors in Game Six. This win cemented their first NBA Championship and was also the first win in Canadian franchise history.
Although, most insiders will probably tell you that another reason why NBA games are well-attended here is because of a celebrity. Canadian rapper Drake is a popular fixture at these games as he is apparently a die-hard fan.
If you miss out on buying a ticket, you can always watch the game on the big screen in Jurassic Park, which is just outside of the Scotiabank Arena. The fans cheering the Raptors on outside are just as enthusiastic as the fans inside – you can't miss it.
---
And that wraps up our top 10 must-sees and must-tries in Toronto!
By the way, if you're only in Toronto for a short while or want to squeeze in a lot of activities, you may want to consider getting the CityPASS.
With it, you get access to the CN Tower, Ripley's Aquarium, the Royal Ontario Museum, and the choice of the Toronto Zoo or the Ontario Science Centre.
Do you have any other attractions or experiences to add to this list? Let us know in the comments below!