THE 5 BEST STUCCO CONTRACTORS IN TORONTO
Considered the icing on the cake for buildings, stucco is a versatile cladding material that adds depth and character to exteriors. It's a popular choice for homes, commercial establishments, and institutional buildings.
Stucco contractors are the experts in applying, maintaining, and repairing this remarkable material. They showcase their expertise by achieving various styles, from smooth to sand-textured, and offer a wide range of colours, from soothing neutrals to eye-catching shades. Whether you're a homeowner, architect, construction company, or property developer, these skilled installers have got your stucco needs covered!
How We Chose the Best Stucco Contractors in Toronto
How Much Do Stucco Contractors Cost in Toronto?
Finishing the exterior walls of a 1,500-square-foot, two-story home with stucco will cost anywhere from $9,000 to $13,500.
1. Exterior By Design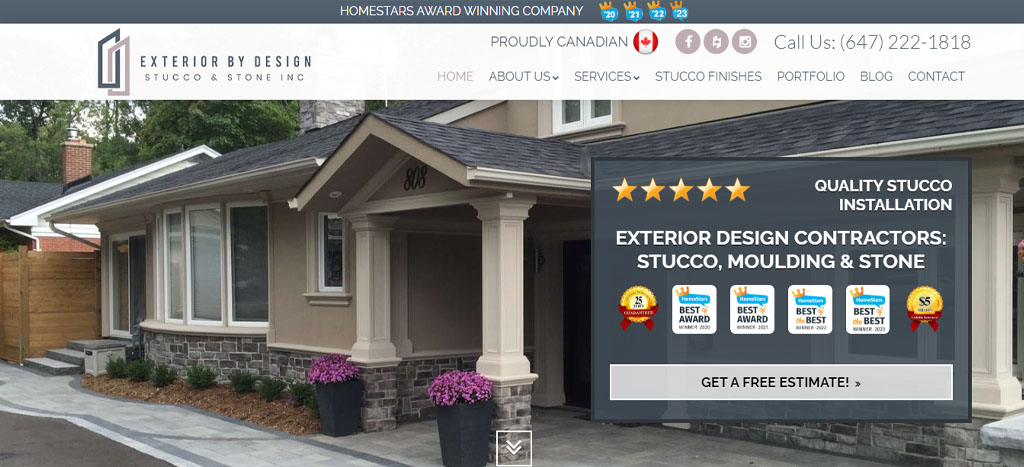 | Test | Info |
| --- | --- |
| WEBSITE | https://exteriorbydesign.ca/ |
| ADDRESS | 1121 Steeles Ave W, North York, ON M2R 3W7 |
| SOCIAL MEDIA | INSTAGRAM |
| CONTACT INFORMATION | Phone: (647) 222-1818 |
| OPERATING HOURS | Monday - Friday: 9:00 AM - 8:00 PM |
Founded by David Bochner in 2001, Exterior By Design has been in the business of beautifying homes with top-notch and personalised stucco and stone siding. Serving the entire GTA, they handle stucco jobs of varying complexities, ranging from simple caulking repairs to comprehensive applications on different parts of the home, including chimneys, porch stairs, interior accent walls, and fireplaces.
Based in North York, Exterior By Design takes pride in using only high-quality materials, ensuring precise measurements, and completing the job right the first time for long-lasting results. Clients have the option to choose from traditional, synthetic, or acrylic stucco, with customizable texture options such as pebble coat, desert sand, max coat, fine spray, tricolour, gemstone, and more.
For those seeking a full home makeover, they also provide home remodeling services for porches, doors and windows, and even roofing.
Even and high-quality results
25-year warranty 
HomeStars award-winning company
Wide range of textures 
Offers home renovation services
Provides interior stucco application
High cost per square foot
Limited to residential projects
Customer Reviews
Truly professional and meticulous
"Can't say enough about the team at Exterior by Design. Truly professional and meticulous. David, JJ, and their staff are knowledgeable, respectful and very detailed. They did a beautiful job on our home. We couldn't be happier. David and JJ have set a standard so high we will not even consider another company to provide any services for us that they provide. We will always want to work with Exterior by Design. Thank you David and JJ!" – Belinda Brown, Google Reviews
Amazing renovation that went without a single glitch from start to finish
"I HIGHLY recommend this company!!! From start to finish of our exterior stone and stucco remodel, we were delighted with the professionalism, attention to detail, quality of work, cleanliness, quick communication, and overall dealings with the whole team at Exterior by Design. William and Lucas were always there for any questions and suggestions that we had and truly treated our home like it was their own. The work was completed on time and exceeded our expectations. Thanks to William and his team for an amazing renovation that went without a single glitch from start to finish" – Jimmy De Brito, Google Reviews
2. Alasya Construction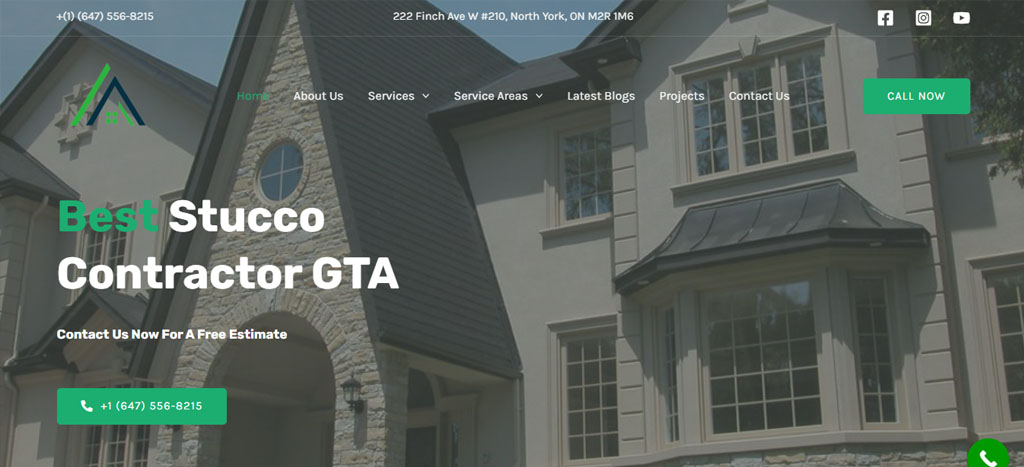 Test
Info
WEBSITE
https://alasya-construction.ca/
ADDRESS
222 Finch Ave W #210, North York, ON M2R 1M6
SOCIAL MEDIA
INSTAGRAM
CONTACT INFORMATION
Phone: (647) 556-8215
OPERATING HOURS
Monday - Friday: 8:00 AM - 7:00 PM

Saturday: 8:00 AM - 5:00 PM
Alasya Construction, a family-owned stucco contractor, has been serving clients throughout the GTA for over two decades, specialising in exterior cladding services.
Founded by Caesar Dogan, their fully-licensed and certified team initially focused on stucco installation and repair. Over time, they expanded to include stone veneers, masonry, moldings, and parging for both residential and commercial projects. Additionally, they offer home improvement services such as painting, plastering, and plumbing.
The company is dedicated to fulfilling clients' visions for their exteriors. They source materials from reputable brands like DuRock Alfacing, Senergy, and Durabond, combining them with skilled workmanship to ensure consistent and long-lasting results.
Their process begins with a consultation and walkthrough, during which they provide detailed estimates regarding the project's scope and cost, enabling clients to make informed decisions. Once the project is scheduled, they proceed with the application while maintaining constant communication and consultation with the client throughout the process.
In network with other construction trades
Highly-responsive
Leaves no trace after completion
One-stop shop for home improvement services
Offers a range of colour choices
Certified EIFS stucco contractor
Slightly higher rate per square foot
Customer Reviews
The work looks just as good today as it did when he left last summer
"I had a stone and stucco job done by the Alasya in the summer of 2020. I am writing this after one year and still very satisfied with their work. I felt that Cesar was very knowledgeable and had a lot of pride in his work. He priced the job fairly and was definitely true to his word in everything that he said. The work looks just as good today as it did when he left last summer. I would highly recommend." – T.K. Butler, Google Reviews
Punctuality was beyond impressive along with the cleanliness of their work
"I cannot thank Caesar and his crew enough for the outstanding work that they completed at my house… Caesar's punctuality was beyond impressive along with the cleanliness of their work. I am an extremely picky person, and I'm extremely satisfied with the work. I've had bad experiences with contractors in the past, however, Caesar was always there to answer my calls and was very kind, and taught me the theory behind the whole work. Big thumbs up to this crew, highly recommended!" – Private User, HomeStars Review
3. Blue Stone Stucco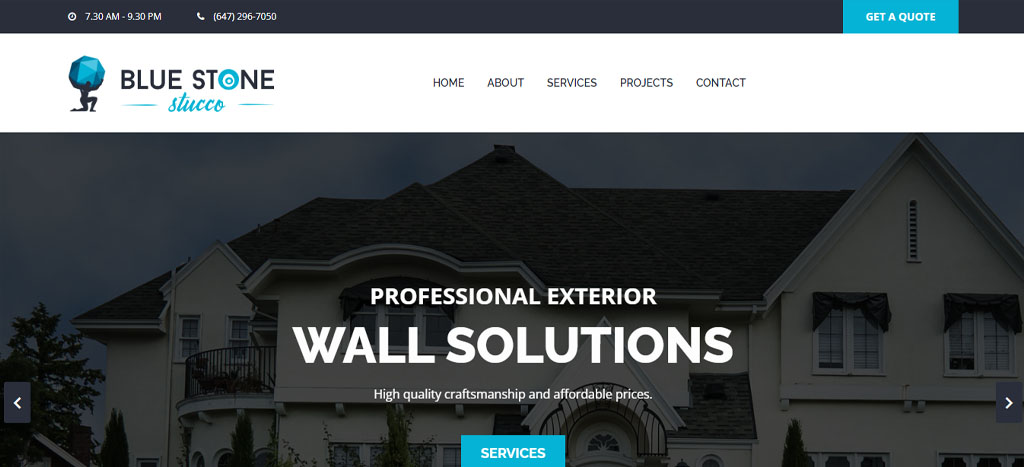 | Test | Info |
| --- | --- |
| WEBSITE | http://www.bluestonestucco.com/ |
| ADDRESS | 28 Heatherington Dr. Scarborough, ON M1T 1N4 |
| SOCIAL MEDIA | INSTAGRAM |
| CONTACT INFORMATION | Phone: (647) 296-7050 |
| OPERATING HOURS | Monday - Thursday, Saturday: 7:30 AM - 9:30 PM |
Blue Stone Stucco was established in 2007 by Erol Gulabi, who leads a team of licensed and insured contractors who serve residential, commercial, and construction sectors throughout southern Ontario. They specialise in designing and applying stucco finishes and are equipped to restore exterior facades of heritage structures, recognising their historical and cultural significance.
They offer both traditional stucco and Exterior Insulation Finishing System (EIFS). EIFS incorporates synthetic and water-resistant layers and is a lightweight and energy-efficient option available in various finishes and colours. Their portfolio includes past stucco projects such as a mid-rise office building, a multi-unit complex, and an archway within a commercial space.
In addition to stucco services, Blue Stone Stucco provides exterior moldings, renovations, and parging services, which can further enhance the curb appeal of your home.
Diverse pool of clients
Can match existing stucco and materials
Fully licensed and insured technicians
Provides value-adding services
Offers a range of textures and colors
Not scaled for small repairs
Inconsistent operating hours
Customer Reviews
Gave our house a new and fresh look!
"We had an amazing experience with Blue Stone Stucco. We had a few cracks in the stucco that started to accumulate moisture and attract unwanted critters. Erol was very professional, personable, and engaging from the very beginning. He took the time to explain the work required and was quick to identify alternative options. When we ran into an unforeseen problem that required engagement of another contractor, Erol was very flexible and accommodating to shift around his schedule… We are very pleased with the quality of work: the stucco repairs, the new moldings around windows, and window/door caulking gave our house a new and fresh look!" – Irina V Chugunova, Google Reviews
Delivered exactly what we wanted and needed
"I've worked with Bluestone on commercial projects before and the work was fantastic. We recently renovated the basement and had a tricky wall that couldn't be framed and boarded so Bluestone came in and delivered exactly what we wanted and needed. Very responsive, punctual, cost-effective and the results are great." – Mark Hamilton, Google Reviews
4. World Wide Stucco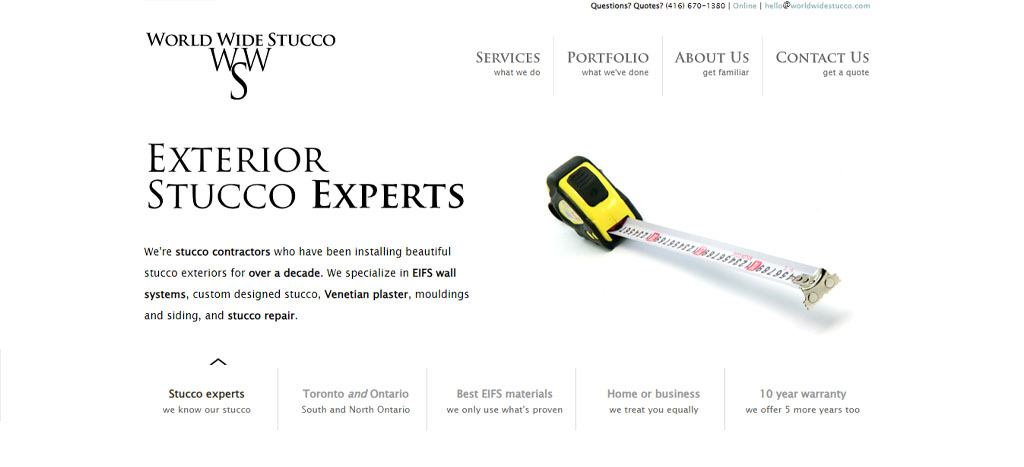 | Test | Info |
| --- | --- |
| WEBSITE | https://worldwidestucco.com/ |
| ADDRESS | 59 Saddle Ridge Dr. North York, Toronto, ON M4A 1Z6 |
| CONTACT INFORMATION | Phone: (416) 670-1380 |
| OPERATING HOURS | Daily: 7:00 AM - 8:00 PM |
World Wide Stucco is a mid-sized contractor based in North York that has been serving locals all over Ontario since 1999. Led by a foreman known as "Chef" Tiftikci, the crew of specialists takes pride in completing their work in strict accordance with standards and specifications. More importantly, they prioritise meeting the preferences of their clients, regardless of the project's size.
As certified installers of Durabond Durex and Senergy products, World Wide Stucco specialises in the application of EIFS wall systems. They're also capable of using other materials, such as traditional stucco and Venetian plaster, and can even customise texture and colour.
Their clients include homeowners and business/commercial clients in installing and repairing stucco finishes. Some of their notable works include a Dairy Queen and restoring the deteriorating exterior of Hillcrest Church in Vaughan.
Honors time and cost estimates
10-15 year warranty on installations
Personable and responsive staff
Competitive rates
Subcontracted by local architects and engineers
Few reports of upselling
Exterior application only
Customer Reviews
Did their job the right way.. no shortcuts!
"Used World Wide Stucco to stucco the exterior of my new home and I was extremely pleased with their work and attention to detail. Chef and his crew were easy to work with and did their job the right way.. no shortcuts! I would highly recommend them to anyone looking to get stucco work done and I will definitely use them on my future projects." – Michael D'Alessandro, Google Reviews
Was very nice and professional and they left the yard spotless
"The 25-plus-year-old stucco on our back wall started to crack and fall off in some places so we were in desperate need to fix it. We called World Wide Stucco and they gave us a competitive quote and they were able to get the job done right away. The job even ended up being a bit less than quoted (when does that ever happen?) because the damage was less than Chef initially feared. Best of all it looks amazing! Chef's crew was very nice and professional and they left the yard spotless. I wouldn't hesitate to recommend." – Peggy Rennie, Google Reviews
5. Canada Wide Exteriors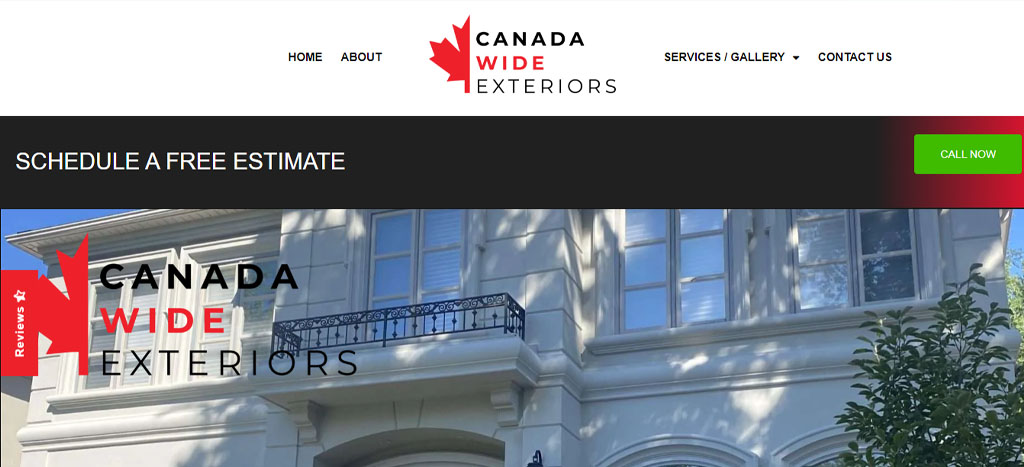 Based in Vaughan, Canada Wide Exteriors is an exterior improvement provider that serves homes and commercial establishments throughout the GTA. Established by Jeremy Piersanti in 2020, the business offers installation and repair services for pavers, stucco finishes, parging and foundations, and even cold rooms.
They follow a streamlined process that begins with a consultation and estimate, followed by on-site inspection, customization, and implementation of the design. By working closely with clients, they ensure client involvement in every step and awareness of each design decision. This includes customising the color and finish to match specific design preferences.
Before stucco installation, their technicians prepare the surface by pressure washing and repairing any cracks or holes. The end results are consistently high-quality and completed within a short timeframe.
Affordable rates
Organized process
Serves both residential and commercial clients
Works within budget
Friendly and attentive service
Only 2 years in business
Some complaints leaving messy work areas
Warranty of up to 5 years only
Customer Reviews
Each task was completed to our approval with the utmost care taken
"I would highly recommend Canada Wide Exteriors. Frank, Jeremy, and their team completed our exterior painting, parging, stucco installation, interlock restoration, and sealing. From the first phone call, they were quick to respond, easy to deal with, gave us quotes for each service, and very affordable prices. Each task was completed to our approval with the utmost care taken to keep our property protected from damage while working. They were on time and gave us info as to how long and when each project would be done." – Sadhana, Google Reviews
The job was professionally done and our house looks great
"Jeremy and Frank did a great job installing the stucco in our house. The job was professionally done and our house looks great. Jeremy, Frank, and their crew were very nice, attentive, and doing their best to finish on time with excellent results. They were always giving advice and consulting about the color and shape of the stucco and customizing the requests we made… It looks great! The crew came back to finish all the touch-ups and adjustments that were necessary so we are 100% satisfied with the job done as originally expected." – Manuel Huerta, Google Reviews