The 5 Best Office Chairs in Toronto
Sitting on an uncomfortable chair for hours can take a serious health toll on an individual, especially for someone who works a desk job every day.
Fortunately for you, we've just reviewed the top office chairs in the city. Read on to see which of these can maximize your productivity while protecting your physical health.
Our selection is based on:
1. Branch Ergonomic Chair - Branch Furniture
Price: $359
What we like about this office chair aside from its modern and sleek design is its ability to support nearly any body size. It can support people with height ranging from 5'2" - 6'2" with a weight up to 300lbs.
This is made possible because of the chair's seven-point adjustment options that include its 3D armrests, height, tilt and tilts tension, seat depth, and removable lumbar rest.
You can enjoy eight and above hours of work with this ergonomic chair because of its contoured upper backrest that maintains active posture. Also, it sports a high-density cushion that can keep you supported while working.
Designed in Italy, the Branch ergonomic chair uses a double-layered mesh backrest that assures durability and more breathability than solid backrests.
And if black and white are not your colors, the chair's seat also comes in grey and light blue that you can customize according to your liking.
Also, assembling the chair takes no sweat at all. It only takes 15 to 30 minutes of your time.
If you want to spare that time for yourself, Branch even provides and ships already assembled chairs right into your office!
To top it all off, the Branch ergonomic chair has won the Best Office Chair by Gear Patrol, TechRadar, Tom's Guide, and CNN. There's no doubt that it's among the best-reviewed chairs available locally - and after trying it out ourselves, we have to say we see why.
Customer Reviews
Home office game changer
As an avid chair-sitter and long time work-from-homer I've gone through my fair share of chairs and, so far, the Branch chair offers the highest level of quality, comfortability, flexibility and ergonomicability (not a word) for a reasonable and fair price point. - Matt D.
Great quality and great value
I bought this chair for my son-in-law to use while he plays his video games in his man cave. He had complained his back was hurting and actually moved his equipment into the living room. Not ideal. He LOVES the chair. My daughter LOVES the chair. She might steal it from him! I may have to get another one just for her at home work space. Great quality and great value. Easy to put together too. - Vickie W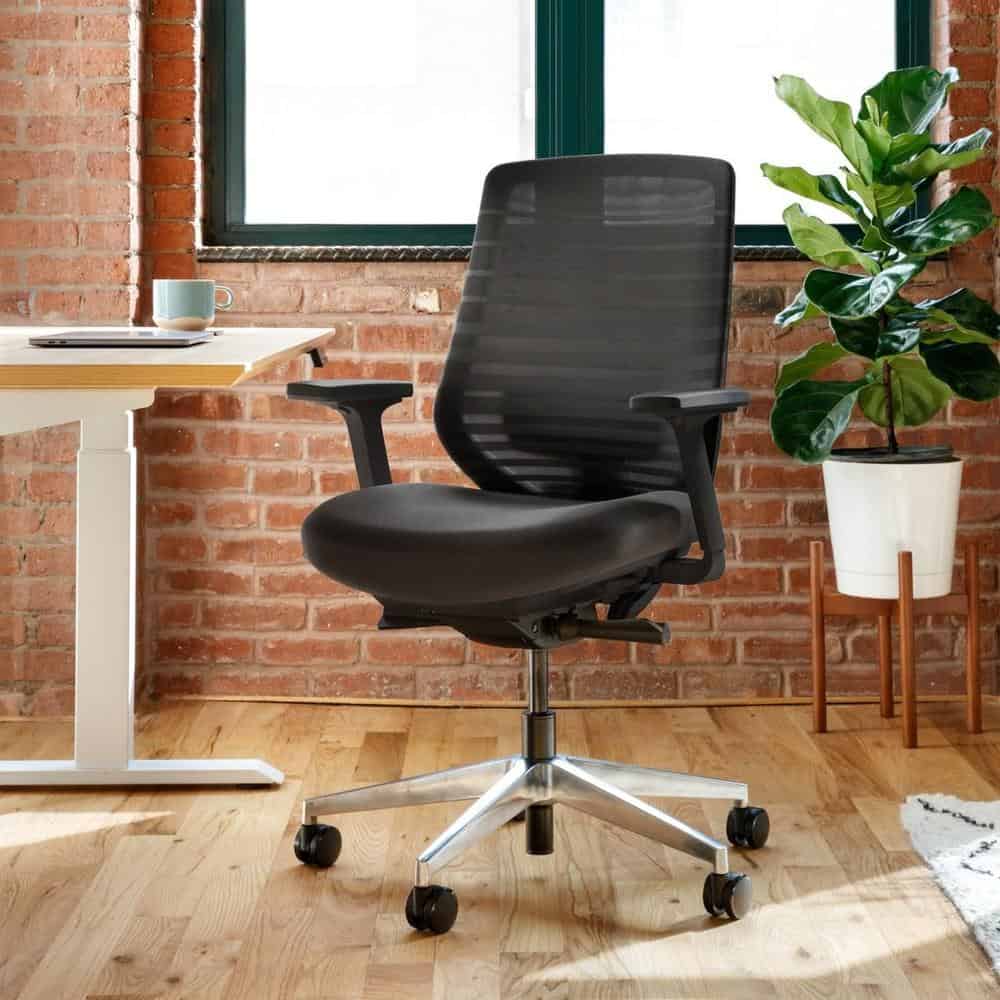 | | |
| --- | --- |
| Adjustments | Armrests, height, tilt and tilts tension, seat depth, and removable lumbar rest |
| Build Quality | Supports up to 300lbs of weight |
| Finish | Available in black, light blue, and grey (White frame) |
| Assembly | 15 to 30 minutes / can be delivered assembled |
Inclusive design for all body sizes
Seven points of adjustments 
Available in different colors
Warranty-backed 
Expert and user-approved
Shipped ready assembled
2. Turcotte Luxura High Back Executive Chair – Staples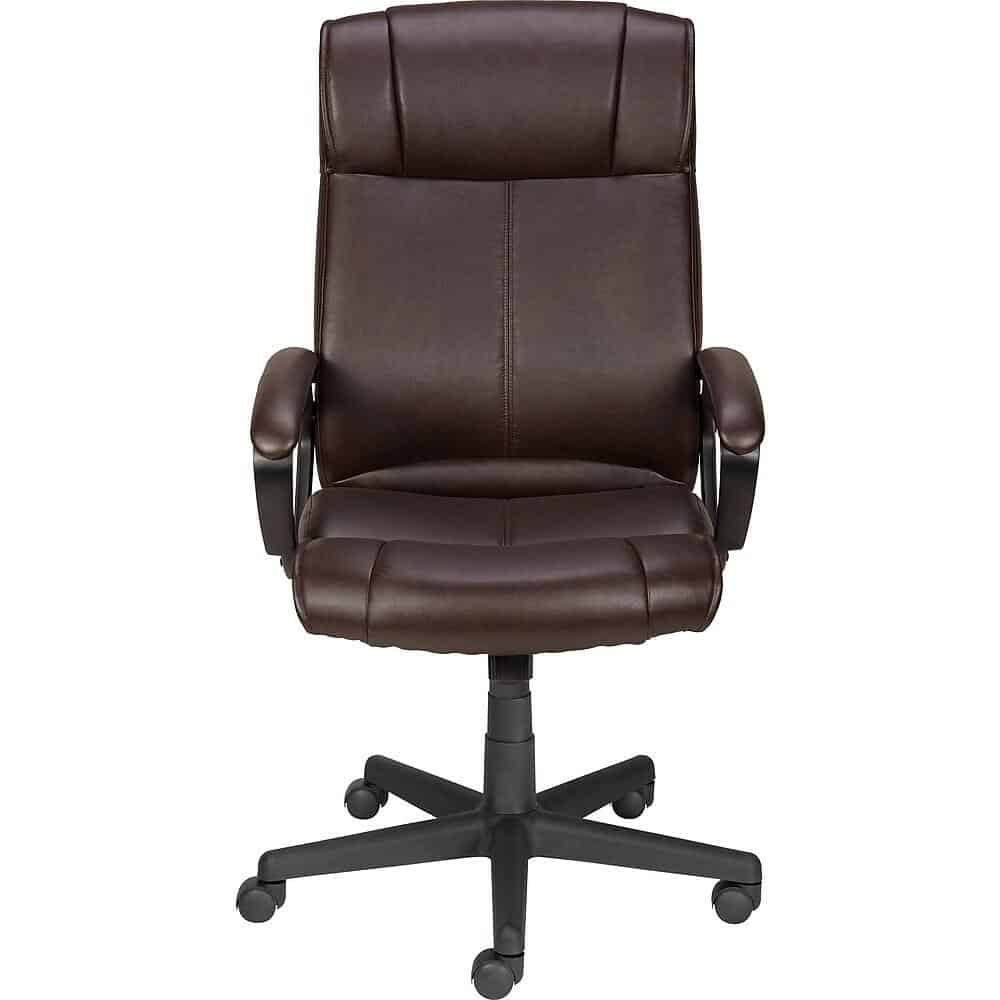 Price: $199.99
| | |
| --- | --- |
| Adjustments | Pneumatic seat, height, and tilt |
| Build Quality | Supports up to 275 lbs for 3 to 5 hours |
| Finish | Brown and black |
| Assembly | Assembly required (10 – 15 minutes) |
At first glance, the design of Staples Turcotte Luxura High Back Executive Chair screams expensive and comfortable. Mainly, this is because it resembles the look and feel of sitting on a traditional leather surface.
Its adjustable pneumatic seat, height, and tilt enable flexible and all-around customization of your office chair. However, unlike the Branch ergonomic chair, it does not have tension, knee tilt, and back height adjustments.
Aside from the lumbar support that a high-backed ergonomic chair provides, this Staples chair also eases the discomfort of prolonged sitting due to work.
Moreover, it has a weighted average of up to 275 lbs based on three to five hours of use.
Additionally, the chair only comes in brown and black. If you think of buying this office chair, you may want to take note that it only offers a few options for you to adjust a specific part of it according to what you feel comfortable with.
Nonetheless, Staples chair supports a seven-year limited warranty to your purchase.
Due to that, it's actually a little astonishing that it's among the less expensive options we found at this level. That means it represents rather good value for most buyers, although we'd still advise you to check out something else if you want a ton of adjustability.
Luxurious leather design
Soft and comfy
Warranty of seven years
Limited adjustments
Less customizable
Worth the price
The chair is definitely worth the price. I was skeptical considering I have a similar chair but I've spent the last few weeks at 8+ hour days sitting in it and I'm overall happy with the purchase. I'm small in stature and can bring my legs up into it with no problem. I put it together myself with no issues. The instructions were easy to read and simple to put together. The packaging of the box could be better because I had a few small tears in the material but they can be mended.
If you need an office/wfh chair, this is a good choice. -Adrienne
Good desk chair
This is a comfortable, well-riced chair from Staples. Some assembly is required but the directions are presented clearly, so it was relatively easy to put it together. -A. WIlson
3. Mad White Executive Chair – CB2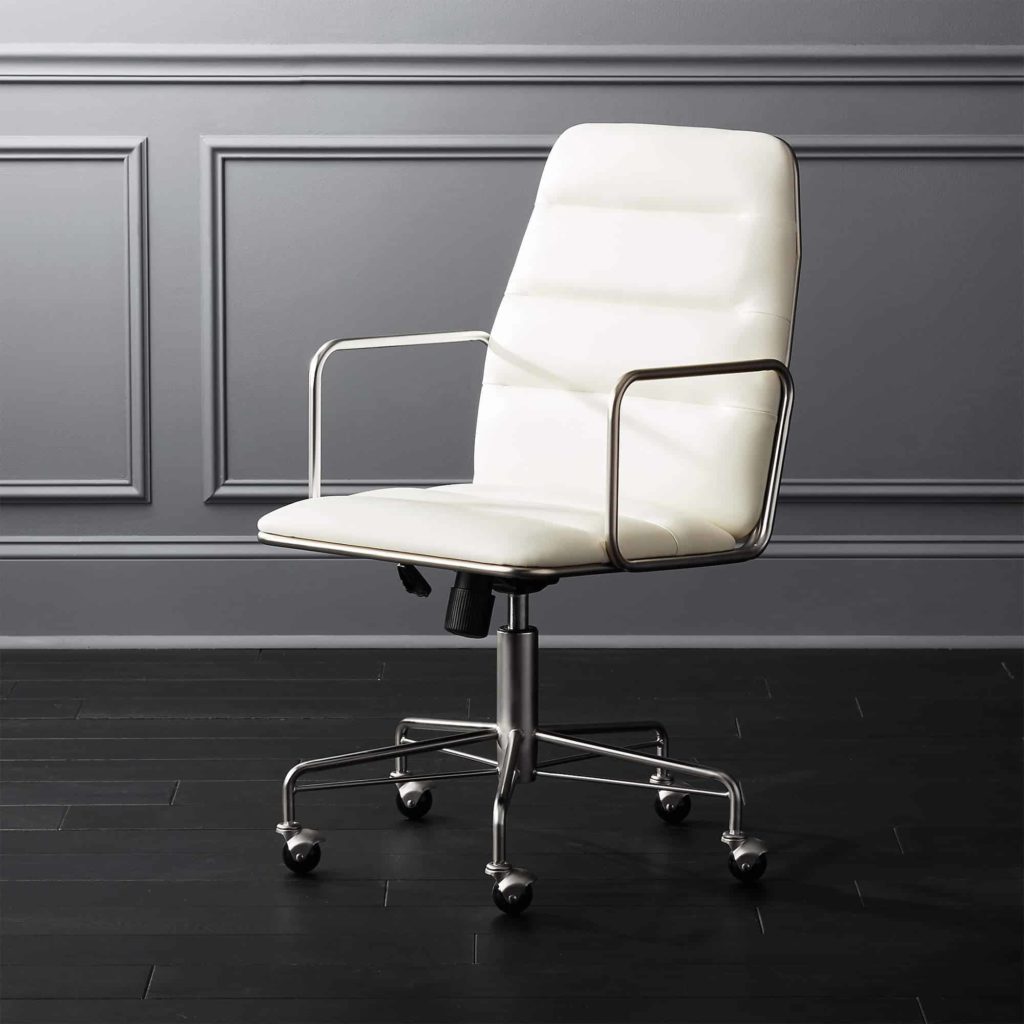 Price: $349
| | |
| --- | --- |
| Adjustments | Height |
| Build Quality | Polyurethane leather, plywood seat, nickel frame |
| Finish | White and black |
| Assembly | Comes assembled for in-home delivery. Requires assembly depending on location |
Inspired by Jannis Ellenberger's smart design, this clean Mad White Executive Chair from CB2 is a throwback design piece using a minimalist mix of materials on a simple metal structure. The result: a comfortable seat with strong style.
Its 360-degree swiveling capacity allows smooth gliding and provides an extensive range of motion. Its height may be adjusted with its five-caster base gas-lifts.
It definitely belongs to the class of clean, sleek, and professionally designed chairs that spell business and productivity.
The polyurethane leather and plywood seat with foam cushion further accentuate this. Its nickel frame holds the chair together sturdily and adds a hint of shimmer to its overall appeal.
If you want to channel serious business as soon as you sit, this chair is definitely made for you. On the flip side, it's not great for those who want adjustable chairs.
Great and trendy design
Extensive motion capacity
Superb build quality
Professional Comfort
I have had this chair for several months now and use it on a daily basis for business. It has a firm cushion but not so much as to be uncomfortable, and gives good back support. The chair itself looks professional and elegant. You can feel it's solid construction; it does not feel delicate and has not shown any signs of wearing. The width of the seat is decent and doesn't feel claustrophobic. The armrests seem more for show than practical use, but they still provide a place to rest your arm every now and then so good for that! Overall, one of the best office chairs I have owned. -Allan
The perfect chair
This office chair is beautiful and comfy. I enjoy working from home now because of this chair. It's so stylish. I love that you can add decor to this chair like a pillow or a throw when it's not in use. The faux leather is well made. Very sturdy and solid chair. Note that the chair doesn't recline but it is angled perfectly to comfortably sit in the chair. -Lexi
4. Tye Office Chair – Urban Barn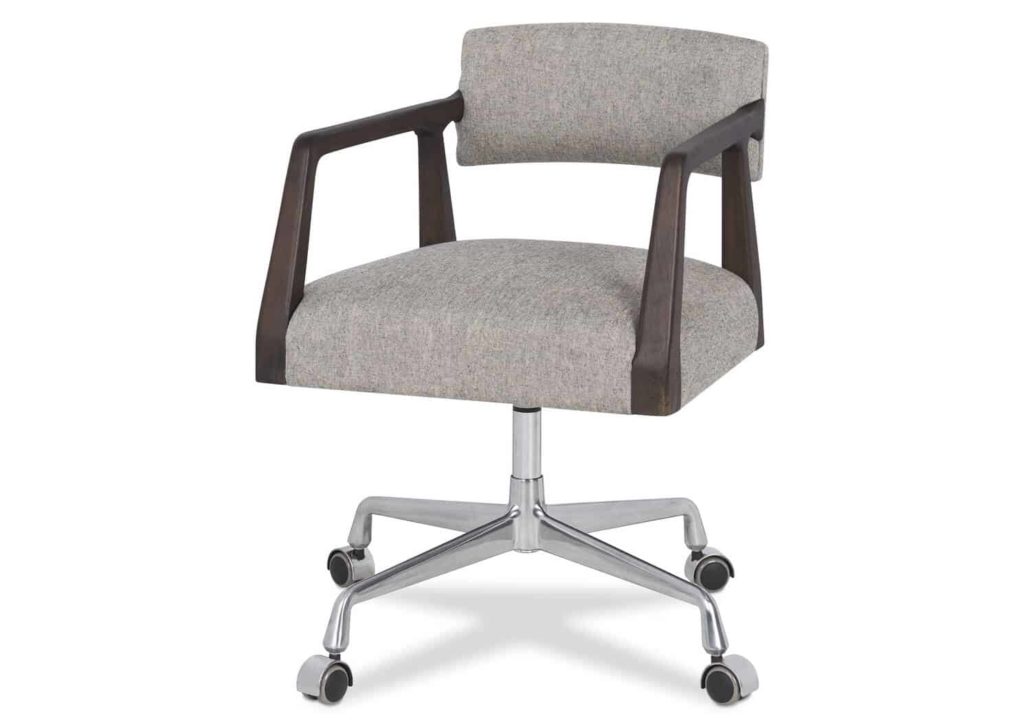 Price: $449
| | |
| --- | --- |
| Adjustments | Height |
| Build Quality | Stainless steel swivel, nettle wood arms, 80% viscose and 20% hemp seat |
| Finish | Grey |
| Assembly | Minor assembly required. Assembly included with white glove delivery. |
If you want a stylish chair you can sit on while finishing a task, the Tye Office Chair in Yvon Pebble color is what you are looking for.
It is a fresh, contemporary take on a traditional office chair. This is made possible by combining features and materials like metal for its base, wood for the arms, and linen-look fabric for the seat itself.
Its unique composition adds a depth in texture and harmony to the overall piece. It is the right mixture of durability and delicate details that would perfectly blend in your home office, workstation, or even in the bedroom.
The engineered wood frame with stainless steel swivel base assures you a long-lasting time with this chair. Similarly, its nettle wood arms provide it with a more modern look.
As the seat is cushioned with 80% viscose and 20% hemp, together with foam and fiber, it is soft and comfortable to sit on.
It is important to remember that maintaining this chair requires vacuuming the upholstery regularly, though. And unlike their plastic, leather, or metal counterparts, fabric materials may loosen over time.
What's more, this is another non-adjustable chair. Still, if you want something comfortable and undeniably stylish, it's hard to beat.
Contemporary style will be popular with most people
Durable finish
Comfortable
Fabric upholstery tends to loosen over time
No other color variation
Non-adjustable
Firm seat
Firm and supportive seat. Backrest sits at the perfect spot. – Tamara
Comfortable and attractive chair
Very comfortable. The castors are sturdy and move well, and the chair has an attractive design. – Big Blue
5. Office Chair – Black Microfiber / High Back Executive MN -367249 – Parliament Furniture, Inc.
Price: $319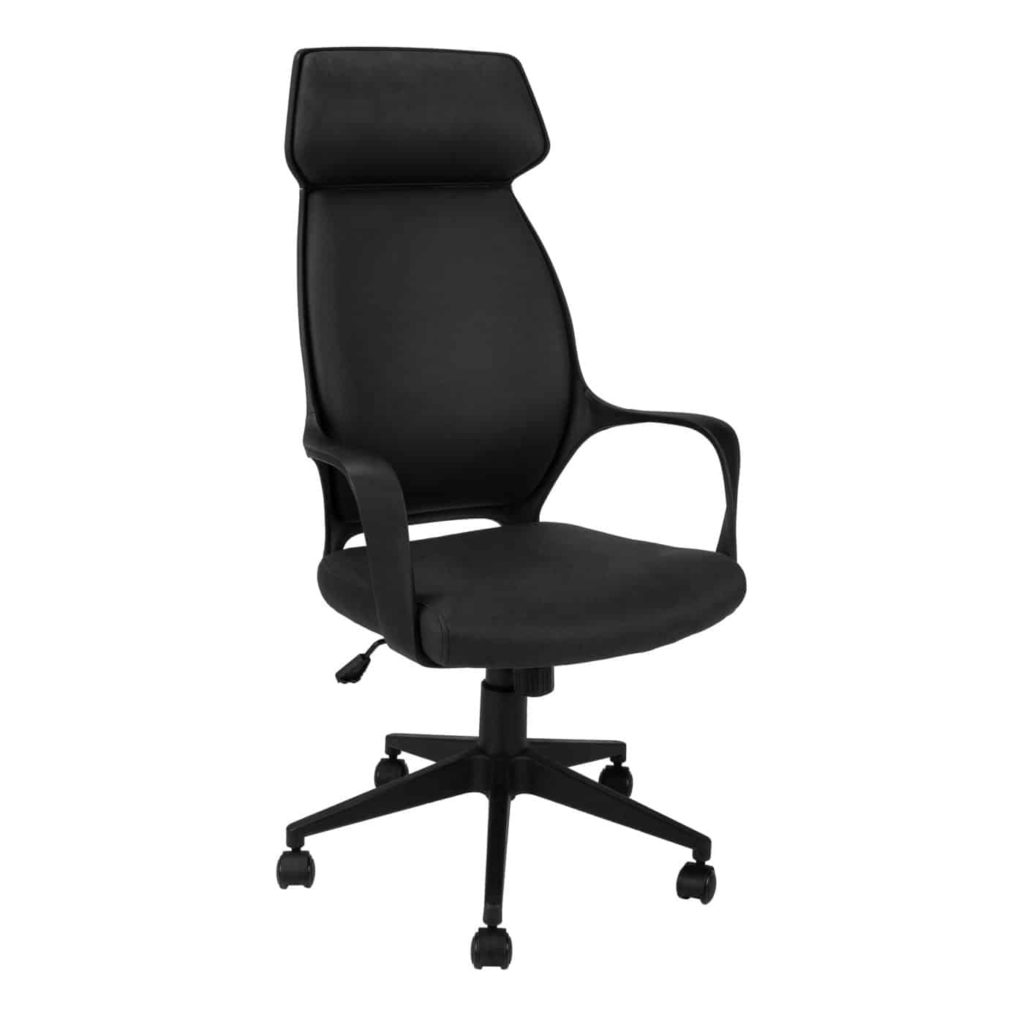 | | |
| --- | --- |
| Adjustments | Height mechanism with tilt-back/lock-in control |
| Build Quality | Polyester-blend microfiber on seats. Hooded castors. |
| Finish | Black |
| Assembly | Minor assembly required |
This office chair by Parliament Furniture offers a minimalist and slender design that we rather liked. It looks refined and almost delicate, but is still very supportive and comfortable to sit on.
With this, you get a high-backed executive office chair with fixed armrests plus soft and black polyester-blend microfiber fabric. The design is more supportive than you might think – we certainly appreciated it after hours of use.
The height of the chair is also adjustable so it can accommodate every person regardless of their size with the same comfort.
It is ergonomically designed so you don't have to worry about back pains after work. The slender backrest also has an integrated headrest to guide your posture correctly.
Additionally, its 360-degree swivel seat and black 5-prong base with hooded casters offer a range of mobility while working. On top of that is an adjustable height mechanism with tilt-back/lock-in control.
Despite that, we do think the adjustments may still be on the limited side for some users. Of course, this could also be a point in its favor – a ton of adjustability actually makes some chairs less comfy out of the box, requiring a lot of finicky customization first.
Sleek and minimalist
Comfortable
With tilt-back/lock-in control
Promotes good posture
Limited adjustments
Less customizable
Worth the investment
Very sturdy, comfortable. Wide seat. Easy to assemble. Worth the investment- especially if you work from home. -J. Newman
Comfy and adjustable
Comfy, adjustable, and very easy to assemble! The seat is wide enough for me to sit cross-legged comfortably and the back support is great. -Jenny
FAQs About Office Chairs in Toronto
---
We think you'll be able to bid farewell to cramps, stiff neck, and back pains with these chairs. If you've already decided which one you want for your workspace, let us know how it works out!
If you're more the type to work in a shared and pre-furnished space instead of your own office, though, try our list of the best coworking spaces in Toronto instead!