The Best Sleep Clinics in Toronto
Think you have sleeping issues that need fixing now? We're here to help you out with those!
Today's review features the best sleep clinics in Toronto to help you get back on track. You may stand a better chance to get a good night's sleep at last with the clinics we'll talk about below.
But first, prices! There's no point losing sleep over the cost of a sleep clinic, as we'll show you here.
Top Sleep Clinics in Toronto
Our selection mostly includes sleep clinics in Toronto for adults, but we also have one for babies and toddlers (you'll easily spot it!).
See, sleep studies, therapies, and machines all vary from person to person, so it's never a one-size-fits-all solution. Instead of comparing clinics that offer the same technique, we chose ones with various specialties and solutions.
One clinic may be best for sleep apnea, while the other is best for snoring or insomnia. Overall, we chose the ones with exceptional results after reaching out to their past clients.
The Cost of Sleep Clinics in Toronto
Out of pocket, seeing a sleep specialist can cost you anywhere from $500 to $3,000. On average, you're more likely to spend around $1,250 under one medical care provider.
Fortunately, if your health insurance policy covers this, then you would only have to pay up to $150. A clinic may also accept OHIP, which covers 100% of your sleep study.
Now, if you need to use a CPAP machine (for sleep apnea), OHIP will cover 75% of the cost. You can then use your insurance plan to cover the remaining amount.
1. A Good Sleep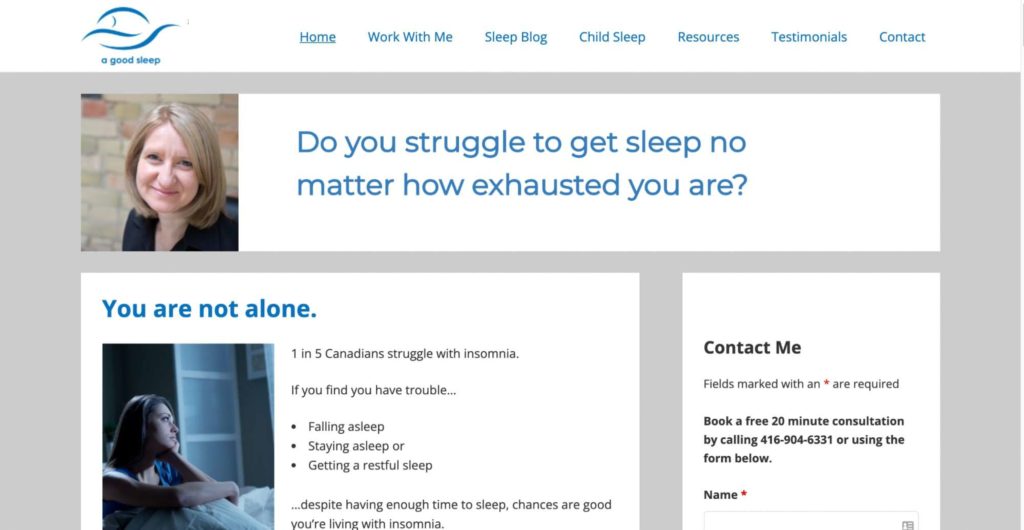 A Good Sleep specializes in helping people overcome insomnia. They use a CBT-I structured program to restore an individual's quality of sleep.
Running this clinic is Judith Mendoza, an occupational therapist with 15 years of experience. Throughout her career, she's gained expert training in cognitive-behavioral theory and mental health counseling.
The clinic offers a free 20-minute consultation that allows you to speak about your concerns. After that, you'll have to pay $240 for the initial assessment and $160 for the treatment sessions.
Many past clients attested that they felt better results in three to four sessions. Of course, results may vary depending on the CBT-I techniques used to address your needs.
Some of these techniques include stimulus control therapy, sleep restriction, sleep hygiene, and relaxation training. You may also undergo sleep environment improvement sessions or remain passively awake.
15 years of experience with CBT-I and mental health
Free 20-minute consultation
Average costs per session
Appointments can be done via Telehealth (Skype, Zoom, Facetime), phone, or in-person
Best for overcoming insomnia
Customer Reviews
Changed perspective on sleep
I worked with Judith in early 2019, as I was struggling with insomnia during a particularly stressful period in my life. Judith helped work on a personalized plan that included changes to my sleep routine, but just as importantly, on changing my perspective and thought process on sleep. She was also very supportive, and offered encouragement and support during the process. I improved my sleep dramatically since then, and can cope more easily with the occasional night of disturbed sleep. – Daryl Smith
Absolutely wonderful to work with
I have always had issues with insomnia, but it got notably worse during a particularly stressful period in my life. I reached out to Judith, who worked closely with me over a few months and helped put a personalized sleep plan together for me. Judith made me aware of some unfortunate sleep habits I didn't even realize I had, and gave me lots of tools and support to develop better habits. Judith meets you where you are, and implements tools/suggestions at the right pace, so the changes aren't overwhelming, which I think is why it worked so well – after a few months I'm getting the right amount of sleep for me, and I feel like a different person. The journey with Judith has been a lifesaver. As a person, Judith is kind, supportive, empathetic and absolutely wonderful to work with! – Natasja
2. MRC Sleep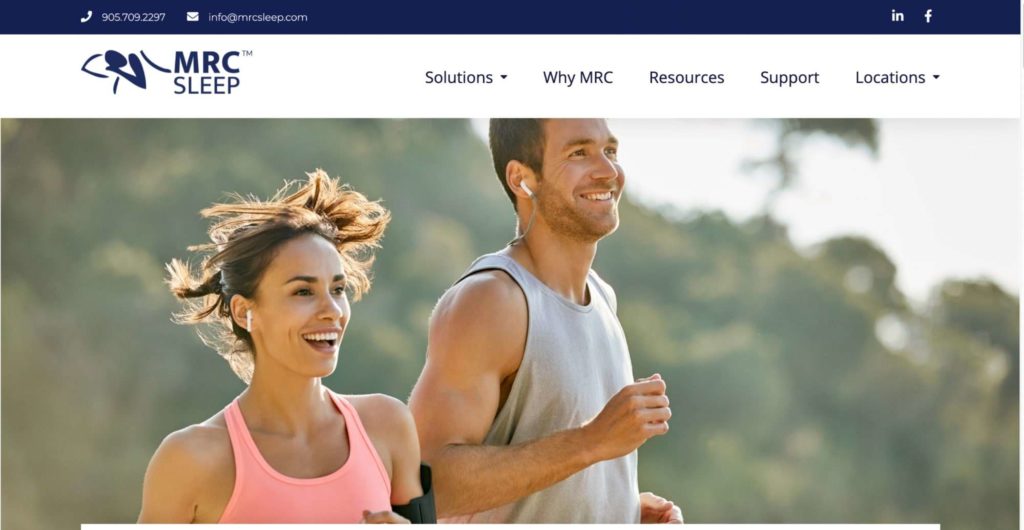 MRC Sleep specializes in continuous positive airway pressure (CPAP) treatment. They're the very first approved vendor to give this treatment in Ontario since 1997.
The clinic offers a wide array of solutions consisting of both products and services. They work best with their sleep apnea solutions, tailor-fit to meet the client's needs.
Their services range from providing in-home sleep screening to free in-lab sleep tests. On top of that, they offer a wide variety of sleep machines including CPAP, BiPAP, APAP, and humidifiers.
CPAP, BiPAP, and APAP machines are covered by a three-year warranty from their manufacturers. As for humidifiers, the warranty coverage is two years.
Seniors can get a 10% discount from this clinic any time of the week. We also liked that they have various locations in Toronto including Richmond Hill, Newmarket, Marham, Scarborough, Vaughan, and Windsor.
24 years of experience with CPAP treatment
Offers in-home sleep screening
Free in-lab sleep tests
Offers various sleep machines with up to three years warranty
10% discount for seniors
Has six locations in Toronto
Free sleep study and free maintenance on CPAP masks and machines
Multilingual services
Customer Reviews
Excellent service from knowledgeable staff
I am very happy with the service and care from Florence at MRC Midland and Finch location. I have been going for many years at this location. Florence is very knowledgeable and helpful. Florence gives excellent service and is able to answer all my questions. I will continue to go to MRC Midland and Finch location because of Florence. Well done Florence! – Glen McArdle
Makes the process smooth and worry-free
My husband is a new CPAP user. Florence did a great job assisting my husband to select a suitable mask and machine as well as dealing with insurance. She's willing to go extra mile to make sure the whole process is smooth and worry free. She's a huge asset to this clinic and deserves much kudos. Highly recommend this location and Florence!! – Max Fu
3. Lil Baby Sleep Consulting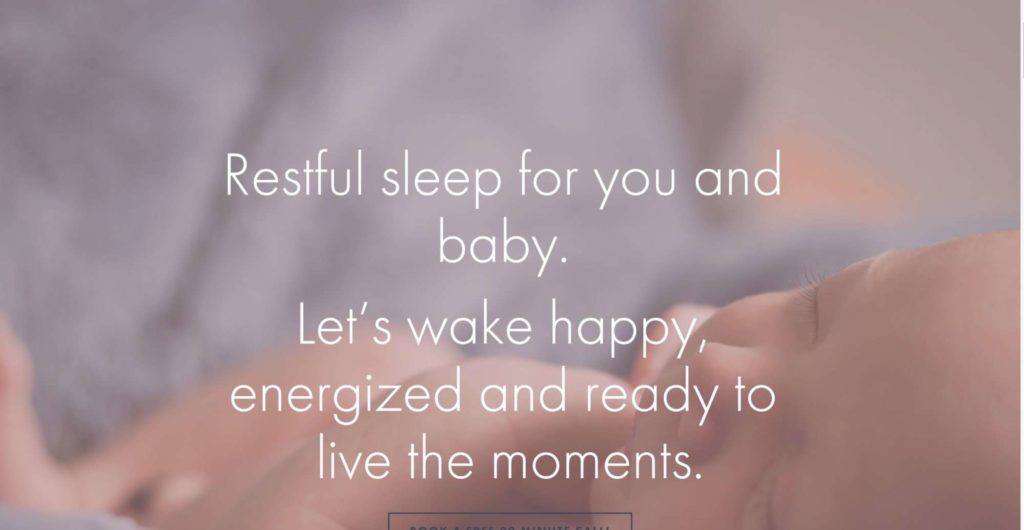 | | |
| --- | --- |
| SERVICES | Sleep consultation services for babies and toddlers |
| WEBSITE | https://www.lilbabysleep.com/ |
| CONTACT DETAILS | +1 647-927-9179 |
| OPERATING HOURS | Tuesday – Friday :9:00 AM – 5:00 PM |
Babies need a good night's sleep too, which makes Lil Baby Sleep a great choice. The clinic helps address sleeping issues among newborns, 3 to 18 months, and 18 to 24 months.
Running this clinic is Lily, a pediatric sleep consultant and mother of two. She offers various packages consisting of various techniques designed for kids.
The newborn package costs about $557 while the one for 3 to 18 months starts at $992. The toddler package (18- 23 months) kicks off at $955.
Apart from these, parents also have the option for an a la carte program and add-ons. These add-ons range from call coaching, email and text support, and in-home consultations.
In addition to these, they also provide an online sleep program for babies 3 to 18 months old. A 20-minute sleep consultation call is free to assess your initial concerns and questions.
Certified baby sleep consultant
Packages are within average prices
A la carte service option
A variety of add-ons from coaching to consultations
Online sleep program available
20-minute free sleep consultation call
Limited availability
The total cost of services can be expensive with add-ons
4. North Toronto Laser Med Clinic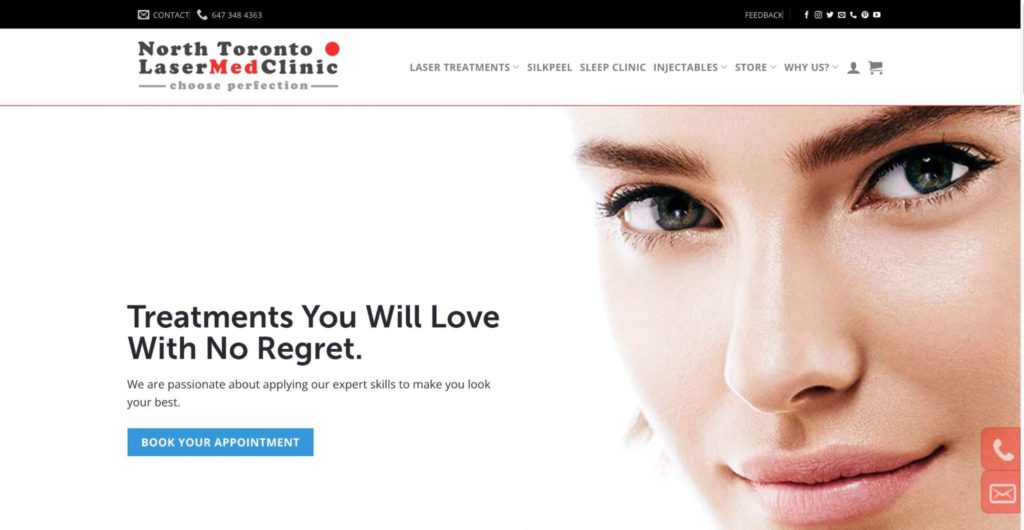 SERVICES
Sleep treatment for snoring and sleep apnea
WEBSITE
https://www.torontolasermedclinic.com/
ADDRESS
4646 Dufferin St Unit #5a, North York, ON M3H 5S4
CONTACT DETAILS
+1 647-348-4363
OPERATING HOURS
Monday – Friday: 10:00 AM – 7:00 PM
Saturday: 10:00 AM – 2:00 PM
You may have heard of Laser Med before as a cosmetics clinic. But did you know that they also offer treatments and therapies for snoring and speed apnea?
North Toronto Laser Med specializes in providing non-invasive sleeping solutions. They're best known for their NightLase® Treatment that decreases snoring and lessens the effect of sleep apnea.
What makes this treatment a great choice is that it only lasts for 15 minutes. It is also a non-surgical approach so you won't have to undergo a knife if you don't want to.
If you need help with your snoring problems, they'll pair you up with a patient coordinator. Then, they'll make a personalized treatment plan for you to address your issues.
The clinic uses Fotona lasers for this treatment which is one of the best lasers out there today. The results are permanent, eliminating the need to go back multiple times to get desired results.
Best for reducing snoring problems and sleep apnea effects
Uses a non-invasive, non-surgical NightLase® Treatment 
Sessions only take 15 minutes
Personalized treatment plan
Permanent results
Open on Saturdays
More of a medical spa for cosmetic treatments
Customer Reviews
Amazing results after treatment
Nightlase laser treatment reduced my snoring up to 80%, I finally sleep much better and feel more rested as I can sleep through the whole night without waking up. My airway passage was nicely open with this laser treatment. I highly recommend this clinic to everyone who suffers with sleep apnea. Best customer service and treatment. – Gabriel Lin
Effective solution in improving sleep
Laser snoring treatment helped me a lot with my snoring problem. Nightlase is definitely working well and is the most effective solution. After 1 session I already felt an improvement in my sleep and the loudness of my snoring deliberately decreased. Thank you very much to North Toronto Lasermed clinic. Absolutely recommend this clinic to everyone. – Arthur Grey
5. FPM Solutions CPAP and Medical Devices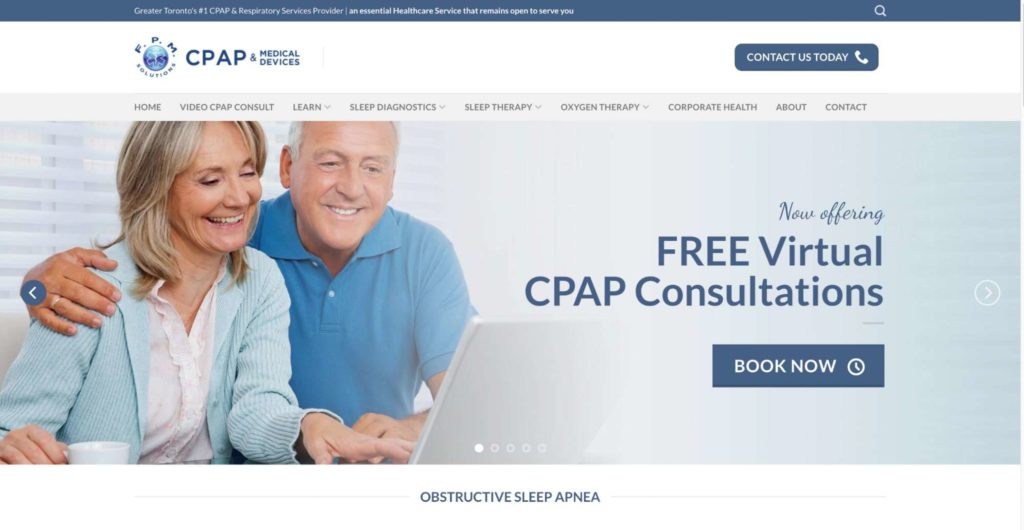 | | |
| --- | --- |
| SERVICES | CPAP treatment and medical devices |
| WEBSITE | https://cpapmachinesc |
| ADDRESS | 340 College St #1, Toronto, ON M5T 3A9 |
| CONTACT DETAILS | +1 647-748-2727 |
| OPERATING HOURS | Monday – Friday: 9:30 AM – 5:30 PM |
FPM offers a wide range of solutions to deal with your sleeping problems. Their services range from home sleep studies and in-lab studies to oxygen therapies.
Apart from this, they also supply CPAP devices, CPAP masks, and CPAP accessories. Basically, it's a one-stop shop for CPAP treatment that gives you free masks and machine trials before purchase.
The clinic specializes in Obstructive Sleep Apnea (OSA). To address those, you can choose to conduct sleep studies at home or at a lab.
For in-lab sleep studies, they can help you connect with various sleep lab facilities in Ontario. This makes the process much easier for you as you won't have to do all the leg work.
One of their best offerings is their virtual CPAP consultation. Through this, you can speak about your sleeping issues without having to leave home.
Best for addressing Obstructive Sleep Apnea (OSA)
Free mask and machine trial
Home sleep studies are available
Assists clients with location sleep lab facilities
CPAP masks, devices, and accessories available from major brands and manufacturers
Offers virtual CPAP consultation
Closed on weekends
Tends to be very busy on Fridays
Customer Reviews
Exceptional level of customer service
I can't be the only person recently that is amazed at this supplier of CPAP machines and accessories. SCARY is the first thought of having a CPAP mask over your face at night. I assure you make your first stop FPM Solutions College Street. The staff there will help you so much. They have such a big selection of masks that they will let you sample to get the perfect comfortable fit for you. I haven't received this level of customer service in years. If there are stores selling for less perhaps that's why, less service and experience. You will pay in the end as you will give up on using your CPAP machine and that's jeopardizing your health. – Alan Harries
6. Better Night's Rest Sleep Apnea Clinic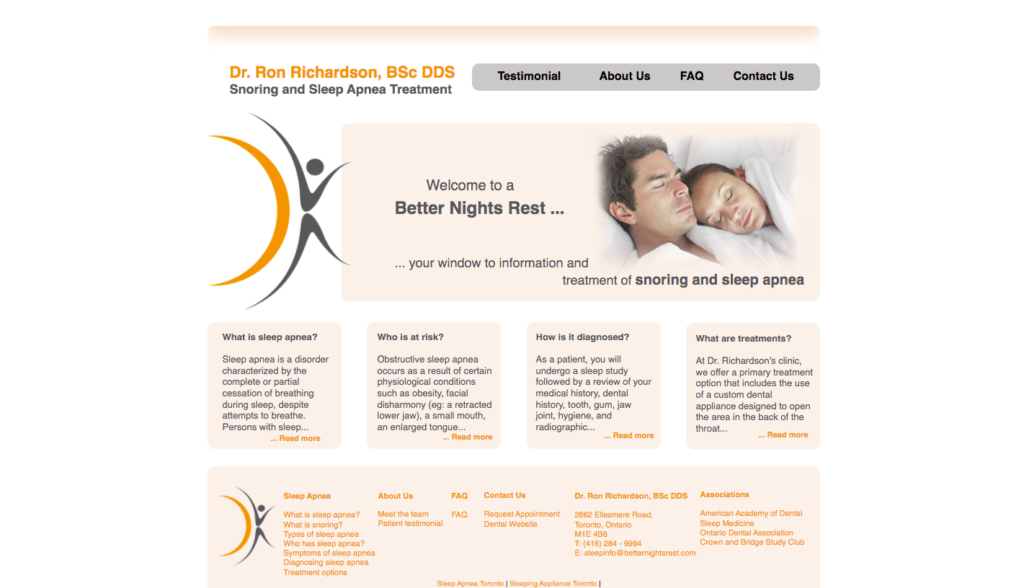 SERVICES
Continuous Positive Airway Pressure (CPAP) machine, Mandibular Advancement Appliances (MAD)
WEBSITE
https://www.betternightsrest.com/
ADDRESS
2862 Ellesmere Rd, Scarborough, ON M1E 4B8, Canada
CONTACT DETAILS
Phone: (416) 284 – 9994
Email: [email protected]
OPERATING HOURS
Monday – Thursday: 8:00 AM – 4:30 PM
Friday: 8:00am – 12:00nn
Better Night's Rest Sleep Apnea Clinic was founded in 1980 by Dr. Ron Richardson, BSc DDS to serve the Scarborough community. With over three decades of experience and client-focused service, this clinic has helped numerous clients sleep better at night.
Dr. Richardson has been treating sleep apnea for 15 years and was a former President of the Toronto Academy of Dentistry and member of the American Academy of Dental Sleep Medicine.
He believes that with proper diagnosis and appropriate treatment, sleep apnea can be effectively treated.
This clinic offers patients the "gold standard" for treatment of sleep apnea, which is the Continuous Positive Airway Pressure (CPAP) machine, which is worn at night or when sleeping.
For milder or moderate cases, Better Night's Rest can provide Mandibular Advancement Appliances (MAD). It is also the preferred treatment method for patients that are unable to wear the CPAP mask, but these must be fitted and may only be used by those with healthy teeth and gums with proper oral hygiene.
Better Night's Rest can provide several options for those who suffer from sleep apnea and would like to get treated. They also offer financing options which makes it convenient for patients to get the help they need today without worrying about payment immediately.
Specializes in treating Obstructive Sleep Apnea (OSA)
Offers financing options
Offers Mandibular Advancement Appliances as an alternative to CPAP
Only one location

Doesn't offer virtual sessions
Customer Reviews
Exceptional level of customer service
"Thank you Dr. Richardson for your help and guidance. My husband is now sleeping more comfortably since he has been fitted with a sleep apnea appliance. It has been many years of restless nights for both of us. I can honestly say that we havent felt this good in many years. I can now fall asleep soundly at night knowing that my husband will not stop breathing. We cannot thank you enough for the peace of mind, and the healthier lifestyle we now have." – Nicole Reid
FAQs About Sleep Clinics in Toronto
---
Visiting any of the best sleep clinics in Toronto can help you get your circadian rhythm back on track with better sleeping habits. Apart from a great sleep, let's help you get the ultimate wellness too with our other articles: