A Review of the 5 Best Apartments in Toronto
With such a large spectrum of apartments popping up here and there in the city, how does one make the right choice?
Luckily for you, our review for today provides an in-depth look into the best apartments in Toronto. Read on to explore your options and discover a wide array of choices for you.
The Best Apartments in Toronto
We can only go as far as recommendations for matters like this. At the end of the day, it's your lifestyle, budget, and needs that you must assess to find the right apartment.
During the creation of this list, here are the factors we looked into:
The Cost of Apartments in Toronto
The monthly rent usually depends on the location, apartment size, furnishing, and other included utilities.
Naturally, the bigger the apartment, the more expensive it is. The costs can also go higher if the location is within the city center.
Refer to the table below to see the median monthly rent in Toronto:
| | | |
| --- | --- | --- |
| Number of Bedrooms | Average Monthly Rent | Main Utilities (Total for hydro, heat, water, and hot water) |
| 1 Bedroom | $1,145 – $1,431 | $90 |
| 2 Bedrooms | $1,329 – $1,661 | $126 |
| 3 bedrooms | $1,517 – $1,896 | $145 |
| 4 Bedrooms | $1,755 – $2,194 | $160 |
| 5 Bedrooms | $1,963 – $2,454 | $160 |
1. The Montgomery Apartments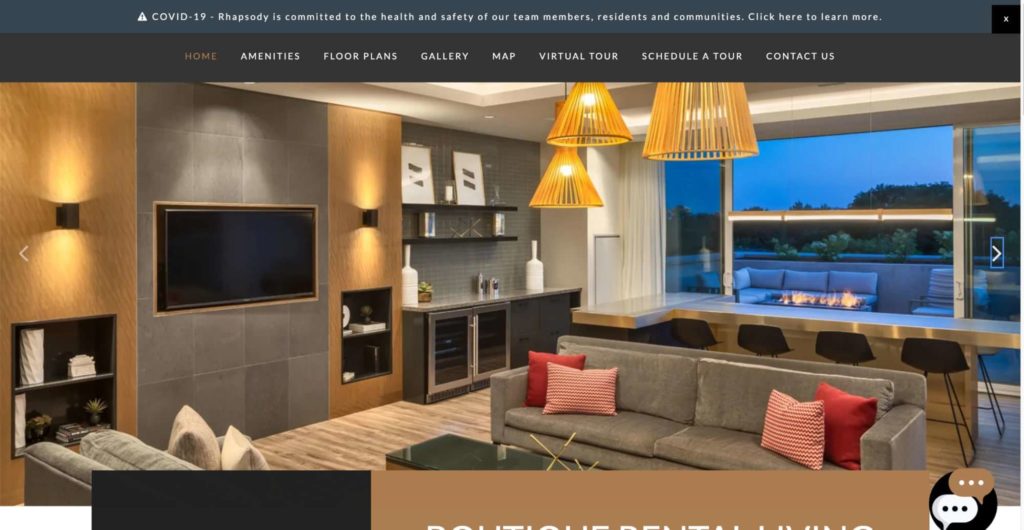 SERVICES
Studio apartments, one-bedroom apartments, two-bedroom apartments, three-bedroom apartments
WEBSITE
https://www.themontgomery.ca/
ADDRESS
25 Montgomery Ave, Toronto, ON M4R 0A1, Canada
CONTACT DETAILS
(647) 945-5243
OPERATING HOURS
Monday – Friday: 10:00 AM – 6:00 PM
Saturday & Sunday: 10:00 AM – 5:00 PM
The Montgomery Apartment offers all the conveniences you need for a happy, urban life. With fantastic amenities, it takes boutique rental living to better heights.
Here's the first thing we loved about this building – its location. The apartment is nestled between stores and restaurants that are just a walking distance away.
On top of that, public transportation is also accessible with access to four corners of the city. So, you can manage most errands either on foot or on mass transit.
Aligned with conveniences, the building itself is packed with great amenities. The ground floor storefronts always have what you need for home necessities.
Some of the community amenities include a fitness center, party lounge, media room, resident dining room, and outdoor terraces with BBQs.
If you're looking for a more relaxing experience, they also have massage rooms, a yoga studio, and an outdoor pool. And if you have rides of your own, they have bike racks and underground parking.
Now, the building offers four different types of apartments. You can rent a studio, one, two, or three-bedroom apartment.
Compared to the city average, the costs of these apartments are significantly higher. But you do get quartz countertops, stainless steel kitchen appliances, and a patio.
Entry is also keyless and you get appliances such as an air conditioner, washer & dryer, and dishwasher. Other furniture and fixtures are all at your expense.
Finally, our favorite thing about this building is that it's actually pet-friendly. There's even a dog running area and a pet wash station for fur parents living in the building.
Quick access to public transportation means
Has underground parking and bike racks
Includes basic appliances
Has a dog running area and pet wash station
Customer Reviews
Incredibly nice staff
We've only been at the Montgomery for a few weeks and so far everything has been perfect. The unit is great with well functionning appliances. We are very thrill with our new place. I would say the best aspect of the building is the staff which are incredibly nice always greeting you with
a smile and there to be at your service. I greatly recommend this place. – Nicolas Bélanger
Units in excellent shape
My husband and I moved to the building this past April, in the middle of the pandemic. Prior to leasing, up until moving and then settling in, Manny and Amy from the leasing office have gone above and beyond to make our experience a smooth, stress free one. All of the staff (maintenance, concierges) in the building is excellent – responsive and kind. You can certainly feel the difference in attentiveness in this property managed building, especially during these uncertain times. We love living in this building and our unit as well, which was delivered in excellent shape. Units have well thought out layouts and the appliances offered are well sized and good quality. – Avril Perez
2. BeachHill Apartments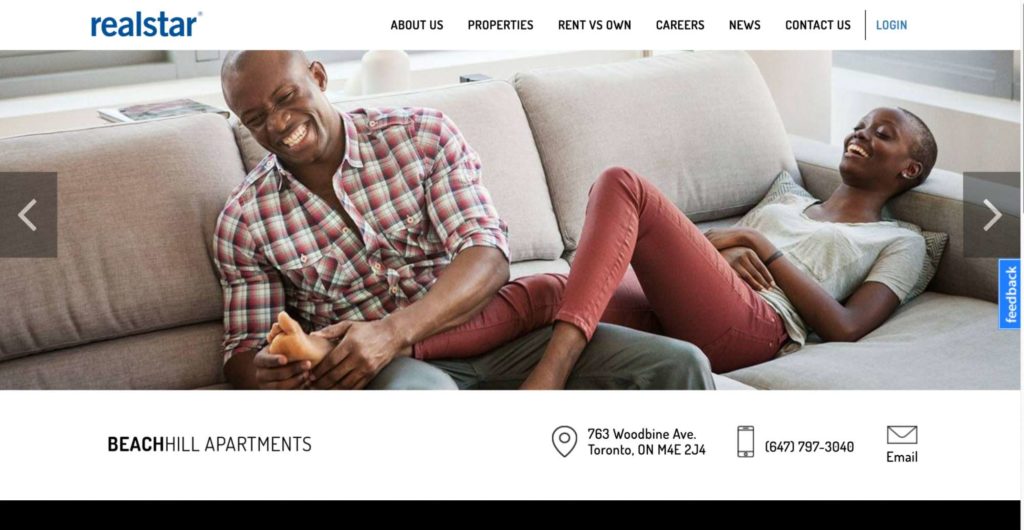 Under the administration of Real Star, BeachHill Apartments offer upscale living in a humble neighborhood. The amazing location alone is enough to keep potential residents like you coming to them.
Let's talk about our favorite thing about them first, which is the location. Situated at the crest of the hill, the building gives you stunning views of the charming beach community.
While it may sound like it's isolated from the rest of the city, it actually isn't. In fact, it's right in the middle of the social scene in Toronto, with access to pubs, restaurants, markets, and more.
What makes their location stand out to us too is the access to Woodbine Park and Woodbine Beach. Both locations provide fantastic biking trails – perfect for both sightseeing and exercise.
Like more upscale apartment buildings, they also have a fitness area, picnic area, and lounge & media rooms. The building has indoor parking, bike racks and is pet-friendly and 100% smoke-free.
Now, pricing and floor plans are quite difficult to access with this property but we'll give you an idea. A standard apartment here typically includes an air conditioner, fridge, washer & dryer, dishwasher, microwave.
As for the interior, every apartment has a private balcony and vinyl plank flooring. Heat and water are all included in these spaces.
By the way, since it's under Real Star management, you can actually get approval in as fast as 24 hours. They also have a 24-hour express service for repairs and flexible lease terms.
Located within a charming beach community
Access to Woodbine Park and Woodbine Beach
100% smoke-free
Heat and water included
Comes with basic appliances
Pet-friendly
Indoor parking and bike racks
Flexible lease terms and 24-hour approval under Real Star
Basic building and apartment amenities only
Need to contact apartment agency to see floor plans and prices
Customer Reviews
Unbeatable services and commitment to clients
My Wife and I loved the building, the location and the neighborhood. Also, under the administration of Real Star, we had a great experience, first with the Rebeca an Andree as administrators and later with Gina, Joy and Tanya, the Maintenance and services of the building were never an issue. The commitment and friendly attitude, were always a high-light of living on the building. We will definitively rent again. – Gustavo Adolfo Gomez Garcia
Exceptionally well-maintained building
Great building, wonderful amenities, and a fantastic management team. I lived here for three years and have nothing but good things to say about my time there. Highly recommended if you're looking for a clean and exceptionally well maintained building with easy access to the beach, lakeshore, TTC, and DVP. – Mike Kislasko
3. The Rosemont Residences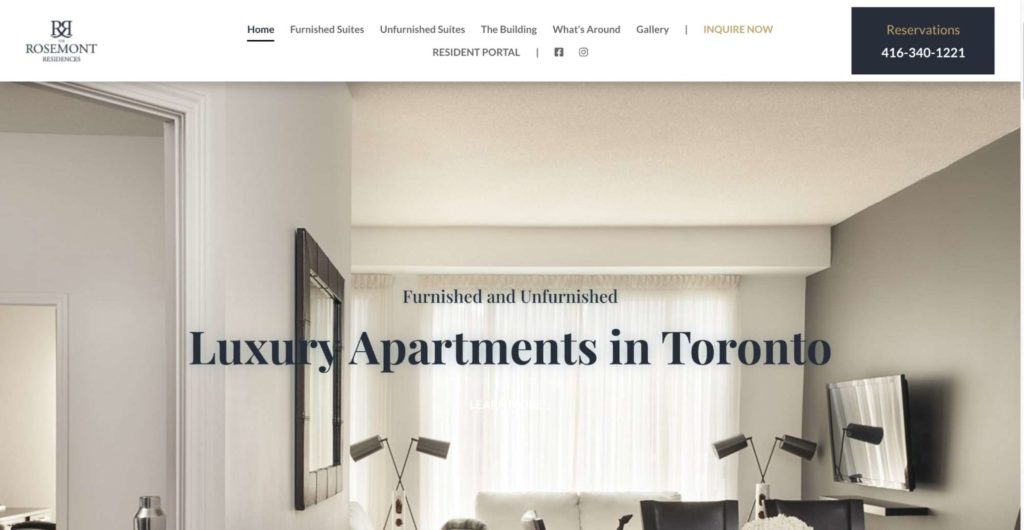 | | |
| --- | --- |
| SERVICES | Bachelor, one-bedroom apartments, two-bedroom apartments, two-bedroom with den, penthouse |
| WEBSITE | https://rosemontresidences.com/ |
| ADDRESS | The Icon, 50 John St, Toronto, ON M5V 3T5, Canada |
| CONTACT DETAILS | +1 416-340-1221 |
| OPERATING HOURS | Monday – Sunday: 10:00 AM – 6:00 PM |
Rosemont Residences is a great place to go to look for unfurnished and furnished apartments. All units are designed with both luxury and convenience in mind.
Located in downtown Toronto, the building is just a walking distance away from key establishments. Residents are close to restaurants, shopping outlets, theaters, and sporting venues.
The building itself is studded with many amenities fit for relaxation and entertainment. Some of the highlights are its rooftop patio with BBQ stations, a virtual reality golf simulator, and its 20-seater movie theatre.
What makes their amenities stand out more is that they have facilities fit for business people. They have an executive business center packed with workstations and high-speed WiF, plus an executive boardroom and conference center.
Of course, an upscale apartment won't be complete without a fitness and aerobic studio. The best part is, bicycle parking and guest parking are all complimentary so you don't have to worry about extra charges.
As for the units, they offer one and two-bedroom apartments, unfurnished and furnished. After weighing the costs versus city average and space size, we found that their units are actually affordably priced.
For instance, the city average for a one-bed apartment is $1,145 to $1,431. Here in Rosemont, the same unfurnished unit will cost you $1,695 per month.
See, the difference is roughly $200 but here you get 595 to 855 sq ft of space. One-bed apartments also come with either a den or a study area.
On top of that, you can choose from among 27 different floor plans depending on your taste. Plus you get common household appliances the moment you move in.
Their furnished apartments are ideal for short-term rentals as they can be really expensive in the long run. But if you have the means to get a fully furnished unit, expect to pay $118 to $235 per night.
Has a virtual golf simulator and movie theater
Has amenities fit for business people
Complimentary bike usage and guest parking
Reasonable rates for luxury units
27 floor plans to choose from
Options for furnished or unfurnished units
Fully furnished units are expensive
Customer Reviews
Provides the ultimate living experience
I've lived at the Rosemont for ~5 years and I would never rent anywhere else. I've lived in several units in the building and I loved them all – from storage space to functionality and overall quality. Units are immaculately clean when you move in and service requests are addressed promptly. The building is excellently managed (thanks to Brian + staff!) and the Cedar Fox Concierge Team (Andrew, Miles, Jean, Perry + team!) go above and beyond to provide the ultimate guest experience. Truly luxury living and the location is just unbeatable! Thank you for having me as a resident! – Tiffany Leigh
Pristine urban location
I have resided at the Rosemont Residences for the last six years and would like to express my appreciation of all management and support staff. Within my profession, I have been afforded the opportunity to live in a great many locations in both Canada and the United States and have yet to find a home where the treatment both personally and professionally has been any more superb than here at the Rosemont. The building, urban location and amenities are always pristine and never has an issue arisen that was not been looked after in a timely and professional manner. One of the Rosemont's greatest assets is the personal quality of its staff and their ability to always make you feel looked after and secure. – David McCready
4. The Brixton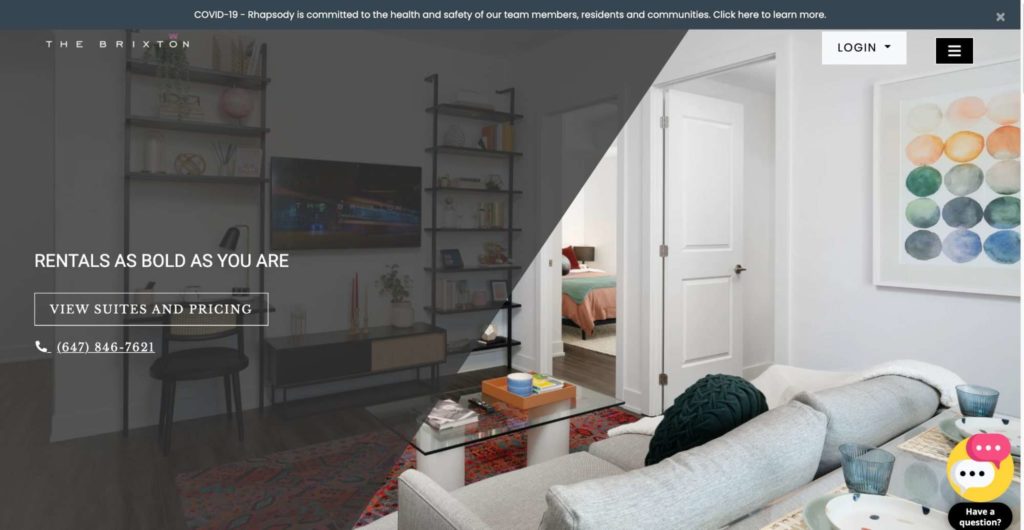 SERVICES
Studio apartments; one-bedroom, two-bedroom, three-bedroom apartments
WEBSITE
https://www.rentbrixton.ca/
ADDRESS
400 Dufferin Street, Toronto, ON M6K 0G2
CONTACT DETAILS
(647) 846-7621+1 647-946-8281
OPERATING HOURS
Monday – Friday: 10:00 AM – 6:00 PM
Saturday & Sunday:10:00 AM – 5:00 PM
The Brixton won a spot on our list by combining some of our favorite perks with residential living. With luxury units, living in The Brixton feels like your typical condo living minus the high condo fees.
Located in a trendy neighborhood, the building gives residents access to various places. The area is brimming with boutiques, cafes, and bars, plus it's close to Liberty Village & Trinity Bellwoods Park.
In terms of amenities, the place doesn't lag behind the apartments on our list. It has a rooftop infinity pool, games room, fitness center, fireside lounge, media room, and yoga studio.
Since the apartment is also pet-friendly, residents have a dedicated space for dog runs. And, there's even a pet spa inside where you can pamper your fur babies while you run your errands.
What makes this apartment slightly different from the rest is that residents can use a community mobile app. This gives access to an online rent payment portal and maintenance requests which is great for convenience.
As per the units, they offer one, two, three-bedroom, and studio floor plans. And yes, they're quite expensive but here are a couple of reasons why they're worth the price:
For starters, the units have smart home features, brand-name stainless steel appliances, and walk-in closets. There are nest thermostats in place plus under-cabinets have lighting for that dramatic effect.
In addition to these, residents get Caesarstone countertops, a full-size in-suite washer & dryer, and vinyl plank flooring.
And of course, this wouldn't be a luxury apartment without keyless access and a private balcony.
Depending on the unit you get, you may also have a wine fridge, kitchen island, and soaker tubs. These extras can raise your monthly rent to over $3,000 so do think about it carefully.
Dedicated space for dog runs and a pet spa
Has a rooftop infinity pool
Mobile community app available for various residential needs
Units with smart home features and brand-name appliances
Comes with a full-size in-suite washer & dryer
Option to get a kitchen island, wine fridge, and soaker tubs
Has nest thermostats and under cabinet lighting
Can be expensive with the additional features
Customer Reviews
Promotes a sense of community
We have had a great experience so far at The Brixton! The team has been welcoming, responsive, timely and helpful. Our leasing agent Sheena has been exceptional, from providing a virtual tour of the units/building to greeting us in person on our move-in day. The Brixton App is a helpful platform to have all our apartment information in one place, and to submit all maintenance requests. The building itself is quiet, modern and stylish. The events hosted by the Brixton also promote a sense of community and are really generous. All staff from maintenance personnel, to concierge have been warm and approachable. Overall, a great experience thus far. – Jasmine Montagnese
A fabulous place to live in
The Brixton is a fabulous place to live. The building is beautiful as is our suite. We anxiously await completion of the amenities. As other reviews have noted, the staff here is fantastic. The concierge team is super friendly and watch out for us. Claudio, our back up leasing agent is wonderful and our leasing agent Maria is outstanding. She is genuinely lovely, cares about us, and is very conscientious – she's quite special and we thank her for her help. – Rachelle Chevalier
5. South Algiers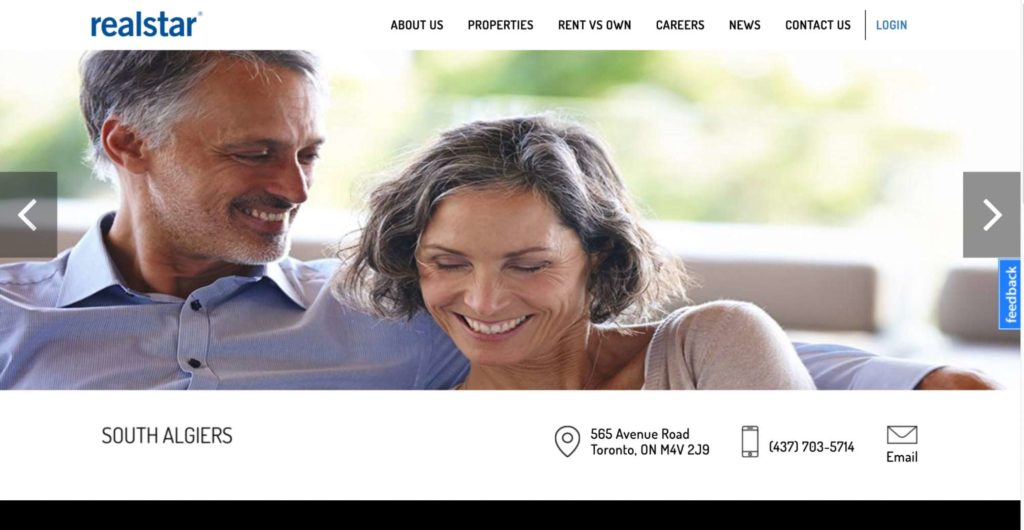 SERVICES
One-bedroom, two-bedroom apartments; large two-bedroom apartments with a two-bathroom layout
WEBSITE
https://www.realstar.ca/apartments/on/toronto/south-algiers/
ADDRESS
565 Avenue Rd, Toronto, ON M4V 2J9, Canada
CONTACT DETAILS
(437) 703-5714
+1 416-925-6418
OPERATING HOURS
Monday – Friday: 8:00 AM – 9:00 PM
Saturday & Sunday: 12:00 PM – 4:00 PM
Now, so far we've talked about apartments with amazing locations, but South Algiers really takes the cake for this.
For starters, the location isn't only close to the entertainment spots in the city. It's also closed to public and private schools, religious centers, and medical facilities.
On top of these, the location is ideal for residents who are always on the go. It has streetcar routes with access to Allen Road and Highway 401 and a subway station.
If you're tired of the hustle and bustle of the city, you can stroll along Glen Gould Park and Sir Winston Churchill Park. Or you could drop by any of the neighboring cafes, bars, and restaurants.
Basically, you can form a convenient urban life for your family in case you decide to settle down. Plus, the downtown neighborhood gives the apartment a charming small-town feel, making it a desirable place to live in.
In terms of building amenities, the place is actually more laid-back compared to others on our list. Residents enjoy a pet-friendly building with on-site laundry, surface and underground parking, and resident events.
As per the apartments, they offer one, two, and three-bedroom apartments. There's also an option to get a large two-bedroom unit with a two-bathroom layout.
Each apartment gives you nice wood flooring, an open-concept kitchen with an island, quartz countertops, and stainless steel appliances.
In addition to these, you get beautiful recessed lighting, a ceiling fan, designer cabinetry, and a private balcony. Heat and water are already included in the deal.
Since the apartment is under Real Star administration, you can enjoy more flexible lease terms and fast approval. You also do have to contact them if you want the exact costs of each unit.
Location close to transportation, schools, medical facilities, and religious centers
Option to get a large two-bedroom unit with two baths
Heat and water included
Flexible lease terms and 24 hours approval under Real Star
Basic building amenities only
Customer Reviews
Right in the heart of Toronto
This is an apartment building right in the heart of Toronto with indoor parking and parking for visitors. I've had friends staying here for many years. A few blocks away from the Forest Hill village and from the ravine path. Half a block from shopping on St Clair and also just a few blocks from all of the fun stuff on Yonge Street. – Larry Shamash
FAQs About Apartments in Toronto
---
There's our list of the best apartments in Toronto to help you start a new life! But if you happen to be looking for short-term stays only, check out our review of the best short-term rentals in Toronto.