The 8 Best Modeling Agencies in Toronto
Ready to catapult your modeling career to greater heights? You've set foot on the right path today!
Featuring the best modeling agencies in Toronto, today's review can help you reach your dreams. Discover your options today so you'll have a fruitful modeling life for tomorrow.
Top Modeling Agencies in Toronto
Making this list involved various considerations. But since modeling is a highly diverse field, we narrowed down our list according to the following:
The Cost of Modeling Agencies in Toronto
You know what they say: you should never pay to become a model. But the truth is, there are real-life fees involved in pursuing this type of career.
Now, since you're the model, you're actually the one providing the talent for these agencies to earn. So, as a rule of thumb, if the agency asks for representation or admin fees, it's usually a scam.
Do note, however, that there are certain agencies that would charge around $50 in advance when you sign a modeling contract. By the way, if this is your case, then you're protected under the Consumer Protection Act of Ontario.
The most you'll end up spending is probably on comp cards, which are marketing tools for actors and models – kinda like business cards. It shouldn't cost you any more than $1.25 per card so if they're asking a higher price, it's a definite red flag.
1. M Models and Talent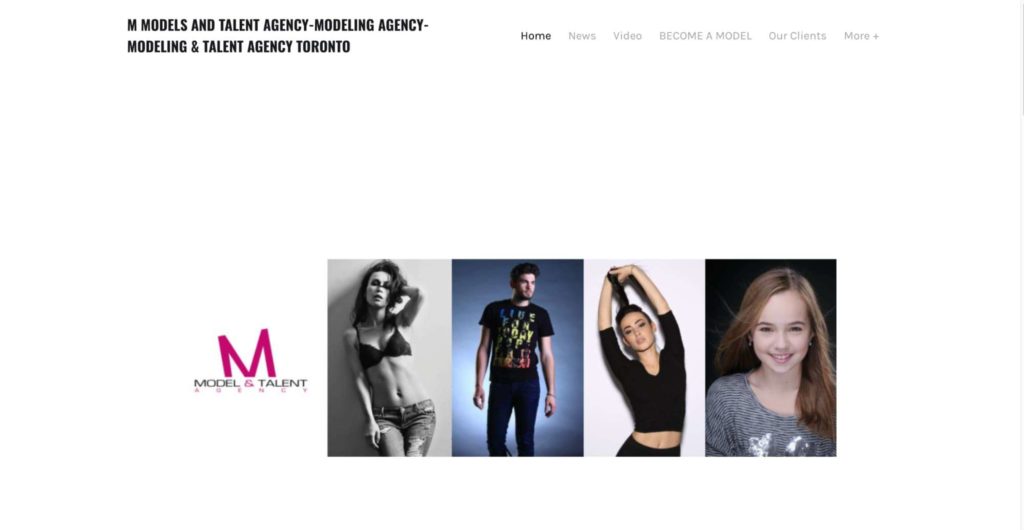 SERVICES
Model and talent agency
WEBSITE
http://mmodels.ca/index.html
ADDRESS
330 Bay St. Suite 1400, Toronto, ON M5H 2S8, Canada
CONTACT DETAILS
+1 416-613-7906
OPERATING HOURS
Monday – Friday: 11:00 AM – 6:00 PM
Saturday: 12:00 PM – 5:00 PM
M Models and Talent is an agency that focuses on commercial print and principal acting. They represent models from kids to adults and beginners to highly-experienced models.
The agency seeks to promote models in television, fashion work, and advertisements. In the past, they've worked with giant brands such as Coca-Cola, MTV, Intel, and Samsung.
As a model, you won't have to pay them any fees to have you on board. You can simply apply on their website by sending in basic information plus attached photos.
What the agency can do for you is handle your bookings and negotiate your rates with the client. They'll also represent you in front of clients and assist you to get auditions.
The best part is that the agency has both local and international ties. Knowing this, you can expand your modeling prospects outside Toronto and into the world.
No fees required on the application
Negotiates model rates with clients
Assists models with auditions
Local and international ties
Admin fees may apply in some cases
Customer Reviews
Matches models with the right prospects
I am in love with the fact I don't have to keep giving my availability to them. They submit me for projects I match and don't wait for me to email them my availability. So I get submitted before other agency's that wait for there models to confirm. – Kevin Bartlett
Balances professionalism with passion
Since day one I have found this agency to be the type to justify what they would set out to do. I have been through a variety of different agencies that provide experience and work, yet very little that offer integrity. In an industry that can easily leave you behind overnight, I have found this agency to be absolutely effective in balancing professionalism and understanding amongst their talent.I've had the opportunity to work with sean, who has been sincere in his demeanor while intensely passionate in finding work for his talent as well as myself. I highly recommend this agency to those looking to find an opportunity to grow while embracing their passions. They are not afraid to work with you. Those looking to step put of their comfort zone, will find solace here. – Angelo Grey
2. Sutherland Models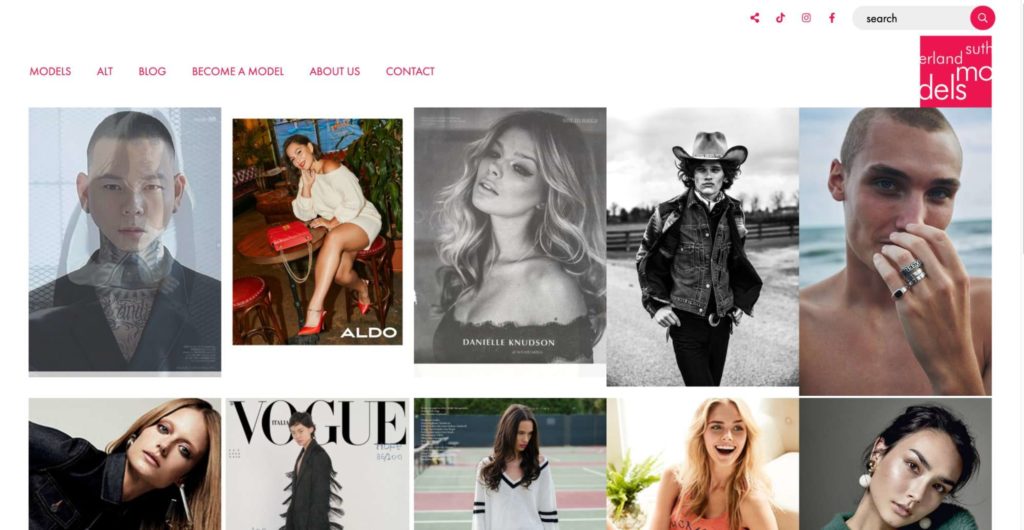 | | |
| --- | --- |
| SERVICES | Modeling agency |
| WEBSITE | https://www.sutherlandmodels.com/ |
| ADDRESS | 333 Bering ave, Assembly District, Etobicoke |
| CONTACT DETAILS | +1 416-703-7070 |
| OPERATING HOURS | Monday – Friday: 8:00 AM – 5:00 PM |
Sutherland Models represents a diverse range of models on the local and international scene. They manage the careers of male, female, trans, and non-binary models as wells as kids, curvy talents, musicians, and celebrities.
For 36 years, the agency has established partnerships around the world. They've launched models into fashion runways, magazine covers, and commercials.
One of their initiatives includes helping Instagram and TikTok influencers get monetized. This allows social media personalities to turn their content into profit in the long run.
Sutherland models have graced the covers of Cosmopolitan, Vogue, Elle, Glow, and many more. And if you want to grab opportunities like this, applying as a model is fairly simple.
You just need to fill in their application form and attach photos of your most natural self. Male models have to at least be 6 feet tall while female models have to be 5'8 tall.
They're also currently looking for curve models of sizes 14+1. The application process is exactly the same for all models.
36 years in business
Accepts trans and non-binary models
Assists with the monetization of social media personalities
Accepts curve models
Experienced agents
Difficult to be accepted as a model
Customer Reviews
Magnificent and incredible people to work with
Sutherland has been an amazing family to sign with. As a trans model, I feel so well taken care, and so accounted for. Everyone has been extremely respectful and kind to me from my first interview. They have always insured I'm comfortable with anything I get offered. Brandon has been very hands on with me and it's been an incredible honour. He is working so hard to get my name out there, and it never goes unseen! The rest of the crew Prima and Daisy have been so magnificent to work along side as well! It is a dream to be signed with Sutherland and they definitely live up to their name and brand! Would not want to be anywhere else. – Jazmine Carter
Exceeds expectations
Sutherland and all it's agents have surpassed my expectations since getting signed with them. I feel like I can always come to Brandon, Prima and Daisy with any questions or concerns I have. They've made it very clear that they want what's best for me; both in regards to my career as well as my health & safety. I'm so glad to have signed with Sutherland above other agencies I had met with. Can't wait to see what comes next!!! – Kait Robb
3. Massardo Model Management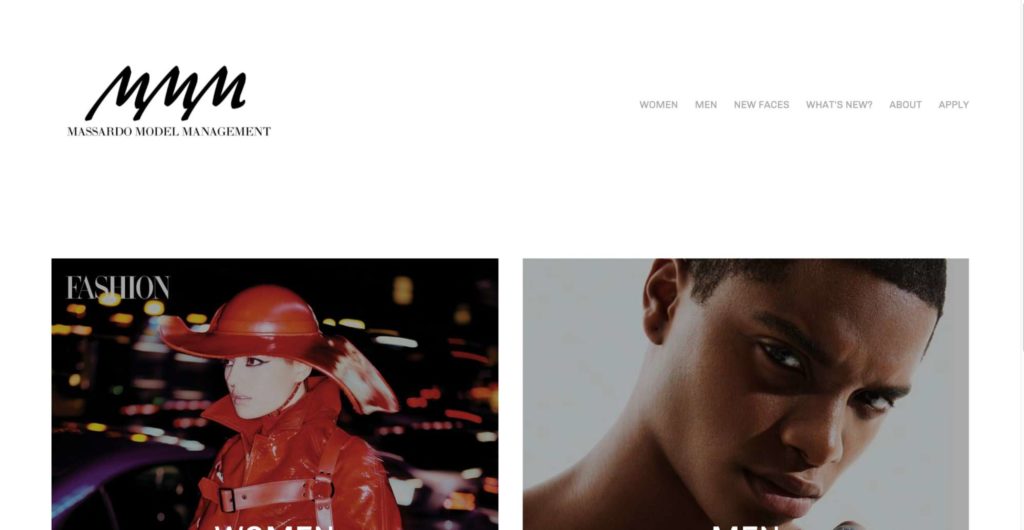 Massardo Model Management is still a young agency, having been established in 2017. But, they already show a lot of promise with their talent-centered approach.
The agency believes in a "boutique" management approach where they keep a small roster of models. This ensures a more hands-on and personalized approach, giving each model adequate attention.
What the agency does is build a portfolio for the models to promote them to local booking agencies. Eventually, they'll introduce these models to international partners.
Speaking of international partners, the agency has successfully sent models to many fashion markets. These include Paris, London, New York, Beijing, Milan, and Singapore.
They're no stranger to many well-known names either. In fact, some of their clientele includes Vogue, Adidas, Dolce & Gabbana, Lululemon, Armani, and more.
Models do have to pay model management costs but workshops and courses are all free. To qualify, male models have to be 6'0 and up and female models have to be 5'8 and up.
A small roster of models to give each adequate attention
Pitches models to local and international booking agencies
Provides opportunities to work in global fashion markers
Free course and workshops
Only represents male and female models
Charges for model management fees
Customer Reviews
Provides an avenue for growth and development
After working with Chris for a few years now I can honestly say nothing but good things. I've always felt taken care of as one of his model and he's taken the time over the years to really explain the ins and out of the business helping me grow and develop as a model. Meeting and working with Chris was the best thing to happen to me in modelling and in general as Ive been fortunate enough to travel and work in places I never thought I'd be thanks to Chris. – Adam DeSouza
Helps models achieve their goals
I have been represented by Massardo Model Management for the last year, and cant even express how grateful I am to be represented by the agency. Not only is he amazing to deal with on a personal basis with me and helping me with my career, but when Im on set with I always hear such positive things about him from the clients as well. He's helped me grow as a model, and helped me achieve goals that i never thought it could achieve this quick, especially during a pandemic. Couldn't recommend Massardo Model Management enough! – Kelly McGarvey
4. Femme Fatale Event Staffing & Modelling Agency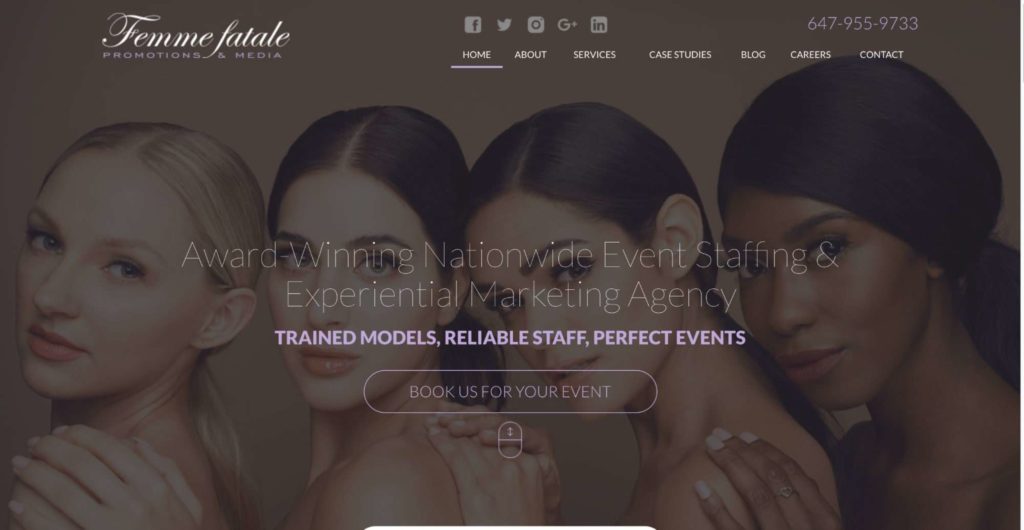 | | |
| --- | --- |
| SERVICES | Modeling agency and event staffing |
| WEBSITE | https://www.femmefatalemedia.com/ |
| ADDRESS | 290 Carlaw Ave, Toronto, ON M4M 2S1, Canada |
| CONTACT DETAILS | +1 647-955-9733 |
| OPERATING HOURS | Monday – Saturday: 9:00 AM – 6:00 PM |
Femme Fatale is a wonderful company to start with if you want to access various opportunities. They do almost everything, from representing high fashion models to event staffing services.
Due to its diverse service areas, the agency doesn't have a height requirement. Their roster includes high-fashion models of heights 5'9 and up to promotional models of all heights.
They don't charge any fees to join and you only need to submit a quick form to apply. If you've been scouted, your potential projects can range from fashion, shows, music videos, commercials, product launches, and more.
What's great about this agency is that its excellence has been recognized on various occasions since its foundation. Some of their most notable ones are the Toronto Night Club Awards for Best Promotional Models and the Top Choice Award for Top Event Staffing.
To give you an idea of their past work, they've served many prominent names such as Guess, Dior, and Coach. They've also worked with well-known auto brands such as Lamborghini and Audi.
Wide-range of modeling opportunities
No minimum height requirements
Multi-awarded agency
No fees to join the team
More concentrated on events staffing
Customer Reviews
Ensures talents work efficiently at all times
Femme Fatale is an amazing company for many reasons! I've worked for them on several events and they are always on time getting event information to me to ensure that I can do my job efficiently, which in turn ensures the client is happy! The staff at head office is super friendly, helpful and always available. They do whatever they can in their power to ensure that their staff and their clients are happy at the end of the day. If something comes up last minute they react right away to guarantee that everything ends up running smoothly! – Sara Dehg
Opens many opportunities in networking
Femme is one of the best agencies that I have worked with. Going towards my event managing goal, this agency opened so many doors for me in meeting amazing people and networking. The staff they have is always looking out for your best interests and making sure "work" doesn't feel like a job! I would defiantly recommend any Promo Girls & Guys to check out Femme Fatale Media! – Mlle Francesca
5. ANM Management
| | |
| --- | --- |
| SERVICES | Modeling agency |
| WEBSITE | https://www.anm-mgmt.com/home |
| ADDRESS | 1159 Dundas St E Unit 148, Toronto, ON M4M 3N9, Canada |
| CONTACT DETAILS | +1 416-792-0357 |
| OPERATING HOURS | Monday – Friday: 9:00 AM – 5:00 PM |
ANM Management has been making a name since its establishment in 2008 in London, Ontario. Expanding in Toronto in 2017, the agency now provides additional opportunities to models.
What makes this agency stand out is experience-based advice and training. The founder herself has been a model for 35 years, which we reckon is more than enough to be called an "expert" in this field.
Apart from personal experience, the management also has international ties that extend its reach. In fact, they've worked with top designers such as Roberto Cavalli and Gianni Versace.
Another thing worth noting is their wide division of models. They represent kids & teens, men & women, curve, and development models.
The agency's main concentration is working with new faces, so you don't have to worry if you have zero experience. There are no fees required whatsoever so there's really no harm trying out with an application.
Experience-based training from founder
35 years of modeling experience
Diverse roster of models
Welcomes new face with zero experience
No application fees required
Follow-ups can be challenging
Customer Reviews
Professional, positive, and creative
I had such a great experience with my model Karyn and her agent Jessica. Jessica did really found every solutions to make my photoshoot great. She did propose to me Karyn and wow it was just the best fit for my brand. Karyn is incredible, she has so much creativity, grace and beauty. She is so professional, so positive and she catch up fast. Thank you to both of you. I definitely recommend this agency and definitely recommend Karyn. – Josefa David
Actively involved with talents
My daughters have been with Anita Norris for almost 3 years and I have nothing but great things to say about them. They immediately respond to any inquiries I have and ease my mind if there are any concerns. My daughter has had steady work right from the get go! If you're looking for a modeling agency I highly recommend them! Great team and Anita is actively involved with her talent as well!! – Meena Chowdhury
6. Citizen Agency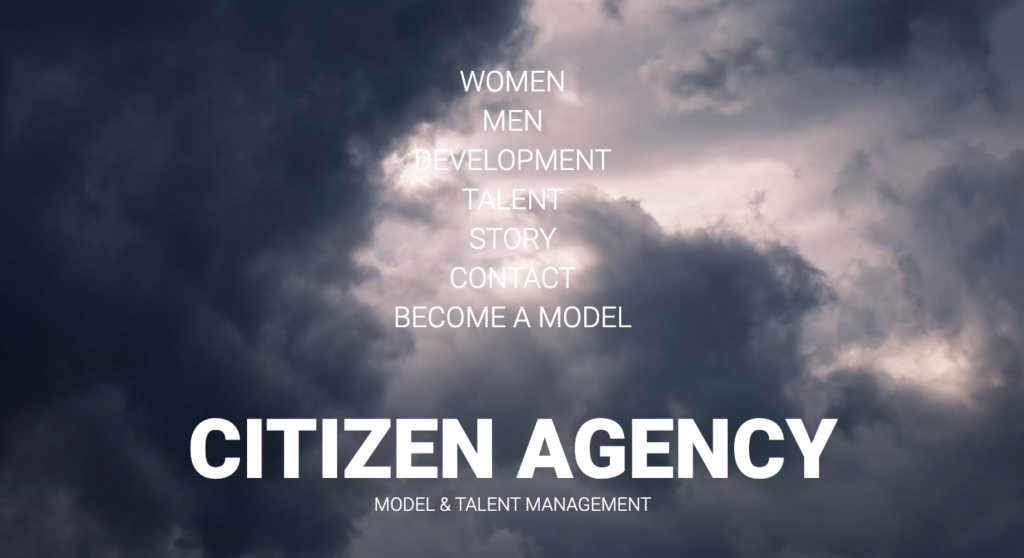 SERVICES
A full-service Mother Agency, developing and managing the careers of models & talent Worldwide.
WEBSITE
https://citizen.agency/
ADDRESS
STUDIO ADDRESS
82 Berkeley St. Lower Studio Toronto, ON M5A 2W7, Canada
MAILING ADDRESS
1 King St W Suite 4800-112, Toronto, ON M5H 1A1, Canada
CONTACT DETAILS
TEL: 647.646.3221
AGENCY DIRECTOR:

[email protected]


SUBMISSIONS + INQUIRES:

[email protected]


ACCOUNTING:

[email protected]

OPERATING HOURS
Monday to Friday: 9:00 AM – 5:00 PM
Saturday & Sunday: CLOSED
Though Citizen Agency is a fledging company, its goal is to hunt, develop and manage talented models from around the globe. It is a full-service Mother Agency where it has experience in the most prestigious markets, including New York, London, Milan, and Paris.
This agency was founded by Tyg Davison and we are amazed as Tyg realized her dream of managing the next generation of models and worked as the Director of Development at a Canadian agency, becoming the youngest director of any agency at the time, before going out on her own to found Citizen Agency.
Backing it up by the founder of Citizen Agency, Tyg Davison's illustrious career as an international model spanned a decade, with stops in New York, London, Milan, and Paris.
Tyg gained invaluable experience working closely with the industry's most prestigious designers, including walking for Jean Paul Gaultier's Haute Couture shows for an incredible ten consecutive years, as well as walking and shooting for brands such as Miu Miu, Maison Martin Margiela, Zara, Comme Des Garcons, Saint Laurent, Adidas Y-3, Jeremy Scott, Moschino, Zadig & Voltaire, Rick Owens, and most notably, being named Marc Jacobs' very own muse.
Tyg's industry experience has been well documented in the press, and he has been sought after by Harper's Bazaar, ELLE Canada, CR Fashion Book, Dress To Kill Magazine, and others.
Being in the industry for a long time, it uses its vast network of personal relationships with casting directors and agencies all over the world to launch new faces, guide established models and talent's successful careers, and curate an inspiring collection of individuals for clients.
Looking into how they work, they represent a select roster in order to manage with a personalized approach and takes pride in strategically developed, meaningful careers in this ever-changing industry.
Entrusting Citizen Agency your modeling career will for sure give you the best results and a birght future ahead as they know the ins and outs of the modeling industry.
Successful portfolio of models
Can represent men and children
Closed during weekends
Their Submission Form should be used to apply. No open calls or walk-ins
If scouted, call or email to set an appointment
Customer Reviews
Let's take a look at what their clients have to say:
"Tyg Davison is an astounding young woman. She's had the necessary industry experience both as a successful international model and booker and is well regarded by casting directors, stylists, hair and makeup artists, fellow agents, models and parents. I have known her since her teen years and she has the compassion and understanding to work with models and their families to build a successful career. Highly recommend her!" – Andrea Albanese
"Coming from the client side, it is a pleasure working with Tyg Davison." – Arev Manoukian
"Tyg is amazing to work with. She is incredibly supportive,inspiring and kind. Her industry experience, reputation and connections are priceless. I feel truly blessed to be developing with and represented by Tyg & the Citizen Agency team." – Jessie Brandy
"It's always a pleasure to work with Tyg At Citizen Agency. They truly focus on and grow the talent they represent. Looking forward to seeing what else they do in the future." – Noah Feldman
7. ICON Models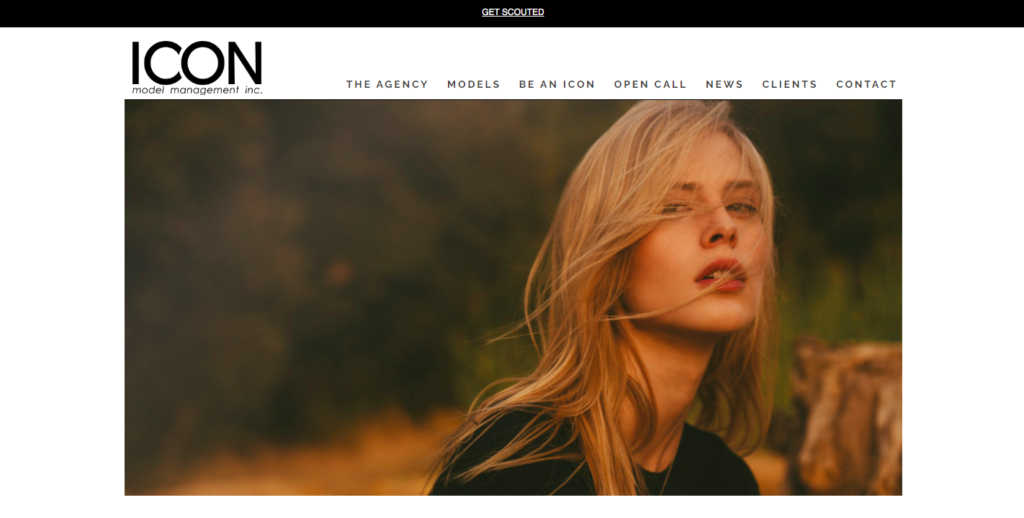 SERVICES
Women, Lifestyle Women, Men, Lifestyle Men, Development, Kids
WEBSITE
https://iconmodels.ca/home.php
ADDRESS
477 Richmond Street West, Suite 310, Toronto, Canada, M5V 3E7
CONTACT DETAILS
Tel: +1 (416) 504 4266
Email:

[email protected]

OPERATING HOURS
Monday – Friday: 10:00 AM – 6:00 PM
Icon Model Management Inc., or ICON for short, is a full-service agency that has quite the impressive portfolio and success rate. A number of models from their agency have gone on to appear in fashion magazines, television, films, music videos, ad campaigns and catwalks around the world.
ICON doesn't just represent women – they also represent men, women and children. With a wealth of experience in the fashion and entertainment industry and a keen eye for spotting talent, this agency specializes in overseeing the careers of a wide variety of talent.
Each individual client's path is planned for a long-term career, with personalized representation ensuring that his or her strengths are highlighted. ICON believes in maximizing each talent's potential and source the appropriate opportunities available to them.
ICON holds regular open call castings for men and women in Toronto every Tuesday and Thursday. For those that cannot attend, they may conveniently send a few snapshots online via their webpage.
Successful portfolio of models
Holds regular casting calls
Accepts online applications
18+ years in business
Slow feedback time
Closed during weekends
Customer Reviews
Professional from the very beginning
"I have worked with ICON since March of 2021 they have been very professional from the very beginning. My agent is Riz and he has been great and professional from the very beginning. I work with Maya and Denise for my auditions and they are an awesome team! I highly recommend ICON Models!!!:)" – Greg Houghton
Very helpful and communicative

"Riz is an awesome agent. Very honest and approachable. He's straight up and doesn't give you false expectations. The team are very helpful and communicative and do a great job of keeping in touch regarding auditions and castings." – Xheneta Iseni
8. Orange Model Management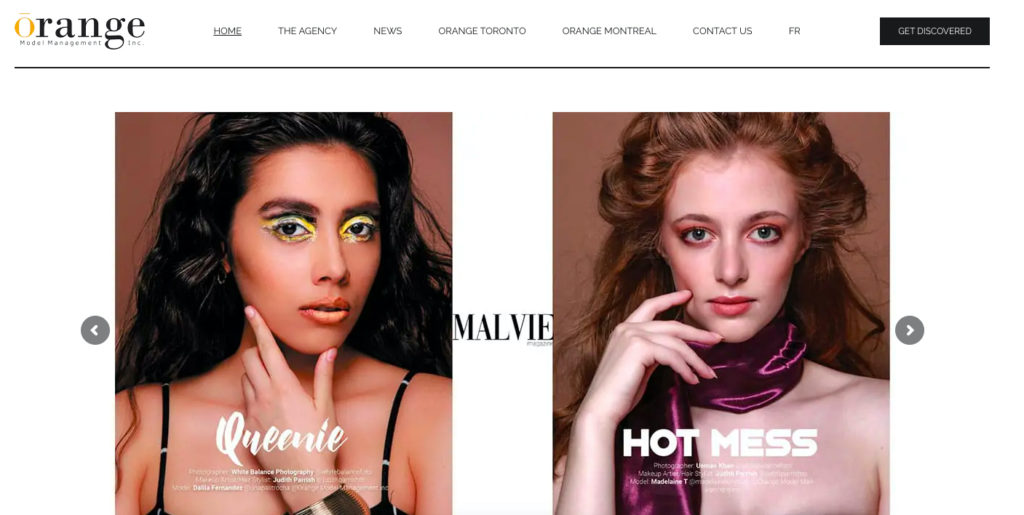 SERVICES
Full-service model and talent agency
WEBSITE
https://orangemodels.ca/
ADDRESS
487 Adelaide Street West,
Suite 202 Toronto,
Ontario – M5V 1T4
Canada
CONTACT DETAILS
Tel: + 1 416 977 (OMMI) 6664
Email:

[email protected]

OPERATING HOURS
Contact for more information
Orange Model Management is a top modeling and talent agency that has represented the very best models and talents since 2006, and it has grown to become one of the largest and most diverse agencies in Toronto and Montreal.
What we find notable about them is that they have a presence in the commercial, fashion, TV and film industries, both nationally and internationally.
They've worked with popular brands and names, such as Calvin Klein, Dior, Dove, Samsung, Nike, Tim Hortons, and Mercedes-Benz, to name a few.
We like that OMM also takes in novices. As long as they see that you have what it takes to work with them, they'll help you with basic presentation skills, organizing your portfolio, composite cards, acting headshots, and resume.
It's important to note that they only manage talents that currently live in the Ontario and Quebec area.
We've come across many positive reviews about them, but we've also seen negative reviews about being charged hundreds of dollars for photoshoots and portfolio.
While they're one of the top options in the area, we recommend doing more research on the agency.
Accepts online applications
Worked with big brands
Takes in novices
Only manages talents who currently live in the Ontario and Quebec area
Customer Reviews
"Biggest challenge as a model is getting modelling jobs. Orange models helped me secure auditions. Orange models also provide information about "how to" for auditions.
Company also arranged modelled and acting classes. It's a great company to work for. People are super supportive and helpful." — Nipin Malhotra
FAQs About Modeling Agencies in Toronto
---
Finding a career is never an easy task that's why we laid out the best modeling agencies for you! If you want to further expand your career prospects, check out our review on the best recruitment agencies in Toronto.