A Complete Guide to Moving to a New Home in Toronto
Moving to a new home is always an exciting endeavor, but it's also a challenge. If you're having trouble with this new phase in your life, we're here to help out!
In this guide, we'll cover important steps to do before your moving day and once you've moved in.
Towards the end of this guide, you'll also find a quick resource guide to services you need to contact once your address has changed.
Important Things to Do Before the Moving Day
The busiest period of your relocation is right about two months prior to your moving day. Within this timeframe, it's important that you accomplish the following to ensure a smooth transition to your new home:
Make a list of people to notify
List down all your friends, family members, company networks, and essential parties that you must notify.
In general, you must update the following individuals and services before updating your address:
Your close friends and family members
Post-office setup with Canada Post
The HR department of your employer
Educational institutions (you or your kids')
Insurance companies (auto, personal, business, etc.)
Utility companies (gas, water, electricity, WiFi)
Paychecks and tax form
Key individuals to contact (your lawyer, dentist, babysitter, etc)
Your pets' official veterinarian
Subscription services (online shopping, streaming, mapping services, etc.)
Update your address and transfer home utilities
Once you have your complete list, the next move is to update your address. Make sure to fill out all the forms necessary for a change of address.
The most important part is to start with your utilities since switching utilities is usually the most challenging part. Make sure that you've arranged your accounts so you can move into your home with water, gas, and electricity already.
For your kids (or yourself), don't forget to contact the previous school to process their transfer records. However, in cases when you decide to still have them attend the same school, then this may not be necessary.
Organize your items and start packing
This is the stage of the moving process where you have to do a lot of leg work. It's typically harder if you're alone, but if you have a family member to help you, it's advisable to get them in the loop too.
To sum up the core of your packing day, focus on the following activities to save on time and energy:
Understand the dimensions of your new home so you know which pieces of furniture to leave behind.
Create an inventory list of items you've decided to bring with you.
See if there are any items in your home that would require extra insurance coverage due to high moving risk.
Keep a binder or documents folder to store all necessary documents required for your move.
Have separate document storage for your personal documents such as legal paperwork or identification papers.
Get a safe box for valuable items that you have to move including pieces of jewelry and accessories.
For not-so-important items, consider donating them to charity or reselling them for extra cash.
Pack a bag where you can store items that you must use right away once you've moved to the new home.
Send your rugs or carpets to a cleaner so you can have them clean and wrapped – perfect for moving.
Don't forget to buy cushion wrappers, labels for boxes, and a "fragile" marking tape for all the items you're moving.
Pack a suitcase for you and your family for all your personal belongings such as clothes and personal hygiene products.
Arrange an appointment with a mover
Now, if you have arrangements with a mover, then you can expect them to do most of the packing, disassembly, and loading. This will of course cost you money, but it can ultimately save your time and energy.
As a general rule, it's best to meet with the movers face-to-face to get a better estimate of the costs. Other than that, do consider the following before choosing a mover:
Inquire about their range of services
Find out their experience in the business
Check out the moving equipment they have
Ask about their licenses and insurance coverage
Clean Previous Home for Inspection
As an act of courtesy, getting cleaning services for your previous home is a wonderful choice. This ensures that the place is in wonderful condition before you leave it to a property manager or to the next homeowner.
If you're planning to sell your previous home, it's also best to get in contact with a real estate lawyer to arrange the legalities of the sale.
Of course, you also need to hire a property inspector to check your home for any type of damage that might need repairs or upgrades and repairs.
Keep a Keen Eye During Moving Day
As much as possible, your moving day should have your full attention. Reserve the entire day to make sure the process is stress-free for everyone involved.

Keep in mind the following things to do during the move:
Check each room if everything has been packed and removed. If you have a full-service mover, you can explore each room after them to make sure that everything that needs to be taken out is taken out.
Switch off all the appliances in the previous home that you can't bring with you for various reasons (e.g. you're renting an apartment and you don't own the appliances). It's best to keep them off the plug to avoid any risks of electric failure.
Do a last-minute check of all the locks in the home. Make sure the doors and windows are closed and safe from any sort of threats.
Major Things to Do in Your New Home
Now that you've moved into your new home, it's time to make arrangements to settle in smoothly. Here are some of the major tasks to do once you're all set in your new humble abode.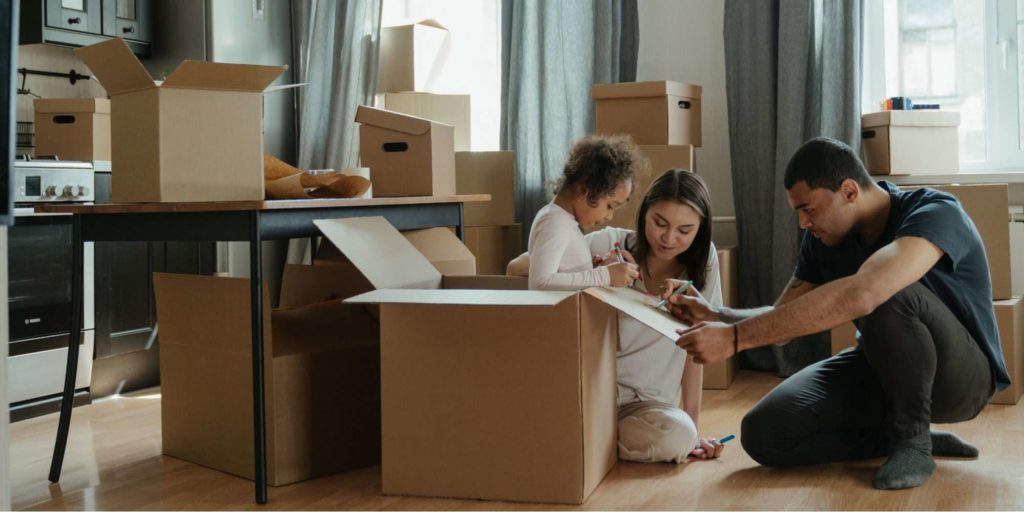 Change the locks
Security should be among your top-most priority once you move in. Most homeowners don't realize this, but it's vital to change the locks in your new house to minimize security threats.
Contact a locksmith to have your locks changed in every door of your home. If the change is too costly for you, you can focus on your main entrances instead.
If you prefer, you can also get in touch with a security company to have surveillance systems installed. It's not necessary but it's a nice touch, especially if security is your main concern.
Arrange your furniture and fixtures
Getting a new home means starting from square one when it comes to the furniture layout. Unless your new house is actually similar to your old one, then its interior arrangement is essential.
If you have the budget for it, you can hire an interior designer to help you organize your stuff in your new home.
Alternatively, you can just have your entire family do the design process – just make sure that the style is both functional and visually pleasing.
Have your appliances installed
Next, it's time to think about where to place your appliances in a way that works for everyone. You may not realize it, but you have to carefully think this through to ensure that each item is safely plugged-in.
For instance, you don't want to keep a TV too close to a fridge in the kitchen. Make sure to also check if the outlets in your new home match the plugs of your appliances and other electronics.
Stock up on necessities
In case you actually have to let go of some of the items you have in your previous home, it's time to invest in new ones.
On top of that, you must also stock up on household necessities to basically "kickstart" your new life.
Here are some of the basics to focus on:
Kitchen necessities
Beddings and linen
Cleaning materials
Personal hygiene products
Other small appliances
Storage solutions
Laundry essentials
Food items and beverages
Small repair tools
Get around the neighborhood
Finally, once you've gotten around all the moving and organizing, take the time to meet your neighbors. Prepare something nice like a small gift to introduce yourself and hopefully build a good relationship in the neighborhood!
A Homeowner's Quick List of Resources
This section contains a list of resources you must update once you change your address. Refer to each table for addresses and hotlines for easy contact:
Government Agencies and Public Services in Toronto
Where
Hotline
Driver's License

(Update within 6 days from the time you changed your address)

At a ServiceOntario closest to you*
Tel: 416-326-1234

Toll-free: 1-800-267-8097

TTY: 416-325-3408

Toll-free TTY: 1-800-268-7095

Ontario Health Insurance Plan (OHIP)- Health Card

(Update within 30 days from the time you changed your address)

At a ServiceOntario closest to you
Tel: 416-326-1234

Toll-free: 1-800-267-8097

TTY: 416-325-3408

Toll-free TTY: 1-800-268-7095

CRA Information
Use CRA's My Account service to update your address online
1-800-959-8281
Elections Ontario

Use e-Registration services to update address or;




Mail an Application to the Voters List (Permanent Register of Electors) form to 51 Rolark Drive Toronto, ON M1R 3B1 or;




Email form to [email protected]

Tel: 1-888-668-8683

TTY: 1-888-292-2312

Employment Insurance
Use My Service Canada Account (MSCA) on the government's website to change address
1-800-206-7218
Outdoors Card

(For hunting and fishing)

Use Hunt and Fish Ontario website to update online or;




Visit a ServiceOntario closest to you

1-800-387-7011
Ontario Photo Card

(For Ontarians who do not have a driver's license)

At a ServiceOntario closest to you or;




Mail request to

P.O. Box 9200

Kingston, ON

K7L 5K4

1-888-777-8906
*Here are some of the ServiceOntario locations you can find across Toronto. You can also find a location at the Service Ontario website:
846 Dundas St W, Toronto, ON M6J 1V5
839 Yonge St, Toronto, ON M4W 2H2
777 Bay Street Lower Level, Toronto, ON M7A 2J3
1871 O'Connor Drive Units 3 & 4, Toronto, ON M4A 1X1,
2129 St Clair Ave W, Toronto, ON M6N 5B4
747 Don Mills Rd., North York, ON M3C 1T2
1025 Lake Shore Blvd E, Toronto, ON M4M 1B4
3495 Lawrence Ave E, Toronto, ON M1H 1B3
100 Steeles Ave W, Thornhill, ON L4J 7Y1
250 Wincott Dr, Etobicoke, ON M9R 2R5,
4800 Sheppard Ave E Unit 112, Scarborough, ON M1S 4N5
Home Services and Utilities
Finance and Insurance
Banks
Credit unions
Loan insurers
Investments
Credit cards
Health insurance
Life insurance
Home insurance
Online Subscription Services Requiring Address
Online shopping websites
Streaming services
Geo-mapping services
Subscription boxes
Any professional associations
Membership cards
Retail Clubs
Emergency Hotlines in Toronto
The table below shows a list of emergency hotline numbers to contact within the city:
| Service | Number |
| --- | --- |
| Police, fire, or medical emergencies | 911 |
| Toronto Police Non-emergency | 416-808-2222 |
| Toronto Fire Services (General Inquiries) | 416-338-9050 |
| Toronto Distress Centre | 416-408-HELP (4357) |
| Ontario Provincial Police (OPP) | 1-888-310-1122 |
| Alcoholics Anonymous Helpline | 416-487-5591 |
| Crime Stoppers | 1-800-222-TIPS (8477) |
| Telehealth Ontario | 1-866-797-0000 |
| Kid's Helpline | 1-800-668-6868 |
| Victim Services Toronto | 416-808-7066 |
| Assaulted Women's Helpline Toronto | 416-863-0511 |
| Ontario Poison Information Centre | 1-800-268-9017 |
| Mental Health Crisis Line | 1-888-893-8333 |
| Aids Hotline | 1-800-668-2437 |
---
A house isn't a home until you've built memories in it. Start yours by moving into your new home with a positive attitude and great hopes for the future ahead!