The 11 Best Locksmiths in Toronto
Whether you're thinking about getting your keys duplicated or improving your home's security system, the best locksmiths in Toronto have you covered. These skilled tradesmen know everything about residential and commercial locks and security devices, even the most complicated ones.
If you know nothing about the best locksmiths in Toronto, then this article couldn't be any more perfect for you.
We made a review of each of them and included what their customers think about their services. We even listed the typical cost of locksmith services in Toronto.
Best Locksmiths in Toronto
1.   Locksmith Care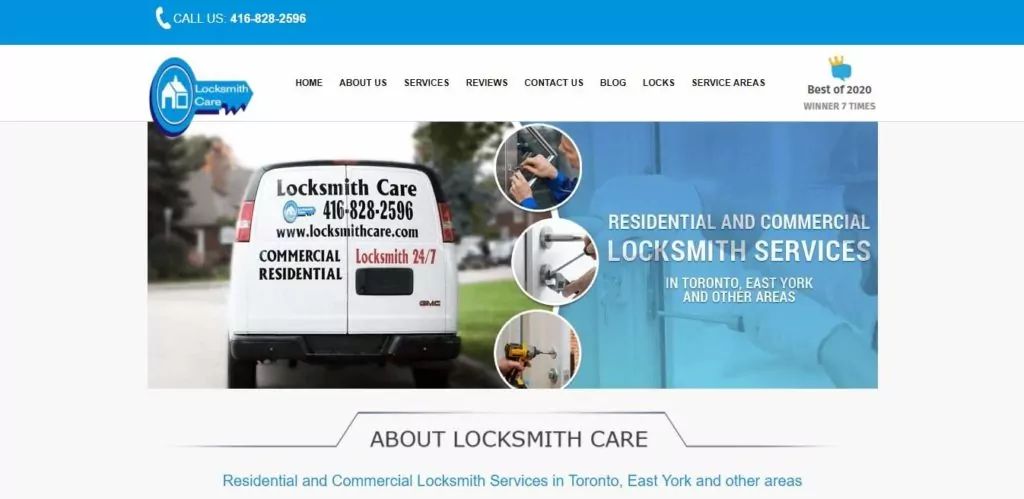 BEST FOR
Residential and commercial locksmith services
SERVICES
Key duplications, door operating devices, digital locks, emergency locksmith, high security locks, master key system, lock installation, fire exit devices, and file cabinet locks, lock rekeying, lock repair, deadbolt installation, automatic/ handicap door opener
ADDRESS
East York, Toronto, ON M4B 2X6
CONTACT NUMBER
416-828-2596

[email protected]

WEBSITE
https://locksmithcare.com/
OPERATING HOURS
Monday – Sunday: 7:00 AM – 7:00 PM
Locksmith Care is a locally owned company that services every corner of the Greater Toronto area, including commercial and retail spaces. It specializes in lock security hardware for home and business needs.
A huge part of Locksmith Care's clientele is made up of small business owners who need an affordable security system to protect their most valuable resources. Most of its services are reasonably priced as well, which explains why most people use its locksmith services.
In terms of service range, Locksmith Care doesn't fall short. It offers all sorts of locksmith services, from the most basic ones such as duplicating keys down to the most complex jobs like installing high security locks.
Locksmith Care is quite fast when responding to customer queries as well, so that's another thing that put them on our radar.
Emergency services
Quick response to customers
Some of the cheapest rates in Toronto
Can handle very complicated jobs
Limited slots for emergency services
2.   A-OK Locksmiths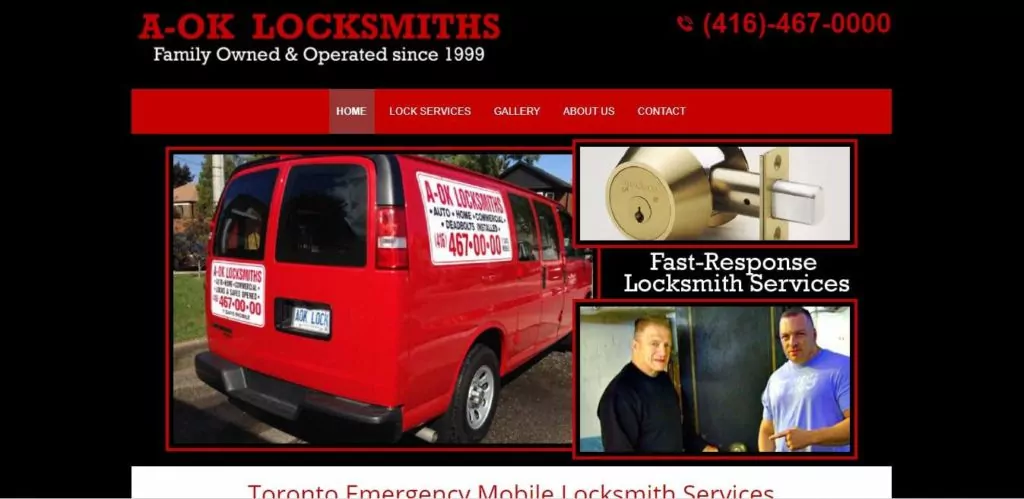 BEST FOR
Quick locksmith services
SERVICES
Lock installations, locks repairs, deadbolt lock installation, pick open locks, keys cut on site, bicycle lock removal, opening safes, changing safe combinations, high security locks, and replacement of old keys
ADDRESS
410 Eastern Avenue, Toronto, ON M4M 1C1
CONTACT NUMBER
416-467-0000

[email protected]

WEBSITE
http://www.a-oklocksmiths.com/
OPERATING HOURS
Monday – Sunday: 9:00 AM – 9:00 PM
Established in 1999, A-OK Locksmiths is a family-owned locksmith company that offers a broad range of locksmith services for homes and businesses. It's known as a fast and responsive locksmith that can get the job done in less than a day.
Some of the services provided by A-OK Locksmiths are lock repairs, lock installation, opening locks, replacement of old keys, and even complicated tasks such as installing home security and changing safe combinations.
In terms of prices, A-OK Locksmiths tries to keep everything as affordable as possible. If you're a senior citizen or a new homeowner, you will receive a 10% discount on your first locksmith service.
A-OK Locksmiths is available every day, including weekends and holidays to accommodate customers who need emergency services. It guarantees that a locksmith will arrive at your doorstep shortly after you call for help, even on busy holidays.
Of course, "shortly" is relative. But nothing in our experiences with them and research indicates they'd be slow in service!
Responsive locksmith team
Open during weekends and holidays
3.   Direct Locksmith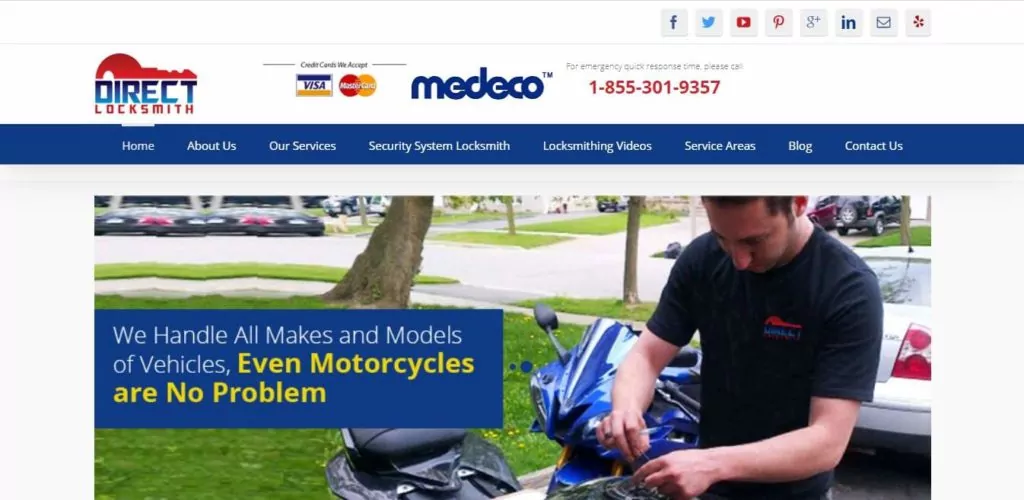 BEST FOR
24/7 emergency services
SERVICES
Residential locks, commercial locks, industrial locks, vehicle ignition key repair, safe and deposit boxes, replacement of lost keys, access control systems, CCTV systems, key cutting services, and emergency lockout services
ADDRESS
877 Alness St #24, North York, ON M3J 2X4, Canada
CONTACT NUMBER
416-477-5533

[email protected]

WEBSITE
https://directlocksmithservices.ca/
OPERATING HOURS
Open 24 hours
Most locksmiths in Toronto are open until weekends, but Direct Locksmith is one of the few that works 24 hours a day, 7 days a week, providing customers with emergency services.
Direct Locksmith works not only with residential clients, but with those in the commercial and industrial sectors as well. Its services are specifically tailored to the needs of homeowners and business owners to keep them safe all the time.
One of its most in-demand services is the emergency lockout for people who got locked out of their apartments. Customers who can't get into their homes may ask for help from Direct Locksmith any time of the day, including midnight.
Direct Locksmith also responds to emergency services in as fast as 15 minutes, so no worries about having to wait outside your home for more than an hour. It's the reason it's called one of the best locksmiths in Toronto.
Its services aren't limited only to Toronto. Residents from Scarborough, Vaughan, Guelph, Georgina, Hamilton, Innisfil, Thornhill, and more may hire its services too.
Free estimate
Open 24 hours
Licensed and insured locksmiths
15-minute response time for emergencies
4.   Pro Locksmiths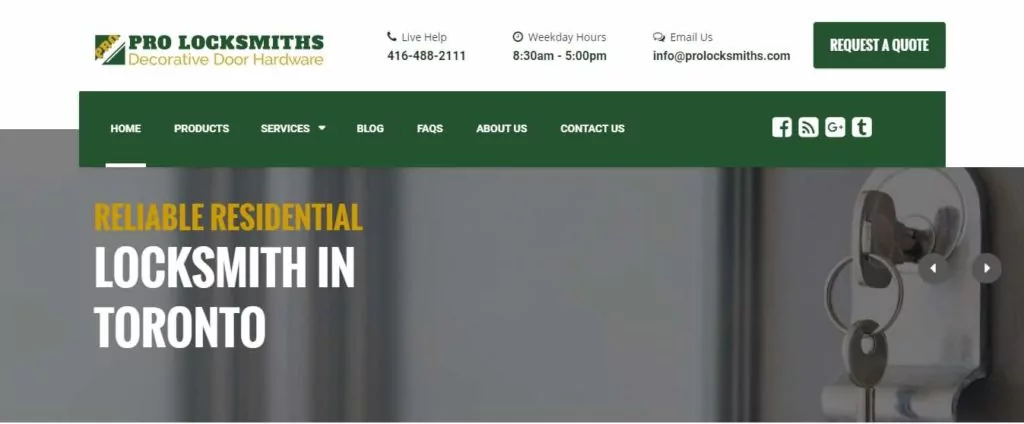 BEST FOR
Advanced home security systems
SERVICES
Home lockout, rekeying locks, home security, security cameras, intercoms, access control, and emergency services
ADDRESS
611 Mt Pleasant Rd, Toronto, ON M4S 2M5, Canada
CONTACT NUMBER
416-488-2111

[email protected]

WEBSITE
https://prolocksmiths.com/
OPERATING HOURS
Monday – Friday: 8:30 AM – 5:30 PM
Pro Locksmiths is one of the top-rated locksmiths in Toronto, with an average rating of 4. 7 out of 5 based on 99 reviews. Most of its customers have nothing but praise for its friendly and professional team of locksmiths.
It's known for its versatile locksmith services that encompass all types of doors and home security systems. Its locksmith services range from picking door locks to installing complex intercom and CCTV systems.
Pro Locksmiths accepts clients from both residential and commercial spaces too. It even has a showroom for customers to consult with any of its home security experts about the type of security system their home or business needs.
It may be more known for complex and complicated security services, but don't hesitate to ask for its help when it comes to basic locksmith services such as replacing lost keys.
Uses high-quality security hardware
Offers computerized security systems
More focused on security systems
5. GTA Lockman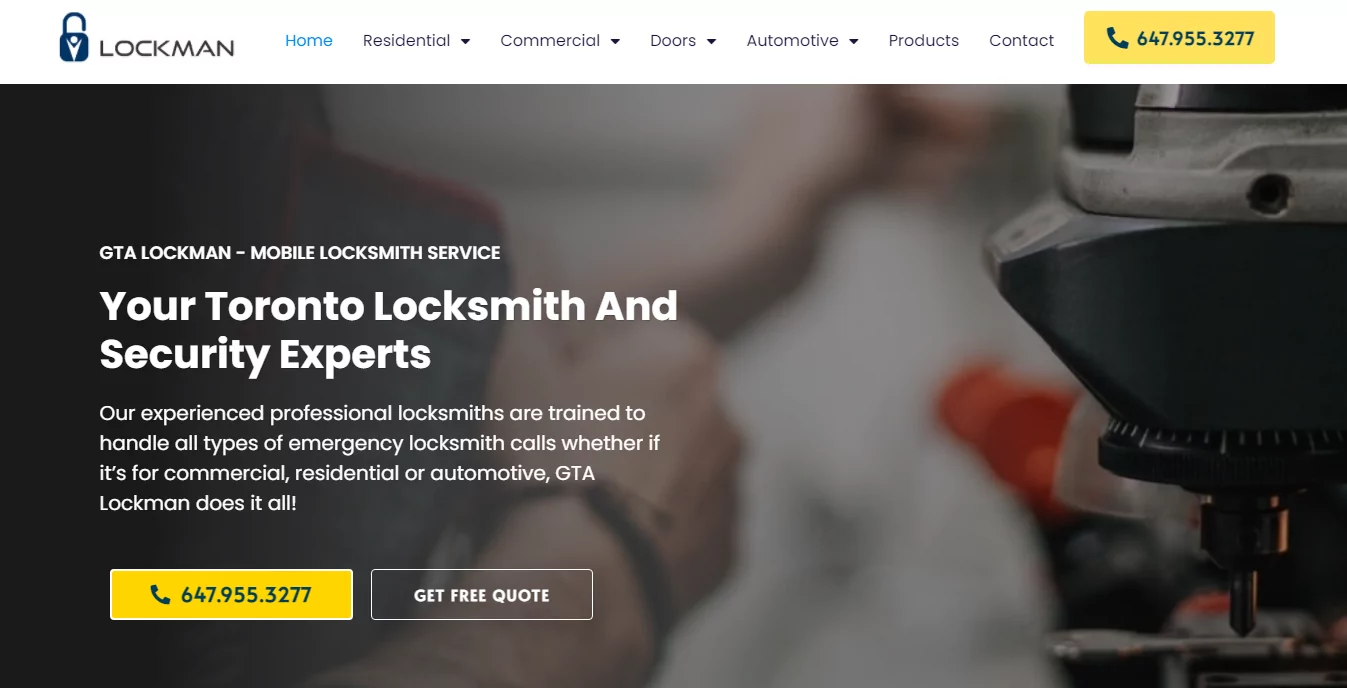 BEST FOR

Locksmith and Security

SERVICES

Residential and Commercial Locksmith Services

ADDRESS

Toronto

CONTACT DETAILS

Phone: (647) 955-3277
Email: [email protected]

WEBSITE

https://thegtalockman.com/

OPERATING HOURS

Sun – Thurs: 7:00 AM – 11:00 PM
Friday: 7:00 AM – 4:00 PM
Saturday: Closed
GTA Lockman is a local, family-run business that offers a wide range of locksmith and security services to the Toronto community. They are a group of professional locksmiths who are trained to handle residential, commercial, and automotive locksmith calls. 
We really appreciate that their operating hours start from 7 in the morning – one of the earliest hours that a locksmith shop opens – and end at 11 in the evening. This means that, sans late at night, when you have an emergency, you are sure that they pick up! 
GTA Lockman is open from Sunday to Friday. They also offer an emergency mobile locksmith service that would come to you in a jiffy.
They offer a wide range of locksmith services, including but not limited to emergency locksmith, lock change service and re-key, lock installation, smart door locks, broken key extraction, door closer installation, high security locks, and desk locks.
They also help address security and lock issues that have to do with doors and auto vehicles. In addition to that, GTA Lockman carries a broad range of security products, all of which have been carefully selected to ensure quality and longevity.
Accommodates residential and commercial clients
Operates six days a week
Offers emergency locksmith services
6.   LocksmithExpress
BEST FOR
Residential and commercial services
SERVICES
Repair locks, re-key locks, change lock combination, gain entry, master key system, fire exit devices, door operating devices, lock installation, home lockouts, and gate locks
ADDRESS
511 The West Mall Etobicoke
CONTACT NUMBER
647-889-6919

[email protected]

WEBSITE
https://locksmithexpresstoronto.ca/
OPERATING HOURS
Open 24 hours
If you're after a locksmith with a positive track record, then look no further than LocksmithExpress. It's a locksmith company trusted by both residential owners and business owners for all their security needs.
LocksmithExpress has become one of the go-to locksmiths in Toronto because of its broad range of services, which include key duplication, lock installation, changing lock combinations, lock repairs, and home lockouts, among others.
Unlike most locksmiths in the area, LocksmithExpress operates 24 hours a day, even on weekends and holidays, making it a perfect locksmith for people who need emergency services. It can definitely help out those who can't get into their apartments after misplacing their keys.
LocksmithExpress services most of Toronton and a few surrounding areas, such as Etobicoke, Oakville, Mississauga, Burlington, North York, East York, Scarborough, Vaughan, and Richmond.
Emergency services
Wide service area
Open 24/7, including weekends and holidays
Expensive emergency rates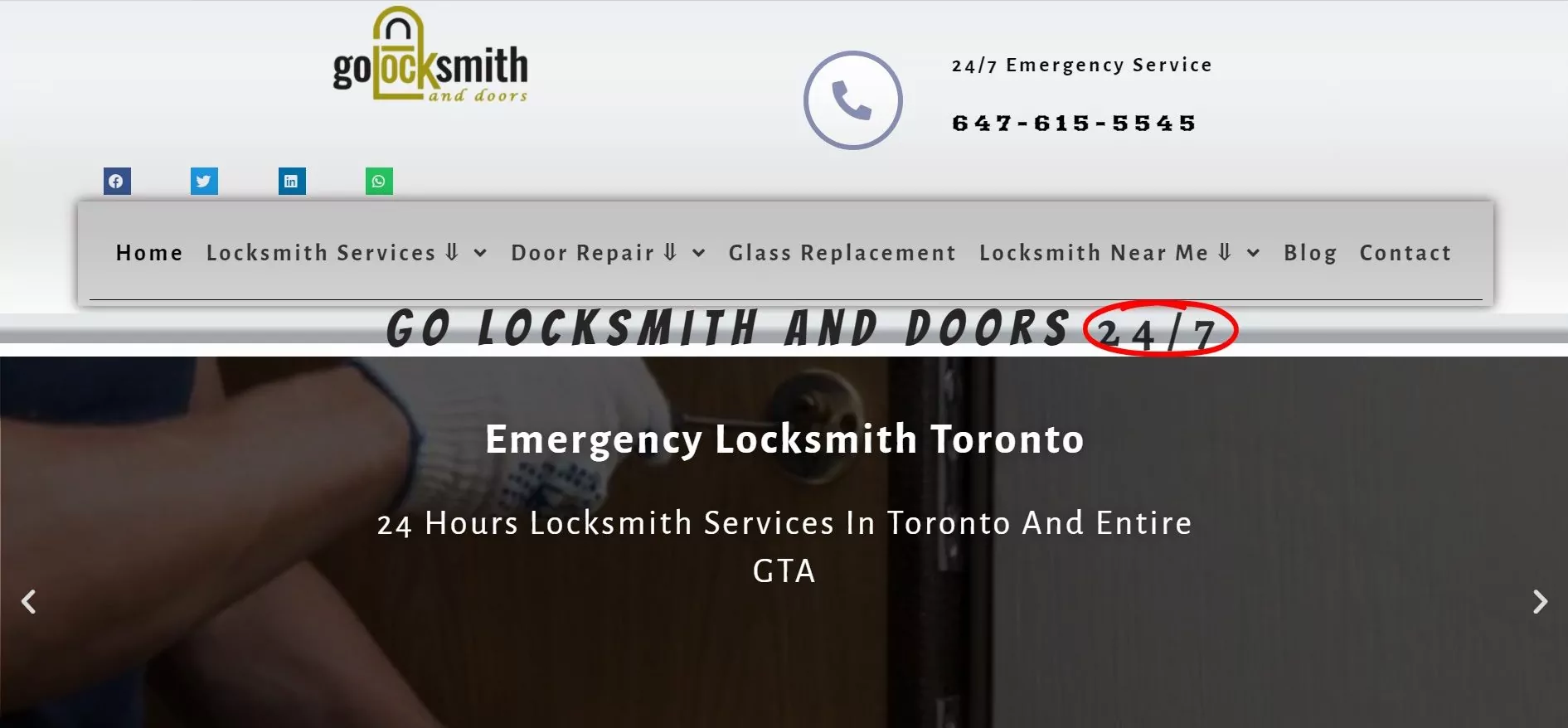 | | |
| --- | --- |
| BEST FOR | Domestic, Commercial and Automative locksmith services |
| SERVICES | Locksmith Services, Door Repair, Glass Replacement |
| ADDRESS | Toronto, Canada |
| CONTACT | (647) 615 5545 | [email protected] |
| WEBSITE | https://locksmith-go.com/ |
| OPERATING HOURS | 24/7 Emergency Service |
No lock issue is too small or too big to fix for Go Locksmith and Doors. Not only do they offer services to domestic properties, but also commercial spaces and even automotive!
They are a trusted company that offers professional, responsible and reliable service to all their customers. Because of this, they offer more than just the usual lock issues. Go Locksmith and Doors also offers lock changes, glass replacements, commercial and residential repairs, safes and vaults.
The best part is that they offer emergency locksmith services 24/7! Their technicians are available any time of the day and will arrive as soon as they can to provide safety to your homes and businesses.
Pros
24/7 Emergency service
Services small and big projects
Automotive locksmith services
Cons
Only services Toronto area
8.

Integrum Locksmith and Doors INC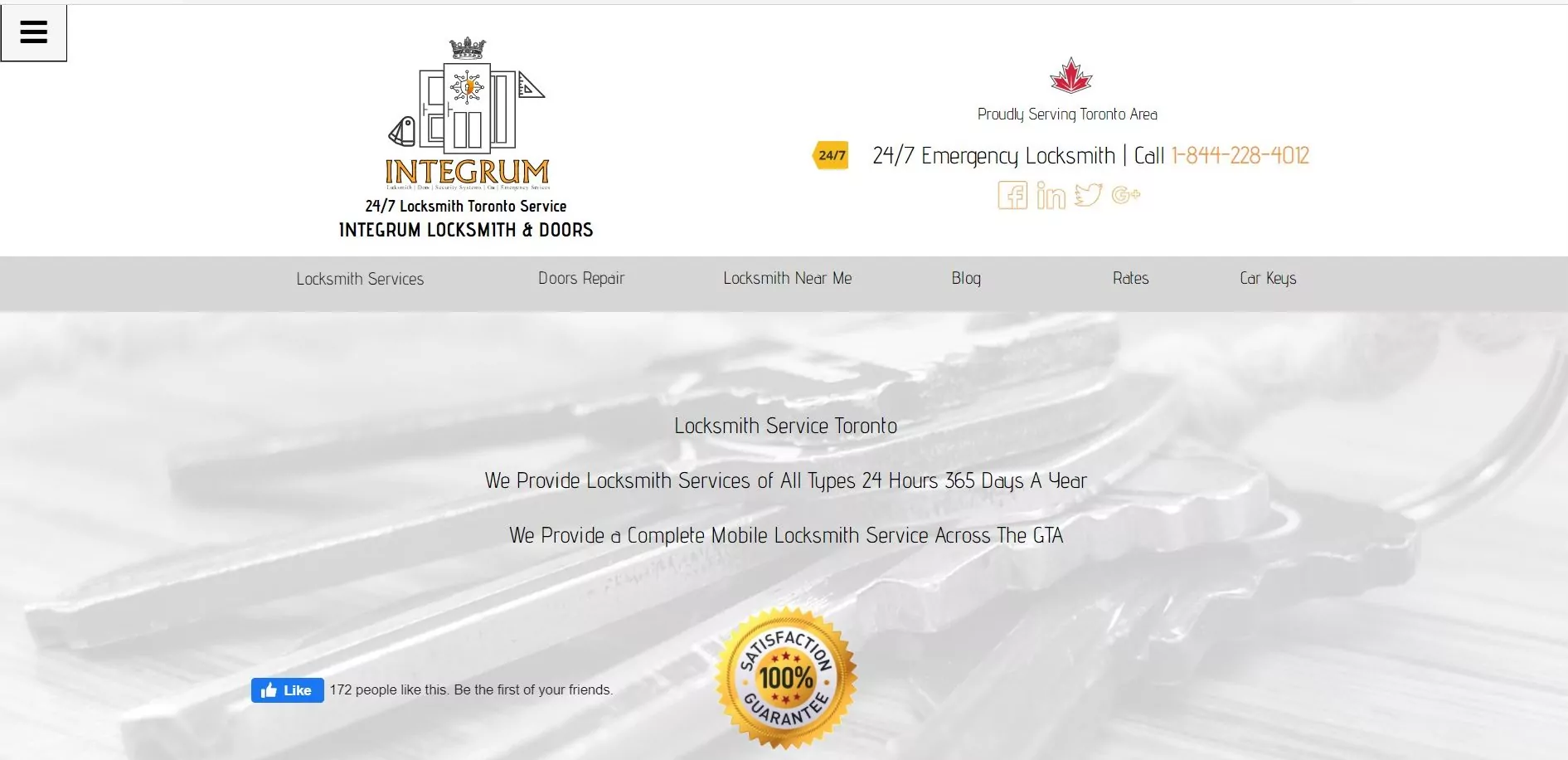 | | |
| --- | --- |
| BEST FOR | Wide Service Area Across Toronto |
| SERVICES | Locksmith Services (Doors, Safes and Vaults, Cars), CCTV installation, Door Repair |
| ADDRESS | 187-6 William Duncan rd Toronto, M3k2b8 |
| CONTACT | 1 844-228-4012 | [email protected] |
| WEBSITE | https://integrum-locksmith.ca/ |
| OPERATING HOURS | 24/7 Hours |
Integrum Locksmith & Doors Locksmiths is a reputable company offeirng locksmith services and hardware within the Greater Toronto region. This agency is an established call in the industry, famed for their professional delivery of services.
With over 10 years of experience, they believe that their valued clients should revel in the comfortability of their team's expertise in providing locksmith services. Whatever your trouble is, vehicle, residential or business, Integrum Locksmith offers the solution at low-cost expenses.
On top of this, besides all the quality services they deliver as well as their 24/7 emergency locksmith, Integrum Locksmith also has proficient consultants for inquiries for new builds. Their technicians will help you discover high-quality products that are low-cost, effective and fits your needs. In the end, which ever lock issue you encounter, Integrum Locksmith can be of help.
Pros
24/7 Emergency services
Affordable rates
Proficient consultants
Services Downtown Toronto
Cons
Rates can be expensive depending on the service needed
9. TBC Locksmith
BEST FOR
Locksmith and Doors
SERVICES
Lock Installation, Repair and Change Services
Home/Car Lockouts
Key Making and Rekeying Services
Master Key Lock System Services
High Security Lock Installation Services
Safe and Vault Opening Services
Door Installation and Repair Services
Break-In Repair Services
Deadbolt Installation Services
Door Closer Repairs and Installations
Storefront Commercial Door Repair Services
Automatic Doors – Repairs and Installations
Mailbox Lock
ADDRESS
46 St Clair Ave E unit 205
Toronto, ON M4T 1M9
CONTACT DETAILS
(647) 699-0953
WEBSITE
https://tbc-locksmith.ca/
OPERATING HOURS
24 Hours
TBC Locksmith is a professional, dependable, and affordable provider of residential, commercial, emergency, and automotive locksmith services in Toronto and the GTA. Their team of highly skilled locksmiths offers top-notch door repairs, installation of new locks, making new keys, and rekeying locks.
They provide solutions for home, apartments, condos, offices, storefronts and car lockouts. TBC Locksmith also believes that having the right security solution for your property is critical, which is why offer services to install the best security locks as well.
And when emergencies occur, do not hesitate to give them a call because TBC Locksmith is open 24/7 and have a 15-30 minute response time so do not hesitate to give us a call. So, if you need an experienced locksmith that you can rely on both for regular services and emergencies, then TBC Locksmith the place to call.
24/7 availability
Fast response time
Honest and competitive pricing
10. Matrix Locksmith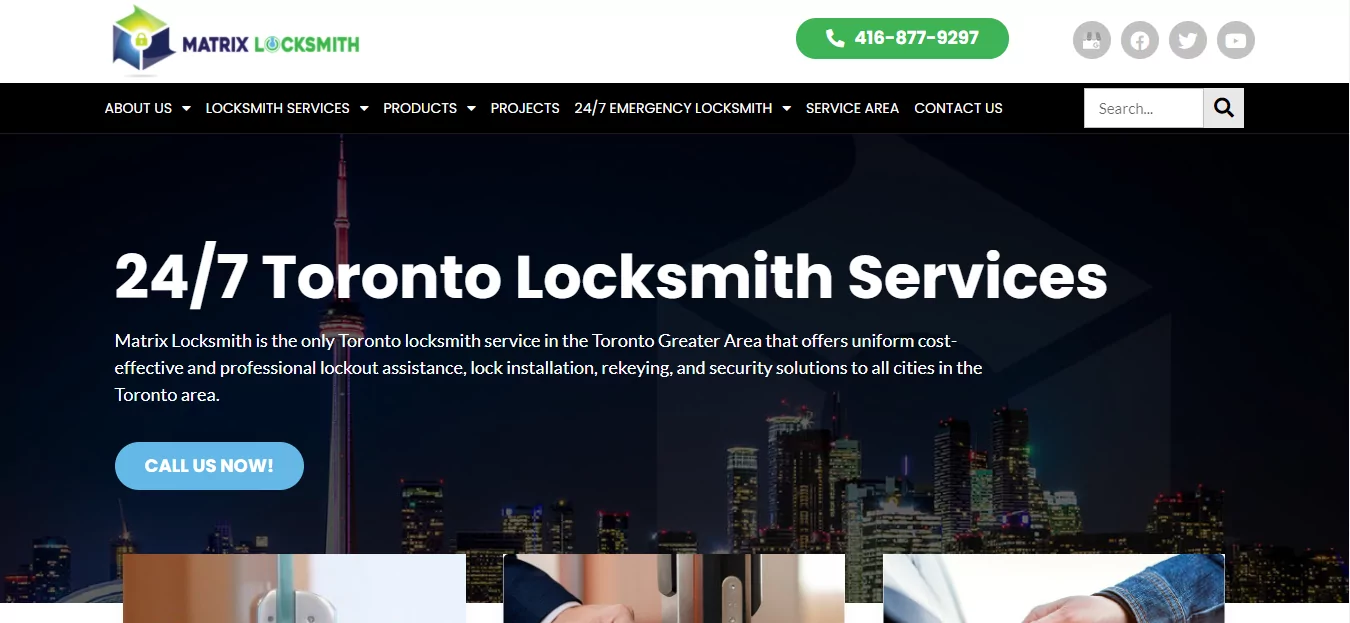 SERVICES

Lock changing, car key copy, lock installation, broken key extraction

WEBSITE

ADDRESS

10094 Yonge St, Richmond Hill, ON L4C 1T9

CONTACT DETAILS

(416) 877-9297

OPERATING HOURS

Sunday – Friday: 7:00 pm – 11:00 pm

24/7 emergency services
Matrix Locksmith is yet another 24/7 locksmith catering to just about anyone in the Greater Toronto Area. It has an emergency mobile full of locksmith equipment and tools for prompt responses to emergency service calls.
However, this locksmith's office isn't manned all the time and thus it may not entertain walk-in clients. Additionally, some customers have also complained about poor communication, especially during the day.
When it comes to emergency locksmith services, Matrix can retrieve broken keys, car ignition key replacement, and unlocking of doors. Matrix is also an expert when it comes to security as it also offers services like access control systems, CCTVs, intercoms, and safes.
Aside from emergency services, Matrix also offers installations for commercial spaces. It can provide biometric, electronic, and mechanical locks, security alarms, time controls, and master keys.
To ensure clients have lots of choices for lock services, this locksmith has products from over 24 lock and security brands.
Pros
Expertise in security services

Caters to commercial, residential, and automobile

24/7 emergency services

Fully-stocked mobile unit
Cons
No walk-in services

Some complaints about poor communication
11. Emergency Locksmith Toronto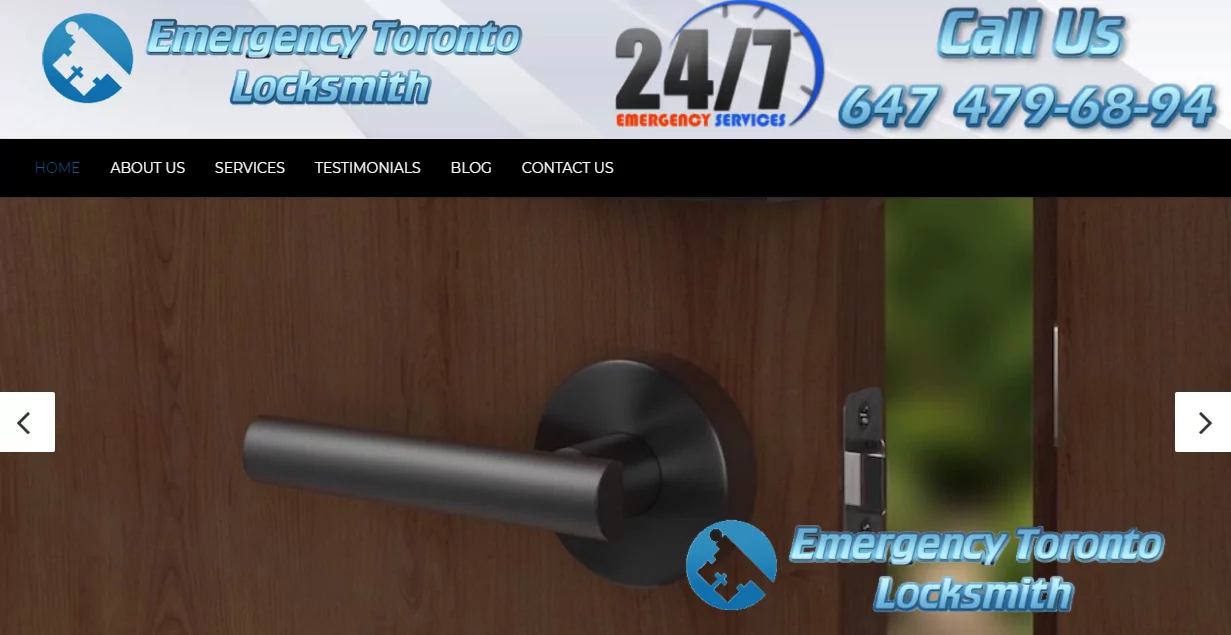 BEST FOR
Emergency Locksmith Services
SERVICES
Emergency Locksmith
Residential Locksmith
Commercial Locksmith
Automotive Locksmith
Motorcycle Locksmith
ADDRESS
Toronto
CONTACT DETAILS
647-479-6894
WEBSITE
https://emergencylocksmithtoronto.com/
OPERATING HOURS
24 Hours
Emergency Locksmith Toronto, as the company's name shows, offers emergency locksmith services in Toronto.
The company provides a wide range of locksmith services, including but not limited to broken key extraction, car or motorcycle key replacement, safe lockouts, emergency key cutting and programming, new lock installation, safe combination changes, panic bar installations, CCTV camera installations, and vehicle ignition repair.
Additionally, Emergency Locksmith Toronto caters to residential and commercial clients, and also accommodates locksmith requests for automotive vehicles and motorcycles.
Aside from the extensive service list, Emergency Locksmith Toronto comes highly recommended for the accessibility it has to offer. The company's customer service team operates 24/7, readily providing free quotation and dispatching qualified locksmiths to clients in need of services.
Operates 24/7
Emergency services available
Caters to residential and commercial clients
The Costs of Hiring Locksmiths in Toronto
Looking for a locksmith company in Toronto that offers reasonable prices is easier said than done. If you know nothing about locksmith services, you might end up paying more.
It's easy to get attracted to locksmiths with cheap rates, on the other hand, but those don't guarantee quality services… so this begs the question: how much should locksmith services cost?
When hiring locksmiths in Toronto, you have to consider the type of service, your location, and how urgently the service is needed. If you're far from the address of the locksmith, then expect to pay higher fees because you're going to shoulder their transportation fees.
Today, the average cost of hiring locksmith services in Canada is somewhere between $150 to $155. You should never expect to pay less than $50 to a locksmith unless you're only having keys duplicated.
Here's a table of the average cost of common locksmith services in Toronto to give you an idea next time you need a locksmith's help:
| | |
| --- | --- |
| Home lock out | $125 – $250 |
| Replacement of all house locks | $125 – $400 |
| Replacement of mortise cylinder locks | $125 – $320 |
| Key extraction | $95 – $180 |
| Opening a mortice lock/rim lock | $125 – $250 |
| Lost car key replacement | $150 to over $300 Switchblade key: $200 – $400 Keyless entry remote:  $250 – $500 |
| Emergency car opening | $95 – $185 |
---
And that's it for our picks for the best locksmiths in Toronto! If you've hired any of these locksmiths in the past, share with us in what way they were a help!
If you know other locksmiths whose services are worth checking out, don't forget to share their names with us! We'd love to check out some of the suggestions of our readers!