THE 5 BEST PROFESSIONAL ORGANIZERS IN TORONTO
Clutter is like a stubborn creature that lurks in the corners of your home, multiplying when you're not looking. It can be frustrating for families, busy professionals, and individuals alike.
But fear not, because professional organizers specialize in bringing order and creating efficient systems through decluttering, sorting, and organizing. They work their magic to increase productivity for users and enhance functionality for spaces. You'll be amazed at how much storage can be maximized in your home or workplace. These experts have the power to tame unruly clutter and leave behind a trail of organized bliss.
How We Chose the Best Professional Organizers in Toronto
How Much Do Professional Organizers Cost in Toronto?
Professional organizers typically charge an average hourly rate of $75 and offer package rates ranging from $500 to $1,500 or more, depending on the scope of the project, the organizer's experience, and the specific services needed.
1. The Tidy Moose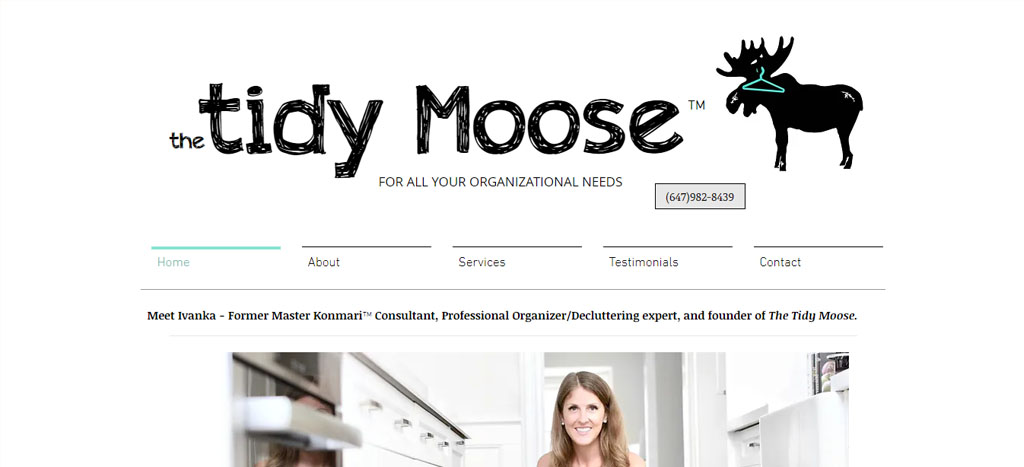 The Tidy Moose, founded by Ivanka Siolkowsky in 2016, is a professional organizing business focused on bringing the life-altering benefits of organization to homes, schools, businesses, and offices in Toronto and beyond. Having found her inner peace through minimalism, Ivanka made the bold decision to leave her job as an elementary school teacher and pursue her passion for helping others through organizing.
Ivanka also incorporates the acclaimed KonMari method, a Japanese system of decluttering that follows a specific order: clothing, paper materials, miscellaneous items, and sentimental items. Notably, she was among the first participants trained by the KonMari Team.
Drawing on her teaching background, she has also developed the Moose Method for Children, aimed at fostering tidying habits from an early age.
The Tidy Moose can help at all stages of the moving process, from decluttering and staging your old home to organizing your new space.
Specialized organization method for children
Diverse clientele
Ideal for group scenarios
Long operating hours
Comprehensive services for moving 
Regularly featured expert on national TV
Higher rates than others
Not accredited by local certifying bodies
Customer Reviews
Inviting Ivanka into your home is a form of therapy
"The Tidy Moose left a tremendous impact on our lives and put us on a path of long-term success beyond short-term satisfaction. Ivanka is passionate and dedicated to making a difference in her clients' lives. She was such a pleasure to work with. The philosophy of Tidy Moose extends beyond simple organization of the home. Inviting Ivanka into your home is a form of therapy… If you know anybody in your life that makes excuses for their lack of closet space, get in touch with the Tidy Moose. It takes someone like Ivanka to set them on the right path for success." – Nicholas Kalimin, Google Reviews
Takes the stress out of sorting and breaks it down into small, manageable tasks
"Ivanka takes the stress out of sorting and breaks it down into small, manageable tasks. Somehow she managed to oversee four of us at the same time, giving each of us the attention we needed and ensuring that everyone stayed on task with her sense of humour and playful energy. She helped us figure out what we really needed to keep and what was just weighing us down. Ivanka was really great at helping us figure out how to use our space in efficient ways… We had such a wonderful experience with Tidy Moose that I've already hired Ivanka to help organize other categories of need in our home." – Lesya Tate, Google Reviews
2. Order in the House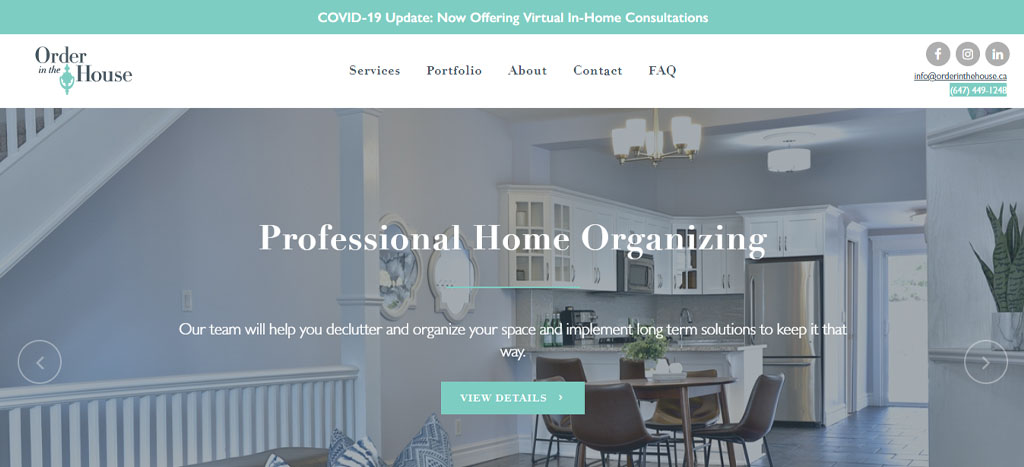 Order in the House has been serving Toronto residents and realtors since 2009, distinguishing itself as an established player in the industry.
Rachael Stafford, the founder, creative director, and former chairperson of the POC, leads a team of four professional organizers. With a background in project management for an interior design firm, she launched the business with the mission of creating organized and visually captivating homes, while providing homeowners a sense of calm during what can be a stressful time.
Beyond decluttering and storage solutions, they provide invaluable advice on elevating your home's interiors. They also offer moving management services to save you the headache of packing and unpacking your belongings.
As a trusted partner for home staging, Order in the House collaborates with property firms like Forest Hill and Sotheby's. Additionally, as members of The Real Estate Staging Association (RESA), they uphold industry standards and best practices.
POC Gold Leaf member
Recommended for home staging services
Accommodates evening and weekend sessions
Partnered with local charities for donated items
Requires paid in-home assessment prior to session
Premium rates
Limited to organizing homes
Customer Reviews
Prompt, responsive, and treated us and our stuff with care
"Like many others, Rachael was introduced to us by our realtor to help us declutter before we staged our house. She and the team did such an incredible job that we are bringing them back to help us declutter even further before we make an international move. She was thoughtful, intentional, and an incredible help as we tried to figure out what was worth moving or replacing for an overseas move. She was also prompt, responsive, and treated us and our stuff with care – I cannot recommend them more!" – Belinda Bien, Google Reviews
We were impressed with how much we got done in such a short amount of time!
"We had a great experience with Pamela, Nicole, and Marisa! We had been meaning to convert our home office into a nursery for our baby but just couldn't get ourselves to do it. The office space doubled as storage and the task seemed so daunting as we had accumulated so much stuff in all these years. The team from Order in the House came and made everything manageable. They did most of the labor while we just had to make the decisions. They separated everything into smaller manageable tasks and we were impressed with how much we got done in such a short amount of time! Now my baby is able to enjoy her new room!" – Mei Ling Chen, Google Reviews
3. Organize That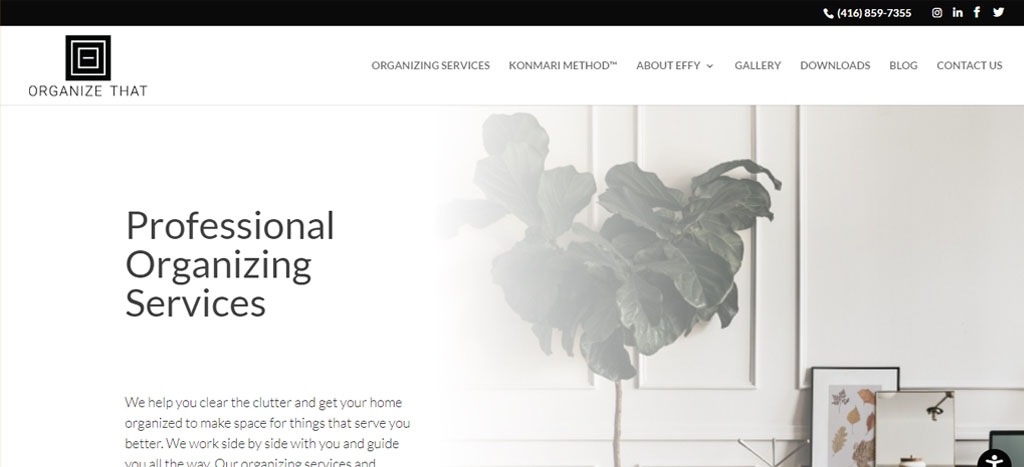 Effy Terry, the mastermind behind Organize That, is a multi-faceted professional who excels as an organizer, life coach, and speaker. Prior to these achievements and starting her practice in 2017, she spent 26 years as a business analyst for CBC Television. Today, Effy specializes in trauma-informed organizing practices, offering services such as decluttering, pre-staging, estate clearing, and move management to homeowners throughout Toronto and Durham.
Certified as a specialist for Chronic Disorganization by the Institute of Challenging Disorganization (ICD) and as a KonMari Master Consultant, Effy brings a unique blend of organizing principles to her clients. She incorporates Neuro-Linguistic Programming (NLP), a psychological approach that nurtures self-awareness and enhances cognitive processes. This expertise proves invaluable for individuals grappling with conditions such as ADHD, ADD, aging issues, and hoarding tendencies, as well as for those navigating significant life transitions like divorce or identity changes.
Certified KonMari Master Consultant and ADHD specialist
Offers customer workshops for large groups
Specializes in clients with chronic disorganization
Sustainable and effective systems
Available daily
Customer Reviews
Helped us identify innovative ways to save space and organize
"We just had Effy in to help with some office organization at ThinkFuel Marketing and the entire process was simply amazing! Effy helped us identify innovative ways to save space and organize our essential items in a way that made our entire team happy. Whether organizing chaos at home or the office, make sure Effy and Organize That is your very first call!" – Kevin D'Arcy, Google Reviews
A life-changing experience… in the best way possible
"Working with Effy of Organize That was a life-changing experience… in the best way possible. I found things that had been lost for years. All of my stuff is stored so neatly that I post pics of the inside of my drawers and closets to prove to my relatives that I cleaned up. It is wonderful to sit in my pretty house now. But really the best thing is what I learned: how to store, sort and organize, skills that I put to use when creating a summer home, and even helping family members. The peace of mind I have enjoyed is amazing. Finally, getting this clutter monkey off my back has freed me to create and achieve other important but unrelated goals and I have found my creativity again. Best experience ever." – Lynn Edwards, Google Reviews
4. Interiors In Order Inc.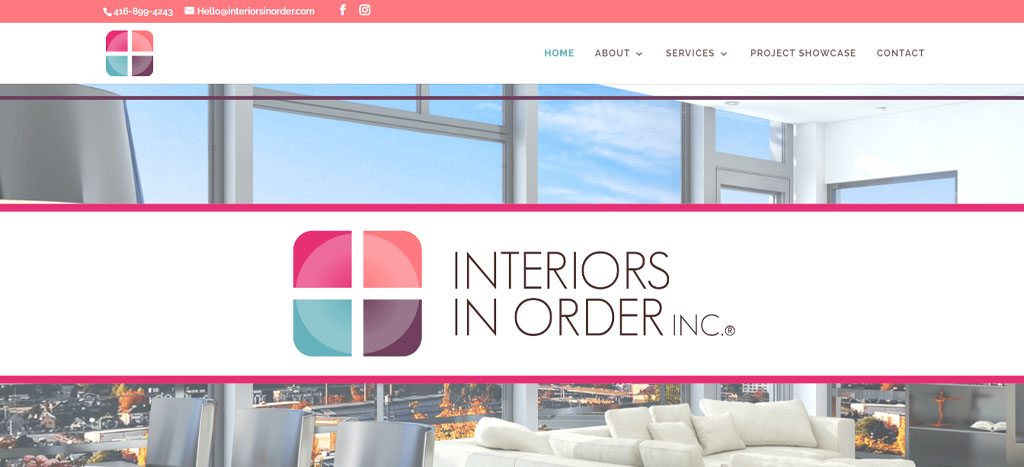 Test
Info
WEBSITE
https://interiorsinorder.com/
ADDRESS
151 Yonge Street, Suite 1100 Toronto, Ontario, M5C 2W7
SOCIAL MEDIA
INSTAGRAM
CONTACT INFORMATION
Phone: (416) 899-4243
OPERATING HOURS
Monday - Friday: 9:00 AM - 5:00 PM

Saturday: 9:00 AM - 2:00 PM
As the name implies, Interiors In Order Inc. is a vibrant team of interior designers and space planners with extensive experience in professional organization. Founded in 2015 by Kristy Lee Bailey, their work goes beyond creating order, as they specialize in creating spaces that sustainably optimize productivity and efficiency levels at home or in the office.
Aside from decluttering and organizing, Kristy and the team take things up a notch by analyzing the pattern of movement of the users within a space in devising efficient systems. This unique approach has garnered a diverse clientele from the residential, commercial, and corporate sectors throughout the GTA.
Interiors in Order wastes no space in organizing. With a touch of interior design, they maximize every inch of space, providing functional and simplified systems from the contents of your spice cabinet to each drawer and shelf in your office.
Maximizes functionality of spaces
Solid network of subcontractors and professional partners
Background in interior design and space planning
Serves residential and office spaces of all sizes
Diverse pool of clients
Doesn't offer moving management
Customer Reviews
Easy to build upon and maintain so you're not in the same place you were
"Kristy is an amazing organizer and knows her stuff when it comes to getting things in order in a house and figuring out a way to make the complicated work simply. She also makes it so that her work is easy to build upon and maintain so you're not in the same place you were when you hired her 6 months from now!" – Michael Fthenos, Google Reviews
Efficient organization skills transformed our space into a harmonious haven
"I am incredibly grateful for the amazing experience of working with you. Your exceptional service in organizing our entire home has left me thrilled. From the moment you stepped in, my worries melted away. It felt like a dream, reminiscent of 'The Home Edit' show. Your efficient organization skills transformed our space into a harmonious haven…Thank you for exceeding expectations and bringing a remarkable transformation to our lives." – Laura Hinchey, Google Reviews
5. Ease Up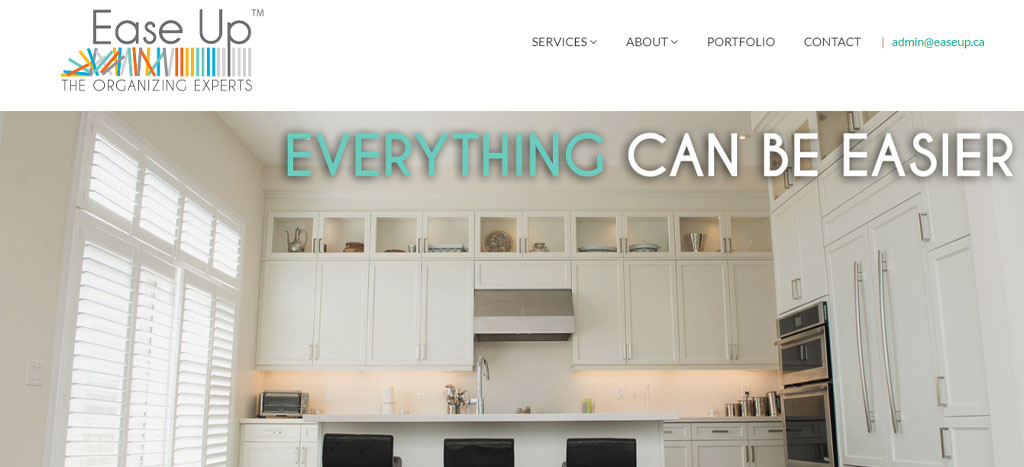 | Test | Info |
| --- | --- |
| WEBSITE | https://easeup.ca/ |
| SOCIAL MEDIA | INSTAGRAM |
| CONTACT INFORMATION | Phone: (833) 327-3871 |
| OPERATING HOURS | Monday - Friday: 9:00 AM - 5:00 PM |
Founded by Lindsay Whisen in 2013, Ease Up specializes in decluttering, move management, and estate clearing services for local homeowners and businesses in the GTA. Lindsay's own experience with mental health challenges fuels her passion for the business.
With a focus on fast turnaround and non-judgmental support, her team provides much-needed relief from the stress and frustration of cluttered and disorganized spaces.
Their Ease Up Method involves three steps: sorting, releasing/removing (deciding which items to keep or let go of), and containing/placing (putting things away with an effective storage system). Notably, these steps are evident in their downsizing services for clients transitioning to smaller homes.
Ease Up takes care of everything, from donating and disposing of unwanted items to packing, unpacking, and staging the home for sale. Small and medium-sized businesses can also benefit from their inventory management services, which help streamline daily operations and improve work efficiency.
Fast and thorough services
Specialized organizing for businesses
Offers judgment-free support
Brampton's Top 40 Under 40 awardee
Unavailable on weekends
Expensive rates
Customer Reviews
A huge weight has been lifted; our place feels airy and so much more spacious
"Deciding to have Ease Up come into our condo was the best decision I've made for our family; it feels like our whole place has been renovated. The team was amazing to work with. They made the process as stress-free as possible with no judgment. The Ease Up method is truly innovative from all others that I have researched… A huge weight has been lifted; our place feels airy and so much more spacious. We have been living in our clutter-free and organized home for several weeks. It is unbelievable how much easier it is to keep our place tidy." – Kristina Coles-Mark, Google Reviews
Kind and patient and were able to make this process extremely comfortable.
"This whole experience far exceeded my expectations. Ease Up is as professional as they come. This company worked for 3 days to get my home ready for a major renovation that was very stressful to me. They were kind and patient and were able to make this process extremely comfortable… I was very very impressed. Thanks to all the lovely ladies that were here to help. Highly recommend this company!" – Judy Cherlon, Google Reviews