The 5 Best Office Spaces to Rent in Toronto
Looking for an office to rent for your growing business? Skip the hard part and look through our list instead to find the best options possible!
In this review of the best office spaces in Toronto, we selected companies that stood out to us in various ways. See which properties made our cut and find out which one can be the next big home for your business!
The Cost of Renting Office Spaces in Toronto
The monthly rent for an office is usually calculated per square foot. Naturally, the bigger the space is, the more expensive it is, but there are also other factors to consider.
See the table below to see the average cost per square foot based on the location in the city as of 2021:
| Area | Cost Per Square Foot |
| --- | --- |
| Downtown | $39.24 |
| Midtown | $26.99 |
| Suburbs | $17.17 |
Top Office Spaces in Toronto
We evaluated the following office spaces based on the following factors:
1. Intelligent Office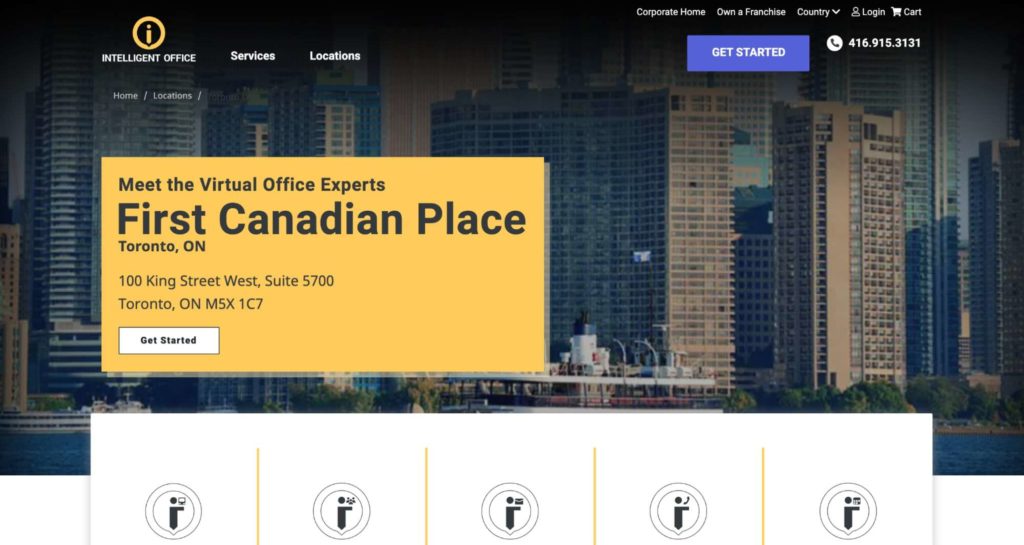 If there's one thing that we love most about Intelligent Office, it's the views you get of the city at night. Though we'd prefer a much quieter location, we can't deny that the panoramic sight of the city is just as stunning.
Other than the convenient location, it's the building itself that landed it among the best. It has that upscale appeal that you'd often see in posh commercial spaces.
The best part, in our opinion, is that you don't have to pay high prices to enjoy this level of quality. In fact, their prices fall within the average in the city so we're pretty pleased with it.
As far as facilities go, there's nothing too groundbreaking for us since other buildings also have what they have. What we want to highlight instead is their customer service which is their best advantage.
The place is the only one on our list with a perfect 5-star rating on Google Reviews. And if past customers say nothing but good praises, it's always a good sign for us.
Their office rental packages include certain communication lines such as calls, phones, and emails. Other companies also have this too but they get an extra point for always keeping tenants up-to-date with these matters.
| | |
| --- | --- |
| Location | ★★★★☆ |
| Office Rental Solutions | ★★★★☆ |
| Perks and Benefits | ★★★☆☆ |
| Building Amenities and Facilities | ★★★☆☆ |
| Pricing | ★★★★★ |
Great views of the city (especially at night)
Posh and upscale interior
Well-kept facilities
Great customer service
Flexible lease terms
Limited office types to choose from
Customer Reviews
Incredible views of the city
Highly professional staff with great response times. Location is well-maintained and clean with incredible views. I always look forward to going in and taking a break from my home office. I always recommend them to my co-workers and friends. Great job! – David Zhao
Great ambiance and responsive staff
I have been holding the lease of a dedicated office with Intelligent Office at 100 King St W for almost six month and love the ambiance, the responsiveness of the staff and the fact that you can deal and negotiate with real people with authority not a giant corporate system. Definitely recommended. – Ali Basiri
2. Telsec Business Centres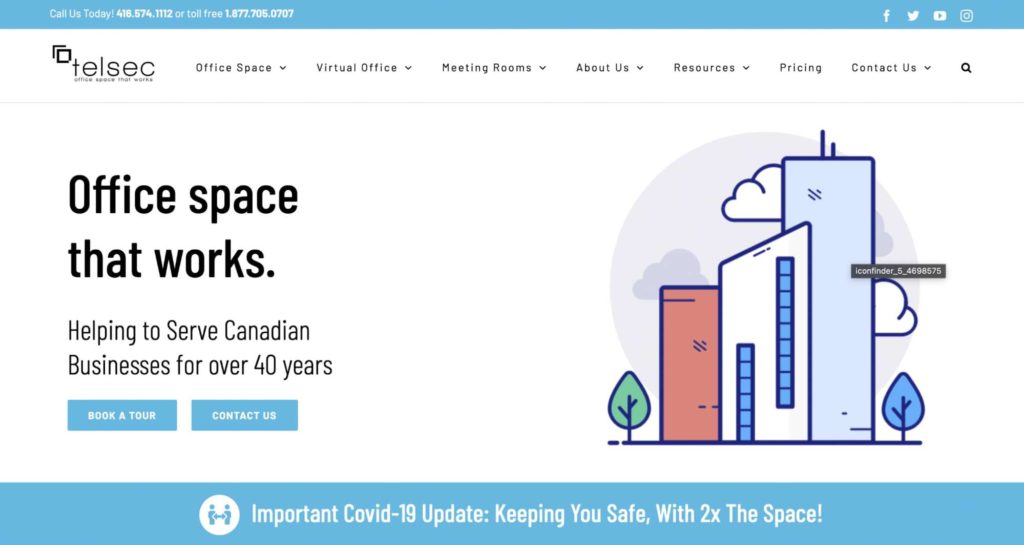 | Test | Info |
| --- | --- |
| SERVICES | Private office space, flexible & daily offices, executive office suites, sermi-private and coworking office space, team space, temporary office space, commercial office space, virtual office,, meeting rooms |
| WEBSITE | https://www.telsec.net/ |
| ADDRESS | 18 King St E #1400, Toronto, ON M5C 1C4 |
| CONTACT DETAILS | +1 416-363-9035 |
| OPERATING HOURS | Monday - Friday: 9:00 AM - 5:00 PM |
One of Telsec's best advantages is its convenient location. The building is a walking distance away from the subway so commuting won't be a hassle.
And while it's a bit isolated from restaurants and other food places, it does sit close to a couple of cafes in the block. There's a local Starbucks and a Tim Horton's right around the corner.
Now, since the building is nestled in the business center, it does strip renters away from a more "natural" view. But if you don't mind the view of other box-type commercial spaces, then it's worth looking into.
As for their office spaces, we have no complaints about the prices and the range of setups to choose from. You can get a private office space for either long-term or short-term depending on your needs.
Office spaces are equipped with all the perks you can expect from a typical office rental agency. We'll talk about some of our favorite perks to give you an idea:
For starters, we like that office spaces come furnished so you don't need the extra effort to renovate their layout. Plus, they do have energy-efficient HVAC and lighting systems for the best air and light quality for your employees.
And if you hate turtle-paced WiFi like us, you'll love its ultra-high-speed 1,000 x 1000 fiber-optic network. To put it simply, it's definitely faster than any service provider in North America provides.
Perhaps the most we've struggled with is communicating with the firm for basic inquiries. They could be more responsive for our liking, but not enough to throw us off from its beautiful office spaces.
| | |
| --- | --- |
| Location | ★★★★☆ |
| Office Rental Solutions | ★★★★★ |
| Perks and Benefits | ★★★★☆ |
| Building Amenities and Facilities | ★★★★★ |
| Pricing | ★★★★★ |
40 years in business
Near the Yonge Street subway PATH network
Flexible office rental terms
Range of office spaces for long-term or short-term use
Has energy-efficient HVAC and lighting systems
Ultra-high-speed wifi
Personalized ​​professional telephone answering services
Bicycle parking
Customer Reviews
Office space ideal for all clients
Telsec home to our business for over 10 years. As our business has grown, we have expanded our space and use of office services to meet our needs. The 1 Yonge Street location is ideal for our clients no matter where they are coming from or what mode of transport they choose. We consider "the Telsec girls" to be part of our team. I am always happy to recommend Telsec Business Centres. – Judi Hughes
Modern facilities within offices
Having a downtown office space at 1 Yonge Street is very impressive to my customers. But that is not the only reason I really like this space. Hey, in the morning I get a free newspaper and enjoy free coffee all day. The meeting rooms are ultra modern and have the technology I need. I was so impressed by this place that I took them on as a client for my photography and social media business. – Ian Payton
3. iQ Offices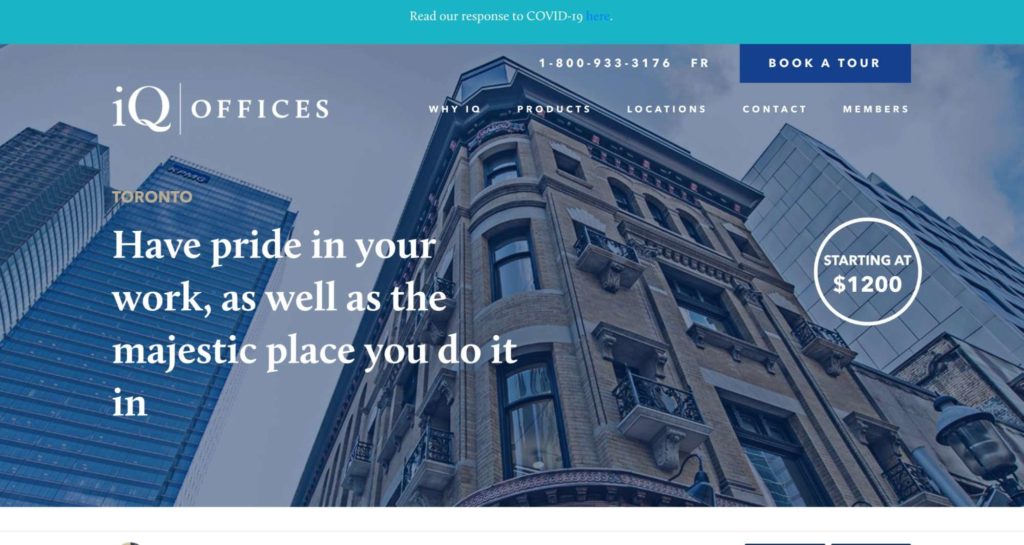 | Test | Info |
| --- | --- |
| SERVICES | Private offices, on-demand offices, meeting rooms, HQ, virtual offices, dedicated desks |
| WEBSITE | https://www.iqoffices.com/140-yonge-street/ |
| ADDRESS | 140 Yonge St Suite 200, Toronto, ON M5C 1X6 |
| CONTACT DETAILS | +1 416-238-1144 |
| OPERATING HOURS | Monday - Friday: 8:30 AM - 5:30 PM |
The building's location makes it a fantastic choice if you're catering to clients in the financial district. Plus, it's a few walks away from The Dineen Coffee Shop, arguably one of the best coffee shops in the street.
On top of that, this location is right on the subway line and is just a block away from the Eaton Center. It's basically at the heart of urban living, with an overflowing selection of food places being in the downtown area.
Due to its layout and location, it also provides generous lighting to its tenants. Of course, it's all a stroke of luck if you land a vacant space with great access to light.
The only downside we saw with this building is that there is no on-site parking. You'll have to bring your car to either Adelaide or Bay to make use of a parking space.
If there's one thing we truly liked the best, it's the way their office spaces were built. For once, they use frosted glass for privacy which is always a nice touch for us.
They also have insulation to reduce white noise and minimize distraction. But we did find that sometimes minimal noises slip out, but not to the point where it's distracting.
While the offices are on the more expensive side starting at $1,200 per month, they have flexible commitments. Your term can be as short as one month or you can opt for a pay-as-you-go model.
| | |
| --- | --- |
| Location | ★★★★★ |
| Office Rental Solutions | ★★★★☆ |
| Perks and Benefits | ★★★★☆ |
| Building Amenities and Facilities | ★★★★★ |
| Pricing | ★★★★☆ |
Distraction-free offices
Close to King and Queen subway stations
Many restaurants nearby
Generous natural light
Flexible space and commitments
No on-site parking
No bicycle storage
Customer Reviews
An enjoyable working environment
Fantastic location, amazing space, and the friendliest staff imaginable. iQ office suites have been nothing but accommodating, helpful, thoughtful and friendly since my first day here. Truly one of the most enjoyable work environments I've ever been a part of. Not to mention the free food and drinks in their stunning lounge every Wednesday afternoon! – Chris Eamer
A great professional setting for all businesses
For any business, large or small, iQ Office Suites has a great offering. More importantly, the staff are always super helpful and come up with creative and engaging ideas. From on-site yoga to screening baseball games in the lounge. There is always something to do, all in a professional setting. Everyone should take a look here! – H. Alan Diaz
4. The Rostie Group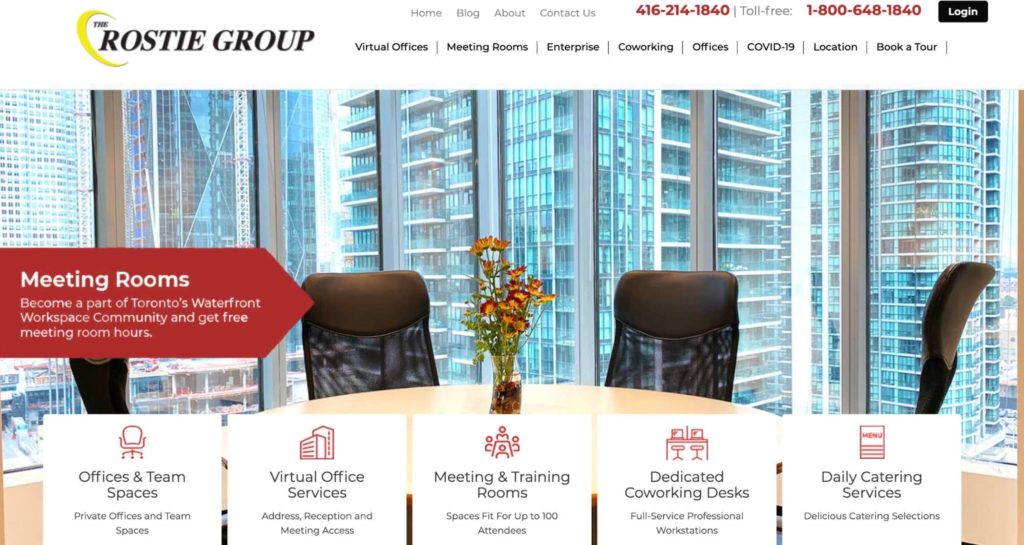 | Test | Info |
| --- | --- |
| SERVICES | Offices, virtual offices, meeting rooms, coworking spaces |
| WEBSITE | https://www.rostiegroup.com/ |
| ADDRESS | WaterPark Place, 20 Bay Street, 11th Floor Toronto, Ontario Canada M5J 2N8 |
| CONTACT DETAILS | +1 416-214-1840 |
| OPERATING HOURS | Monday - Friday: 6:00 AM - 7:00 PM |
Like most buildings on our list, The Rostie Group is also accessible via the PATH network. Other than that, it is also close to the Waterpark Athletics by Trifit which is an all-inclusive fitness center.
Aside from the location, we also like how accessible the building is, especially for people with disabilities. In addition, it has a three-level parking space with push buttons and motion sensors.
If you prefer a spot where it's easy to eat out then we think you'll be pleased with this building. It just got a newly renovated food court featuring a wide array of food from various vendors.
The office rental solutions they offer are similar to the others on our list with a few things that make them stand out. For instance, we like that they have wall-to-wall whiteboards which are great for meetings and brainstorming sessions.
Team spaces are also fully furnished with flexible lease terms. If you want to make a few changes here and there, you'll enjoy the customizable layouts of these offices.
The only downside we can find is that their permanent offices are fairly small. As of writing, the only ones available can fit up to four people – basically just a very, very small team.
To make up for this drawback, we love that they have one of the easiest online methods to book office spaces. We also had one of the best experiences when it comes to customer service as everyone we've encountered (even on the phone) was a pleasure to speak with.
| | |
| --- | --- |
| Location | ★★★★★ |
| Office Rental Solutions | ★★★☆☆ |
| Perks and Benefits | ★★★★☆ |
| Building Amenities and Facilities | ★★★★☆ |
| Pricing | ★★★★★ |
Fully furnished offices
Offices are available at any notice
Committed specialist support departments (e.g. IT)
Commuter-friendly location
Has a three-level parking area
Spacious bicycle parking
PWD-friendly building layout
Limited availability of bigger office spaces at the moment
Customer Reviews
Meets all expectations
I rarely write reviews but having been a Rostie client for the last couple of months, I feel others need to know how professional and reliable the team at Rostie Group is. I would highly recommend them to any organization. They have provided the resources and expertise to successfully meet our requests on every occasion. They truly understand what it takes to maintain a successful relationship with their customers. They are very personable and respectful and a pleasure to work with. – Milos Tosic
Professional, flexible, and reliable
It's been a wonderful experience running my office through Rostie Group. They're a team of professional and reliable staff, ensuring all our needs are met. They're flexible and very easy to communicate with. I'd highly recommend them to any business. You won't be disappointed. – Nadia Yahfoufi
5. 124 Merton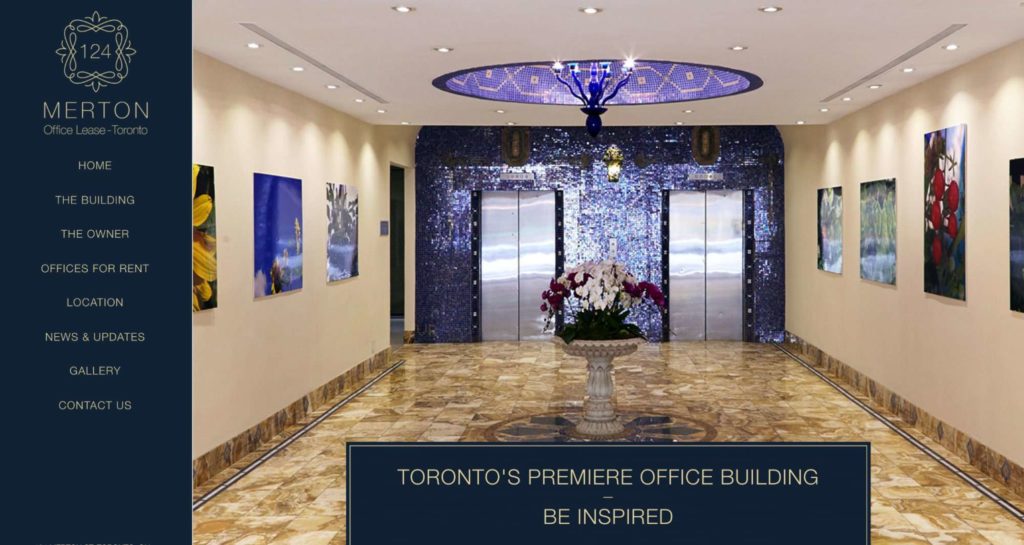 | Test | Info |
| --- | --- |
| SERVICES | Office rentals |
| WEBSITE | https://124merton.com/ |
| ADDRESS | 124 Merton St, Toronto, ON M4S 2Z2 |
| CONTACT DETAILS | +1 416-364-5959 ext. 419 |
| OPERATING HOURS | Monday - Friday: 9:00 AM - 5:00 PM |
Looking at more traditional office arrangements, 124 Merton is among the ones that got our attention. In our opinion, the office spaces they have are best for small to large teams that want more control and freedom with their space.
Before we get into that, let's talk about the location first. The building is in midtown Toronto so it has quick access to key establishments such as clinics and design firms.
Commuting is also convenient as it's only one block away from the Davisville subway station. And if there's another thing we love, we like that situated within the quiet neighborhoods of Forest Hills and Rosedale.
The building itself has its own set of goods and bads as we found. To begin with, we love it's simple yet captivating interior that mixes both modern design and art.
It is also only five stories tall so the height isn't overwhelming. Plus, there are three organic gardens at the rooftop that are open to all of the tenants.
On the flip side, there are certain facilities that make the building feel just a bit outdated. For example, the elevator doesn't feel posh at all and the washrooms aren't the most accessible for wheelchair-bound tenants.
But on the bright side, you do get to choose among their big office spaces that start at $18.50 per square foot. The smallest office available at the moment is 700 square feet while the biggest one takes 3,054 square feet of space.
| | |
| --- | --- |
| Location | ★★★★★ |
| Office Rental Solutions | ★★★☆☆ |
| Perks and Benefits | ★★★☆☆ |
| Building Amenities and Facilities | ★★★★☆ |
| Pricing | ★★★★★ |
Location is close to key establishments and subway
Nestled within quite neighborhoods
Has three organic rooftop gardens
Underground parking for tenants
Bike racks available
Has designer washrooms on every floor
Big spaces for average costs
No flexible lease terms
Certain facilities are outdated and not accessible for all
Customer Reviews
Unique commercial space
We find the management to be personable and flexible. Not only is it close to the sub­way, in the summer we can enjoy the rooftop garden and some of the produce. These green spaces are unique in commercial real estate and support a sense of community within the building – Kate Powadiuk
Makes tenants feel at home
We love having our office in this building! The owner, Vivian Reiss, has created an environment in the lobby and on the roof, that is artistic, and "speaks" to quality of life issues. Since my wife and I originate from the arts community, we feel right at home and are proud to receive our clients in this building. – Joost Pelt
FAQs About Office Spaces in Toronto
---
Finding the right office space for you and your employees is just the first towards more fruitful goals. Check out some of our other reviews so you can sort through your options better: