The 12 Best Coworking Spaces in Toronto
Looking for a place that fuels productivity and creativity? If the work-from-home setup is no longer working for you in that sense, try checking out the best coworking spaces in Toronto!
For today's article, we're making a list of the top coworking spaces in the Greater Toronto Area. We made sure to look for those with fully equipped rooms, loaded pantries, fast and stable Wi-Fi, and of course, a quiet working atmosphere.
Before we reveal where these coworking spaces are located, we'll share the average cost of renting one. That way, you know what your pocket's in for if you rent one of these.
The Cost of Coworking Spaces in Toronto
Prices of coworking spaces differ from one region to another. However, in Toronto, there's a baseline that can be used as a reference.
Depending on your needs, coworking spaces can be rented on a daily, weekly, or monthly basis. It's cheaper to rent a dedicated space for weeks or months, compared to renting it only for a day or two.
If you're planning to rent only for a single day, then prepare to shell out at least $15 to $25 for an office desk. A private office, on the other hand, can cost as much as $800 per month.
In order to better understand how coworking spaces put a price tag on their services, we'll talk about the essentials that every freelancer and student should know:
1. Day Pass
Individuals looking for a change in environment while working often start by just renting a desk for a day.
Luckily, almost all coworking spaces in Toronto offer day passes that allow you to pay for a workstation for only a day. It costs no less than $15.
Day passes can also be perfect for freelancers and contract workers who need a quiet and conducive space for a short-term project.
These are used by full-time office employees who need temporary workstations while their office is unavailable due to things like a renovation.
2. Hot Desks
Renting hot desks is one way for employers to save money while renting multiple workstations in a coworking space.
As an employer, you pay for a specific and fixed period of time during which your employees use the workstation. When your employees aren't present, the workstations will be used by other people at a similar rate.
Hot desks in Toronto usually range from $125 to $300 per month, depending on the number of employees who need workstations. Still, they're cheaper than monthly office rental fees.
It can be an ideal setup for startups and small businesses that can't afford to rent out huge office spaces but want to provide their employees a conducive working environment.
3. Dedicated Desks
Dedicated desks, on the other hand, allow individuals to rent their own workstation on a weekly or monthly basis. Privacy is observed through this setup because no other person will be able to use that desk besides the person who paid for it.
If you want to rearrange the desk and turn it into your personal workstation, then you're free to do so. However, it can be a little expensive for some.
The average cost of dedicated desks in Toronto doesn't go below $500 per month, but that comes with the guarantee of security and privacy at all times.
It can be a perfect choice for individuals who don't like other people using and messing with their own workstation.
4. Private Offices
If you're willing to shell out $1,000 to $2,000 a month, then we recommend going for private offices for a closer feel to the traditional corporate office model.
What makes it better than the traditional setup is that employees can transact and network with people from other businesses – which, of course, benefits everyone.
A private office guarantees security and privacy at all times, but the price per month can be an issue for some, especially small businesses.
Most startups and small businesses choose to go with private offices because they're cheaper than renting out a corporate office. On top of that, their employees will get to enjoy perks and benefits that won't be coming out of their own pockets.
The Best Coworking Spaces in Toronto
Now that you know the cost of renting coworking spaces in Toronto, it's time to move on to our picks! Check them out below to see which one has services that catch your attention.
1. 156 Studio
BEST FOR
No commitment working spaces
SERVICES
Solo and Team Desks
ADDRESS
156 Augusta Ave.
2nd Floor
Toronto, ON
M5T2L5
CONTACT NUMBER
[email protected]
WEBSITE
https://156studio.com
OPERATING HOURS
24/7
Current times have required us all to work from home or some place that aren't coffee shops or cafes. If you're looking for a clean and safe space to work from that you can access any time of the day or day of the week, consider 156 Studio and its boutique workspace.
156 Studio may be smaller compared to other co-working spaces, but 156 Studio more than makes up for the small space with its core offerings.
Freelancers and startup companies alike will be happy to know that they can access 156 Studio 24/7. It doesn't matter if it's 5 in the morning or 11 in the evening; so long as you have membership, you'll be welcome to come in.
Another thing worth noting is the terms of the co-working space. For one, there are no setup fees. And two, the terms are pretty flexible with no long-term commitments required.
This means that you'll be free to stop using the co-working space whenever you want. So, if you're interested in any of these, make sure to contact 156 Studio. Limited spaces are available.
24/7 access
No setup fees
Flexible terms
Located in Kensington Market – unique and artistic neighbourhood
2. Startuptive
| | |
| --- | --- |
| BEST FOR | Productivity and Amenities |
| SERVICES | Dedicated Desks, Private Offices, Lounge Seats, Virtual Offices |
| ADDRESS | 123 Edward St (2nd Floor), Toronto, ON |
| CONTACT NUMBER | +1 800-989-5573 |
| WEBSITE | https://startuptive.com |
| OPERATING HOURS | 24/7 |
As you can guess from its name, Startuptive is the perfect co-working space for startups and entrepreneurs.
Before we get into the specifics of spaces, we must first take note of Startuptive's location. Located at 123 Edward St., this co-working space is only two minutes away from Subway and Streetcar, and is open 24/7.
As for the co-working space itself, clients will be happy to know that there is an array of options to choose from, such as private offices, dedicated desks, virtual offices, and lounge/flexi desks. All of these options gain access to high-speed internet, mail and printing station, phone booths, event and lounge spaces, gym and even a gaming area. Besides this, clients with private offices and dedicated desks get unlimited access to conference and meeting rooms.
Renting a slot in this co-working space means that you can have the time to unwind with their facilities without straying too far from your productive desk.
Affordable prices
24/7 Access
2-min walk from subway
High-Speed internet
Big and spacious working spaces
Free coffee, tea and other beverages
Free access to phone booths
Modern conference and meeting rooms
Gym on premises
Accessible washroom and shower
Event and lounge space
Gaming area
3. The Fueling Station
BEST FOR
Spacious rooms and private offices
SERVICES
Dedicated desk, private office, and virtual office
ADDRESS
147 Liberty St, Toronto, ON M6K 3G3, Canada
CONTACT NUMBER
(416) 703-2151


[email protected]

WEBSITE
https://thefuelingstation.com/
OPERATING HOURS
Monday – Friday: 8:30 AM – 5:00 PM
The Fueling Station is a cool coworking space that started out more than a decade ago. It was established by a group of entrepreneurs in need of a corporate space that fuels productivity and ideas, without the stress of managing an office.
When it comes to interiors, it's more than breathable and spacious. It's designed with high ceilings, modern furnishings, and huge windows that allow natural lighting.
It offers dedicated desks, meeting rooms, and private offices, all of which give customers access to reception services, stable Wi-Fi, drinks and snacks, printers and copiers, and a business address, among others.
The Fueling Station caters mostly to emerging entrepreneurs and start-ups that want to grow their business without spending thousands of bucks on a crowded corporate space. It's a place where business-minded people can gather and discuss each other's ideas.
Business address is included
Virtual office available
Competitive rates
Spacious workstations
Access to pantry
Customer Reviews
Take a look at the comments of tenants shared on Google Reviews:
"This is a great coworking space. I've rented an office in FS for about 2 years. People are friendly and it's a great location. They also host great Christmas and Summer parties for their tenants. WIFI is always fast. I highly recommend this place."
-Andrey Zhuravlev
"We love having our offices @ 147! The atmosphere and collaborative energy is great. The contacts we have made whilst at the Fueling Station have had a massive positive impact on our business. We've been here 4 years now and hopefully long may it continue."
-Josie Cheia
4. Devhub
BEST FOR
Affordable workstations
SERVICES
Dedicated desk, hot desks, lounge access, and private offices
ADDRESS
147 Liberty St, Toronto, ON M6K 3G3, Canada
CONTACT NUMBER
(416) 703-2151


[email protected]

WEBSITE
https://www.devhub.ca/
OPERATING HOURS
Monday – Friday: 8:30 AM – 5:00 PM
Devhub is one of the cheapest coworking spaces in the Greater Toronto Area, offering daily, weekly, and monthly access to its dedicated desks, hot desks, communal desks, and lounges.
A day pass to Devhub costs as little as $15, depending on the type of workstation you're planning to rent out, while a weekly pass costs only $70. They also accept short-term rentals, which can go for as short as a monthly basis plan.
All members will have access to fast and reliable Internet, white boards, unlimited coffee and tea, and conference rooms, among others.
Unlike most coworking spaces, Devhub's services aren't limited to startups and small businesses. It aims to provide a conducive and healthy space to members for them to learn, write, teach, engage, and interact with each other.
Private offices that can house up to 10 people are also available for members who want some level of peace and privacy while working on a project.
Cheap daily and weekly rates
Short-term rentals available
Gorgeous view of Toronto from the premises
No 24/7 access for short-term rentals
5. Workhaus
| | |
| --- | --- |
| BEST FOR | Multiple branches |
| SERVICES | Dedicated desk, hot desks, and private offices |
| ADDRESS | 350 Bay St #1300, Toronto, ON M5H 2S6 30 Wellington St W 5th Floor, Toronto 20 Richmond Street, St. E, Floor 6th 212 King St W F6, Toronto, ON |
| CONTACT NUMBER | 416-917-3392 |
| WEBSITE | https://workhaus.ca/ |
| OPERATING HOURS | Monday – Friday: 9:00 AM – 5:00 PM |
Workhaus houses established companies, startups, and freelancers in the Greater Toronto Area, making it one of the most diverse coworking spaces here.
It's even one of the best-reviewed coworking spaces in Toronto, boasting an average rating of 4.9 out of 5 on Google Reviews, with most members praisings its low fees, complete amenities, friendly community, and countless perks and benefits.
Workhaus offers different types of membership for freelancers and startups, allowing them to choose between short-term and long-term rentals. Membership terms can be flexible too, which can be shortened or extended depending on their needs.
Freelancers will enjoy spacious workstations with lockable storage, while startups will be treated to fully furnished and large private offices that can house at least 30 individuals.
All members of Workhaus will have 24/7 access to the lounge, workstations, conference rooms, and even pantry.
Workhaus has branches scattered all over the GTA, including one in King Street, another one in Wellington Street, and even in Bay Street.
Flexible membership terms
Short-term rentals available
24/7 access to lounge and workstations
Fully furnished and spacious private offices
Limited conference rooms
Internet can be slow sometimes
Customer Reviews
Take a look at what members had to say about their experience with Workhaus:
"Great location with an extremely helpful and accommodating staff and management. Carla has always gone above and beyond to help me out whenever I needed anything and Adrian has been especially helpful during the unprecedented COVID situation. Highly recommended to anyone looking for office space in some of the best located buildings in the city."
-Christopher Jeji
"The community of Workhaus is priceless. I sit at a dedicated desk surrounded by a great mix of people. There's a good balance between a casual and professional culture, which is why I would recommend the place. Passionate people, such as Tori, really put a lot of effort in helping the companies here. Based in the heart of Toronto, Workhaus really provides you with everything you need."
-360 Business Ventures
6. Project Spaces
| | |
| --- | --- |
| BEST FOR | Exclusive perks and benefits |
| SERVICES | Private offices, dedicated desks, hot desks, lounge access, corporate event spaces |
| ADDRESS | 73 Bathurst St 4th floor, Toronto, ON M5V 2P6, Canada 20 Camden St Suite 200, Toronto, ON, M5V 1V1 |
| CONTACT NUMBER | 416-917-3392 |
| WEBSITE | https://www.projectspac.es/king-west |
| OPERATING HOURS | Monday – Friday: 9:00 AM – 5:00 PM |
Spaces is called the perfect coworking space for hustlers and hardworking creators from all sorts of industries. Its workstations are open to entrepreneurs, graphic designers, computer programmers, writers, artists, and even students.
It has two locations in Toronto: one in King West, and another one along Camden Street. Both branches are equipped with spacious workstations, fully furnished private rooms, conducive lounges, and loaded pantries.
Members of both branches will enjoy a long list of perks, including blazing-fast Wi-Fi, lockable storage, weekly events, printers and copiers, premium tea and coffee, mailing addresses, and even dental and health plans.
Its location in the corner of King and Bathurst is the biggest, nestled on top of a 120-year old building where members will enjoy a relaxing overlooking view of the busy city.
Project Spaces is open for both short-term and long-term rentals. However, weekly and monthly rentals are recommended if you want to save more money in the long run.
Two locations in Toronto
Gorgeous interiors and furnishings
Available for short-term and long-term rentals
Spacious shared rooms and private offices
Building maintenance issues
Unclear cancellation and refund policy
Customer Reviews
As one of the best coworking spaces in Toronto, Project Spaces has received close to a hundred positive reviews from members. Here are some of them:
"Was getting exhausted from working from home so I decided to check out a few co-working spaces. I decided to go with Project Spaces because of the vibe I got when I did a tour. Happy I did. It was exactly what I was looking for. An easy going vibe, not officey 9-5 cubicle vibe at all which is what I was trying to avoid. I've gotten to meet some cool people. Also like the fact that the founders are super responsive whenever you have a question and the fact that the two locations have a slightly different feel and you can access both which is a big plus for me, I can get a change of scenery whenever I feel like it."
-Milan Carmon
"Honestly the very best Toronto has to offer in terms of downtown based open office space. The very best of community events, networking connection events, and having our offices in their locations have made us feel like the studio is part of a larger very loving professional, innovative family. Project Spaces, Keep doing what you do best!"
-Splendid Projects
7. OKPeople

OKPeople is a coworking space founded by creative freelancers Steve Boyd and Spencer Caverly. The goal behind establishing this place is to provide an affordable space where creatives can be productive while being in the presence of their fellow creatives.
At OKPeople, comfort and community are of utmost importance.
The coworking space has natural light filtering in thanks to the large windows scattered throughout the area. Moreover, there is an adequate amount of seating and tables to ensure that every member has a space that they can work in.
It's also worth noting that the location itself is highly accessible, placed just north of Bloor St West, a 5-minute walk from Lansdowne Station. There are also plenty of restaurants and bars around the area that members can enjoy after a day of working hard.
Option for permanent desks available
Located near restaurants and bars
Opportunity to collaborate with other freelancers
Desks can be a bit pricey
No large private meeting rooms or private units
Customer Reviews
As one of the best coworking spaces in Toronto, OKPeople has an average rating of 4.9 out of 5.0 stars on Google. Here are some comments:
"Love working here. Beautiful space, outstanding people, and the owners are super helpful and cooperative. I am so glad I found this place for my company. Highly recommend!"
"OKpeople is a great open workspace, whether you are a small team or individual. The owners are super friendly, the space has a nice, positive attitude and you'll get a nice nudge every now and then from one of the dogs that frequent the office. It's a refreshing alternative to the other co-working spaces in the city."
8. The Professional Centre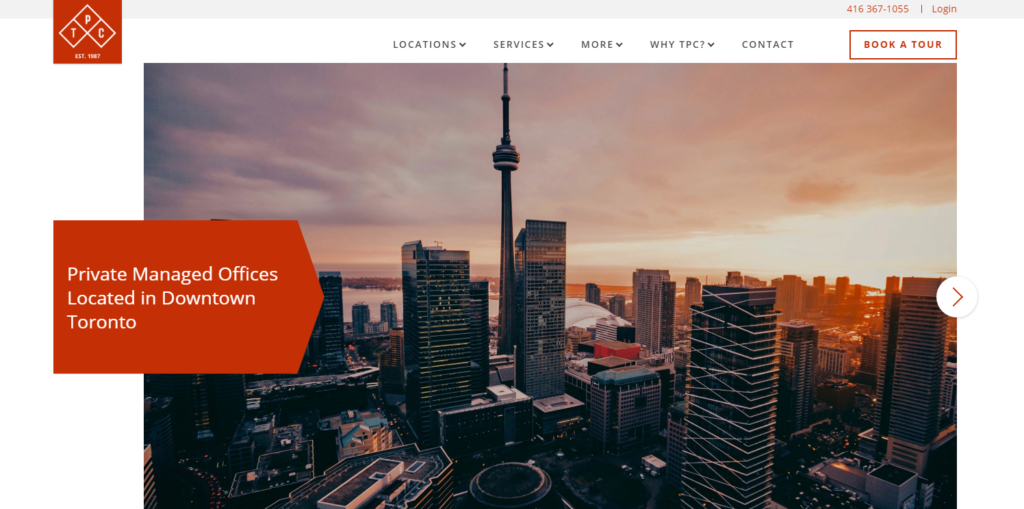 BEST FOR
Sophisticated Office Experience
SERVICES
ENTERPRISE OFFICES
PRIVATE OFFICES
ON-DEMAND OFFICES
MEETING ROOMS
SUPPORT SERVICES
VIRTUAL OFFICES
ADDRESS
120 Adelaide Street West
Suite 2500
Toronto, Ontario
M5H 1T1
CONTACT NUMBER
416 367-1055
[email protected]
WEBSITE
https://theprofessionalcentre.com
OPERATING HOURS
Monday to Friday, 8:30 AM to 5:00 PM
The Professional Centre has been serving the Toronto area since 1987, consistently offering an array of high-quality office spaces at reasonable rates. These office spaces typically come with superior administrative support and premium amenities, which raise the co-working spaces to the next level.
One of the things we love about The Professional Centre is its built. It's worth noting that these co-working spaces were planned by professionals for professionals, so members can expect sunlit private office suites to hot desks and co-working stations.
Not only that, but the work stations have been strategically placed as well, ensuring maximum collaboration opportunities without impeding on the members' privacies.
Lastly, members of The Professional Centre gain access to the premium amenities found in the space. These amenities include a spacious kitchen, business lounge, phonebooths, and a wellness room.
Premium amenities
Professional support service
Meeting spaces
Collaborative community
Prestigious building
Customer Reviews
As one of the best coworking spaces in Toronto, The Professional Centre has an average rating of 4.9 out of 5.0 stars on Google. Here are some members' comments:
"We had 2 offices in TPC 120 Adelaide location. The office space was beautiful and included access to really great amenities you won't find at most other office spaces. The management team goes above and beyond day in and day out to ensure high-level of cleanliness, and even go as far as providing coffee, snacks and other treats to those working there. Would recommend to anyone looking for an office downtown."
"Our organization worked out of this space for a while and the staff were all super friendly and helpful. The space was very well kept and we enjoyed having a shared space with other organizations. It is also connected to the subway which made it super convenient. We had the opportunity to also connect with other staff from different organizations which was awesome."
9. Acme Works
BEST FOR
Flexible coworking space options
SERVICES
Virtual Office, Private Office, Shared Tables, Dedicated Desk, and Office Suite
ADDRESS
229 Niagara Street,
Toronto, Ontario M6J 2L5
CONTACT NUMBER
[email protected]
416-479-4458
WEBSITE
https://acmeworks.ca
OPERATING HOURS
Contact for more details
Acme Works short for "A Company that Makes Everything" is one of the first coworking spaces in Toronto. This coworking space stands out for many reasons, one of which is their openness to accept clients regardless of their profession.
So, it isn't all too surprising to see entrepreneurs, creatives, and professionals of all disciplines under the Acme roof. The diversity of the people make it possible for every single member to learn from others, hence enriching the professional and productive experience.
Another thing worth noting about Acme is their co-working space options. Acme has one of the widest array on this list, featuring dedicated desks, private offices and suites, and even two types of shared tables whose differences lie in the number of people a member is comfortable sharing with.
For those who can't go outside or fear going outside, don't fret since Acme Works also has an option for you. Virtual Offices come at $100 a month and gives the member access to a professional mailing address, where Acme staff can scan the contents and have them delivered to you.
Aside from the actual workspaces, Acme is also known for their amenities on site, which typically change depending on the current season. Acme has held summer bbqs on their rooftop as well as beer Fridays where members can mix and mingle.
At Acme, one doesn't need to worry about their productivity or unwinding processes. The co-working space has it all and is ready to provide it for you.
Various options of co-working spaces
Offers a wide array of amenities
Virtual offices available
10. Lokaal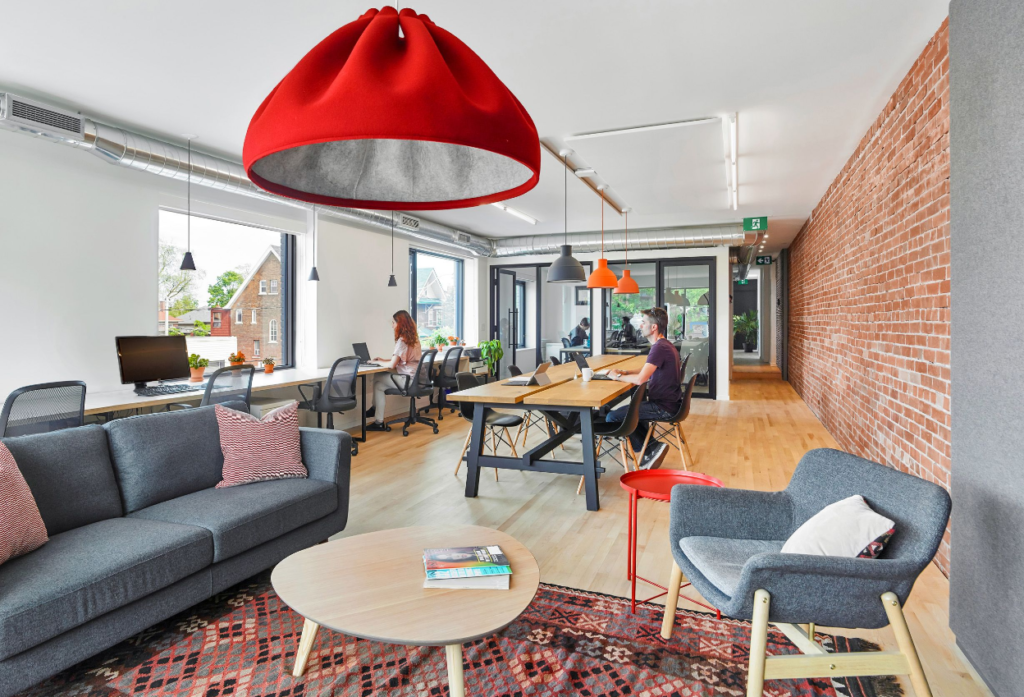 BEST FOR
Bright, open-concept working spaces
SERVICES
Shared hot desks, Dedicated desks, Bright private offices, Flex day pass
ADDRESS
142 Westmount Ave, 2nd Fl
Toronto, ON M6H 3K6
CONTACT NUMBER
T 416.613.0512


[email protected]

WEBSITE
https://www.lokaal.space
OPERATING HOURS
Monday to Friday, 9:00AM to 6:00PM
Open on weekends for members
If you're looking for a co-working space that isn't as stuffy as traditional office spaces, then look no further than Lokaal.
Lokaal is a co-working space most known for its bright and airy work stations. The location has numerous windows that allow natural light in, making it more comfortable for the members to work in the day time.
Aside from its open concept, it's also worth noting that Lokaal is much smaller compared to other co-working spaces. However, this isn't a big con considering that the people behind Lokaal has made it possible for various stations to exist within the 2-storey building.
Members can take their pick from hot desks, dedicated desks, and private offices. For those who wish to give Lokaal a try first before committing, a flex day pass is also available.
Bright, open concept interior
Day-by-day passes available
Convenient location
Closed on weekends for day-pass holders
Customer Reviews
As one of the best coworking spaces in Toronto, Lokaal has earned an average of 5.0 stars on Google. Here are some comments from some of the members:
"Quiet, affordable, close by, clean, pleasant atmosphere, and pleasant co-working people. Like everyone else, I need to be productive, but I can't work from home. Lokaal provides the amenities and environment for that to happen."
"This is a lovely co-working space. It was calm, intimate, and has a great mix of open space and the ability to have a private work space/for phone calls. The Wallace Espresso is perfect for fuel, and there were snacks, coffee available. Kevin and the team are super kind and responsive, and I was ultra productive. Can't wait to go back!"
10. Workmode
BEST FOR
Easy booking
SERVICES
Workstations, Solo Phone Booth, Lounge Room, Meeting Room, Team Spaces
ADDRESS
950 Queen St W, Toronto, ON M6J 1G8
CONTACT NUMBER
Phone: (647) 933-5512
Email: [email protected]
WEBSITE
https://getinworkmode.com/
OPERATING HOURS
Monday to Friday: 10:00am – 5:00pm
Workmode offers its customers a co-working, meeting and team space to help increase their productivity. Not only does this company provide individuals a workspace, but they serve specialty coffee as well.
Getting started with Workmode requires users to download their app. This allows customers to browse the available workstations or meeting spaces and instantly book their preferred one online.
We like Workmode because you can book a space for the entire day or per hour as you need it. There are no monthly fees or obligations for signing up – you only pay for the time that you use.
There are several different spaces to choose from at Workmode to suit almost anybody's needs. Whether you need an open, semi-private or private workstation, they've got it covered.
Some spaces have height-adjustable desks and a second monitor to increase your productivity. This is perfect for those who don't have a home office or want a work-from-home alternative.
Workmode also offers special corporate rates if you need to book several spaces at once. Those who have a small office and need a location for a meeting should consider Workmode as one of their options.
Easy booking through app
Pay only for what you use
Can book by day or hour
Customer Reviews
Let's take a look at what their clients have to say:
"I needed a spot to work and this coworking space was amazing! You can book seating space using their app! There are adjustable desks and screens you can plug into your laptop. There's lots of seating space and the background music isn't too loud. The space is also very bright with lots of natural light. It's brand new and you can tell the owner really cares about creating a safe, clean and productive space. Overall really enjoyed my afternoon working here! They also sell coffee I believe!" – Marjolaine G
"Workmode is awesome – I love the bright, open and warm feel of the space and find that I'm so much more productive in this environment. Not being locked into a membership gives me the flexibility of finding a plan that works optimally for my needs. Also, the coffee is fantastic – my personal favourite drink right now is the Mocha. Come down and check it out for yourself!" – Eric Johanssen
11. The Workaround Daycare & Coworking
| | |
| --- | --- |
| BEST FOR | Working parents |
| SERVICES | Professional workspace, meeting and call rooms, drop-in day passes, private office, virtual mailbox and corporate mailing address, childcare |
| ADDRESS | 2080 Danforth Ave, Toronto, ON M4C 1J9, Canada |
| CONTACT NUMBER | +1 647 696 7525 |
| WEBSITE | http://www.theworkaround.ca/ |
| OPERATING HOURS | Open 24 hours |
Of all the best coworking spaces in Toronto, The Workaround Daycare & Coworking has to be the working parents' dream come true. On top of its coworking facilities, its daycare services are also among the best in the city.
But even if you're a non-parent, you're more than welcome to this place. You'll also love their membership perks.
In fact, memberships can be shared by members of the same household, which can actually save you a lot of money if you opt to use The Workaround's facilities on an alternating schedule with another family member.
The only downside we noticed with The Workaround is that it can be quite difficult to book their private rooms, since a lot of patrons avail them. So it would be great if they can add more of these rooms to accommodate more individuals who wish to work privately.
Other than that, The Workaround is perfect. It has a lot of amenities included in affordable passes and memberships, so you should definitely check them out.
Great for working parents
Open 24 hours
Lots of amenities
Private rooms tend to be completely booked
Customer Reviews
Well managed co-working space
"The Workaround has so much to offer parents, entrepreneurs, community orgs and small business owners with this well managed co-working space and affordable daycare service. You must drop by to see the many unique and innovative ways they have thought of to support you. You can bring your leftovers and store them safely in the fridge, and use the dishes and microwave in the kitchen for lunch. They even have a podcast room or a hammock in quiet room that can be used for meditation. I am excited to be part of this dynamic example of forward thinking in community." – Laura Therrien
Worth every penny and more
"The Workaround is a very special place. My partner and I brought our daughter here starting when she was six months old. It was a haven for us to do work that energized us and for our daughter to get loving and quality care. Amanda has created a space that fits exactly what today's parents need. And the staff are wonderful! It is worth every penny and more!" – Jessica Weisz
12. The Collective Workspace
| | |
| --- | --- |
| BEST FOR | Creative professionals |
| SERVICES | Boardrooms, printing and plotter, concierge, fibre optic internet |
| ADDRESS | 14 Leswyn Rd, North York, ON M6A 1K2, Canada |
| CONTACT NUMBER | +1 416 816 5879 |
| WEBSITE | https://www.thecollectiveto.com |
| OPERATING HOURS | Monday – Friday, 9 AM – 5 PM |
If you're an architect or a designer, then we highly recommend checking out The Collective Workspace– a place that's especially made for you.
The place boasts a 13,000 square ft facility that has all the amenities you could ever need as a creative professional. They have boardrooms, a materials library, a podcast space, and a studio.
You can also use their high-quality printers as part of your membership perks. They've also teamed up with some of the best cafes so you can get your caffeine refill whenever you need it.
Their staff is also friendly and accommodating, and you can even count on them for things like mail and package receivable services.
The only downside is that they're closed on weekends, and their operating hours are fairly limited as well.
But all in all, the general ambiance at The Collective Workspace also makes it conducive to inspiring creativity, allowing you to better concentrate on your work.
Enormous space
Great place for creative professionals
Offers lots of unique amenities
Lots of useful resources in the library
Closed on weekends
Short operating hours
Customer Reviews
Great all day workplace
"Great space for creatives to be inspired while staying productive! There are so many great amenities within the space making it a great all day workplace. Easily accessible by TTC as well!" – Nya-Krystien
A place to be inspired to creativity
"The space is a trendy new addition to the Toronto coworking landscape.
Modern design touches are enhanced by the flood of natural light. Truly a place to be inspired to productivity! I used this venue for a weekend photo shoot and both my models and production team found the space a joy to move and create. Communication with the owners and staff was top notch and allowed us to focus on creation, not administration." – Claire Lim
FAQs about Coworking Spaces
---
Working in spaces like these can help freelancers and students alike get more work done by the end of the day. If you've already decided which one to go with, don't forget to share your pick with us!
By the way, if you know other coworking spaces in Toronto worth checking out, don't hesitate to tell us their names. If we like their services, we'll definitely add them to our list.