The 5 Best Piano Tuning Services in Toronto
If you're a piano owner, then you must know how important it is to maintain and have it regularly tuned to avoid ruining its pitch.
In this article, we assessed the companies that do the best piano tuning services in Toronto. We hope that you'll be able to find the best one to keep your piano in tip-top shape (and tune!).
Our criteria for the best piano tuning services in Toronto
Now, let's go on with our list. We picked and reviewed the following companies with the following factors:
How much do piano tuning services in Toronto cost?
The average cost of piano tuning in Toronto ranges from $65 to $200 per hour. This may increase depending on other repairs or tuning sessions your piano may require.
It's generally advisable to have pianos regularly tuned every 6 to 12 months.
1. Paul Hahn & Co.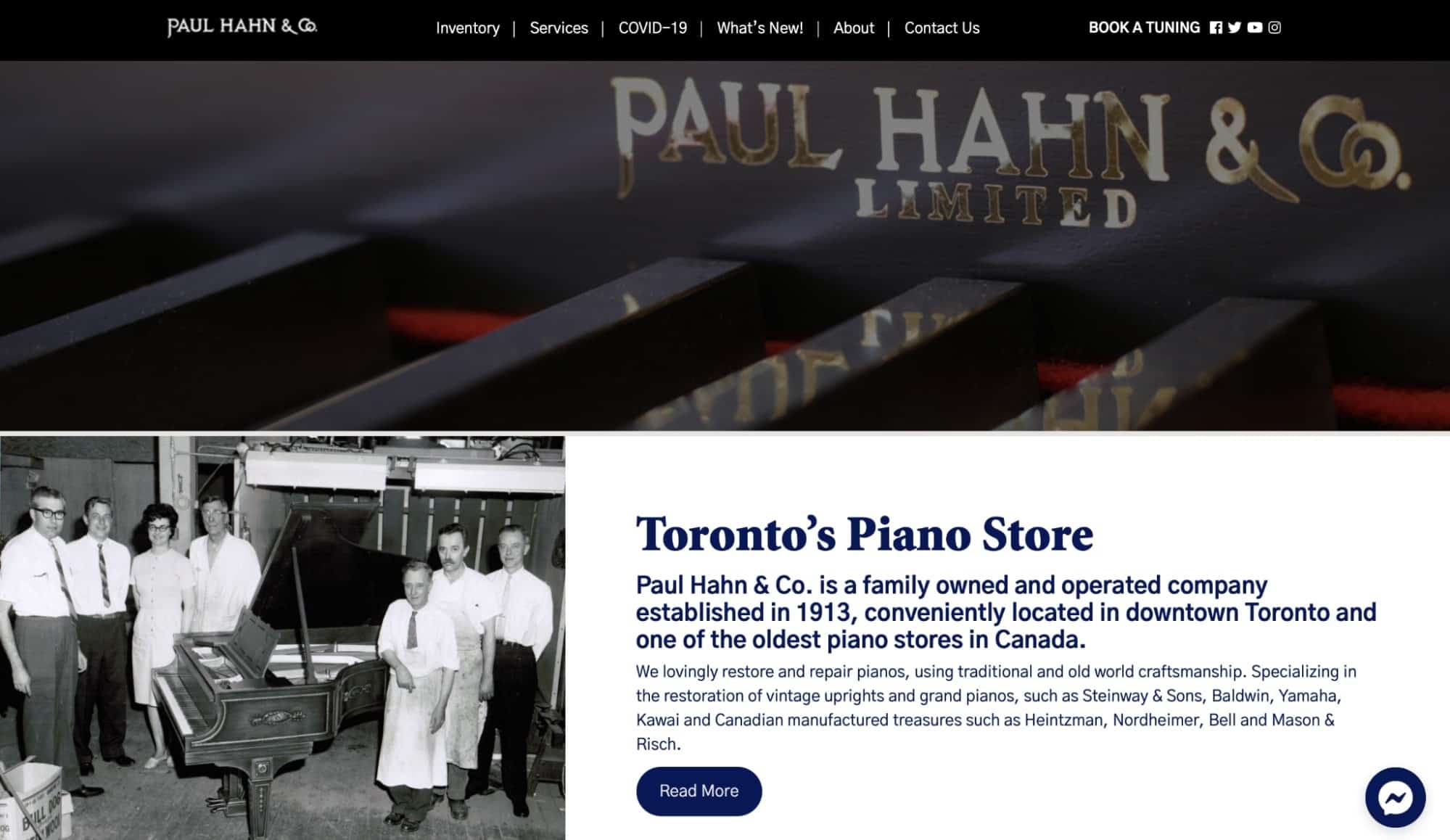 Test
Info
SERVICES
Piano tuning, restore, rebuild, repair, refinishing, piano moving, music lessons
WEBSITE
https://paulhahn.com/
ADDRESS
1058 Yonge St Toronto, ON M4W 2L4
CONTACT DETAILS
416-922-3122
OPERATING HOURS
Monday to Friday, 9:00 AM to 5:00 PM

Saturday, 10:00 AM to 5:00 PM
| | |
| --- | --- |
| PROFESSIONAL EXPERIENCE | ★★★★★ (5/5) |
| RATES | ★★★★★ (5/5) |
| CONVENIENCE | ★★★★☆ (4/5) |
| CUSTOMER SATISFACTION | ★★★★★ (5/5) |
Paul Hahn & Co. is a family business that has been restoring and rebuilding pianos in Toronto since 1913. After over a century, it's now operated by Alex Hahn, the granddaughter of the then-founder.
Coming from a family of musicians, it seems Hahn is experienced and knowledgeable in this aspect.
Aside from that, the technicians in this company have incredible credentials. There are some who have worked with renowned musicians and orchestras such as Alice Cooper and The National Chinese Orchestra in Beijing.
What we appreciate about them are the prepaid discounted packages they offer. This way, customers won't be bothered to book another session since their pianos will be automatically and regularly tuned for the whole year.
We also like their affordable rates for standard tuning. Prices start at just $160, and taxes are already included.
We have to note that they don't accept cash payments, but they do conveniently accept cheque and credit card payments over the phone.
By the way, we think it's adorable and charming how they have their official greeter, Bauer the Shop Dog, upon entrance to their building. Customers love this warm reception.
Clients also how the technicians mostly finish their tuning services ahead of schedule. In some cases, they're able to finish tuning a 75-year-old piano in just 2 hours.
Overall, we recommend Paul Hahn & Co. for their affordable price and efficient services.
Affordable rates
Prepaid discounted packages
Able to finish tuning services ahead of schedule
Closed on Sundays 
Does not accept cash payments
Customer Reviews
Beyond impressed
"I had my piano stored with Paul Hahn. There were some unanticipated challenges but Alex, Chris and Fiona went above and beyond to remedy the problem. I am beyond impressed by the accountability and willingness to problem solve. Thank you Paul Hahn & Co." – Zack Belsberg, Google Reviews
Flexible payment
"I had two tuning services done with Paul Hahn & Co. and both times my piano ended up sounding much better than the previous tuner that I was with. This company is great to deal with, and I love the ease of booking services online as well as the flexibility for payment. Definitely recommend them!" – Thomas Chen, Google Reviews
2. The Piano Boutique Inc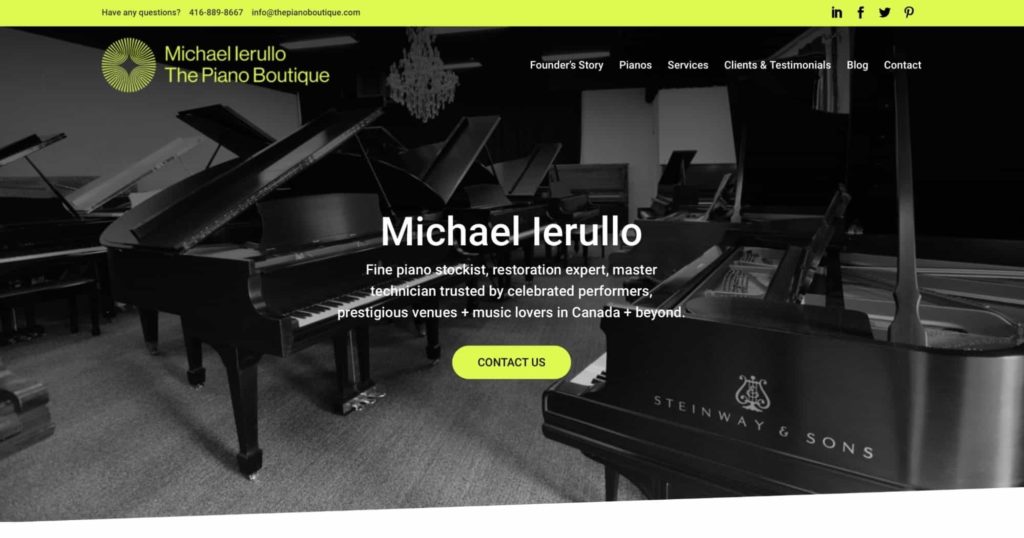 | Test | Info |
| --- | --- |
| SERVICES | Piano tuning, voicing, regulation, piano rentals, repairs, rebuilding, restoration |
| WEBSITE | https://thepianoboutique.com/ |
| ADDRESS | 104 Kenhar Drive, Unit #1, Toronto ON., M9L 1N4 |
| CONTACT DETAILS | 416-889-8667 |
| OPERATING HOURS | Monday to Saturday, 6:00 AM to 6:00 PM |
| | |
| --- | --- |
| PROFESSIONAL EXPERIENCE | ★★★★☆ (4/5) |
| RATES | ★★★★★ (5/5) |
| CONVENIENCE | ★★★★☆ (4/5) |
| CUSTOMER SATISFACTION | ★★★★★ (5/5) |
The Piano Boutique Inc is mainly known for selling world-class pianos in Toronto. But, they also do rebuilds and restorations, as well as piano tunings.
Michael Ierullo, the founder, has quite an impressive background as a pianist. He's been playing since he was 4 years old and even attended the Royal Conservatory of Music in Toronto.
After offering piano lessons in his neighbourhood, he became a piano tuning assistant for 6 years and eventually started his own piano selling and tuning company.
We're impressed by Piano Boutique's use of the open-string tuning method, which is a more traditional way of piano tuning compared to the modern use of electronic devices.
Apparently, the open-string tuning method is more accurate than electronic tuning.
They also offer piano voicing, the process of adjusting the density of piano hammers to improve the overall sound quality of your piano. It's one of the rarer services offered by similar companies.
Make sure to clarify their terms regarding the amount that you'll pay. Apparently, there are hidden costs in their final bill.
Still, there are clients who applaud how patient and reassuring the staff and the owner were during the entire tuning process. So, we think Piano Boutique is worth checking out for your piano tuning needs!
Uses open-string tuning method
Wide array of services aside from piano tuning
Closed on Sundays
Reports of hidden costs on their final bill
Customer Reviews
Professional and honest
"I had the pleasure of meeting Michael when he visited my home to tune my piano.
I've had my piano for many years and sadly have never played. I had no idea what to expect.
Michael was very professional and honest with me. He had my piano tuned in a short time, and for a most reasonable price.
I highly recommend Michael from The Piano Boutique!" – allan grenier, Google Reviews
Reassuring Team
"The Piano Boutique is a great organisation. TO Live is grateful to have such a professional team to work with. The hours are long but being able to depend on Michael and his team is reassuring. We're confident that when we need him and his service he's there." – S Bellisario, Google Reviews
3. Concert Pitch Piano Services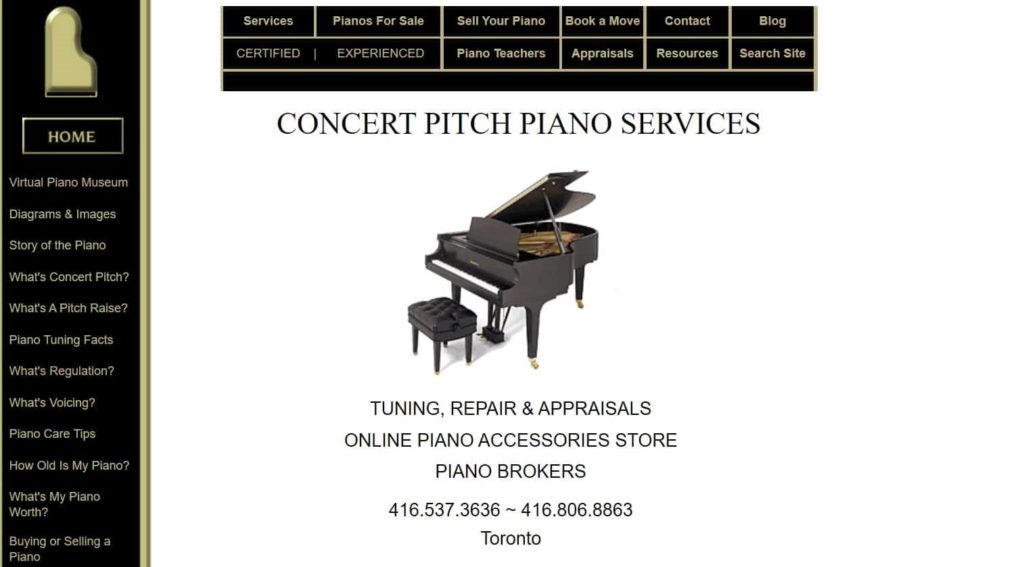 | Test | Info |
| --- | --- |
| SERVICES | Regular tuning, pitch adjustment & tune, appraisals, refinishing, reconditioning & restoration, piano moving |
| WEBSITE | http://www.concertpitchpiano.com/ |
| ADDRESS | 50 Cambridge Ave, Toronto, ON M4K 2L3, Canada |
| CONTACT DETAILS | 416-537-3636 |
| OPERATING HOURS | Monday to Sunday, 9:00 AM to 6:00 PM |
| | |
| --- | --- |
| PROFESSIONAL EXPERIENCE | ★★★★☆ (4/5) |
| RATES | ★★★★★ (5/5) |
| CONVENIENCE | ★★★★☆ (4/5) |
| CUSTOMER SATISFACTION | ★★★★★ (5/5) |
Concert Pitch Piano Services is an established company that offers piano tuning, repairing, and appraisals all around Toronto since 2000.
We like how they have highly-trained technicians that are experts in several aspects of piano tuning, including regulation, voicing, and repairing.
They also offer an affordable price of just $150 for their regular tuning. And, they have flexible payment methods since they accept debit card payments.
Another bonus is that if you have a piano that hasn't undergone tuning for more than 2 years, they will provide a free pitch raise!
What's more is that they guarantee a quick turnaround time of an hour to an hour and a half, as confirmed by their customers.
Another thing we like is how responsive they are. Apparently, they respond to their clients' calls and messages as soon as they can.
Customers are impressed, too, by how genuinely knowledgeable their staff members are. They share some fun facts they haven't heard of during the tuning session, and sometimes provide tips to maintain their pianos' quality.
We recommend Concert Pitch Piano Services for their affordable rates and quality customer service.
Affordable prices
Accepts debit card payment
Quick turnaround time 
Closed on Sundays
Relatively newer compared to its competitors 
Customer Reviews
Friendly and reliable staff
"I have been using Concert Pitch Piano for many years. I find Don and Kirk to be so friendly, reliable and honest. My am a piano teacher and had two of my pianos tuned recently. Kirk did the tuning along with a few minor adjustments and they sound wonderful, especially after a hiatus from the pandemic. I recommend them to my piano students' families all the time!" – Arianne Ewing-Chow, Google Reviews
Excellent services
"I have played the piano for almost 40 years, and have trusted Concert Pitch Piano with tuning my piano ever since I discovered them many years ago. If you're looking for an excellent, pro company that knows their way around a piano, look no further! They get the job done. Will continue to go with Concert Pitch Piano Services to keep my piano in tune for as long as I possibly can. 10/10 recommend." – amylyn pagnotta, Google Reviews
4. PianoTuners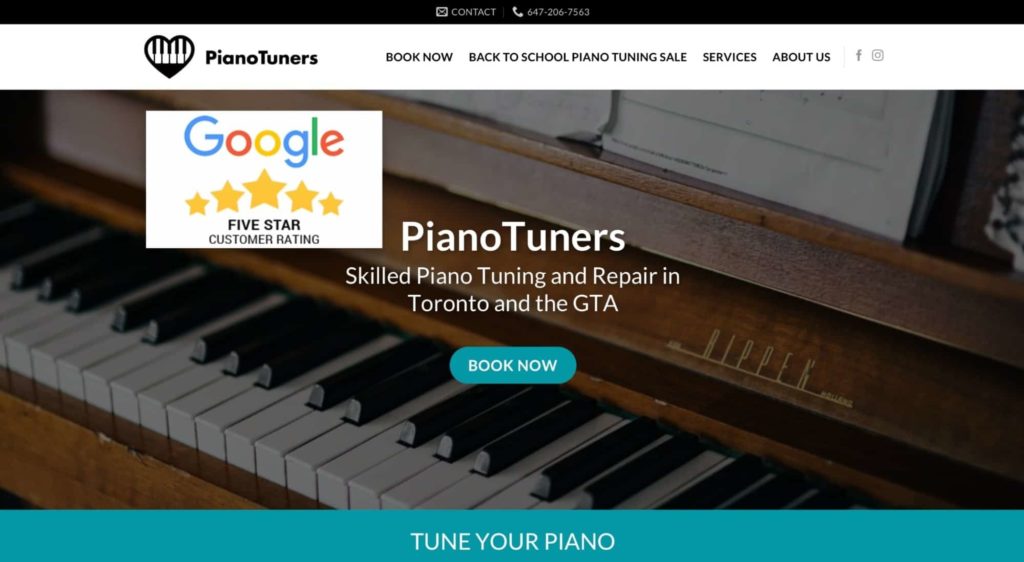 | Test | Info |
| --- | --- |
| SERVICES | Piano tuning, pitch raise, piano repair, piano cleaning, humidifier system installation, appraisal |
| WEBSITE | https://www.pianotuners.ca/ |
| ADDRESS | Toronto (M3C 0E3), Toronto |
| CONTACT DETAILS | (647) 206-7563 |
| OPERATING HOURS | Monday to Sunday, 9:00 AM to 8:00 PM |
| | |
| --- | --- |
| PROFESSIONAL EXPERIENCE | ★★★★★ (5/5) |
| RATES | ★★★★☆ (4/5) |
| CONVENIENCE | ★★★★☆ (4/5) |
| CUSTOMER SATISFACTION | ★★★★★ (5/5) |
PianoTuners has been specialising in piano tuning for award-winning musicians since 2009.
We think what sets them apart is their team's extensive experience in piano tuning. Their staff has a strong background in examining audio, and several of them studied audio engineering in college.
Also, some of their notable clients are world-class musician Rufus Wainwright, the Casa Loma museum, and St. Paul's Basilica Church.
Although their main service is piano tuning, they also provide piano repair and piano cleaning services, with a free consultation!
We find it considerate that they have a "no piano shaming" policy to make you feel more comfortable talking to them about your concerns. Also, we think it proves how they really prioritise customer service.
What customers like about PianoTuners is their top-notch piano tuning. Some clients applaud how they are still able to have their 100-year-old pianos back to their perfect pitch.
Their clients also appreciate them for offering reasonable prices. However, note that they have separate fees for additional fixes, which spikes up the final bill.
Also, make sure to book an appointment beforehand since they don't accept walk-in customers.
We think that PianoTuners is remarkable for their timeliness! Their staff reportedly arrive on time and don't rush their jobs.
Has notable word-class musicians as clients
Offers free consultation
Can tune really old pianos – even 100-year old ones
Strictly by appointment only
Separate fees for additional fixes   
Customer Reviews
Professional and meticulous
"Professional, meticulous, skillful tuner who brought back to life a 100 year old piano that had not been tuned in decades. We are forever grateful." – H Kim, Google Reviews
Talented and knowledgeable
"Spencer was very professional. He arrived on time to service our piano. Very knowledgeable. It was a pleasure listening to him play while he was tuning. Seriously talented.
Spencer is polite and a real gentleman. Highly recommend and would refer him to family. Happy the mover recommended Spencer to us. Our 100 year old piano sounds perfect." – Jennifer Cunningham, Google Reviews
5. Universal Piano Services Inc.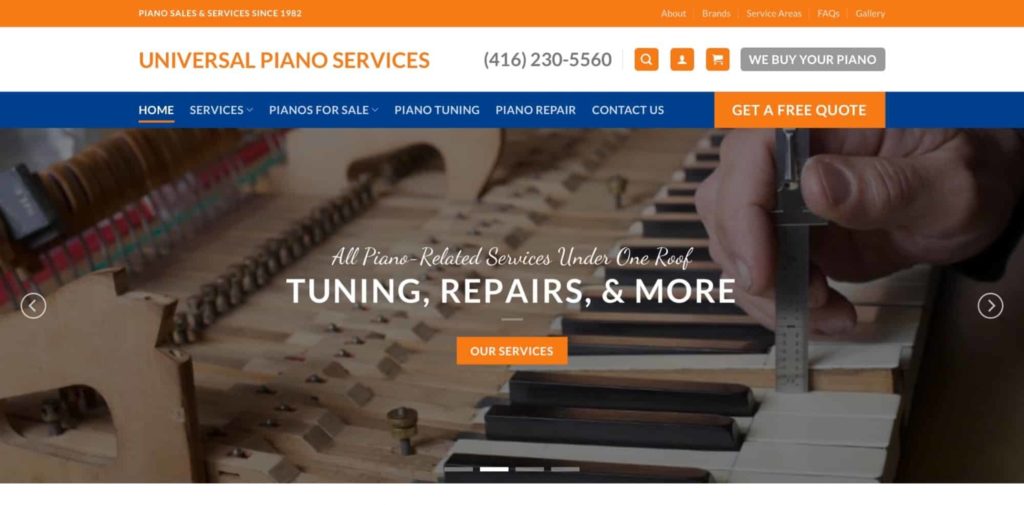 | Test | Info |
| --- | --- |
| SERVICES | Piano moving, piano storage, piano rental, assistance with purchasing, piano tuning, piano restoration & repair, piano refinishing, piano care, piano appraisals, piano disposal |
| WEBSITE | https://www.universalpianoservices.com/ |
| ADDRESS | 497 Champagne Drive, Toronto, ON, M3J 2C9 |
| CONTACT DETAILS | (416) 230-5560 |
| OPERATING HOURS | Monday to Sunday, 9:00 AM to 8:00 PM |
| | |
| --- | --- |
| PROFESSIONAL EXPERIENCE | ★★★★★ (5/5) |
| RATES FOR THEIR SERVICES | ★★★★☆ (4/5) |
| CONVENIENCE | ★★★★☆ (4/5) |
| CUSTOMER SATISFACTION | ★★★★☆ (4/5) |
For over 40 years, Universal Piano Services Inc. has established themselves as sellers of high-quality pianos. But, they also provide other services such as piano tuning, rental, and repairs.
They are known for working with recognised piano brands such as Yamaha, Suzuki, and Baldwin.
As for their piano tuning services, their price range is from $400 to $1,700. This is relatively more expensive than most similar companies.
But what we appreciate about them is how they provide clients with 2 free tunings and a 10-year warranty. This increases their clients' confidence in their services more and rebook them.
We also like how they're open daily with relatively long hours. This means that they're able to accommodate more clients, even on short notice.
But we think they can improve their response rate since some clients said that their calls weren't accommodated multiple times.
Also, all their services are strictly by appointment, which might be inconvenient for some customers who prefer to walk in.
On the bright side, clients love the team's professionalism and knowledge. They are comfortable with how the staff talks to them during on-site sessions.
We think giving Universal Piano Services a shot would be worth it, considering how their clients trust the quality of their tuning services.
Open daily
Partnered with well-known piano brands
Has over 40 years of experience
Offers 2 free tunings and a 10-year warranty
Strictly by appointment
Relatively more expensive
Could work on being more responsive
Customer Reviews
Recommended expertise and professionalism
"I am thrilled with the superb quality of repair and tuning of my 104 years old upright piano. I highly recommend the expertise and professionalism of their entire staff and found their pricing very reasonable. I will definitely use their services again!" – Linda Laidler-Askew, Google Reviews
Quick delivery
"We had a great experience , IIya is very professional and knowledgeable and answered all our questions , piano is in excellent condition with great tune.
Delivery was quick .
I highly recommend this place if you are looking for used or new pianos." – Sarah Alkhalaf, Google Reviews
FAQs on Piano Tuning Services
---
There you have it, our review of the best piano tuning services in Toronto! We hope you enjoyed it and it helped you for your piano needs.
We have more music-related articles for you! If you are interested, check them out below: