The 5 Best Charter Bus Rentals in Toronto
Planning a corporate trip or a personal trip with your friends? It's more convenient to rent a charter bus because of the various amenities available – plus, you can customise your own itinerary!
In case you'll be needing one for your next journey, we compiled and assessed the best charter bus rentals in Toronto to help you narrow down your search.
Our criteria for the best charter bus rentals in Toronto
We used the following factors below to review the best charter bus rentals in Toronto:
How much do charter bus rentals in Toronto cost?
To give you an idea of how much you'll have to pay in renting a charter bus in Toronto, check the estimated rates on the table below:
| TYPE OF VEHICLE | RATE PER HOUR | RATE PER DAY |
| --- | --- | --- |
| Charter Bus | $149 to $243 | $1,350 to $2,300 |
| Mini bus | $129 to $215 | $1,282 to 2,023 |
| Entertainment Bus | $285 to $374 | $2,566 to $3,375 |
| Sprinter Van | $75 to $150 | $675 to $1,350 |
1. Toronto Charter Bus Rentals by Bus.com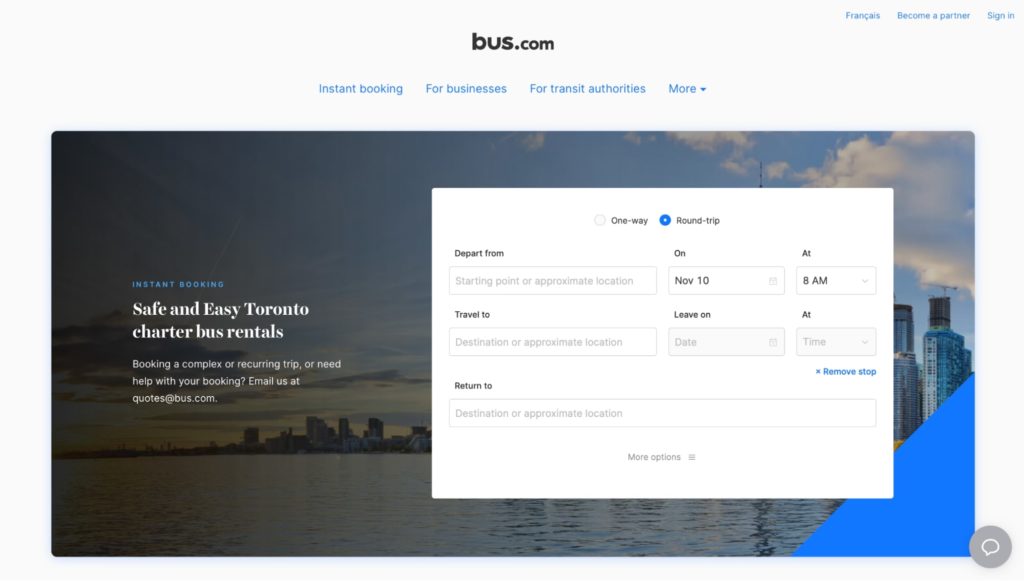 | Test | Info |
| --- | --- |
| SERVICES | Corporate charters, Field Trips, Sports Teams, Tours, WeddingsCoach bus, Sprinter van, Minibus, Mini coach, School bus, Shuttle services, Vaccine shuttles, Employee shuttles, Corporate shuttles |
| WEBSITE | https://www.bus.com/cities/toronto/ |
| ADDRESS   | 50 Carroll St, Toronto, ON M4M 3G3, Canada |
| CONTACT DETAILS | 1-855-428-7266 |
| OPERATING HOURS | Monday to Friday, 9:00 AM to 5:30 PM |
| | |
| --- | --- |
| FLEETS | ★★★★★ (5/5) |
| SAFETY | ★★★★★ (5/5) |
| COST | ★★★★★ (5/5) |
| CONVENIENCE | ★★★★☆ (4/5) |
| AVAILABILITY | ★★★★☆ (4/5) |
Bus.com has been offering a wide variety of transport solutions for corporations, construction, and church groups since 2014 across North America. At the same time they've also established themselves as a reliable bus rental company in Toronto.
What's great about them is how prominent brands and organisations trust their service. We think it says a lot about the overall quality and safety of their services.
Some of the brands they've worked with are Uber, Air Canada, Nike, and Amazon. Harvard University and Coachella also became their clients.
They have 5 bus options you can choose from, including a luxurious coach bus that can accommodate up to 55 people – perfect for long-distance travels.
The amenities in their coach bus include high-speed wifi, air conditioning, and onboard lavatories for fewer pit stops. It will only cost you an affordable price of $600 to $1,200 per day, too, which we appreciate.
They also have a sprinter bus, a mini coach bus, and a minibus for small groups and short-distance travel. A school bus is also available for field trips and campus visits.
We love how they give customers the freedom to customise their trips and modify their plans anytime.
They also have a "book now, pay later" option for credit card payers. This is a convenient option for those who may not be ready to shell out yet but urgently need the booking.
Note that they're closed during weekends, so you might want to set your appointments on a weekday.
On the brighter side, it's easy to get a quote from them! You'll get the price overview in just 2 minutes via their online booking tool.
Trusted by prominent brands and organisations
Affordable price
Open for plan modifications
Closed on weekends
Book now, pay later option is only for credit card payers
Customer Reviews
Great shuttles
"We booked shuttles for our wedding this past weekend – to drive our guests from the venue back to the hotel safely. Shuttles were great! And arrived on time each time. (We had 4 departure times). Good customer service. Amazing price for service. Very happy with the company. Highly recommend." – Dorothy Markowski, Google Reviews
Comfortable and clean bus
"Chartered a bus for an office event. Booking online was a breeze, good customer support, comfortable and clean bus. Bus driver was experienced and professional." – Mohinder Bassan, Google Reviews
2. King Charters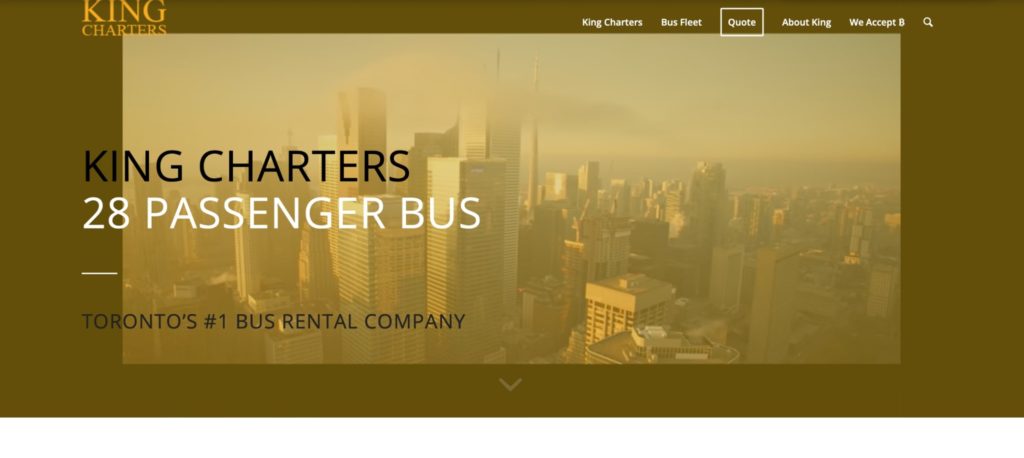 Test
Info
SERVICES
Crew / Staff transportation Service, Corporate Events & Conventions, Niagara Falls Chartered Coach, Student Bus Packages, Independent and Group Travel, 56-Passenger Coach Bus, 40-Passenger Bus, 28-Passenger Bus, Limo Bus, 24-Passenger Bus, Sprinter Van
WEBSITE
https://kingcharters.ca/
ADDRESS
296 Jarvis St. Unit 7, Toronto, Ontario, Canada, M5B 2C5
CONTACT DETAILS
416-315-4065 / 1-866-546-4999
OPERATING HOURS
Monday to Friday, 8:30 AM to 4:30 PM

Saturday to Sunday, 8:30 AM to 10:30 PM
| | |
| --- | --- |
| FLEETS | ★★★★★ (5/5) |
| SAFETY | ★★★★★ (5/5) |
| COST | ★★★★☆ (4/5) |
| CONVENIENCE | ★★★★☆ (4/5) |
| AVAILABILITY | ★★★★★ (5/5) |
King Charters is a leading charter bus rental company in the Toronto area, founded in 1993. They boast a wide array of vehicles to offer while prioritising the comfort and safety of the customers.
New vehicles are added regularly to their system, which allows them to offer a variety of bus options. They own an advanced GPS fleet management system to monitor all of their vehicles, ensuring the safety of the passengers.
The most popular rental bus they have is the 24-passenger minibus, which is perfectly suited for small groups that'll travel short distances within Southern Ontario.
We're impressed that they have vehicles for almost all group sizes and distances. They can accommodate from 10 to 57 passengers with their coach buses, minibuses, and sprinter vans.
The amenities in all of their bus options include a climate control air conditioner, reading lights, flatscreen TVs, footrests, and reclining chairs.
However, not all their vehicle models have an onboard toilet, which can be a dealbreaker for some potential clients.
Also, a few clients we've spoken to mentioned some inconveniences during their trip. Apparently, their driver reportedly wasn't able to drop them off at the correct location.
On a brighter note, it's quite easy to book an appointment online. We also have to give it to them in terms of responsiveness, as they reportedly respond within 30 minutes to 1 business day.
Overall, we think King Charters is perfect for small and large groups that need bus rentals for corporate events and private experiences.
Owns an advanced GPS fleet system
Wide array of bus options 
Almost 30 years in the business
Only open for 2 hours during weekends
Not all vehicle models have an onboard toilet
Customer Reviews
Respectful and pleasant drivers
"I've been using King Charters and I have been using them for about 4 months and they have been amazing, I honestly have no complaints. Their buses are new and really nice, the drivers are always respectful and pleasant and on time. I always speak directly to Norbert who is always very accommodating and have even helped me out of a jam by getting me bus at the very last minute so I didn't have to cancel a trip. I will definitely continue to use them for the foreseeable future." – Patrice Russell, Google Reviews
Top-class service
"King Charters is a company I would recommend to all. Needed a shuttle within an hour and Robert got it sorted within 10 min at an affordable price. Driver was friendly, helpful and got our family safely to our destination. Overall experience was top class, thank you." – Rozano Clayton, Google Reviews
3. Toronto Bus Company Ltd. (TBCL)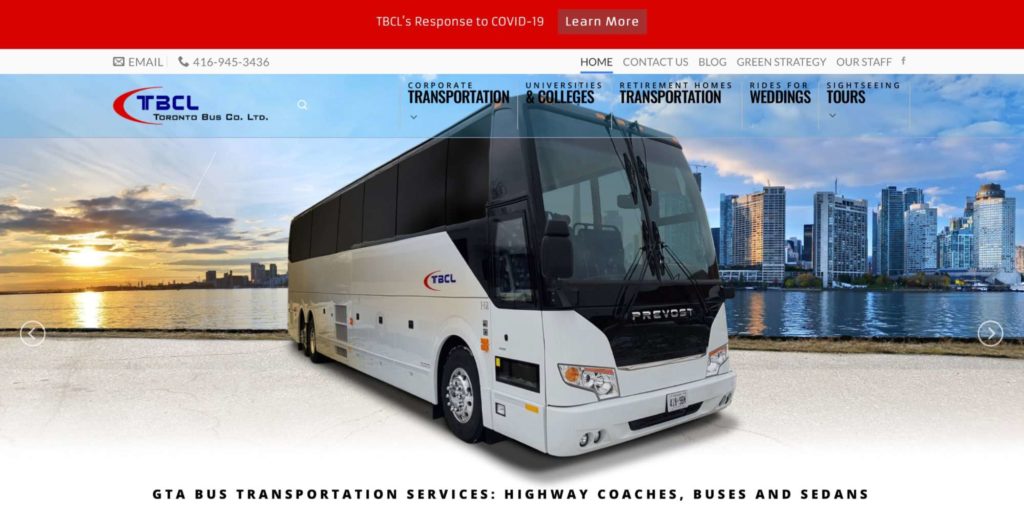 Test
Info
SERVICES
Corporate transportation, Mini bus, Coach bus, Executive shuttle, Sedan, SUV, Limousine, Retirement home services
WEBSITE
https://torontobusco.com/
ADDRESS
110 Skyway Avenue, Toronto, Ontario, M9W 4Y9
CONTACT DETAILS
416-945-3436
OPERATING HOURS
Monday to Friday, 9:00 AM to 5:00 PM

Saturday to Sunday, 10:00 AM to 5:00 PM
| | |
| --- | --- |
| FLEETS | ★★★★★ (5/5) |
| SAFETY | ★★★★★ (5/5) |
| COST | ★★★★★ (5/5) |
| CONVENIENCE | ★★★★☆ (4/5) |
| AVAILABILITY | ★★★★★ (5/5) |
Toronto Bus Company Ltd. specialises in renting corporate buses and mini bus charters in Toronto.
One thing that sets them apart is that they've established themselves as an "eco-friendly" company. They are a member of GTAA's Partners in Project Green, where they help address issues connected to sustainability.
Another thing we like about them is that their licenced drivers are trained in first aid and CPR by the Canadian Red Cross. This adds peace of mind in case a medical emergency occurs along the way, especially for the elderly.
Fleet-wise, they offer a good range of transportation options depending on the trip you'll be having, whether it's for business conferences, school events, or weddings.
Sedans and SUVs are also available to rent for business or personal use, in case you'll be needing a ride with a wide luggage capacity.
You can also rent a 14-passenger limousine for your wedding and parties. It includes leather ostrich seating, flatscreen TVs, a DVD player, and SubWoofer sound system.
The only inconvenience we see here is that they don't have an online appointment scheduler. In any case, you can still call them or go to their office to get your quotation.
Clients love how accommodating their drivers are. Some shared how their driver cheerfully provided history lessons during their trip, while others described their drivers as funny and welcoming.
However, there are few reports regarding their drivers' punctuality. One client shared an experience where a driver arrived so late that they ended up rushing the trip.
We hope TBCL has addressed these issues to improve their customers' overall experience.
GTAA's Partners in Project Green member
Drivers are trained in first aid and CPR
No online appointment-setting system
Some instances of tardy drivers
Customer Reviews
Great accommodating staff
"I work for a leading Canadian company and used their service this month to transport about 30 team members from the hotel around the airport to a restaurant downtown. Communication was great, pricing was competitive and service was good. The driver arrived on time and was very pleasant to deal with. We had to extend the drive back pick up time as the team was having a great time at the restaurant and the driver, Joe was wonderful and accommodating. I would surely recommend them for their wonderful efficient service." – Desiree Casmiro, Google Reviews
Precise driving skills
"Great experience with TBCL this past week. We were on a trip to Niagara and had a great time. Our driver, Will was a pleasure – he acted as a great tour guide too, sharing anecdotes, facts and history along the way. He maneuvered the traffic of a busy Saturday with precision and left us feeling comfortable and safe. The bus was clean, roomy and the ride was smooth. We will definitely be using TBCL again in the future – thanks!" – Erin W, Google Reviews
4. Toronto Charters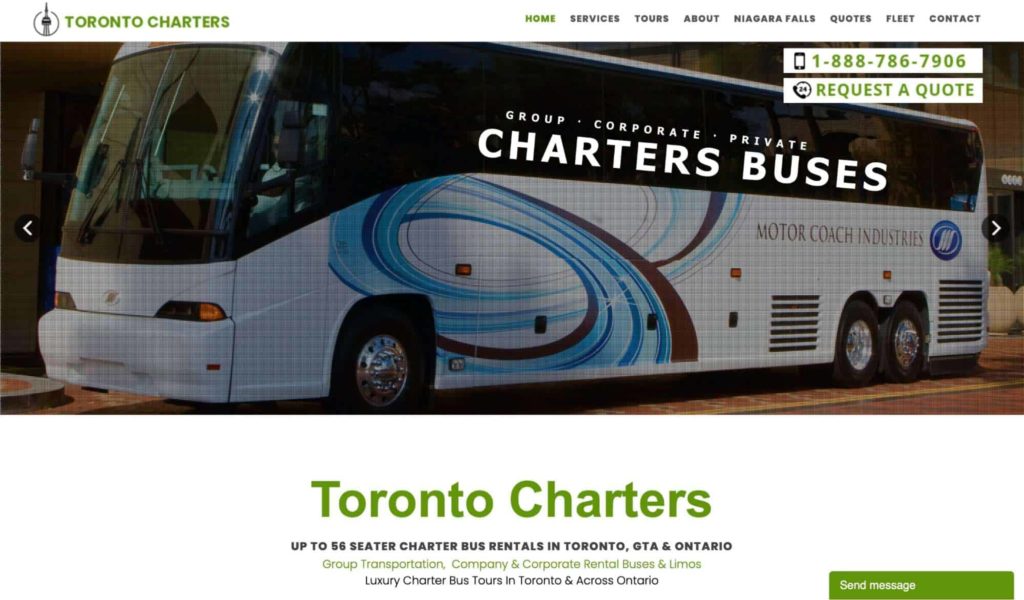 Test
Info
SERVICES
Company outings, Cross country school trips, Rides to and from sporting events, Multiple day tours, Guest transportation for Weddings, Parties or Casino trips, Sporting Events & Leisure Activities, Corporate Functions, Theatrical Performances, Shopping Sprees, Special Occasions
WEBSITE
https://www.torontocharters.ca/
ADDRESS
215 Carlingview Dr #206, Etobicoke, ON M9W 5X8, Canada
CONTACT DETAILS
+1 416-276-9127
OPERATING HOURS
Monday to Friday, 7:00 AM to 11:00 PM

Saturday to Sunday, 8:00 AM to 10:00 PM
| | |
| --- | --- |
| FLEETS | ★★★★☆ (4/5) |
| SAFETY | ★★★★★ (5/5) |
| COST | ★★★★☆ (4/5) |
| CONVENIENCE | ★★★★★ (5/5) |
| AVAILABILITY | ★★★★★ (5/5) |
Toronto Charters is known for providing reliable scheduled bus services in Toronto with 10 years of experience in the transportation industry.
Aside from corporate trips and school events, they also offer group airport transfers and senior group transportation solutions.
It's noteworthy that they have a zero-tolerance drug policy to ensure passengers' safety. In fact, they have randomised drug testing and extensive background checks for drivers, which we find reassuring.
We also like that they have a policy where drivers aren't allowed to cancel trips last-minute. This minimises any surprise stressors for passengers who've done their part in preparing for the journey.
Available buses include a 56-passenger deluxe motor coach, a minibus that can hold 25 people, a 14-passenger sprinter van, and a luxury mini coach bus for 21 passengers.
However, we think that their amenities are quite limited compared to similar companies. TVs, video systems and onboard restrooms are only available in the deluxe motor coach.
Other amenities such as wi-fi and electrical outlets are only available via special request and are charged separately, so there's a chance that your final bill will increase.
Still, we think Toronto Charters is worth checking out. You can get your free quote via call or by filling out their free quote form on their website.
Has a zero-tolerance drug policy
Not allowed to cancel last-minute
Limited amenities 
Separate fees for wi-fi and electrical outlets
Customer Reviews
Professional drivers
"Best bus company in Toronto, We used them frequently. Always on time and with professional drivers and new buses." – Bilal R, Google Reviews
Always on time
"The best Bus Company in Toronto. Always on time and best buses." – hamzha saihaj, Google Reviews
5. Coach Bus Charter Toronto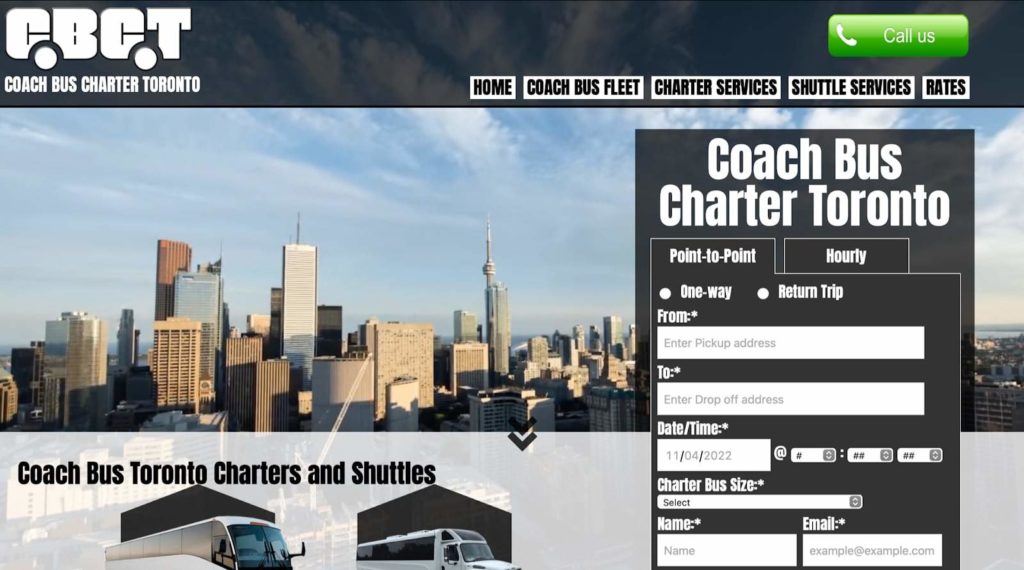 | Test | Info |
| --- | --- |
| SERVICES | Corporate Charters, Private Charters, Sports Teams, Long Distance and US Travel, Wedding Shuttles, Airport Shuttles, Toronto to Niagara Falls |
| WEBSITE | https://www.coachbuschartertoronto.com/ |
| ADDRESS | 314-28 Prince Regent St., Markham ON, L6C 0V5, Canada |
| CONTACT DETAILS | 647-797-0233 |
| OPERATING HOURS | Monday to Sunday, 24 hours |
| | |
| --- | --- |
| FLEETS | ★★★★☆ (4/5) |
| SAFETY | ★★★★★ (5/5) |
| COST | ★★★★★ (5/5) |
| CONVENIENCE | ★★★★☆ (4/5) |
| AVAILABILITY | ★★★★★ (5/5) |
For 26 years, Coach Bus Charter Toronto specialises in providing corporate charters, private charters, and sports team transportation for any group size in Toronto
Moreover, they also offer shuttle bus services for weddings, concerts, music festivals, and airport transportation.
The best thing we see here in this bus rental company is they offer cheap prices for their services.
They only have one option for the coach bus fleet which is a 56-passenger XL Coach bus that you can rent for $195 per hour.
You can also choose your preferred shuttle ride from their 3 options. There's a passenger shuttle that can accommodate 25 passengers, another passenger shuttle that fits a maximum of 14 people, and a 10-passenger sprinter van.
However, onboard washrooms are only available on their coach bus fleet, which is a shame.
On a brighter note, clients love how Coach Bus Charter Toronto's drivers are attentive. They apparently make sure their passengers are comfortable all throughout the trip.
There is also great feedback regarding their cleanliness. Customers we've spoken to were impressed because their buses are always clean, which makes their trips extra-comfortable.
Coach Bus Charter Toronto operates 24/7 so you can book an appointment anytime! They have a quote rate form online to get the overall price you'll be paying for their services.
Affordable rates
26 years in the industry
Available 24/7
Limited bus options
Limited amenities
Customer Reviews
On time and friendly drivers
"Thought I would try something new as my previous company was often late and was really impressed with Coach bus charter Toronto. On Time, friendly drivers. Strongly recommended." – Chris Saltertop, Google Reviews
Affordable rates
"We hired Coach Bus Charter Toronto to transport our group from Toronto to Niagara Falls and were very impressed. New style coach bus, clean washroom (which is rare), friendly driver, on time and the best part is they had very affordable rates. I will definately use again." Javeria S., testimonial
FAQs on charter bus rentals in Toronto
---
And that ends our review of the best charter bus rentals in Toronto! We hope that you were able to find a company that suits your needs for your next getaway.
In case you're also interested in party buses, we also have an article on where to get party bus rentals in Toronto. Check it out!