The 5 Best Awning Suppliers in Toronto
Awnings are often attached over the windows or walls of a building to protect it from overbearing sunrays and any other adverse weather.
You're perhaps wondering where you can find the best companies that provide quality awnings in Toronto. Here, we compiled and reviewed the best awning suppliers around the area!
Our criteria for the best awning suppliers in Toronto
We looked at the following factors below in reviewing the best awning suppliers in Toronto:
How much do awnings in Toronto cost?
The average cost of an awning is around $1,865 to $5,724, including the installation fee.
For specifics, here is a breakdown of average awning costs based on type and size:
| Type | Average Price (with installation) |
| --- | --- |
| Portable | $134 to $537 |
| Non-rollable | $605 to $1,277 |
| Canvas | $672 to $1,613 |
| Metal | $672 to $1,680 |
| Manual retractable | $907 to $2,621 |
| Mechanical/motorised | $2,924 to $5,310 |
| Size  | Average Price Range |
| --- | --- |
| 31" x 24" | $269 to $672 |
| 44" x 36" | $323 to $672 |
| 56" x 48" | $538 to $941 |
| 8' x 10' | $336 to $2,689 |
| 10' x 10' | $403 to $3,360 |
| 15' x 15' | $809 to $3,495 |
| 10' x 20' | $941 to $4,033 |
| 15' x 20' | $809 to $4,705 |
1. Canadian Shade | Patio Awnings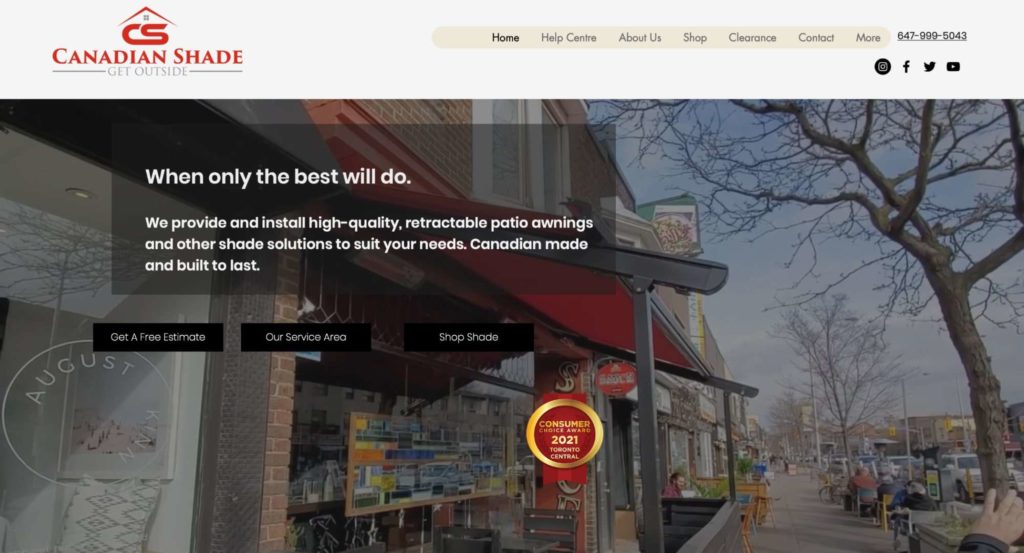 | Test | Info |
| --- | --- |
| PRODUCTS | Retractable Awnings, Window Covering, Pergola, Solar Screens, Canopies, Shade Sail, Heaters, Addons, Heater Addons, Clearance |
| WEBSITE | https://www.canadianshade.ca/ |
| ADDRESS | 85 Thorncliffe Park Drive, Toronto, ON M4H 1L7 |
| CONTACT DETAILS | (647) 999-5043 |
| OPERATING HOURS | Monday to Friday, 9:00 AM to 5:00 PM |
| | |
| --- | --- |
| WORKMANSHIP | ★★★★★ (5/5) |
| WARRANTY | ★★★★★ (5/5) |
| VALUE-ADDED SERVICES | ★★★★★ (5/5) |
| ⮕Repairs | ★★★★★ (5/5) |
| ⮕Consultation | ★★★★★ (5/5) |
| AWNING SELECTION | ★★★★☆ (4.5/5) |
| ⮕Awning styles | ★★★★★ (5/5) |
| ⮕Available fabrics | ★★★★☆ (4/5) |
| CONVENIENCE | ★★★★☆ (4/5) |
| COST | ★★★★★ (5/5) |
Canadian Shade has been supplying high-quality shade products in Toronto since 2013. On top of that, they also do installations, giving you the full-service experience.
Their main products are retractable awnings for residential properties, but you can also purchase window coverings, solar screens, and heaters if you need to.
Their most popular awning is the "Royal Marcesa," which is known for its durability. You can get this for $4,326, but do note that the installation fee is usually charged separately – as such, it can spike up your final bill.
That said, we're confident enough in the quality of their products since they're partners with known awning manufacturers like Aristocrat Shade Products and KE Outdoor.
Moreover, they also offer service warranties for their installation with at least 2 years of free service, which is helpful for emergency fixes.
They also have an online portal for easier tracking of your invoicing and payment receipts.
We're told their staff are reliable and professional. Some customers who shared how the installers made helpful suggestions and even cleaned up before leaving their homes.
If you plan on choosing Canadian Shade, you must call them for a free consultation first for a discussion of the prices. We wouldn't worry because they're apparently quick to respond.
Provides durable awnings
Partners with known brands
Offers 2 years of free installation service 
By appointment only
Separate installation fee
Customer Reviews
Nothing but perfection
"Thank you Chris and Brenda for the great job on our awning and canopy. We have been enjoying the awning this summer with family and friends and it does the job we wanted it to do. From our first meeting to the installation, nothing but perfection. Great job and highly recommended." – denise arana, Google Reviews
100% perfect experience
"I was so pleased that I was able to find a company that would replace the fabric on my awning, as I did not want to have to get a whole new unit. I was more than pleased that I was able to find Canadian Shade. From the moment I contacted via the Internet to the home visit, installation, it was 100% perfect. The choices of fabrics, the professionalism of both Brenda and Chris made the experience fantastic. I am also so please that I was able to support a local business and not have to rely on the "big box" experience. If you are in need of any type of awning, I guarantee you will not be disappointed with this company." – Carolyn Kilburn, Google Reviews
2. Above All Awnings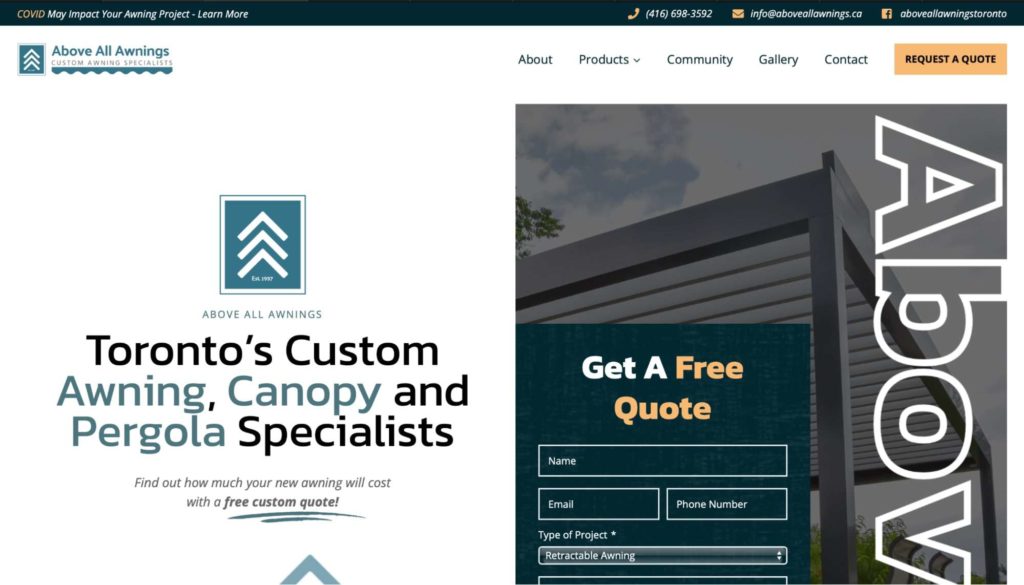 | Test | Info |
| --- | --- |
| PRODUCTS | Retractable Patio Awnings, Community, Retractable Patio Canopies, Louvered Pergolas, Welded Frame Awnings, Condominium Stairwell, Enclosures, Custom Curtains |
| WEBSITE | https://aboveallawnings.ca/ |
| ADDRESS | 69 Briar Dale Blvd, Scarborough, ON M1N 1Z6, Canada |
| CONTACT DETAILS | (416) 698-3592 |
| OPERATING HOURS | Monday to Friday, 8:00 AM to 5:00 PM |
| | |
| --- | --- |
| WORKMANSHIP | ★★★★★ (5/5) |
| WARRANTY | ★★★★★ (5/5) |
| VALUE-ADDED SERVICES | ★★★★☆ (4.5/5) |
| ⮕Repairs | ★★★★☆ (4/5) |
| ⮕Consultation | ★★★★★ (5/5) |
| AWNING SELECTION | ★★★★★ (5/5) |
| ⮕Awning styles | ★★★★★ (5/5) |
| ⮕Available fabrics | ★★★★★ (5/5) |
| CONVENIENCE | ★★★★☆ (4/5) |
| COST | ★★★★★ (5/5) |
Above All Awnings is a locally-owned and family-operated business that's been committed to delivering quality awnings and installation since 1995.
Their compassion for their community is noteworthy. They donate at least 1% of their sales to the United Way GTA, a non-profit organisation in Toronto that helps people that are being left behind.
We love how they have a wide selection of awning styles, which you can customise from the sizes to the frame colours. They even offer up to 10 years of warranty, which tells us they're confident in their workmanship.
For their retractable patio awning, they have a cassette awning that gives 100% protection from birds and squirrels even when it's not used.
They also have welded frame awnings where you can choose from traditional, quarter ball, barrel, and waterfall styles.
Free quotations are given via online and call, and they also accept walk-in customers which is more convenient for most clients.
Though, their products and services cost you up to $8,500 – a bit more expensive compared to other companies.
On a brighter note, we like their fast delivery and installation. Their customers shared how they received their products sooner than promised, and that they didn't have to wait too long for the installation to be finished.
Customers also appreciate their professional staff. They apparently give several options that'll suit their needs and budget.
Wide selection of awning styles
Up to 10 years of warranty coverage
Accepts walk-in customers
Relatively fast delivery and installation
Not available on weekends
A bit more expensive than other companies
Customer Reviews
Installed asap
"I contacted Above All Awnings based on the 5 stars review on Google and they lived up to the hype 🙂 Jamie was very responsive and thorough. He gave us our options and the quotes right away – he was pretty transparent with the cost and there were no surprises. We went with 2 retractable awnings for separate areas in the backyard. The awnings were ready within the allotted timeframe and got installed asap. Jamie and the crew worked fast and we love how they turned out. We highly recommend Above All Awnings!" – Elaine Mendoza, Google Reviews
Friendly, professional and accommodating
"Above All Awnings is an absolutely fantastic company. We had the pleasure of working with Tim to have an insulated aluminum flat roof installed on our back patio. Every single person at this company is friendly, professional, and accommodating. Everything from the customer service, to the products, to the installation was top notch. We received our flat roof exactly within the timeframe promised. If you are thinking about getting an awning, you will not regret choosing Above All Awnings" – Lindsay Canning, Google Reviews
3. Leger's Awnings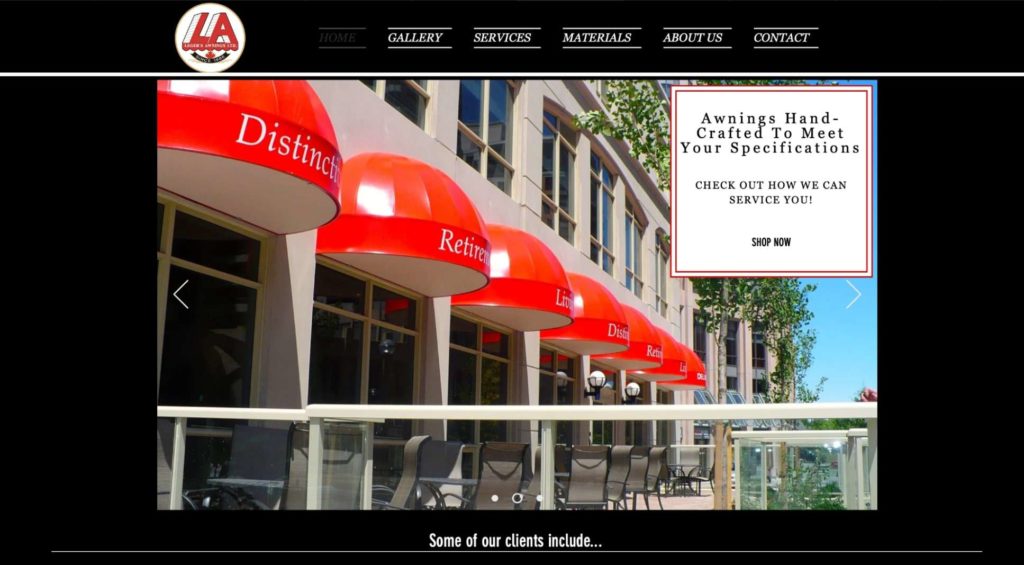 Test
Info
PRODUCTS
Store Fronts, Logos and Lettering, Entrance Canopies, Custom Shades and Panels
WEBSITE
https://www.legersawnings.com/
ADDRESS
1605 Sedlescomb Dr. Unit 1, Mississauga, On    L4X 1M4
CONTACT DETAILS
(905) 624-2472
OPERATING HOURS
Monday to Friday, 9:00 AM to 6:00 PM

Saturday, 10:00 AM to 1:00 PM
| | |
| --- | --- |
| WORKMANSHIP | ★★★★★ (5/5) |
| WARRANTY | ★★★★☆ (4/5) |
| VALUE-ADDED SERVICES | ★★★★★ (5/5) |
| ⮕Repairs | ★★★★★ (5/5) |
| ⮕Consultation | ★★★★★ (5/5) |
| AWNING SELECTION | ★★★★★ (5/5) |
| ⮕Awning styles | ★★★★★ (5/5) |
| ⮕Available fabrics | ★★★★★ (5/5) |
| CONVENIENCE | ★★★★☆ (4/5) |
| COST | ★★★★☆ (4/5) |
From window awnings and storefronts to stairway covers, Leger's Ltd. does it all. They are a family business that's been operating since 1986 and is dedicated to providing awnings for residential, commercial, and industrial properties.
Aside from manufacturing their own awnings, they also offer installation services, seasonal removal and repair, and consultations.
You can choose from their selection of awning and valence styles that'll hopefully suit your needs.
We also like how the gallery of their past works serves as proof of the quality of their workmanship.
Note that their residential awnings and installation can cost you up to $6,600, which exceeds the average prices in Toronto.
But, we still think their products and services are worth trusting because of the comprehensive list of notable clients they have. These clients include Castrol, Banana Republic, Amazon, and Unifor.
Most customers also appreciate the staff's attention to detail and professionalism. Apparently, a lot of their customers are repeat clients, so that says a lot about the quality of their service.
We're also told that they usually finish the installation process ahead of the said schedule, which is commendable.
One of the few drawbacks we see here, though, is that they aren't available on Sundays. And, they work relatively shorter hours on Saturdays.
On the plus side, Leger's Ltd. offers free estimates, you can fill up their free quotation form on their website.
Offers seasonal removal and repair
Has a comprehensive list of notable clients
Finishes ahead of the said schedule
Closed on Sundays
Relatively shorter hours on Saturdays
Customer Reviews
Ahead of schedule
"I would definitely recommend Léger Awning for all your awning needs. Matt was great to collaborate with and very professional. The overall experience was great, from the quote to the install. It was a custom order and they were actually ahead of schedule. The finished product was amazing and the ascetics exceeded my expectations. Thank you Matt and team for a wonderful experience!" – ian ali, Google Reviews
Helpful and professional
"Very happy with our awning from Leger's. Karl was very helpful and professional throughout the entire process. From aiding us in selecting the best option for our needs and budget, all the way to the final installation, we knew we were in good hands. Would definitely recommend." – Dan Filipe, Google Reviews
4. Awnings By Rolltec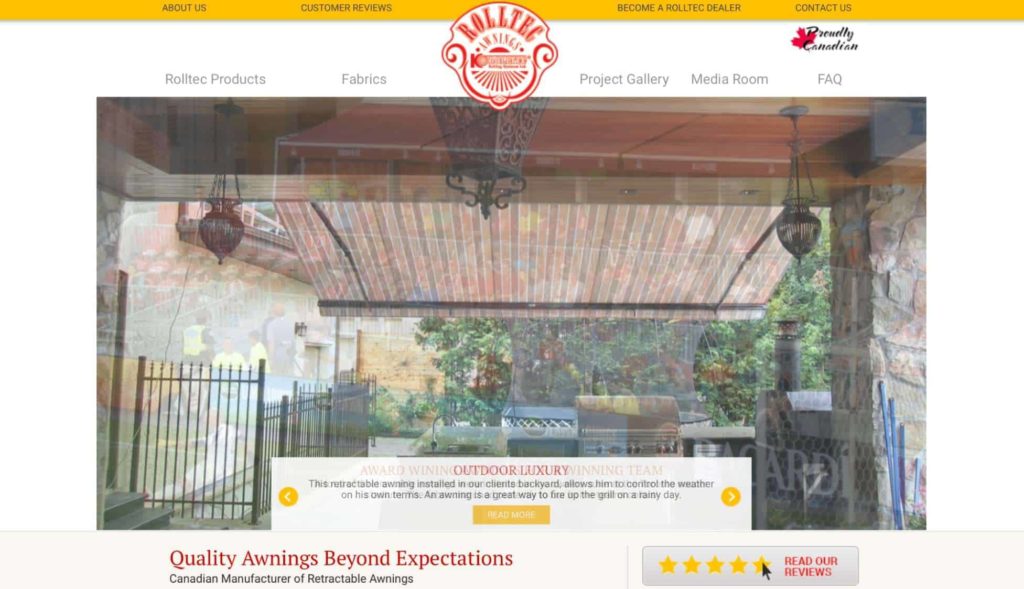 Test
Info
PRODUCTS
Rolling Pergola, Drop Arm, Stationary Awnings, Sidepost Umbrella, Giant Umbrellas, Accessories
WEBSITE
https://www.rolltecawnings.com/
ADDRESS
1 Moyal Court Concord, Ontario L4K 4R8
CONTACT DETAILS
(905) 879-0725
OPERATING HOURS
Monday to Friday, 9:00 AM to 5:00 PM

Saturday, 9:00 AM to 3:00 PM
| | |
| --- | --- |
| WORKMANSHIP | ★★★★★ (5/5) |
| WARRANTY | ★★★★★ (5/5) |
| VALUE-ADDED SERVICES | ★★★★☆ (4/5) |
| ⮕Repairs | ★★★★☆ (4/5) |
| ⮕Consultation | ★★★★★ (5/5) |
| AWNING SELECTION | ★★★★★ (5/5) |
| ⮕Awning styles | ★★★★★ (5/5) |
| ⮕Available fabrics | ★★★★★ (5/5) |
| CONVENIENCE | ★★★★★ (5/5) |
| COST | ★★★★★ (5/5) |
Rolltec has been supplying innovative and well-designed retractable awnings since 1984. They received several awards because of their top-notch products, which made them a popular manufacturer of awnings in Toronto.
What's great about them is they also offer stationary awnings, which gives year-round protection to a structure. This is a plus for us since most companies only offer retractable ones.
Another thing we like is they let customers apply custom graphics to the fabrics with their SGS machines. With its advanced heat transfer technology, the logo or text on the fabrics is long-lasting.
They have a free in-home consultation within their service area, which can save the time and energy of the customers.
Their prices usually start at $1,000, depending on the size. But, know that they have a separate service charge of $200.
They have a variety of payment methods, which we appreciate – you can pay via Visa, Mastercard, American Express, Debit, cash, or cheque. However, note that they don't accept refunds.
Moreover, their customers love how long-lasting their awnings are. It apparently lasts for 12 to 13 years, even without fixing – so kudos to their workmanship!
However, some customers shared that it takes a while before they received a response from them, which delayed the installation process.
Still, we recommend Rolltec for its durable awnings and affordable prices!
Affordable price
Offers stationary awnings
Allows customised graphics
Offers free in-home services
Charges a separate service fee
Closed on Sundays
Customer Reviews
No upselling
"South facing backyard made our home very hot and dark as I needed to keep our curtains closed. Now I can have our windows open to allow a breeze. A 12×10 covered our kitchen window and sliding doors. Size, features and fabric selection was made easy. No upselling. Installation was clean and quick." – Kate Karanic, Google Reviews
Arrived on time
"Just had the awning installed today. Great service from first phone call to showroom visit to installation. Arrived on time. Very impressed with everything and it looks great. I highly recommend. Thank you Rolltech!" – Brian McDonald, Google Reviews
5. Omnimark Awnings & Signs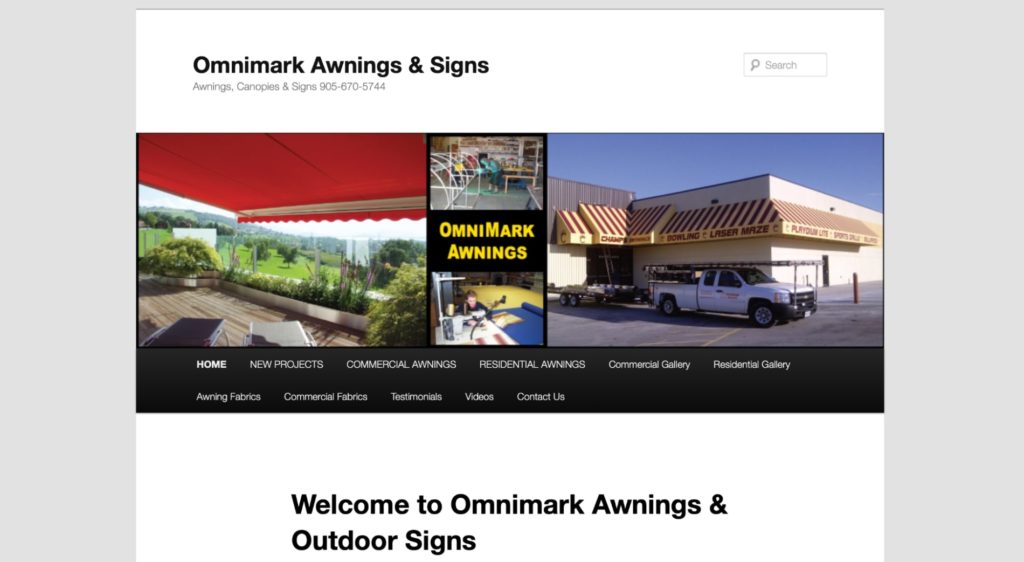 | Test | Info |
| --- | --- |
| PRODUCTS | Traditional Awnings, Patio Awnings, Long Dome Awnings, Dome Awnings, Gable-Style Awnings, Retractable Cassette Awnings, Retractable Patio Awnings, Free Standing Retractable Awnings, Retractable Window Awnings |
| WEBSITE | http://www.omnimarkawnings.com/ |
| ADDRESS | 1050 Britannia Rd. E. Unit #14  Mississauga, Ontario, Canada |
| CONTACT DETAILS | (905) 670-5744 |
| OPERATING HOURS | Monday to Friday, 8:00 AM to 6:00 PM |
| | |
| --- | --- |
| WORKMANSHIP | ★★★★★ (5/5) |
| WARRANTY | ★★★★★ (5/5) |
| VALUE-ADDED SERVICES | ★★★★☆ (4.5/5) |
| ⮕Repairs | ★★★★☆ (4/5) |
| ⮕Consultation | ★★★★★ (5/5) |
| AWNING SELECTION | ★★★★★ (5/5) |
| ⮕Awning styles | ★★★★★ (5/5) |
| ⮕Available fabrics | ★★★★★ (5/5) |
| CONVENIENCE | ★★★★☆ (4/5) |
| COST | ★★★★★ (5/5) |
Omnimark Awnings is mainly focused on supplying retractable awnings and shades for both commercial and residential buildings.
They boast a wide collection of fabrics and materials since they're a member of several known trade associations, such as the Industrial Fabrics Association International.
For homes and cottages, you can choose from their 16 awning types including retractable patio awnings, traditional fixed awnings, and aluminium awnings. For commercial awnings, they have up to 10 styles you can choose from.
We also like that they have a 5 to 10-year warranty for all of their products.
Their payment methods include cash, cheque, Visa, Mastercard, Amex, and Interac e-transfer, which we find convenient.
They don't have a minimum price limit for their products, but you can call them for free consultations and estimates.
However, keep in mind that they have a lean team. There will be instances when you won't get a response from them immediately.
Most of their customers are impressed with the smooth transaction they experienced together with the company's pleasant and knowledgeable staff.
All said, we think Omnimark Awnings is a great place to get your awnings for your house or business because of their wide selection of fabrics and materials.
Wide collection of fabrics and materials
Variety of awning types
Flexible payment methods
Quite a lean team
Closed on weekends
Customer Reviews
Went above and beyond
"Omnimark Awnings went above and beyond for me. I had a very specific issue with my existing awning (not their original installation) that was particularly urgent and they responded the same day and came out to do the job the next day. They even crafted custom parts in their shop to address a problem that was discovered with my current awning structure. I could not be more satisfied with their service and highly recommend; more or less saved my summer. Thank you again to the team." – Carl Leigh Boynton, Google Reviews
Sticking by their warranty
"Omnimark is a great company to deal with. These guys really do an excellent job and stick by their warranty. Kim the sales manager is a pleasure to deal with and very knowledgeable. The installers that we had, Mike and Sean, do a fabulous job and are very pleasant. The product itself is great. Our patio had tons of sun exposure and now that problem is solved. If you are looking for a good awning with a good warranty, Omnimark is the one to choose!" – Sam Panagiotopoulos, Google Reviews
FAQs on awnings
---
That's the end of our review of the best awning suppliers in Toronto! Did you find the shop that'll provide you the perfect shade for your windows or patios?
We sure hope so!
In case you're also looking for other window-related services, check out the reviews below: