The 7 Best Window Replacement Services in Toronto
The typical lifespan of a standard residential window is around 10-30 years. So if you own an older Toronto home, some replacement is likely due.
Fortunately, the best window replacement services in Toronto can replace anything from broken glass to rotten wood. They'll have your house in tip-top shape in no time.
How Much Do Window Replacement Services Cost in Toronto?
There are two types of window installations: complete replacement and glass inserts. The former means changing the entire window, casing and all, which is naturally more expensive.
The type of window and the complexity of the project also factor into the cost of a replacement. Here's a simple table showing the average costs of replacement based on window types.
| | |
| --- | --- |
| Type | Average cost per window |
| Slider window | $150-$800 |
| Single-hung window | $230-$460 |
| Double-hung window | $395-$1000 |
| Hopper window | $400-$800 |
| Picture window | $300-$1200 |
| Casement and awning window | $340-$1500 |
| Bay & bow windows | $1000-$500 |
| Custom windows | $1000+ |
The Best Window Replacement Services in Toronto
Going from the rates we saw above, the cost of a new window might seem a little steep at first, but you get what you pay for in increased home efficiency and curb appeal. Skimping on it can actually incur more costs later!
Anyway, here are the top companies that can get the job done for you.
1. NorthShield Windows and Doors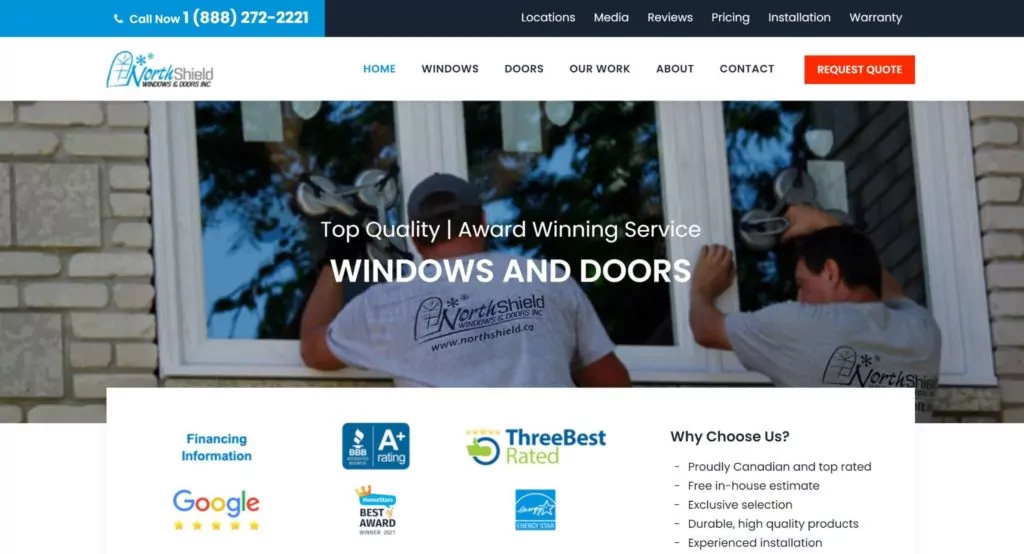 | | |
| --- | --- |
| PRODUCTS | Casement, picture, fixed, tilt-turn, awning, single hung, double hung, single slider tilt, double slider tilt, bow, bay, custom shaped, hopper, lift out slider, energy efficient options, grill options, glass options, LoE coating, coverings |
| WEBSITE | https://www.northshield.ca/ |
| ADDRESS | 364 Supertest Road Unit 206, Toronto ON M3J 2M2 |
| CONTACT DETAILS | (905) 326-3444 |
| OPERATING HOURS | Monday to Saturday: 9:00am-8:00pm |
NorthShield is a team of local builders who understand the extreme weather changes in Toronto. They're experts in insulation, so they know what it takes to keep your home warm in the winter and cool in the summer.
If the main reason you want to replace your windows is that your home isn't as energy-efficient as it should be, then you'll appreciate NorthShield's environmental slant as much as we do.
The idea behind their highly efficient windows is that no one wants their HVAC system on full blast all year long, so it makes sense to have your windows work a little more for you. NorthShield gets all their window tech from Europe, and coupled with Canadian manufacturing, it's a winning formula.
Every one of their projects starts with the proper disposal of your old windows, by the way. That means you don't even have to worry about getting rid of your existing fixtures first.
Best of all, if you're going into this project worried about costs, NorthShield offers a free no-obligation estimate. They're not one of the more affordable companies around, but they're known to leave beautifully fitted windows with pristine finishes.
Free quotes and transparent pricing
Environmentally conscious
Only works with high quality materials
Customer Reviews
NorthShield Windows and Doors is a 5-star rated business! Here are two of their latest reviews:
"We had to replace 10 windows throughout the house. The team was very professional and truly listened to us and addressed our needs. We are very happy with the entire team, especially the installation crew. Thank you, NorthShield, for the professional and personal service!"
– Pavel Goldvasser
"We had new windows installed by Northshield and we are very happy that we decided to go with this company. The process was very easy from the first meeting with the salesperson and up to the installation. The sales person was very polite and the installers were very efficient and cleaned everything up when they were done."
– Rina Orlov
2. Egress Windows Experts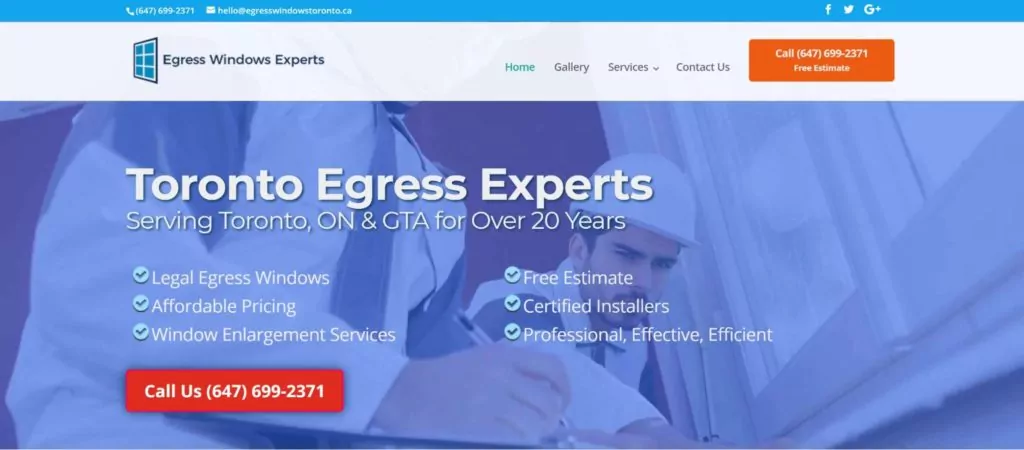 | | |
| --- | --- |
| PRODUCTS | Window cut out, window enlargement, window well installation, basement windows |
| WEBSITE | https://egresswindowstoronto.ca/ |
| ADDRESS | 1060 Sheppard Ave W #1502, Toronto ON M3J 0G7 |
| CONTACT DETAILS | (647) 699-2371 |
| OPERATING HOURS | Monday to Sunday: 9:00am-9:00pm |
If you not only want to have your windows replaced but upgraded entirely, Egress Windows Experts are known to install tricky windows and enlarge cutouts.
The design of a home rarely ever needs one-time planning, so sometimes, we're not happy with the size of our existing windows. Having larger windows put in is a great way to let light, space, and air in, increasing the efficiency and beauty of a home.
Egress Windows Experts are master builders, knowledgeable on Ontario's building codes. They can cut through not just drywall but cement as well.
Then they install beautifully crafted windows to augment your spaces. They're particularly adept at installing basement windows and walkouts, much needed if you have a downstairs tenant.
And even though Egress Windows Experts handles more complex jobs than your average window installer, their services are still set at competitive prices. They even provide free estimates after checking out the job site and discussing what you envision for your new windows.
Always up to code
Can enlarge current cutouts
Basement window experts
Not the economical choice for smaller projects
Customer Reviews
Check out what former Egress Windows Experts clients have to say about their services:
"Great company, amazing people! They did two jobs for us and both were done exceptionally well. No mess or fuss, they kept to their schedule and made sure the place looked great before they left.I would highly recommend them to anyone!"
– Rita Inniss
"These guys did an amazing job putting in egress windows in our basement. Totally changed the basement – clean and bright! Their work was impeccably neat and extremely well done. The windows look better than we imagined! Thanks guys!"
– Edward Cambridge
3. Eco Choice Windows & Doors Toronto
PRODUCTS
Awning, basement, bay, bow, casement, double hung, double slider, end vent, European tilt & turn, fixed casement, picture, shaped, single hung, single slider, aluminum
WEBSITE
https://ecochoicewindows.ca/
ADDRESS
90 Basaltic Rd #6, Vaughan ON
CONTACT DETAILS
(647) 360-8794
OPERATING HOURS
Monday to Friday: 8:30am-5:00pm
Saturday: 8:30am-2:00pm
Eco Choice Windows & Doors has been around for over 15 years. They continue to work with suppliers of the latest high-quality materials for windows.
EC can install pretty much any type of window you can think of, even ones with custom shapes right out of your head! This is a great option if you're looking to have an accent window replaced.
What we like most about EC is that they have in-house installers. You don't have to worry about them outsourcing to third-party contractors, so you're sure you're getting a long warranty on the replacement job.
We can't say the same thing about most window replacement services out there, so we think it's important to make this distinction. Even if a window is built to last a long time, you'll never know when you'll need repairs.
Lastly, if having a couple of windows replaced is financially daunting for you, EC has the solution. They offer three payment plans, including monthly payments over five years.
You could get your windows replaced now and breathe easy knowing that you don't have to make a huge dent in your budget right away.
Payment plans
In-house installers
Free no-obligation consultations
Not always great with cleanup
Customer Reviews
Take a look at what past Eco Choice Windows & Doors Toronto clients have to say about their services:
"The guy who came for the window replacement was very good and responsive. He replaced the window in no time and did not overcharge me."
– Amy Turner
"The whole process was very smooth, from the purchase/order of our door to the final installation. The salesman was very helpful and the installers were professional, courteous, and on time.They cleaned up the site afterwards and explained clearly operating and cleaning instructions. I would strongly recommend Eco Choice.
– Chris Bell
4. Canadian Choice Windows & Doors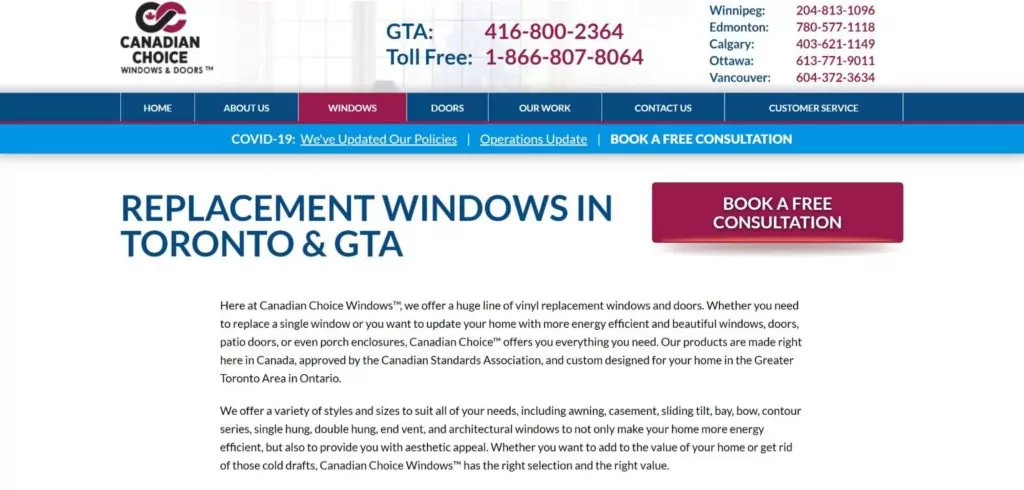 PRODUCTS
Awning, casement, sliding tilt, bay & bow, contour series, single hung tilt, double hung tilt, end vent, architectural
WEBSITE
https://www.windowscanada.com/
ADDRESS
No physical office
CONTACT DETAILS
(416) 360-8794 Toll free: 1-866-807-8064
OPERATING HOURS
Monday to Friday: 9:00am-9:00pm
Saturday: 9:00am-2:00pm
On top of being proficient installers, Canadian Choice is also a manufacturer of windows. They use the revolutionary DraftLock™ technology, which could reduce your annual energy bills by 23%.
If you're clueless about construction and don't want to oversee the replacement too much, Canadian Choice has dedicated managers for each project that clients greenlight. Project managers can oversee the entire process, from taking down existing windows to cleanup.
This type of inclusive service doesn't mean you have to pay a premium, though. Canadian Choice remains affordable, with labor fees never going above the cost of materials.
And as if that isn't enticing enough, you could choose to have monthly payments for as low as $29 a month! The company also offers the longest coverage options around, often beating warranties of other manufacturers,
So if you notice any leaks, condensation, or cracks, Canadian Choice will come right back to the job site and address the issue. We're sure this is the peace of mind welcomed by any Toronto homeowner.
Affordable
Manufactures own windows
Dedicated project managers
Sometimes difficult to book a consultation
Customer Reviews
Canadian Choice has over 2,000 perfect ratings across many platforms. Here are two of their recent Google reviews:
"This company gave me exactly what I wanted. I requested a quote and it turned out the service is affordable. Their work is excellent. In no time, they replaced the windows and didn't create much mess around the place while working."
– Mariko Harper
"Their window replacement services are really good. I hired them because of their affordable rates but I had no clue that I would be getting such an excellent quality of service. The windows were of high quality and the service was just commendable."
– Marlene D. Martinez
5. Imperial Windows & Doors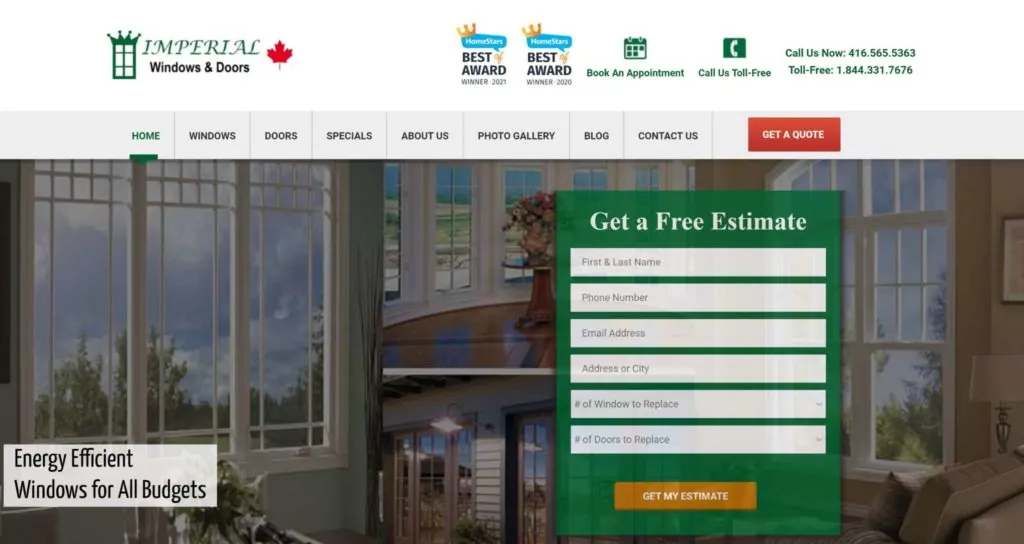 PRODUCTS
Casement, awning, slider, single hung, double hung, fixed, bay, bow, custom, basement
WEBSITE
https://imperial-windowsanddoors.com/#
ADDRESS
101 Toro Rd. Unit 8, Toronto ON M37 2Z1
CONTACT DETAILS
(416) 565-5363


[email protected]

OPERATING HOURS
Monday to Friday: 9:00am-8:00pm
Saturday to Sunday: 9:00am-5:00pm
The Imperial team is a cut above your average handyman. For one thing, they're experts in replacing windows, which is way more difficult than installing a new one from the get-go.
The level of customization you get with Imperial is impressive too. They have grill, glass, color, and hardware options to choose from to accommodate your vision for your home.
Imperial has been in business for over a decade, handling replacement jobs for some of Toronto's older homes, which can have oddly shaped windows and trims.
Not a problem for them, as testimonials indicate Imperial can take on even the most complex projects, with unusual placements and dimensions. Plus, they offer a 20-year warranty on all replacement sealed units.
Their warranty is strange, though. We went over their guidelines and, apparently, they're not responsible for things like broken glass, condensation, and malfunctioning hardware.
If you contact them again for repair jobs, they might charge you inspection fees too. That's not great, but not entirely out of the ordinary for companies capable of their type of specialisation.
Hiring Imperial for repair jobs is unlikely anyway, with the job typically done right the first time. We still appreciate how transparent they are about the extent of their services.
High level of customization
Team members are trained once accepted regardless of past experience
Free estimates
Reasonable rates
Customer Reviews
Here are two of their more recent HomeStars reviews:
"We purchased a 100 year old house which had been sadly neglected and carried out extensive repairs and replacements, using many companies recommended on HomeStars. Imperial Windows and Doors was highly recommended. We contacted the company and spoke to Henry, the owner.
He responded immediately, carried out an inspection, offered constructive recommendations, and quoted a very fair price. He also gave us an approximate installation date, taking Covid restrictions into account, and delivered as promised. There were no 'hidden' or 'extra' charges on completion, the installers were very professional, worked very hard, and did an excellent job, and cleaned up carefully on completion.
Our new windows look fantastic and have greatly improved the appearance of our home and we would definitely recommend this company."
– Toronto Homeowner
"Having your windows replaced is probably not going to be top of the list of enjoyable things to do, but Henry at Imperial certainly made it easier. Prompt friendly service, kept exactly to set timeline and fixed & replaced the windows as required. The old Decora windows were terrible and not holding up very well, but now sunlight streams through the window from what was once a cloudy/ foggy mess."
– Lia M.
6. Ecoline Windows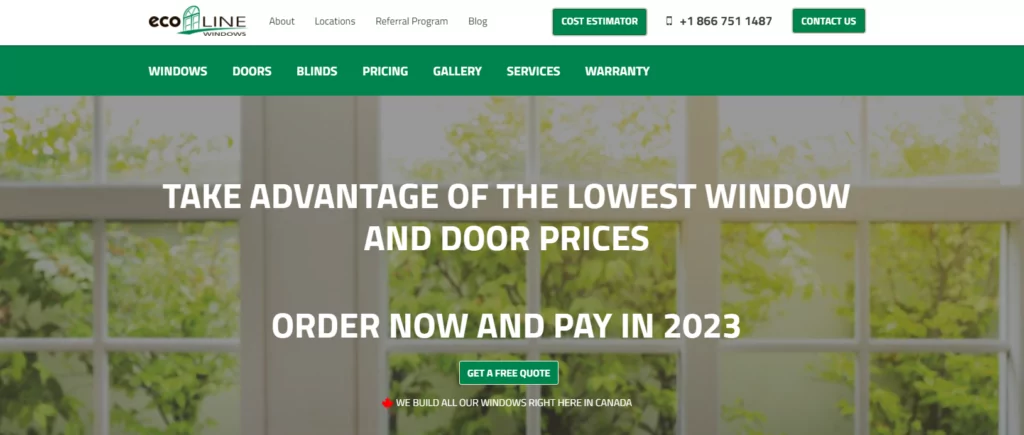 Next on our list is Ecoline Windows, a service and product provider known for their work with windows, doors, and blinds.
Ecoline Windows has been serving Canada for a number of years now, with the company's service area growing with the years. While Ecoline Windows primarily serves the Toronto area, their services also reach areas beyond it, like Ottawa, Saskatoon, Vancouver, and Winnipeg.
Now, there are many reasons why Ecoline Windows comes highly recommended. We've already mentioned their service area, which allows them to accommodate more clients compared to other companies that replace windows and doors.
Another reason is the quality of services and products. See, Ecoline Windows prides itself on installing some of the best windows and doors in the market. These windows and doors come in a wide range of designs and styles and a warranty that every client can check on the company's website.
Lastly, Ecoline Windows works to ensure that every project they take on is a resounding success from the start to the end. So, it isn't at all surprising that the Ecoline Windows team takes great care in installing all windows and doors, with warranty covering the labour.
A+ BBB rating
Cost estimator online
Wide range of door and window styles
Large service area
Free quotes
Reasonably priced products and services
Some complaints about customer service and consistency
Customer Reviews
Here are two of their more recent HomeStars reviews:
"I can wholeheartedly recommend Ecoline Windows. When I called for a quote, they were very professional, courteous and answered all of my questions. The Manager came to my home, inspected the old window and gave clear and honest suggestions to upgrade my home project. The people who installed the window show pride in their work and made certain that I was happy and satisfied with the install. Everything went smoothly and the way they trimmed the window out, looks beautiful. Thank you Ecoline Windows!"
"Excellent quality product. We are so happy with our new windows. People from Ecoline are very professional and helpful. From sales to the installer we had a good experience. We will definitely recommend this company."
7.   Jay's Glass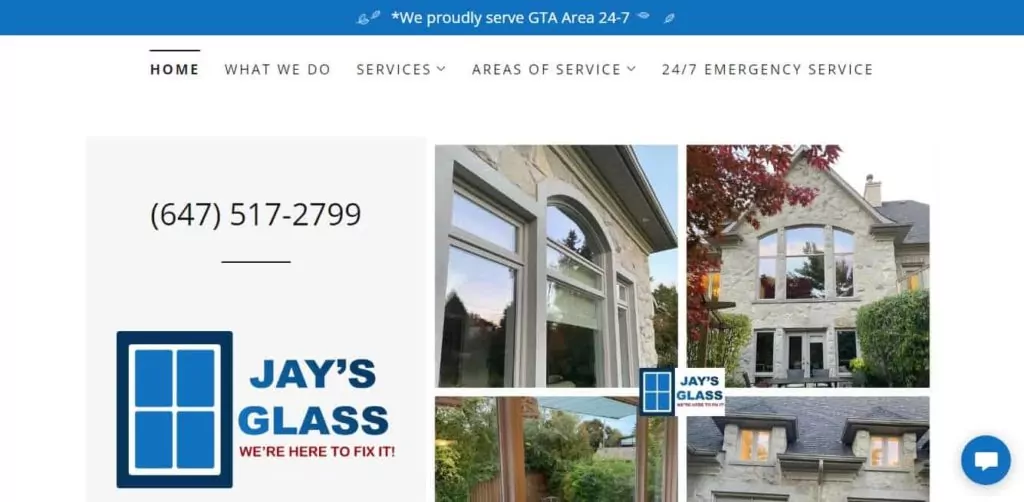 Jay's Glass is a company that provides all-around window repair and maintenance to both residential and commercial establishments that may have encountered a window issue and breakage at any time of the day.
We like that they recognize the inconvenience and the commonality of the problem to which they are able to service the GTA area 24/7 wherein clients can expect a prompt response from them upon booking.
They also employ a friendly and highly knowledgeable staff for the job to ensure that clients will get briefed on what to expect in terms of the budget and booking process among much other vital information they may need to know.
Since they are a mobile company, clients can expect that all materials and tools needed are always with them to ensure a speedy repair job but also one that ends clean and in a timely fashion.
Overall, their past clients have commended them for their efficient services and quality finishes that not only repaired and installed windows the best way but also at rates that are of the best value for the services and very affordable as well.
Convenient booking
Quick response times
Accommodating customer service and staff
Customer Reviews
Here are some reviews from their clients:
"We recently had a window break due to a storm and reached out to Jay's Glass. They were very quick to respond and set up a time to come out to get measurements to have the glass made. Jon came out on a Monday to measure and by Friday he had the window installed effortlessly. I would 10/10 recommend and would use them again in the future!"
"These guys were great… Jon recommended the best type of replacement windows for our 20 year old house, and let us know which ones did not need replacing. The glass order was ready in about 10 days, the install took maybe 3 hours. Easy peasy! We're more than satisfied. Thanks Jon!"
Why You Shouldn't Put Off Having Your Windows Replaced
It's pretty easy to know when it's time to replace a window. You probably hear a lot of outside noise, have difficulty opening/closing/locking windows, and feel drafts even when your windows are closed.
While this might not be a big deal to some, putting off window replacements is not ideal. Here's why:
1. Your safety is at risk.
Everyone should feel safe at home. Old, faulty windows are obviously a liability because they're easy to break into.
A new replacement window can fortify your home with reinforced frames, strong hardware, safety glass, and sturdy locks. If you're serious about security, you can even have impact-resistant windows installed.
2. Outdated technology
Like with everything else, there have been so many advancements in window technology just in the last decade alone. If you still have builder-grade windows, you're missing out on energy efficiency and durability options.
3. Faulty fixtures drive up your bills.
When a window isn't performing as well as it should, you end up paying more in energy bills. When a house isn't properly insulated, your heating and cooling system are probably on full blast all year long.
4. You risk damaging your stuff.
Faulty windows not only detract from the aesthetic of your home but also your general quality of life. You might be having a hard time cleaning them, or maybe your other things are getting moisture damage from the constant drafts.
How can you call your home a haven if not everything is designed for your convenience? Putting off a window replacement means prolonging the discomfort you feel with poor window performance.
FAQs about Window Replacement
---
In a sense, window replacements pay for themselves by lessening your energy consumption and adding to the value of your home. We hope that our picks for the best window replacement services in Toronto help you feel secure and comfortable in your home again.
If you suspect that your windows are not the only culprit for your high electricity bills, you might want to have the best furnace repair contractors in Toronto check out your HVAC system too.