WHERE TO FIND THE BEST DRIVING INSTRUCTORS IN TORONTO
So, you're ready to conquer the roads of Toronto and become a confident driver. But with numerous options claiming to be the best driving instructor, selecting the right one can be overwhelming.
Buckle up, and read on to learn more about the best driving instructors in Toronto! These professionals boast a proven track record and satisfied customers raving about their skills behind the wheel. They also offer flexible and affordable packages to suit your needs
How We Chose the Best Driving Instructors in Toronto
How Much Do Driving Schools Cost in Toronto?
A thorough training course with a driving instructor in Toronto costs $600 on average. This depends on the level of license, the number of lessons, and additional services like car rental and insurance discount certification.
1. Globe Driving Academy – Driving School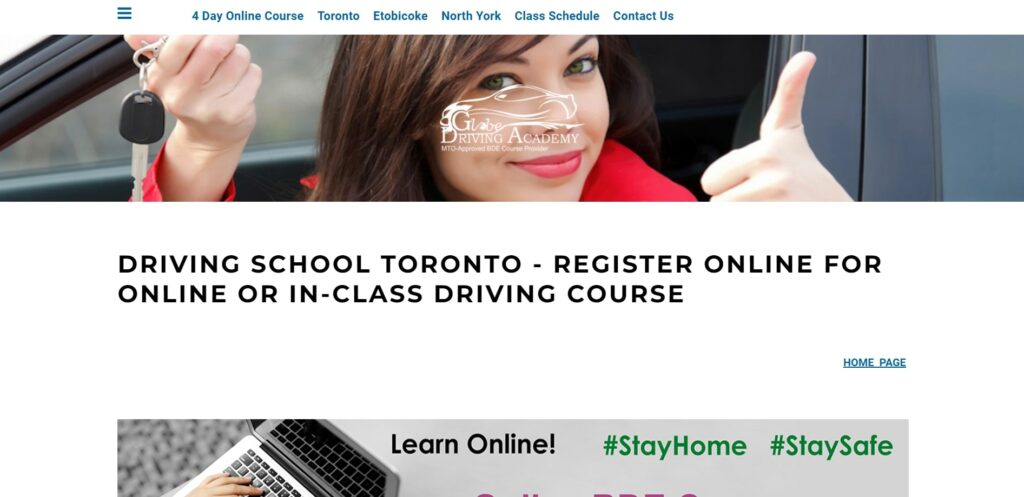 | Test | Info |
| --- | --- |
| WEBSITE | https://www.globedriving.ca/toronto |
| ADDRESS | 1219 St Clair Ave W Suite G1, Toronto, ON M6E 1B5 |
| CONTACT INFORMATION | Phone: (647) 351-8225 |
| OPERATING HOURS | Monday - Sunday: 9:00 am - 9:00 pm |
Established in 2012, Globe Driving Academy quickly became one of the city's top driving schools, earning the Best in City recognition in 2018.
They offer personalized packages, which include 20 hours of in-class or online lessons, along with 10 hours of convenient online sessions using their Homelink e-learning software.
Additionally, they have specialized programs like winter driving courses and advanced training for seniors. They also provide assistance in processing the driver's certification from the Ministry of Transportation.
The academy assists in booking G2 and G road tests and provides cars for exams at Drive Test Centers in and out of Toronto. Graduates of their Beginner Driver Education course receive a Ministry of Transportation certificate and may even be eligible for insurance reductions.
Access to e-learning software and online classes
Possible eligibility for potential insurance reductions
Assistance in booking G2 and G road tests
Hard to book during peak seasons
Calm approach to teaching
"I had a wonderful time with Jonas. He gave me the necessary confidence to feel comfortable behind the wheel. His calm approach to teaching made it much easier to absorb the tips and tricks he provided. He is really a great instructor would 100% recommend him."
Lucas Crown, Google Review
Explains all the rules and techniques very clearly
"I had my driving lessons with Jonas and it was a great experience! He's a patient instructor and explains all the rules and techniques very clearly. I felt confident while taking my drive test too and it was a smooth test thanks to Jonas. He does a really good job at teaching you everything you need to know to ace the test!"
Zarine Bohra, Google Review
2. All-Star Driving School Toronto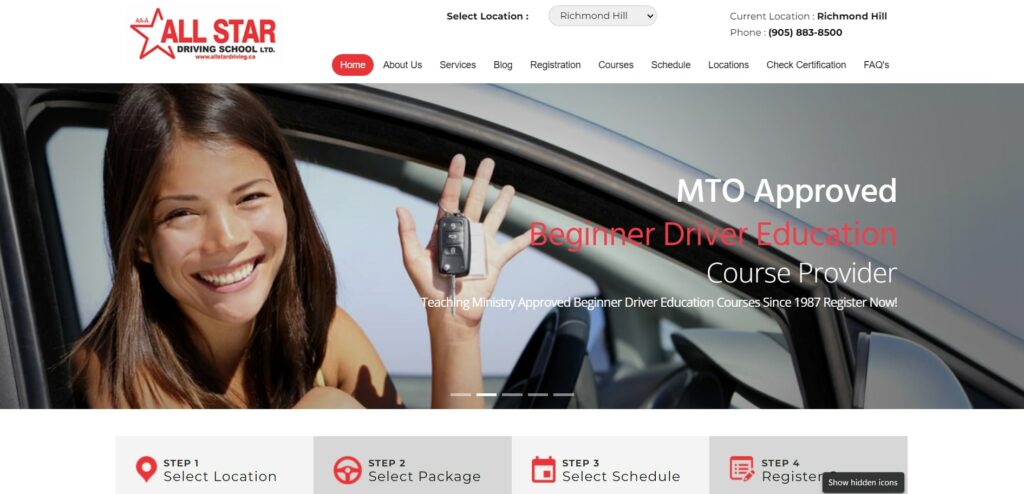 | Test | Info |
| --- | --- |
| WEBSITE | https://www.allstardriving.ca/ |
| ADDRESS | 550 St Clair Ave W Unit # 201,202, Toronto, ON M6C 1A5 |
| CONTACT INFORMATION | Phone: (416) 410-5050 |
| OPERATING HOURS | Monday - Sunday: 9:00 am - 9:00 pm, except holidays |
With 40 years of experience, All-Star Driving School is one of the best driving instructors in Toronto. They offer MTO-approved beginner driver education courses that equip students with the skills and knowledge to drive safely, confidently, and defensively.
Available throughout the year, All-Star Driving School's courses provide a wide range of options to accommodate various schedules. These include weekend sessions, evening classes, 4-day holiday courses, and weekday courses that extend throughout the summer vacation.
Students receive in-depth classroom or online e-learning sessions totaling 20 hours, complemented by 10 hours of practical in-car training.
All-Star employs a team of highly knowledgeable, kind, and patient instructors certified by the Ontario Ministry of Transportation (MTO), guaranteeing the highest standard of teaching.
Teaches defensive driving tactics
Gives instructions for emergency maneuvers 
Reports of delays in the issuance of certificates
Provided a lot of practical tips
"Great driving school! I passed my G2 exam on my first try. My driving instructor was Jamal, he was very patient and provided a lot of practical tips to improve my skills. Jamal also highlighted what to focus on while driving and during the test"
Sarah Smith, Google Review
Professional and knowledgeable
"Nik – he is the best instructor they have. I had to change 2 instructors before him and he actually made me feel confident in driving. He explains all the rules and safety patiently. This guy knows the job very well. He is calm, composed and focused on the learning the student. Because of him I could pass my G2 easily."
Harsha Patil, Google Review
3. Kruzee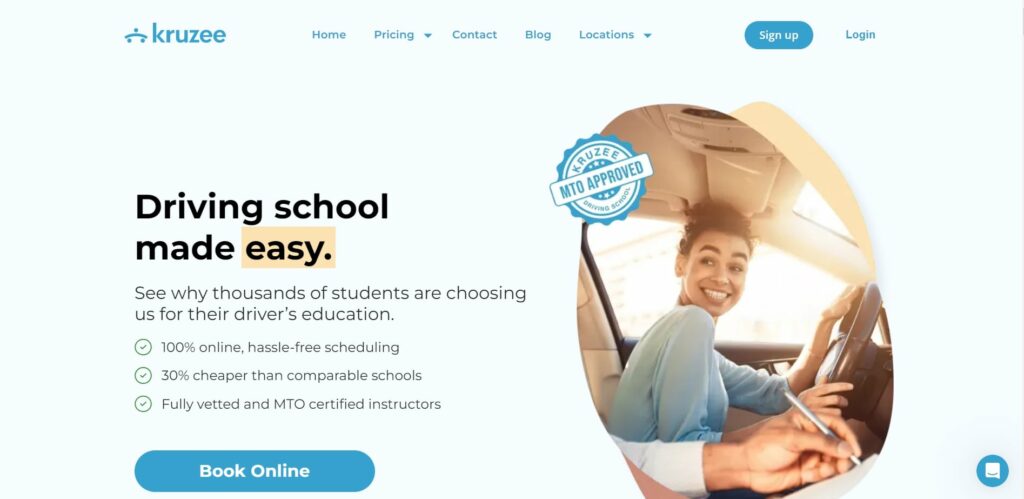 | Test | Info |
| --- | --- |
| WEBSITE | https://kruzee.com/driving-school-toronto/ |
| ADDRESS | 104 Crockford Blvd., Scarborough, Ontario |
| CONTACT INFORMATION | Phone: +1-866-245-3103 |
| OPERATING HOURS | Monday - Sunday: 9:00 am - 10:00 pm, except holidays |
Kruzee promises its students convenience and flexibility with a 100% online platform, self-paced classes, and hassle-free scheduling.
The school boasts a team of fully vetted and MTO-certified instructors who deliver safe and high-quality instruction whether you're seeking a certificate course or individual practice lessons. Their courses are also affordable, with rates that are 30% cheaper than comparable schools
Kruzee has been featured in prominent publications such as Bloomberg, Financial Post, and Toronto Star. They are also partnered with Clutch, Canada's fastest-growing used car marketplace, providing students a unique advantage: a $400 credit towards their first car purchase.
100% online platform
Hassle-free scheduling
Partnership with Clutch 
Virtual self-paced classes
No in-person classes for those who prefer it
Booking process was very easy and friendly
"The whole booking process was very easy and friendly. Prices for lessons are reasonable. My driving instructor, Cory, was very kind, patient, informative, and supportive. He gave me all of the tips and tools for safe driving, helping me feel confident on the road. I would absolutely recommend Cory and Kruzee to any student driver or anyone looking to refresh their driving skills."
Uyen Tran, Google Review
Helpful and friendly
"Had a very good experience with this driving school. It was easy to go at my own pace and worked around my schedule. My driving teacher Khayyam was very knowledgeable, helpful and friendly and I looked forward to my in-car lessons."
Ross Burns, Google Review
4. AMB Driving School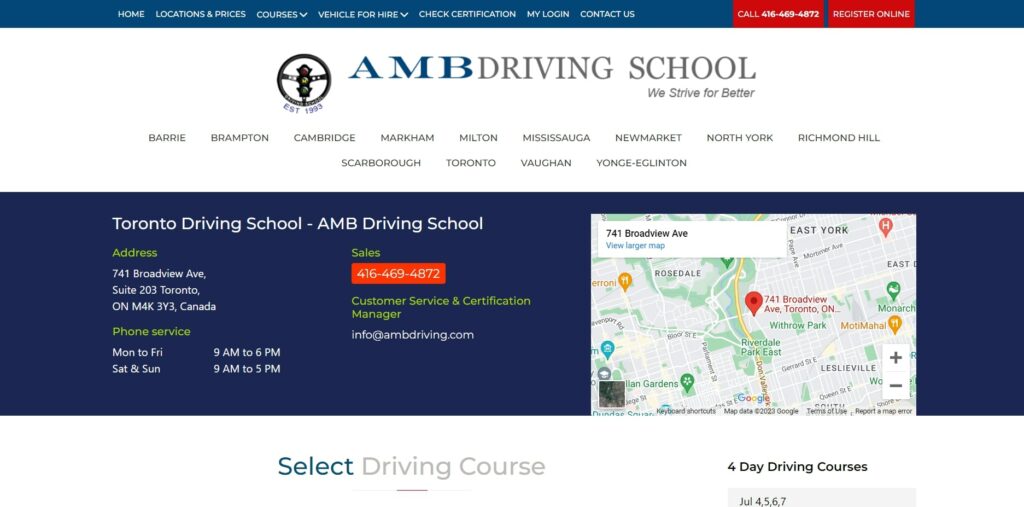 Test
Info
WEBSITE
https://www.ambdriving.com/
ADDRESS
741 Broadview Ave #203, Toronto, ON M4K 3Y3
CONTACT INFORMATION
Phone: (416) 469-4872
OPERATING HOURS
Monday - Friday: 9:00 am - 7:00 pm

Saturday - Sunday: 9:00 am - 5:00 pm
AMB Driving School has over 30 years of experience, successfully training over 125,000 students thus far. Their commitment to excellence has been recognized with multiple Consumer Choice Awards in 2017, 2018, 2022, and 2023.
The school utilizes technology to streamline communication between students and instructors. Students can download their app for free to book and view their lessons, review their performance, and interact with their instructors.
AMB Driving School is a Ministry Approved Beginner Driver Education course provider, which means that all their in-class and in-car curriculum meets the standards and that their instructors are professional, fully licensed, and experienced.
Completing the AMB course comes with added benefits. Students become eligible to reduce their waiting period for the first road test, from 12 months to 8 months. Additionally, they can avail themselves of insurance discounts and enjoy other advantages that come with completing a Ministry-approved driving course.
Online, self-paced courses. 
Reduced wait period for first road test
Insurance discounts
Hard to book during peak seasons
Accommodating and helpful
"Would recommend this school for any new drivers. My instructor Iqbal was very accommodating and helpful. I took the full beginner driving school program, which provided a car that I was learning with for the test too. Thanks to them I was able to clear my g2 in the first attempt."
Joshua Fernandes, Google Review
Open to challenges, and reliable 24/7
"Amazing experience! Hussein was my in-car instructor. He has a very calm demeanor and explains everything very clearly, and multiple times when needed. He made sure that I was confident and comfortable before my G2 test. I passed on my first attempt!"
Shaikh Muhammad Areeb, Google Review
5. Driving Skills Academy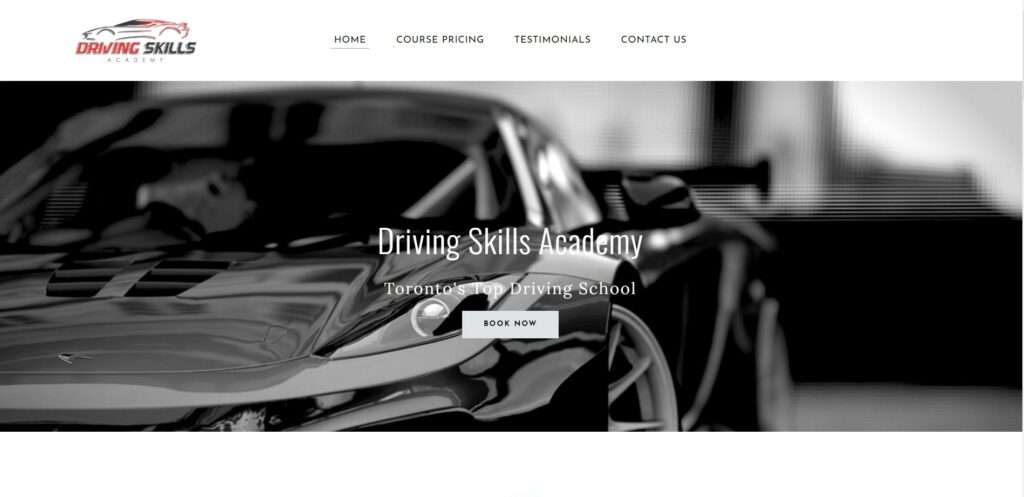 | Test | Info |
| --- | --- |
| WEBSITE | http://www.drivingskillsacademy.ca/ |
| ADDRESS | 2296 Eglinton Ave E Suite B101, Scarborough, M1K 2M2 |
| CONTACT INFORMATION | Phone: (647) 850-6411 |
| OPERATING HOURS | Monday - Sunday: 8:00 am - 9:00 pm |
Driving Skills Academy Toronto not only equips graduates with essential driving skills but also provides them with a Driver's Licence History, recognized by insurance companies for potential discounts.
The academy has seamlessly transitioned to online learning, enabling students to complete the course at their own pace within a year. In-car sessions are customized to accommodate busy schedules, with MTO-qualified instructors offering flexible schedules seven days a week.
Students have the option to take in-car and online lessons simultaneously, expediting the process of obtaining a driver's license in a more convenient manner.
Apart from teaching fundamental driving skills, Driving Skills Academy prioritizes defensive driving techniques, ensuring safe navigation on the roads. They place great importance on road safety and empower students with the necessary skills and knowledge to drive responsibly.
Simultaneous in-car and online lessons 
Flexible schedules seven days a week
Limited appointment slots 
Helped me feel confident
"Great driving school! Shane is a patient and kind instructor, and helped me feel confident and ready to pass my G2 road test. I previously had a terrible experience with another driving instructor/school and had failed the test.
On my first lesson with Shane, he was so helpful and understanding and allowed me to practice the areas I most struggled with until I felt ready to ace the test. Very grateful!"
Davida Jeanson, Google Review
His techniques are very easy to follow
"I passed my G2 today because of Shane! He's is very skillful and all of his techniques are very easy to follow. He is very friendly and easy to talk to, therefor making my lesson a lot less stressful. I highly recommend Driving Skills Academy for anyone and especially people who have little to No driving experience because Shane will definitely make sure by the end of your lessons you will pass your G2 and be 100% more comfortable on the road. Thanks again Shane!!!"
Karlah Arciga, Google Review