Historical Sites in Toronto
While Toronto is largely popular for its fun and lively attractions, people often forget that the city is teeming with historical sites that carry unique and intriguing stories!
Looking to delve deeper into Toronto's past? Then check out these 10 historical sites in the city.
Historical Sites in Toronto
1. Fort York
Address: 250 Fort York Blvd, Toronto, ON M5V 3K9, Canada
Operating Hours:
Monday – Tuesday: Closed
Wednesday – Friday: 11:00AM – 4:00PM
Contact: +1 416-392-6907
Website: https://www.fortyork.ca
For the wartime history buffs out there, you don't want to miss the historical Fort York. This beautifully preserved fort holds tons of history in its walls and it's also where some of Canada's greatest battles took place!
The fort's filled with historical structures made entirely of bricks that are fun to observe and explore. There's also exhibits like a 2,900 square foot war artifact gallery and an immersive exhibit which takes you through events leading to the battle at Fort York.
Pro tip:
One of the things we recommend seeing is the 480 square foot vault where they keep light-sensitive artifacts. The vault is filled with old war memorabilia, memoirs, letters, and military records about the battle of Fort York.
2. University of Toronto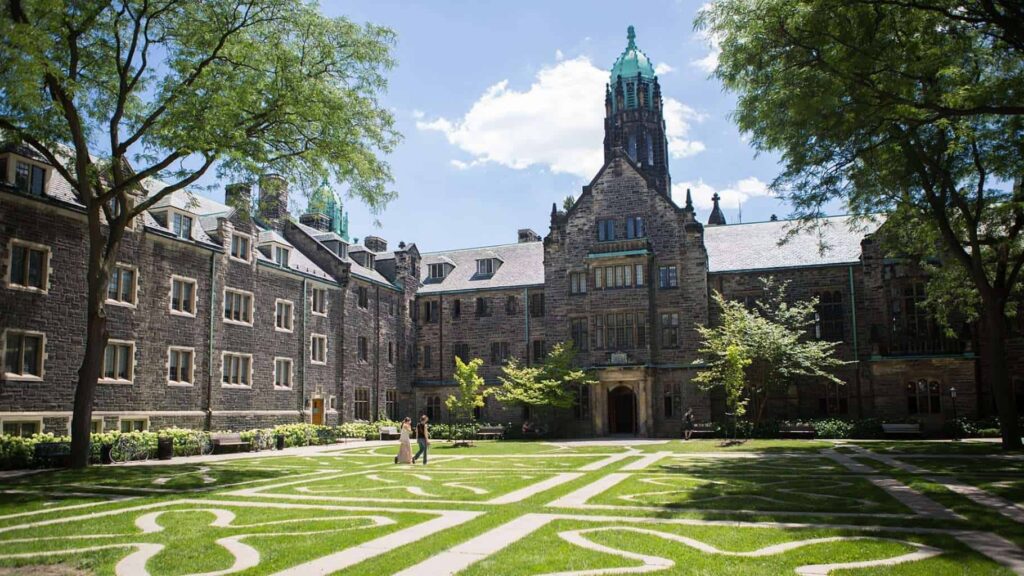 Address: 27 King's College Cir, Toronto, ON M5S 1A1, Canada
Contact: 416-978-2011
Website: https://www.utoronto.ca
The University of Toronto is one of the oldest universities in the city and it's also one of the most beautiful in the city. The university was built in 1827 and boasts a mix of numerous European-esque buildings to marvel at.
Aside from European architecture, there are plenty of lush gardens and interesting sculptures around campus grounds to see. One place we recommend is the Gothic styled Soldier's Tower; it has breathtaking stained glass windows that are a must-see.
Pro tip:
If you're a major bookworm, we recommend checking out Robarts Library. Not only are there tons of books here but the library's intricate design is captivating with its Brutalist architecture.
3. St. James Cathedral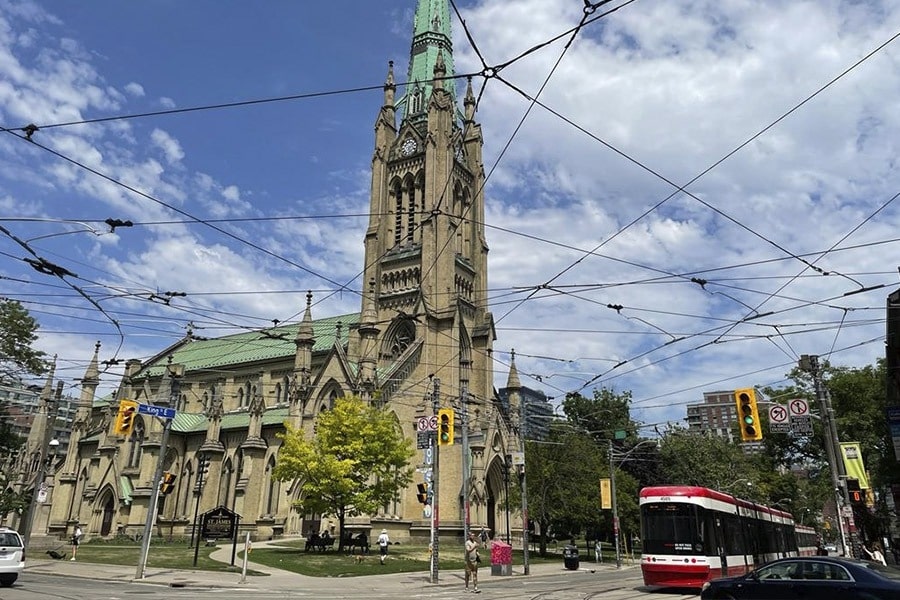 Address: 106 King St E, Toronto, ON M5C 2E9, Canada
Operating Hours:
Monday – Sunday: 7:30AM – 5:30PM
Contact: 206-622-3559
Website: http://www.stjames-cathedral.org/
You don't need to be a religious person to appreciate the beauty of the iconic St. James Cathedral. This legendary landmark burned down numerous times throughout history but it now stands as one of the prettiest Gothic Revival styled cathedrals in the nation!
Located in the heart of Toronto, this beautiful cathedral has a colourful display of stained glass windows that illuminate its grand interior. The cathedral also has captivating ribbed pillars and a carved organ with 5,000 pipes that sit perfectly on the chancel!
Pro tip:
If you love music and recitals, come to the cathedral. St. James Cathedral is known for hosting free organ recitals every Tuesday and Sunday.
4. Black Creek Pioneer Village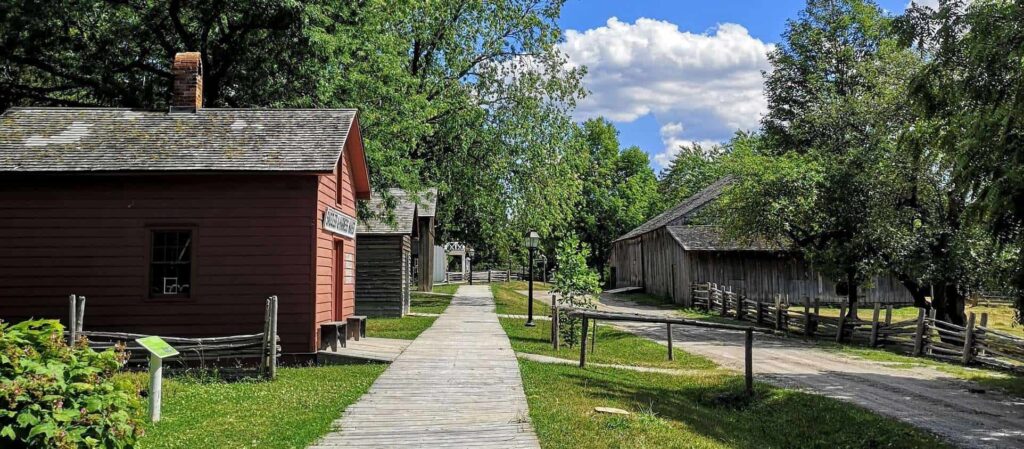 Address: 1000 Murray Ross Pkwy, Toronto, ON M3J 2P3, Canada
Operating Hours:
Monday – Tuesday: Closed
Wednesday – Friday: 11:00AM – 4:00PM
Contact: +1 416-736-1733
Website: https://blackcreek.ca/
If you want to experience life in Toronto during the 19th century, then head to Black Creek Pioneer Village. This open-air museum has over 30 heritage buildings and actors posing as pioneers that will take you back in time!
This "living-history" village has an archaic atmosphere filled with peculiar vendors like blacksmiths selling niche wares. It's a fun place to stroll around, with interesting sights like the water-powered grist mill and one-room schoolhouses around every corner.
Pro tip:
We recommend a visit to the Dalziel Barn. It's a historic log barn built in 1809 and it features some interesting architecture like its huge gable roof.
5. Gooderham Building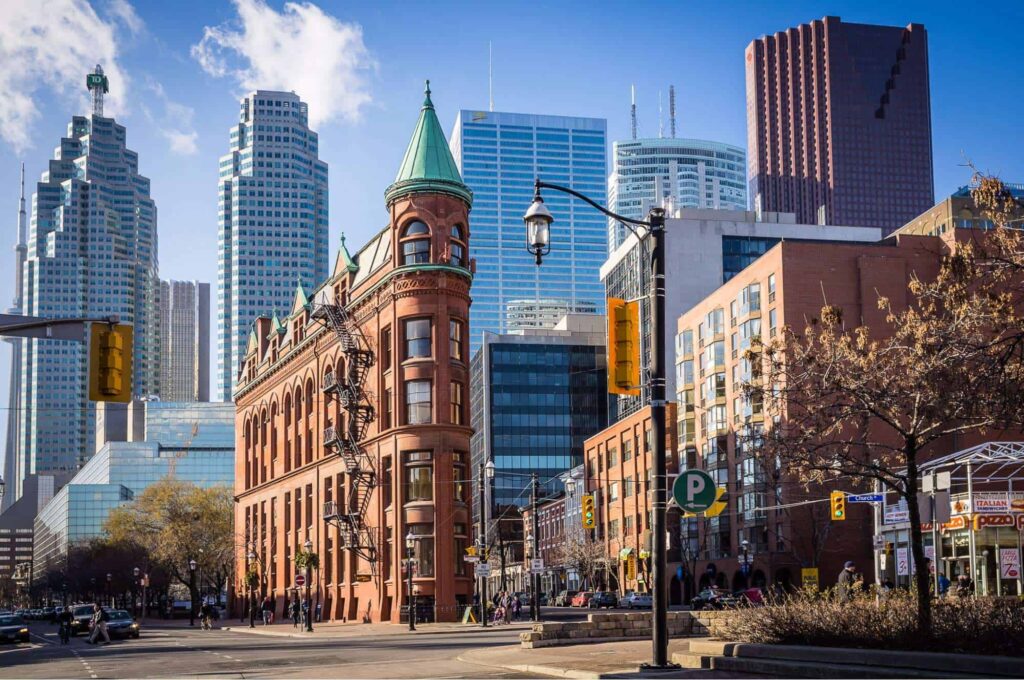 Address: 49 Wellington St E, Toronto, ON M5E 1C9, Canada
Just a few minutes from St. Lawrence Market is one of Toronto's most iconic buildings and beautiful historical sites. Known as "the flatiron building" for its wedge shape, the Gooderham Building is an architectural marvel and one of the city's oldest office spaces!
Although it's not as famous as One Times Square, its red brick construction and Romanesque cornice give it more charm than its counterpart. It still functions as an office space today, and also one of the most photographed historic sites in the city!
Pro tip:
After admiring the building's architecture, head to the back of the building to see The Flatiron Mural. This mural was designed by Derek Besant with an illusion-like effect, making windows look like they're blowing in the wind.
6. The Elgin & Winter Garden Theatre Centre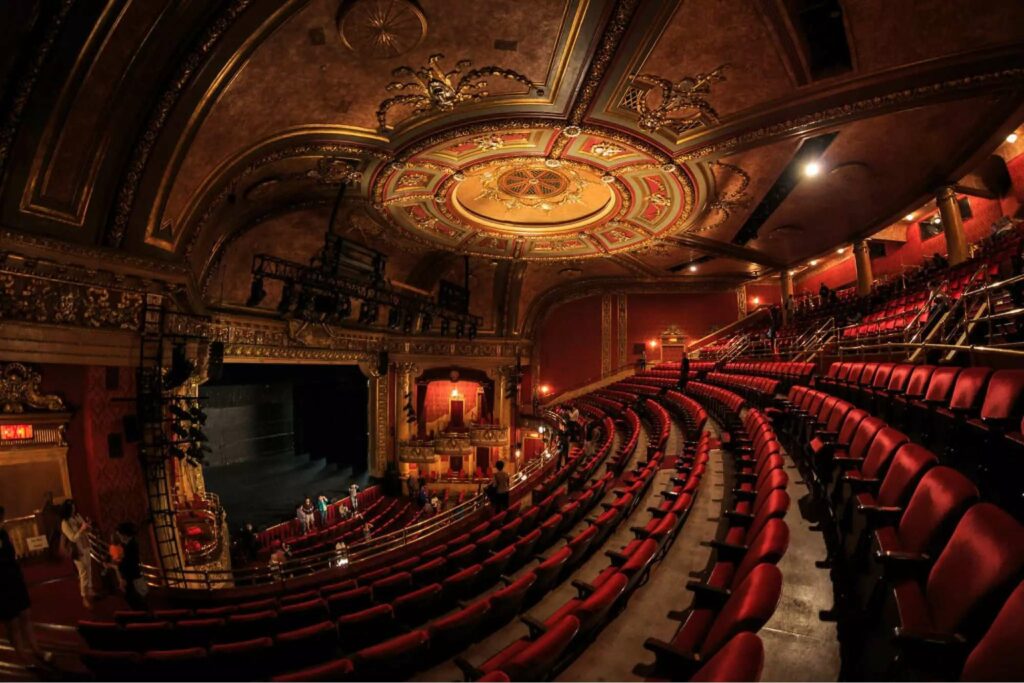 Address: 189 Yonge St, Toronto, ON M5B 1M4, Canada
Operating Hours:
Monday: 11:00AM – 2:30PM
Tuesday: 11:00AM – 12:30PM
Wednesday, Thursday, Saturday, Sunday: Closed
Friday: 11:00AM – 12:30PM
Theatre and opera lovers will definitely want to pay a visit to the historical Elgin & Winter Garden Theatre Centre. This place is actually composed of two different theatres and it's also the last-standing operating double-decker theatre in the world!
On the lower floor sits the iconic Elgin Theatre, known for its intricate Edwadrian architecture and red and gold colour scheme. The Winter Garden Theatre is located upstairs and is decorated with numerous plants to resemble a garden in full bloom!
Pro tip:
Keep an eye out for the walls in the Winter Garden Theatre! The walls are hand painted with interesting flowers and beautiful garden-scenes that are worth checking out!
7. Ireland Park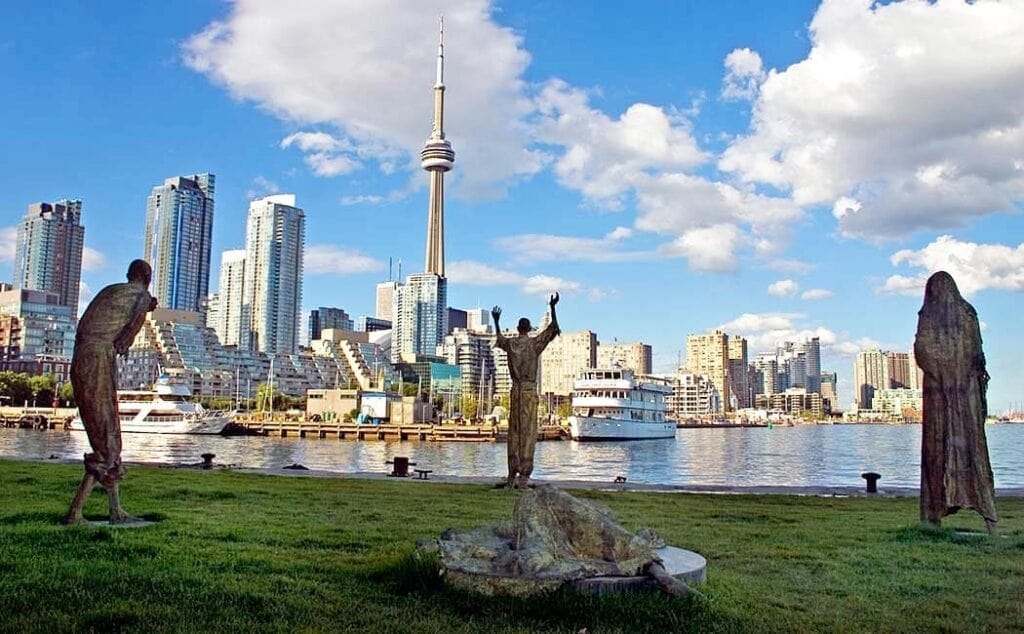 Address: Eireann Quay, Toronto, ON M5V 3G3, Canada
Located by the waterfront, Ireland park is a serene green space that also serves as a site to commemorate Irish immigrants who suffered during the great famine. The park serves as a great place to learn about the history of the Irish population in Canada.
The park has numerous sculptures depicting the struggles the Irish faced during their arrival like the Famine Sculpture by Rowan Gillespie. Another interesting site is the park's memorial column where the names of those who passed away are inscribed.
Pro tip:
This park is usually quiet and has long winding paths that give you a great view of the CN Tower and Harbourfront.
8. Casa Loma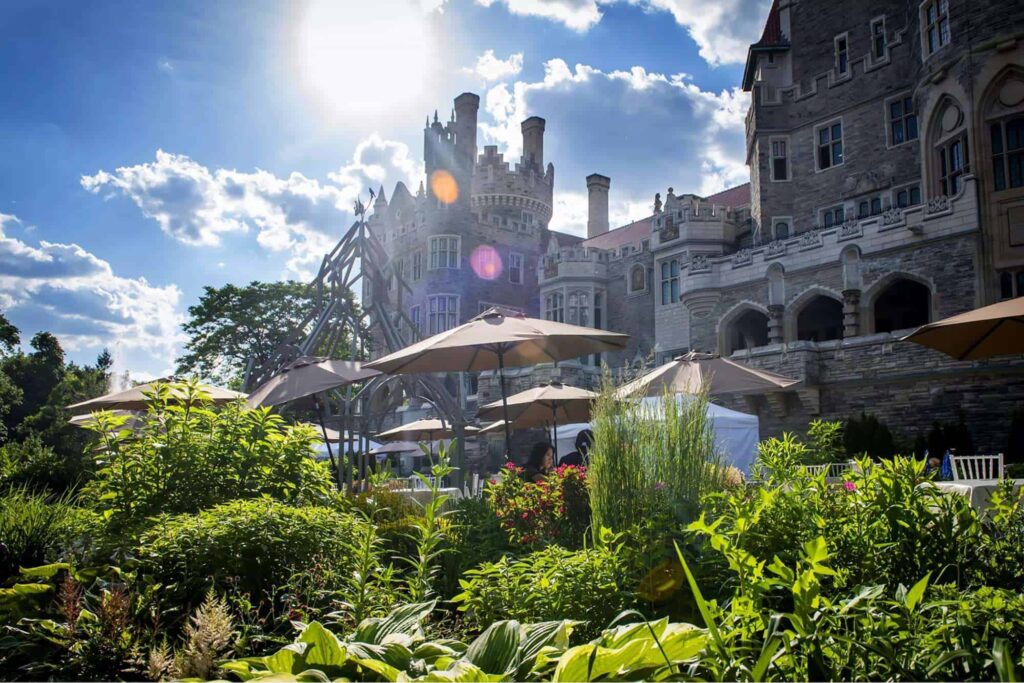 Address: 1 Austin Terrace, Toronto, ON M5R 1X8, Canada
Operating Hours:
Monday – Sunday: 9:30AM – 5:00PM
Contact: (416) 923-1171
Website: https://casaloma.ca/plan-your-visit-2/
Casa Loma is one of Toronto's best castles, with beautiful gothic architecture and an overlooking view of the city. This historical site was once Sir Henry Mill Pellatt's home; today, it's a popular tourist destination known for its lavish aesthetics.
The castle has tons of interesting sights like the dark side tunnel exhibit where you explore secret tunnels and hundreds of unique rooms. Also, don't forget to visit the castle's beautiful gardens, packed with flowers and spots to take in the city skyline!
Pro tip:
Casa Loma has several dining options within the castle grounds, but we recommend grabbing a snack at Liberty Cafe. Make sure to order the cheesy castle nachos and their mouthwatering margherita pizza.
9. Spadina Museum

Address: 285 Spadina Rd, Toronto, ON M5R 2V5, Canada
Operating Hours:
Monday – Tuesday: Closed
Wednesday – Friday: 11:00AM – 5:00PM
Right beside Casa Loma is the historic Spadina House that was built in 1866. This mansion museum offers a unique glimpse of the triumphant and turbulent events that occurred during the early 20th century.
Inside the Spadina house are hundreds of artefacts that showcase the social change in Toronto through the years. It's also fun to walk through the house and appreciate the Victorian and Edwardian designs like the beautiful ceiling medallions and winding stairs.
Pro tip:
One thing you don't want to miss is the "Wonder Woman" sculpture. Originally imported from France, the statue stands with confident poise and is draped in blue and pink colours!
10. Colborne Lodge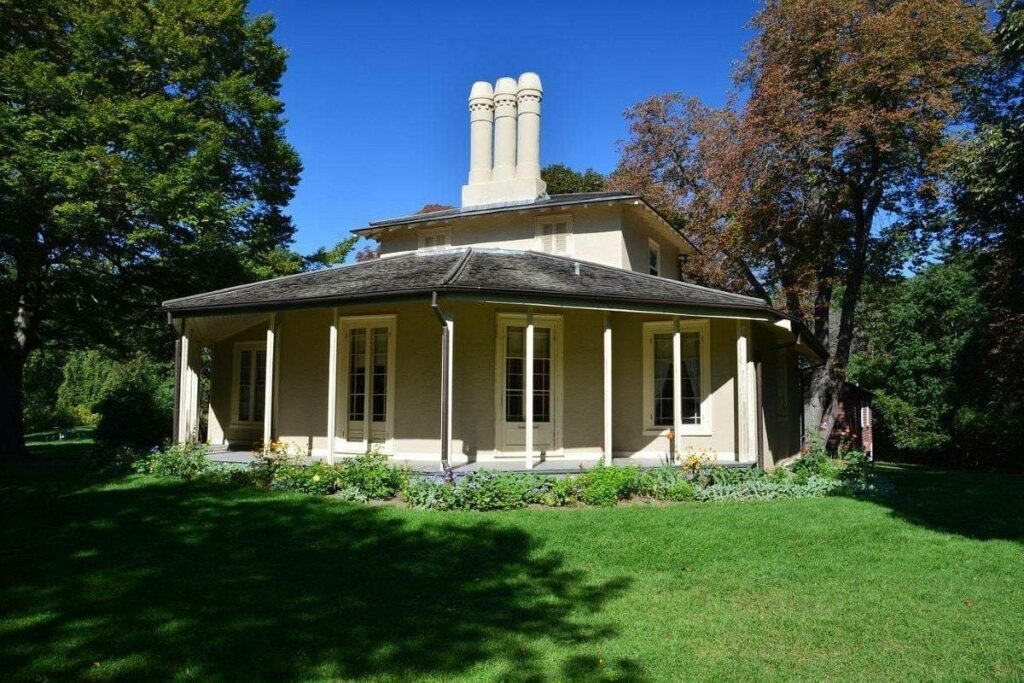 Address: 11 Colborne Lodge Dr, Toronto, ON, Canada
Operating Hours:
Monday – Tuesday: Closed
Wednesday – Friday: 11:00AM – 5:00PM
Located in High Park, the Colborne Lodge is a cool house museum set in a lodge built in 1837. Inside are the works of two painters and the people who built the lodge, John and Jemima Howard, both known for works that depict society in the 19th century!
Colborne Lodge houses a wide range of artifacts like Victorian era chairs, gardening tools, and watercolour paintings depicting early Toronto. The lodge also features cool Victorian-style rooms, which add insight into the interests of the Howards.
Pro tip:
Look out for John Howard's painting "A View of the Lake in Front of Colborne Lodge" from 1870. This painting depicts High Park's huge open fields and numbered trees prior to becoming the lush greenspace it is today!