THE 5 BEST EYEBROW EMBROIDERY STUDIOS IN TORONTO
In the world of cosmetics, uneven, unruly, and sparse strands are the arch-enemy when aiming for flawless, on-fleek brows. But don't fret! There's a saviour in the form of eyebrow embroidery, popularly known as microblading. Microblading artists employ this semi-permanent procedure using fine needles, blades, and pigments that mimic the appearance of delicate strands with a few careful strokes.
The entire process takes about two to three hours, yet its results can endure anywhere from six months to three years with proper care. So, if you're seeking to enhance your brows while achieving an effortlessly natural look, these studios are certainly worth a try!
How We Chose the Best Eyebrow EmbroideryStudios in Toronto
How Much Does Eyebrow Embroidery Cost in Toronto?
For the initial session of eyebrow microblading, you can anticipate costs to range from $300 to $800. This may vary depending on the artist's experience, reputation, and whether touch-up sessions are included.
1. Tho Brows Studio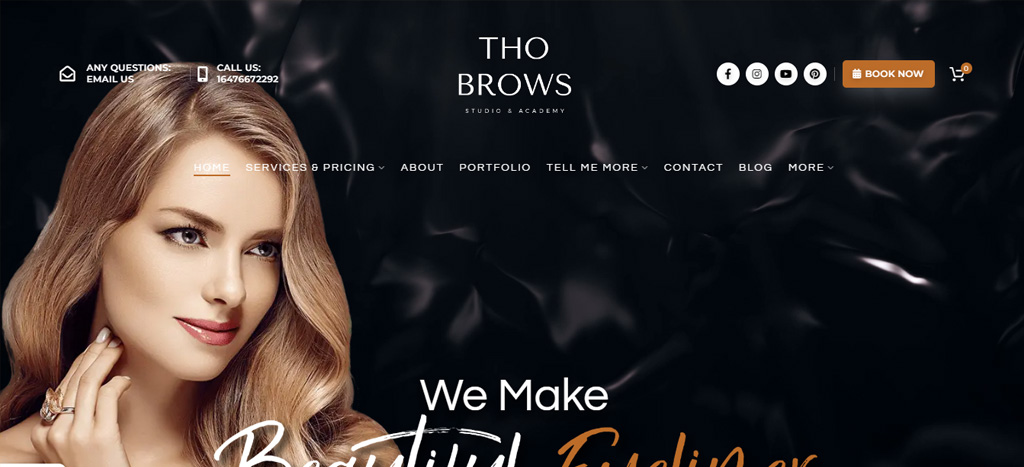 | Test | Info |
| --- | --- |
| WEBSITE | https://thobrows.com/ |
| ADDRESS | 2463 Yonge Street-Second Floor Toronto, ON, M4P 2H6 |
| SOCIAL MEDIA | INSTAGRAM |
| CONTACT DETAILS | (647) 667-2292 |
| OPERATING HOURS | Tuesday - Saturday: 10:00 AM - 5:00 PM |
Tho Dang, a certified microblading artist and trainer, is the driving force behind the esteemed Tho Brows Studio of North Toronto. Established in 2017, the studio exclusively offers a menu of permanent eyebrow makeup treatments, including microblading, shading, nano, and combo brows, catering to both women and men aged 18 and above.
Tho and her skilled team are committed to using only the finest tools and pigments available on the market. Notably, they employ PhiBrows products, renowned for their skin-friendly qualities with 0% heavy metals. Additionally, for those who prioritise a vegan approach, they offer the Perma Blend option.
Each session typically takes around two hours or more, resulting in hyper-realistic outcomes that seamlessly blend with your facial composition. These stunning results last between 18 to 24 months and include a complimentary touch-up session, ensuring you get the most out of your experience.
Consistently achieves excellent results
Personable and attentive approach
Multi-certified in microblading
Precise measurements and meticulous applications
Strictly adheres to safety protocols
High-quality, vegan, and skin-friendly pigments
Only works with untouched brows
Does not entertain refund requests
Client Reviews
My new brows are beautiful and I couldn't be happier with them!
"This lady knows what she is doing! I was nervous going into my appointment but I needn't have been. Tho spent the time to figure out exactly what I wanted and used her expertise to give me very good advice. Aftercare instructions were super clear and she was very available to answer questions as I was healing. My new brows are beautiful and I couldn't be happier with them! If you're going to get your brows done, you can't do better than this. 100% recommend!!" – Elizabeth Arbour, Google Reviews
There is no one else I will trust with my brows again
"Tho is extremely talented in her craft and she pays close attention to detail. I recently got nano brows done by her and the results have exceeded my expectations! There is no one else I will trust with my brows again." – Kimiko A. Taniishi, Google Reviews
2. Beauty by Yael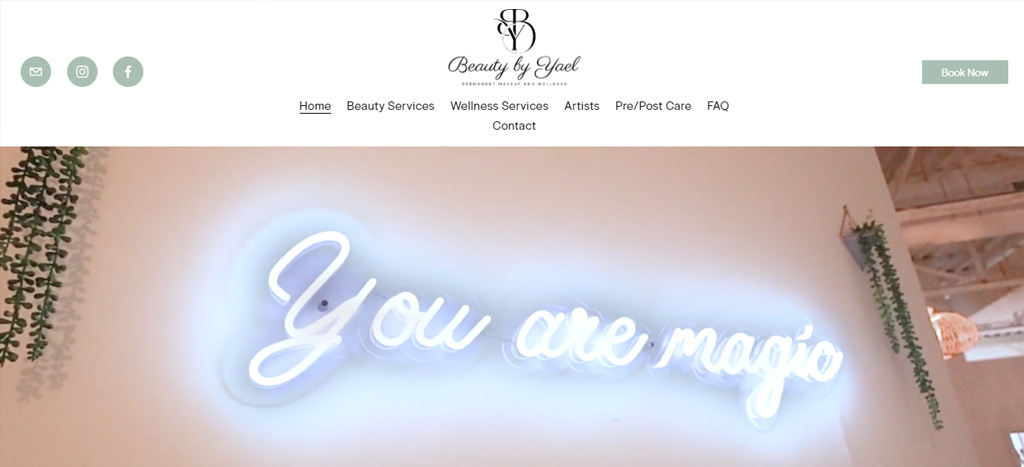 | Test | Info |
| --- | --- |
| WEBSITE | https://www.beautybyyael.com/ |
| ADDRESS | 349 Carlaw Ave, Toronto, ON, M4M 2T1 |
| SOCIAL MEDIA | INSTAGRAM |
| CONTACT DETAILS | (416) 463-BROW |
| OPERATING HOURS | Tuesday - Saturday: 10:00 AM - 7:00 PM |
At the heart of Toronto, Beauty by Yael welcomes you with a calming and gorgeous studio specialising in permanent makeup and traditional healing. Since 2016, Yael Malkin and her team of seven skilled aestheticians have served over 7,000 locals within the city and beyond.
This team of certified experts offers a full range of eyebrow treatments, including lip blush, lash line enhancement, and eyeliner shading. With an impressive track record of 18 years in the industry, Yael herself holds a PhiBrows Master title. Additionally, she boasts six other certifications for microblading from reputable artists in both Canada and Europe.
Moreover, Beauty by Yael stands out by offering a holistic solution for all your brow needs. Their services extend to laser tattoo removal employing the Phi Laser, a potent method for erasing existing pigments. They also provide aftercare with dedicated brow kits for aftercare and maintenance.
Beautifully-designed and clean studio
Offers laser tattoo removal
Gentle and precise strokes
Extensive portfolio on eyebrow treatments
Holds several certifications, including a PhiBrows Master title
Charges separately for touch-ups
Strict cancellation policy
Client Reviews
The work is so natural people think they're real
"I constantly get compliments on my brows and the work is so natural people think they're real. I highly recommend getting your brows done by Yael or one of her students. She's incredible. The entire staff at her shop is the coolest. It's like a relaxing day with friends and you end up with gorgeous brows!!!" – Lawrence Madon, Google Reviews
Knew exactly what would look great on me and did a spectacular job
"From the moment I laid down on the table, I felt like Nikolina understood me. She took the time to explain to me what she thought would look best, colour matched my brows perfectly… When she was finished I CRIED. I have never been happier. They were so perfect. She knew exactly what would look great on me and did a spectacular job making them look like I've had these brows my entire life. Worth. Every. Penny." – Sara Seaward, Google Reviews
3. Nu Tatu Microblading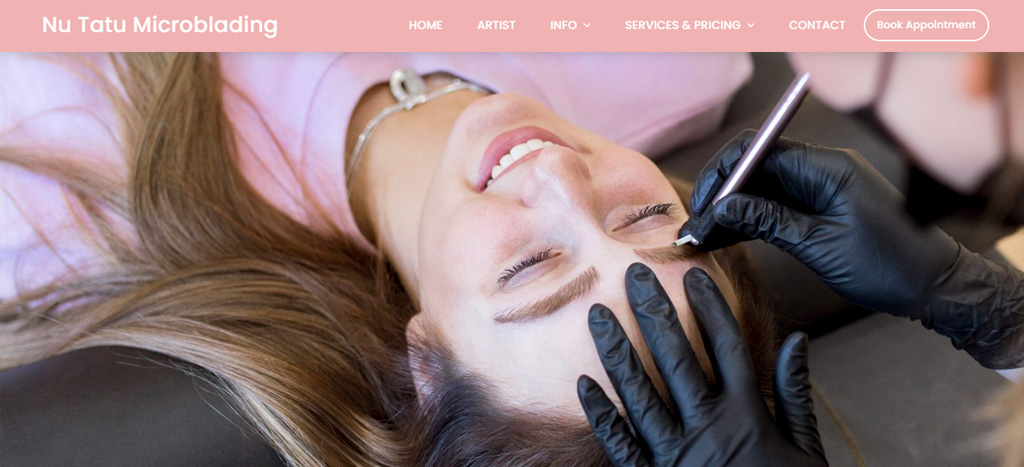 | Test | Info |
| --- | --- |
| WEBSITE | https://www.nutatu.com/ |
| ADDRESS | 108 Finch Avenue West North York, ON M2N 6W6 |
| SOCIAL MEDIA | INSTAGRAM |
| CONTACT DETAILS | |
| OPERATING HOURS | Wednesday - Sunday: 11:00 AM - 3:00 PM |
Nu Tatu Microblading exclusively provides microblading services, ensuring the allocation of focused resources. This results in a meticulously tailored experience for those seeking natural and feathered brows. Danielle Szpargala, the studio's owner and lead artist, received training in Seduire Academy's advanced microblading program and Botched Ink's saline tattoo removal techniques to commit to this experience.
Its continuous success is underscored by a steadily growing and loyal clientele of first-time clients, regular patrons, and individuals seeking corrections for procedures done at other studios. Danielle's commitment to exceptional results is evident through comprehensive consultations and thorough pre-care protocols before each appointment.
Moreover, Nu Tatu offers ongoing support through aftercare packages and recommended check-ins for touch-ups. Additionally, they provide refreshers that may be necessary in the 12 to 18 months following the initial treatment.
Exclusively offers microblading
Adheres to highest pathogen prevention protocols
Competitive rates
Impressive colour-matching skills
Intensive consultations
Detailed pre-care and aftercare guides
Harder to book due to limited availability
Cancels appointments for 15-minute late arrivals
No walk-ins allowed
Client Reviews
Incredibly talented and completely exceeded my expectations
"Danielle is a microblading wizard! After giving Danielle a vague explanation of what I was looking for, she knew the exact look I was hoping to attain based on my face shape and skin type. She is incredibly talented and completely exceeded my expectations. I couldn't be happier with my results and am so happy I found her. She is insanely knowledgeable and experienced in her art and above all the loveliest person!!" – Nicole Tsinas, Google Reviews
Incredible job in colour-matching my brows and shaping them to my face
"I have very light, golden blonde eyebrows and fair skin and have been wanting to try microblading but needed to find someone who could achieve natural results with my skin tone. Danielle did an absolutely incredible job in colour-matching my brows and shaping them to my face. Not only is she passionate about her craft, she is such a pleasure to be around. I couldn't recommend her enough!" – Jordyn Simon, Google Reviews
4. Lina Tran Studio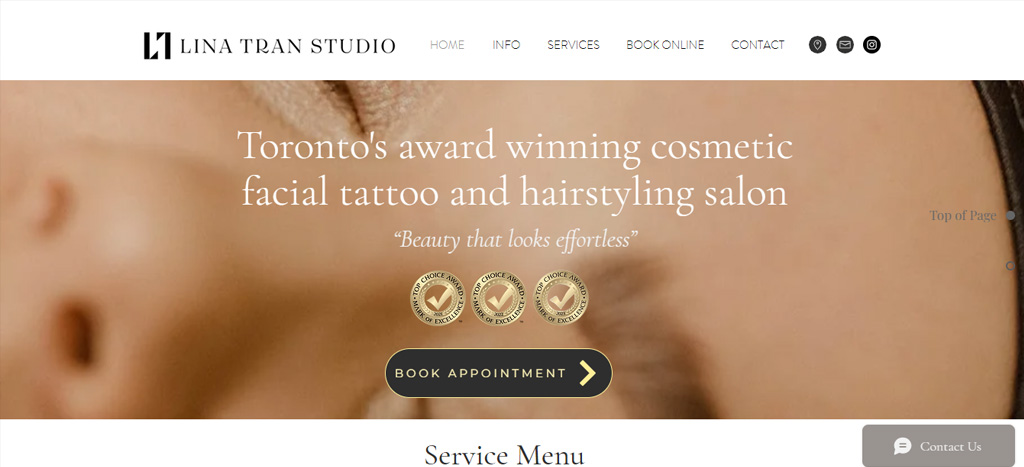 Test
Info
WEBSITE
https://www.linatranstudio.com/
ADDRESS
373 Broadview Ave, Toronto, ON M4K 2M7
SOCIAL MEDIA
INSTAGRAM
CONTACT DETAILS
(905) 392-8789
OPERATING HOURS
Tuesday - Friday, Sunday: 10:00 AM - 7:00 PM

Saturday: 10:00 AM - 3:00 PM
Lina Tran established her self-named cosmetic tattoo and hair studio in 2013, although she had entered the industry as early as 2000. Over time, the studio has gained widespread recognition for its elevated standards in microblading, emphasising each client's natural features over fleeting trends. This commitment results in stunning and hyper-realistic outcomes that truly stand out. As Lina herself puts it, she's your trusted wing-woman.
In her consultations, Lina takes a deeply personalised approach with accurate colour-matching, using the finest pigments available on the market. This dedication has earned her multiple Top Choice Awards and a diverse clientele of both local residents and international visitors.
Lina is a true master of her craft, having received training from the world-renowned Branko Babic PhiBrows, an academy of high repute. Equally skilled is her team consisting of three certified microblading artists and two skilled hairstylists.
Highly personalised approach
Trained under Branko Babic PhiBrows
Offers low monthly financing
Reasonably priced
20 years of industry experience
Uses high-quality and vegan pigments
Has a record of late appointments
Inattentive to personal preferences for some
Client Reviews
From start to finish I felt comfortable and in trusted hands
"Kim was my amazing artist. Micro blading is very new to me and my sister-in-law helped me book my appointment and recommended Lina Tran Studios. Kim was so kind helpful and caring. I wanted to keep a very natural look and Kim nailed it. I haven't looked or felt this confident in years. From start to finish I felt comfortable and in trusted hands. This was my first time and it was wonderful." – Robin McAlpine, Google Reviews
Gave my brows their life back, I cannot believe how my face looks
"Absolutely incredible place. Hadn't had my eyebrows shaped in more than five years. I was traumatised by past experiences and couldn't trust any professional with them. May gave my brows their life back, I cannot believe how my face looks so much better and so much more defined. Really, really happy with the results and that I finally found someone I can trust!" – Rory Vale, Google Reviews
5. Perfection Laboratory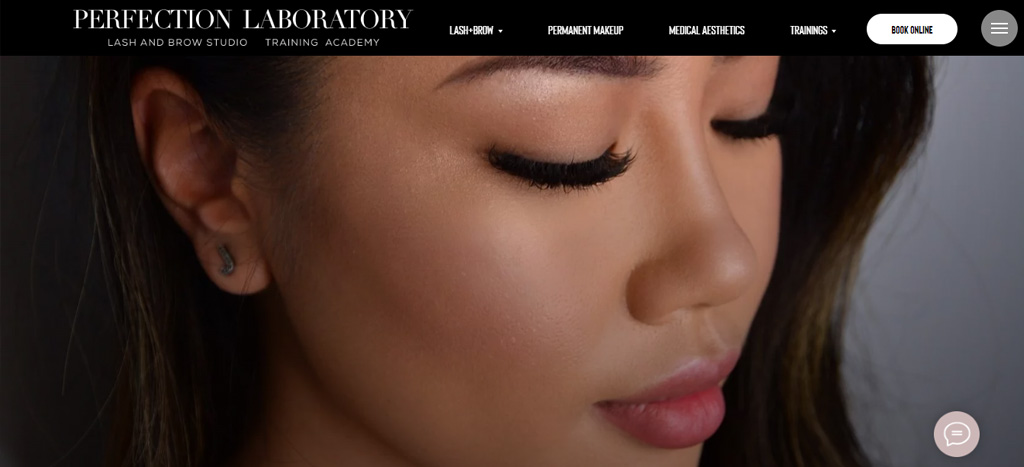 Test
Info
WEBSITE
https://perfectionlaboratory.ca/
ADDRESS
3248 Yonge St Second Floor, Toronto, ON M4N 2L4
SOCIAL MEDIA
INSTAGRAM
CONTACT DETAILS
(647) 773-8446
OPERATING HOURS
Monday - Friday: 9:00 AM - 9:00 PM

Saturday - Sunday: 10:00 AM - 7:00 PM
Located in Central Toronto, Perfection Laboratory has been providing lash and brow services since 2010. The founder and master lash/brow artist, Lena Mavrodi, possesses a genuine passion for serving both clients and training aspiring artists. While she leans more toward lashes, her team of 7 artists and educators are well-versed in all things eyebrows.
The studio offers European semi-permanent eyebrow techniques, which include microblading, powder brows, and most recently, brow lamination. It's worth noting that they have established themselves as a sought-after training academy in Toronto, offering certification courses in the craft.
For those seeking a budget-friendly option for microblading, your search ends here. Initial sessions are affordably priced at $400 and provide results that endure as long as those from most studios – between 12 to 18 months. This is inclusive of an assessment, allowing for personalised brow shape and color preferences to be considered, and aftercare procedures.
Friendling and relaxing atmosphere
Most affordable option 
12+ years in business
Lenient with late arrivals and cancellations
Also offers cosmetic injections and micro-needling
Portfolio in microblading is not as extensive as others
Few complaints of rude encounters
Client Reviews
My brows have never ever looked this great in my whole life
"When I went in Lena asked me what I was looking for and told her Id like a very natural look. She mapped the markings on me and made sure the shape and dimensions were symmetrical to my face shape… My brows have never ever looked this great in my whole life… She explained the aftercare and healing process and I have to say I can't wait to heal and have the most beautiful bows to show off." – Christina Ronge, Google Reviews
So appreciative of the safe, comfortable atmosphere and the quality!
"I've trusted Lena and her team with my permanent brow makeup (microblading) and my lashes now. I've had lashes done in other places that aren't nearly as good a quality or environment as this salon. So appreciative of the safe, comfortable atmosphere and the quality! Definitely worth the commute and money." – Jenna Tipoff, Google Reviews