14 Law Firms with the Best Employment Lawyers in Toronto
Are you looking for the best employment lawyers in Toronto who can settle a work-related dispute? Well, consider yourself lucky because we've already rounded up your options!
We made sure to include only law firms that can handle a variety of workplace-related cases.
You'll know more about these law firms here, along with tips on how to find the right employment lawyer. We've answered some questions related to the way employment lawyers work as well!
How to Deal with the Cost of Hiring Employment Lawyers in Toronto
Before we get to the list of firms let's admit this: it's no secret that hiring an employment lawyer costs a lot of money.
If you want to be represented by the best employment lawyers in Toronto, then you have to be prepared to shell out a huge sum.
However, there are ways to bypass or reduce the expenses of hiring an employment lawyer in Toronto. Check out these arrangements to know which one works best for your situation.Employee Assistance Programs (EAP)
Federal departments and agencies require employers in Canada to provide employers with an Employee Assistance Program. It's a confidential program for employees currently dealing with personal and work-related problems.
These confidential services can usually be reached by phone or email. On top of that, most EAP providers offer free legal advice for a limited time, which can help employees find an employment lawyer within their budget.
Subsidized legal advice
If your personal household income falls below the average, you may qualify for subsidized legal representation. Canada offers Legal Aid, which is a government service that helps low-income workers get legal representation.
If qualified for Legal Aid, you will be entitled to a substantial amount of time with any type of lawyer at a significantly reduced price.
Free initial consultations
The majority of law firms in Toronto offer free and no-obligation consultations with lawyers, sometimes even with their most senior lawyers. It's their way of marketing their services, so make sure to take advantage of these.
Initial consultations usually last for one to two hours, where clients can ask about their case. It may be a short time, but it's enough to give you an idea of what can happen if you decide to pursue the case.
Most employment lawyers are ready to take the case to court, but as much as possible, they don't want that to happen. You can learn a lot about how to settle your case as early and amicably as possible, because they want that too.
Pro bono advice
There are legal clinics in Toronto that offer free advice, staffed mostly by recent law grads and law students. Their services may not be as comprehensive and detailed as those of a law firm, but you're still getting legal advice.
Some of these clinics ask for proof of income to prevent higher-earning clients from getting pro bono services, by the way.
The Best Employment Lawyers in Toronto
1. Samfiru Tumarkin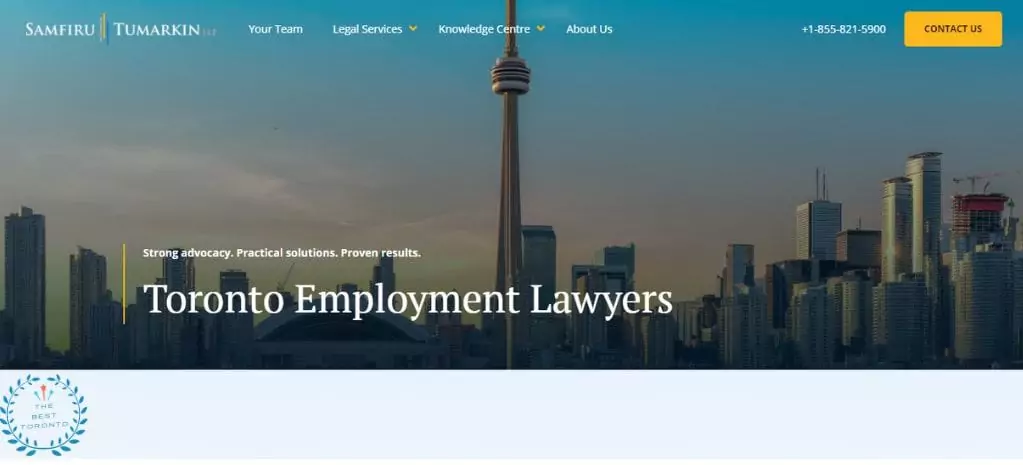 | | |
| --- | --- |
| BEST FOR | Cases involving small and medium-sized businesses |
| EXPERTISE | Wrongful dismissal, severance pay, termination without case, constructive dismissal, temporary layoffs, harassment and discrimination, workplace conflict, and termination of employees. |
| WEBSITE | https://stlawyers.ca/ |
| ADDRESS | 350 Bay St, Toronto, ON M5H 2S6, Canada |
| CONTACT DETAILS | 855-821-5900 |
| OPERATING HOURS | Monday – Friday: 9:00 AM – 5:00 PM |
Let's start off our list with one of the top-rated employment law firms in Toronto: Samfiru Tumarkin. It started back in 2007, handling mostly basic employment and disability and personal injury cases.
Currently, Samfiru Tumarkin represents clients across Toronto, Vancouver, Ottawa, Alberta, and Calgary. Its diverse legal team has grown to more than 100 lawyers over the years, and they specialize in all types of employment disputes.
Some of the employment-related cases handled by its lawyers are wrongful dismissal, workplace discrimination, employee benefits, severance pay, temporary layoffs, drafting employment contracts, and employment insurance, among others.
Samfiru Tumarkin doesn't forget to use its large legal team to serve its clients better. It prevents lawyers from handling multiple cases at once, allowing them to focus on every case and respond to clients faster.
In terms of fees, Samfiru Tumarkin offers different types of arrangements to suit the financial capacity of its clients, including contingency fees.
Pros
Responsive lawyers
Large team of lawyers, so per-lawyer caseloads are relatively low
Accepts contingency fees
Serves clients outside Toronto, including Vancouver, Ottawa, Calgary, etc.
Cons
2. Whitten & Lublin Employment Lawyers
| | |
| --- | --- |
| BEST FOR | Comprehensive consultations with senior lawyers from the start |
| EXPERTISE | Temporary layoffs, termination disputes, human rights and workplace discrimination, sexual harrasment, employment contracts, severance packages, disability insurance claims, and class action lawsuits |
| WEBSITE | https://toronto-employmentlawyer.com/ |
| ADDRESS | 141 Adelaide St W Suite 1100, Toronto, ON M5H 3L5, Canada |
| CONTACT DETAILS | 416-640-2667 |
| OPERATING HOURS | Monday – Friday: 8:00 AM – 8:30 PM |
If you're looking for a law firm with a positive track record amongst clients and peers, then look no further than Toronto's Whitten & Lublin Employment Lawyers. In fact, it's been repeatedly recognized as one of the top employment and labour law firms in Canada.
Whitten & Lublin Employment Lawyers handles all types of workplace disputes, including wrongful dismissals, workplace discrimination, severage package negotiations, and even post-employment restrictions.
It doesn't specialize in a single type of employment-related case, given the diversity of its team's case history. That may be good news for those whose cases are on the unusual side.
Whitten & Lublin Employment Lawyers offers different payment arrangements too. All fees will be discussed upfront, so no worries about getting bill-shocked upon receiving the total charges.
Pros
Longer operating hours than most
Different payment arrangements for clients' convenience
Comprehensive consultation stage
Cons
Fees tend to be expensive
3. Lalande Personal Injury Lawyers
SERVICES
Severance Package Reviews, Denied Critical Illness, Denied Long-term Disability, Denied Short-term Disability, Denied Life Insurance, Pedestrian Fatalities, Car Accident Fatalities, Bicycle Accident Fatalities, Motorcycle Accident Fatalities, Drunk Driving Fatalities, Speed & Stunt Racing Fatalities, Long-Term Disability Claims, Personal Injuries, Wrongful Dismissal
WEBSITE
https://injured.ca/
ADDRESS
1 King St W Suite 1705, Hamilton, ON L8P 1A4, Canada
CONTACT DETAILS
Telephone: 289-273-9945
Toll-Free: 1-844-525-2633
Fax: 905-578-7006
Email:

[email protected]

OPERATING HOURS
Monday to Friday: 9:00 AM – 5:00 PM
Do not give up if you have been denied disability benefits. At your own free will, you can employ an attorney to fight for your disability benefits and demand what's rightfully yours.
Lalande Personal Injury Lawyers is a very well-rounded law firm that offers a number of disability law and employment law services as one of its specialties.
The firm, founded by Matt Lalande, has rooted its service as their family has practiced law since 1973. They have handled multiple cases, and its team has worked over millions of compensation to victims. Through their long-standing experience in law, you can trust them to take care of you and your case.
With around 20 years of experience protecting their client's rights, the Lalande Lawyers have perfected their service. In fact, they cover the widest range of services in Toronto.
At Lalande Personal Injury Lawyers, they promise to serve their clients and protect them from unwanted scenarios that people get into, especially in disability claims. You can rest assured that they'll do their best in handling your case as they won't even ask you to pay until you've won with them!
If you are unsure about their services, do not worry, as they offer free consultations to ensure that you are well informed about your case and the services they can offer.
Lalande Personal Injury Lawyers ensure that you receive your rightful claims. Thus if you are looking for law services, take a lawyer from the firm and protect your future!
Pros:
Over 20 years of experience in practicing employment law
100% free consultations
Provides other services for personal injuries
Cons:
Employment law isn't their primary focus
Customer Reviews
'Nothing but confidence'
"I reached out to Matt Lalonde, and he followed up promptly, answering all my questions. He was very professional, knowledgeable, and reassuring. He inspired nothing but confidence. I have decided to pursue my inquiry-based upon our conversation." – Kathy Findlay
Second to none
"Lalande Personal Injury Lawyers helped me attain my long-term disability benefits. The denial of benefits caused me substantial stress on top of my existing condition. Matt Lalonde and his team were very understanding and explained the whole process clearly. They were confident that we would be successful. Dealing with Matt and his team was very positive, and their knowledge and experience were second to none. I would recommend them to anyone!" – Cheryl Oddie
4. Filion Wakely Thorup Angeletti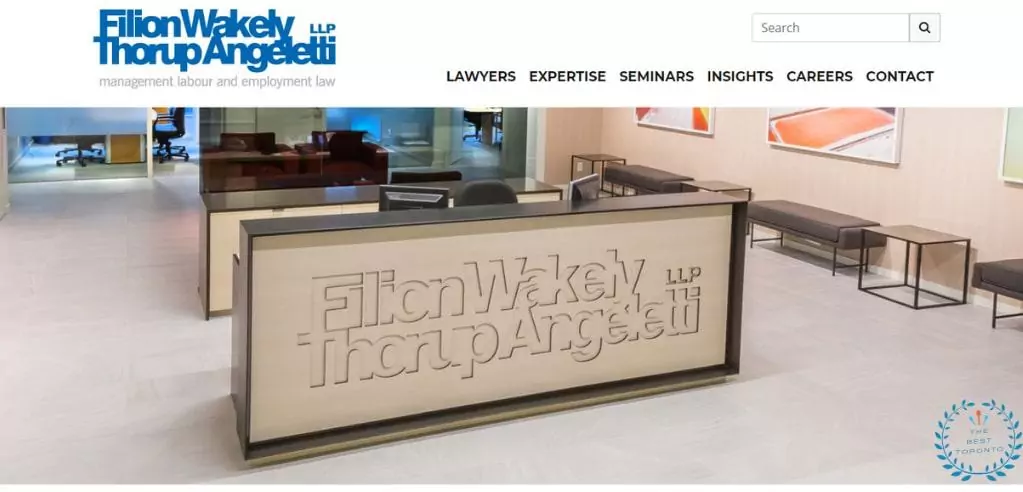 | | |
| --- | --- |
| BEST FOR | Foreign businesses |
| EXPERTISE | Attendance and disability management, collective bargaining, employee benefits, employee and management training, employment contracts, wrong dismissals, and workplace safety and insurance |
| WEBSITE | https://www.filion.on.ca/ |
| ADDRESS | 333 Bay St #2500, Toronto, ON M5H 2R2, Canada |
| CONTACT DETAILS | 416-408-3221 |
| OPERATING HOURS | Monday – Friday: 9:00 AM – 5:00 PM |
Filion Wakely Thorup Angeletti is a law firm that caters to the needs of provincially and federally regulated employers in the public and private sectors. It employs a total of 47 lawyers based in three offices, across Toronto, London, and Hamilton.
Its clients come from an extensive range of industries, including retail, manufacturing, government, healthcare, and hospitality, among others. Its services extend from writing employment contracts to filing discrimination lawsuits.
One thing to know about Filion Wakely Thorup Angeletti is that its services go beyond the borders of Canada. Businesses based in New York, Los Angeles, Beijing, London, and Berlin can seek help from its legal team.
It may have a small legal team based in Toronto, but it doesn't seem to stop it from providing accessible and exceptional legal services to both employers and employees. That's why we included it in our list of the best employment lawyers in Toronto.
Pros
Also has offices in London and Hamilton
Accepts clients from any industry
Serves clients outside Canada
Cons
5. Turnpenney Milne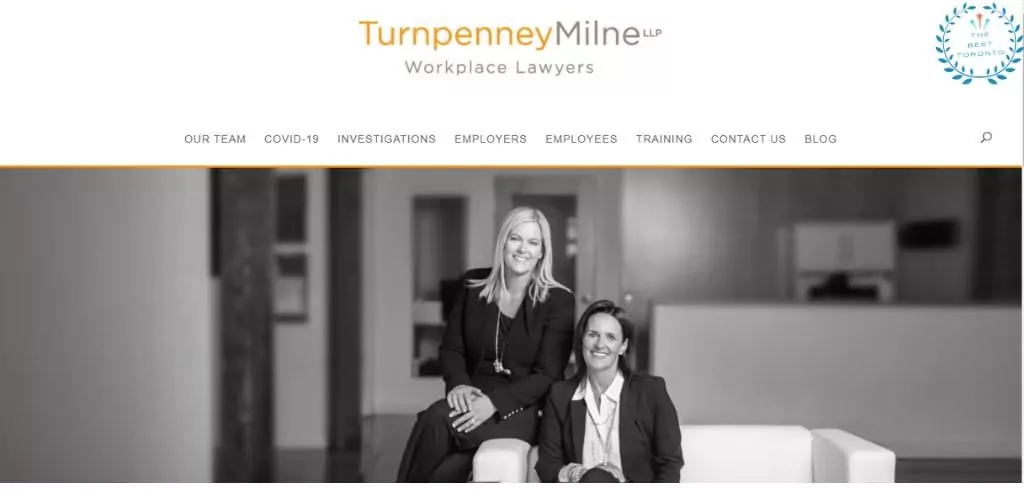 | | |
| --- | --- |
| BEST FOR | Cases on workplace discrimination and harassment |
| EXPERTISE | Severance packages, employment contracts, employment and labour standards, constructive dismissal, human rights violation and discrimination, contract terminations, and management training |
| WEBSITE | https://www.turnpenneymilne.ca/ |
| ADDRESS | Berkeley Castle 2 Berkeley Street, Suite 501 Toronto, ON M5A 4J5 |
| CONTACT DETAILS | 416-868-1457 647-260-0939 |
| OPERATING HOURS | Monday – Friday: 9:00 AM – 5:00 PM |
Turnpenney Milne has lawyers who work on every aspect of workplace law, starting from the pre-hiring stage up to the retirement process. It aims to represent both employers and employees of any sector, but it handles mostly workplace discrimination cases.
Other services provided by Turnpenney Milne include legal assistance for cases involving severance packages, management training, contract terminations, constructive dismissals, and more. Every case is handled by an experienced and licensed lawyer, trained in all types of workplace disputes.
Turnpenney Milne doesn't shy away from legal proceedings, but as much as possible, it prevents the case from escalating to court. It's one way of protecting clients from spending a huge amount of money.
On top of that, its legal team has a pretty good reputation with customers. Most of its clients attest that its lawyers are nothing short of approachable and friendly.
6. Sherrard Kuzz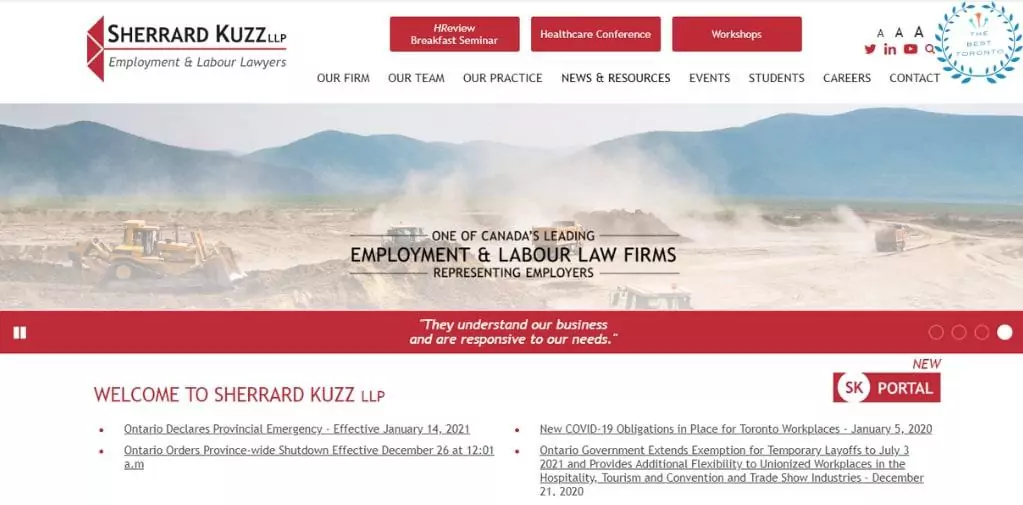 BEST FOR
Legal services for employers
EXPERTISE
Administrative law, attendance management, civil litigation, employee relations, employee screening, employee contracts, grievance arbitration, management training, workplace investigations, and wrongful dismissal litigation
WEBSITE
https://www.sherrardkuzz.com/
ADDRESS
250 Yonge St, Toronto, ON M5B 2L7, Canada
CONTACT DETAILS
416-603-0700

[email protected]

OPERATING HOURS
Open 24 hours
If you're after the top employment lawyers in Toronton who can protect the interests of your company, then we recommend hiring the services of Sherrard Kuzz.
It's the leading employment and labour law firm in the country that caters to clients in all industries and sectors. Its client base is made up of domestic and foreign business and public and private companies of all sizes.
Sherrard Kuzz's areas of practice include collective bargaining, construction labour relations, employee compensation and benefits, management training, policy development and implementation, and attendance management, among others.
What sets it apart from other employment law firms is that it's accessible any time of day, allowing customers to get in touch even during weekends and emergency hours. It even has a policy to respond to clients within the same business day, or if possible, within the hour.
Pros
Accessible 24 hours, 7 days a week
Reliable customer service
Accepts clients from all industries
Cons
Rates tend to be high
Focused on employers' interests
7. Kenneth Krupat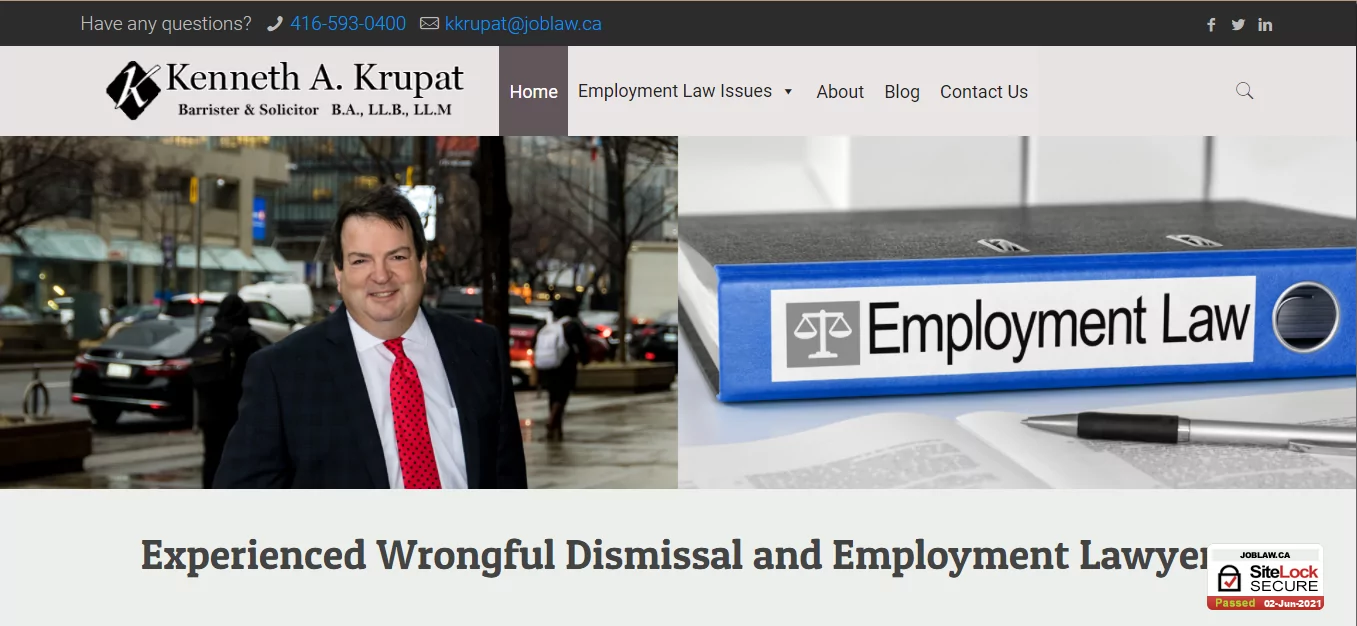 BEST FOR
Wrongful dismissals
EXPERTISE
Wrongful dismissal, employment contract, human rights issues, workplace issues, working for a competitor, independent contractors, workplace illness and disability, pregnancy leave
WEBSITE
https://www.joblaw.ca/
ADDRESS
393 University Avenue Suite 2000 Toronto, Ontario M5G 1E6
CONTACT DETAILS
(416) 593-0400

[email protected]

OPERATING HOURS
Monday – Thursday: 8:00 AM – 9:00 PMFriday: 8:00 AM – 2:00 PMSunday: 10:00 AM – 4:00 PM
If you're looking for an employment lawyer because of possible wrongful dismissal, then Kenneth Krupat may be the one you need. Since 1994, Kenneth Krupat has been representing employees and employers alike for wrongful dismissal claims.
Aside from this specialty, Kenneth also offers his expertise in employment law for those reviewing employee contracts, filing human rights complaints, or facing an injunction. He can also cater to independent contractors.
Kenneth has also appeared in all levels of court, including the Ontario Supreme Court. He is also an active writer in employment law publications and sought after for conferences.
Probably the best thing about this lawyer is that he also offers virtual consultations via Skype or phone. So, clients who can't leave their homes can still benefit from Kenneth's legal expertise.
Pros
Virtual consultations
Expertise in wrongful dismissals
Has experience in all levels of court
Cons
Also has connections with employers
8. SpringLaw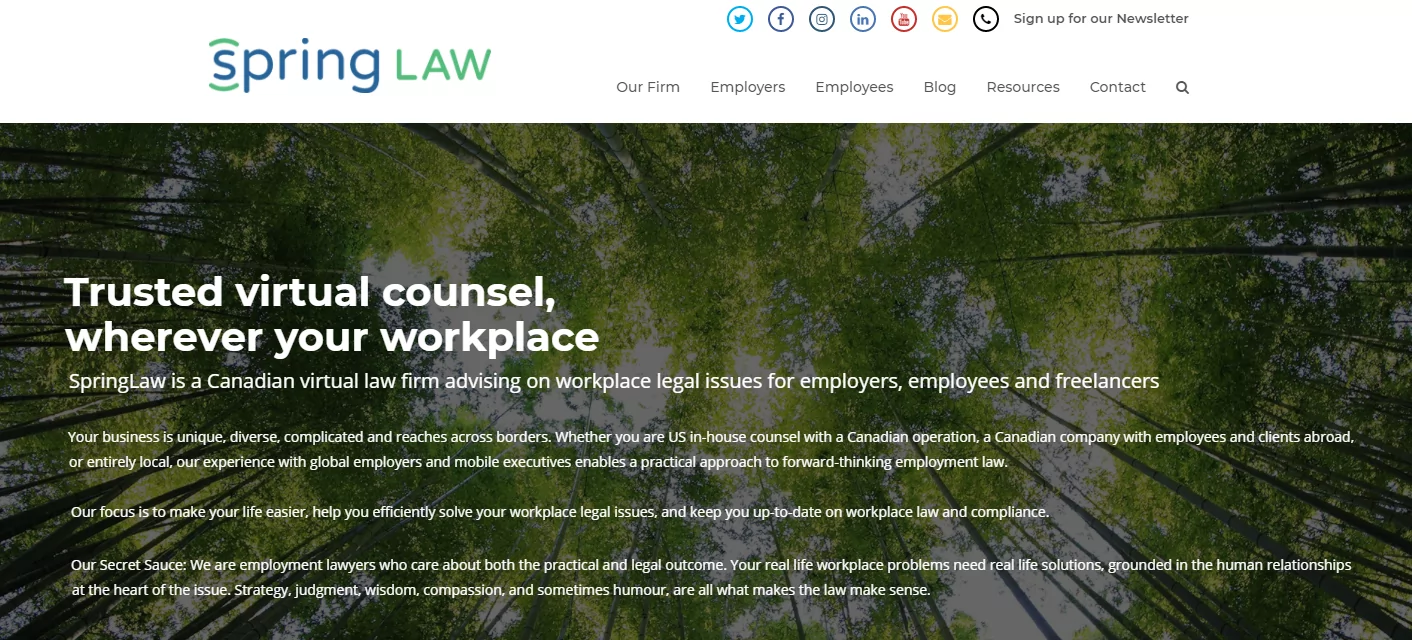 BEST FOR
Virtual, innovative and tech-savvy counsel
EXPERTISE
Employment, Labour, and Human Rights
WEBSITE
https://www.springlaw.ca/
ADDRESS
120 Carlton Street, Suite 210,
Toronto, ON M5A 4K2
CONTACT DETAILS
Contact Page
OPERATING HOURS
N/A
As the world evolves, so too does the field of law. If you're looking for counsel regarding any issue with employment, labour, or human rights, then look no further than SpringLaw.
SpringLaw is a boutique firm comprising talented female counsel, all of whom advise on the wide range of legal issues that arise out of the workplace, from hiring to managing disabilities to terminations.
Another reason why we strongly recommend SpringLaw, aside from the firm's range of expertise, is its virtual workplace, based on a forward-thinking tech platform since its founding in 2017.
Every lawyer that is a member of SpringLaw works virtually, allowing clients access to their services regardless of where they are in Toronto. It's also very accommodating given the current state of the world.
One thing to note, however, is that the firm does not offer free consultations. Why? Simply because they take the time to learn about each case, which means time spent.
Not to fret, though, since the quality and thoroughness of their counsel more than make up for it.
Pros
Virtual consultations
Specialises in various employment issues
Diverse team of women
Cons
9. Camenzuli Workplace Law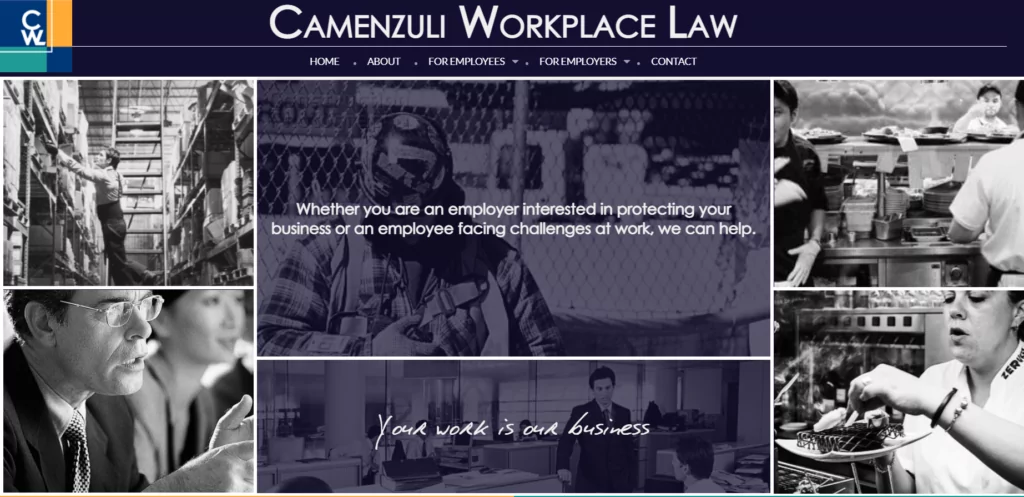 BEST FOR
Employer and Employees Legal Services
EXPERTISE
For EmployeesSeverance package review and negotiationWrongful dismissal litigationConstructive dismissal litigationJob offer and employment contract reviewDisability benefit claimsWSIB claims and appealsClaims for unpaid wages (including sales commissions or overtime) or deductions from wagesDisability accommodation in the workplaceHuman rights complaints for workplace discrimination and/or harassmentMedical related absenteeism defenceDuty of fair representationFor EmployersWrongful dismissal defenceHuman rights complaint defenceEmployment standards compliance and complaint defenceNon-competition/Non-solicitation litigation.Termination advice and document draftingEmployment contract and policy handbook drafting/reviewOvertime managementDisability and other workplace accommodation managementWorkplace investigationsClient contact reviewDrafting/reviewing independent contractor agreementsConstruction liens and other remedies for unpaid workDefence against Ministry of Labour chargesWSIB related litigation
WEBSITE
http://www.dcworkplacelaw.ca/
ADDRESS
3901 Highway 7 West, Suite 40
Vaughan, Ontario L4L 8L5
CONTACT DETAILS
Email: [email protected]
Office Phone: 905-850-3828
Direct Line: 416-999-8494
Fax: 905-605-8494
OPERATING HOURS
Contact for more details
The Camenzuli Workplace Law team solves legal problems at its core. What's great about them is that they really understand each situation of their clients, their goals, and think of ways on how to achieve them.
At Camenzuli Workplace Law, value means more than reasonable rates. This means that they will provide you with the best solution to your workplace challenges given your particular situation and objectives.
Stemming from their real-life experiences, they have the knowledge to know what approach best fits you. They are committed to giving personal service that is tailored for your needs.
Whether you are an employee or an employer, we know that they will be able to help you.
Pros
4-member team
Extensive range of services
Tailored services
Cons
Rates are not on their website
10. Landy Marr Kats LLP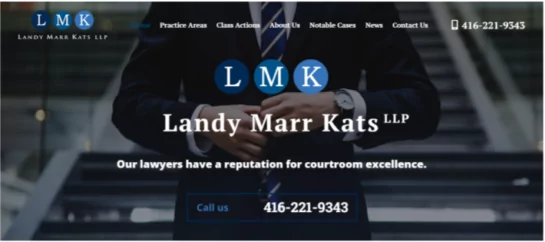 BEST FOR
Defending employees who were fired and those who were refused Long Term Disability benefits.
EXPERTISE
Employment termination without notice and without cause; constructive dismissals; substantial change to work hours; changes to the amount of remuneration, temporary layoffs; changes to geographic location of where you work; return to work after being sick or disabled; being terminated while on Long Term Disability or Short-Term Disability; being terminated due to refusal to vaccinate; being terminated due to age; entitlement to vacation and over-time pay.
WEBSITE
https://thetorontolawyers.ca
ADDRESS
2 Sheppard Avenue East, Suite 900 (Sheppard Centre), Toronto, ON M2N 5Y7
CONTACT DETAILS
416-221-9343
[email protected]
OPERATING HOURS
Monday to Friday: 9:00am to 5:00pm
Saturdays, Sundays & Holidays: Please leave a message.
Landy Marr Kats LLP is filled with lawyers that have legal experience, skill, and specializes in civil litigation. What really made us recommend them is how affordable their services are.
They take pride in being a boutique law firm providing the right service to their clients while keeping the legal fees reasonable. Another reason would be their extensive range of services.
With their help, you will get your monetary compensation as a result of a wrongful dismissal. Working with them will be worth it for they always give their focus to their clients.
In comparison to other law firms, the amount of lawyers they have allows the to cater numerous clients without compromising the quality of their service.
Pros
Members speak Armenian, Cantonese, Estonian, Hebrew, Italian, Mandarin, and Russian
10-member team
No recovery, then no fee
Cons
Rates are not available on their website
11. Hyde HR Law

| | |
| --- | --- |
| BEST FOR | Employment and Labour Law |
| EXPERTISE | Employment Law for EmployeesEmployment Law for EmployersLabour Law for Unionized Employers |
| WEBSITE | https://hydehrlaw.com/ |
| ADDRESS | 109W-500 Queens Quay W Toronto, ON M5V 3K8 |
| CONTACT DETAILS | (416) 841-0001 | [email protected] |
| OPERATING HOURS | Monday to Friday: 9:00 am to 5:00 pmOutside of Business Hours: By Appointment Only |
Hyde HR Law's location is close to the Ontario Labour Relations Board and the Superior Court of Justice. This makes their firm well situated to provide their clients with unparalleled responsiveness, strong, and effective representation that they need.
The firm was founded by John Hyde, the previous managing partner of Canada's best-known employment law firm. He stands out from the rest because he is one of only 23 lawyers in Canada certified by the Law Society as a Specialist in Labour Law.
Talking about their Employment Law, they can cater to both employers and employees. For employees, they offer their services for those who experienced a "just cause" termination, constructive dismissal, unjust dismissal, wrongful dismissal, severance, and so much more.
Their services for employers are human resources, employment contracts and workplace policies, employer defence, Workplace Safety & Insurance Board (WSIB), labour arbitrations, collective bargaining, defence to union grievances and so much more.
Pros
Wide range of services
Lawyers have pre-law backgrounds in human resources management, journalism, and other industries, ranging from transportation to construction
Has an online severance pay calculator
Cons
Need to contact for their rates
12. Ken Alexander Employment Law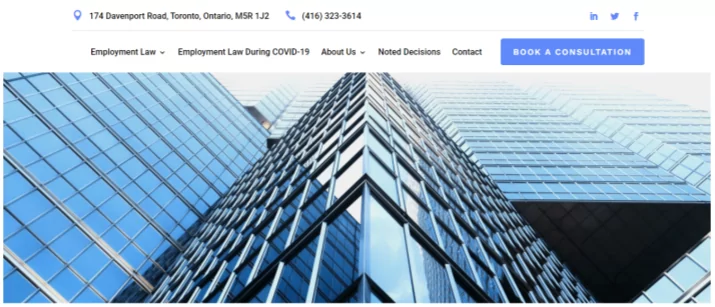 BEST FOR
Professional Employment Law Services
EXPERTISE
Wrongful dismisal
Long Term Disability
Termination of Employment
Termination Without Cause
Termination Letter
Unlawful Dismissal
Constructive Dismissal
Employee Resignation
Employee Rights
Employment Contracts
The Duty to Mitigate
Compensation
Pay in Lieu of Notice
Termination Pay
Vacation Pay
Severance Pay
Discrimination
Dismissal With Cause
WEBSITE
https://www.kenalexander.ca/
ADDRESS
174 Davenport Road Toronto, Ontario M5R 1J2
CONTACT DETAILS
(416) 323-3614
[email protected]
OPERATING HOURS
Contact for more information
Ken Alexander Employment Lawyer has 2 outstanding lawyers that can blow your mind on how much of a professional they are in terms of employment law since they have over 28 years of experience as a wrongful dismissal lawyer.
Ken Alexander have been practicing labour and employment law in Toronto as a wrongful dismissal lawyer since 1993. He is intimately aware of all the legal challenges employees and employers experience,
Over the years, he has successfully handled hundreds of cases on behalf of their clients involving a wide range of legal issues. What's even better about him is that he has appeared before all levels of Court in Ontario.
Their other lawyer is Kristopher Stone who is committed to providing exceptional services for his clients. He has an exceptional track record of success that includes representing both employers and employees.
Pros
Expert in numerous areas of practice
Caters to employment law with respect to COVID-18
Cons
Customer Reviews
Here are the few positive comments of their previous clients:
"Helped me settle my case against a big IT company. Slow process but got amazing results."
"Ken was excellent to deal with. He made me feel comfortable and was easy to talk to. He go me a great settlement and I am very happy with the result. I recommend him to everyone."
13. Advocation Professional Corporation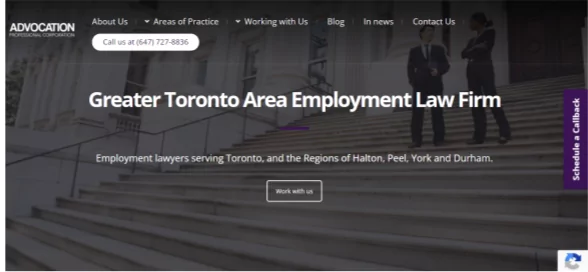 Advocation Professional Corporation is your go-to firm when it comes to reliable employment legal services that is sure to prioritize your interests in the field. Specially accommodating clients in the Toronto area, they are headed by Hermie Abraham who is a reputed employment lawyer which adds to their credibility as a firm.
They can showcase their expertise in the field through supporting various cases of bullying, unfair dismissal, equal pay among many others. They also make it to a point to make these packages and services accessible to you so that not only will you be accommodated but also get the best value out of your money.
With over 17 years of experience in the field, they always strive to proactively work with you so that you will get the best services possible so that your side comes across effectively. Furthermore, they make sue to listen to your concerns so that they are able to strategize and give you the most efficient advice most suited for your needs.
We recommend this firm for your legal employment advice needs so that not only will you have a stress-free experience but also have access to expertise that allows the creation of employment-friendly workplaces.
Pros
Customizable strategies
Efficient approaches
Affordable rates
Cons
Operating hours not available on website
14. Ellen Low & Co., Employment Law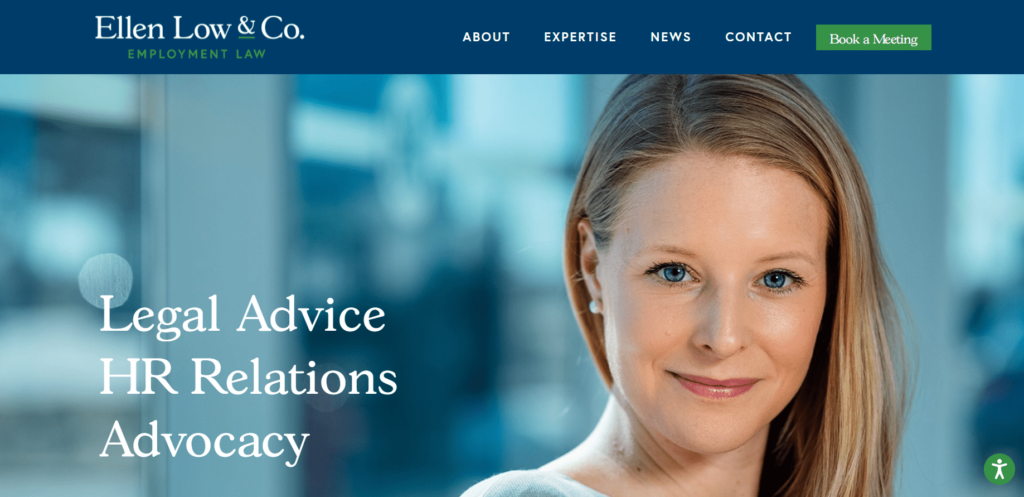 BEST FOR
Individualized Employment, Labour, Human Rights, and HR-relations Advice
EXPERTISE
Wrongful and Unjust Dismissal
Initial Contract Review
Stock, Share, Deferred and Performance Options, Bonus, LTIP, STIP, and Other Equity Awards
Restrictive Covenants
Executive Compensation Agreements
Pay Equity
Constructive Dismissal
Severance Package Review
Workplace and Sexual Harassment
Discrimination and Human Rights
Career Transition
Defamation and Reputational Damage
Reprisal
Employment Standards
Labour Relations
Workplace Policies and Contracts
Performance Management
Accessibility for Ontarians with Disabilities Act Compliance Disability and Accommodation Management
Executive Compensation Agreements
Executive Compensation Agreements
Human Resources
Just Cause Dismissal
Constructive Dismissal
Workplace and Sexual Harassment
Defamation and Reputational Damage
WEBSITE
https://www.torontohrlaw.com/
ADDRESS
100 King St W #5700, Toronto, ON M5X 1C7, Canada
CONTACT DETAILS
Telephone: 416-915-3111


[email protected]

OPERATING HOURS
Monday to Friday: 8:30 AM – 5:00 PM
By Appointment
If you're looking for the best employment lawyers in Toronto, then consider Ellen Low & Co., Employment Law to provide the best service to your work-related needs.
Equipped with knowledge and experience in services related to employment law, human rights, and workplace relations, Ellen Low & Co., Employment Law provides top-of-the-line service to ensure your satisfaction.
Their services range from contract review to complex litigation; this law office will ensure that clients are well-educated and laid out with the necessary information to provide the best-informed decisions in their respective workplaces.
They provide relevant employment-related services to both employees and contractors, and employers that cover a wide range of industries and sectors. If litigation is needed, the office can provide services to represent what you need.
Equipped with principles to protect workers, they uphold and promote equality, diversity, and inclusion and are committed to providing legal services in Ontario and eliminating barriers in the workplace.
With competitive hourly rates and various payment options, including direct payment, deferral arrangements, and more, you can avail of their services without the need to worry!
Overall, if you are in need of experienced and knowledgeable people to supply your legal aid needs, then Ellen Low & Co., Employment Law might be the best choice for you!
Pros
Wide variety of employment laws and other related services
Variety of payment options
Accepts clients from different sectors and industries
Cons
Closed on Saturdays and Sundays
By appointment only
How to Look for the Best Employment Lawyers in Toronto
Now, we've done our best to find the top Toronto employment lawyers. If you still want to look around for more options, though, that's perfectly fine.
However, if you have no experience in dealing with lawyers, then you might have a hard time here. Keep in mind that there are hundreds of lawyers out there, making the task undeniably harder.
Even here, we're going to help you out. Here are some simple tips you can follow to find the top employment lawyer in Toronto:
1. Ask for recommendations from friends and family
One of the best ways to start your search for employment lawyers is to ask for referrals from trusted people. You can always ask for recommendations from colleagues, family members, and friends.
If you know someone who's dealt with a lawyer before (not necessarily an employment lawyer), you might want to ask for the name of the law firm. If their experience wasn't a pleasant one, then at least you know which ones to stay away from.
2. Consult with a lawyer with a different specialty
If none of your friends know an employment lawyer, then there's a huge chance that at least one of them has consulted with a divorce or family lawyer in the past. After all, they're some of the most in-demand lawyers in the country.
Book a consultation with them and pick their brains about which employment lawyers are worth hiring. Most lawyers are part of organizations that allow them to meet lawyers who specialize in other fields, so they probably know someone who can help with your workplace dispute.
3. Check your chosen lawyer's track record
Once you've made a list of employment lawyers to hire, it's time to dig deeper into their experience. An excellent lawyer will always have a solid portfolio to back up his name, showing all the types of cases he's worked on in the past.
We'd recommend going with an employment lawyer who has represented various employment cases over the past years, including those similar to yours.
It's also worth noting that there are two types of employment lawyers: one who handles employees' cases and another who focuses on the employer's interests. You need to make sure that your lawyer knows how to protect your interests either as an employee or employer.
4. Research if there are any ethics violations
Most countries, including Canada, keep a record of any disciplinary action against a lawyer. We'd suggest taking time to check if your chosen lawyer has violated any rule while practicing law.
Some of the most common violations are negligent representation, undisclosed conflict of interest, and misappropriating client funds. If your lawyer has committed any of these before, better drop them as soon as possible to prevent damaging your case.
5. Check their reputation online
The Internet has become like an online database of people's experiences with their lawyers. To know more about your chosen lawyer, you might want to search for his name on Google, Yahoo, Yelp, Linkedin, or even Facebook.
Most clients will post about their first-hand experiences in dealing with a particular lawyer. However, remember to take these reviews with a grain of salt because people who've had bad experiences are more likely to leave reviews than satisfied ones.
---
Anyway, that's it for our list of law firms with the best employment lawyers in Toronto. If you've already made a choice, don't forget to share them with us.
If you know of other employment lawyers worth hiring, tell us their names so we can check if we can add them to our picks.
By the way, if you suffered an injury while at work, then you might want to consult with the best personal injury lawyers in Toronto as well. We featured some of the top personal injury law firms on that list.