7 Law Firms with the Best Employment Lawyers in Toronto
Are you looking for the best employment lawyers in Toronto who can settle a work-related dispute? Well, consider yourself lucky because we've already rounded up your options!
We made sure to include only law firms that can handle a variety of workplace-related cases.
You'll know more about these law firms here, along with tips on how to find the right employment lawyer. We've answered some questions related to the way employment lawyers work as well!
How to Deal with the Cost of Hiring Employment Lawyers in Toronto
Before we get to the list of firms let's admit this: it's no secret that hiring an employment lawyer costs a lot of money.
If you want to be represented by the best employment lawyers in Toronto, then you have to be prepared to shell out a huge sum.
However, there are ways to bypass or reduce the expenses of hiring an employment lawyer in Toronto. Check out these arrangements to know which one works best for your situation.
The Best Employment Lawyers in Toronto
1.   Samfiru Tumarkin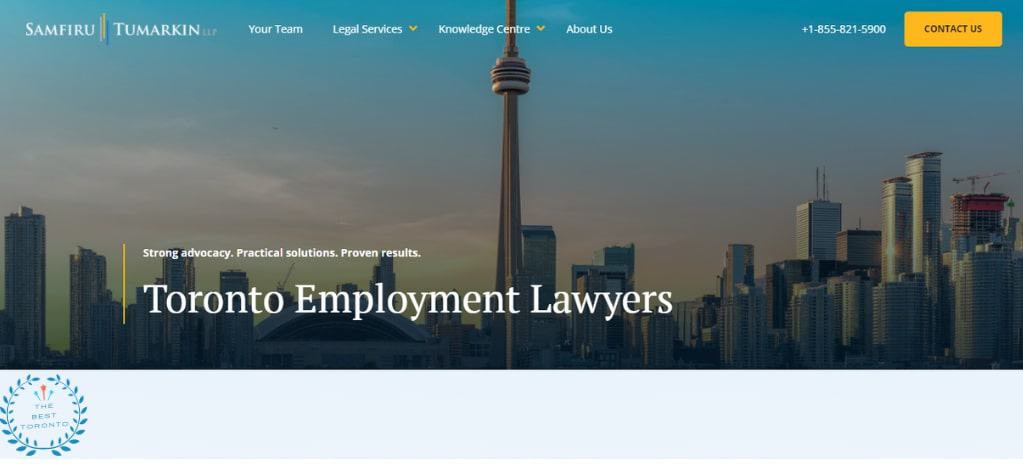 | | |
| --- | --- |
| BEST FOR  | Cases involving small and medium-sized businesses |
| EXPERTISE | Wrongful dismissal, severance pay, termination without case, constructive dismissal, temporary layoffs, harassment and discrimination, workplace conflict, and termination of employees. |
| WEBSITE | https://stlawyers.ca/ |
| ADDRESS | 350 Bay St, Toronto, ON M5H 2S6, Canada |
| CONTACT DETAILS | 855-821-5900 |
| OPERATING HOURS | Monday – Friday: 9:00 AM – 5:00 PM |
Let's start off our list with one of the top-rated employment law firms in Toronto: Samfiru Tumarkin. It started back in 2007, handling mostly basic employment and disability and personal injury cases.
Currently, Samfiru Tumarkin represents clients across Toronto, Vancouver, Ottawa, Alberta, and Calgary. Its diverse legal team has grown to more than 100 lawyers over the years, and they specialize in all types of employment disputes.
Some of the employment-related cases handled by its lawyers are wrongful dismissal, workplace discrimination, employee benefits, severance pay, temporary layoffs, drafting employment contracts, and employment insurance, among others.
Samfiru Tumarkin doesn't forget to use its large legal team to serve its clients better. It prevents lawyers from handling multiple cases at once, allowing them to focus on every case and respond to clients faster.
In terms of fees, Samfiru Tumarkin offers different types of arrangements to suit the financial capacity of its clients, including contingency fees.
Pros
Responsive lawyers
Large team of lawyers, so per-lawyer caseloads are relatively low
Accepts contingency fees
Serves clients outside Toronto, including Vancouver, Ottawa, Calgary, etc.
Cons
2.   Whitten & Lublin Employment Lawyers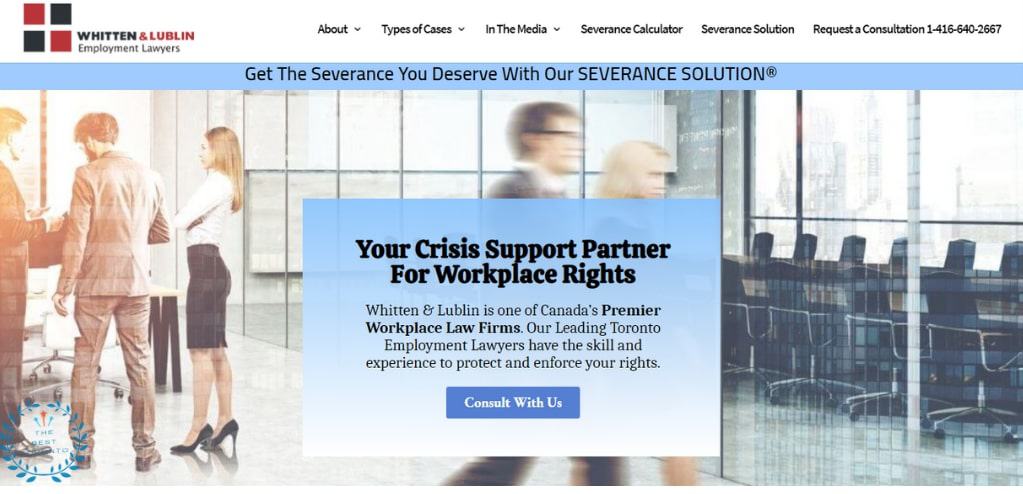 | | |
| --- | --- |
| BEST FOR  | Comprehensive consultations with senior lawyers from the start |
| EXPERTISE | Temporary layoffs, termination disputes, human rights and workplace discrimination, sexual harrasment, employment contracts, severance packages, disability insurance claims, and class action lawsuits |
| WEBSITE | https://toronto-employmentlawyer.com/ |
| ADDRESS | 141 Adelaide St W Suite 1100, Toronto, ON M5H 3L5, Canada |
| CONTACT DETAILS | 416-640-2667 |
| OPERATING HOURS | Monday – Friday: 8:00 AM – 8:30 PM |
If you're looking for a law firm with a positive track record amongst clients and peers, then look no further than Toronto's Whitten & Lublin Employment Lawyers. In fact, it's been repeatedly recognized as one of the top employment and labour law firms in Canada.
Whitten & Lublin Employment Lawyers handles all types of workplace disputes, including wrongful dismissals, workplace discrimination, severage package negotiations, and even post-employment restrictions.
It doesn't specialize in a single type of employment-related case, given the diversity of its team's case history. That may be good news for those whose cases are on the unusual side.
Whitten & Lublin Employment Lawyers offers different payment arrangements too. All fees will be discussed upfront, so no worries about getting bill-shocked upon receiving the total charges.
Pros
Longer operating hours than most
Different payment arrangements for clients' convenience
Comprehensive consultation stage
Cons
Fees tend to be expensive
3.   Filion Wakely Thorup Angeletti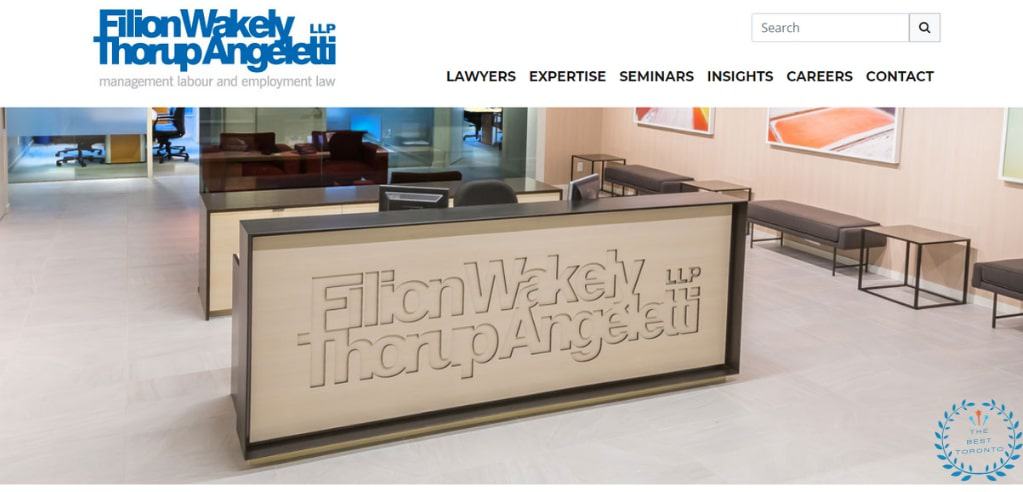 | | |
| --- | --- |
| BEST FOR  | Foreign businesses |
| EXPERTISE | Attendance and disability management, collective bargaining, employee benefits, employee and management training, employment contracts, wrong dismissals, and workplace safety and insurance |
| WEBSITE | https://www.filion.on.ca/ |
| ADDRESS | 333 Bay St #2500, Toronto, ON M5H 2R2, Canada |
| CONTACT DETAILS | 416-408-3221 |
| OPERATING HOURS | Monday – Friday: 9:00 AM – 5:00 PM |
Filion Wakely Thorup Angeletti is a law firm that caters to the needs of provincially and federally regulated employers in the public and private sectors. It employs a total of 47 lawyers based in three offices, across Toronto, London, and Hamilton.
Its clients come from an extensive range of industries, including retail, manufacturing, government, healthcare, and hospitality, among others. Its services extend from writing employment contracts to filing discrimination lawsuits.
One thing to know about Filion Wakely Thorup Angeletti is that its services go beyond the borders of Canada. Businesses based in New York, Los Angeles, Beijing, London, and Berlin can seek help from its legal team.
It may have a small legal team based in Toronto, but it doesn't seem to stop it from providing accessible and exceptional legal services to both employers and employees. That's why we included it in our list of the best employment lawyers in Toronto.
Pros
Also has offices in London and Hamilton
Accepts clients from any industry
Serves clients outside Canada
Cons
4.   Turnpenney Milne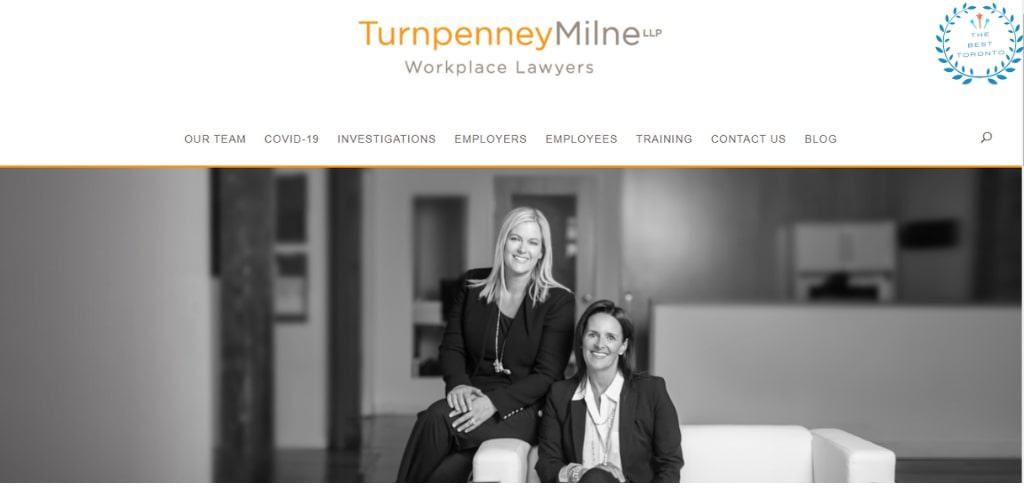 | | |
| --- | --- |
| BEST FOR  | Cases on workplace discrimination and harassment |
| EXPERTISE | Severance packages, employment contracts, employment and labour standards, constructive dismissal, human rights violation and discrimination, contract terminations, and management training |
| WEBSITE | https://www.turnpenneymilne.ca/ |
| ADDRESS | Berkeley Castle 2 Berkeley Street, Suite 501 Toronto, ON  M5A 4J5 |
| CONTACT DETAILS | 416-868-1457 647-260-0939 |
| OPERATING HOURS | Monday – Friday: 9:00 AM – 5:00 PM |
Turnpenney Milne has lawyers who work on every aspect of workplace law, starting from the pre-hiring stage up to the retirement process. It aims to represent both employers and employees of any sector, but it handles mostly workplace discrimination cases.
Other services provided by Turnpenney Milne include legal assistance for cases involving severance packages, management training, contract terminations, constructive dismissals, and more. Every case is handled by an experienced and licensed lawyer, trained in all types of workplace disputes.
Turnpenney Milne doesn't shy away from legal proceedings, but as much as possible, it prevents the case from escalating to court. It's one way of protecting clients from spending a huge amount of money.
On top of that, its legal team has a pretty good reputation with customers. Most of its clients attest that its lawyers are nothing short of approachable and friendly.
5.   Sherrard Kuzz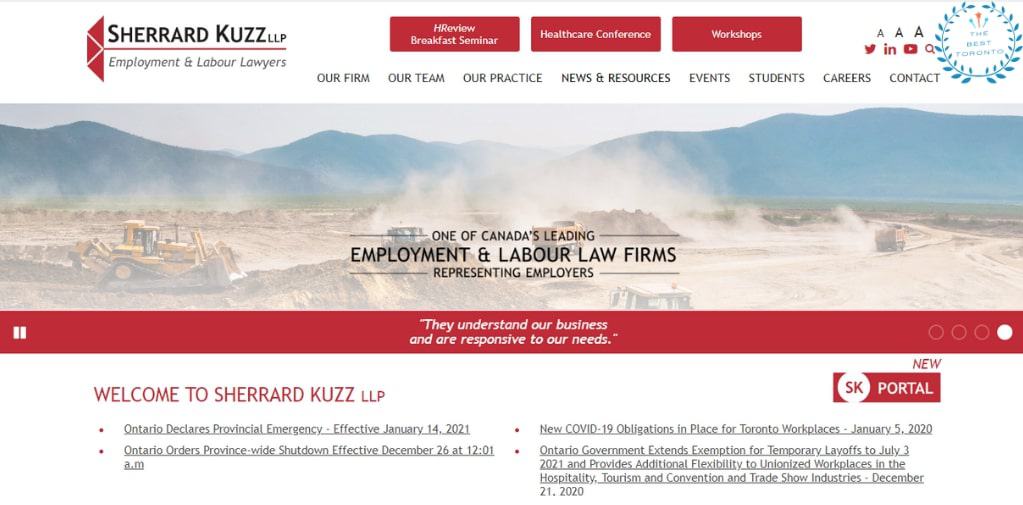 BEST FOR 
Legal services for employers
EXPERTISE
Administrative law, attendance management, civil litigation, employee relations, employee screening, employee contracts, grievance arbitration, management training, workplace investigations, and wrongful dismissal litigation
WEBSITE
https://www.sherrardkuzz.com/
ADDRESS
250 Yonge St, Toronto, ON M5B 2L7, Canada
CONTACT DETAILS
416-603-0700

[email protected]

OPERATING HOURS
Open 24 hours
If you're after the top employment lawyers in Toronton who can protect the interests of your company, then we recommend hiring the services of Sherrard Kuzz.
It's the leading employment and labour law firm in the country that caters to clients in all industries and sectors. Its client base is made up of domestic and foreign business and public and private companies of all sizes.
Sherrard Kuzz's areas of practice include collective bargaining, construction labour relations, employee compensation and benefits, management training, policy development and implementation, and attendance management, among others.
What sets it apart from other employment law firms is that it's accessible any time of day, allowing customers to get in touch even during weekends and emergency hours. It even has a policy to respond to clients within the same business day, or if possible, within the hour.
Pros
Accessible 24 hours, 7 days a week
Reliable customer service
Accepts clients from all industries
Cons
Rates tend to be high
Focused on employers' interests
6. Kenneth Krupat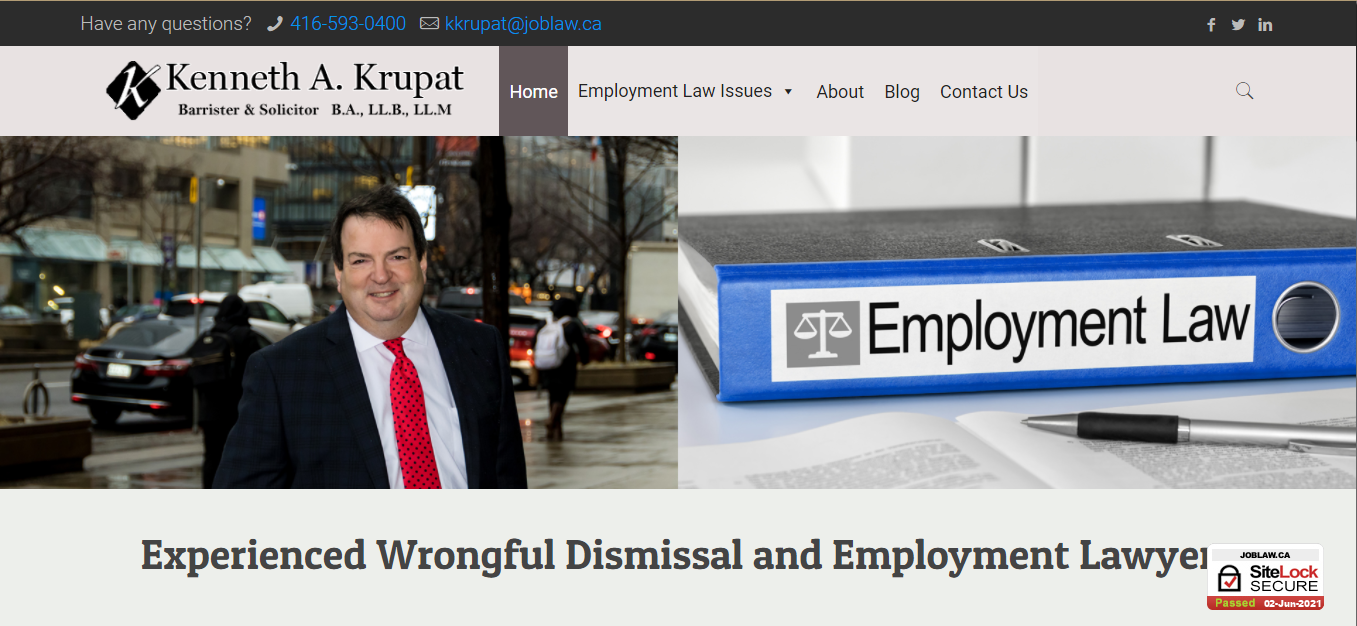 BEST FOR   

Wrongful dismissals

EXPERTISE

Wrongful dismissal, employment contract, human rights issues, workplace issues, working for a competitor, independent contractors, workplace illness and disability, pregnancy leave

WEBSITE

ADDRESS

393 University Avenue Suite 2000 Toronto, Ontario M5G 1E6

CONTACT DETAILS

(416) 593-0400

OPERATING HOURS

Monday – Thursday: 8:00 AM – 9:00 PM

Friday: 8:00 AM – 2:00 PM

Sunday: 10:00 AM – 4:00 PM
If you're looking for an employment lawyer because of possible wrongful dismissal, then Kenneth Krupat may be the one you need. Since 1994, Kenneth Krupat has been representing employees and employers alike for wrongful dismissal claims.
Aside from this specialty, Kenneth also offers his expertise in employment law for those reviewing employee contracts, filing human rights complaints, or facing an injunction. He can also cater to independent contractors.
Kenneth has also appeared in all levels of court, including the Ontario Supreme Court. He is also an active writer in employment law publications and sought after for conferences.
Probably the best thing about this lawyer is that he also offers virtual consultations via Skype or phone. So, clients who can't leave their homes can still benefit from Kenneth's legal expertise.
Pros
Virtual consultations

Expertise in wrongful dismissals

Has experience in all levels of court
Cons
Also has connections with employers
7. SpringLaw
BEST FOR   

Virtual, innovative and tech-savvy counsel

EXPERTISE

Employment, Labour, and Human Rights

WEBSITE

ADDRESS

120 Carlton Street, Suite 210,
Toronto, ON M5A 4K2

CONTACT DETAILS

OPERATING HOURS

N/A
As the world evolves, so too does the field of law. If you're looking for counsel regarding any issue with employment, labour, or human rights, then look no further than SpringLaw.
SpringLaw is a boutique firm comprising talented female counsel, all of whom advise on the wide range of legal issues that arise out of the workplace, from hiring to managing disabilities to terminations.
Another reason why we strongly recommend SpringLaw, aside from the firm's range of expertise, is its virtual workplace, based on a forward-thinking tech platform since its founding in 2017.
Every lawyer that is a member of SpringLaw works virtually, allowing clients access to their services regardless of where they are in Toronto. It's also very accommodating given the current state of the world.
One thing to note, however, is that the firm does not offer free consultations. Why? Simply because they take the time to learn about each case, which means time spent.
Not to fret, though, since the quality and thoroughness of their counsel more than make up for it.
Pros
Virtual consultations

Specialises in various employment issues
Diverse team of women
Cons
How to Look for the Best Employment Lawyers in Toronto
Now, we've done our best to find the top Toronto employment lawyers. If you still want to look around for more options, though, that's perfectly fine.
However, if you have no experience in dealing with lawyers, then you might have a hard time here. Keep in mind that there are hundreds of lawyers out there, making the task undeniably harder.
Even here, we're going to help you out. Here are some simple tips you can follow to find the top employment lawyer in Toronto:
1. Ask for recommendations from friends and family
One of the best ways to start your search for employment lawyers is to ask for referrals from trusted people. You can always ask for recommendations from colleagues, family members, and friends.
If you know someone who's dealt with a lawyer before (not necessarily an employment lawyer), you might want to ask for the name of the law firm. If their experience wasn't a pleasant one, then at least you know which ones to stay away from.
2. Consult with a lawyer with a different specialty
If none of your friends know an employment lawyer, then there's a huge chance that at least one of them has consulted with a divorce or family lawyer in the past. After all, they're some of the most in-demand lawyers in the country.
Book a consultation with them and pick their brains about which employment lawyers are worth hiring. Most lawyers are part of organizations that allow them to meet lawyers who specialize in other fields, so they probably know someone who can help with your workplace dispute.
3. Check your chosen lawyer's track record
Once you've made a list of employment lawyers to hire, it's time to dig deeper into their experience. An excellent lawyer will always have a solid portfolio to back up his name, showing all the types of cases he's worked on in the past.
We'd recommend going with an employment lawyer who has represented various employment cases over the past years, including those similar to yours.
It's also worth noting that there are two types of employment lawyers: one who handles employees' cases and another who focuses on the employer's interests. You need to make sure that your lawyer knows how to protect your interests either as an employee or employer.
4. Research if there are any ethics violations
Most countries, including Canada, keep a record of any disciplinary action against a lawyer. We'd suggest taking time to check if your chosen lawyer has violated any rule while practicing law.
Some of the most common violations are negligent representation, undisclosed conflict of interest, and misappropriating client funds. If your lawyer has committed any of these before, better drop them as soon as possible to prevent damaging your case.
5. Check their reputation online
The Internet has become like an online database of people's experiences with their lawyers. To know more about your chosen lawyer, you might want to search for his name on Google, Yahoo, Yelp, Linkedin, or even Facebook.
Most clients will post about their first-hand experiences in dealing with a particular lawyer. However, remember to take these reviews with a grain of salt because people who've had bad experiences are more likely to leave reviews than satisfied ones.
---
Anyway, that's it for our list of law firms with the best employment lawyers in Toronto. If you've already made a choice, don't forget to share them with us.
If you know of other employment lawyers worth hiring, tell us their names so we can check if we can add them to our picks.
By the way, if you suffered an injury while at work, then you might want to consult with the best personal injury lawyers in Toronto as well. We featured some of the top personal injury law firms on that list.