The 18 Best Movers in Toronto
Are you planning on moving to a new home soon? You can save a huge amount of time and energy by hiring the best movers in Toronto instead of doing everything on your own.
If you don't know which moving companies to choose, though, we have you covered. We combed through the entire Toronto area in search of reliable moving companies for all types of situations.
After revealing our picks for the top moving companies in Toronto, we'll also share some tips that might help people who haven't hired movers in the past. We've answered some questions about movers here as well!
The Best Movers in Toronto
1. CARGO CABBIE
First on our list of top movers in Toronto is CARGO CABBIE.
CARGO CABBIE began its journey in 2010 with the goal of making a notable change in the Toronto moving industry. The CARGO CABBIE team sought to do so by placing great importance in quality, especially in terms of moving, packing, and customer service.
In addition to that, CARGO CABBIE's quality of services have much to do with their team and equipment. The team at CARGO CABBIE have undergone rigorous checks and training to ensure that they can maintain the company's quality in every job taken on.
Meanwhile, equipment, such as the moving vehicles, are of the finest quality. The fleet consists of vans that are clean and fully-equipped, contributing to the success of every move.
Aside from service excellence, CARGO CABBIE is also noteworthy because of its consistency. No matter the day of the week or month of the year, you can expect only efficient moving services that effectively keep you stress-free.
2. High Level Movers
High Level Movers is a well-known professional moving business in Toronto, with a reputation for providing quick and reliable service. They have the essential equipment and relocation solutions for each client to deliver their services efficiently.
Local moving, long distance moving, and commercial moving are just a few of their services. We commend that they offer more than just moving services, as they also provide storage, cleaning, and waste removal.
They also specialize at packing their clients' things as part of their relocation services. For a stress-free move, they employ high-quality packing materials and intelligent packing.
Moreover, previous clients have stated that they are responsive and professional in their business operations. Some have also stated that their services are reasonably priced.
Aside from Toronto, High Level Movers also has different service areas in North York, Oakvilles, and 20 other areas. They have already handled 5,721 tons of goods with over 8,042 clients that rely on them.
Customer Reviews
Here are some testimonials from their clients:
"We engaged the company recently and we are super impressed with the professional services. It's truly exceeded our expectations as they move things faster than we thought and they took care of the furniture as well." – Kar Rui Tan
"The move couldn't have been more smooth. From the time we spoke to the nice lady on the phone ( I forget her name) till we said our goodbyes to the boys who worked incessantly for 9 hours, this was the best experience." – Jasmin SP
3. Torex Moving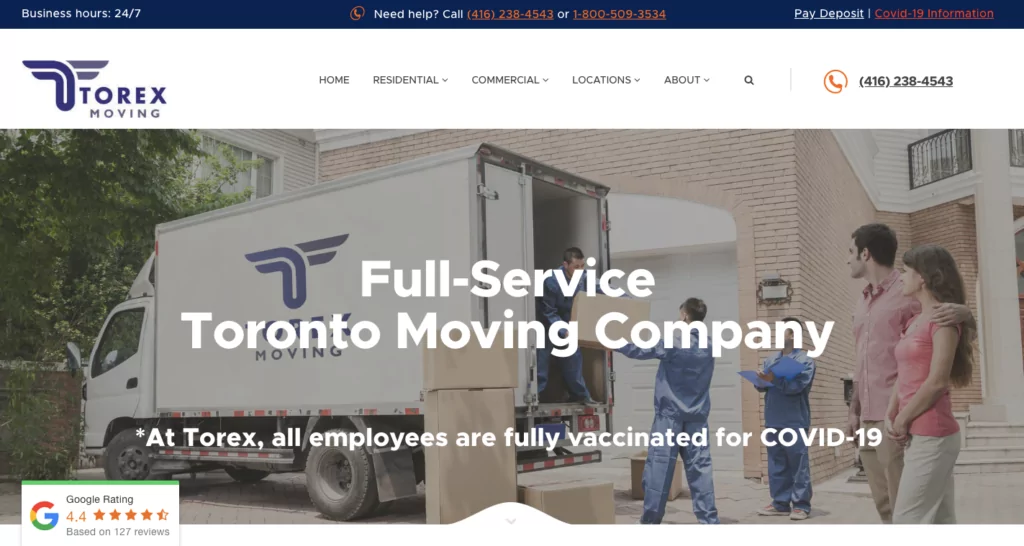 Let's face it, moving can be stressful and tiring. The sheer amount of planning, the anticipation of picking up and moving to a new area, and the chaos of the moving day can all add up to a stressful situation.
But who says that has to be the case?
Torex Toronto moving company's top priority is to make your move as easy and painless as possible. Their Toronto movers are here to assist you every step of the way. They can handle as much or as little of the process as you want, starting with a quick, affordable, and hassle-free quote that tells you exactly how much you can expect to spend. Furniture disassembly, packing, lifting, loading, and storing — just let them know what you need and they'll take care of the rest.
The last thing you need to worry about when planning a move is disreputable actors in the moving industry. Torex Toronto Movers has moved over 2,000 customers in Toronto, the GTA, and across Canada with professionalism, attention to detail, and pride in their work for over 13 years. But don't just take their word for it; their customers' feedback speaks for itself. And if something does go wrong, their customer service team is ready to resolve the problem quickly, decisively, and completely.
Torex Toronto Moving Company only hires professional, experienced movers who excel at providing excellent customer service. They are fully licensed and insured, so you can rest assured that we will treat your valuables as if they were their own.
Customer Reviews
Here are some feedbacks from their clients:
"Not cheap, but booked me in very last-minute & provided a professional, quick & friendly team for my move. Some confusion over the final total, but received a quick response with full info & explanation. A case of "you get what you pay for" with Torex!" – Sylvia Travis
"Mike and Abby were wonderful! Quick, efficient, friendly and accommodating!! Ask for them when making your move!!!" – Amika Thomas
4.   New Era Moving
New Era Moving is one of the top-rated moving companies in Toronto, boasting a perfect average rating of 5 out 5. It can facilitate all types of moving services too, including piano moving, long-distance moving, and furniture assembly, among others.
Some of the areas it services are Mississauga, Vaughan, Oakville, Woodbridge, Thornhill, Richmond Hill, Brampton, Pickering, Ajax, and the entire Greater Toronto area. If you're opting for personalized moving services, it might be able to cover other areas (just ask their people!).
As one of the best movers in Toronto, New Era Moving offers senior-assisted moving services, created for seniors who need help in relocation. Its full-service moving team will take care of everything, from decluttering to transportation.
If you're after a moving service where you don't need to lift a hand, then we'd recommend its personalized moving services. However, expect that it will be a lot more expensive.
There are also short-term and long-term storage spaces available for those who don't have enough space for furniture in their new home.
Customer Reviews
New Era Moving has a perfect 5 out of 5 rating on Google Reviews. Here's what some customers had to say about its services:
"Great experience. Friendly courteous crew (B, B and R) arrived in the morning with a big truck, smiles and muscles to move our furniture from one house to another. Aaron responds to calls or messages immediately. Great follow up. Customers fill up an inventory form online to get a better estimate. (Moving is hard work. Don't underestimate that.) I would recommend their services."
"I had a great experience with New Era Moving. The process was straightforward and their prices were very reasonable. I researched/contacted several moving companies in advance since I heard about the bad experiences that people tend to have with movers. I am glad that I finally settled with New Era Movers. I really appreciated their professionalism, timeliness and follow-up to ensure that everything went smoothly."
5. My Ninja Movers
My Ninja Movers may be a small moving company compared to its competitors, but it has managed to earn the trust of thousands of customers due to its efficient and fast services.
For one, they try to keep their rates as affordable as possible for both residential and small office moves, including long-distance moves. They do not charge customers hidden fees or last-minute charges, which can be common among moving companies.
In terms of service area, My Ninja Movers caters to residential homes and business spaces throughout the entire Greater Toronto Area. For long-distance deliveries, they can accommodate areas as far as southern Ontario and out to cottage country.
They refer to their moving crews as "ninjas" who are guaranteed to arrive at your place on time and equipped with the right moving tools. The movers are also armed with blankets, dollies, tie-down straps, mattress covers, ropes, and tape to protect your belongings.
My Ninja Movers can also point you in the right direction for where to obtain cardboard moving boxes and supplies or plastic stackable rental boxes
Customer Reviews
As one of the top movers in Toronto, My Ninja has received over 200 positive comments on Google Reviews. Take a look at some of them:
"I had an excellent experience with My Ninja Movers this past weekend. I received a quote promptly and the communication with staff was great leading up to the move. Nicky and Ken were very friendly, efficient, and took great care of my belongings; delicate items and large furniture was wrapped and there was no damage during loading, unloading or on arrival. Unfortunately, I underestimated how much stuff I had to move and they reassured me that it would be fine and the rates were really reasonable. Moving is stressful (even more so during COVID!) and they did a great job. Would highly recommend this moving service to friends and family."
"I had a small move from a difficult basement apartment in Toronto to Hamilton. The quote was significantly cheaper than everyone else I reached out, I had budgeted for it to take a bit longer. As all the other reviews say they finished early! super easy I didn't lift a thing, went for a walk while they did everything. Staff we polite, fast and took great care of all my furniture. lots of heavy vintage furniture too, no problems! 11/10 recommend, I had heard so many things about movers costing way more than they quote, very very happy it was less than expected."
6. Let's Get Moving
Let's Get Moving is among the few movers that operate until the weekend, which is perfect for those who don't have free time during weekdays. It's a full-service moving company that caters to both residential homes and commercial spaces.
Since it's a full-range mover, its crew will take care of everything, including packaging items, loading, transportation, and even assembling furniture in your new home.
In the event of an accident, no client will be held liable because all of its movers are covered by workman's compensation insurance. It's a fully licensed moving company too, so all properties will be covered in case of damage.
Let's Get Moving charges clients on an hourly basis, which can lead to higher fees for long-distance relocations. Its fees already cover everything, though, including the insurance, so at least there are no hidden fees.
It also offers junk removal services where its movers will take away all your unwanted furniture and household items at your convenience.
Customer Reviews
Let's Get Moving has a near-perfect 4.9 out of 5 rating on Google Review, making it one of the top-rated movers on that platform. Here are some comments shared by its customers:
"Recently used a moving service for the first time and I chose Let's Get Moving as I had read all the positive reviews. I was not disappointed. Vlad and Ryan arrived promptly on time and began working right away, not a minute was wasted. They packed all my items with care and safely transported them to two different locations. Unloading was even quicker! Very impressed, great job guys."
"Our movers were fast, efficient and professional! They arrived on time and got straight to work. There was no slacking off or slowing down. They moved quickly to get us packed, loaded and unpacked again. Our furniture was disassembled and reassembled and all our belongings were handled with care at every stage of the move. I would not hesitate to use Let's Get Moving for any future moves and highly recommend them! My daughter has already said that when she moves out she'll contact Let's Get Moving. An excellent, five star job all around!"
7. The Six Moving
The Six Moving is a residential and commercial moving company that serves most of Toronto and a few neighboring areas. It employs a large team of movers who can handle all types of moving jobs, including assembling and packing furniture.
It accepts any size of moving job thrown its way, even if a customer only needs to move a single piece of furniture. On the other hand, it's more than prepared to handle extensive and large-scale residential and office relocations.
In terms of fees, it promises to keep its rates as reasonable as possible, with no hidden and last-minute charges. It doesn't even charge clients disassembly and assembly fees.
All of its services, together with its movers, are bonded and insured to protect the interests of its customers. You won't have to worry about anything in case of damage or accidents.
Another reason it's been called one of the best movers in Toronto is its dependable customer service. Its customer service reps are always available to answer the queries and concerns of each customer.
Customer Reviews
Here are customer reviews providing that The Six Moving is one of the most reliable movers in the Greater Toronto Area:
"The Six Moving was prompt, courteous and professional. They made our moving experience relatively stress free even though it was pouring rain! Zara is extremely organized and is a pleasure to work with. The rest of the team made moving our large furniture look so effortless as they finessed around the tight corners of our downtown home. We couldn't be happier with the experience and highly recommend The Six Moving."
"I had the best experience with The Six Moving company. We were moving from one unit in our building to another and they were amazing! Great price and Zara and Alex took care of everything, including a crazy heavy kitchen island up a steep flight of stairs. They were totally cool and treated all our possessions with respect and care. I honestly couldn't have asked for better service and treatment. I would absolutely recommend them with no hesitation."
8. Number 1 Movers
If you're planning to move outside Toronto, then we recommend taking a look at the services of Number 1 Movers. It's one of the few moving companies in the area that provide cross-country and international transportation options.
Other services provided by Number 1 Movers are local moves, office relocation, senior moving, packing services, and storage services, among others. You may opt for its customized moving services to cater to your specific needs.
Free wardrobe boxes will be provided to all customers, regardless of the size of the moving job. Its movers will also assemble and disassemble furniture at no extra charge.
Speaking of movers, every person on its moving crew is protected by the Workplace Safety and Insurance Board in case of accidents. No client will be held liable for anything when its movers get injured.
No worries about transporting fragile items either because its movers use moving blankets, rubber floor mats, and other special equipment to prevent damage.
Lastly, Number 1 Movers accepts payments from PayPal and all major credit cards, including Visa, Mastercard, Discover, and American Express.
Customer Reviews
Take a look at these service comments shared by satisfied customers on Google Reviews:
"The team at Number 1 was AMAZING! They arrived on time and packed our entire kitchen. They were extremely professional and despite my initial information to the company that was incorrect with the amount of items we had, the guys worked double the length of the day to make sure everything was done. They worked on a Saturday till 10:30 at night to make sure our move was perfect and done! I can't say enough good things about the crew that packed our house and would highly recommend Number 1 to anyone moving!!"
"I just got my things today and wanted to say thank you. You and your team made the whole process very easy and all went very smoothly and according to plan. From the start, we had great communication and the sales rep explained everything I needed to know. He also gave me a good deal and I couldn't ask for a better service. The moving team was great too and very accommodating. I'll be recommending Number 1 Movers to others and I will be calling you again if I ever need to relocate."
9. Smart Movers Canada
If you're looking for a moving company that offers flexibility in terms of distance, items moved, and type of property being moved from/to, then Smart Movers Canada may be one of the best options for you.
This moving company offers a wide range of moving services, which includes residential and commercial moves, long and short distance travels, and even safekeeping for clients in need of storage spaces. Regardless of the service one chooses, Smart Movers Canada offers the option to have their expert movers do the loading and unloading for the client.
Another thing worth noting is the security and insurance they offer clients. Smart Movers Canada comprises highly qualified, professional movers who have years of experience in the field.
They treat each item moved as if their own, taking great care in its transportation. On the off-chance that things do go awry and something breaks, clients need not fret since Smart Movers Canada self-insures and will work to replace the broken object.
Customer Reviews
Take a look at these service comments shared by satisfied customers on Google Reviews:
"Great service! The team is pleasant and professional. There were some unexpected challenges but the team troubleshooted on the spot and finished the job within shorter time than expected. I highly recommend using their services!"
"Very good experience with these movers. I called in for a pool table move, not only did these guys come on time they came earlier then expected. Dismantling the pool table in under 1 hour and re assembling it in just over an hour. They also took the time to level it professionally being very specific in what needs to get done. I would definitely recommend these guys again"
10. Max Moving Corporation
Next on our list is a moving company that seeks to make the process of moving as seamless as possible. Max Moving Corporation does so by offering fairly priced moving services, which include long-distance and local moves for both residential and office properties.
Another noteworthy thing about Max Moving Corporation is its team of movers. With years of experience under their belts, these movers have been commended for their punctuality, professionalism, and meticulousness in every moving job.
Clients with extremely rare, expensive, or old items need not worry about the move if they choose Max Moving Corporation. This company takes note of every item that's included in the move, and will put extra care in managing fragile items.
Those in need of help with the packing process before the actual moving date need not look further since Max Moving Corporation also provides excellent packing services as well as the supplies needed.
Customer Reviews
Take a look at these service comments shared by satisfied customers on Google Reviews:
"I have worked with MAX MOVING exclusively for over two years and in that time have called upon their services for 50+ moves. Vlad, the owner of Max Moving, has never hesitated to accommodate my last minute requests/changes and continues to provide my company with efficient, professional movers who take the time to carefully wrap and protect my furniture as well as my clients furniture. In my opinion, hiring Max Moving Corp is a no brainer!"
"I moved a 2 story detached home and garage in Etobico. Alex and his team were awesome. Great communication prior to the move and the move itself was silky smooth, quick, they took great care and wrapped all my furniture. The employees were all well groomed, polite and professional. I don't have a single negative comment but only praise for these guys. I recommend them highly!"
11. Hercules Moving Company
Hercules Moving Company is one of the best choices for comprehensive moving services. It offers local, cross-country, and, for the first time in this list, international moving services.
Clients with residential and commercial properties alike can avail of these services. Moreover, those who need to transport important fragile items, like antiques and appliances, need not worry since HMC has a dedicated service for such items.
Another service from HMC worth noting is moving and storing — perfect for clients who require extra space throughout the moving process. There are options for short-term and long-term storage, as well as cross-warehouse transportation.
Lastly, Hercules Moving Company also offers packing and unpacking services to all of their clients, ensuring the security of every item in every step of the move.
Customer Reviews
Take a look at these service comments shared by satisfied customers on HomeStars:
"My wife and I were extremely impressed and satisfied with the entire process. Igor was more than helpful over the phone and via email answering any of my questions and Simon and the crew that came out were efficient and very professional the entire time.
I would highly recommend using Hercules Moving Company for your next big move."
"Moving to the east coast during the pandemic and Igor and his group were first class the whole way. Drivers arrived early and no damage to a full house of furniture. The movers were focused and got the job done carefully and quickly. Hercules was in communication with me throughout the move and it was a great experience all around at a great price!"
12. Francis Movers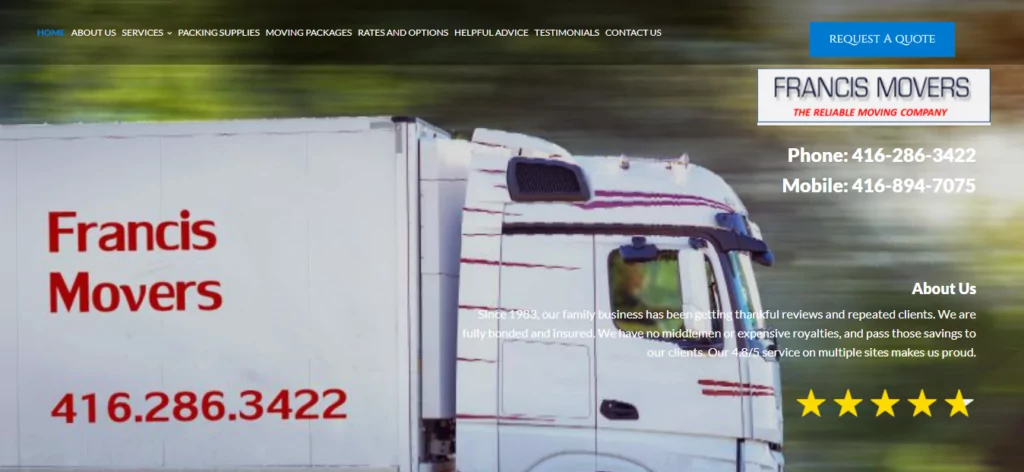 Francis Movers is yet another one of the best movers in Toronto. Since 1988, it has been providing cost-effective and hassle-free moving services and temporary storage solutions.
This mover offers numerous benefits, with the first being its free on-site estimates. Because it checks the pick-up points, Francis Movers also guarantees to provide honest estimates without any hidden fees or charges.
Next, it even provides wardrobe boxes, furniture assembly, and packing services for convenience. Additionally, it sells moving supplies at wholesale prices so customers who want to do their own packing may still benefit from Francis Movers.
The moving company even offers mid-month discounts to help ease the financial struggles of moving. Francis Movers also extends its services to business owners as it also does office relocations.
Despite these benefits, we've also read complaints regarding Francis Movers' late arrival. Some customers also expressed their discontent over the company's poor accountability.
Customer Reviews
Francis Movers has been praised for its responsive attitude during scheduling and its courteous staff. Here are some reviews that tell the same thing:
"In advance of my move, Matthew of Francis Movers was very responsive and took time to answer my questions and packing materials were the best price I could find in the city. On the day of the move, the crew that showed up were as professional, friendly, helpful and courteous at the start of the day as they were at the end of a very long move day. I had a lot of items to move, which included having to store items in the basement of an old home, and they got all my belongings moved without any issues. My requests were met with a willingness to help and they delivered! Moving can be very stressful however the Francis Movers crew minimized the stress of the move day. "—Margaret Gilbey
"We had a great experience from start to finish! The packing crew came with all the supplies and packed us up so efficiently. They were a pleasure to work with. The moving crew was amazing! They were friendly, fast and knew what they were doing! They reassembled all the furniture perfectly! I will definitely be using them again!"—Fraida Adler
13. Downsizing Diva
Downsizing Diva is one of Ontario's most experienced and highly trusted home transition team management. The company offers an array of management services, including help with downsizing and decluttering, home sale preparation, moving support, and post-job cleanups.
The Downsizing Diva team is dedicated to getting the job done with care, compassion, and communication. Since 2001, these Senior + Specialty Move Managers have been helping people downsize, organize, move, and clear estates.
They are prompt, professional, and very thorough regardless of the size of the property and items within.
14. Easy Moving

Moving is one of the most stressful situations in people's life. If you want to ease the burdens of your move, consider hiring one of the best moving companies in Toronto.
Easy Moving is one example of such. When it comes to moving services, Easy Moving makes an excellent choice, given how they accommodate both residential and office moves.
In addition to that, they offer other services, including packing and unpacking, furniture assembly, transportation, loading & unloading, storage options and more!
Easy Moving accommodates clients from Toronto, Ottawa, and Montreal. The moving company is open to moving all across Canada and even caters to clients who are moving out of the country and to the United States.
Clients can get free estimates online and may reach out to Easy Moving for more details about their services.
15. New Era Moving Services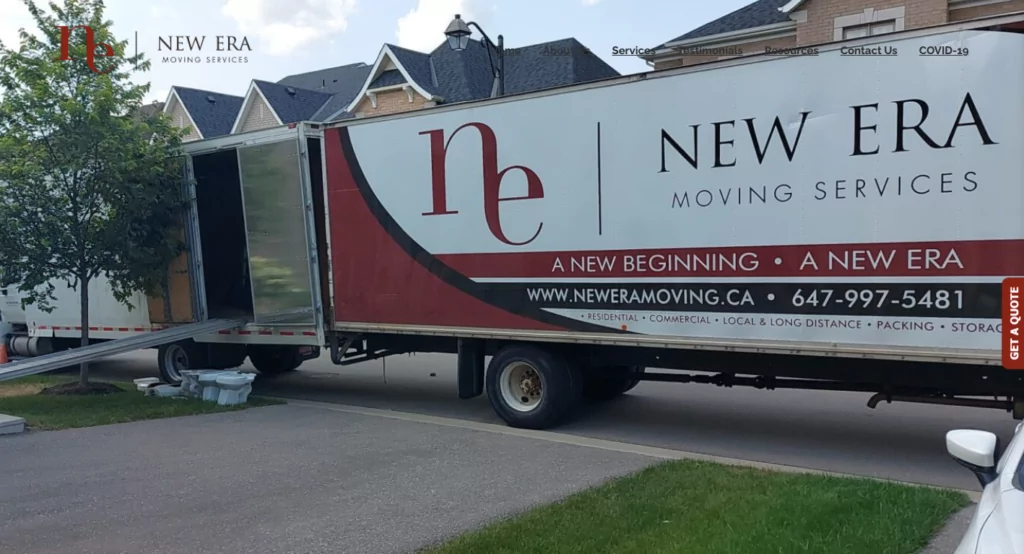 Whenever we choose our movers, we would want to get help from someone who would be taking care of our precious belongings like their own.
Homestars Best of the Best Winner this 2022, New Era Moving Services provides the leading service in the industry as their main goal is your satisfaction.
Supported by the testimonials of their new and returning customers, they ensure consistent and exceptional service for your moving needs. Their services are on time, has a competitive pricing, and sees to it that safe handling and efficiency is in place.
We are impressed with this moving company becase aside from residential and commercial moving services, they also offer their service for professional packing, safe & secure storage and most importantly, professional piano moving services.
Plus, they are hands on with their clients for it is seen on their website that they provide a step by step guide to prepare for your upcoming move, easy steps in choosing the right moving company for your needs, things that you need to know about moving in the winter time and their top 3 tips for summer moving.
They will not also make you worry this pandemic for they ensure that for every move.
They will be cleaning and disinfecting their trucks and equipment, that every morning there is a pre-screening for their crew member and a day before for all clients, it is mandatory for all staff to wear a mask and practice physical distancing whenever possible and of course hand sanitizer has been provided bby the company for all crew and staff.
Customer Reviews
Outstanding Service
"Colin and Aaron are extremely professional. We had an issue with our building having ridiculous requirements to move out and they did everything they could to try and help us. When it didn't work out, they kindly returned our deposit as they understood it wasn't in our control. I hope we get to work with them in the future, as just from my initial calls with them and the way they handled this situation- I was impressed. It says a lot about a company when they treat you well, even when they don't get a payout. Highly recommend them!"
Great Experience During Project Estimate And Quoting
"I booked New Era for our next move end of March.
The experience so far during the project planning and estimate phase was positive and gives us hope for a stress free and successful moving day. Colin came to our home in person to provide an accurate estimate and put together a plan, showing real professionalism."
Great Movers Who Have Been Consistent Every Time
"I have used New Era for 3-4 of my moves and they have been an excellent group of people to work with every time. Their pricing is transparent and their team is very hardworking and accommodating. They treat your items as if it's their own and are very easy to work with. I can't recommend them enough. From Aaron and Colin, right down to the various front line workers who have moved me and my family over the years. They have all been great to work with and I look forward to future moves with them as well."
16. The Box Spot & Consolidated Moving + Storage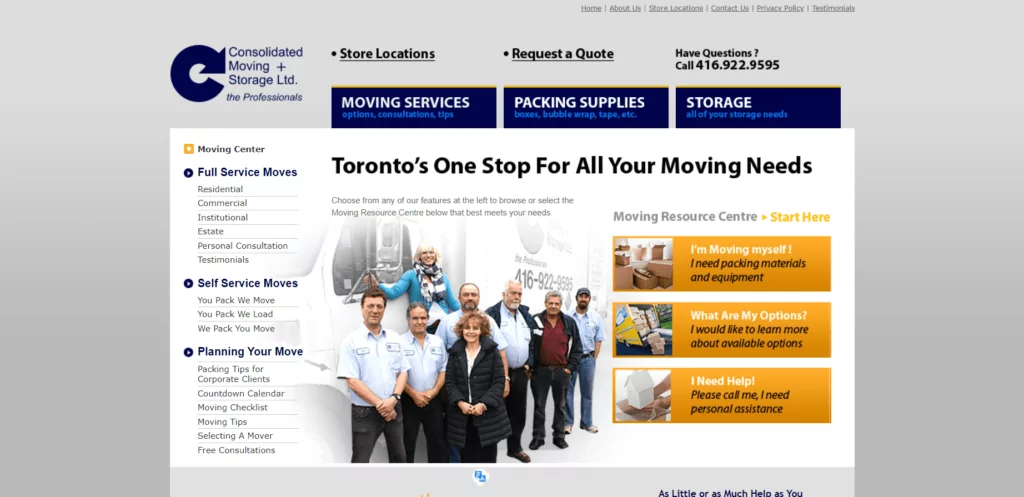 If you're looking for a time-tested moving company in the Toronto area, then The Box Spot & Consolidated Moving + Storage may be the one for you.
The Box Spot & Consolidated Moving + Storage prides themselves on one-on-one consultations whenever possible to address their clients' unique moving questions, concerns, and project needs so that they can achieve their set goals. In fact, they've done so well in customer service that they managed to be one of the best even after years in the business.
Since 1979, The Box Spot & Consolidated Moving + Storage have worked tirelessly to help people move for businesses or personal reasons or to simply get access to some of the finest moving boxes in Toronto and GTA. They even guarantee the safe moving of delicate laboratory equipment for hospitals and such.
If we had to nitpick something about them, it would be that doing consultations with them in a face-to-face manner could be more productive than having it done remotely. They also do not have base rates available online for initial canvassing.
However, if a time-tested is your priority in looking for a moving company to help you with your moving needs, then we'd highly recommend The Box Spot & Consolidated Moving + Storage.
Customer Reviews
Time-tested Service
"I recently sold and bought a residence within Toronto. My original closing date was changed to ten weeks earlier, so I had to quickly find a moving company. I thought of Consolidated who had moved my household 16 years earlier. Jackie, the office contact, was able to fit me in on the date I needed. Their affiliated company, The Box Spot, provided excellent advice on the size of boxes for various items. Marvin and his team did a perfect job in moving furniture, carpets, boxes, etc. This company is truly worthy of five stars!"
Friendly and Accomodating Staff
"Excellent service! I had requested a move of a 160lb professional table from my basement Mario and his team fit me into their busy schedule and moved it working as a team Jackie in the office was very friendly and accommodating. Would use them again. Highly recommend!"
17. Augusta Movers
Augusta Movers has been around since 2010, and since then, they've received numerour awards for their moving services.
What we like about them is their straightforward and simple process. You simple have to request a quote, tell them more about your move, then they'll send you a quote, once you accept the quote, you can book your move, and they'll be there.
We don't want to forget to mention that the quote they will give you is all for free.
What also impresses us is the many services they offer. They can help with residential, commercial and business moving, and long distance moving.
They also have packing and storage services, and they also sell supplies for packing.
So many of their customers are happy with their services and only have good experiences with them, which makes us confident to recommend them.
Customer Reviews
"I had a great experience moving with Augusta Movers. Their team was hard-working, courteous and professional. It was clear that they were experienced and knowledgeable on how to pack and move my belongings with care. They provided the most detailed estimate of all the companies I contacted and made me feel confident in selecting them. Prior to the move, they were available for my many questions and made an otherwise stressful day run seamlessly! I would highly recommend."
18. Energy Crew Moving & Transportation
Energy Crew Moving & Transportation is a company that offers full-time packing and transporting services that are both comprehensive and ideal just for any scenario that the client may need. Due to their diverse experience in the field, they are among the area's highest-rated moving companies that clients continuously trust.
What we like about their services is that they make sure to give back to the community by implementing student and senior discount programs to build more lasting relationships with their clients.
There aren't packages that clients can choose from, but they do offer a free online quotation service that is readily accessible on their website that is free of any obligation.
May it be office or residential moving, they employ adequate equipment and tools to ensure that the items being packed and moved are secure and safe from loading to unloading.
Overall, their past clients have commended their friendly and professional customer service and how they efficiently approach each job so that they can get the job done in a timely manner and on schedule.
Customer Reviews
Here are some reviews from their clients:
"I am so unbelievably happy with today's move! The guys were beyond incredible. They were careful, they were quick, and they knew what they were doing. I wouldn't hesitate to recommend you to anyone. If you ever need a referral I'm your man. Thank you very much." – Stephanie Widenoja
"Just wanted to let you know how impressed we were with the crew that helped us move today. All the guys were upbeat and friendly (there's nothing worse than a sulky, surly mover). We'll definitely recommend Energy to those looking." – Ruth-Anne Maclntyre
How to Find the Top Movers in Toronto
Looking for a moving company is never an easy task, so we're here to make everything a whole lot easier for everyone. If you haven't tried hiring movers in the past, here are some tips that will help you find the right mover within your budget.
---
And with that, we conclude our list of the best movers in Toronto. If you've consulted with any of these movers in the past, share with us your experience with their services.
If you know other moving companies in the area worthy of being part of our list, don't forget to tell us their names. We might check them out to see if we can add them to our list.