The 5 Best Building Inspectors in Toronto
Selling or buying a home or commercial property? You don't want costly structural or cosmetic flaws, of course, so it's important to get a building inspector to check for those.
Fortunately for you, we're checking out the best building inspectors in Toronto today. We picked out the inspectors with the best packages, competitive rates, and high customer satisfaction.
Before we get into the reviews, let's talk about the potential costs first.
The Cost of Hiring Building Inspectors in Toronto
The price depends on the building inspector doing the job and other factors subject to their terms. These include the inspection packages they offer, usually depending on the type and size of the property.
In general, you can expect the costs to be around $300 to $600 for a traditional inspection. Some companies offer add-ons like thermal scans, which would increase the cost.
A full-package home inspection (with thermal scans, air testing, etc.) usually starts at $1,200. If you want to customize the add-ons you get, that's possible too depending on the inspection company.
See the table below to understand the possible prices better:
| | | |
| --- | --- | --- |
| Type | Estimated Cost for a Standard Inspection | Estimate Cost for Extended Inspection (with infrared thermal imaging) |
| Single Home or Townhouse (up to 1,000 sqft) | $250 – $400 | $350 – $400 |
| Single Home or Townhouse (up to 2,500 sqft) | $375 – $380 | $450 |
| Single Home or Townhouse (up to 3,000 sqft) | $360 – $400 | $500 |
| Condominium (up to 1,000 sqft) | $250 | $300 – $325 |
| Condominium (over 1,000 sqft) | $300 | $300 – $375 |
| Commercial Properties | Quote request required | Quote request required |
The Best Building Inspectors in Toronto
Now that you have an idea of the inspection costs, let's dive into Toronto's best building inspectors. We suggest taking note of the packages they offer too, as you'll often get better deals out of these services.
1. Clearview Home & Property Inspections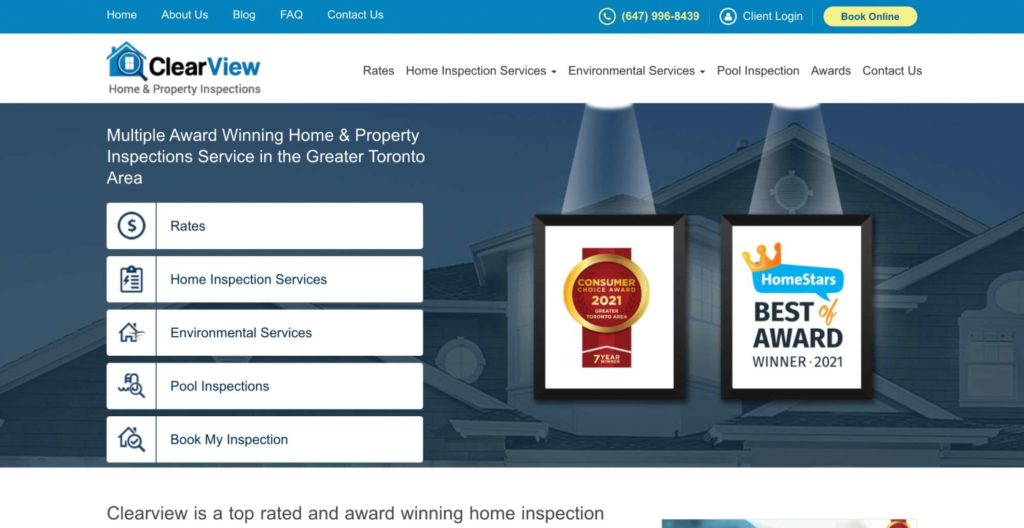 SERVICES
Pre-purchase home inspection, pre-listing home inspection, pre delivery inspection, commercial property inspection, indoor air quality investigation indoor air sampling, home maintenance inspection
WEBSITE
https://www.cvhi.ca/
ADDRESS
338 Falstaff Ave #510, Toronto, ON M6L 3E8, Canada
CONTACT DETAILS
(647) 996-8439


[email protected]

OPERATING HOURS
Monday – Sunday: 8:00 AM – 10:30 PM
This 13-time winner of HomeStars Best of Award also won our attention for many reasons. We think it's a great choice for commercial and residential buyers and sellers.
Let's start with its inspection packages, which in our opinion should be a standard for convenience and great rates. Each inspection package is comprehensive and details the services involved with upfront costs.
For example, they offer Package 1, which is a traditional inspection for pre-purchasing or pre-listing of properties. This service starts at $300 ,which falls within the average in Toronto.
Apart from this, they also make dealing with them as easy as can be. As fans of convenience ourselves, we love the easy online booking option where you can see their available dates and time.
We also value easy-to-understand written reports: that's why we like theirs. The report you'll get is detailed, with images, maintenance tips, and price ranges for basic repairs.
Finally, a good attitude always seals the deal with us. We admire their promptness, reliability, and patience that many other past clients also loved.
While all things seem good, one client complained that they missed a critical flaw that cost them thousands in repairs. But we dug through hundreds of positive testimonials first before we heard this, so at this rate, you'll most likely get satisfactory service here, like most others.
Registered home inspector
Comprehensive residential and commercial packages
Great environmental services
Offers pool inspection services
Upfront costs
Easy online quote request and appointment booking
Detailed written report with images provided
Open every day
Insured
Has workers' compensation
Missed certain home issues in past projects, according to a former customer
Customer Reviews
Take a look at what past customers have said about this company:
Tom from Clearview was very professional and explained and walked myself and family through the inspection process. He was able to discover and help us understand many of the issues we had at our new condo. The associated report we got at end of the day was the cherry on top. Overall great quality and good value. I would greatly recommend his services to friends and family. – Quentin Shao
I used clear view house inspection for two houses and I am more than satisfied with the inspection process. They provide a very detailed report and include pictures of everything they think that needs attention. I will highly recommend them to anyone who wants a clear picture of the house they want to buy. – Yamuna Jayabalan
2. 4 Sight Inspections Inc.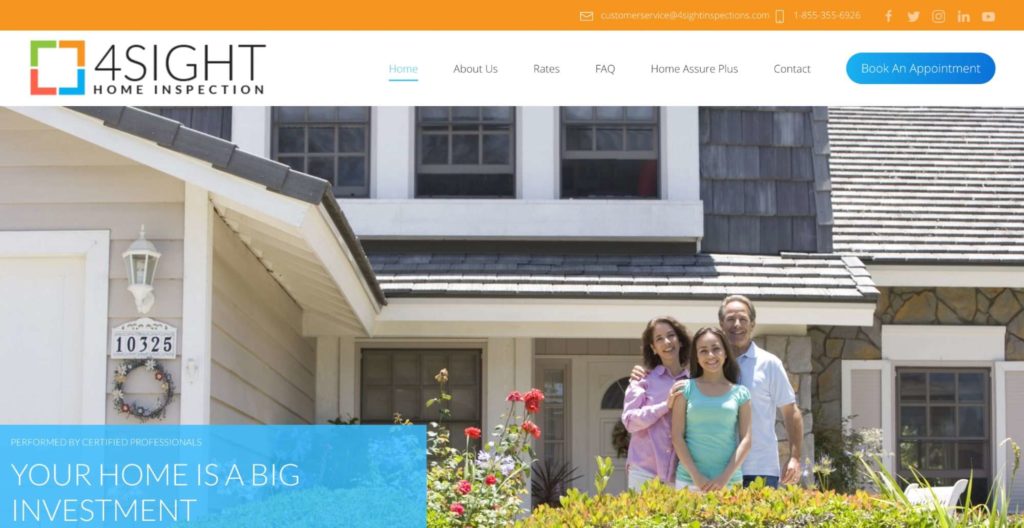 Working with 4 Sight Inspections made us believe that confidence is really key to success. And they'll take extra steps just to prove it to you.
For starters, we took interest in its comprehensive home inspection packages. Each one is tailor-fitted for certain types of homes (detached, townhouse, etc.) with rates readily available for clients.
Speaking of rates, it earned a thumbs-up from us by charging within the average in Toronto. With them, inspections can start for as low as $300, but none exceed $400, which is an awesome deal.
What we liked best about this company is their Home Assure Plus package, which is really a good symbol of their confidence in their work. Let's discuss this a bit because it's included in all the home inspection packages they offer:
The Home Assure Plus includes a $1,000 home inspection guarantee. This means if they miss an issue during the inspection, they'll pay up to $1,000 to fix it – pretty cool, right?
You'll also get one-year revisit assurance, which means that they'll stick with you for one year to assist with the flaws you find in your home. Some companies also offer this so it's not groundbreaking, but it's great for your peace of mind.
Finally, they hooked us with their amazing personality and friendliness, which put many of their other clients at ease. And we're really suckers for great service from great people.
As with our previous entry, we also found complaints on a couple of missed anomalies and an inability to respond after booking. Fortunately, they already reached out to these clients, and all issues were fixed, as far as we can tell.
Certified master inspector
31 years of experience
Comprehensive home inspection packages
Competitive rates with no hidden charges
One-year service assurance
Easy online appointment booking
Insured
Issues with responsiveness and missed home issues
Customer Reviews
Here's what past customers have said about this company:
Michael is extremely knowledgeable and professional. He was very flexible with the date and time we needed him for our inspection. He also took the time to explain things in great detail. 10/10 experience. We will definitely be using his services again in the future. – M. Angelica Idrobo Tellez
4Sight Home Inspections provides a seamless experience from booking to post inspection. Steve inspected our new house today and we had a great experience. We arrived at the property to see him already started on the exterior. He thoroughly examined all areas of the home and gave us so much useful information to make our home safe and functional. Not only was he professional but he was also very friendly, and had a great personality. We received our complete report within hours of the inspection. We will definitely use their services again! – Holly de Jong-Gauthier
3. Allmax Home Inspection and Property Services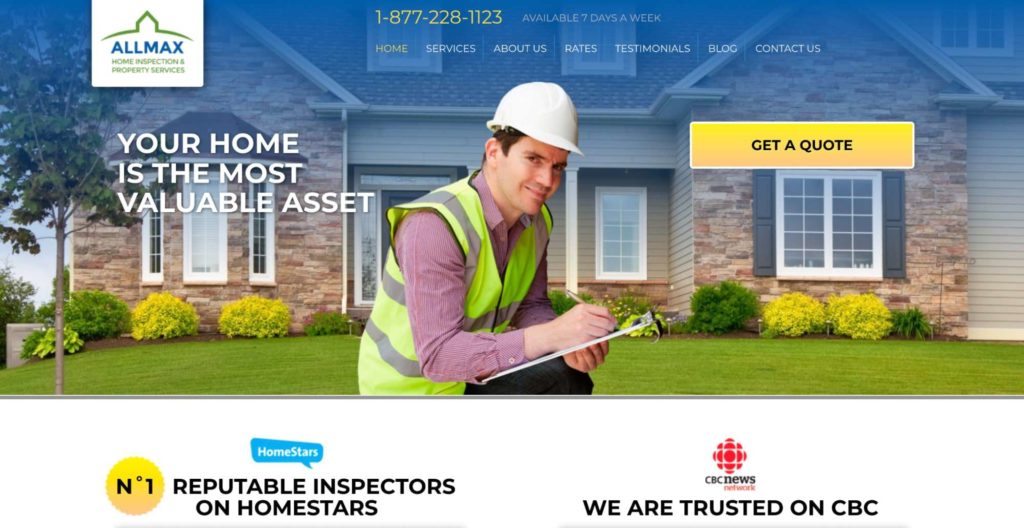 SERVICES
Pre-buying home inspections, pre delivery inspection, pre-listing home inspection, commercial property inspections, home maintenance inspections, indoor air sampling and indoor air quality investigations
WEBSITE
http://allmaxhomes.ca/
ADDRESS
7851 Dufferin St., Suite 500 Thornhill, Ontario L4J 3M4
CONTACT DETAILS
1-877-228-1123


[email protected]

OPERATING HOURS
Open 7 days a week
Allmax Home Inspection takes the throne for fast service and a great Tarion warranty for a home inspection. Let's get into the details so you'll know more about them.
Tarion is an institution that provides home warranty protection in Ontario. Through this company, you can get either a 30-day or 1-year Tarion warranty inspection.
These warranty inspections give you a safety net in case your builder misses defects in your home. Tarion only accepts one form submission and this company will help you correctly fill it out, so that's a point for customer service.
In line with service, we like that they offer inspections to many areas in Toronto and GTA. This guarantees that they can accommodate your needs wherever you might need them (if they serve in that area).
Speaking of accommodation, online booking and quote requests are also easily done online. Add a detailed report to the picture and you get a great inspection service.
Another thing we liked is their comprehensive pricing table and inspection packages. The costs also won our favor by not going beyond the average rates in the city.
Finally, we love their fast response to clients, with customers saying that they even respond on short notice. And if you book them today, they'll be at your place as early as the following day.
The issues are pretty much just the common ones, with one client complaining that they missed a flaw, while another said that his report came in late. These are serious wrinkles, but they're in a definite minority compared to the towering praise they got from most of their past clients.
Certified home inspector
120+ years of combined experience
Free phone consultation
Easy online quote request and appointment booking
Upfront costs and competitive rates
30-day Tarion warranty inspection
1-year Tarion warranty inspection
Insured
Has workers' compensation
Open daily but hours are unclear
Missed home issues according to a few past clients
Customer Reviews
Here are some of the reviews left by its past customers on Google Reviews:
AllMax did an excellent job performing the home inspection for my recent purchase. They were extremely knowledgeable, thorough, and diligent in his work, and had his report with findings and recommendations to me on the same day. Because of his thoroughness, I re-negotiated the price down with the seller to compensate for some of his findings that need to be addressed. If you need a professional home inspector in Toronto, AllMax will do an amazing job for you. You will not be disappointed. – Grégory Fortin
Alan was awesome. From booking the inspection through to post inspection I have been incredibly impressed. The inspection was very, very thorough. He explains things in an easy to understand way. His reports are clear and focus on the important stuff. Would definitely recommend AllMax Home Inspection to anyone looking for a home inspection. – Robert Lee
4. Carson Dunlop Home Inspection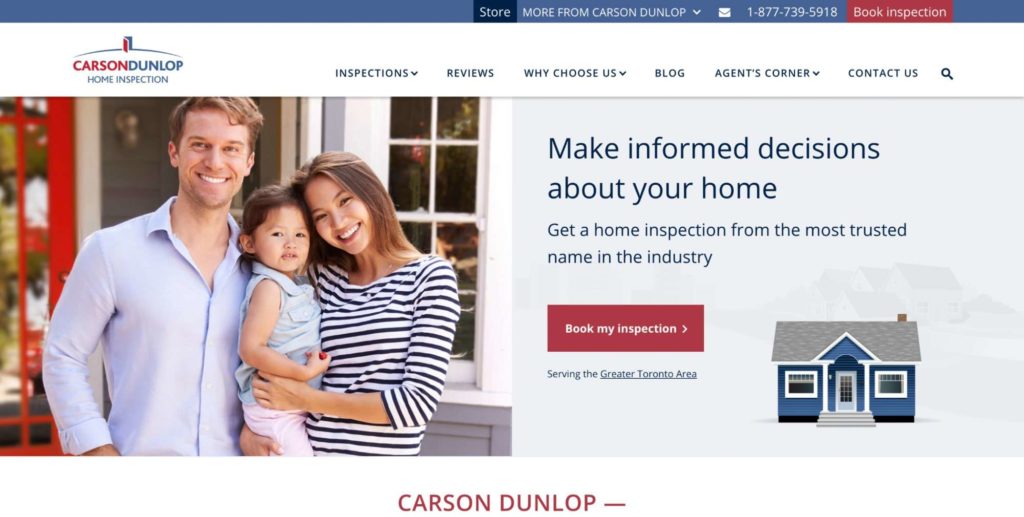 SERVICES
Home inspection services, commercial properties inspection services, condominium inspection services
WEBSITE
https://www.carsondunlop.com/
ADDRESS
Address: 120 Carlton St Suite 407, Toronto, ON M5A 4K2, Canada
CONTACT DETAILS
1-877-739-5918


[email protected]

OPERATING HOURS
Monday – Friday: 8:00 AM – 7:00 PM
Saturday – Sunday: 8:30 AM – 4:30 PM
Carson Dunlop takes the cake for adding great perks and benefits to their inspection services. There are several reasons it's among our top choices for building inspections in Toronto.
We'll put it out here first, though, that the cost of inspection services here is higher than the general average. But you'll get many value-adding features that make up for their high costs.
For instance, their buyer's home inspection costs $562 – relatively expensive, but you'll get $100 worth of home maintenance and repair from Jiffy and $350 worth of sewer video scan from AtlasCare.
That's not all: you'll also get discounts on home and auto insurance, $200 of free heating and tune-ups, and gift cards worth $70 and $100.
Simply put, you'll pay a lot more for a standard home inspection, but you'll also get loads of benefits, which we love. Plus, they're comprehensive with their packages anyway, with no hidden charges.
In terms of convenience, booking with them is super easy online. You also won't have to wait a long time for your report as it can be delivered on the same day.
Overall, it's a great inspection company for those looking to get bang out of their buck but also willing to pay a bit more upfront to achieve that.
Registered home inspector
43 years of experience
Fast and easy booking within 24 hours
Same-day delivery of reports
Offers value-added features
Free RecallChek report
Offers technical support
Upfront cost quoting
Insured
Higher-than-average fees
Missed many flaws according to a few past customers
Customer Reviews
Take a look at what past clients have said about this company:
I dealt with Michael on the phone lines to book everything up, and he was AMAZING. Very hands-on, friendly, caring, and informative. Good customer service is very rare to find these days, so it was very nice and refreshing. Made me feel very positive about Carson Dunlop as a company. Our inspector (Walter) was also wonderful, detail-oriented, and a good guy. The house deal didn't go through due to the inspection, and they really helped us through it. If the company is filled with people like Michael and Walter, will always use and highly recommend this company! – Akanksha Bawa
I have been priviliged to work with Julie Gates several times this year. Julie is really a wonderful asset: forthright, practical, intelligent, and solution oriented. She certainly knows what she's doing. Carson & Dunlop are lucky to have her. – Maurice Jay Nicholson
5. HouseMaster Home Inspections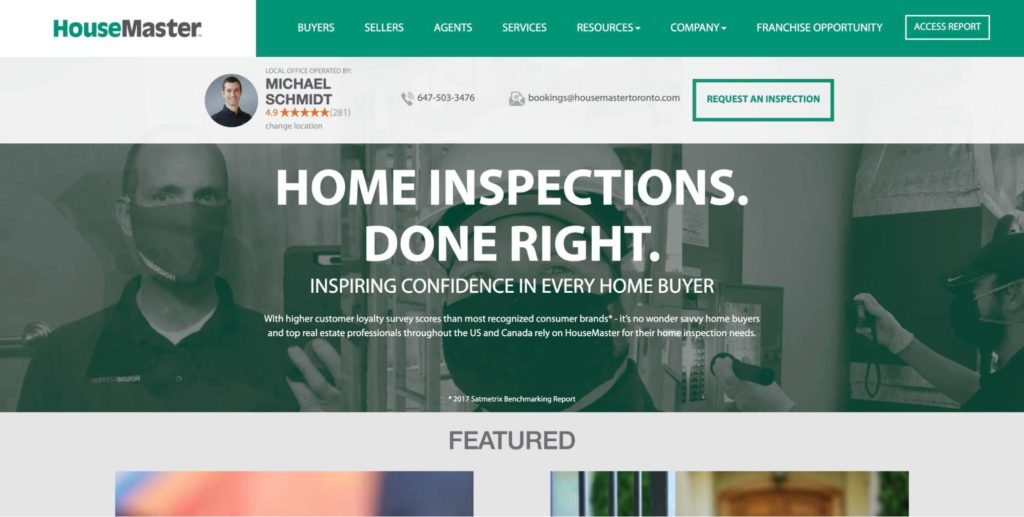 SERVICES
Home inspection, commercial / multiple dwelling property, mold screening, new construction, preventative maintenance inspection
WEBSITE
https://housemastertoronto.com/
ADDRESS
Address: 2100 Bloor St W #6254, Toronto, ON M6S 5A5, Canada
CONTACT DETAILS
+1 416-627-8371


[email protected]

OPERATING HOURS
Monday – Sunday: 8:00 AM – 9:00 PM
HouseMasters has a few shortcomings here and there but they prove to be masters of their craft for many reasons.
First, we love the way they present the inspection report within 24 hours. It's detailed and easy to understand even for clients with zero knowledge of construction.
Second, it may have missed the bull's eye for comprehensive packages, but it sure hit the mark for elaborate inspection. Apart from the exterior and interior, they also inspect your heating and cooling systems, structural foundation, and plumbing and electrical – which is great because it follows industry standards.
Third, they bagged gold from us by being transparent and helpful with client concerns. They're also never late according to past customers, making them a good choice for punctuality and professionalism.
Finally, they have cloud storage so you can access your report anytime and anywhere by simply registering. Through the same web app, you can also access many maintenance resources for your home – it's really the little things like these that make all the difference.
We hope to see more upfront costs in the future, but so far, with this many happy customers, we're quite contented with what they have right now.
Easy online booking option
Comprehensive inspection points
Easy-to-understand reports delivered in 24 hours
Accessible inspection report through cloud storage
Punctual and professional
Great for home buyers and sellers
Insured
No inspection packages
Undisclosed rates, only available upon request
Customer Reviews
Here's what past customers have said about this company:
Tony and Sandy were very knowledgeable, professional, thorough, and friendly. They arrived and finished on time, while answering all my questions throughout the process. The report that they provided after the inspection is very detailed and easy to understand. The inspection also includes access to a members' web application with tons of great resources for maintaining your home and full access to the report. I highly recommend this service. – Graham Losee
Working with Michael was really great. He took the time to provide clarity into what to expect for inspection which was really helpful. No house is perfect so we're very glad he flagged all the different things we need to address. He was thorough and took the time to explain the implications and severity of all scores. We feel informed prepared to move into our new home. We don't plan on moving again but if we had to, we would definitely call Michael again. Highly recommend. – Jessica Orellana
Factors to Look for When Hiring a Building Inspector
Choosing from among the best building inspectors in Toronto is a tough decision, especially when all of them offer unique and amazing perks for clients.
To give you a head start in this, consider these factors before hiring a building inspector for a home or business you plan to sell or buy:
1. Formal qualifications
Are the employees in this company registered inspectors? Does this company have the right licenses to perform inspections in your area?
These are the first few questions you should ask to know if they have formal qualifications.
Before choosing an inspector, check their licenses as well. If they've presented you with this information, you can go online to verify the information and see the registration details.
2. Quality of written reports
The inspector will give you an extensive inspection report after their service. This will often include information about the property depending on the areas they've inspected, plus other notes for repair and recommendations.
As much as possible, choose an inspector that also provides images and home maintenance tips in their report. They must also be able to deliver the report in as early as 24 hours, preferably with a PDF version too.
3. Inspection rates
The cost of inspection services isn't a joke, so it's important to compare your options before hiring an inspector. To reiterate, the costs should be around $300 to $600 for a standard inspection in Toronto.
Of course, the rates are relative to the services you get. As long as the rate is reasonable enough for what you're getting, then you're getting a good value.
4. Post-inspection support
You may come across companies where the deal ends the moment the inspection is done. Sometimes, they'll even charge you for additional services to review their inspection.
Hire inspectors that offer follow-up reports and make themselves available to you after a certain period after the inspection. Honestly, finding an inspector like this is hard, and the most you might get is technical support only, but even that is pretty great too.
FAQs about Building Inspectors in Toronto
---
Hiring the best building inspectors in Toronto guarantees that a property is in tip-top shape before you buy or sell it. In case you need some repairs for the property after the inspection, check out our other lists, like our list of the best roof repair services in Toronto if it's your roof that's the problem!