The 7 Best Boiler Repair Services in Toronto
In need of boiler repair services to keep you warm during the winter? You've stumbled upon the right place!
In this list, we've selected the best companies that can properly cater to your boiler repair needs. We chose them according to their services, serviceable boiler brands, customer ratings, operating hours, and responsiveness.
Before the list, you'll also see a guide to the estimated prices of boiler repair services. By the end of this article, we'll also give a list of warning signs that tell you if you need a boiler repair.
The Cost of Boiler Repair Services in Toronto
There are various factors that influence the cost of boiler repair services. These are:
In general, you can expect to pay between $200 and $600 for a boiler repair. On average, you might need to shell out $399 for a repair service.
However, if the problems are severe, warranting a boiler replacement, prepare $3,650 to $8,140. For higher-end boiler models, you might pay around $12,000.
Of course, boiler installations come with labor costs too. This varies from $1,000 to $2,500.
Payment terms also vary depending on your contractor. Some companies charge on a fix, while others charge per hour of service rendered.
Since your boiler is part of your HVAC system, you can also refer to the hourly rates for HVAC repairs. In Toronto, contractors usually charge $90 to $145 per hour.
For strictly repair services, you typically need to buy replacement parts for your boiler. See the table below to see an estimate of the cost of each replacement:
| | |
| --- | --- |
| Part Replaced | Estimated Cost |
| Broken ignitor | $60–$140 |
| Radiator valve | $175–$425 |
| Thermostat | $100–$300 |
| Circulator pump | $450–$900 |
| Expansion tank | $350–$540 |
For a complete boiler replacement, here's a table outlining the costs of the most affordable boilers in Canada:
| | |
| --- | --- |
| Brand | Cost Range (without installation and labor costs) |
| Viessmann | $3,000 to $4,000 |
| Bosch | $2,600 to $3,200 |
| Rinnai | $2,400 to $2,700 |
| Navien | $2,200 to $2,500 |
| Slant/Fin | $1,600 to $2,600 |
Best Contractors for Boiler Repair Services in Toronto
With all these estimated costs in mind, you'll have an idea of how to compare contractors in your area. Remember, whom you pick as a contractor has a direct impact on your total costs, so choose wisely.
Here are the best contractors in Toronto that offer boiler repair services:
The complexity of the issues involved
The brand of boiler
The warranty (if any)
The contractor's rates
1. Hoerner Heating and Plumbing Service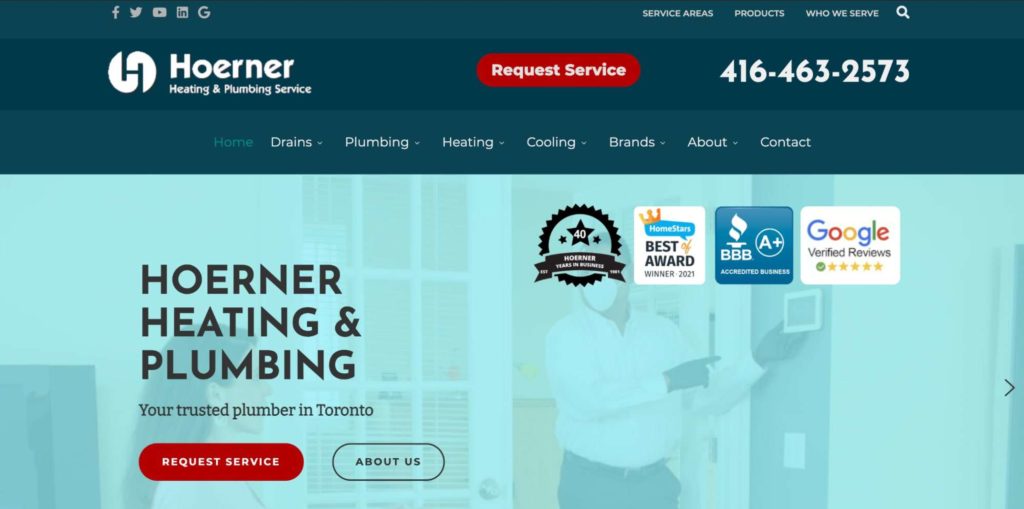 SERVICES
Boiler repair, boiler installation, boiler maintenance, boiler cleaning
WEBSITE
https://www.hoerner.ca/
ADDRESS
868 Broadview Ave, Toronto, Ontario, M4K 2R1
CONTACT DETAILS
416-463-2573
OPERATING HOURS
Monday – Friday: 7:30 AM – 5:00 PM
Available 24/7 for calls
If you need to install. clean, maintain, or repair your boiler, you may want to look into Hoerner Heating and Plumbing Service.
The company offers a wide range of heating and plumbing services. But we'll only focus on its boiler repair services for this guide.
With a proud 9.7 rating on HomeStars, over 460 past customers can vouch for their services. It's even a HomeStars Best of Award Winner in 2021.
As it's been in the business for 40 years, it's no surprise that this contractor has already established a solid reputation, actually.
In fact, you'll find over 2,000 reviews of this company across various platforms. Reaching out to some of its clients for direct testimonials wasn't difficult either.
Their clients say that they provided a professional approach, arrived on time for the job and were upfront with the costs of service. One review even went ahead to say that they're the "epitome of great customer service" – which is hard to argue when they have a 4.7 rating on Google Reviews.
As for boiler brands and units they're comfortable with, the company works on brands such as Navian, Viessman, Weil McLain, NTI, and IBC. They have a pretty wide range (unsurprising given 40 years of work), so chances are they can work on yours.
Aside from their sheer experience and solidity of service, what we love about this company in particular are its operating hours. You can reach them 24/7, making them one of the most accessible contractors in this list.
However, this 24/7 availability is for on-the-phone queries only. You can meet them on their regular hours, but by appointment only.
Even so, it's something that you can contact them through calls for emergency services. And this is what makes their commitment to their work shine.
For a booking request, you can easily fill up the form on their website. They'll ask for basic personal information, details of the problem, your availability, and sample photos — all par for the course, so nothing to be alarmed by here.
Top-rated contractor with 40 years of experience
24/7 line access for emergency services
Works on common boiler brands
Easy booking request process
In-person meeting by appointment only
Limited working days
Services on only five boiler models
Customer Reviews
Want to know what others have said about Hoerner Heating and Plumbing Service? Here are some customer reviews:
"The installation of a new high efficiency condensing combi-boiler by the Hoerner team was excellent. The work was performed professionally, and attention to smallest detail was performed to the highest standards. Hoerner's technicians took great care and were courteous and knowledgeable, I had extreme confidence in their work. The head office also were professional in making this installation smooth and without issues. I would highly recommend their service without hesitation.
Prompt arrival and professional assessment with solutions. I was consulted about the repairs and future issues that may arise. La was courteous and went about the repairs in an efficient and timely manner."
2. Dupont Heating and Air Conditioning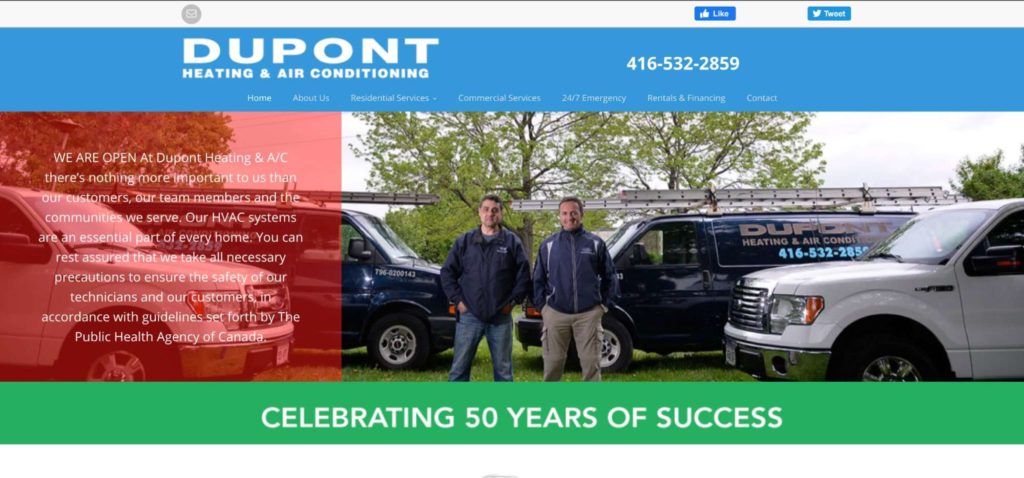 SERVICES
Boilers and radiators, air conditioner, furnace, custom ductwork, in-floor heating, hot water tanks, heat pumps, ductless AC
WEBSITE
https://www.dupontheatingltd.ca/
ADDRESS
1400 Dufferin Street, Toronto, ON, M5H 4C8
CONTACT DETAILS
416-532-2859


[email protected]

OPERATING HOURS
Available 24/7
Dupont Heating and Air Conditioning services, installs, and repairs boilers for commercial and residential homes. On their site, they promise that they service through the best hydronic systems.
They may claim to use top-notch equipment, but it still boils down to the quality of services they provide – which has its own set of flaws too. One client said that his job was turned down because it was a "small job", while another shared that the company arrived late on the installation day.
Still, we think a few bumps here and there wouldn't hurt the incredible record they hold. Plus, this contractor has been servicing customers for over 50 years. It's more than enough to say that they're very experienced in the field.
One more thing that we liked about this company is the amount of boiler brands they service. They currently service and install 17 brands including Carrier, Dunkirk, and Navien.
On top of that, they also respond to emergency calls made through their main phone line. After all, they're accessible 24/7, even after their regular operating hours.
If you want to get a free estimate, you can either call them or use their contact form. It's just a standard contact form so you can easily complete it in under five minutes.
Once you're done, a sales representative will assist you with the quote.
Available 24/7
Services many boiler brand
Easy free estimate request process
Issues with customer service
Tendency to arrive late on the job
Customer Reviews
Here are some amazing things that customers have said about Dupont Heating and Air Conditioning:
"I have been dealing with them since 2013, they maintain and service my navien combination boiler, and furnaces. They are fantastic to deal with and they are always prompt and reliable."
"Our furnace stopped working. We called Dupont Heating and they came within an hour on a Sunday morning. The repair took less than an hour. The service was efficient and quick. We're very satisfied and will definitely use again….and recommend to others."
3. Green Heating and Air Inc.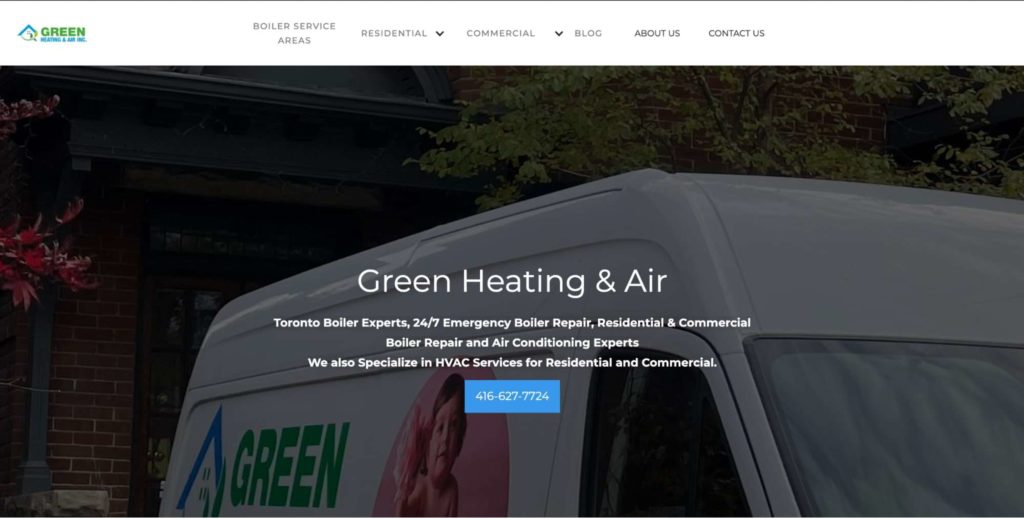 SERVICES
Boiler repairs, hot water tanks, floor heating system, furnace repairs, ductless AC, air conditioning HVAC
WEBSITE
https://www.greenheatingandair.ca/
ADDRESS
77 Davisville Avenue, Unit 1104, Toronto, ON . M4S 1G3, Canada
CONTACT DETAILS
416-627-7724


[email protected]

OPERATING HOURS
Available 24/7
Green Heating and Air Inc. specializes in HVAC services for commercial and residential customers. They also install and repair boilers in Toronto and other neighboring areas.
Though only having 11 reviews on HomeStars, they still have a favorable 8.6 rating. On Google Reviews, they boast a higher score of 4.8/5.
For boiler repairs, this company services six manufacturers. These are Navien, Veissmann, Weil McLain, NTI, Hayward and Slant/Fin – a bit limited for our book, but still pretty notable because these are big and common brands.
What we liked best about this contractor are their 24/7 emergency services. All you have to do is ring them up on their phone line and they'll come running to serve you.
Our favorite part about this 24/7 commitment is that they have staff and technicians on standby, meaning, you don't have to go through an answering service. And it's a definite plus for us because you'll have an expert technician answering your goals, ready to pounce into action.
If you're not in a rush, you can also send a contact form to ask inquiries and get a quote, which is standard practice anyway. It's very straightforward and you only need to give your name and email, though we wished they had options to attach images just for reference.
What makes their contact channel a bit different is they have a dedicated chatbot on their site. Unfortunately, you don't get the freedom to ask any questions here – plus the questions look a lot like the contact form anyway.
Green Heating and Air Inc. draws its biggest strength from its technicians on standby ready for 24/7 emergency services. The contact form and chatbot integration need a bit of work, but are standard enough to ensure convenience.
Available 24/7
Easy and straightforward contact form
Services on only six boiler models
Unhelpful chatbot on website
Customer Reviews
Eager to know what others have said about Green Heating and Air Inc. on HomeStars? Here are some of them:
"I contacted this company on the weekend as my A/C was not working and it was extremely hot. Ehsan and his team were able to accommodate me promptly and fixed the issue and were so knowledgeable and helpful. It's rare to find a company with such professionalism and knowledge. I highly recommend this company for all the services they provide."
"We called on Sunday morning and our furnace wasn't working. Green Heating and Air Inc acted quickly and replaced our furnace. Thank you green team."
4. Novel Care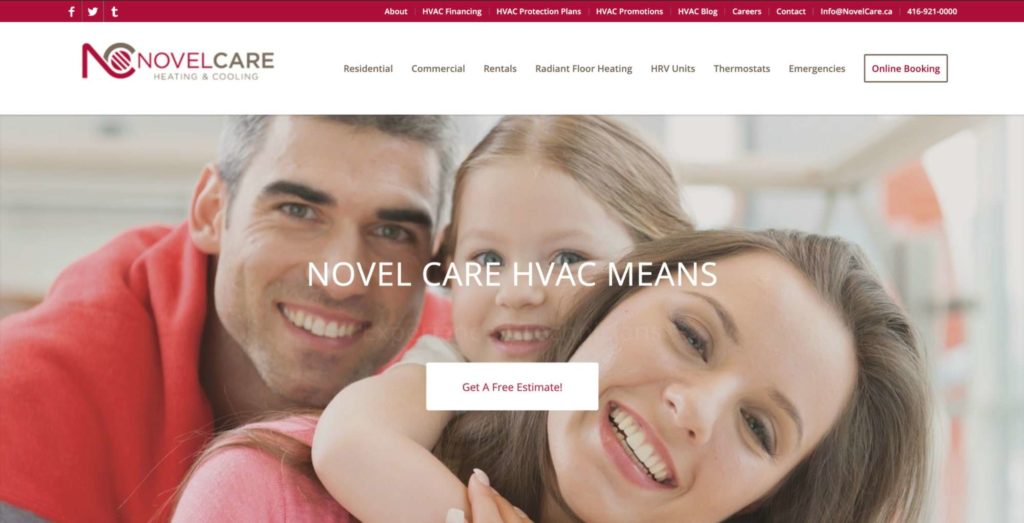 SERVICES
Boiler services, fire repair services, furnace repair, furnace installation, water heater services, air conditioner services
WEBSITE
https://www.novelcare.ca/
ADDRESS
1235 Bay St. Suite 400, Toronto, ON M5R 3K5
CONTACT DETAILS
416-921-000


[email protected]

OPERATING HOURS
Available 24/7
Novel Care repairs, installs, and maintains furnaces, boilers, air conditioner, and HVAC systems. They operate in Toronto and other neighboring areas for both commercial and residential spaces.
If you value customer ratings, you'll love this company. It has a high 9.7 rating on HomeStars, an A+ BBB rating, and 4.8 stars on Google Reviews.
One of the things that makes them so attractive is that they're available 24/7. Just give them a ring and they'll respond to your emergency needs.
They also make appointment-setting easy through their website. Simply complete the form with required details and you're good to go.
If you want a free estimate for your boiler problems, you can give them a call or email them. You get a quote with no strings attached in no time.
The only thing we didn't quite like about this company is that they work with boilers from a limited number of brands. Currently, they service only Bosch and Viessmann.
On the bright side, they're quite particular with the type of boiler they work on per brand – which is good if you want to work with contractors who specifically specialize in a certain type of boiler under a particular brand. But of course, it still doesn't help with flexibility, so you can't stick around with them if you change to a boiler brand that they don't serve in the future.
They've been operating for 35 years, which, in our opinion, accounts for a pretty solid record of experience. It's still relatively younger compared to other contractors on this list so it still has many years ahead to do better than what they do now.
Available 24/7
Easy free estimate request process
A+ BBB rating
Easy online appointment booking
Services only two boiler brands
Customer Reviews
Here are some customer reviews about Novel Care on HomeStars:
"Professional, honest, respectful! I highly recommend! They took extreme care to protect my home. They worked as a team and I barely knew they were there. Easy to communicate with and I will be calling them for all of our mechanical needs from now on.
Absolutely awesome, professional and reliable service. Casey and Chris were so great. Appointment was scheduled super-fast and so was boiler installation, cleaned after themselves and left our home tidy. Kudos to the company."
5. Laird and Son Heating and Air-Conditioning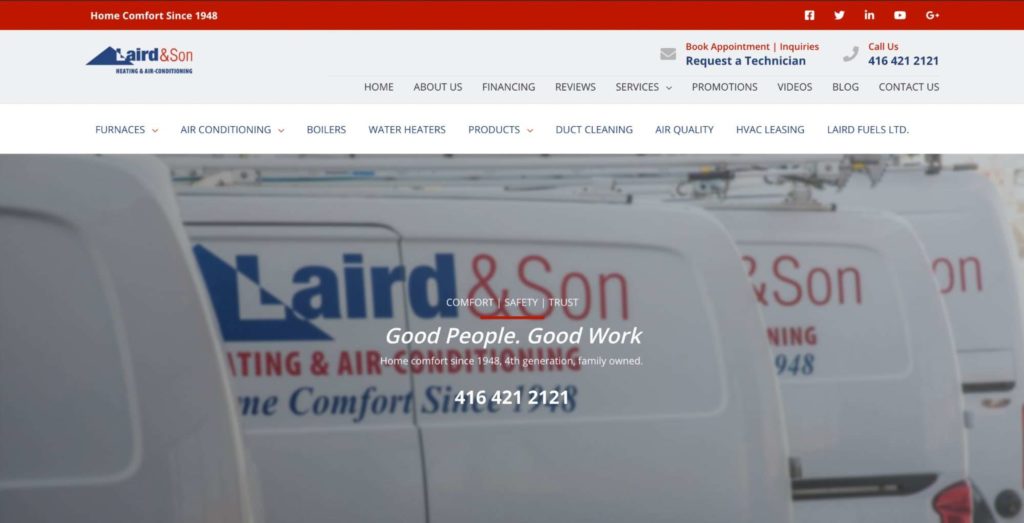 SERVICES
Boiler repair, furnace repair, air conditioner installation, tankless water heater repair, duct cleaning
WEBSITE
https://www.lairdandson.com/
ADDRESS
120 Dynamic Drive #22, Toronto ON M1V 5C8
CONTACT DETAILS
416-421-2121


[email protected]

OPERATING HOURS
Available 24/7
Laird and Son Heating and Air-Conditioning is a family-owned company that has been operating for over 70 years. Since 1948, this has been servicing customers in the Greater Toronto Area.
Like most contractors on this list, they're also available 24/7 for emergencies. If you're not in an emergency situation, you can also book an appointment and send inquiries through their email.
But our favorite part about this company is how flexible their financing schemes are, especially when they take extra steps that other contractors haven't done yet. For starters, they offer a suite of promotions where customers can pay less for their services.
Just to give you an idea, they had a promo that if you call for an air-conditioner tune-up before the deadline, you get 50% off. And note that these services aren't cheap on regular pricing so cutting the costs in half definitely helps.
The other thing we liked, in particular, is the membership plans because it's rare to see boiler repair services offer this kind of plan. They currently offer Heating and Cooling Membership Plans and Ultra Membership Plans.
The heating and cooling membership plan costs $229.00 + tax per year, and you get a 20% discount on any repairs. You also get an annual tune-up (which would typically cost you around $115 – $200) and priority servicing.
The ultra membership plan gives you a priority annual tune-up, priority servicing, and $1,000 worth of labor and replacement parts for the year. If you want to get an ultra membership plan on boilers and furnaces, you'll pay $336 + hst per year.
Honestly, the deals that you'll get are good especially with the annual tune-up (for maintenance), 20% discount, and $1,000 worth of labor and parts (to save on costs). We recommend getting the heat and membership one because it's not too different from the ultra membership, but it costs less.
If you're curious about their brands, they service Viessman, Navien, Rinnai, Napoleon, Lennox, and Olsen. So they have a pretty limited line-up but note that three of these are among the most affordable boilers in Canada – which means you'll probably spend less for a complete boiler installation.
Available 24/7
Easy online appointment booking
Offers discounts and promotions often
Offers membership discounts
70 years of experience
Customer Reviews
Here's what some customers have said about Laird and Son Heating and Air-Conditioning on HomeStars:
"Called for emergency furnace repair during a very cold spell. Mack arrived in a few hours and did a temporary repair. A few days later Bryan installed a new part and performed furnace maintenance. Both were very professional, knowledgeable, and pointed out issue with the original installation that they corrected. Very happy with the service.
I was very pleased with the professional and efficient manner that Noah tackled the problem of my furnace not working. He was like a detective in finding the source of the problem and had it solved quickly. The work and parts was under warranty ."
6. Vese Heating and Cooling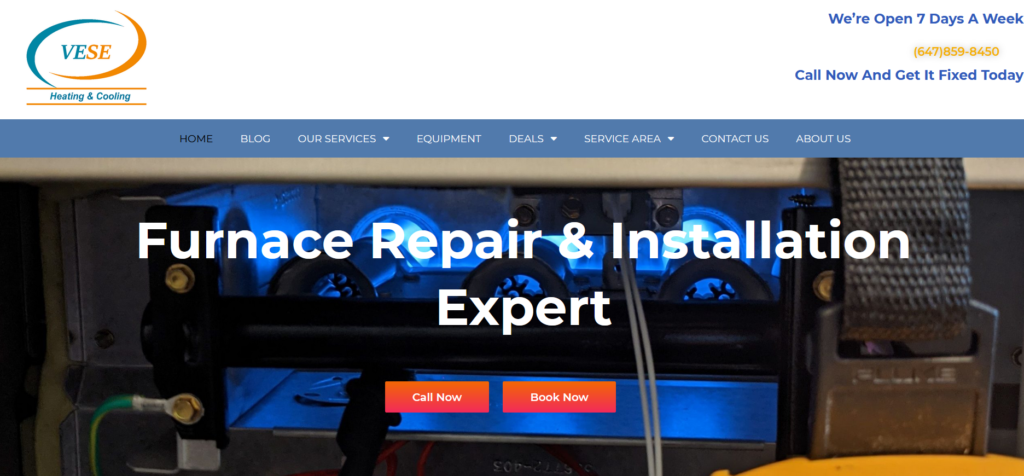 SERVICES
Furnace Repair, Furnace Installation, Water Heater Repair, Boiler Repair, Air Conditioner Repair, Air Conditioning Installation, Humidification, Air Quality, Rooftop HVAC Services, Gas Line Installation, Ductless Air Conditioning, Commercial Refrigeration Repair
WEBSITE
https://vese.ca
ADDRESS
352 Lakeshore Rd W Mississauga, ON L5H 1H3
CONTACT DETAILS
(647)859-8450
[email protected]
OPERATING HOURS
Monday to Friday, 8 am – 8 pm (For billing and notifications)
Next on our list is Vese, a company most known for their work in heating and cooling. So far, Vese has one of the most extensive service lists, encompassing furnace repair, furnace installations, water heater repairs, air conditioner repairs, air conditioning installations, rooftop HVAC services, gas line installation, and of course, boiler repair.
Aside from having much to offer, Vese is also commendable for their commitment to providing service excellence. Vese only employs skilled, highly qualified technicians, resulting in highly efficient, effective services.
The company and its team are also accessible as well, with Vese operating seven days a week and accommodating emergency requests. Not only that, but Vese also has a large service area, with the company accepting clients from Toronto, Mississauga, Etobicoke, Brampton, Oakville, North York, Vaughan, Burlington, and Milton.
Lastly, Vese believes in honesty and transparency, so their clients can expect upfront pricing, with the company's team readily explaining the expenses so that clients can rest easy knowing they are getting their money's worth.
Services seven days a week
Large service area
Excellent customer service
Qualified experts
Upfront pricing
7. GTA Heating and Air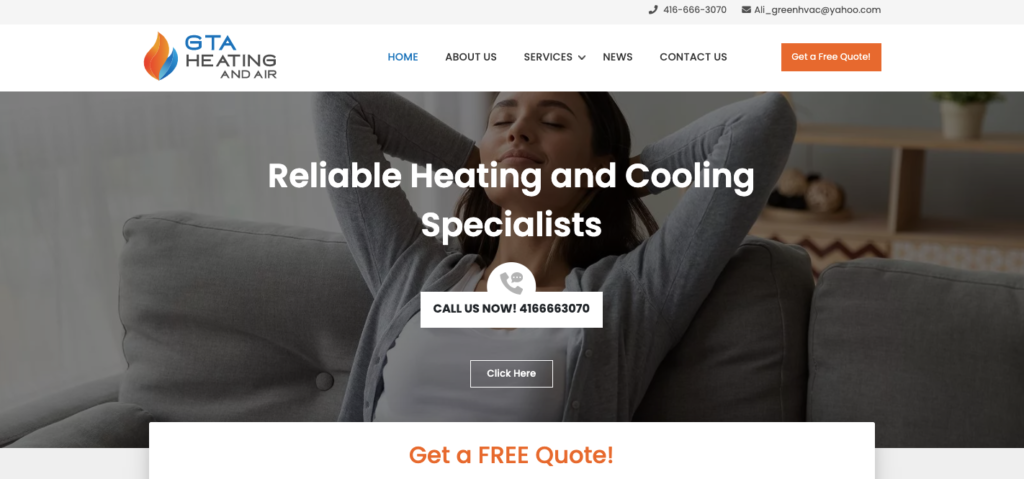 SERVICES
Energy Management, Underground Gas Pipe by Fusion Certified Technician, General Heating and Air Conditioning Service for Residential and Commercial, Indoor Pool Dehumidification, Boiler Repair & Boiler Service in Toronto
WEBSITE
https://gtaheatingandair.com/boilers-toronto/
ADDRESS
197 Yonge St Unit 4805 Toronto, ON M5B 1M4, Canada
CONTACT DETAILS
416-666-3070


[email protected]

OPERATING HOURS
24/7
It is really aggravating when your boiler breaks down. A malfunctioning thermostat, strange noise, a lack of heat, or low pressure are all possibilities. It could be due to a thermostat problem, a closed valve, or a malfunctioning air pump if it continually turning itself off.
Good thing that GTA Heating and Air Conditioning Toronto has been there for the locals of Toronto. So, whether your boiler requires minor repairs or a total replacement, they can help.
It is their goal is to maintain your heating and cooling systems functioning all year long so that your home is comfortable. They can repair any make and model without causing you any inconvenience.
GTA Heating and Air Conditioning Toronto provides solutions for your budget needs, whether you need boiler repairs, a new unit, or a tankless water heater. Whether it's for a home or a business, common issues include a broken heating system or the need for quick service. They also perform rapid and painless boiler repair and maintenance to guarantee that your boiler continues to function at its best.
We are also impressed that they have licensed technicians having years of boiler repair and installation experience in Torontoare that are available 24 hours a day, 7 days a week, to provide same-day service, whether it's a repair or a replacement. We sell condensing boilers from Slan Fin, Weil Mclain, Viessmann, Zoning System, and Snow Melt.
Available 24/7
Easy free estimate request process
Their Facebook, Instagram, Twitter and LinkedIn buttons on their website is not working
The process of their service is not seen online
Customer Reviews
"Fast and affordable. Technician was in my unit within the hour of call and had my ac fixed within 20 minutes. Very satisfied." – Edna M.
Warning Signs: How to Tell If You Need a Boiler Repair
Your boiler is an essential part of your home's heating system. It's only necessary to make sure it functions properly throughout the year.
Once you start seeing problems, it's best to contact any boiler repair services in Toronto. Here are some signs that tell if you need a boiler repair ASAP.
Your Boiler has Leaks
A boiler is a closed-loop system, which means water leaks shouldn't happen. If you ever notice leaks, don't disregard it!
These water leaks put your boiler at risk. Contact a servicing company immediately to seal up the leak.
Your Boiler Produces Rattling Sounds
Your boiler makes rattling sounds due to various issues. For instance, the casing might be malfunctioning.
If you hear the rattling sounds from inside the broiler, it may be a buildup. Call a contractor fast because this may lead to overheating.
Your Boiler Produces an Odd Smell
Anything that produces an odd smell when it should is in trouble. Take note if you smell something like rotten eggs or burning plastic.
A rotten egg smell usually signals a gas leak. Before you call for services, turn off the gas tank first.
Your Electric Bill is Unusually High
Have your bills increased lately? It might be your boiler causing you problems.
Problems and issues often push the boiler to work harder than its limit. This is what pushes you bills into higher rates.
FAQS About Boiler Services in Toronto
---
If you need boiler repair services, the contractors on this list can definitely help you out. In case you need more repairs for your home, take a look at some of the best emergency plumbers in Toronto so you know who to call for plumbing issues.