The 6 Clinics for the Best Dental Implants in Toronto
Do you have a missing tooth but don't like the idea of wearing dentures or crowns? In that case, dental implants are what you're looking for!
Today, we're sharing our picks for the dental clinics with the best dental implants in Toronto. We chose them based on the range of their services, quality of their facilities, and what former patients think about them.
Before we start, let's take a look at how much dental implants cost in Toronto.
The Cost of Dental Implants in Toronto
We'll be the first to admit that the price of dental implants in Toronto is no joke, so make sure that you've saved up enough money before deciding to get one.
On average, dental implants in Toronto could set you back around $3,000 to $6,000 per tooth, but that varies depending on the clinic, qualification of the dentist, and complexity of the treatment.
That rate could go higher if you have a weak jawbone or need bone grafting. In some cases, it could even go as high as $20,000 if several implants are needed.
The cost of a dental implant is usually divided into the dentist's fee and laboratory fee. The average dentist fee for dental implants is about $1,500 to $3,000 while the laboratory fee is around $1,000 to 2,000.
Other additional costs associated with dental implants are sinus lift, CT scan, and tissue graft. It's safe to assume that the more complicated the condition of your teeth is, the higher the price will get.
The good news is that dental insurance can help reduce your total bill. Dental check-ups, x-rays, and tooth removals are usually covered as these are considered basic dental services.
On the other hand, dental implants, grafts, and prosthesis are tagged as major services and are only partially covered depending on the insurance plan. Either way, having a portion of the total cost covered is already a huge burden off your shoulders.
The Clinics for the Best Dental Implants in Toronto
After detailing the cost of dental implants in the area, it's time to go over which dental clinics made the cut. By the way, our list is in no particular order.
Periodontal Specialists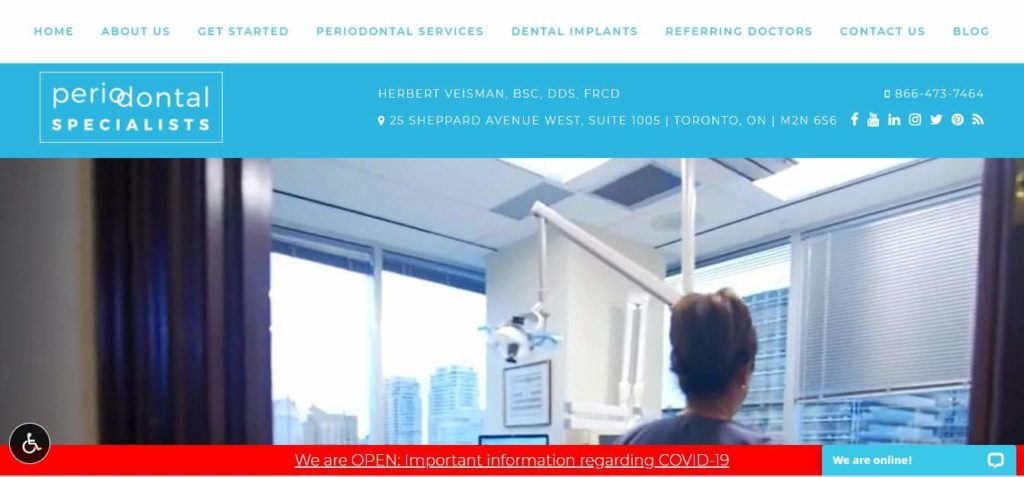 | | |
| --- | --- |
| DENTAL SERVICES | Dental implants, teeth cleaning, tooth removal, scaling and root planing, oral cancer exam, bone grafting, gum disease laser therapy, cosmetic periodontal treatment, and bar attachment dentures |
| WEBSITE | https://www.torontoimplant.com/ |
| ADDRESS | 25 Sheppard Ave W, North York, ON M2N 6S6, Canada |
| CONTACT DETAILS | 416-225-9910 |
| OPERATING HOURS | Monday to Thursday: 8:00 AM – 4:00 PM |
Periodontal Specialists comes highly recommended to patients who are dealing with other dental problems outside missing teeth. It's a dental clinic headed by Dr. Veisman whose specialities include dental implants and bone regeneration.
Dr. Veisman has completed more than 18,000 dental implants in his 25 years of practice. He also earned an additional three years of training in dealing with gums and tissues surrounding dental implants, so there's no doubt that he knows what he's doing.
Another thing to know about Dr. Veisman is that he can do single or full-mouth dental implants and even upper arch replacement. No matter how damaged your teeth are, he knows what to do to fix that.
Those who have low pain tolerance have nothing to worry about as Periodontal Specialists is equipped with the right set of tools and equipment, on top of a cozy atmosphere. You will definitely feel at ease before and during the treatment.
Aside from dental implants, Periodontal Specialists does bone grafting, gum grafting, laser therapy, and even oral cancer exams. It also offers preventative dental care for those who don't want to deal with the same gum and tooth problems again.
It's worth noting that Periodontal Specialists focuses on a few specialised procedures, so it may not be your go-to clinic for dental cleaning or check-ups. It's the dental clinic for complicated treatments.
As it's an in-demand clinic, you might have a hard time booking an appointment too, as there are hundreds of other patients trying to get a slot. Pair that with the fact that they're open only a few days a week and you have a recipe for a challenge when trying to set an appointment!
Specialised dental clinic
Excellent patient care
Can do different types of dental implants
Referred by other dentists in the country
Uses latest periodontal techniques
Limited to treating complex dental problems
Open only 4 days a week
Customer Reviews
Take a look at what former patients had to say about their experience:
"Dr. Veisman is outstanding. My family came to him for several implants and were very happy with how he treated us and the results every single time. Not only is he always highly professional but also incredibly kind, thoughtful, and reassuring. Dr Veisman, thank you for your exemplary work. We wholeheartedly recommend Dr Veisman and his office to anyone in need of a periodontist." -Pavel L
"I highly recommend Dr. Herbert Veisman. He is knowledgeable and very professional. He explained his treatment plan thoroughly and answered all my questions to my understanding and satisfaction. I am 100% satisfied with the treatment I received. I do not regret my decision to put myself under his care. The members of his staff deserve special mention. They made sure that I was comfortable and at ease every step of the way. What an amazing team!" -Laine Florendo
Bond Street Dental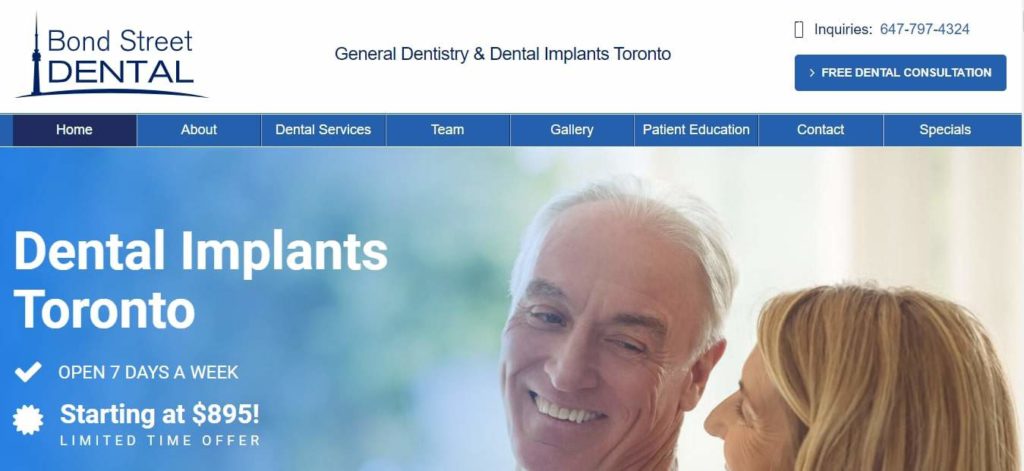 DENTAL SERVICES
Dental implants, general dentistry, wisdom teeth removal, emergency dentist, cosmetic dentistry, sleep dentistry, oral surgery, bone grafting, tooth extraction, root canal treatment, and oral cancer screening
WEBSITE
https://www.dentalimplantsclinic.ca/
ADDRESS
113 Bond St, Toronto, ON M5B 1Y2, Canada
CONTACT DETAILS
416-585-2663 647-797-4324
OPERATING HOURS
Monday to Friday: 7:00 AM – 9:00 PM
Saturday to Sunday: 8:00 AM – 6:00 PM
Bond Street Dental is a full-service dental clinic that specialises in dental implants, cosmetic dentistry, general dentistry, sedation dentistry. It's quite popular in the area, as it's open to patients across the Greater Toronto Area.
Its dental team is made up of four experienced dentists who are on call from Monday to Sunday, so there will always be another dentist available if yours isn't available at the moment.
Bond Street Dental is one of the most multilingual dental clinics too, as its dental staff can speak about 11 languages, including French, Hindu, Spanish, and Arabic. That's great news for patients whose first language isn't English.
When it comes to dental equipment and tech, we believe that Bond Street Dental is the one to beat. It even uses Modified Titanium Nanoscale Topography, which speeds up the healing process and reduces the need for bone augmentation.
Because of that, we highly recommend Bond Street Dental to those looking for natural-looking teeth that last for a lifetime. Its industry-leading equipment can definitely achieve this.
Lastly, Bond Street Dental offers one of the most budget-friendly dental treatments in the GTA, proving that there's no need to go broke to restore your beautiful smile.
Affordable dental treatments
Open seven days a week
Multilingual dental staff
Full-service dental clinic
Free dental consultation
Looks after a large number of patients every day, so delays may happen
Customer Reviews
Alecia Antoinette shared her experience on Google Reviews:
"Amazing Dental team! The staff at reception are amazing as well. They always put you in a good mood and you never feel rushed. I've been to a few dentists over the years and they are truly the best. I have gotten it ALL here. Fillings, cleanings, root canal, a dental implant and I'm almost done with my crown. I also changed my daughters' dentist to them. That's how good they are. They gave me back my confident, bright smile and I am so thankful. Have a no pressure consultation with them- you won't be disappointed!"
Dr. Berzin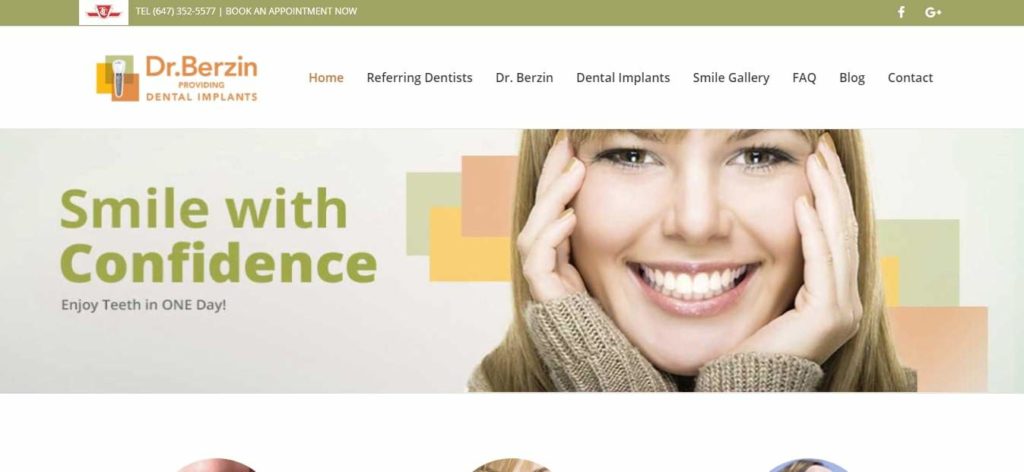 DENTAL SERVICES
Single implant, multiple implants, full arch, sedation dentistry, CBCT scans, and PRF procedure
WEBSITE
https://www.drberzinimplants.ca/
ADDRESS
2763 Danforth Ave #4, Toronto, ON M4C 1L8, Canada
CONTACT DETAILS
647-352-5577
OPERATING HOURS
Monday: 10:00 AM – 7:00 PM
Tuesday: 8:00 AM – 6:00 PM
Wednesday to Thursday: 8:00 AM – 5:00 PM
If you're after a dentist who specialises in dental implants, Dr. Berzin might be the one you're looking for! He's an award-winning dentist with more than 20 years of experience in giving patients a natural-looking smile.
We're quite impressed with his resume as well. Aside from being the founder and director of the Toronto Implant Continuum, he carries a diplomate status at the American Board of Oral Implantology as well
However, there's more to him than his long list of credentials. Whether you need only a single implant or a full mouth rehabilitation, Dr. Berzin will make sure that you achieve that in less than a day.
Dr. Berzin also does sedation dentistry, so if you're anxious about any type of dental procedure, he can definitely help. He can make sure that you won't feel a thing during the treatment – or are asleep even!
Overall, Dr. Berzin stands as an excellent option for patients who want the best dental implants in Toronto but aren't ready for the pain that comes with them.
More than 20 years of experience
Does sedation dentistry
Well-known dentist in Canada
Easy booking of appointment
Open only for four days a week
Customer Reviews
Check out these comments shared by patients on Google Reviews:
"Big thanks to Dr. Berzin and all his team. They truly are the best. I would recommend them without hesitation to anyone who wants to achieve the best results. Dr. Berzin can fix any problems and make dreams come true. Thanks again to Dr Berzin and his lovely professional team" -Maria Lesnak
"I have been a patient of Dr. Berzin for many years. Few years ago, I needed dental implants, but I was nervous and hesitant to get them done. However, Dr. Berzin took a very professional approach and explained to me the benefits of getting dental implants. He carefully planned the whole procedure starting with the CT scan , x rays and detailed consultation. I was very pleased with his knowledge and professionalism. The whole treatment was done at his office, I was never referred anywhere else. His staff is also very knowledgeable , kind and professional. Few years have passed, and I have no issues with my implants. I have been going for regular checkups and cleanings. I would highly recommend this office to everybody looking for excellence and good quality dental work!!!" -Edvin Mehic
Dr. Suzanne Caudry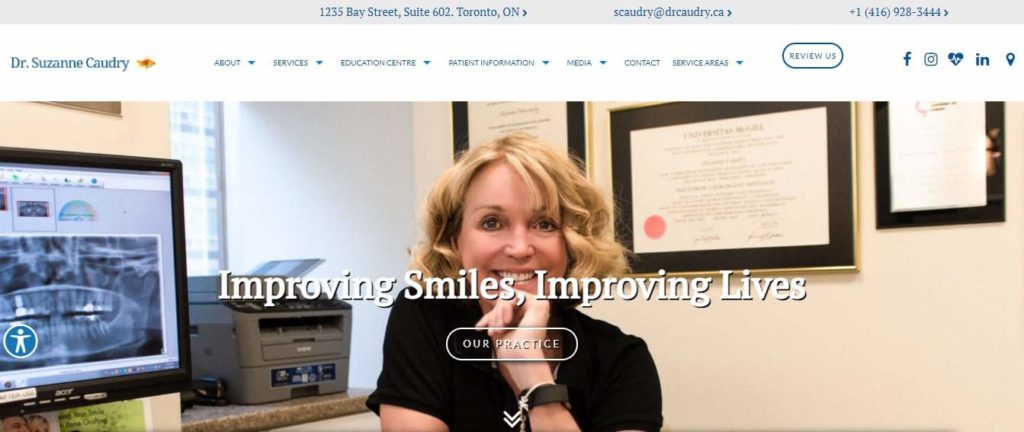 DENTAL SERVICES
Dental implants, periodontal health, sinus lift, cosmetic periodontal services, dental crowns, gum grafting, bone grafting, and sinus lift
WEBSITE
https://www.drcaudry.ca/
ADDRESS
1235 Bay St. Suite 602, Toronto, ON M5R 3K4, Canada
CONTACT DETAILS
416-928-3444
OPERATING HOURS
Monday to Thursday: 8:00 AM – 5:00 PM
Friday: 7:30 AM – 5:00 PM
Dr. Suzanne Caudry is one of the top-rated dentists on Google Reviews, boasting a perfect rating of 5 out 5. Here's why she earned a spot here:
For one, Dr. Caudry has been a certified periodontist for more than 20 years now, specializing in dental implants and surgical and non-surgical treatments. She can deal with any periodontal condition as she's encountered all types of them.
She doesn't believe in a cookie-cutter medical approach, so every patient will have a treatment and hygiene program made especially for them. She and her dental staff are more than prepared to accommodate even the most complex periodontal condition.
Another benefit of being one of her patients is the access to state-of-the dental equipment. She uses digital scanning technology to create a visual imprint of your teeth and gums, making it easier to know what's wrong with your teeth.
More than that, patients spend less time inside her clinic because she uses computer-guided surgical techniques that reduce the time of the procedure and the recovery time. You'll be able to return to your daily routine quickly, in most cases!
She also educates patients about proper dental health care to make sure that their teeth and gums are always in the best condition.
More than 20 years of experience
Personalised dental care
Quick procedure
Shorter downtime
Expensive dental procedures
Customer Reviews
A former patient named Orman Lofi posted this comment on Google Reviews:
"Amazing session! I went in to see Dr Caudry regarding my gum health as advised by my orthodontist after two years of braces treatment. I was concerned that my gums had been reseeding. Dr. Caudry came into the room and was laser focused on my concerns. She made sure to inspect my gums before ordering x-rays, which was very much appreciated. She was thorough, confident and very pleasant. She didn't try to up-sell me on any treatments. In fact, she made it very clear that I didn't need periodontal treatment. We went over my oral hygiene routine and after the end of the amazingly informative session, she didn't even charge me! She was more than happy to educate me and insisted that she wouldn't charge anyone who didn't need treatment. We definitely need more specialists like Dr. Caudry in this world, I can't stress that enough!"
Chrysalis Dental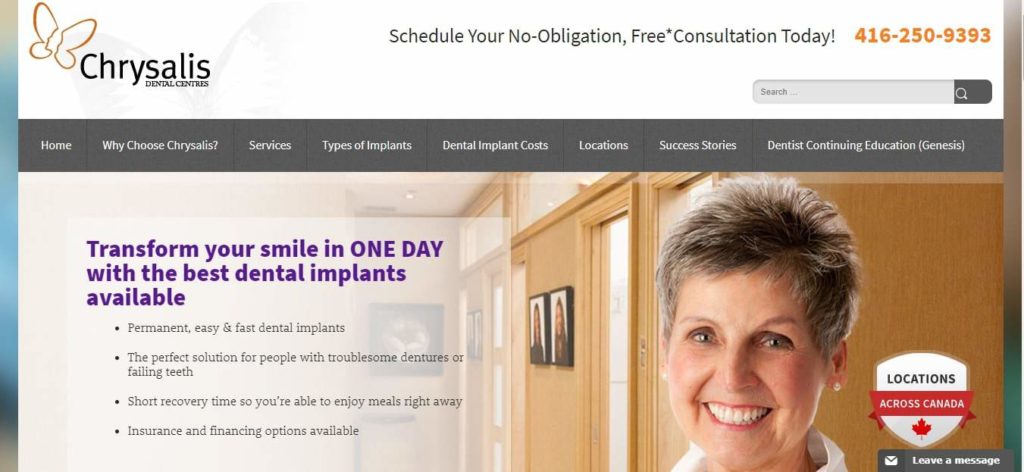 | | |
| --- | --- |
| DENTAL SERVICES | Ceramic dental implants, porcelain crowns, zirconia dental implants, acrylic dental implants, titanium dental implants, zygomatic dental implants, and gum bleaching |
| WEBSITE | https://www.chrysaliscanada.com/ |
| ADDRESS | 250 Canarctic Dr, North York, ON M3J 2P4, Canada |
| CONTACT DETAILS | 416-250-9393 |
| OPERATING HOURS | Monday to Friday: 8:30 AM – 4:00 PM |
Are you looking for a dental clinic in Toronto that can do different types of implants? If so, there are few better options for you than Chrysalis Dental.
Apart from the common ceramic and titanium implants, Chrysalis Dental produces custom dental solutions to match your dental needs and preferences. If you want a premium-looking implant, you might want to consider the zirconia dental implants!
We don't know of any other dental clinic in Toronto that can move as fast as Chrysalis Dental. It can provide patients with a set of natural-looking, high-quality and permanent teeth in less than a day!
To top that off, the downtime will be shorter and patients will be able to enjoy their favorite meals right away. That's something we can't say about other dental clinics in Toronto.
No worries if you're a bit short on cash because Chrysalis Dental offers different financing options with flexible payment terms and reasonable interest rates.
Finally, Chrysalis Dental has a dozen branches scattered all over the country, making it one of the most accessible dental clinics on our list.
Multiple locations
With financing options
Shorter downtime
Non-obligatory consultation
Has issues with scheduling appointments
Customer Reviews
Want to know what patients think about Chrysalis Dental Implants Centres? Here are some comments:
"Yes, I can proudly say I am using dental implants made at the Chrysalis Dental Implant Center. And I mean proudly, because my implants look so natural and everything was done so efficiently that I cannot help it but smile. The way they treated me was great and I would totally recommend Chrysalis for your needs of dental implants. So far I do not have any complaints on the quality of the work." -Farzeen Ibrahim
"I had a great experience at Chrysalis a few weeks ago. I was worried about getting four dental implants done at the same time but they were amazing. There was no pain during the procedure & no pain afterwards. I took antibiotics, of course, but didn't need any of the painkillers. Recovery was much quicker than I expected. They were extremely professional, very gentle with me (I'm a baby) & with an excellent bedside manner – A BIG Thank You to everyone at Chrysalis for the absolute best care & dental implants!" -Peter Smith
City Oasis Dental
DENTAL SERVICES
Lip Augmentation/Enhancement
VIP
Laser Dentistry
Sedation
Dental Braces
Invisalign
Botox Treatment
Bonding
Veneers
Teeth Whitening
Root Canal Treatment
Crowns & Bridges
Periodontal Therapy
Oral Surgery
Extractions
Fillings
Dentures
Scaling & Root Planing
Dental Implants
Emergency Services
WEBSITE
https://cityoasis.dental/dental-services/dental-implants-toronto
ADDRESS
82 Adelaide Street East, Toronto, ON, M5C 1K9
CONTACT DETAILS
[email protected]
(647) 980-1200
(647) 473-0605*

*for emergency contact outside of business hours
OPERATING HOURS
Monday to Thursday 8am- 5pm
Friday 9am-4pm
City Oasis Dental is praised by many not only for their comprehensive and top-notch dental services, but also because of their relaxing and comfortable environment. They have numerous solutions for their patients such as dental braces, botox treatments, dental implants, and more.
Not only that, but their dentists also employ a personalised approach to their patients, one that takes into consideration the person's conditions and current circumstances. They use this information to select the treatment that is not only suitable for the patient, but will also have no adverse effects of complications in the future.
Their team of professional and expert dentists strive to use the latest techniques and technology in dental care to continue delivering only the best treatments to their patients. Moreover, they also aim to deliver this to as many people in need as they can, which is why they are capable of serving patients of all ages.
Given their excellent dental solutions and quality patient care, City Oasis Dental is worth considering if you're in need of dental implant services. Many consider them as part of the top medical facilities in Toronto, and for good reason, as they're one of the leading providers of quality dental care of all kinds.
High quality dental and oral care
Unique and comprehensive treatment approach
Relaxing and comfortable environment
Attentive patient care
Inconsistent operating hours
FAQs about Dental Implants
---
And with that, we conclude our list of clinics with the best dental implants in Toronto. If you've been to any of these clinics before, share with us your experience with them!
If you know of other dental clinics that should've been featured there, tell us their names so we can verify if they're worthy of being included here.
For other dental procedures, you might want to take a look at our picks for the best dentists in Toronto! These dentists can treat whatever dental condition you're dealing with!