The Ultimate Guide to Toronto's Little Italy
Toronto's Little Italy, a vibrant and diverse neighbourhood popular with locals and tourists, is home to the largest Italian population outside of Italy.
A day spent in the area will surely quench your thirst for everything Italian. The neighbourhood is abundant with Italian restaurants, bars, stores, and other cultural landmarks.
The Ultimate Guide to Toronto's Little Italy
Time Zone
Eastern Daylight Time (GMT-4)
Best Time to Go
It's best to go during the summer, between June and August. You can comfortably walk the streets in Little Italy's warm and sunny weather.
There are numerous outdoor gatherings and activities in the neighbourhood that take place during the season, but there are plenty of spots you can enjoy all year round.
Things to Know
Currency: Canadian Dollar
(Check the current exchange rate)
Languages: English, Italian
Calling Code: +1
Where is Little Italy in Toronto?
Little Italy is centred on College Street, a popular restaurant/bar/shopping stretch between Harbord Street and Dundas Street. It spreads out towards the east and west, between Bathurst Street and Ossington Avenue.
Here's a map of Little Italy: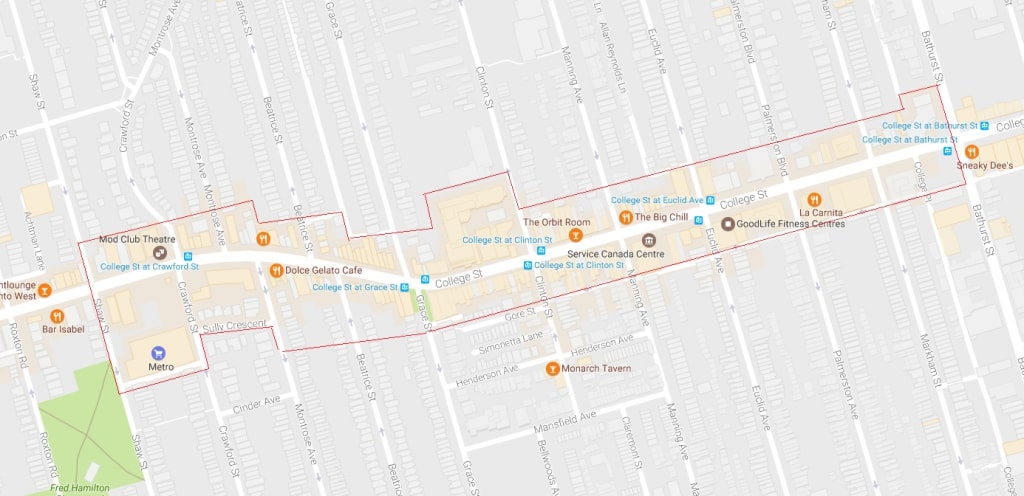 How to Get There
If you're coming from downtown Toronto, the cheapest and quickest way to commute to Little Italy is to ride line 506 tram. The travel from College St at McCaul St to College St at Grace St takes about 11 minutes and costs $4 per person.
You can also take advantage of Bike Share Toronto and take the scenic route to the neighbourhood. It's quite the exercise, but the ride is fun and you'll get to your destination in 15 minutes.
Where to Go in Little Italy
There are many places to explore in Little Italy, from the elegant Royal Cinema to eccentric art galleries that feature local artists. It also has charming record stores and a barber shop that will keep you looking sharp with a fresh cut.
Here are some of the best spots to visit for a unique cultural experience:
The Royal Cinema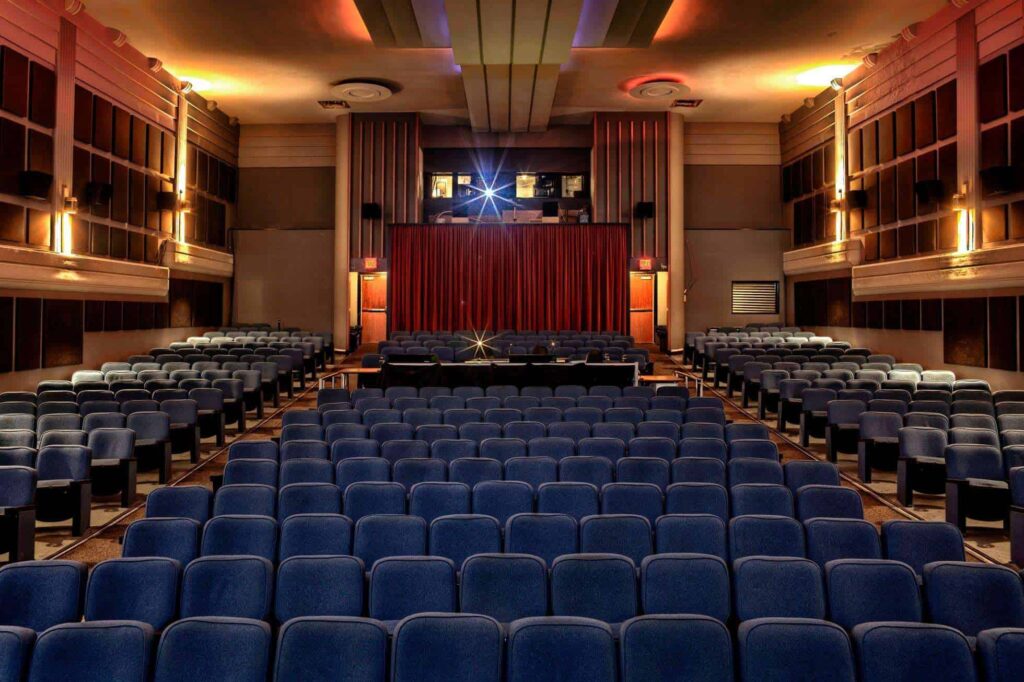 Address: 608 College St, Toronto, ON M6G 1B4
Phone: 416-466-4400
Built in 1939, the Royal Cinema is a designated heritage property and is one of the few remaining Art Moderne cinemas in Toronto. It's undergone numerous renovations in the past but remains to be a reminder of the city's rich cultural history.
The interior has comfortable seats upholstered in red velvet and decorations composed of patterns and bright colours. It's a popular venue for independent film screenings, live music, and other performances.
Italian Walk of Fame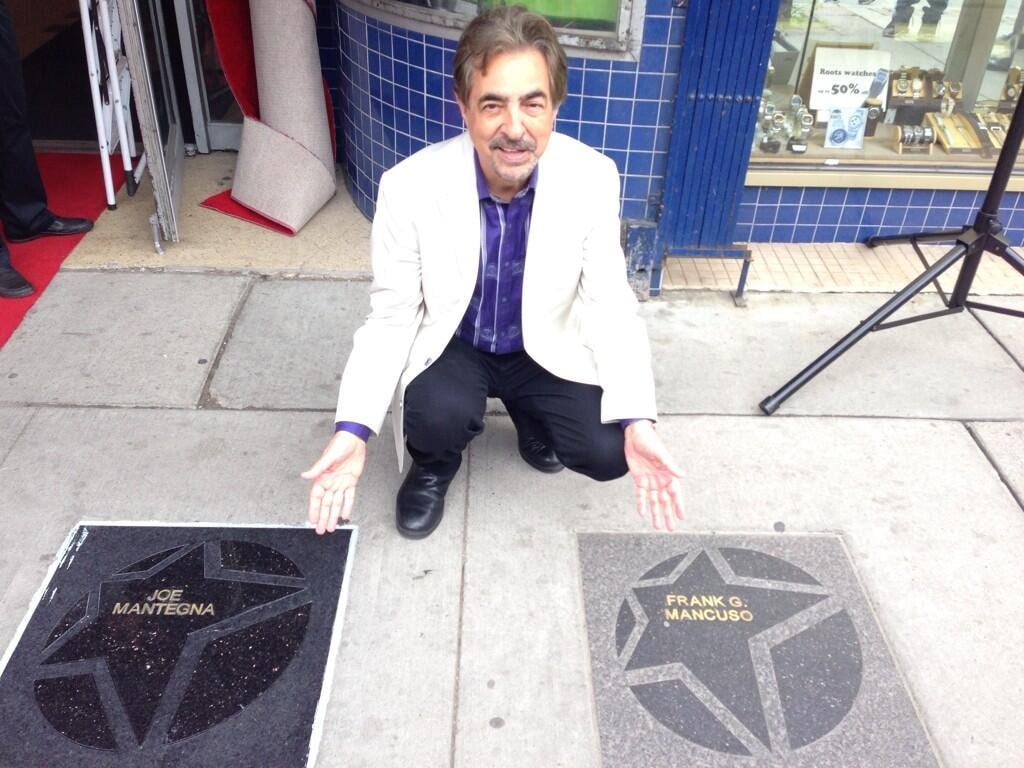 Address: College St Toronto ON M6G 1B8
Honouring prominent Italians and their significant contributions to the bettering of the world, Little Italy's Walk of Fame features the names of various actors, musicians, athletes, artists, and leaders.
It's a popular tourist attraction and is a remnant of Toronto's rich Italian heritage. Walk by the plaques and learn about notable Italian-Canadians who made history in ways only they can.
Neurotica Records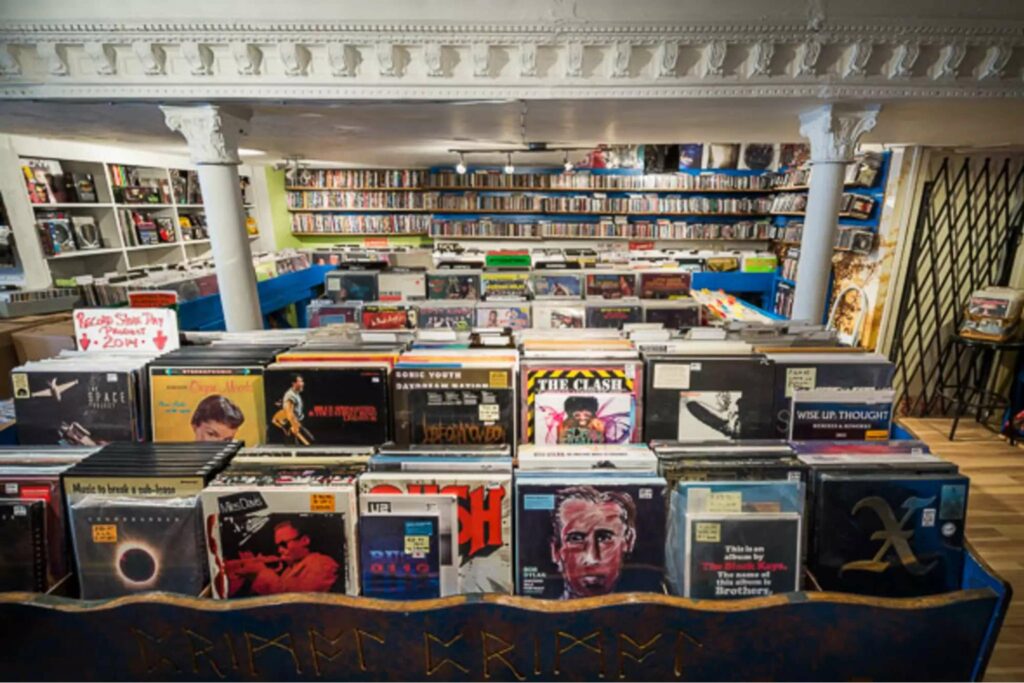 Address: 567 College Street, Manning Ave, Toronto, ON M6G 3W9
Phone: 416-603-7796
Neurotica Records is a must-visit for music enthusiasts. Their staff's friendly and they specialize in offbeat independent artists, so expect to find rare and unusual records when you browse.
They also have vintage vinyl, CDs, DVDs, books, and other collectibles. It was opened by two friends in 1977 and it continues to value its community by having a rewards program for its frequent customers.
The Local Gallery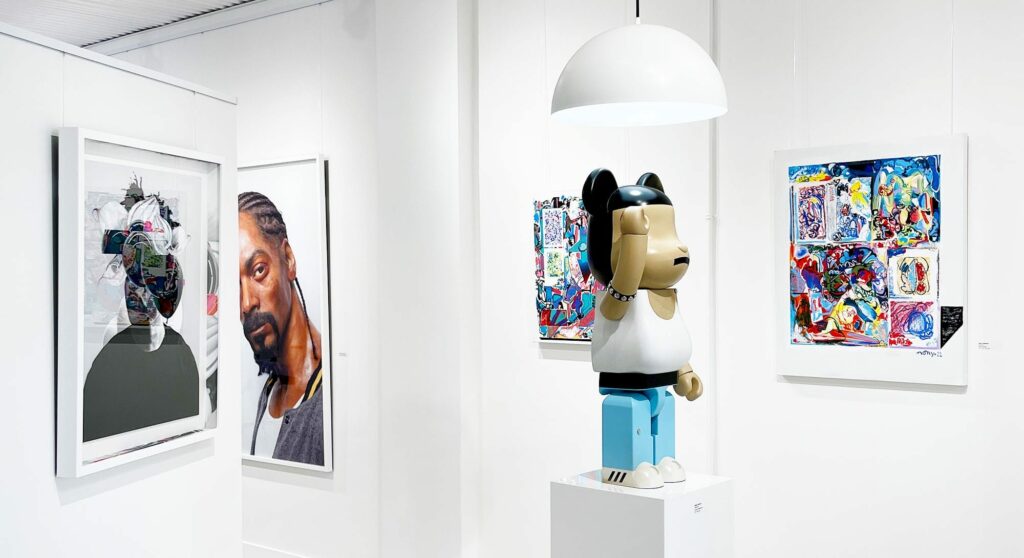 Address: 621 College St, Toronto, ON M6G 1B5
Founded in 2018, The Local Gallery exclusively features work from Torontonian artists. Pepe Bratanov, an art director and entrepreneur, created the space to highlight the city's up-and-coming talents.
The gallery showcases a variety of mediums, including sculpture, painting, mixed media, and photography. They often host events like talks, workshops, and reviews where artists can share their pieces and receive feedback from other creators.
Silver Arrow Salon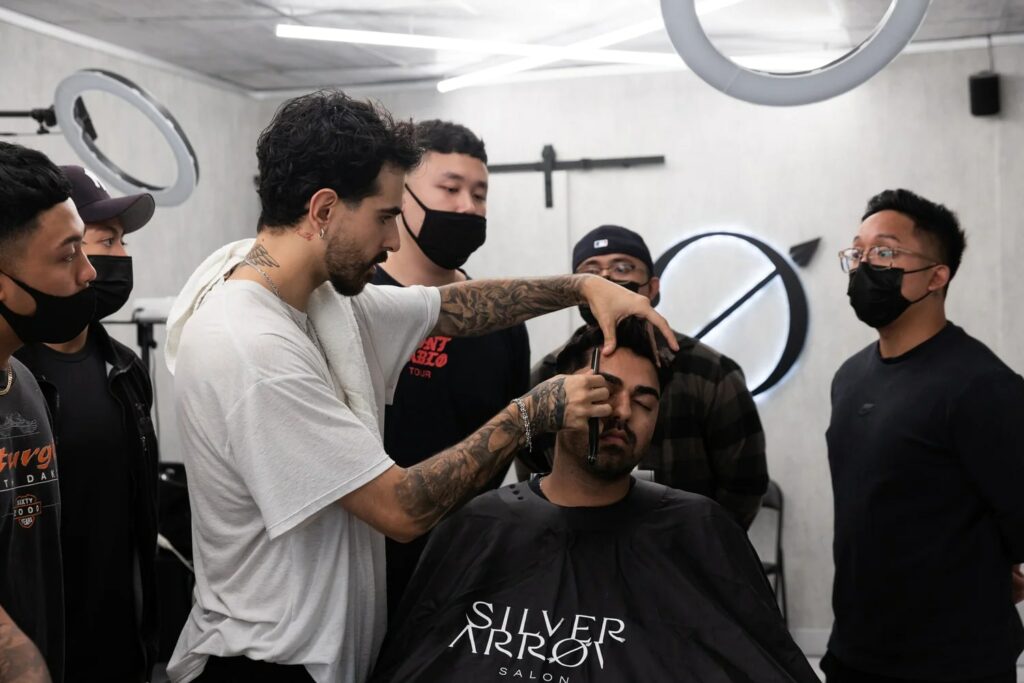 Address: 370 College St, Toronto, ON M5T 1S6
Phone: 416-551-2219
Silver Arrow Salon's barbers are loved by the community for their consistency in giving the cleanest cuts. Their staff is diverse and composed of professionals who come from different walks of life.
Sitting in a barber's chair is one of the best ways to hear incredible stories about a tight community. Get a fresh cut, have your beard trimmed, and make a new friend.
Where to Eat in Little Italy
Nothing beats good Italian food and Little Italy does not disappoint. Various cafés and restaurants that serve authentic Italian cuisine are scattered all over the neighbourhood.
From fine dining to classic pizzerias, here are some of the best places to eat in Little Italy:
Trattoria Taverniti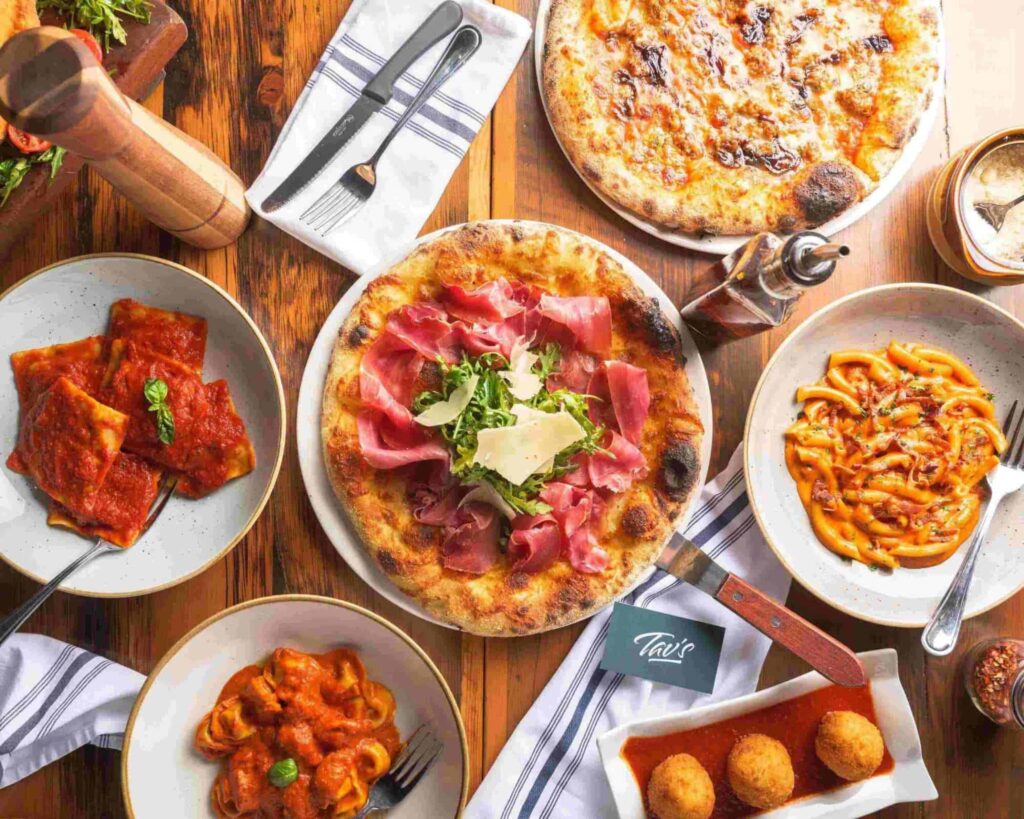 Address: 591 College St, Toronto, ON M6G 1B2
Phone: 416-537-0078
Pricing: $$
Opened in 2011 by the Taverniti family, Trattoria Taverniti is an Italian restaurant that serves authentic Calabrian cuisine. They moved to Toronto from Calabria, Italy and are now known for their delicious food and wide selection of Italian wines.
Their cosy interior boasts rustic wooden tables and exposed brick walls for an intimate vibe. In the kitchen, they make exceptional pasta, pizza, seafood, and grilled meats made with fresh ingredients.
Giulietta
Address: 972 College St, Toronto, ON M6H 1A5
Phone: 416-964-0606
Pricing: $$$
Owned by Chefs Rob Rossi and David Minicucci, Giulietta features a menu inspired by the cucina povera (peasant cooking) of Southern Italy.
Known for its wood-fired brick oven pizzas and seasonal Italian small plates, the restaurant is always packed with tourists looking for a sophisticated dining experience. Make sure you book a reservation to avoid waiting in line for hours.
Il Covo
Address: 585 College St, Toronto, ON M6G 1B2
Phone: 416-530-7585
Pricing: $$$
Il Covo is a Venetian restaurant specialising in handmade fresh pasta. The interior is brimming with glamour and luxury, while the food is bursting with complex flavours from high-quality ingredients.
They are known for their authentic Italian pasta dishes, tender cuts of meat, and lighter take on classic desserts. Beneath the restaurant is a wine cellar filled with hundreds of bottles.
DaiLo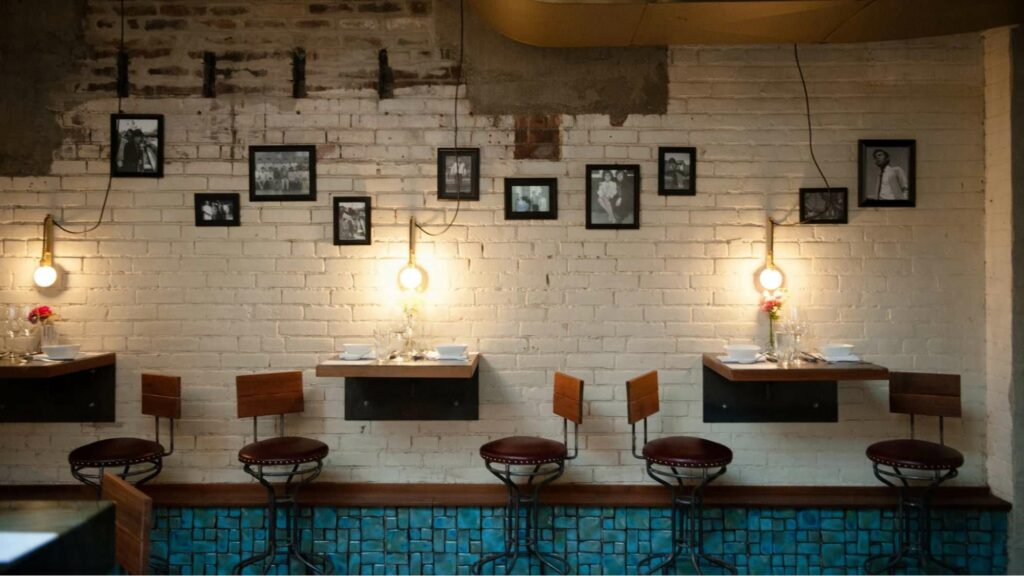 Address: 503 College St, Toronto, ON M6G 1A5
Phone: 647-341-8882
Pricing: $$$
Opened in 2014 by Chefs Nick Liu and Dennis Tay, DaiLo captured Little Italy's heart through its fresh take on Chinese-French cuisine. They aim to continue making innovative dishes using local and sustainable ingredients.
Often listed as one of Canada's best restaurants, it's recommended to book a reservation online before your visit. They also have a bar that features cocktails made with Asian ingredients.
Bitondo Pizzeria & Sandwiches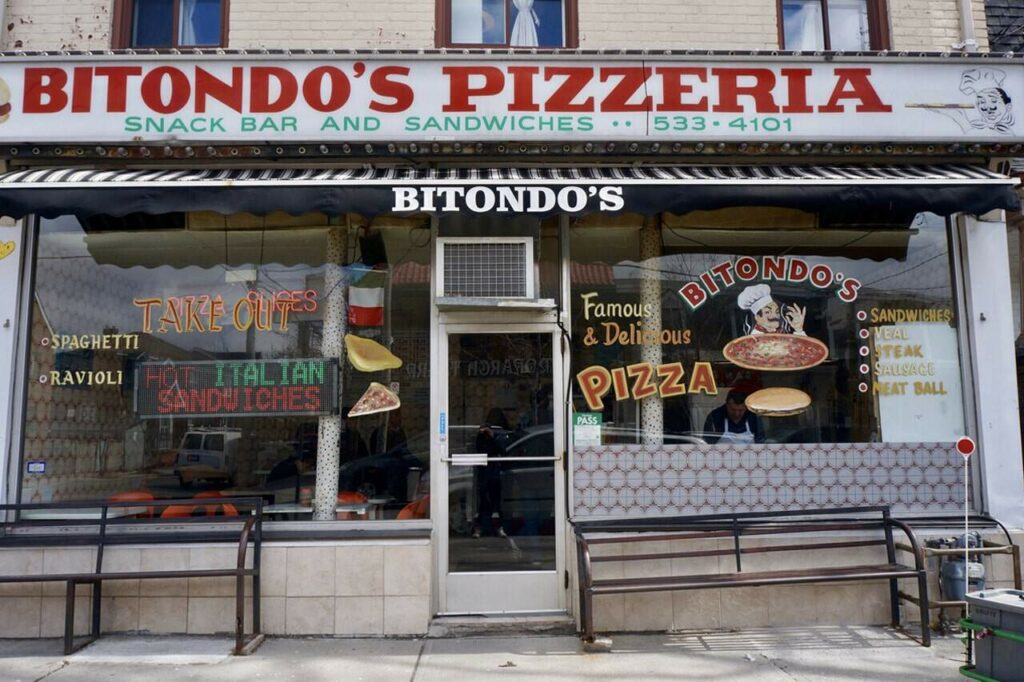 Address: 11 Clinton St, Toronto, ON M6J 2N7
Phone: 416-533-4101
Pricing: $
Bitondo's Pizzeria's been owned and operated by the Bitondo family since 1966. They make traditional Neapolitan pizzas with imported mozzarella cheese and classic San Marzano tomatoes.
Their food is very affordable, making them a popular food stop for both locals and tourists. Their menu consists of iconic pizzas like margherita, pepperoni, veal, and spinach.
Where to Drink in Little Italy
The night's very much alive in Little Italy with its abundance of bars and clubs regularly packed with party-goers. It has basement pubs with games and taverns with excellent craft beer.
Here are some of the best drinking spots in the neighbourhood for those seeking some nightlife:
Bar Raval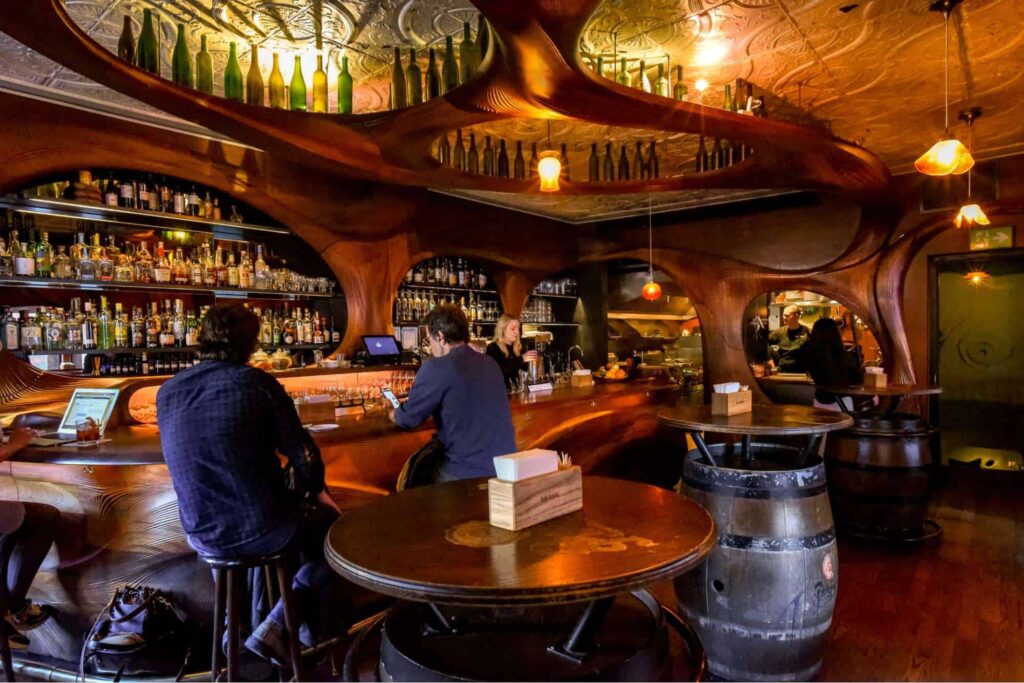 Address: 505 College St, Toronto, ON M6J 2J3
Pricing: $$$
Inspired by the Raval district of Barcelona, Bar Raval is rightfully known for its vibrant nightlife and indulgent street food. They add a modern touch to traditional Spanish tapas that go great with their selection of wines and cocktails.
Some of their signatures include their jamon croquetas, tuna pickle gilda, and stracciatella & boquerones. Meals can be a bit pricey and reservations are not allowed, so it's better to go early or late to avoid long lines.
Bangarang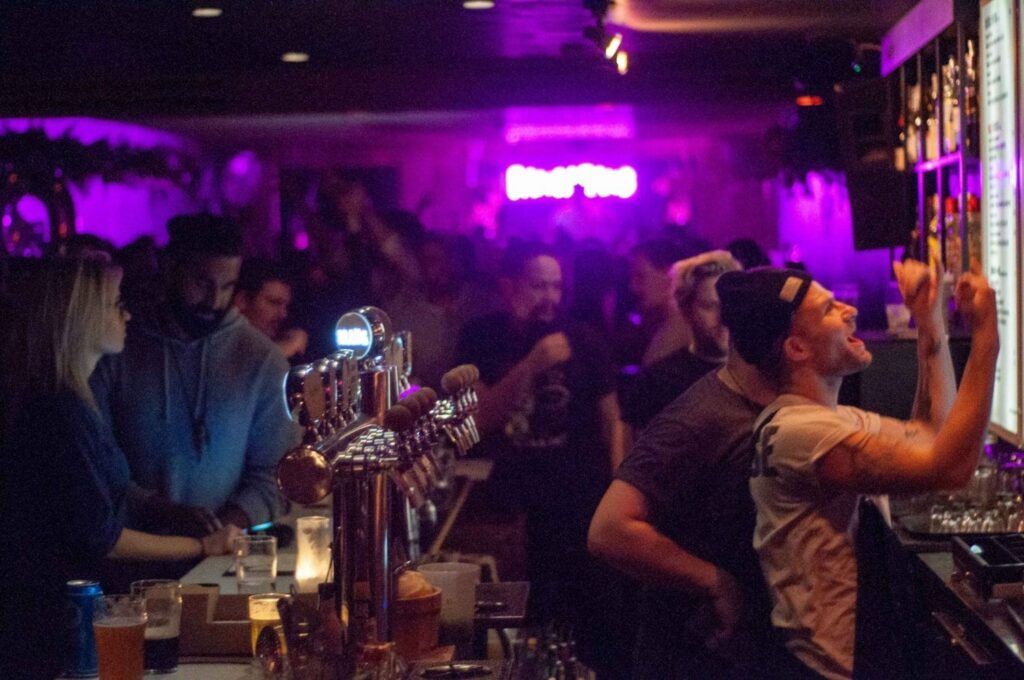 Address: 552 College St, Toronto, ON M6G 1B1
Pricing: $$
Bangarang is one of the most popular EDM destinations in Toronto. The nightclub, with its state-of-the-art sound system and spacious dance floor, is known for hosting various parties and special events.
This bar is for people who want to have a good time by dancing all their problems away. The place is always filled with people looking to socialise while taking in all the good vibrations.
Birreria Volo
Address: 612 College St, Toronto, ON M6G 1B4
Phone: 416-531-7373
Pricing: $$
Famous for its wide selection of craft beers, Birreria Volo features home-brewed alcohol and rare imported bottles. They always have new flavours to offer which makes every visit a distinct experience.
They also have great food like their crispy chicken sandwiches and charred pizzas. Learn more about mixology and the process of brewing by visiting this unique pub and trying its innovative drinks.
Sneaky Dee's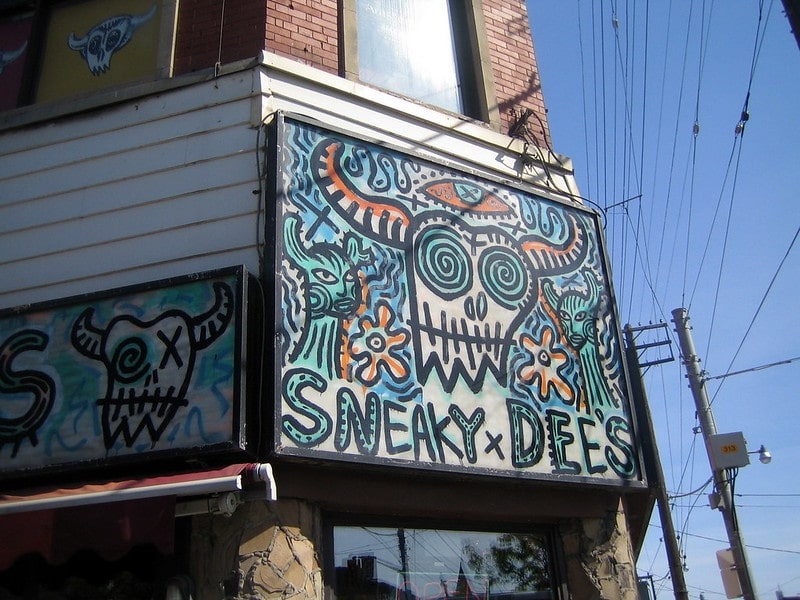 Address: 431 College St, Toronto, ON M5T 1T1
Phone: 416-603-3090
Pricing: $
A beloved staple in the area, Sneaky Dee's is known for their unapologetic style and delicious nachos. The bar plays edgy live music from local DJs and is happy to serve anyone who walks into its doors.
Apart from being a bar and a Tex-Mex restaurant, it's also a concert venue popular for independent bands and other experimental artists. It almost closed a few years ago, so make sure you swing by while it still stands.
Track & Field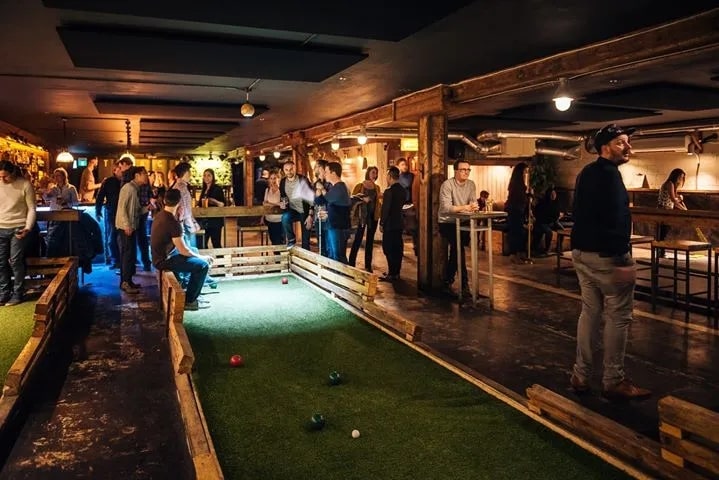 Address: 582 College St, Toronto, ON M6G 1B3
Pricing: $$
Known for its lawn games, Track & Field quickly rose to fame since it attracted younger party-goers and friend groups. Its second floor also features tabletop games and a photo booth, perfect for couples on a night out.
Their menu has various cocktails and easy-to-eat snacks for people who want to drink while competitively destroying their friends in bocce ball.
Where to Shop in Little Italy
Simply stroll through the streets to find endless clothes stores and gift shops. You'll find a selection of branded street apparel and unique products made by local communities.
From cosy bookstores to specialised charcuterie shops, here are some of the best places to shop in Little Italy:
Ran's Closet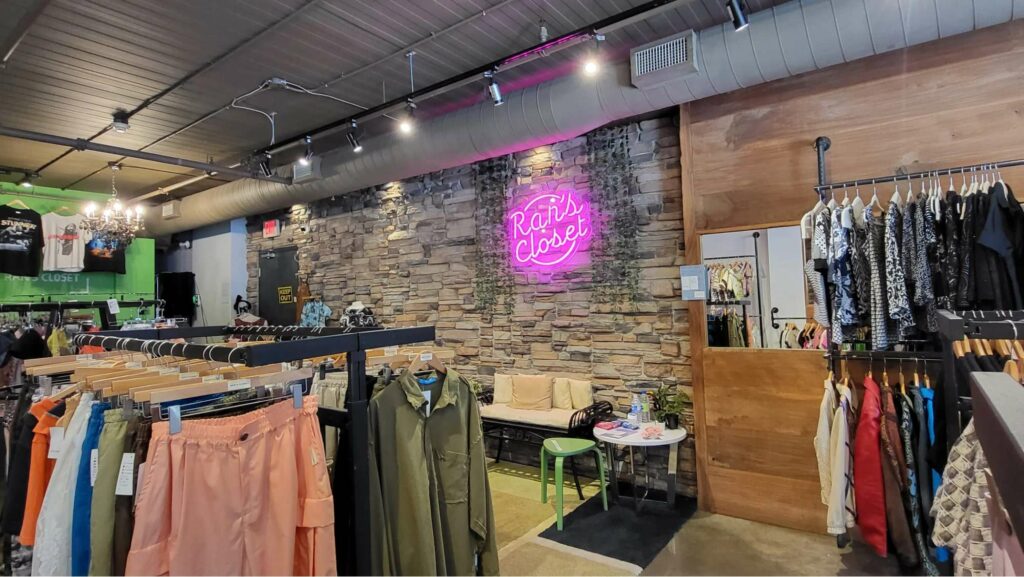 Address: 322 College St, Toronto, ON M5T 1S3
Phone: 416-551-3622
Fashion designer and stylist Hye Ran Ryu founded Ran's Closet due to her love for vintage clothing. She wanted to build a store where people can find iconic pieces that are unique and timeless.
If you're looking for a place to buy street apparel with affordable price tags, Ran's closet has a wide collection of vintage jackets, shirts, pants, and accessories. Some products are manufactured with recycled materials.
The Monocle Shop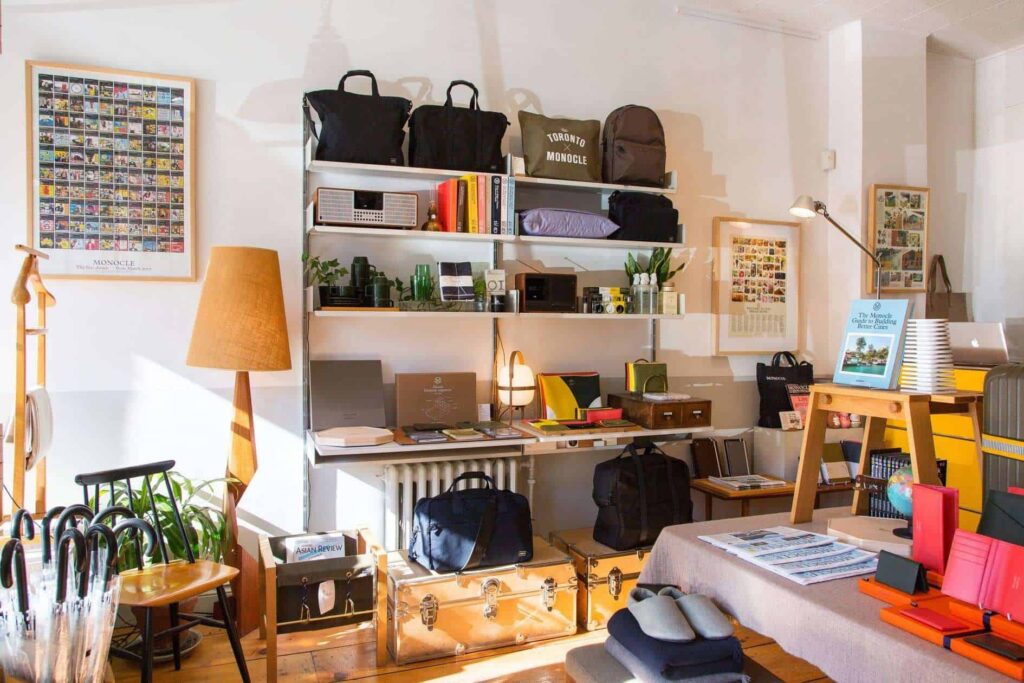 Address: 776 College St, Toronto, ON M6G 1C6
Phone: 647-694-2626
Monocle started as a magazine that provides insights into global affairs, culture, business, design, and more. It's evolved into other ventures, like stores and radio studios that share the same vision.
The Monocle Shop carries a wide variety of products, including their magazine which comes out 10 times a year in more than 80 countries. They also have great stationery finds and accessories from other brands.
Red Pegasus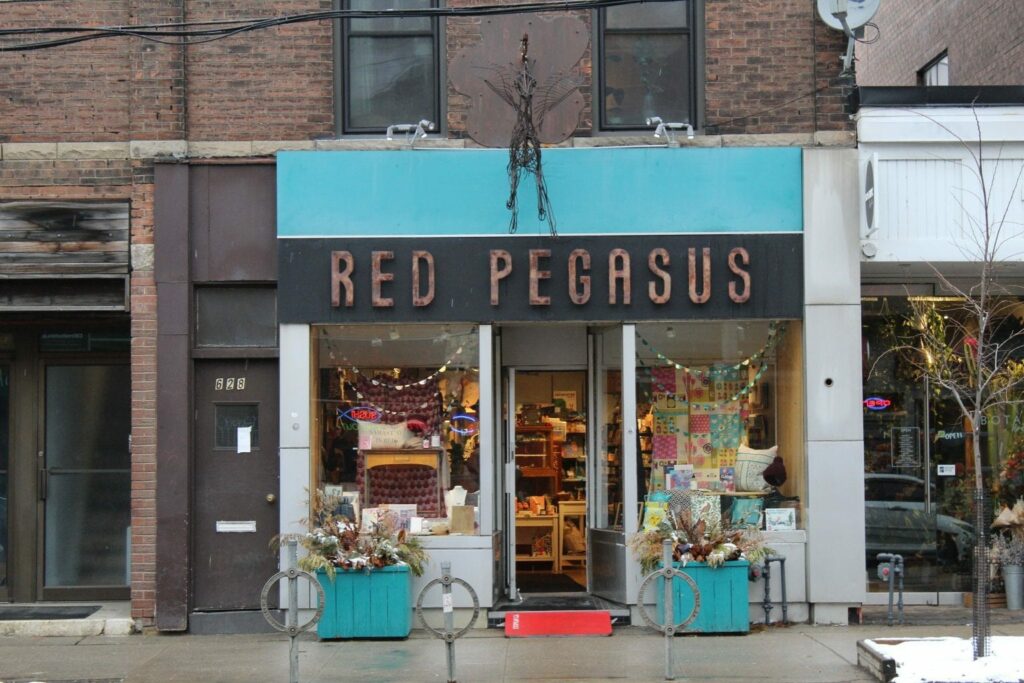 Address: 628 College St, Toronto, ON M6G 1B4
Phone: 416-536-3872
Red Pegasus is a gift shop founded by Rachel Chester who was passionate about collecting unique and peculiar items. It's an excellent choice for people looking to buy souvenirs for their family and friends.
Their products are generally affordable and include unconventional jewellery, home decor, accessories, and more. They also carry locally made items and a portion of the store's proceeds always go to people in need.
Balfour Books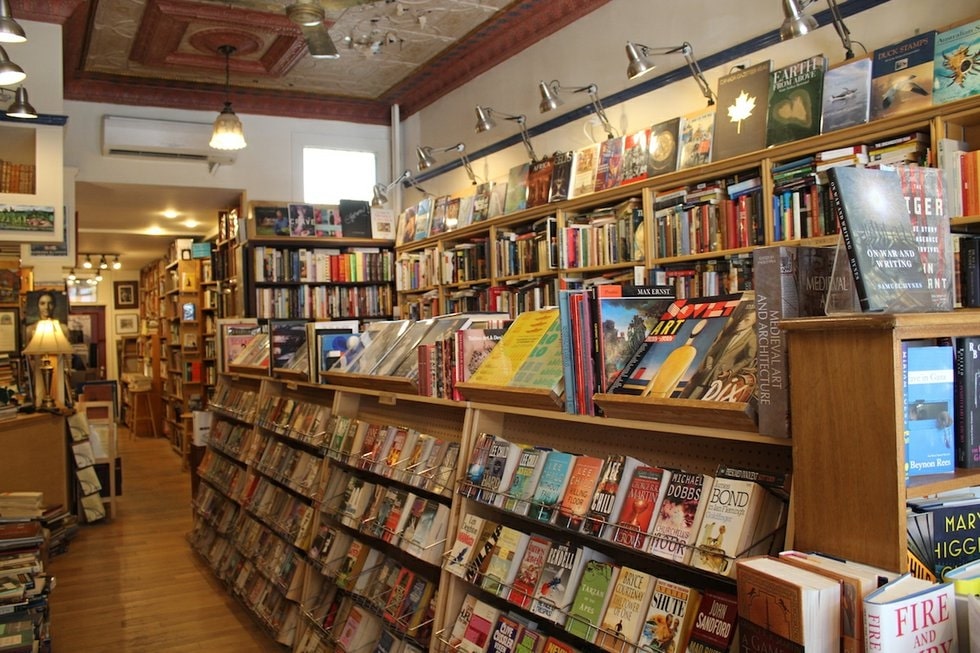 Address: 468 College St, Toronto, ON M6G 1A1
Phone: 416-531-9911
Balfour Books is home to an enormous collection of used books in all genres you can imagine. Despite its limited space, the interior manages to be inviting and relaxing so you'll end up browsing their selection without noticing the time.
Everything they have is priced reasonably, with some old copies going for as low as $1. Shelves are strategically and neatly organised so readers won't have a hard time looking for the perfect title.
Kiss My Pans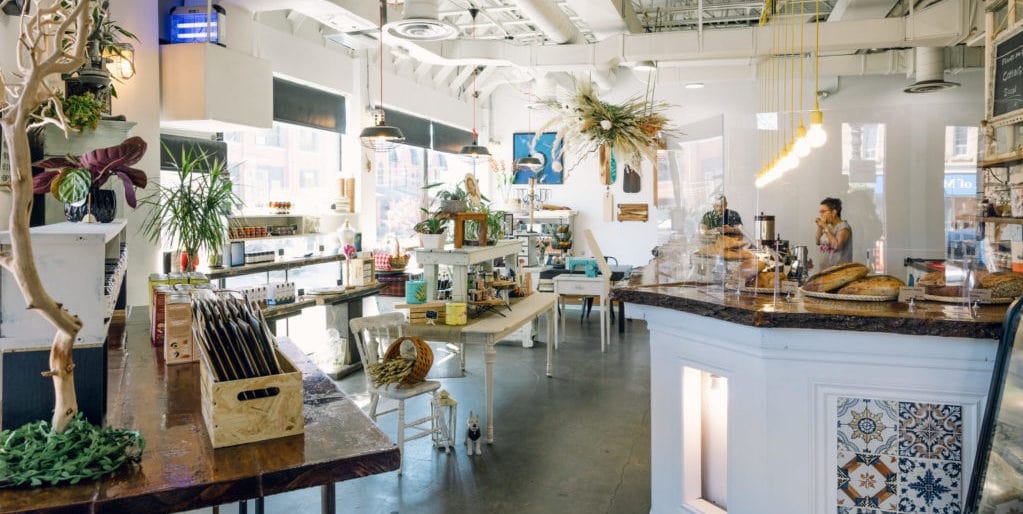 Address: 567 College St Unit 101, Toronto, ON M6G 3W9
Phone: 416-546-8511
Kiss My Pans is an artisanal cheese and charcuterie marketplace where people can find various types of dairy, including exotic items you wouldn't usually find in stores.
Apart from their array of rare cheeses, they also carry the famous Singaporean butter-roasted coffee known as "Kopi." Drop by and try one of their curated boxes and taste complex flavours you haven't tried before.