How to Travel from Toronto to See Niagara Falls
It is unlikely that a tourist visiting Canada wouldn't want to see Toronto given the city's range of places to visit such as shopping malls, art galleries, picnic spots, and more.
On the other hand, seeing Niagara Falls is also usually part of one's itinerary when in Canada. The beautiful waterfalls named after its own city is a sight to behold, so this isn't something worth missing.
Here is a detailed guide on how to travel from Toronto to see Niagara Falls.
How do you travel from Toronto to see Niagara Falls?
You can travel from Toronto to see Niagara Falls in four ways: by car, by bus, by train, via private tours, or via riding services.
For us, the most convenient way to travel from Toronto to see Niagara Falls is to drive towards Queen Elizabeth Way (QEW). This will take you around 1 hour and 30 minutes, depending on the flow of traffic.
Here's an overview of your journey:
Of course, a drive is only possible if you have your own ride. There are cheaper and commuter-friendly alternatives to travel from Toronto to see Niagara Falls such as buses, trains, private tours, and riding services.
We gently remind you to secure your auto insurance before this drive and advise that you be aware of the reliable tire shops, just in case.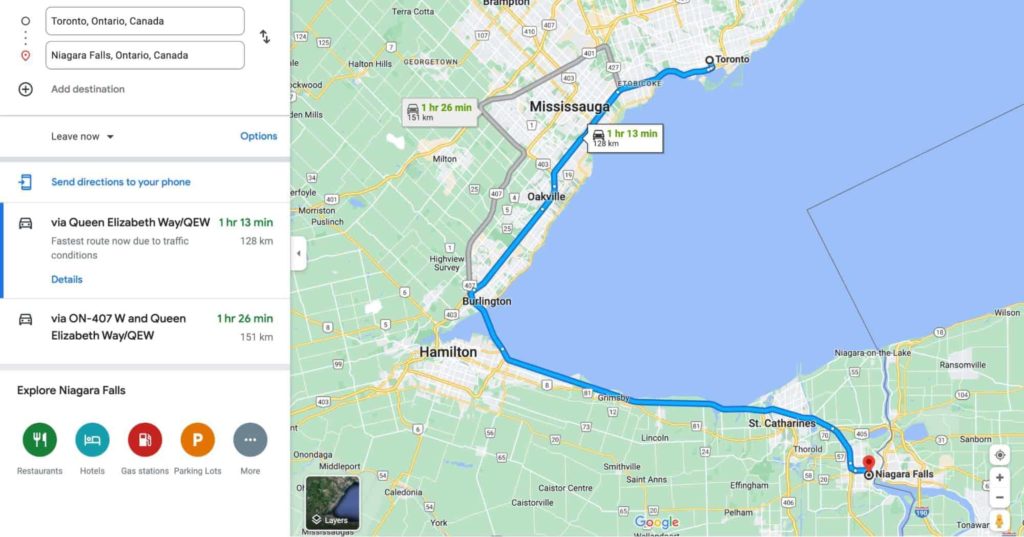 From Toronto, drive towards Queen Elizabeth Way (QEW)
Drive southwest towards Hamilton following the road to Niagara Falls
Drive through Burlington through St. Catharines and head on to the Niagara Region
Follow the signs toward Niagara Falls until you take Exit ON-420
How to Travel from Toronto to Niagara Falls by Bus
Taking a bus from Toronto to see Niagara Falls has many advantages. This mode is efficient and cheap, as it even dismisses the worry of that pending oil change you need to get done for your car.
A bus ride to Niagara Falls will take about 2 hours, which isn't far from the travel time that a private drive promises. On top of this, it will only cost you roughly CAD 13!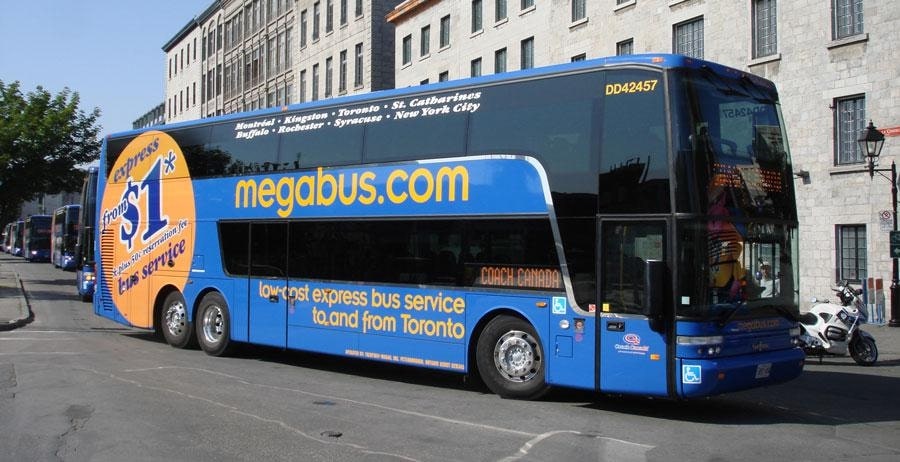 Featured image source: coachcanada.com
You will find the morning Megabus to Niagara Falls at the downtown coach station at 610 Bay Street. It will drop you off at the bus station in Niagara Falls, then you will need to take a 4-kilometre walk to the falls from there.
Hope you have your outdoor clothing ready!
How to Travel from Toronto to Niagara Falls by Train
There are two options should you decide to take a Toronto train going to Niagara Falls. You will find both of them at Union Station, which is located on Front Street between York and Bay Street.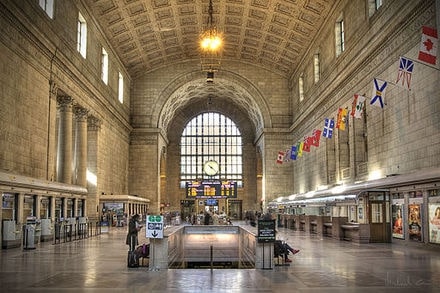 Image source: Wikipedia
ViaRail: For this, you have to be on the train before 8:20 AM, as there is only one trip per day. Only one return train is available as well, with an average price of CAD 50 per ticket.
You can also ride a GO Train to Burlington, then take the GO Bus in Burlington that passes Niagara Falls. The standard fare for one GO trip is around CAD 27.
How to Travel to Niagara Falls by Private Tours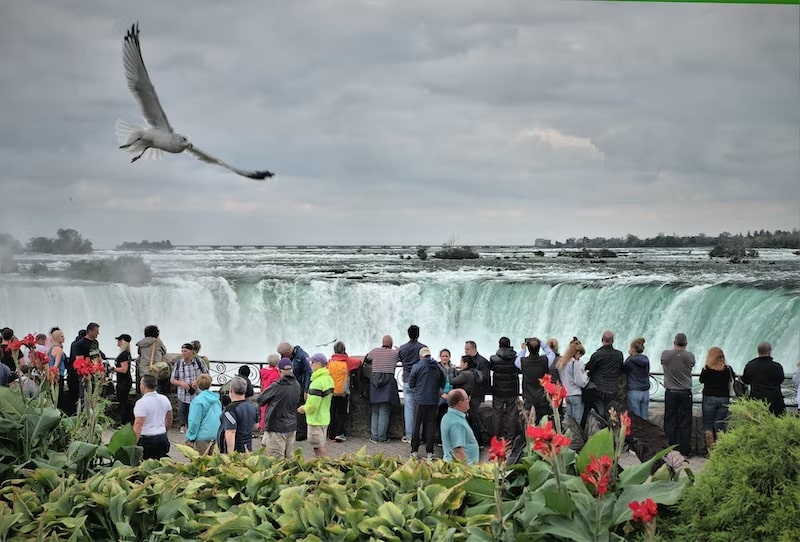 Image source: Shiomo Shalev via Unsplash
There are so many Niagara Falls private tours that you can book should you have the time and budget. Here are a couple of options you can consider:
Limo services: If you're willing to spend, these offer exclusive tours to Niagara Falls. This is perfect if you have a maximum group of 12, as you can split the money between yourselves and have a great time together.
Take note that renting a limousine can cost anywhere from CAD 110 to CAD 500. This all depends on the number of hours, how many of you will be riding, and what type of limo you choose.
Party buses: For larger groups, there are party buses that offer Niagara Falls tours as well. This option is perfect for friends who just simply want to go on a trip or even a company team that needs to unwind.
Rates range anywhere from CAD 195 to CAD 1,355. You can also book a special cruise should you desire, which will cost you anywhere between CAD 190 to CAD 230.
How to Travel to Niagara Falls by Riding Services
Shuttle and taxi services are also available should you want to just sit pretty while on your way to Niagara Falls. We do note that this will cost you money, but we can argue that the convenience of this option makes it worth it.
These services usually cost more or less than CAD 150. This all depends on your arrangement with the driver or the service.
Some of the most well-loved shuttle and taxi services in Toronto are:
Elite GTA Airport Limousine/Taxi
Toronto Airport Taxi Limo
Toronto Car Service
If you have the money, you can even rent a luxurious car for the day. You and your family and/or friends can also rent a van should you want your day to feel more like a field trip or vacation.