4 Best Shopping Malls in Toronto
Toronto is a destination for many tourists and immigrants. It is so rich in culture, so diverse, and has some of the best shopping experiences Canada can offer.
From upscale couture to retro bargains, Toronto's shopping alleys have it all. Today, we're giving you the dish on the best shopping malls in Toronto.
Best Shopping Malls in Toronto
What makes a shopping mall the "best"? We've broken down our criteria in 4 different aspects.
1. Yorkdale Shopping Centre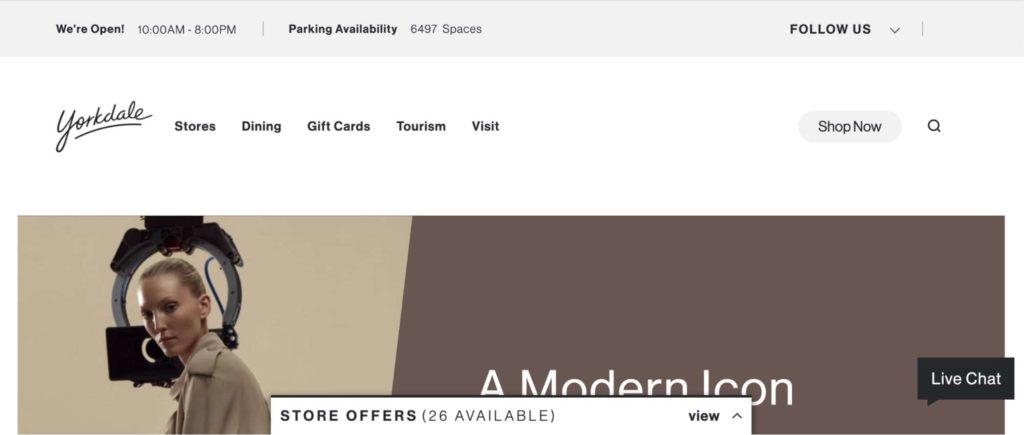 Test
Info
WEBSITE
ADDRESS
3401 Dufferin St, Toronto, ON M6A 2T9, Canada
CONTACT DETAILS
+1 416-789-3261
OPERATING HOURS
Monday to Saturday: 10:00 a.m. - 8:00 p.m.

Sundays: 11:00 a.m. - 7:00 p.m.
| | |
| --- | --- |
| Criteria | Ratings |
| Location | ★★★★★ (5/5) |
| Diversity of Retailers | ★★★★☆ (4/5) |
| Accessibility | ★★★☆☆ (3/5) |
| Customer Service | ★★★★☆ (4/5) |
| Ambience | ★★★★☆ (4/5) |

When Yorkdale opened in 1964, it was then the world's largest mall. Although it no longer holds that title, it is still one of the go-to spots in Toronto.
Standing at 2 million square feet wide, Yorkdale features more than 270 stores and is home to many luxury brands. The high ceilings and wide hallways make strolling across the mall such a delight.
We like the range of brands the mall has to offer. During our visit we spotted brands like Chanel and Versace, but also saw a LEGO Store and Crate & Barrel.
Yorkdale Shopping Centre is also the location of choice for Canada's very first Apple Store.
We also love that their new food court includes an outdoor terrace. This works great for that al-fresco vibe after a long day of shopping.

Finding a parking spot in this mall might serve to be a challenge as it tends to fill up rather fast. What we found really interesting is that if you scroll through their website, you'll be able to check on the availability of parking in each parkade.
The mall is also connected to Yorkdale Station and is easily accessible. Another option would be to take the 29 Dufferin Bus or 47 Lansdowne Bus.
Easily accessible through public transport
Can check parking availability on the website 
Outdoor area in food court
Difficult to find parking 
Crowded on weekends
Small food court compared to other malls
Customer Reviews
A work of beauty
"Just walking around the Mall isn't just another Shopping Mall District but a work of beauty in my point of view. Just don't want to leave, can be there all day. So pretty to look at 😊 Always good to come around while in the neighborhood." – Christoph Alfonso
Well-connected to public transport
"Very convenient mall, well-connected to public transport. You can easily hop on the metro and be within 3 stops in Toronto downtown or catch the GO bus directly to the airport.
The shopping experience is wonderful as well, as the restrooms are even lavishly designed. Def 10/10." – Paula Hesenova
2. Toronto Eaton Centre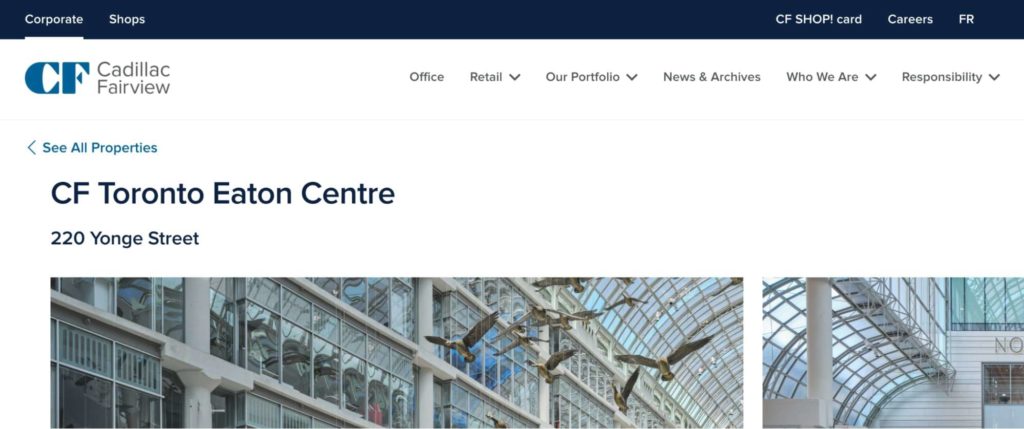 | | |
| --- | --- |
| Criteria | Ratings |
| Location | ★★★★★ (5/5) |
| Diversity of Retailers | ★★★★★ (5/5) |
| Accessibility | ★★★☆☆ (3/5) |
| Customer Service | ★★★★☆ (4/5) |
| Ambience | ★★★★★ (5/5) |
Toronto Eaton Centre is not just a shopping mall, but an iconic landmark in Toronto. Make sure to snap a photo by the famous Canada Geese Sculpture before heading below the glass atrium for a shopping adventure.
Since it is located in the heart of downtown Toronto, Toronto Eaton Centre is easily accessible from both East and West sides of the City. You can also get off either Queen Station or Dundas Station and walk towards Eaton Centre using the PATH system.
PATH is Toronto's underground pedestrian walkway that spans 30 kilometres of restaurants and stores. It holds the Guinness World Record for the largest underground shopping complex in the world!
Toronto Eaton Centre plays host to over 50 million visitors annually, who come to shop at more than 200 stores across 1.7 million square feet. However, since it is a tourist destination, it tends to be crowded especially during peak hours and weekends.
We also like that they have a shop for every kind of budget. Whether you're looking to shop at high-end stores like Saks Fifth Avenue or other brands like H&M and Banana Republic – you'll find it all here.
When you've worked up an appetite, you can dine in the many restaurants or grab a quick bite in one of the 30 outlets in the food court. If you still don't feel like calling it a day, you can head to ​​Yonge-Dundas Square just outside the Eaton Centre doors and watch one of the many live concerts they host throughout the year.
Good mix of high-end and casual stores
Iconic landmark in Toronto
Easily accessible from most parts of Toronto
Limited washrooms 
Crowded on most days 
Customer Reviews
Diverse Collection
"This is and iconic Mall in downtown Toronto. They have done many Renovations over the years and I would consider this to be a world-class location as far as a shopping experience goes. There is a diverse collection of merchandise that will appeal that any persons of all walks of life. I would strongly encourage anyone visiting downtown Toronto to put this on their to-do list." – Joseph Aaron
It is the largest shopping I have ever visited
"Very great place for shopping. You will find most of the shops here and it has eatery section on the basement. It has decorations on special occasions like Christmas. I like this place so much. I like this place as I can get all shopping items at one place. It is also connected to Subway. I think it is the largest shopping I have ever visited in my life. It has around 300 shops including food area." – Jayveer Parmar
3. Yorkville Village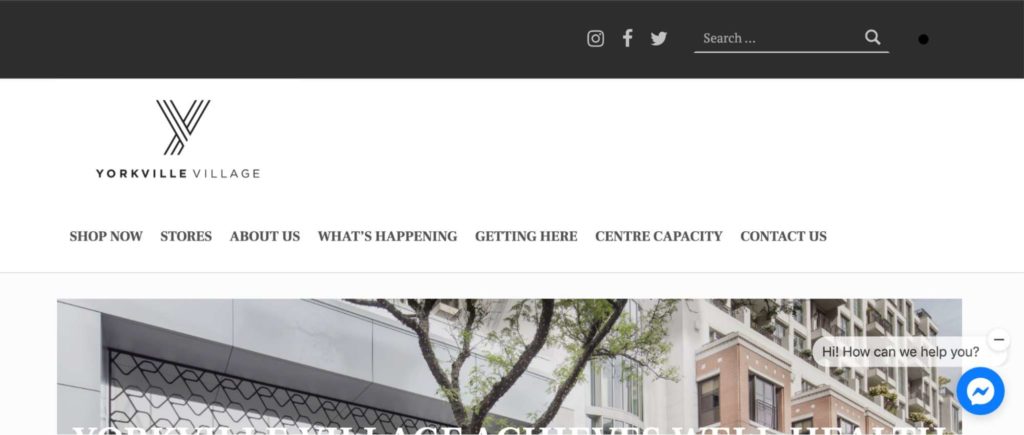 Test
Info
WEBSITE
ADDRESS
55 Avenue Rd Suite 2250, Toronto, ON M5R 3L2, Canada
CONTACT DETAILS
+1 416-968-8680
OPERATING HOURS
Monday to Saturday: 10:00 a.m. - 6:00 p.m.

Sunday: 12:00 n.n - 5:00 p.m.
| | |
| --- | --- |
| Criteria | Ratings |
| Location | ★★★★☆ (4/5) |
| Diversity of Retailers | ★★★☆☆ (3/5) |
| Accessibility | ★★★☆☆ (3/5) |
| Customer Service | ★★★☆☆ (3/5) |
| Ambience | ★★★★★ (5/5) |
Located in the affluent neighborhood of Yorkville stands Toronto's poshest mall, Yorkville Village. A little warning though: with prices going up to thousands of dollars, shopping here is not for the faint-hearted.
Here you'll find the latest runway pieces from Milan and New York in stores like Prada and Vera Wang. You can also head down to Whole Foods (often dubbed as Whole Paycheck) for organic groceries.
What really stood out for us was the complimentary dog sitting service that they offered for shoppers. Although a couple of visitors complain that this friendly treatment is only given to the privileged few.
While shopping at Yorkville Village you either feel at home or feel completely out of place. The staff can be intimidating if they feel like you aren't a 'serious shopper'
Yorkville is like the Beverly Hills of Toronto. During the Toronto International Film Festival, this place becomes a hotspot for celebrity spotting.
A stroll on the streets will show you a parade of high-end cars like Ferraris and Lamborghinis. However, you'll also find some of the coziest coffee shops around these streets.
Getting here through public transport is not that easy. You'll have to take a 7-minute walk from Bay station to Yorkville Village.
For those driving here, there is ample parking underground and in the streets.
Specializes in Luxury boutiques
Complimentary dog-sitting service 
Intimidating staff
Relatively small compared to others on the list
Not connected to public transport
Customer Reviews
An upscale shopping experience
"They've done a great job redeveloping this shopping centre, it used to be dark and difficult to navigate. Now it's bright and happening. You'll find Whole foods, equinox, high end retailers like TNT, and a new refreshing food court. It's definitely an upscale shopping experience. Make sure to take advantage of the parking validation by whole foods and get some groceries while you're at it ;)" – Jonathan Segal
It's been a pleasure to walk through
"Ever since they revitalized this mall, it's been a pleasure to walk through! I don't even like shopping that much, but I deliberately walk through this place on my way to Whole Foods. The shops are all high end, and the mall itself is furnished with lots of wood, making the interior warm feeling. There are several entrances, the most obvious one off of Yorkville Avenue, right near avenue road." – Nikolas Koschany
4. Dufferin Mall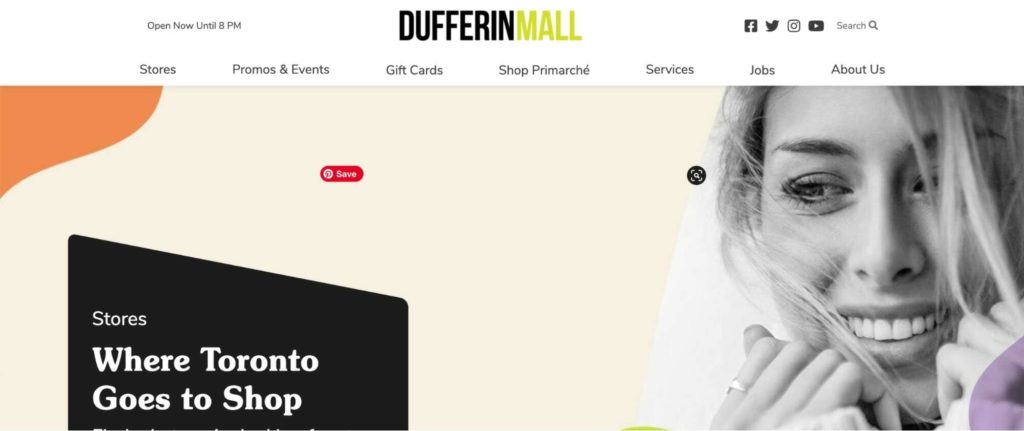 Test
Info
WEBSITE
ADDRESS
900 Dufferin St, Toronto, ON M6H 4A9, Canada
CONTACT DETAILS
+1 416-532-1152
OPERATING HOURS
Monday to Saturday: 10:00 am - 8:00 pm

Sunday: 11:00 a.m. - 6:00 p.m.
| | |
| --- | --- |
| Criteria | Ratings |
| Location | ★★★★☆ (4/5) |
| Diversity of Retailers | ★★★★☆ (4/5) |
| Accessibility | ★★★★★ (5/5) |
| Customer Service | ★★★★★ (5/5) |
| Ambience | ★★★☆☆ (3/5) |
Dufferin Mall is your friendly neighborhood mall in the west. This is a straightforward, no-frills mall.
Here you'll find all the basics that you'll need. From Walmart to Dollarama, to Toys R Us and brands like H&M, it provides most of what the neighborhood needs and wants.
The food court has limited options, but it has enough for anybody looking to grab a quick bite as they head home from the office. You'll find a few big chain joints like Popeye's, Starbucks, and Thai Express.
The great thing about being away from the touristy limelight is that this mall is not overly crowded. You can go run an errand and get back in a jiffy.
But since it doesn't have the volume in terms of foot traffic, most retailers don't stock their new collections here. Some of them do not even have complete stock.
For those driving, Dufferin Mall offers free parking. However, for those taking public transport, it is only a 5-minute walk from Dufferin Station.
During the summer season, you'll see the neighborhood come together at the courtyard as they all sit together and watch live-music performances and concerts.
For pet lovers, this mall might not be the right one as they do not allow pets. Only service/support animals are allowed at Dufferin Mall.
No-frills Neighborhood mall 
Not crowded
Free Parking
Stores aren't stocked well 
Not pet-friendly
Customer Reviews
Excellent place if you are trying to avoid crowds
"Dufferin Mall is an excellent place to visit if you are trying to avoid the kind of crowds that you would find at the more prominent malls. There are reputable stores there, but don't expect a variety as you would elsewhere. Generally, Dufferin Mall is the perfect place if you're looking for a less busy atmosphere." – Redonje Wayde
Providing what the neighborhood needs
"Great Mall. It keeps evolving and providing what the neighborhood needs and wants. It covers most of your shopping quests and the food court, like the area, has a ton of variety and multicultural. I've been coming to this mall well over 30 years. So many memories." – Carlito Hustle
BONUS. Square One Shopping Centre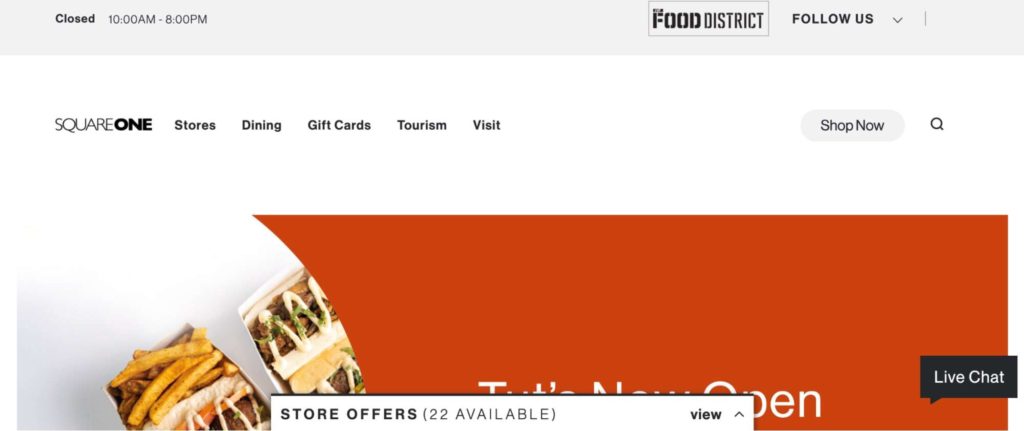 Test
Info
WEBSITE
ADDRESS
100 City Centre Dr, Mississauga, ON L5B 2C9, Canada
CONTACT DETAILS
+1 905-270-7771
OPERATING HOURS
Monday to Saturday: 10:00 a.m. - 8:00 p.m.

Sunday: 11:00 p.m. - 7:00 p.m.
| | |
| --- | --- |
| Criteria | Ratings |
| Location | ★★★☆☆ (3/5) |
| Diversity of Retailers | ★★★★★ (5/5) |
| Accessibility | ★★★★☆ (4/5) |
| Customer Service | ★★★★★ (5/5) |
| Ambience | ★★★★☆ (4/5) |
Square One Shopping Centre isn't exactly in Toronto, but rather in the neighbouring city of Mississauga. Nearly a 40-minute drive away from downtown Toronto, Square One Shopping Centre is an experience like no other.
It is the second biggest mall in Canada occupying 2,200,000 square feet of retail space. You can literally find anything you want in this mall.
With a mall that big, it is easy to get lost in finding one of its 360 retail shops. Thankfully, they have maps and boards located across the mall to make it easier.
From Whole Foods to Crate & Barrel to a Rolex Shop – their range of retail shops is quite diverse. You'll find everything from independent to big chain retailers.
After all that walking and shopping, you can go through the huge range of restaurants in the mall. Their in-house food court, Food District, has a variety of vendors too.

Those making the drive down won't have to worry about parking as they have ample free parking services. And for those in Mississauga, it is easily accessible through public transport.

The highlight of this mall for us though is the transparency in occupancy rates. The occupancy rate of specific levels and locations is shown throughout the day.
Free parking 
Transparent occupancy rates
Second biggest mall in Canada 
Far away from Toronto central
Difficult to navigate
Customer Reviews
One can spend the whole day here
"Square One is a Mall that I have seen grow through the years. It is amazing to see the changes that have taken place in this Mall. It is a huge Mall that one can spend the whole day in here. It is accessible by public transit and there are also lots of parking spaces for cars. There are a lot of choices of shops from more affordable ones to high end. The eateries, the food court the coffee shops – there are a lot of places to choose from where one can eat. It is also kept clean. This Mall has a lot to offer and surely caters to everyone." – A A
One Stop Shop
"One of my favourite malls in the GTA. Ample parking available, and in close proximity to Celebration Square, Sheridan College HMC, Cineplex, Jack Astor's and Scaddabush. The mall's layout is quite nice, with a wide variety of stores and a food district area, in addition to the regular food court. It's a one stop shop with access to banks, restaurants, salons and shopping." – Kavita Rameshwar Singh
FAQs About Shopping Malls in Toronto
---
Want to skip the mall and go to someplace specific? Check out our list of the Top Jewellery Shops in Toronto.