THE BEST NEPHROLOGISTS IN TORONTO
Nephrologists are specialised medical practitioners dedicated to diagnosing and treating kidney-related ailments. Their primary focus revolves around safeguarding the health of individuals grappling with kidney disorders, which range from chronic kidney disease sufferers to those requiring transplant evaluations.
As experts in renal health, these healthcare professionals play a crucial role in the well-being of Toronto's diverse patient population, ensuring optimal kidney function and overall health.
This list highlights Toronto's finest nephrologists who excel in delivering top-notch care!
How We Chose the Best Nephrologists in Toronto
How Much Does a Consult with a Nephrologist Cost in Toronto?
If you're a Canadian Citizen or a permanent resident, there's no fee for visiting a gastroenterologist as long as you provide your provincially-registered health card.Consult with your healthcare provider or insurance company for a clearer understanding of potential costs and coverage options.
1. Dr. Michelle Hladunewich – Sunnybrook Health Sciences Centre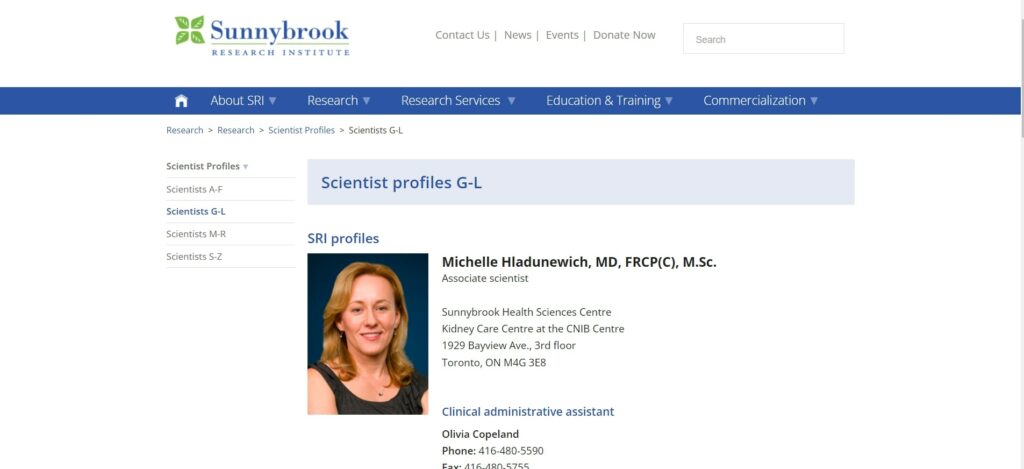 | Test | Info |
| --- | --- |
| WEBSITE | https://sunnybrook.ca/ |
| ADDRESS | 1929 Bayview Avenue, 3rd Floor, Toronto, ON M4G 3E8 |
| SOCIAL MEDIA | LINKEDIN |
| CONTACT DETAILS | PHONE: (416) 480-5590 |
| OPERATING HOURS | By appointment |
Graduating with distinction from the University of Alberta, Canada, Dr. Michelle Hladunewich earned her B.Sc. in psychology in 1990 and completed her MD degree in 1994 from the same institution.
Currently practising at Sunnybrook Health Sciences Centre, Dr. Michelle focuses on understanding renal physiology during both typical and atypical pregnancies by monitoring pregnancy outcomes in women with chronic kidney disease.
Dr. Michelle holds a distinguished role as an Associate Scientist in the Biological Sciences at the DAN Women & Babies Research Program and as a Professor in the Department of Medicine, Division of Nephrology at the University of Toronto. She is also the medical lead for glomerulonephritis and specialty clinics within the Ontario Renal Network.
Additionally, her focus on the intricacies of kidney disease during pregnancy, particularly preeclampsia, has paved the way for groundbreaking insights. She has meticulously cultivated specialty clinics tailored to kidney disease, pregnancy, and glomerular-based conditions.
Focus on pregnant women with kidney disease
Medical lead for glomerulonephritis
Research on women and babies with kidney disease
Most compassionate, kind, and brilliant
"I've been seeing Dr. Michelle for about three years, and she's the most compassionate, kind, and brilliant doctor. She knows my case history well and always listens intently. She also weighs my lived experience above and beyond what science may predict for a typical patient, which means the world to me!"
Anonymous, RateMDs.com
She has given me hope
"I instantly felt at ease with Dr. Michelle and her team. She has given me hope. I was referred to her to discuss pregnancy plan while living with kidney disease. After our initial consult she wanted to focus on me, and getting me better to my optimal health first above all else. I feel very involved and informed about every step and change being made to my care."
Anonymous, RateMDs.com
2. Dr. Robert Ting – The Scarborough Hospital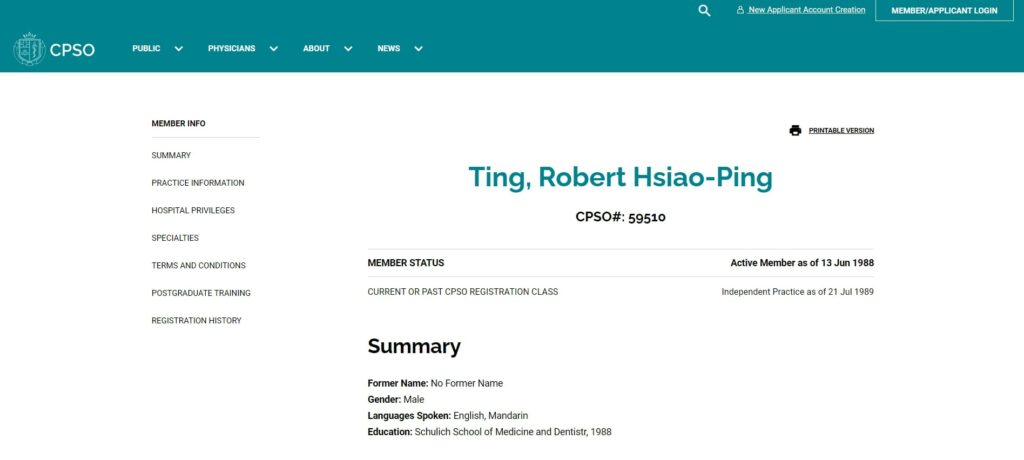 | Test | Info |
| --- | --- |
| WEBSITE | https://doctors.cpso.on.ca/ |
| ADDRESS | 3030 Lawrence Avenue East, Suite 108, Toronto, ON M1P 2T7 |
| SOCIAL MEDIA | LINKEDIN |
| CONTACT DETAILS | PHONE: (416) 438-2911 |
| OPERATING HOURS | Monday - Friday: 8:30 am - 4:30 pm |
Dr. Robert Ting stands as a seasoned and esteemed nephrologist in Toronto, boasting a wealth of experience since 1988. Having completed his medical education at Western Medical School, he embarked on a journey of continuous learning, honing his skills through internal medicine and nephrology training at the University of Toronto and Stanford University.
Dr. Robert is dedicated to the comprehensive diagnosis and treatment of diverse kidney disorders, emphasising patient education to foster informed decision-making and optimal outcomes.
An advocate of non-surgical interventions, he addresses a broad spectrum of renal issues, including severe defects, navigate the intricacies of the renal system with precision, and advocates for holistic renal system care.
He practises at Bridgepoint Hospital, Scarborough General Hospital, and Scarborough Health Network Centenary. His fluency in English and Mandarin also allows him to accommodate diverse patients.
Preference for non-surgical treatments
Specialises in Congenital Kidney Abnormalities
Accepts new patients 
He never rushes me
"I have been his patient for about 15 years…thanks to him my blood pressure has improved and my diabetes managed. He always takes the time to see how I am doing now that I am retired and have moved out of the city. He never rushes me and I appreciate our conversations. He is so knowledgeable and makes me thankful he is my doctor."
Anonymous, RateMDs.com
He saved my dad's life
"Very helpful , kind, and extremely knowledgeable ! He is truly an amazing person and takes care of his patience like their family. He saved my dad's life. Thank you, Dr. Ting !"
Anonymous, RateMDs.com
3. Dr. Jeffrey Zaltzman – St. Michael's Hospital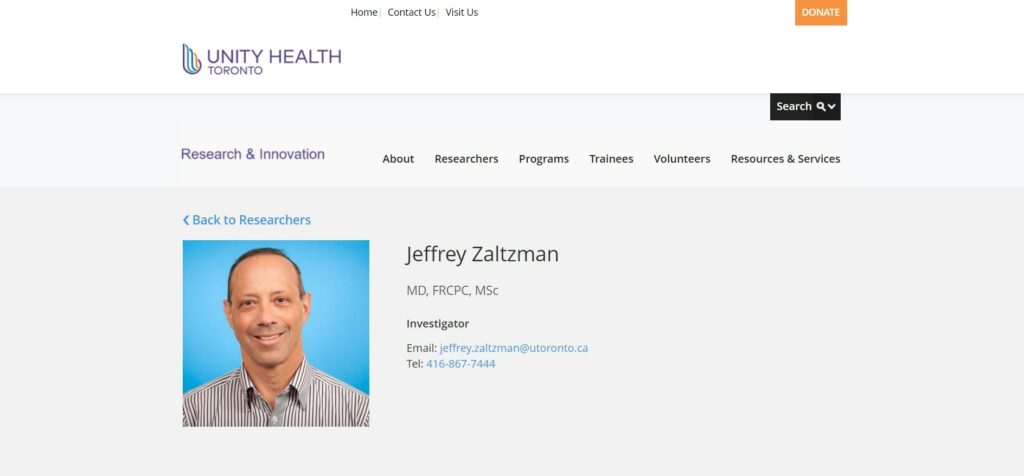 | Test | Info |
| --- | --- |
| WEBSITE | https://research.unityhealth.to |
| ADDRESS | 61 Queen St East, Toronto, ON M5C 2T2 |
| SOCIAL MEDIA | LINKEDIN |
| CONTACT DETAILS | PHONE: (416) 867-7444 |
| OPERATING HOURS | Sunday - Friday: 8:00 am - 4:00 pm |
Dr. Jeffrey Zaltzman obtained his undergraduate degree and MD at McGill University. He further honed his skills through a residency in internal medicine at the University of Manitoba, followed by specialised training in nephrology and transplantation at the University of Toronto. His commitment to evidence-based practice led to an MSc in Clinical Epidemiology.
Dr. Zaltzman's influence transcends clinical practice; he holds key roles as Medical Director for the Diabetes Comprehensive Care Program and Chief Medical Officer for Transplant at Trillium Gift of Life.
He also chairs the Canadian Society of Transplantation Kidney Working Groups and is involved with the Kidney Foundation of Canada, where he champions improved kidney health and supports patients.
Furthermore, as the Director of the Renal Transplant Program at St. Michael's Hospital and a Professor of Medicine at the University of Toronto, he continues to elevate nephrology's advancement through clinical acumen and mentorship.
Focus on End-Stage Renal Disease (ESRD)
Specialises in transplant training.
Background in Research Ethics
Up to date with new research and treatments
Limited slots for new patients 
Up-to-date with all the new treatments
"He is a wonderful and caring nephrologist. He is incredibly knowledgeable about my rare kidney disease and is up-to-date with all the new treatments. He is also open-minded and listens to my concerns. I wish I could see him more often, as other reviewers have said it's hard to get an appointment. Regardless, he always answers my emails promptly and of course, Erin (his receptionist) is really great."
Anonymous, RateMDs
I feel at ease
"Overall, I can sum it up in a few words…Outstanding doctor… informative, intelligent, and caring. The staff is amazing. I feel at ease when I call or have a clinic visit. Dr. Zaltzman and the staff are truly amazing!!! Thank you so much."
Anonymous, RateMDs
4. Dr. Leo Levin – Hospital For Sick Children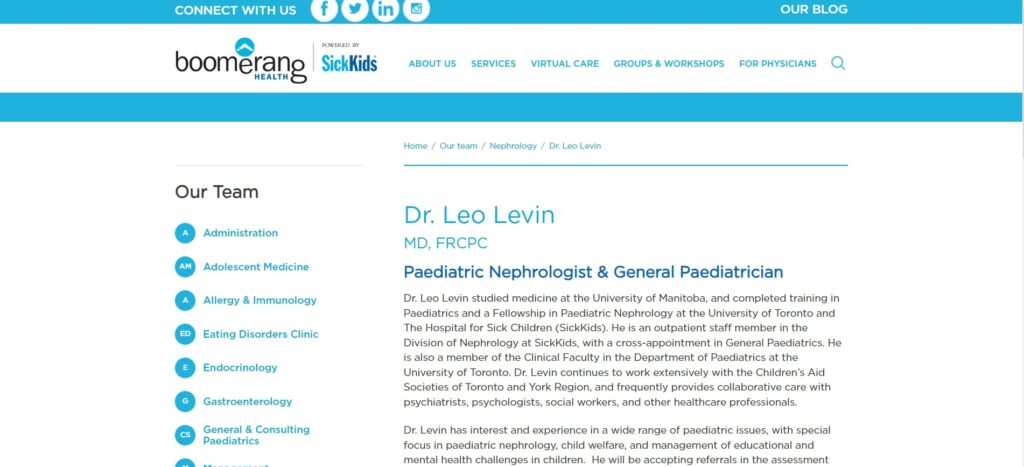 Dr. Leo Levin boasts a career spanning over 33 years as a pediatric nephrologist and general pediatrician. He pursued his medical studies at the University of Manitoba, followed by specialised training in pediatrics and a fellowship in pediatric nephrology at the University of Toronto and SickKids.
He's currently an outpatient staff member in the Division of Nephrology at SickKids, complemented by a cross-appointment in General Pediatrics within the esteemed institution.
Holding a position as a clinical faculty member in the Department of Pediatrics at the University of Toronto, Dr. Levin shares his expertise and knowledge with the upcoming generation of healthcare professionals.
Dr. Levin actively engages in collaboration with mental health professionals, psychiatrists, psychologists, and social workers, highlighting his commitment to a holistic patient care approach.
His extensive involvement with the Children's Aid Societies of Toronto and York Region further underscores his dedication to the well-being of children and adolescents.
33+ years of experience
Collaborates with mental health professionals
Holistic patient care approach
Special focus on pediatric nephrology
Offers thoughtful advice and feedback
"We have been patients of Dr. Levin since 1994. He is a caring , intuitive, brilliant man who is in exactly the perfect profession. For all his attributes. He always listens to his patients and parents and offers thoughtful advice and feedback. My daughter is now 25 and her career choice was directly inspired by Dr. Levin and his approach to health care. Donna is Dr. Levin's right hand and an amazing nurse. Donna always has time for nervous mothers and is so calm , kind, knowledgeable and reassuring. Coupled with the other physicians and front office staff, I would confidently say this is the best pediatric clinic in Canada. My son is now 18 so sadly we have to leave. As a parent, it is greatly comforting to know that your children are in such good hands!"
Anonymous, RateMDs.com
Knowledgeable and is great with kids
"Dr. Levin is an excellent doctor. He's friendly, knowledgeable and is great with kids. Our daughter used to have another doctor and he was extremely impatient and had terrible bedside manner. We are very happy with Dr. Levin and even though we have moved quite far away we still stay with Dr. Levin because it's very hard to find such a good doctor nowadays."
Anonymous, RateMDs.com
5. Dr. Martin Schreiber – St. Michael's Health Centre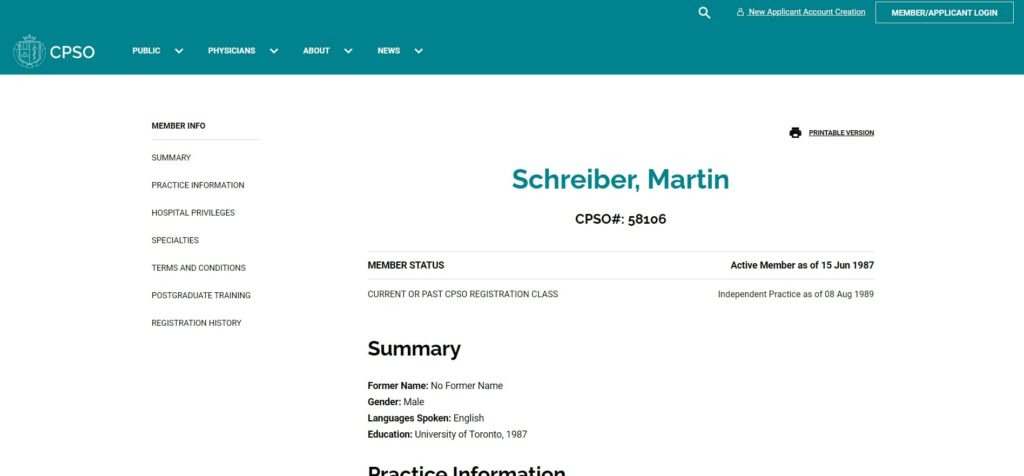 Dr. Martin Schreiber has a tenure of 40 years in the field of nephrology. His academic journey began at Wake Forest University School of Medicine, followed by a residency and chief residency at Cleveland Clinic, and then a nephrology fellowship at Massachusetts General Hospital.
Additionally, he pursued advanced medical education in Scotland and later acquired a Master's degree in medical education from the University of Dundee.
He previously held positions at Cleveland Clinic as Director of Home Dialysis, Chairman of the Department of Nephrology and Hypertension, and member of the Board of Governors.
Dr. Schreiber has conducted lectures and contributed to distinguished journals such as the Journal of the American Society of Nephrology, the American Journal of Kidney Disease, and Peritoneal Dialysis International.
He returned to Toronto and joined Mount Sinai and the University Health Network, taking up roles in internal medicine and nephrology.
40+ years of experience 
Major contributions to science journals
Active educator and lecturer
Very patient and compassionate
"Being on dialysis Dr. Schreiber keeps a keen eye on me through reports from the staff. Due to Covid and the fact my treatments are during the night, he's not able to see me as often. But we usually have regular 30-minute phone conversations of which he keeps a detailed transcript, and acts upon whenever necessary. Very patient and compassionate man."
Anonymous, RateMDs.com
Incredibly kind, knowledgable, and flexible
"You would be hard-pressed to find a better nephrologist in the city. He is incredibly kind, knowledgeable, and flexible with his appointments. He remembers small things mentioned in appointments > 6 months prior, and really goes the extra mile to make sure the patient is being cared for in all aspects of their health (not just the kidneys!)"
Anonymous, RateMDs.com
---