THE BEST SWIMMING COACHES IN TORONTO
From neighborhood pools to competitive arenas, swimmich coaches are at the heart of guiding swimmers of all ages and skill levels.
These coaches not only possess exceptional technical knowledge but also demonstrate a profound commitment to nurturing young talent, instilling discipline, and fostering a love for the sport.
Grab your goggles and floaties as we do a deep dive into some of the best swimming coaches in the 6ix!
How We Chose the Best Swimming Coaches in Toronto
How Much Does Hiring a Swimming Coach Cost in Toronto?
In Toronto, the cost of hiring a swimming coach typically varies from $20 to $40 per hour. The price is influenced by factors like the coach's experience, qualifications, and skill level.
1. Kerri Russell-Channer – Russell Aquatics Swim School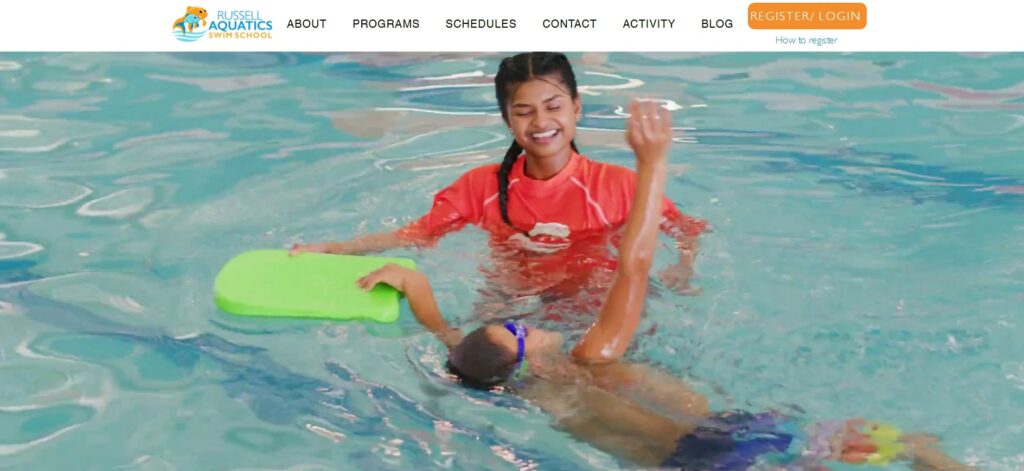 Test
Info
WEBSITE
https://www.russellaquatics.com/
ADDRESS
66 Copper Creek Dr, Markham, ON L6B 0P2
SOCIAL MEDIA
INSTAGRAM
CONTACT DETAILS
PHONE: (905) 471-6767
OPERATING HOURS
Tuesday - Friday: 8:00 am - 9:00 pm

Saturday - Sunday: 7:45 am - 1:00 pm
Kerri Russell-Channer started as a competitive swimmer with the Markham Aquatic Club. She found her calling early; at just 12 years old, Kerri began teaching swimming to children with special needs.
By 17, she had turned her parents' backyard pool in Markham into the hub for Russell Aquatics, teaching local kids how to swim.
With degrees in early childhood education from Ryerson University and education from York University, Kerri's dream grew into a year-round business, co-owned with her sister Kristi. The heart of their success is a tight-knit team and loyal clients who've been part of Russell Aquatics since day one.
Russell Aquatics provides year-round swim lessons that cater to children of all skill levels. Their inclusive and personalised programs are designed for both beginners and competitive swimmers. They emphasise safety, proper technique, and the joy of swimming, creating a supportive and nurturing atmosphere for their students.
Year-round availability
Family-owned business
Inclusive services for children with special needs
Highly recommended this place
"One of the best swimming school for beginners! My daughter is 5 years old and she love school, her swimming skills has improved a lot before when she go to beach she get scared from water now she love it ! Now she is swimming perfectly in beach or swimming pool. Highly recommended this place! They have one of best teachers!!"
Faisal Brone, Google Review
Very organized and clean
"I've tried a few other swim schools for my son, but Russell Aquatics has been one of the best by far. It is very organized and clean. Admin are friendly and helpful, teachers are qualified, fun and passionate, and programs are structured. I'm already seeing so much progress after 3 classes!!"
Cherie Luk, Google Review
2. Bill O'Toole – Toronto Swim Club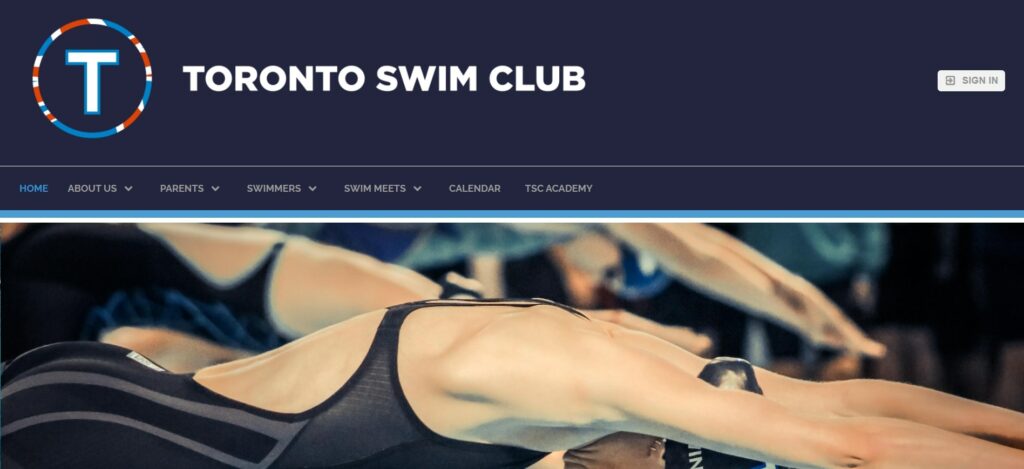 With over 30 years of coaching experience and a remarkable record of success, Bill O'Toole's guidance has propelled swimmers to achieve nearly 100 national and provincial records. Several of them made their mark on Canada's national team in prestigious competitions like the Olympic Games, World Championships, and Commonwealth Games.
His coaching journey commenced in 1982 with the York Swim Club, followed by impactful leadership at the Markham Aquatic Club and the Cobra Swim Club. He is currently the head coach of the Toronto Swim Club.
Bill's accolades include the Petro Canada Coaching Excellence Award and Swim Ontario Coach of the Year honors. He holds a Level III certification and ChPC recognition from the Coaching Association of Canada, further solidifying his expertise and dedication.
30+ years of coaching experience
Mentored swimmers for the World Championships
Awarded with Swim Ontario Coach of the Year
Club can be crowded during peak times 
Love the coaches
"I've been swimming for six seasons now and I couldn't love it more. Not only are we a team but we're a family, everyone's amazing. Love the coaches and my teammates, can't wait for the new season to start!"
Maya, Google Review
Good pools, very fun, cool merch
"A great club with amazing coaches and other swimmers, good pools, very fun, cool merch, and just an overall good club 👍👍"
Ivan Pan, Google Review.
3. Evgenii Karabetkii – Rocket Swim Club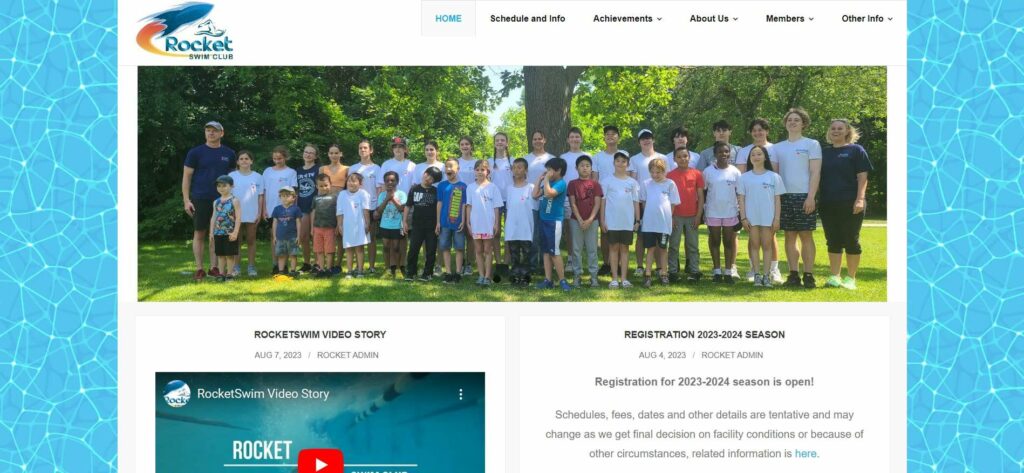 Test
Info
WEBSITE
https://rocketswim.com/
ADDRESS
125 Evelyn Crescent, Toronto, ON M6P 3E3
SOCIAL MEDIA
FACEBOOK
CONTACT DETAILS
PHONE: (647) 09-0659
OPERATING HOURS
Monday, Wednesday, Friday: 6:00 pm - 8:00 pm

Tuesday, Thursday: 4:30 pm - 6:30 pm

Saturday: 10:00 am - 12:00 pm
From 2009 to 2016, Evgenii Karabetkii served as head coach for the Republic of Moldova Swimming Federation (FISN). Under his guidance, Moldovan athletes soared to prominence in junior, youth, and open swim meets, even making their mark in the Olympic Games finals.
His mentees have earned scholarships at prestigious universities worldwide, including distinguished Division 1 institutions in the USA. At present, he remains an integral part of the FISN coaching board.
Evgenii served as the head coach of the Olympic Reserve team from 2004 to 2022, as well as the coach of the national swimming team from 2009 to 2022. Additionally, he coached the Dinamo swimming team from 2001 to 2004.
He has over a decade of competitive swimming experience, holding the title of Moldovan national champion and a record holder in Butterfly. He also contributed to the Moldova National Team's presence in various international events as a dedicated participant.
Helped mentees earn scholarships
Head coach of Olympic Reserve team
Coached the national swimming team
Record holder in Butterfly category 
Limited slots for new students 
Dedicated and experienced coaches
"Great swim club! Dedicated and experienced coaches, friendly, but professional atmosphere, excellent practice schedules. My kids have been with the club for many years, and I couldn't be happier with the progress they have made. Exceeded my expectations by far. Keep up the good work!"
Nenad Radjenovic, Google Review
Very professional
"Rocket swim club is very professional!!! coaches are extremely helpful. my children are in the club last 3 year and they improve their skill very much! i am grateful and give my recommendation to people who would like to learn swimming in high level!"
Vazha Shikhashvili, Google Review
4. Flying Fish Swim Club (FFSC)
Test
Info
WEBSITE
https://flyingfishswimming.ca/
ADDRESS
155 Hilda Ave, Toronto, ON M2M 1V7
SOCIAL MEDIA
FACEBOOK
CONTACT DETAILS
PHONE: (647) 716-9693
OPERATING HOURS
Monday - Friday: 10:00 am - 6:00 pm

Saturday: 11:00 am - 7:00 pm
With a career spanning almost four decades, Kun Zhao's expertise encompasses professional swimming training, instruction, and sports management.
She graduated from Beijing Sports University with a major in sports training, completed coach training, and obtained both a bachelor's and a master's degree in physical education.
She clinched the silver medal in swimming at the 1992 Olympic Games and became a world champion. She also proudly served as the torchbearer for the 2008 Beijing Olympic Games.
In 2012, she established the Flying Fish Swim Club (FFSC) in Toronto, Canada. Under her guidance, FFSC has garnered an outstanding reputation, fostering unwavering trust and support from both parents and students alike.
Kun Zhao's coaching prowess has propelled her students to achieve provincial championships, runner-up titles, and third-place finishes.
40+ years of experience
Silver medalist at the Olympic Games
Speciales in competitive swimming 
Limited classes for beginners
Highly recommend
"I highly recommend this swimming school! My 7 year old girl went for one term, and learned so quickly. The instructor provides very serious attitude on showing the appropriate posture and providing feedback right away. I will definitely continuously sending my girl to this swimming school"
Joyce Xu, Google Review
Their instructors are great
"Their instructors are great! My kids have been taking swimming classes since last year and their swimming has greatly improved. In the beginning, my 5-yrs old son was scared of water, I wasn't sure it would be a good time for him to start the swimming class but I am really impressed how much he has learned and how good the instructors are. After about 5 classes, he has learned how to control his breathing, the best thing is he is not scared of jumping in the water now and enjoys the swimming class so much!"
Lawrence Wong, Google Review
5. Shauna Devine – Olympian School of Swimming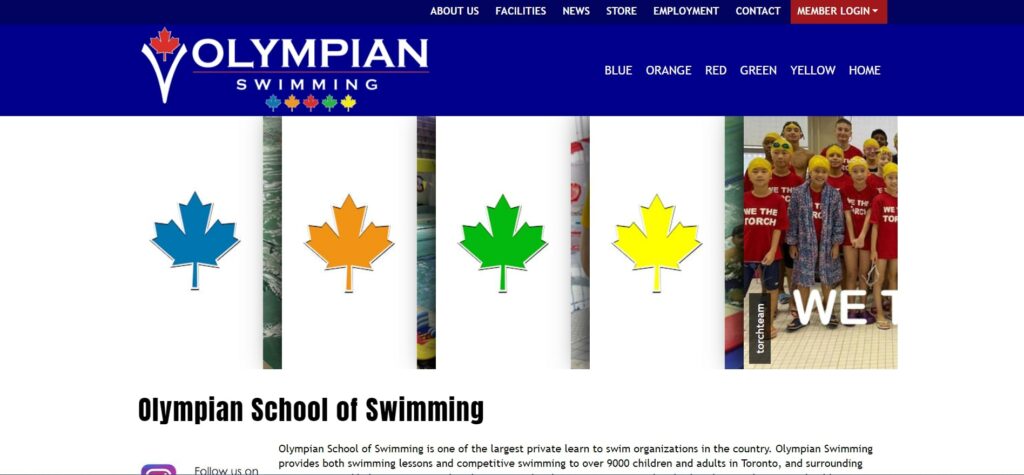 Test
Info
WEBSITE
http://www.olympianswimming.com/
ADDRESS
720 Midland Ave, Scarborough, ON M1W 2H5
SOCIAL MEDIA
INSTAGRAM
CONTACT DETAILS
PHONE: (416) 492-0622
OPERATING HOURS
Wednesday: 3:30 pm - 8:00 pm

Saturday: 10:30 am - 6:00 pm
Dr. Shauna Devine, Ph.D., an accomplished Olympian and seasoned coach, has left an indelible mark on the world of swimming in Toronto for the past three decades. She currently leads the Olympian School of Swimming with fellow professional Gary Nolden.
She was instrumental in nurturing the early talents of future Olympians Penny Oleksiak and Joshua Liendo, fostering their growth as age-group swimmers.
She holds the distinction of being a fully certified NCCP level three swim coach, with the completion of three-level four, or five components.
During her tenure as the head coach of Torch from 1995 to 2000, she developed swimmers who excelled at provincial, national, and international levels.
She placed swimmers on prestigious platforms such as the World Cup Tour, World Championships, Australia Olympic Games, and Jr. Pan Pacs, where she also earned recognition as a coach.
30+ years coaching experience
Mentored Olympic players
Fully certified NCCP level 3 swim coach
Club can be crowded during peak times 
Owners are fantastic and caring
"What an amazing place to have your child learn to swim! The owners are fantastic and caring. The coaches they hire really know how to teach! My son has been swimming with Olympian since he was two years old. He completed all the 12 learn to swim levels and is now on their competitive swim team. Definitely check this swim school out!"
Karen Lam, Google Review
I get my money's worth
"My 3 kids have been swimming with Olympian for more than 10 years. During those 10 years my kids have learnt so much from there coaches. Not only did the coaches teach my kids how to swim, but they taught them life lessons that will stick with them forever. The coaches at Olympian have an excellent ability to teach kids how to swim. Swimming is an important life skill. Not only is it fun for my kids but I get my money's worth."
Chandima Perera, Google Review
---