Reviewing the 5 Best Ophthalmologists in Toronto
Eye health is just as important as heart health or the health of any other body part, really. When you're experiencing migraines, blurry vision, or other vision problems, it's best to consult with a professional as soon as you can.
Knowing who the best ophthalmologists in Toronto are can help you find the best doctor for your eye health. We curated this list for you to know your options.
Best Ophthalmologists in Toronto
We listed the three main criteria we considered while creating the list of best ophthalmologists in Toronto. These criteria show their credibility and the trust patients place on their services.
How much do ophthalmologists charge?
Normally, referrals from a doctor, nurse, or optometrist are needed before you can consult with an ophthalmologist.
Eye centers, optometrists, and ophthalmologists charge from $50 to $250 for a routine or medical eye exam. Ophthalmologists also have set individual rates for their consultations.
1. Dr. Netan Choudhry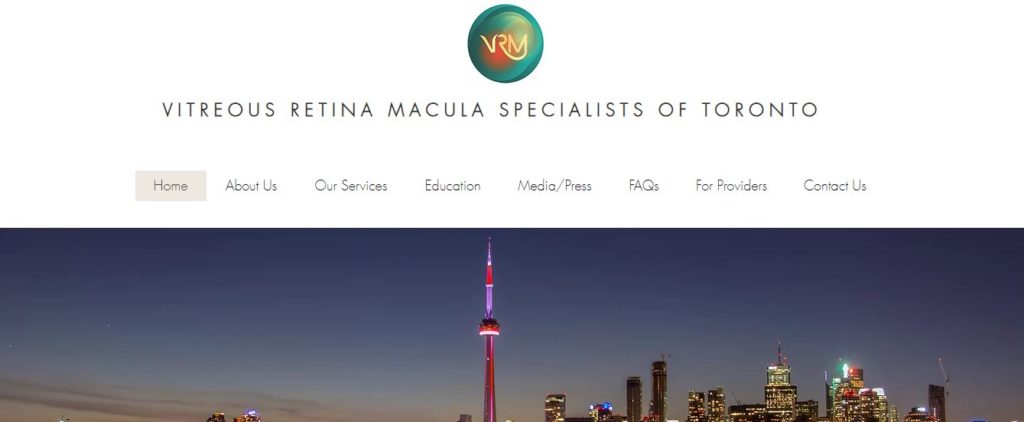 Test
Info
SERVICES

Vitreoretinal Surgery & Cataract Surgery

Laser Treatment for Vitreous Floaters (Vitreous Opacities)

Angiography

Clinical Trials

Swept-Source Optical Coherence Tomography

Non-contrast Angiography

Autofluorescence

WEBSITE
https://www.vrmto.com
ADDRESS
Bloor Islington Place, 3280 Bloor West, Suite 310, Etobicoke ON 8X 2X3
CONTACT DETAILS
647.361.7575
OPERATING HOURS
8 a.m. to 5 p.m., Monday to Friday
| | |
| --- | --- |
| Criteria | Rating |
| Credentials | ★★★★★ (5/5) |
| Accepted insurance | ★★★★★ (5/5) |
| Patient referrals | ★★★★ (4/5) |
Dr. Netan Choudhry is the Co-Founder & Medical Director of Vitreous Retina Macula Specialists of Toronto. He also sees patients as a staff Ophthalmologist at the Cleveland Clinic Canada.
He is among the best ophthalmologists when it comes to diagnosing and treating rare disorders of the retina and vitreous. He gained recognition as a Vitreoretinal Surgeon for his continuous contributions in developing new non-invasive imaging ways for the retina and vitreous.
He pioneered Optical coherence tomography (OCT), a non-invasive imaging test of the retina. We believe the test to be especially helpful for those looking for non-invasive tests.
He is also affiliated with both the University of Toronto and Harvard Medical Schools. This, for us, makes him even more credible.
Because of his international recognition and affiliations, we're bound to think that his fees are on the higher end. Fortunately, his services are covered by the Ontario Health Insurance Plan (OHIP) and Aetna Health Insurance.
Beyond the recognition from colleagues and the medical field, patients also were happy with the care they received from the doctor.
They shared that the doctor and his team were professional, caring, and knowledgeable. They were made to feel at ease because of the team's calm manner.
It also doesn't hurt that the clinic uses the latest equipment in their operations.
The only issue is the doctor's punctuality. While we do understand that they're busy apart from the clinic, it's still best to let the patient know that they will be late.
Well-known Vitreoretinal Surgeon for your retina and vitreous concerns
Professional, caring and knowledgeable doctor and staff
Covered by OHIP and Aetna Health Insurance
Doctor can be late at times
Customer Reviews
Welcoming, professional, and knowledgeable
"My son was referred to this office. Everyone was so welcoming, professional and knowledgeable. I was very impressed. Also, this is such a beautiful office everything is modern with the latest in technology. We had a positive and pleasant experience." – Aura C.
Followed pandemic protocols
"Had an appointment here to get my laser surgery to repair retina tear. Dr is amazing and i wasn't nervous at all. This place is following all protocols during pandemic and sanatizes all surfaces. Amazing doctor and staff. Very pleased." – Bev M.
2. Dr. Raymond Stein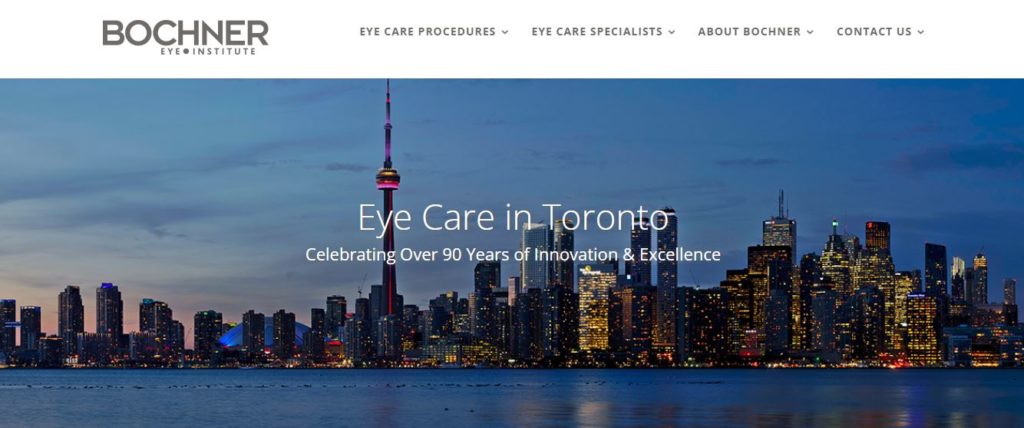 Test
Info
SERVICES

LASIK Surgery

PRK Surgery

Cataract Surgery

Refractive Lens Exchange

Contact Lens Implant

Dry Eyes

Cosmetiic Eyelid Surgery

WEBSITE
https://www.bochner.com/
ADDRESS
40 Prince Arthur Avenue Toronto, ON M5R 1A9
CONTACT DETAILS
(416) 960-2020
OPERATING HOURS
8 a.m. to 5:30 p.m., Monday to Friday
| | |
| --- | --- |
| Criteria | Rating |
| Credentials | ★★★★★ (5/5) |
| Accepted insurance | ★★★★☆ (4/5) |
| Patient referrals | ★★★★☆ (4/5) |
Dr. Raymond Stein works as a Medical Director for the Bochner Eye Institute and is also a Professor of Ophthalmology and Vision Sciences at the University of Toronto. Apart from that, his previous experiences also involved being the Chief of Ophthalmology at the Scarborough Hospital in Toronto.
He is one of the sought-for ophthalmologists when it comes to refractive surgeries and treatments. Using the latest technologies at the Bochner Eye Institute, he treats cataracts and performs LASIK and refractive surgery to bring back your eyesight.
His specialization in refractive treatments is important these days. Constantly facing our devices has an effect on our eyes.
Refractive surgeries and treatments are usually not part of the health insurance coverage in Toronto. But for other treatments and for your checkups, Dr. Stein and his clinic's services are covered by OHIP.
This is good, especially if you need to have your checkups. It reduces the overall expenses you'll face.
We also found the doctor and his team at Bochner Eye Institute professional and caring. As his patients also mentioned, the doctor's proficiency in refractive lens exchange showed how the patients were able to have their vision restored with little discomfort during the process.
What also added to patients' overall comfort is how the doctor and the staff thoroughly explained the procedure and the aftercare. Knowing these things beforehand puts everyone's minds at peace.
Not to mention, the clinic also strictly followed COVID protocols. This makes us and their other patients feel safe to go and get checkups done.
The only complaint that we heard from the patients is the clinic's way of handling appointments. They mentioned that the clinic takes time to reply or sometimes, not at all.
We understand that the clinic sees a lot of people. However, making sure to respond to your patients should always be the norm.
Checkups and other treatments aside from refractive surgeries, are covered by OHIP
Clinic implemented strict COVID protocols
The clinic, at times, forgets to reply to patients
Customer Reviews
Very helpful and excellent service
"I had my lasik eye surgery last week by Dr. Stein. All the staffs were very helpful and excellent service and good explanation of the procedure. During the procedure, I didn't feel any pain or anything and it was very quick, the waiting time was very short. I had a very high Prescription so the doctor said it will take a week or two to get a clear vision. I feet like it was worth the money. And I wish I have done it long before. Highly recommend 👍🏻" – Stoory K.
Great and very professional
"Dr. Raymond Stein is great and very professional. The staff are amazing and very kind. I would highly recommend Bochner Eye Institute, they will change your life forever. I have 20/20 vision now and I'm so happy to wake up and have perfect vision." – Kevin A.
3. Dr. Neeru Gupta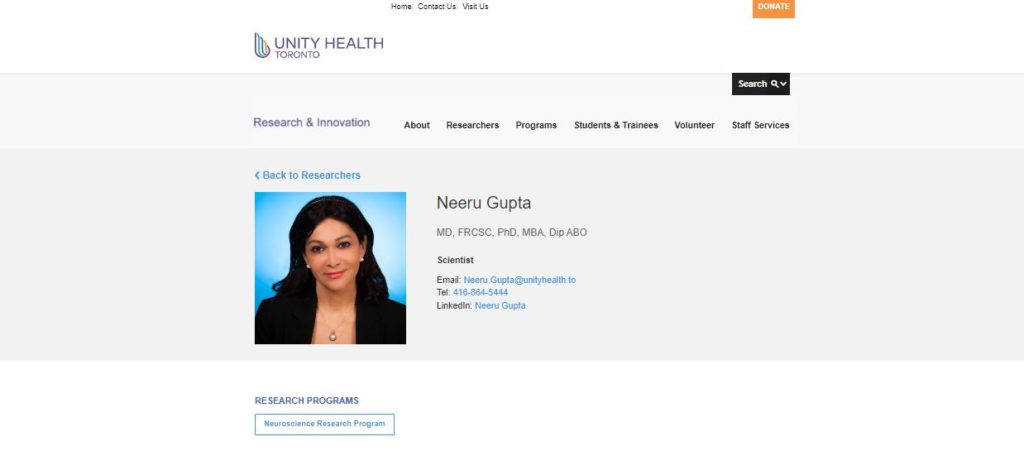 | | |
| --- | --- |
| Criteria | Rating |
| Credentials | ★★★★★ (5/5) |
| Accepted insurance | ★★★★★ (5/5) |
| Patient referrals | ★★★★★ (5/5) |
Dr. Neeru Gupta is a well-known surgeon-scientist whose expertise is in treating glaucoma. Currently, she is a Professor of Ophthalmology and Vision Sciences, Chief of the Glaucoma Service at the University of Toronto, and Founding CEO of Human Eye Biobank for Research.
Her dedication to this field is apparent in her discoveries and works. The doctor and her team even discovered that lymphatic circulation determines healthy and diseased eyes, as well as a new minimally invasive way to manage glaucoma.
In between her research work in advancing glaucoma treatments, she also sees patients as an Ophthalmologist at St. Michael's Hospital.
Fortunately, the doctor's services are covered by insurance. Glaucoma, for instance, is covered by OHIP.
We appreciate the advances she has made in treating glaucoma. Her patients too shared how they appreciate the doctor's passion for treating the disease.
They told us that the doctor's knowledge and skills in treating glaucoma made them feel that they are in her capable hands. Hers and the staff's calm and caring nature put them at ease throughout the process.
The only gripe that we and the patients have is that the doctor only works in the hospital setting. This saddens patients as they cannot get Dr. Gupta as their regular ophthalmologist.
Covered by OHIP including glaucoma treatment
The doctor and her staff are highly skilled in treating glaucoma cases
Patients can't get the doctor as their regular ophthalmologist as she only works in the hospital setting
Customer Reviews
Encouraging and builds confidence
"I am a glaucoma patient and I felt extremely lucky to have Dr Gupta taking care of me. She is extremely knowledgeable. She always listens patiently and responds to my questions in detail. Most glaucoma patients are afraid of losing vision, same as I. For many months, I have been filled with fear and thinking about the worst. It was Dr Gupta who encouraged me every time and shared with me the progress. That build up my confidence. It is also worth mentioning that staffs are all very friendly, caring and polite." – Jason H.
In capable hands
"Dr. Gupta has been my glaucoma specialist of choice for the past seventeen years. Even though it is a round trip of five hours to see her, it is well worth it as once there I know that I am in very capable hands. Dr. Gupta is a caring and compassionate physician who listens to her patients. She has a well earned reputation as being a highly skilled surgeon. The office atmosphere is warm and inviting. She has taken great care to choose her staff carefully. Lara, her assistant, is a gem. She is calm, cheerful, patient and efficient. Judging by the bedside manner of her medical students, the future of medicine is in good hands. Thank you Dr. Gupta, from the bottom of my heart, for giving me such consistently exemplary care over the years. Your eternally grateful patient." – Linda K.
4. Dr. Avi Wallerstein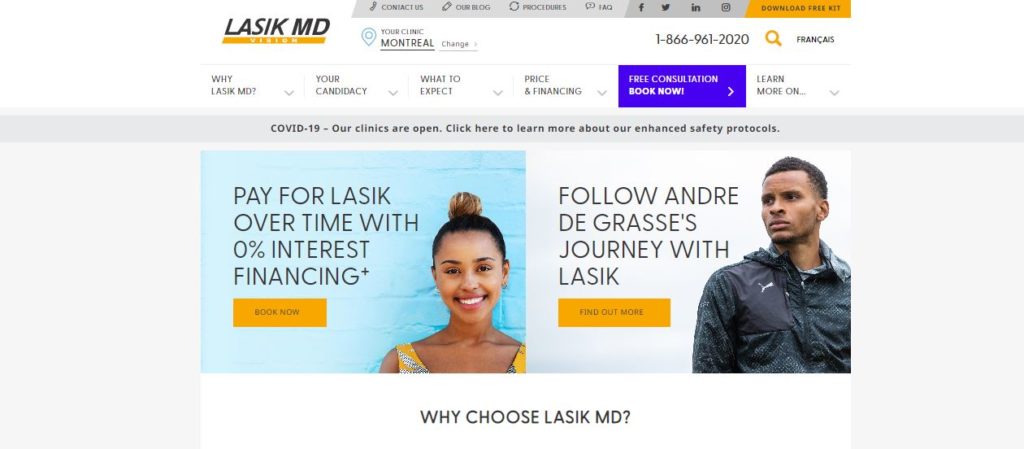 | Test | Info |
| --- | --- |
| SERVICES | LASIK Surgery |
| WEBSITE | https://www.lasikmd.com |
| ADDRESS | 100 King St W #120, Toronto, ON M5X 2A1, Canada |
| CONTACT DETAILS | +1 416-362-8677 |
| OPERATING HOURS | 9 a.m. - 5pm Tuesday to Friday, 9 a.m. - 1 p.m. Saturday |
| | |
| --- | --- |
| Criteria | Rating |
| Credentials | ★★★★★ (5/5) |
| Accepted insurance | ★★★★★ (5/5) |
| Patient referrals | ★★★★☆ (4/5) |
Dr. Avi Wallerstein is the Director Of Optics and Refractive Surgery and Assistant Professor of Ophthalmology at the McGill University. His expertise lies in vision correction and refractive surgery.
For 15 years, he earned various credentials… and even did research that also enabled laser surgery to progress over the years.
As a professor, for example, he introduced the first Canadian laser eye surgery teaching curriculum for ophthalmology students. He also implemented software for electronic medical records of those under laser vision correction.
These discoveries provide future ophthalmologists with the right tools and lessons that are relevant and updated. And with better education for future ophthalmologists, patients can expect better services too.
He also co-founded LASIK MD, one of the known laser eye surgery clinics in Toronto. LASIK MD provides vision correction and refractive surgery for those who want better eyesight.
What we like about the clinic is that it offers other financing options aside from health insurance. The clinic provides corporate plans, discounts for federal government employees, and installment options.
LASIK surgery might be expensive, but the clinic does its best to lessen the patient's financial burden to achieve clear vision.
Patients loved the doctor's and the clinic's service. The clinic and its staff were caring, informative, and proactive from the initial checkup to the follow-up.
They explained the procedure thoroughly before doing it. This helps put the patient's mind at ease.
They also readily answered questions both online and during the clinic visit. This is important, particularly after the surgery, and if you have any clarifications about aftercare.
What the clinic can improve on, however, is communication with staff and surgeons. Patients mentioned to us that the staff in charge of free consultation provided a different suggested treatment compared to the surgeon.
The people inside the clinic should improve their communication more as patients will be left confused about what surgery will be done to them.
Known ophthalmologist in refractive surgery and vision correction
Caring and proactive surgeons and staff
Internal miscommunication causes confusion for the patient at times
Customer Reviews
Accomodating. Answered questions and concerns
"Samantha was very accommodating with my scheduling and took her time answering my many questions and concerns which I appreciated. Service here is great, will update again in a few weeks once my eyes heal." – Gee T.
At ease and comfortable
"I had my original surgery done in Winnipeg. I was pleased with the results. I had some blurry vision in the first month post operatively but that improved day by day.
I was very nervous about the procedure but everyone at LASIK made me feel at ease and comfortable. I recently had my one year follow up in Toronto and was pleased with the staff accommodating my schedule and the professionalism they had with all my requests." – Malaika Q.
5. Dr. Robert Devenyi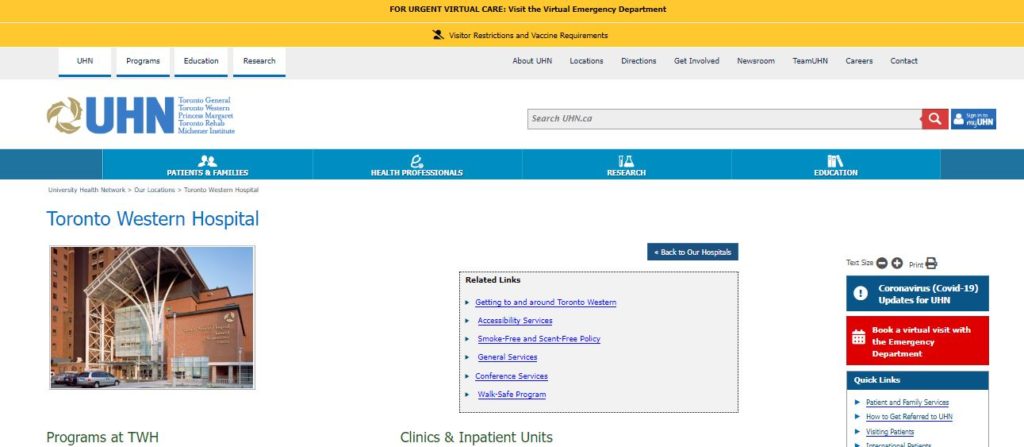 Test
Info
SERVICES
Vitreoretinal Ophthalmology
WEBSITE
https://www.uhn.ca/OurHospitals/TWH
ADDRESS
Krembil Discovery Tower

Toronto Western Hospital

60 Leonard Ave, 8th Floor, Room 8KD414,

Toronto, ON M5T 2S8

CONTACT DETAILS
416-603-5270
OPERATING HOURS
Open 24 hours
| | |
| --- | --- |
| Criteria | Rating |
| Credentials | ★★★★★ (5/5) |
| Accepted insurance | ★★★★★ (5/5) |
| Patient referrals | ★★★★☆ (4/5) |
Dr. Robert Devenyi is a Professor of Ophthalmology and Vision Sciences at the University of Toronto. He is also the team ophthalmologist for the National Hockey League's Toronto Maple Leafs.
He is also a vitreoretinal surgeon and co-director of the Toronto Western Hospital's Donald K. Johnson Eye Institute. His expertise lies in vitreoretinal ophthalmology and in researching retinopathies.
The institute focuses on using advanced technology to treat diseases on the retina. What's interesting is that the institute is also the first to successfully conduct a "bionic" eye surgical implant, a method that brought back the sight of six patients under the program.
Discoveries such as this give us hope that blindness can be cured. Of course, further studies are needed to create a safe treatment.
Anyway, OHIP covers the services that the doctor and the clinic provide. Eye surgeries tend to be expensive and having this covered by the insurance is always good.
We talked to a number of patients and their experience with the doctor and his team was that they were kind and professional. The office ran like a well-oiled machine where everyone made sure to provide the patients with their needs.
What's also interesting is that even eye surgeons go to Dr. Devenyi for their surgery. Talk about being trusted by your fellow surgeons – that's a pretty strong testament to his expertise, we think.
However, patients mentioned there was a tendency for the clinic to leave queries unanswered because of the high volume of patients. While we do understand how busy they are, it's best to be responsive to your patients.

Clinic uses advanced technology to treat retina-related diseases
Covered by insurance
Tends to leave queries unanswered
Customer Reviews
Created a calm and relaxed atmosphere
"I feel so lucky to be Dr. Devenyi's patient. I am unfortunately at an age where many of my friends also need to receive monthly injections for our macular degeneration. As opposed to my friends who are always dreading their appointments with their doctors, due to the pain of their injections, I have never experienced any significant pain with my injections. Dr. Devenyi and his staff somehow manage to create a very calm and relaxed atmosphere, despite an obviously very high workload and very stressful conditions that they treat. Thanks to the entire team"
Excellent in every respect
"I'm an eye surgeon myself. When I needed urgent surgery, I was so glad I knew who to see. Dr. Devenyi and his entire team were excellent in every respect."
FAQs
---
That concludes our best ophthalmologists in Toronto. If you're experiencing something unusual with your vision, it is best to consult an eye professional about it.
We also have a list of the best optometrists in Toronto for your eye health needs.