The 6 Best Gift Shops in Toronto
Looking for the best places to score some souvenirs? We already got you covered!
This review features the best gift shops in Toronto plus other details on what you can find in each shop. Explore what your best options are so you can cut down your research and begin shopping.
Top Gift Shops in Toronto
Throughout our review period, we gathered information through personal visits, an online survey, and an assessment of feedback on Google Reviews.
Our ratings were based on the aggregated results of the mentioned methods. 5 stars represent the highest possible score.
The criteria below helped us handpick the best gift shops in the city:
The Cost of Items at Gift Shops in Toronto
The table below shows the average price range for common products sold at gift shops:
| Item | Estimated Price Range |
| --- | --- |
| T-shirts | $29 - $34 |
| Mugs | $9 - $50 |
| Home accessories | $7 - $100 |
| Candles | $8 - $75 |
| Pair of socks | $12 - $19 |
| Bags | $9 - $49 |
| Jewelry | $7 - $84 |
| Water bottle | $16 - $65 |
| Novelty | $2 - $34 |
| Pins & keychain | $5 - $18 |
| Magnets & buttons | $1 - $28 |
| Greeting cards | $5 - $17 |
| Puzzles | $17 - $49 |
| Toys | $7 - $81 |
| Stickers | $3 - $12 |
| Beauty and cosmetics | $5 - $88 |
| Books | $8 - $51 |
| Boxed cards | $7 - $37 |
| Journals | $8 - $38 |
1. Totally Toronto Art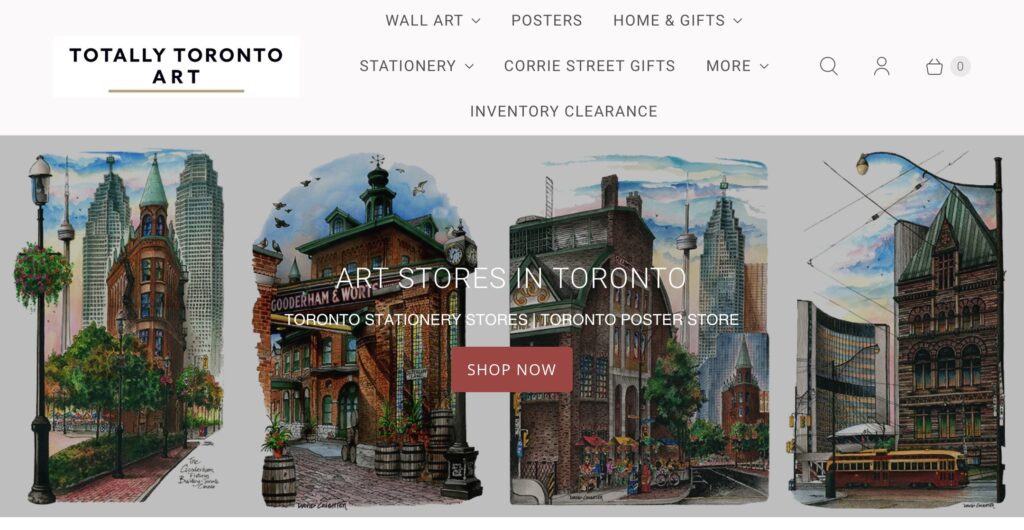 | | |
| --- | --- |
| Range of items | ★★★★★ (5/5) |
| Unique finds | ★★★★★ (5/5) |
| Generic souvenirs | ★★★★★ (5/5) |
| Gift bundles | ★★★★★ (5/5) |
| Prices | ★★★★★ (5/5) |
| Buying experience | ★★★★★ (5/5) |
| Location and atmosphere | ★★★★★ (5/5) |
| Customer assistance | ★★★★★ (5/5) |
| Pick-up and delivery | ★★★★★ (5/5) |
| Local reputation | ★★★★★ (5/5) |
Our online shopping experience with Totally Toronto Art was nothing short of extraordinary. Navigating their website, totallytorontoart.com, revealed a treasure trove of Toronto-inspired gifts created by beloved local artist David Crighton. There is something for every price point, from Stationery to Wall Art and more unique gifts. Despite being an online-only store (with a good selection of items available for scheduled pick-up), the commitment to quality was unmistakable, living up to the high expectations set by the name 'Totally Toronto Art.'
Expertise defines the Totally Toronto Art experience. The care exhibited by their team as they guided us to the perfect customized and personalized gift was impressive. Their in-depth product knowledge and selections transformed the process into a seamless delight. Here, efficiency and excellence are not just words; they're the pillars of service.
Quality stands as the cornerstone of Totally Toronto Art's offerings. Every art piece, souvenir, or unique gift exudes meticulous attention to detail. The pride they take in showcasing Toronto's iconic landmarks and neighbourhoods is evident in every facet of their collection.
While we applaud the competitive pricing, it's worth noting their ongoing promotions. Currently, enjoy a generous 20% off on posters and a fantastic buy 3 get 1 free offer on fridge magnets. These promotions make acquiring a piece of Toronto's charm not only memorable but also budget-friendly. It's a refreshing departure from typical tourist traps.
For the latest and greatest deals, we recommend checking their website regularly. Totally Toronto Art continues to be a beacon of quality, efficiency, and affordability in the online shopping landscape.
Wide selection of products created using the art works of local artist David Crighton
Solid Customer Service communicates quickly
Amazing Personalized attention for an online store
Reasonal shipping prices and free shipping levels
Stationery, Posters, Magnets available for 24/7 pickup
High Quality Products
No Physical Shop
Sole focus is Toronto art gifts
Customer Reviews
"Really nice postcards, I love the arts. The pickup is almost instant (less than a day), that's really convenient."
"I have always loved David Crighton's work. I always wanted a "My Toronto" wall hanging. It's a great conversation piece for both young and old. Pamela was great to deal with. Great Customer service, which is rare. Pamela, thanks again for your help!"
"This made a wonderful farewell gift for a departing physician at SickKids. Pam was able to arrange a delivery time for us that fit in with our timelines which was greatly appreciated. Will definitely keep Totally Toronto Art in mind for Toronto-themed gifts in future!"
2. Blue Banana Market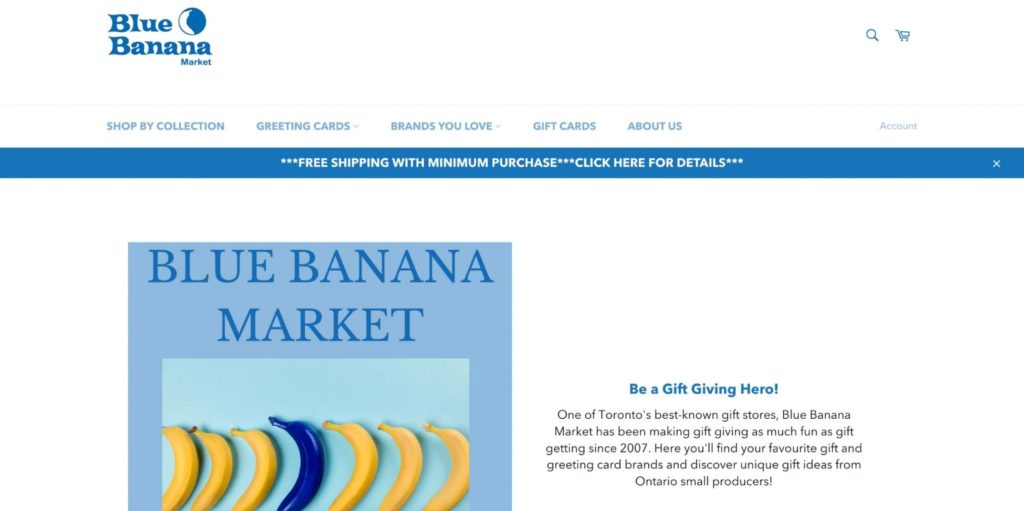 | Test | Info |
| --- | --- |
| SERVICES | Retail gifts, gift/greeting cards, souvenirs |
| WEBSITE | https://www.enterprise.ca/en/home.html |
| ADDRESS | 250 Augusta Ave, Toronto, ON M5T 2L7 |
| CONTACT DETAILS | +1 416-594-6600 |
| OPERATING HOURS | Monday - Sunday: 11:00 AM - 7:00 PM |
| | |
| --- | --- |
| Range of items | ★★★★★ (5/5) |
| Unique finds | ★★★★★ (5/5) |
| Generic souvenirs | ★★★★☆ (4/5) |
| Gift bundles | ★★★★☆ (4/5) |
| Prices | ★★★★☆ (4/5) |
| Buying experience | ★★★★★ (5/5) |
| Location and atmosphere | ★★★★★ (5/5) |
| Customer assistance | ★★★★☆ (4/5) |
| Pick-up and delivery | ★★★★☆ (4/5) |
| Local reputation | ★★★★★ (5/5) |
If you dare to visit Blue Banana Market in Toronto for your gift shopping galore, bringing your shopping list with you is a must. With its huge variety of merchandise to choose from, you definitely need a longer one.
To start with, the said shop is known in the entire town for its fine, funny, and totally unique souvenirs. You can explore anything from nooks and crannies to high-quality, locally hand-crafted products like kitchenware.
Moreover, we discovered that Blue Banana Market is also considered one of the best to buy greeting cards in the area. Plus, if you make the purchase of a card with a gift, you can request for them to include a brief handwritten message for no extra fees.
Another bit of good news is that the shop also offers free shipping service with minimum purchase (rates may vary depending on the location though). So, you can certainly check out this thing for your convenience.
For their prices, some of the previous customers we talked to attest to its kind of expensive pricing. Nonetheless, the cost of each item matches the great quality of their products as previous buyers reported.
The only concern we have from this store is the way some of their popular items are often sold out. But since they have a wide range of gift items, you can surely choose among those available ones.
Huge varieties of gift items
Offers free shipping
Inclusion of free handwritten message 
Wide range of products available
Solid local reputation
Competitive pricing
Popular items often sold-out
Customer Reviews
Nice gift shop
A really nice place ! Lots of nicknacks, plushes , gadgets, snacks , candies anything you could really ask for honestly. Not to mention really sweet workers and have a really wide variety of canadian merchandise . Overall a really nice gift shop! – carlychii
Friendly service
Massive amounts of gifts for all, installed by sections which definitely makes it easier to browse. Ample and organized, you are sure to find every little single thing that you don't need. Great spot to cool down and shop at reasonable prices when visiting the Kensington Market area. Friendly service. – Giovanna Chavez
3. Outer Layer Cards & Gifts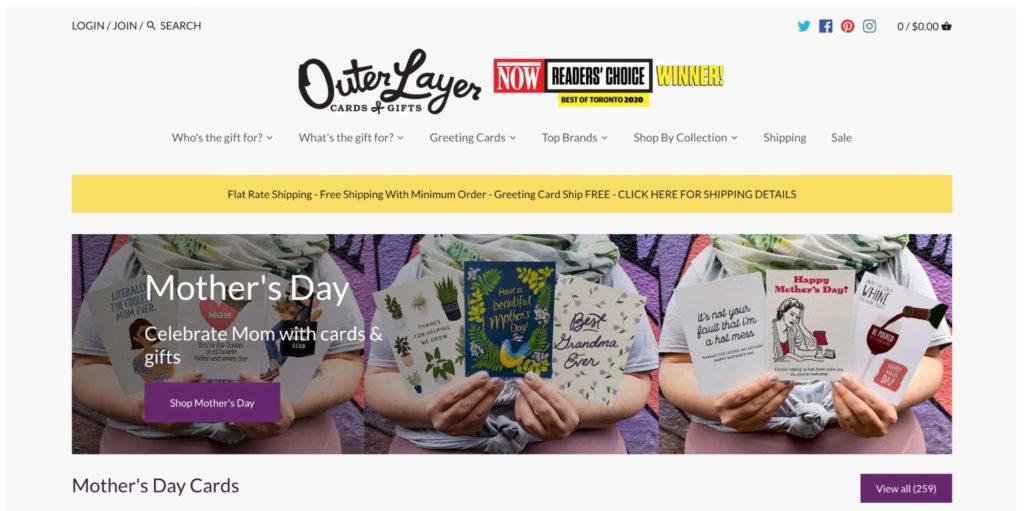 | Test | Info |
| --- | --- |
| SERVICES | Homeware items, gift cards, gag gifts |
| WEBSITE | https://outerlayer.com/ |
| ADDRESS | 577 Queen St W, Toronto, ON M5V 2B6 |
| CONTACT DETAILS | +1 416-869-9889 |
| OPERATING HOURS | Monday - Saturday: 11:00 AM - 7:00 PM |
| | |
| --- | --- |
| Range of items | ★★★★★ (5/5) |
| Unique finds | ★★★★★ (5/5) |
| Generic souvenirs | ★★★★★ (5/5) |
| Gift bundles | ★★★★☆ (4/5) |
| Prices | ★★★★☆ (4/5) |
| Buying experience | ★★★★★ (5/5) |
| Location and atmosphere | ★★★★★ (5/5) |
| Customer assistance | ★★★★★ (5/5) |
| Pick-up and delivery | ★★★★★ (5/5) |
| Local reputation | ★★★★★ (5/5) |
There are lots of things to consider a certain gift shop as the best one. But we know that selling a bit of everything with an extra flavor of fun might be one of them – and Outer Layer is known for that.
Since the shop has been a staple in the area for more than a decade, thousands of customers have been going back and forth to the place. This is because of the large selection of homeware items, cards, and even gag gifts they offer.
One likable thing about the shop, in our opinion, is the opportunity for you to find a gift from them for any occasion. Be it a big holiday or the simplest one – they have it in the store.
Customers can find all sorts of these items suitable for any price range and taste. Although for a bit higher pricing, we heard that it is still worthy of its class standard and the great feedback it receives confirms it all.
Of course, like other gift shops nowadays, the shop also has free shipping services (with minimum order). We quite like their shipping system because they process orders within one to two business days of receiving them, which is pretty convenient.
We know that great customer service tops it all so when it comes to that, the shop met our expectations. Staff are always of great help for the buyers and make it possible to assist them with ease so you are in good hands.
More than a decade of experience
Large selection of gift items
Reasonable shipping system
Often offers promos/sales
Fast delivery service 
Easy online ordering process
Closed on Sundays
High pricing
Customer Reviews
Great selections
The girls who work here are extremely helpful and their gift-wrapping skills are great! Great selection of small and unique gifts for coworkers and family. I live in the US and will definitely be ordering from their website for Christmas. – Meg S.
Go-to store for cards & gifts
This store is fabulous!! It is my "go-to" store for cards and gifts for all occasions. Need something that smells yummy? a funny gift for Dads? they've got it! need a brains ice-cube tray for a zombie dinner party? they've got it!! Great Women that work there helpful and always have a great soundtrack to shop to:) – Rebecca K.
4. Royal Canadian Gifts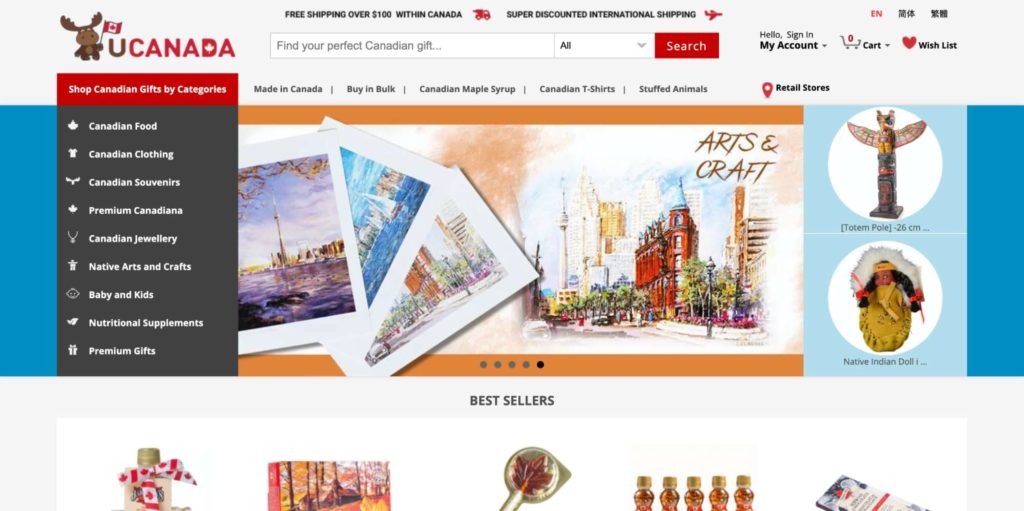 Test
Info
SERVICES
Food, clothing, souvenirs, jewelry, native arts & crafts, baby & kids, nutritional supplements, premium gifts
WEBSITE
https://www.ucanada.com/en
ADDRESS
229 Spadina Ave., Toronto, ON M5T 2E2
CONTACT DETAILS
+1 416-598-1988
OPERATING HOURS
Monday - Saturday: 11:00 AM - 7:00 PM

Sunday: 11:00 AM - 6:30 PM
| | |
| --- | --- |
| Range of items | ★★★★★ (5/5) |
| Unique finds | ★★★★★ (5/5) |
| Generic souvenirs | ★★★★★ (5/5) |
| Gift bundles | ★★★★☆ (4/5) |
| Prices | ★★★★☆ (4/5) |
| Buying experience | ★★★★☆ (4/5) |
| Location and atmosphere | ★★★★☆ (4/5) |
| Customer assistance | ★★★☆☆ (3/5) |
| Pick-up and delivery | ★★★★☆ (4/5) |
| Local reputation | ★★★★☆ (4/5) |
Royal Canadian Gifts is among our top picks when it comes to vast collections of novelty items. Featuring uniquely Canadian items, we think it's a fantastic store whenever you want to flex your roots with foreign friends.
What makes the shop stand out from the rest is the flexibility that it offers when it comes to budget needs. Whether you only have $10 to spare or have $100 to go crazy about, there's always an item in-stock.
The location itself is pretty okay and quite spacious compared to other small boutiques. It does embrace that typical vibe and atmosphere of a gift shop so the shopping experience will feel vaguely familiar.
The only issue we encountered was related to online purchases as it can be a struggle to return items. But on a general buying basis, they pretty much hit the nail on the head with fast delivery and well-packed parcels.
The customer service was a bit of a wonky matter for us as well because we did see reports of terrible assistance. Although we often only see this during busy hours, we still think consistency is key to remarkable service.
From Canadian food to clothing and small premium items, we reckon it is a sweet choice for souvenir hunters. Certain products might be slightly pricier but it's worth the shot if you're getting more items to your cart.
Vast collection of truly Canadian items
Budget-friendly products
Relatively spacious shop
Fast delivery services
Easy online ordering system
Sells premium gifts and novelty items
Can be difficult to return items
Minor issues on customer service
Certain items can be pricier
Customer Reviews
Huge range of items
This has to be the best gift shop I have ever been to! They have a huge range of items, lots of them are made in Canada! And the owners are sooo kind!! Highly recommend!! – Quinta de Vries
Offers all Canadian goodies
What a cute souvenir store!!! You can literally purchase all of the Canadian goodies here if you are in Toronto. They let you take your time walking around with no rush what so ever to let you pick and choose what you want. The lady at the cashier was so nice and helpful as well!! Highly recommend to visit them! – Alexandra Kozak
5. Spacing Store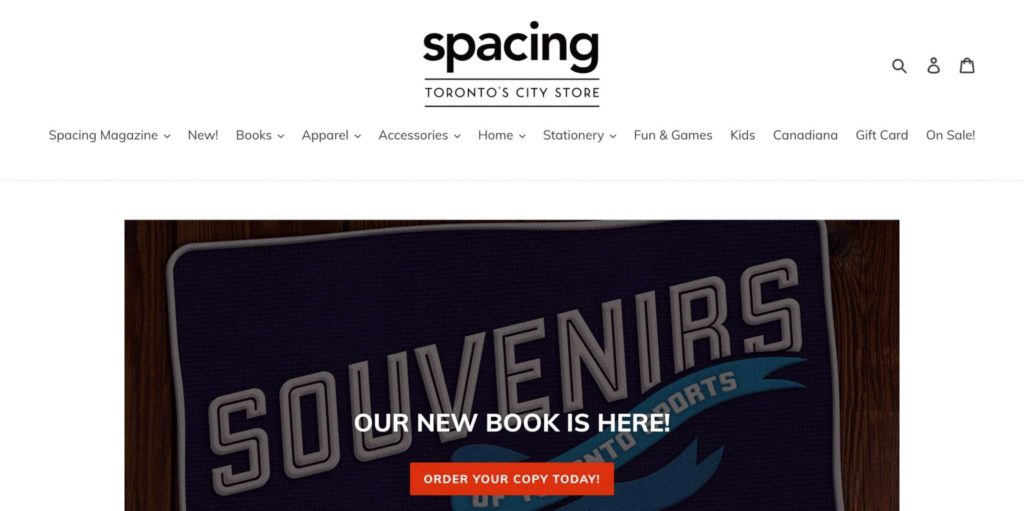 | Test | Info |
| --- | --- |
| SERVICES | Books, apparel, accessories, stationery, fun & games |
| WEBSITE | https://spacingstore.ca/ |
| ADDRESS | 401 Richmond St W, Toronto, ON M5V 3A8 |
| CONTACT DETAILS | +1 416-644-1017 |
| OPERATING HOURS | Tuesday - Saturday: 12:00 PM - 6:00 PM |
| | |
| --- | --- |
| Range of items | ★★★★★ (5/5) |
| Unique finds | ★★★★★ (5/5) |
| Generic souvenirs | ★★★★☆ (4/5) |
| Gift bundles | ★★★★★ (5/5) |
| Prices | ★★★★☆ (4/5) |
| Buying experience | ★★★★★ (5/5) |
| Location and atmosphere | ★★★★★ (5/5) |
| Customer assistance | ★★★★★ (5/5) |
| Pick-up and delivery | ★★★☆☆ (3/5) |
| Local reputation | ★★★★☆ (4/5) |
Spacing Store is definitely amongst our favorites when it comes to truly Torontonian products and crafts. Located in the electric hub of arts and culture at Richmond, it's a vibrant place brimming with unique and local finds.
The location itself feels like an upscale boutique designed with young and adventurous buyers in mind. We love the general layout of the shop as it's easy to browse through and spacious enough even during busy hours.
But the real icing on the cake here is the selection of products that they offer – items that you almost can't find anywhere else. We're talking about merchandise designed and produced by local artists in the city.
The store works directly with these designers and makers to pack their shop with extremely special items. With this in mind, we think it's one of the very few shops that really represents the art and beauty of Toronto.
The cute and creative little store also has one of the most welcoming staff we've encountered which is an absolute plus. Unfortunately, online shopping isn't their thing yet so that's a minor drawback for other customers.
Nonetheless, it's a really great shop if you want to own cool art pieces that are Toronto-centric. The costs are quite expensive per piece but for the uniqueness value, we think it's a deal worth buying into.
Great collection of Toronto-centric items
Features pieces from local designers and artists
Fun location and atmosphere
Solid customer service
Offers cool and unique gifts
Sells day-to-day items
Lack of online ordering system
Pricey merchandise
Relative few working days
Customer Reviews
Fantastic product collection
Lots of great books about Toronto, everything from history to architecture, to walking tours. There is also Toronto merchandise such as Raccoons versus Toronto t-shirts, candles with neighborhood names, and TTC-themed items. Friendly people too. – Jen Bilous
Creative, quirky, and beautiful
A great place to purchase beautiful, creative, and quirky souvenirs of Toronto. Offers great gifts, even for Torontonians who want to get to know their city better. You can get books, socks t-shirts, umbrellas, pencil cases, cards and more! I purchased 3 books to help me get to know my home city better. And I love my new City of Toronto raccoon t-shirt – Anita Windisman
6. Scout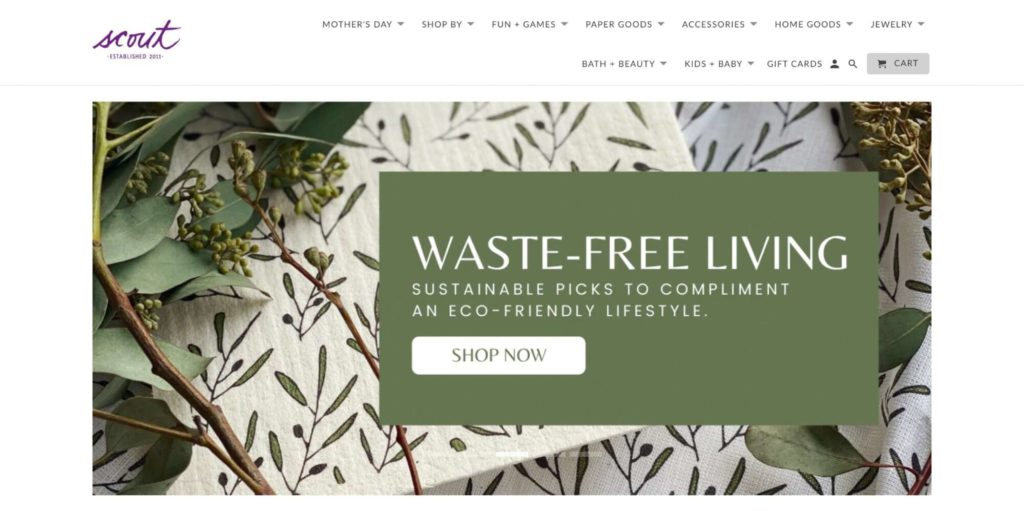 | Test | Info |
| --- | --- |
| SERVICES | Paper goods, fun & games, accessories, home goods, jewelry bath & beauty, kids & baby |
| WEBSITE | https://www.iheartscout.com/ |
| ADDRESS | 405 Roncesvalles Ave, Toronto, ON M6R 2N1 |
| CONTACT DETAILS | +1 416-546-6922 |
| OPERATING HOURS | Monday - Saturday: 11:00 AM - 7:00 PM |
| | |
| --- | --- |
| Range of items | ★★★★★ (5/5) |
| | |
| Unique finds | ★★★★★ (5/5) |
| Generic souvenirs | ★★★★★ (5/5) |
| Gift bundles | ★★★★☆ (4/5) |
| Prices | ★★★★☆ (4/5) |
| Buying experience | ★★★★★ (5/5) |
| Location and atmosphere | ★★★★★ (5/5) |
| Customer assistance | ★★★★★ (5/5) |
| Pick-up and delivery | ★★★★★ (5/5) |
| Local reputation | ★★★★☆ (4/5) |
Scout is a small yet vibrant and unique gift shop in Toronto that's a perfect spot for cards and unique gifts. Apart from its bright and friendly atmosphere, the store has a lot of great attributes that we truly liked.
For starters, we're just in love with its warm layout that makes it easy to spot cool and quirky items. The shelves are always well-stocked so there's no fear of running out in case you want to make a second trip.
As for the items, they specialize in handmade items, which is a great option for special occasion gifts. Apart from that, they also sell artisanal products as well as many Canadian items ranging from accessories to home goods.
The selection isn't as vast as other shops but that's because they handpick everything in their shop. This makes the shopping options much more curated to specific tastes, so customers can get only the best in stock.
Plus, the items in the store are also geared towards eco-conscious patrons which is why most of the products are reusable. That's obviously a plus point for us, even though their prices are slightly more expensive than others,
Online purchasing and local delivery is also a delight according to the majority of the customers. With all these said, we think they deserve some checking out in case you want to target special goods for yourself or your friends.
Bright and friendly location
Spacious store layout
Specializes in handmade items
Features Canadian products and artisanal
Well-curated products
Geared towards eco-conscious clients
Seamless ordering system and delivery
Slight pricier items
Limited item collection
Customer Reviews
Great curated selection
This is our favourite local spot for cards and unique gifts. I love popping in to see what new, interesting things they have in stock. They also have a great curated selection of stuff for kids and I have found some great books for my son here. – Paula Murray
Amazing customer service
I have bought several items from Scout in the last two years and honestly I just love everything about this shop! Amazing selection of goods and fantastic customer service! Most recent purchase was some Kara Yoo jewelry…so beautiful! – Sarah Granger
FAQs About Gift Shops in Toronto
---
Gift shops in Toronto have all the delights you can expect to finalize a memorable trip. For your next trip, why not book some of the best limo services in Toronto so you can cross the city in style?