The 5 Best Garbage Disposal Services in Toronto
In need of proper garbage disposal services? You're in the right place!
In this review, we'll cover the best garbage disposal services in Toronto. Each company was chosen for its waste management methods and overall quality of work.
The Cost of Garbage Disposal Services in Toronto
Let's start with the potential costs of these services first.
Garbage disposal is a variable service where no company will offer the same set of options. Some companies offer plans and packages while others focus only on rush pickups.
To give you an idea, we'll use one of the most common services: bin garbage bin rental. There are also bag-only fees and garbage tags.
See the table below to see the estimated costs based on bin size:
| | |
| --- | --- |
| Size of Bin | Estimated Annual Fees |
| Small | $270 |
| Medium | $328 |
| Large | $445 |
| Extra Large | $516 |
| Bag-only | $173 |
| Garbage Tags | $5.79 |
As you can see, there's a lot of variation there! These are only estimates too – different companies can obviously charge different rates.
In any case, this tells you to get quotes from every company you consider. Be sure to ask what's covered in each quote and what process is used, of course, as these can cause pricing variation that you'd be hard-pressed to explain without knowing that.
The Top Garbage Disposal Services in Toronto
Now that you know the potential costs, let's look into your best options. Here you can see each of their best features and find the one that suits your needs.
1. Garbage Buddy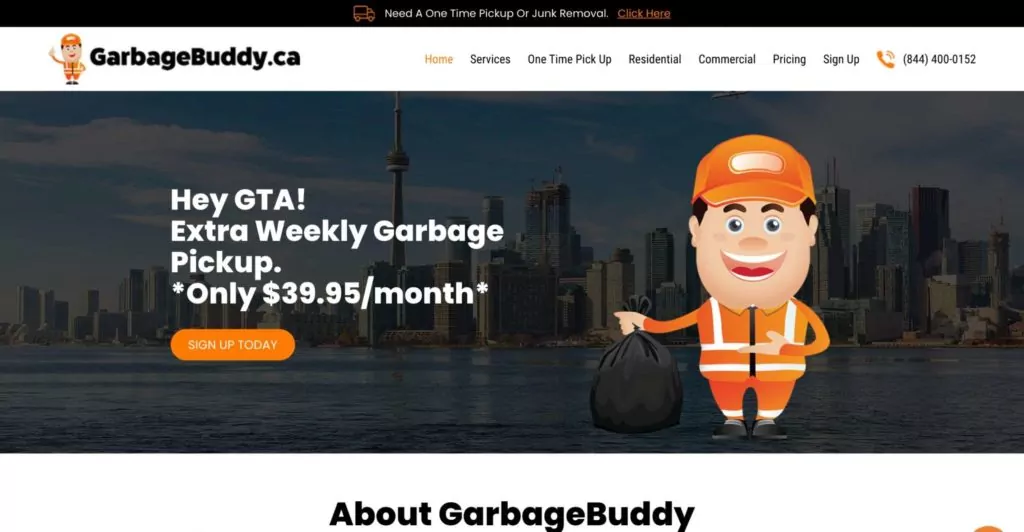 | | |
| --- | --- |
| SERVICES | Commercial, one-time pickup, junk removal, airbnb |
| WEBSITE | https://garbagebuddy.ca/ |
| ADDRESS | 1500 Avenue Rd Suite 1348, Toronto, ON M5M 0A0, Canada |
| CONTACT DETAILS | (844) 400-0152 |
| OPERATING HOURS | Monday – Sunday: 9:00 AM – 6:00 PM |
Garbage Buddy makes everything simple and more convenient with its subscription-based services. This means no mind-boggling contracts that often confuse the clients – think of Netflix but for garbage disposal, basically.
We like their services because you can get a weekly pick-up plan. On top of this, you can also get additional services such as commercial ones that start from $75.00.
It's also possible to hire them for one-time garbage pickups, let's say because you missed the truck on that day. They offer this service for a very fair $29.95.
During our research, we also found that they offer the highest environmentally friendly disposal method, all while providing a reasonable price. In addition, they guarantee satisfaction and have a 100% positive response from their customers.
Subscription-based, no-contract services
Weekly, monthly, and annual plans available
Offers one-time rush garbage pick-up services
Get discounted prices of up to 50% if you pay annually
Fair pricing
Available 7 days a week
Limited number of bags and bins on plans
Customer Reviews
Professional and high-quality services
Garbage buddy was so smooth. I'm a fairly business professional and moved into a new house where the previous owner had left a decent bit of junk. For less than a hundred dollars – garbage buddy picked up over 12 large garbage bags and bought a semblance of cleanliness to my driveway. Amazing services and thanks a lot guys! – Pranav Bhardwaj
Better value vs. competition
Fantastic experience. Every interaction (email, phone, and in-person) was courteous and professional. I used 1-800-GOT-JUNK a few months ago for the same volume of items, and GarbageBuddy was so much cheaper ($280 vs. $560 [!]). My apartment was also freshly painted, and I was worried they'd damage the walls, but in the end: not a scuff. HIGHLY recommended! – Tiffany C
2. EMCO Disposal Services Ltd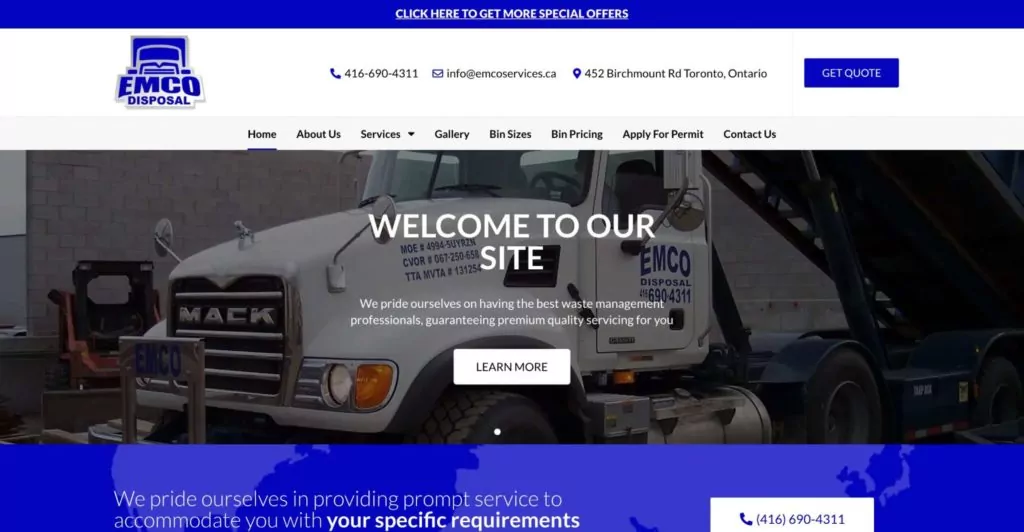 SERVICES
rubbish & waste removal, construction debris, concrete waste, dirt/clean fill, asphalt, demolition services, excavation services.
WEBSITE
https://emcodisposal.com/
ADDRESS
452 Birchmount Rd Toronto, Ontario
CONTACT DETAILS
416-690-4311


[email protected]

OPERATING HOURS
Monday – Friday: 6:00 AM – 6:00 PM
Saturday: 7:00 AM – 1:00 PM
EMCO Disposal provides professional waste management services and select garbage disposal solutions based on each job's requirements. They made it to our list for their speedy services, punctuality, and 24/7 availability.
Dumping fees are calculated based on the weight of the garbage, as well as the location where the garbage is picked up. This method ensures that you only pay for the amount of garbage you're hiring them to pick up, so we like it.
Another thing we like is that they offer a very wide range of services, from basic disposal to construction waste management.
Note that this company tends to have a lot of requirements for their bins and disposal, though. But we actually do like the detailed instructions that ensure you dispose of your waste properly.
By the way, their pricing is a bit high, with deposits starting from $500. Fortunately, their disposal bin rental pricing is at a flat rate of $375 so you don't have to pay any added costs.
Available 24/7
Great for residential, commercial, and industrial customers
Fees are calculated based on weight and location
Gives instructions to properly dispose of your waste
Flat-rate pricing for their bin rental services
Bin sizes from 14 to 40 yards
Costs are on the high side
Customer Reviews
Quick response and accommodating
Can't speak highly enough about the professionalism and attention to detail. Carlos responded quickly to all my emails, sent me load updates and was accommodating to my time sensitive schedule. Definitely will be recommending and re-using EMCO disposal again. – Matthew Dotto
Highly recommended
Emco Disposal has great service i ordered bin and it was delivered on time and driver made sure to protect my driveway. I would highly recommend this company to any contractors or home owners. If could give this company more than 5 stars i would. Great Service. – Steve Buck
3. Waste Management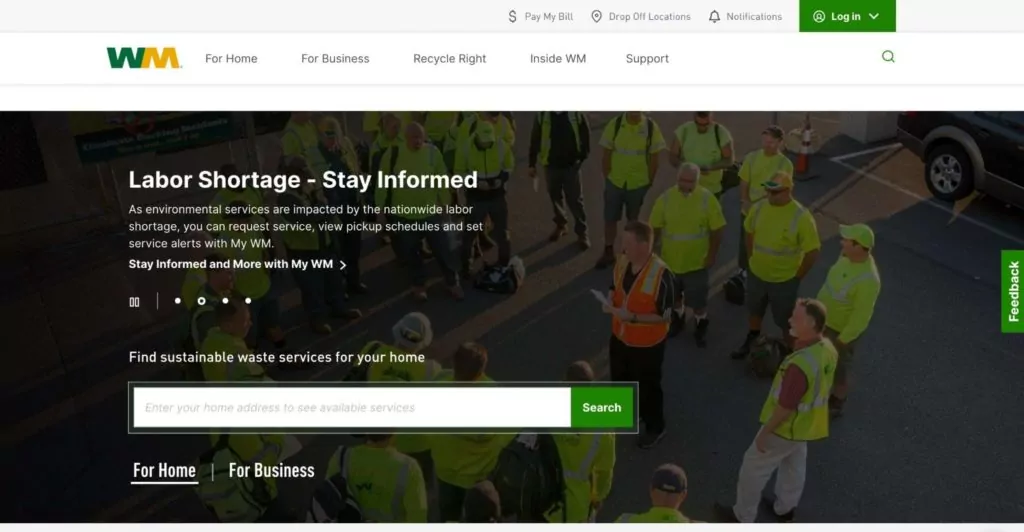 | | |
| --- | --- |
| SERVICES | Residential service, community service, business service |
| WEBSITE | https://www.wm.com/ca/en |
| ADDRESS | 20 Esandar Dr, Toronto, ON M4G 1Y2, Canada |
| CONTACT DETAILS | +1 416-423-5555 |
| OPERATING HOURS | Monday-Friday: 4:30 AM – 5:00 PM |
Waste Management is a flexible garbage disposal company, offering a wide range of containers as well as pick-up options. They're known for offering reliable and consistent service, as well as making sure that their drivers are well-trained for safety.
Their services cover a large area around Toronto. It's worth noting that they are also one of Ontario's largest garbage recycling service partners, so they have the capacity to serve clients wherever they are in Ontario.
They also have a good policy of informing their clients when they are not available due to the holiday seasons, and can reschedule the pick-ups even if you don't give them a notice. That's certainly better than some others who just don't show up!
Another thing that makes this company great is the fact that they do not require annual contracts, making it easy for clients to be flexible with their choices. In addition, they have a one-on-one service which means personalized assistance from friendly associates.
Flexible waste management/disposal service
Well-trained drivers
Largest garbage and recycling service in Ontario
Get notice of unavailability and rescheduling
No annual contracts
Paperless billing
Pay online with automatic payments
Can take extra pickups
Residential gallon containers from 32 to 96 gallons
Rates are only available upon request
Closed on weekends
Customer Reviews
Arrange special rates for you
Scale operated is super nice, very little wait Saturday mornings are even better. They will arrange special rates for you. Downside is floor operater can have his issues, befriend him and you're golden. Aka bring timmies. – Tommy Castaneda
Amazing employees
The Esandar WM facility is a cornerstone of our community and is filled with amazing and caring employees. Thank you for your support. – Krystyna Gillespie
4. AC Waste Services Inc.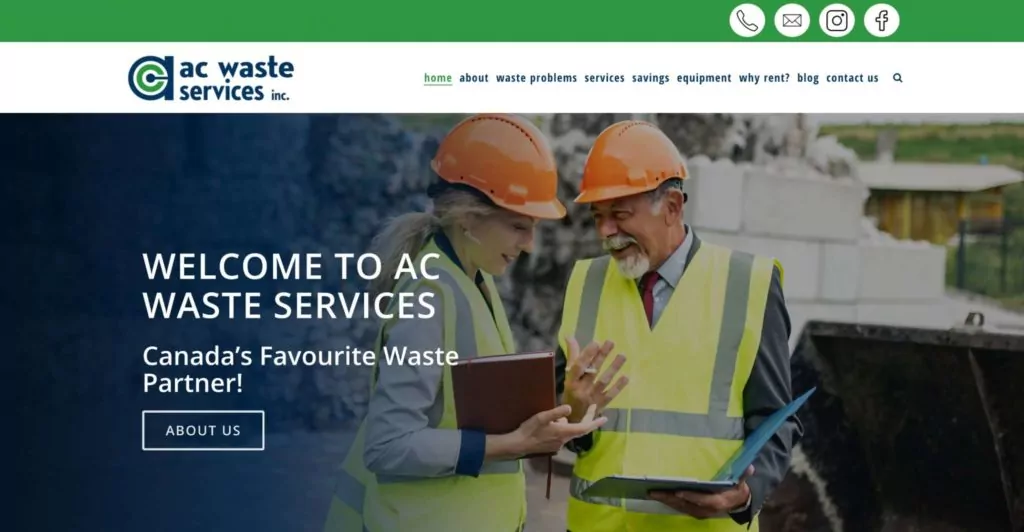 | | |
| --- | --- |
| SERVICES | Haulage management, waste diversion, equipment repairs, rental equipment |
| WEBSITE | https://acwasteservices.com/ |
| ADDRESS | 81 Navy Wharf Ct, Toronto, ON M5V 3S2, Canada |
| CONTACT DETAILS | +1 905-806-0409 |
| OPERATING HOURS | Monday – Friday: 9:00 AM – 5:00 PM |
AC Waste services INC is a family-owned business that has been serving the public for 6 years. Their team has a collective 10 years of industry experience, so we reckon that they already know how to provide satisfactory service.
In addition to the 10+ years of experience, the family that operates the business has been in waste management service for 30 years. They have acquired a stable relationship with people, guaranteeing that they're well-versed in most waste disposal needs.
Their team is also composed of a large array of experts in equipment including balers, compactors, and in-ground units.
On top of that, they finance the entire process into one package to give clients the best value for a chosen service. So basically, if you get them for certain services (haulage management, compactor rental etc.), they'll simply put it into one (cheaper) package so you won't have to pay per individual service.
Our favorite service is that they actually help you design a waste management system. This approach helps you deal with the costs of your problems regarding, costs, aesthetics, and more.
Free consultation
The team has expertise in balers, compactors, and in-ground units
Helps design a waste management system for you
Process is financed into an affordable package
Fixed rental rates
Options to rent, lease or own
Customer Reviews
Exceptional and professional service
We rely on AC waste services to manage the haulage and waste containers serving our 3 Ottawa area strip malls. They are exceptionally responsive and have proven to be a strong professional ally. Would recommend to those in the market for a new waste contractor. – Robert
Easy process that saves money
From start to finish, these guys made the whole process easy and saved us money!! It is without any hesitance that I would highly recommend AC Waste Services to any one looking for waste management systems, at any stage. – Rob Clark
5. GFL Environmental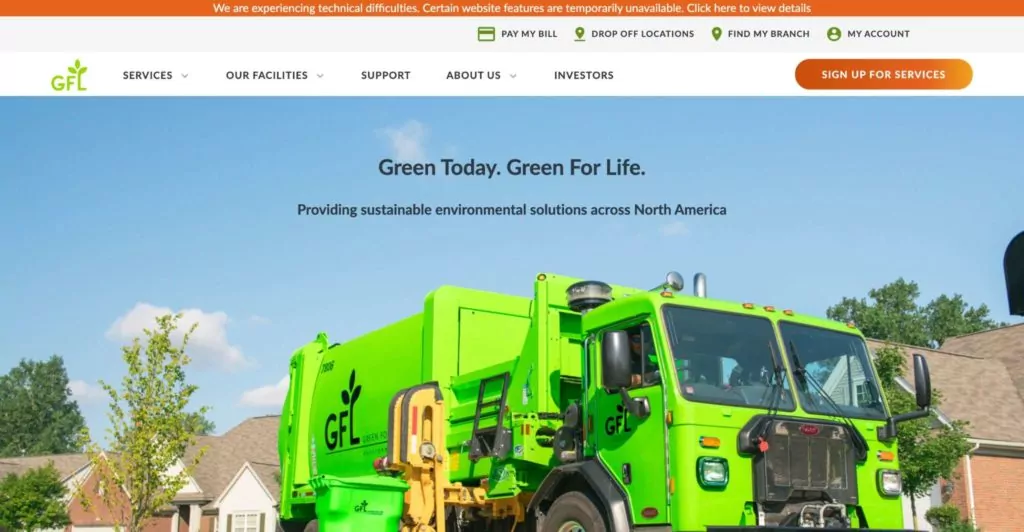 SERVICES
Residential solid waste, liquid and special waste, commercial solid waste, infrastructure, commercial liquid, and special waste, municipal solid waste, homeowners associations, national accounts, brokers
WEBSITE
https://gflenv.com/
ADDRESS
111 Ingram Dr, North York, ON M6M 2L7, Canada
OPERATING HOURS
Monday – Friday: 6:00 AM – 9 PM
Saturday: 6:00 AM – 1:00 PM
GFL Environmental is a diversified environmental service in North America offering services in solid waste management, liquid waste management, and infrastructure development. They have strategically placed their operations all over Canada as well as the US.
What we like best about the company is that they're very committed to safety and customer service, providing a consolidated and sophisticated approach to clients. They can provide robust integrated solutions in one efficient company.
They prioritize the health and safety of both their clients and workers, making sure that they implement their long-standing culture of "safe for life". In addition, sustainability has been integral to their success, and they are committed to investing in sustainable solutions.
In fact, they operate 14 soil remediation facilities that recycle soil in construction, reducing the need for raw materials. 14% of their waste collection fleet also uses compressed natural gas (CNG) which reduces greenhouse gas emissions.
We also love that they encourage being environmentally friendly, all while providing safe, accessible, and cost-effective services.
So, if you're looking for environmentally friendly yet cost-effective garbage disposal services, then GFL Environmental might be for you.
Environmentally-friendly solutions
Cost-effective services
Extensive range of customizable solutions
Provides HAZMAT emergency response for hazardous wastes
Offers residential septic tank services
Rates are only available upon request
Customer Reviews
Reliable and cost effective
I have been using Optimum Waste and Recycling 's roll off containers for my construction business and have found their service very reliable and cost effective. The staff is always friendly and helpful during any emergencies or last minute deliveries. I have also used their Recycling garbage dump and its a very easy and fast dumping experience as compared to the city dump. They are usually open for long hours from 6 am to 9:30 pm. I even tried dumping during Canada Day and to my surprise they were still open… Highly Recommended !!!! – Tapan Patel
Saves time
My first time here. Cheaper but you have to wait a little either going in or waiting to pay. I'm guessing it all depends on what time you're there. Easy to offload and you don't have to separate. That saves time. Overall good! – Konstantin
Factors to Consider Before Choosing a Garbage Disposal Service
Most people might think that choosing a garbage disposal service is very easy, but there are still a lot of factors that you need to consider before actually getting one.
Experience
The regulations about waste removal vary from place to place – one's regulation might not work for another. So, you need to find a garbage disposal service that knows about the regulations in your area.
In addition, an experienced garbage disposal service is professional every step of the way. This ensures that they will take care of your garbage the right way, without putting anyone at health risk.
Capacity
The service you choose should be able to take care of the volume of garbage your area will have. They should also have a clear schedule for the pickup in order to ensure that your trash won't pile up to the point of overflowing before it gets picked up.
The best garbage company to choose from should be able to provide a lot of garbage trucks for pick-up and can do multiple pick-ups on time. If the garbage disposal company can't even do that, then you might as well look for another.
Licensure
The disposal company you want to hire should be licensed by the local department of environment. Certificates prove that the company is legitimate and licensed to pick up your trash.
You might find a garbage disposal service that is cheap but isn't licensed to perform the said job. That wouldn't be ideal and may well lead to you just wasting your money.
Cost-Effective
This is where the idea that "cheaper isn't always better" comes to light. Good garbage disposal companies provide a reasonable cost for the specific job and explain to you why their rates are like that.
You may find them asking you what kind of service you really need and let you know what specific things they can offer to do. Just be honest with your needs and they will tell you whatever you might have missed and what you need to pay.
FAQs About Garbage Disposal Services in Toronto
---
Need more help in managing your wastes back home or in your business? Check out our review of the best junk removal companies to help throw all your problems away.