Coming to Toronto? Here's the best time to visit the city
Toronto is a one-of-a-kind city that has so much to offer depending on the time of year you come. The city experiences 4 seasons, namely, summer, spring, autumn, and winter.
If you're planning to come to Toronto for a vacation but don't know what time of the year to visit, here's a fun guide that will help you decide when the best time to visit the city is.
Coming to Toronto? Here's the best time to visit the city
When is the best time to visit Toronto?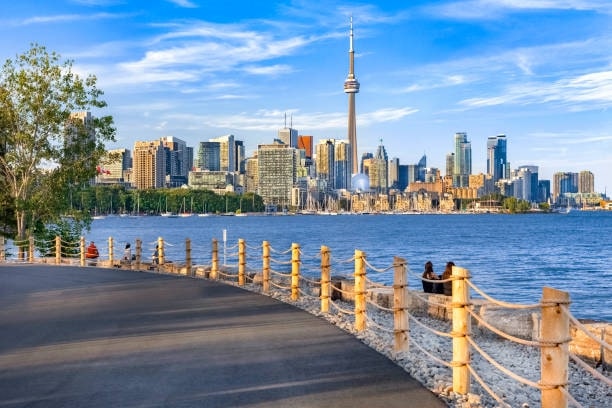 The best time to visit Toronto is really subjective and depends on a person's interests, preferences, and budget. Weather and seasonal activities also play a big factor in deciding when the best time to visit the city is.
Beach lovers will find summer an ideal time to visit, while nature lovers should come in spring to see the city's blooms. Autumn is a low-tourist month perfect for relaxing vacations, while winter is festive and teeming with family fun.
Although everyone has different preferences, we think the best time to visit Toronto is from spring to fall for mild weather and low tourist counts. Regardless, the city is teeming with fun activities and events year-round.
Visiting Toronto by Season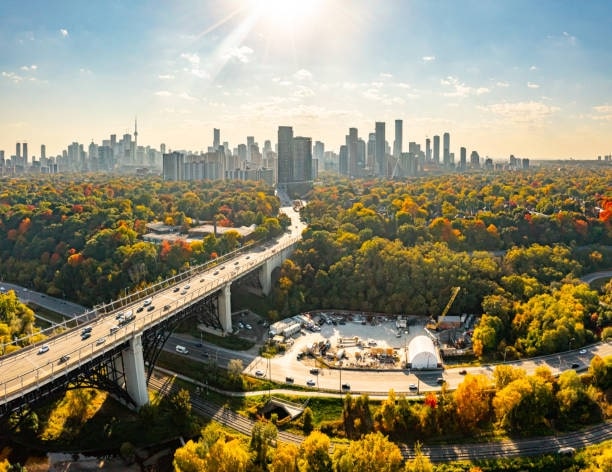 As I said earlier, Toronto experiences 4 seasons. Each season is unique, having its own set of pros and cons.
With that, let's take a deeper dive into what you need to know about each season:
Spring (April – May)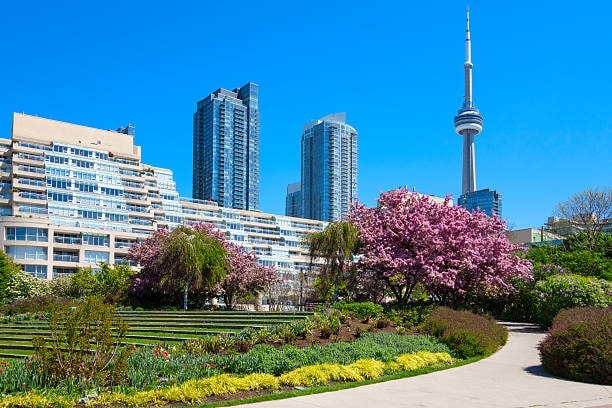 Temperatures:
Spring is one of the best times to visit Toronto for its affordability and diverse range of activities. The season is known for bringing out the natural beauty of the city, as parks and greenspaces blossom with vibrant flowers and plants.
Weather during spring is unpredictable, with the temperatures usually ranging from cool to moderate.
The months of April and May are some of the better parts of the season because warm weather is more consistent in these periods.
Since the weather in spring is unpredictable, the city has a great offering of indoor and outdoor activities to choose from!
One spectacle you don't want to miss is watching the cherry blossoms bloom in High Park since these trees only bloom in spring.
Events:
The Toronto Flower Market (May 13 and June 10) – An outdoor market exhibiting colourful flowers and plants
TO Food and Drink Fest (March 31 – April 2) – A food festival that aims to celebrate diverse and delicious food in the city
Hot Docs Festival (April 27 – May 7) – Largest screening of documentaries in North America
Doors Open Toronto (May 27 – May 28) – Annual event that allows free entry into significant cultural attractions in Toronto
Taste of Little Italy (June 16 – 18) – Festival that celebrates Italian cuisine and culture
Summer (June – August)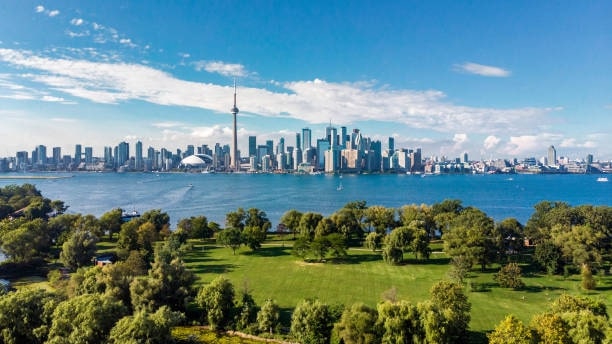 Temperatures:
One of the liveliest seasons in Toronto is summer. You'll find locals and tourists flooding beaches and patios all summer long.
The season's warm weather makes it perfect for travellers who love outdoor activities and walks through the vibrant city.
During the sunny season in Toronto, the city is extremely lively and bustling with a diverse range of fun activities to do (What can you do in the summer GTA?).
It's also the busiest time of the year. With the city seeing the most tourists during summer, naturally everything is also more expensive then.
The weather can be quite hot during the day, but at night the wind can get rather cool. The city usually experiences highs of 25 degrees Celsius and lows of 18 degrees Celsius, which makes it a great time to visit the beach or water park.
Events:
Pedestrian Sundays at Kensington Market (August 27, September 24, October 29) – Street festival at Kensington Market
The Toronto Waterfront Festival (September 16 – 17) – A cultural festival and water show
Waterfront Night Market (August 11 – 13) – Multi-day celebration of local culture and community
Toronto Jazz Festival (June 22 – July 2) – A music concert for jazz lovers
Canadian National Exhibition (August 18 – September 4) – Summer carnival
Fall (September – November)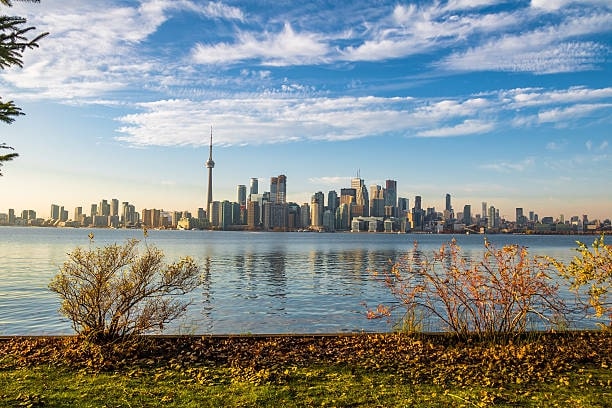 Temperatures:
If you're looking to explore Toronto with pleasant weather, fewer tourists, and warm autumn colours, then fall is a great time to visit. It's one of the most beautiful seasons to visit TO, especially when the city foliage turns into vibrant orange and red.
The season's lovely colours and cool weather make it perfect for nature lovers and hikers to explore the city's green spaces.
Landmarks like the CN Tower get fewer visitors, but popular hiking trails and leafy destinations can still gather sizable crowds.
Warm days aren't common in fall. The weather is often cool with temperatures generally ranging from 2 to 7 degrees Celsius.
Likewise, the cooler temperatures usually mean there are fewer tourists even though fall is teeming with things to do (Toronto ideas autumn).
Events:
Toronto Festival of Authors (September 22 – October 2) – An event where book lovers can meet and talk to renowned authors
Geary Art Crawl (September 22 – 25) – Music and arts festival at Geary Avenue
Oktoberfest (September 30 – October 1) – A 2-day festival to celebrate Oktoberfest Holiday.
Nuit Blanche (October 1 – October 2) – An event that exhibits public art across the city
Venus Fest (October 14 – October 16) – A music festival to help new and underappreciated artists
Winter (December – March)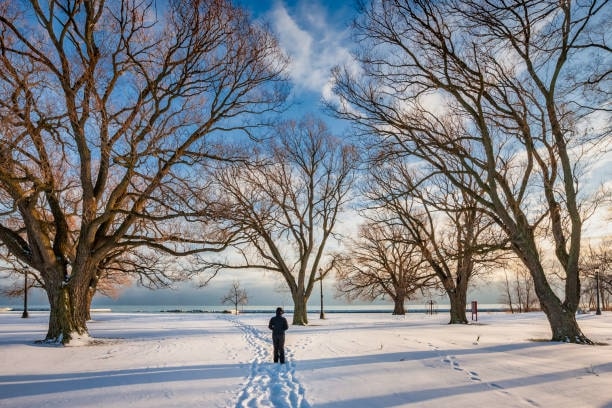 Temperatures:
Winter may be the coldest season in Toronto, but it also transforms the city into a beautiful snow-filled wonderland. The city has several outdoor snow activities, like snowboarding and ice skating, and a bunch of festivities.
It's also the season that is perfect for budget travellers since everything will be cheap then, and you'll see sales and discounts often.
Seasonal markets like the Toronto Winter Village are great places to snag cheap holiday goods and delicious food as well.
Toronto winters are no joke, with temperatures ranging from 2 degrees Celsius to -6 degrees Celsius.
The weather is quite intimidating for most, so don't expect to see many tourists during this season, which is great if you can brave the cold and explore the city.
Events:
Bloor-Yorkville Icefest (February 18 – 19) – An annual festival featuring intricate ice sculptures
Winterfolk (February 24 – 26) – Music festival featuring all types of genres
Celebrate Toronto (March 6) – A festival to celebrate the city and the city's community and culture
DesignTO (January 20 – 29) – An art exhibit aimed at increasing the public's knowledge about artworks and art movements
Winter Stations (February 20 – March 31) – An event that exhibits reimaginings of lifeguard stations by international artists
Least Tourist-Heavy Time to Visit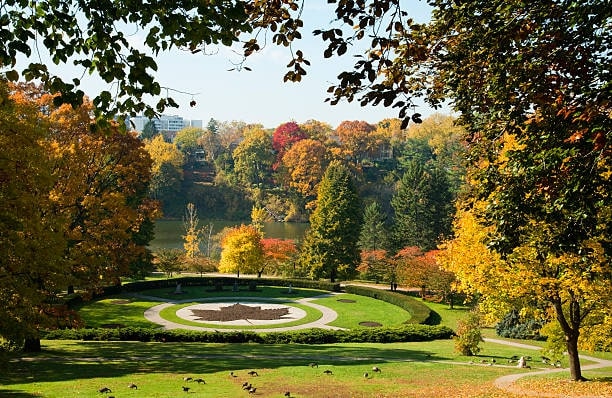 If you're looking to explore the city without huge crowds, the best time to visit Toronto is during winter or fall. These seasons typically see the fewest tourists and are more laid-back compared to spring and summer.
The months of October to March are the least busy, as the city starts to get colder and winter starts to slowly creep in. Likewise, it's also when public spaces free up and prices in the city begin to slump due to fewer tourists.
Despite the fewer tourists, both winter and fall are incredibly vibrant and festive seasons that are filled with fun activities! You can go ice skating during the winter at Nathan Phillips Square or have a fun family day at a pumpkin patch during autumn.
Best Time for Shopping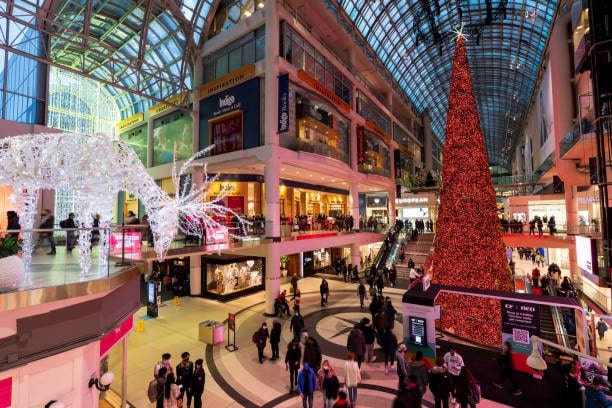 The best time to go shopping in Toronto is during winter since prices are lowest during this season. As winter sets in November, you'll see fewer outdoor activities and tourists, which lowers prices in the city throughout the season.
You'll find lots of stores trying to clear their inventory before the year comes to a close through flash sales and Christmas sales. Winter is also the best time to book the luxury hotels within the heart of the city for cheap—making it perfect for budget travellers.
Although winter may be an off-season, there are still lots of fun activities and events to participate in during this time. In fact, you can enjoy some for free (Free things to do in Toronto winter), which is great for anyone looking to make the most of their money!
Worst Times to Visit Toronto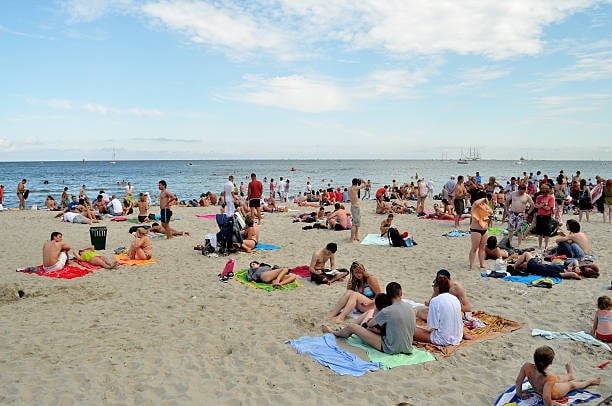 Although there is really no bad time to visit Toronto, we think summer and winter are the worst times to visit the city.
That's not to say that these seasons are horrible, but they do have significant trade-offs that can really change the way you experience the city.
Despite being the cheapest season and having fewer tourists, winter has the worst weather with its freezing temperatures affecting roads and public transport, making exploring the city difficult.
On the other hand, summer is a bad time to visit the city if you hate huge crowds and inflated prices.
Summer is peak tourist season, which means everything, including flights, food, and events, is extremely expensive.
FAQs about Visiting Toronto