20 Fun Things To Do During Summer in the GTA
Summer in the Greater Toronto Area (GTA) is one of the best seasons in the city, not only because of its warm weather but also because of the numerous activities you can enjoy.
We know, thinking of an itinerary of things to do during summer in Toronto can be infuriating because there's just so much to do. We've got you covered with this action-packed list of things to do during the summer!
20 Fun Things To Do During Summer in the GTA
1. Spend a day at Toronto Island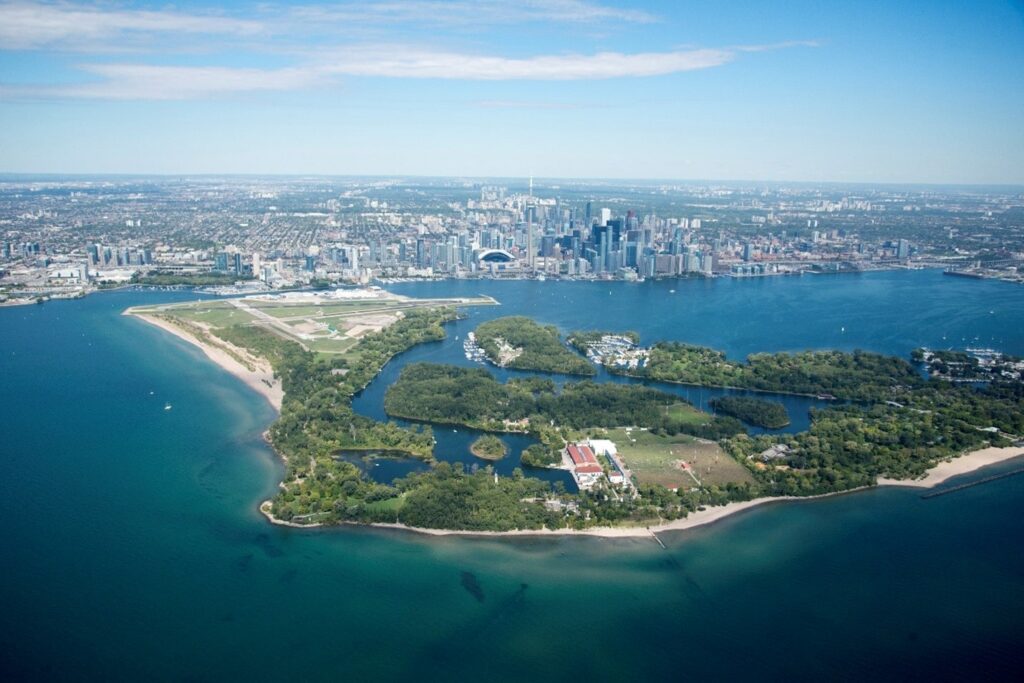 Address: St Lawrence-East Bayfront-The Islands, ON, Canada
Operating Hours: Monday – Sunday: 10:30AM – 5:00PM
Right across the Harbourfront are 15 different islands known collectively as Toronto Island! It's one of the city's loveliest green spaces with an abundance of lush trees, beautiful flowers, hiking trails, and vast fields that offer lots of fun summer activities.
The island is home to several historic sites that are quite the sight like the legendary Gibraltar lighthouse which stands beautifully in the summer. The island's scenery also makes it the perfect place for a fun picnic under the sun or a bike ride along the waters!
Pro tip:
One of the best things to do in Toronto Island is to watch the sunset at Centre Island. This island sits directly in front of the Harbourfront and provides some really scenic and picturesque views of the city.
2. Visit Rouge Park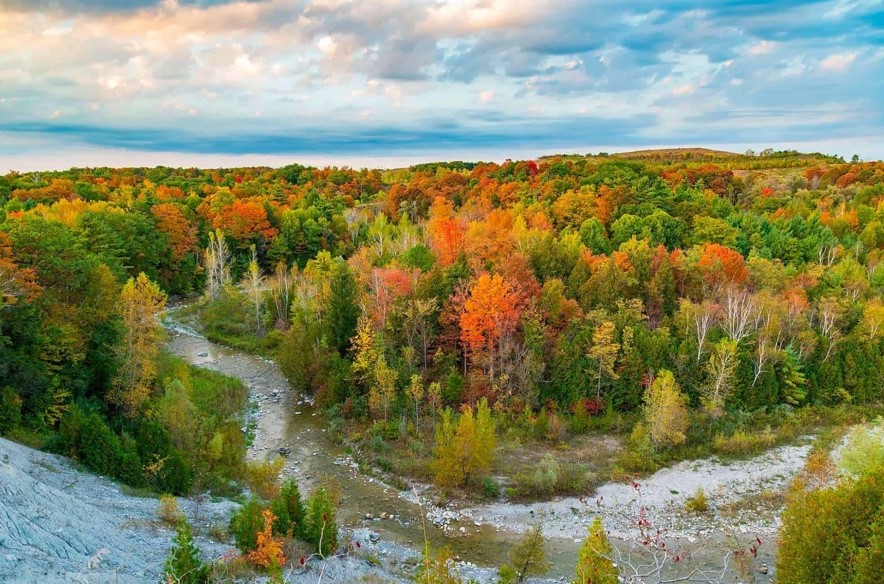 Address: 749 Meadowvale Rd, Toronto, ON M1B 5W8, Canada
If you're looking to explore the city's best nature spots in the summer, there really is no better place to go than Rogue Park! The park is filled with wildlife and has some breathtaking trails that are fun to walk on as you pass by lush trees and waterways.
The park boasts 13 unique trails that have different lengths and sceneries that will lead you to interesting places like camping grounds and indigenous sites. If you're really looking to take in the beauty of the summer, walk on the Rogue River Greenway trail!
Pro tip:
We recommend you bring a fishing rod. The park has numerous ponds and rivers that are teeming with trout and other fishes.
3. Go canoeing around Toronto Island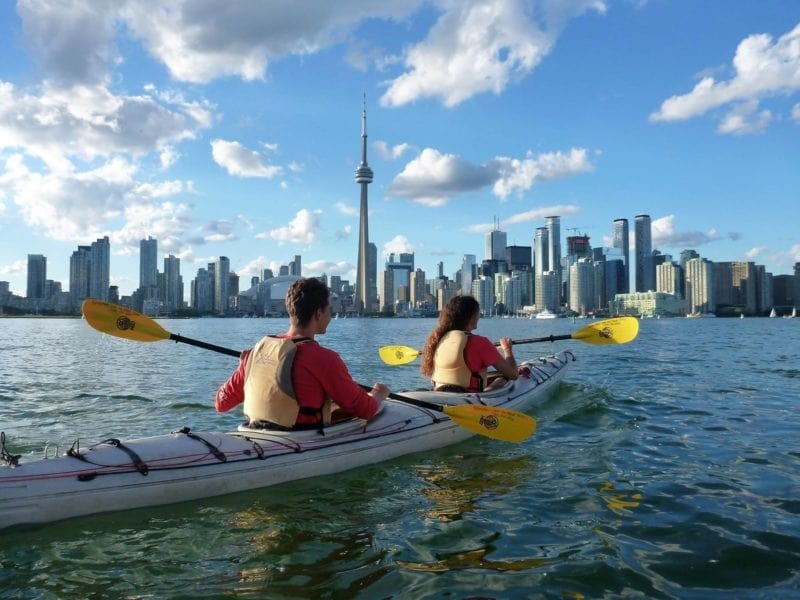 Address: Toronto Islands, St Lawrence-East Bayfront-The Islands, ON, Canada
When the summer sun's out, there's nothing we love doing more than going on a canoe trip around Toronto Island. Since the island is so huge, there's tons of places to go canoeing that offer picturesque views of the Harbourfront and the CN Tower!
Aside from that there are hundreds of canals that are fun to float on as you pass by scenic lines of towering trees that shade you from the sun's heat. There's also a variety of wildlife that are fun to observe as you circle around the island like birds and turtles.
Pro tip:
If you're not too keen on going canoeing, you can always rent out a kayak on Toronto Island! There are loads of rentals on the island at many different prices that offer kayaks.
4. Tour the city on boat through the 1-hour Toronto harbour tour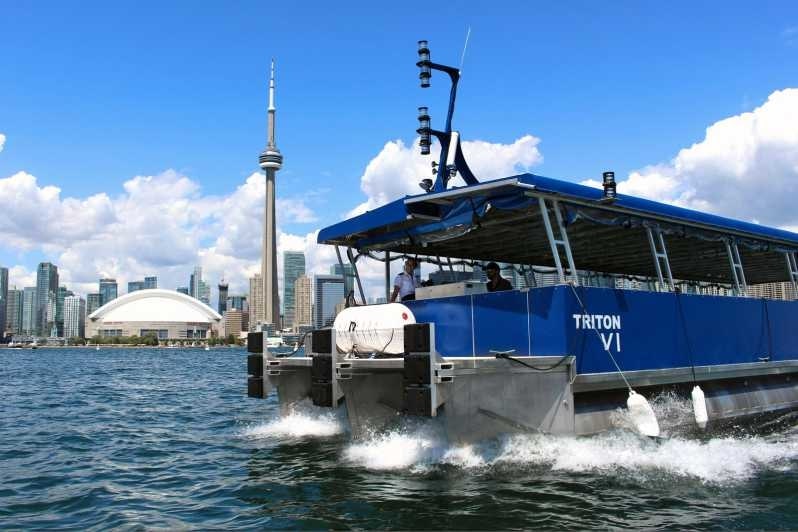 Address: 145 Queens Quay W, Toronto, ON M5J 2H4, Canada
One of the best things to do during the summer is to go sightseeing around the Harbourfront while taking in the cityscape. Toronto Harbour Tours 1 hour boat tour is perfect for this, as it takes you to the city's best landmarks while giving facts about T.O.
This fun journey will pass by legendary landmarks like the First Canadian Palance and the iconic CN Tower in all its glory. What we really love about this tour is how you can get some unique views of the city's best icons while feeling the lake's breeze!
Pro tip:
We recommend taking the tour in the late afternoon. Not only will there be less people, but it also provides you with some scenic shots of the sunset rising over the cityscape!
5. Explore downtown while on a bike tour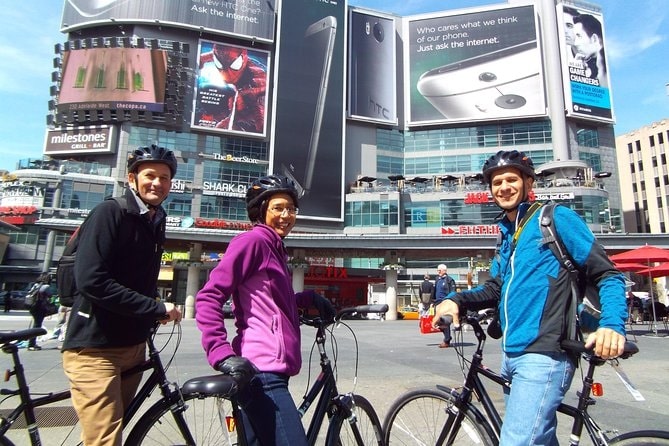 Address: 132 St Patrick St, Toronto, ON M5T 1V1, Canada
Price: Per person – $96.05
One of the best summer activities you can do to get your blood pumping is to go on an action filled bike tour in downtown Toronto! This 3.5 hour guided bike tour by Toronto Bike Tours takes you through the bustling streets downtown and past iconic landmarks.
Regardless if you're a pro or a beginner, the bike tour is quite fun as you travel at a fixed pace while listening to historical facts about Toronto's history. The trails on this tour are also quite scenic, especially the ones in the heart of downtown and by the waterfront.
Pro tip:
We recommend taking a picture with the City Hall as it's one of the underrated architectural marvels in the city.
6. Bring the kids to Centreville Amusement Park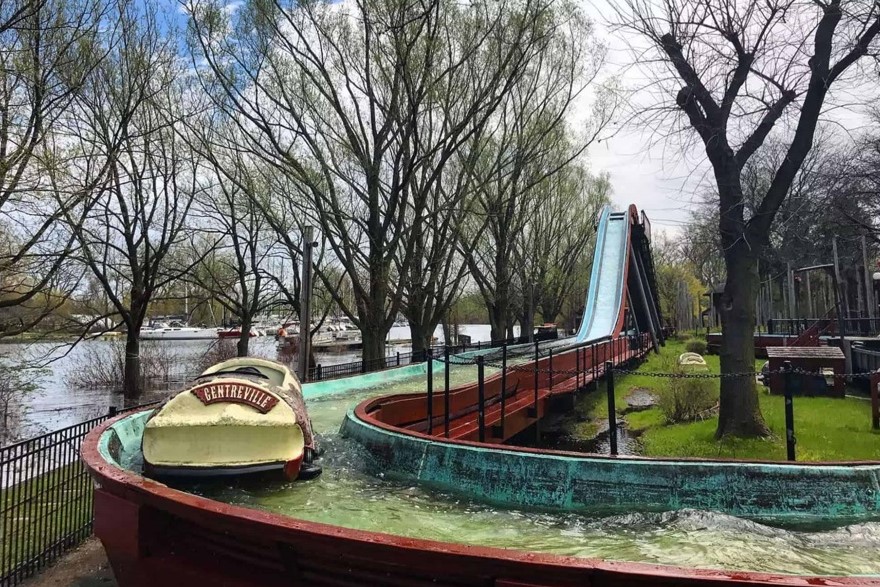 Address: 9 Queens Quay W, Toronto, ON M5J 2H3, Canada
Operating Hours:
Monday – Friday: 10:30PM – 7:00PM
Saturday – Sunday: 10:30AM – 8:00PM
Price: Per ride – $1.30
If you have kids with you and you're looking to spend the day at a fun amusement park, we recommend Centreville Amusement Park. This action-packed little park has been in operation for over 50 years and it's one of the go-tos for rides and carnival-like games.
You'll find that the park has 30 different rides which are mostly designed for children like carousels and log fumes which will really get you wet! There's also lots of carnival ball games and dart games where you can win cute prizes like teddy bears.
Pro tip:
Since the summer can get excruciatingly hot, we recommend going to the amusement park's splash pads! It's a fun way to cool down with kids.
7. Make the most of Pedestrian Sundays at Kensington Market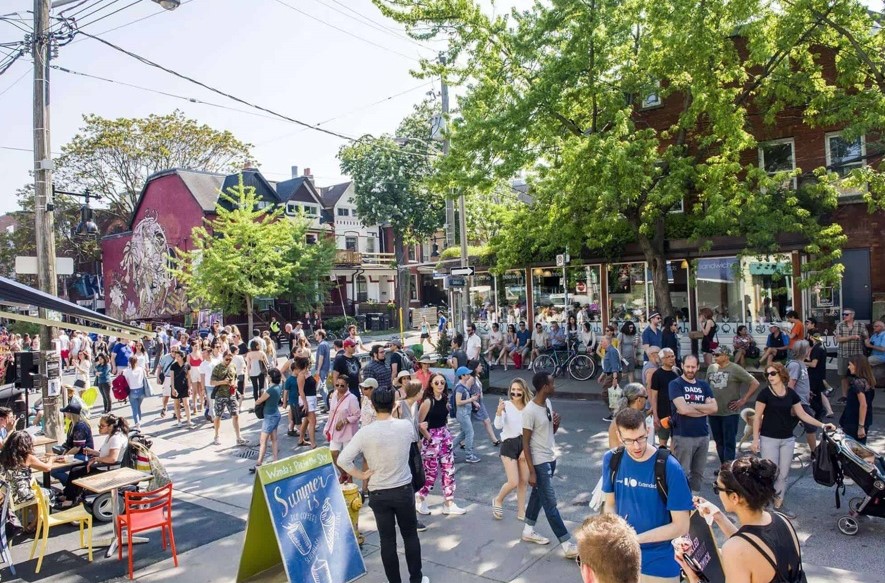 Address: Kensington Market, Old Toronto, Toronto, ON, Canada
Kensington Market is one of the city's top shopping areas, filled with vibrant stores! One of the best things about this place is Pedestrian Sundays where roads are closed to cars and people can freely walk all over the market during the summer.
Pedestrian Sundays are also one of the best times to snap some photos of the market's vibrant stores without visual clutter.
Pro tip:
Since most of the roads are closed down, it's the perfect time to take pictures with the multi-coloured houses that line the market. They make for a great backdrop and are also quite scenic to look at.
8. Bond with butterflies at Humber Bay Butterfly Habitat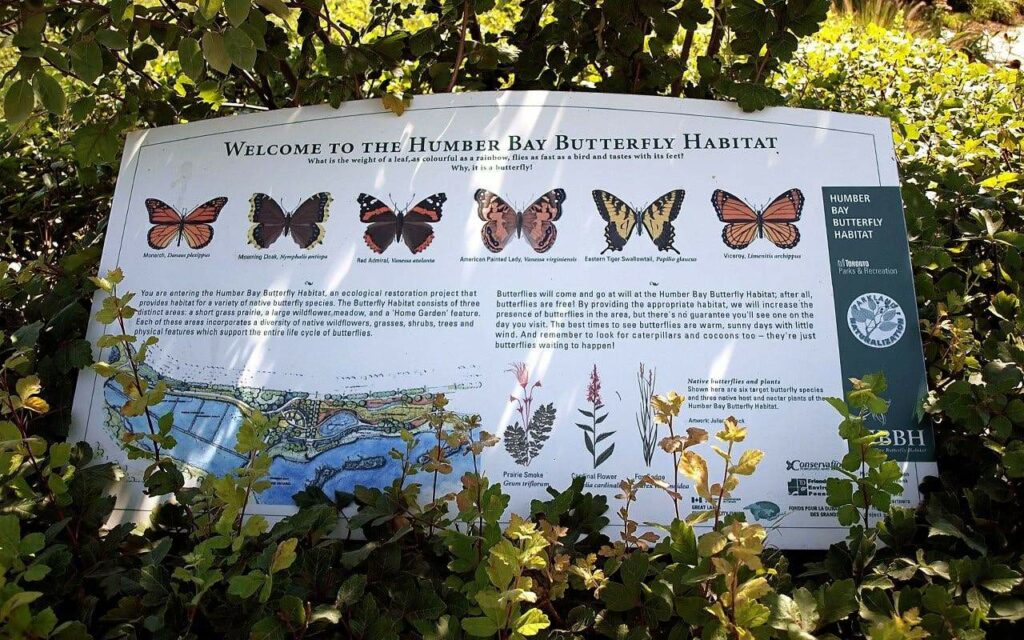 Address: 100 Humber Bay Park Rd W, Etobicoke, ON M8V 3X7, Canada
If you can't wait til spring to see butterflies flying about, stop by The Humber Bay Butterfly Habitat. This low-key garden in the heart of Toronto was specifically designed to attract wildlife through collections of lovely plants and flowers.
There are three main gardens here that each have different plants and flowers, like wildflower meadows and short grass prairie. The real show-stopper is the Home Garden, where you will find a plethora of butterflies flying around.
Pro tip:
Make sure to keep an eye out for the red admiral butterfly. It's one of the most beautiful butterflies in the garden with its white spots and amber-like coloured wings.
9. Grab some ice cream and chill out under the summer heat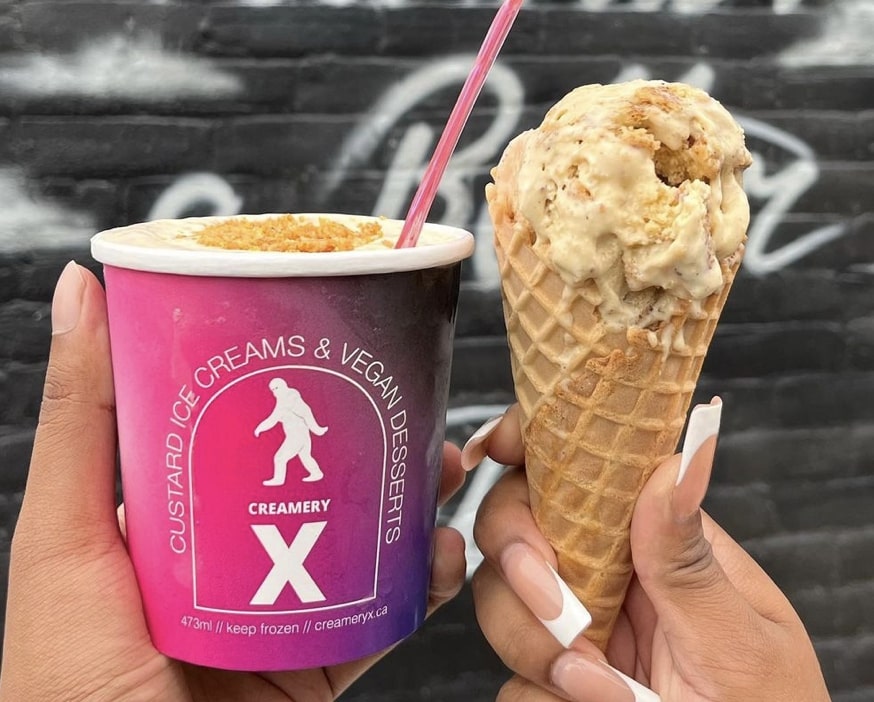 Summers in Toronto can get excruciatingly hot at times, which gives us the perfect excuse to drown ourselves in some ice cream! There are lots of ice cream spots around the city, which is great for anyone looking to beat the heat by licking on some sweets.
Pro tip:
One ice cream shop we really recommend trying is Good Gang Ice Cream! We suggest trying sweet and silky jam-swirled toast ice cream and some of their sweet Miso Chocolate cookies.
10. Feel the summer breeze on a patio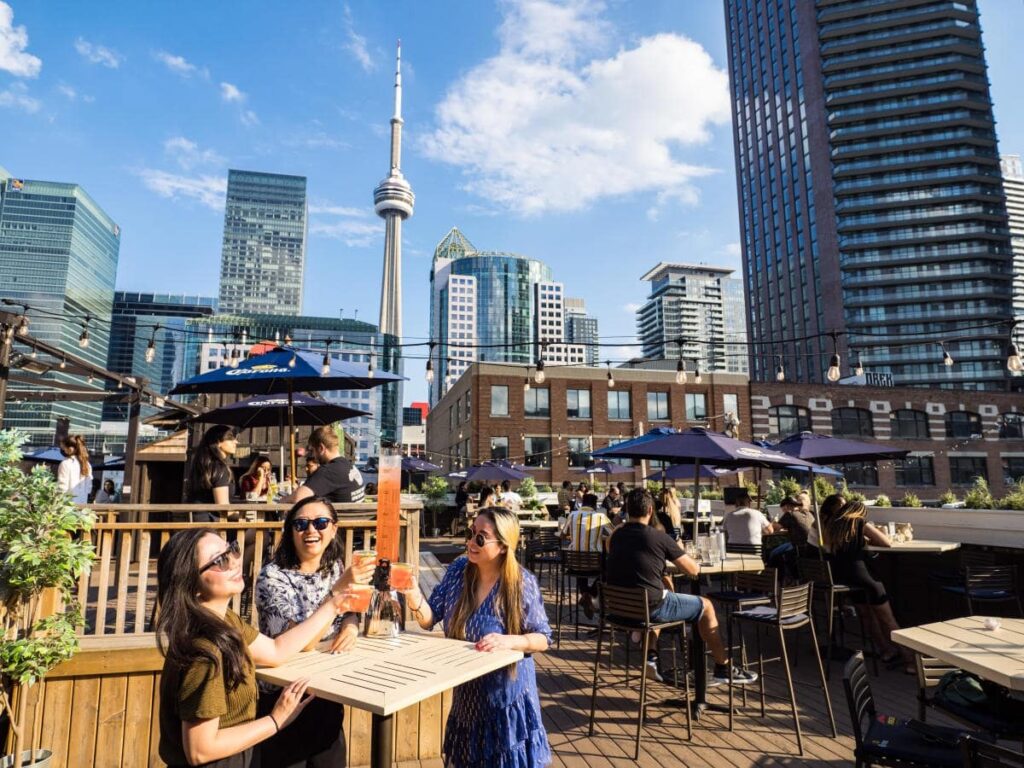 Summer is the perfect time to sit on a patio while enjoying the fresh air and al fresco dining experience. Thankfully, Toronto has lots of vibrant patios across the city, providing different sceneries of the urban jungle and scenic nature.
Pro tip:
If you're looking to dine with a view, head to Chotto Matte! This Japanese fusion restaurant serves great food – and its patio gives you an incredible view of the CN Tower.
11. Have a fun Beach day at Cherry Beach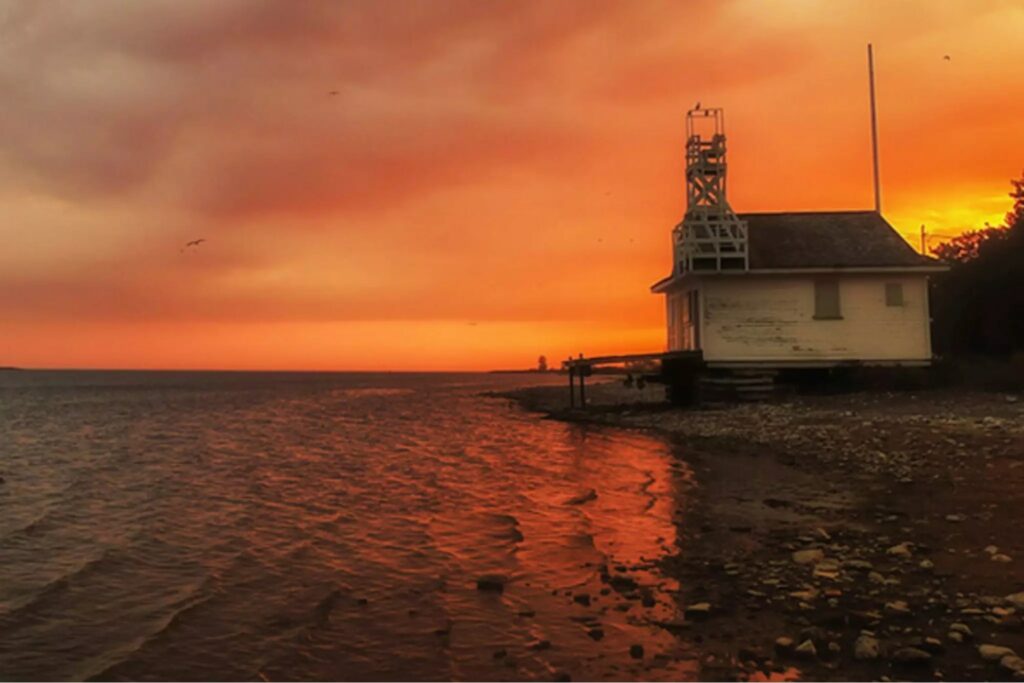 Address: 1 Cherry St, Toronto, ON M5A 0B7, Canada
Operating Hours: Monday – Sunday: 5:00AM – 11:00PM
If you're looking for the perfect place to beat the summer heat, then check out Cherry Beach. This quaint beach is known for its cold waters that are perfect for swimming and its beautiful relaxing atmosphere which will have you daydreaming by the shoreline!
As one of the city's best beaches, you'll usually find lots of activity here like barbecues and people going for walks — which adds a nice lively aura.
The beach is also a great place to build cool sand castles with your family or go for a relaxing walk by the shore.
Pro tip:
After you go swimming at Cherry Beach, we suggest walking by the pier and taking a seat. The pier is a great place to unwind while watching the picturesque sunset illuminate the lake's waves.
12. Spam your Instagram stories with flowers at Toronto Botanical Garden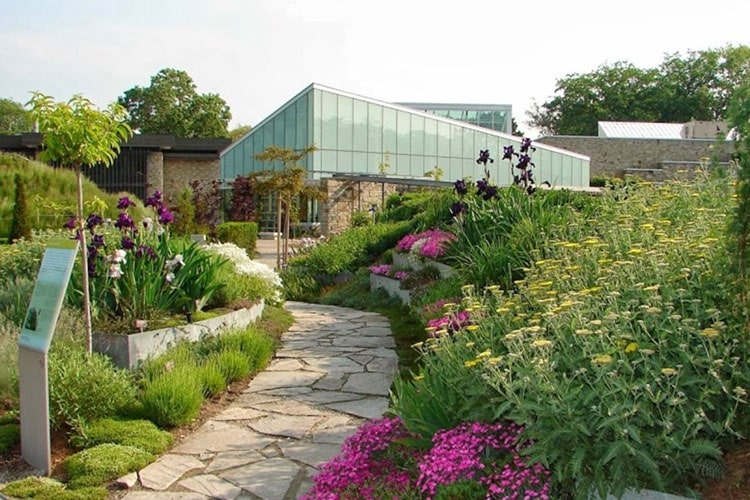 Address: 777 Lawrence Ave E, Toronto, ON M3C 1P2, Canada
Operating hours: Monday – Sunday: 9:00AM – 5:00PM
Another fun thing to do during the summer is to take Instagrammable shots of the pretty flowers and blooms in Toronto Botanical Garden. There are 17 distinct gardens here that are home to different types of plants and flowers waiting to be discovered.
The park has a peaceful atmosphere which makes it great for walking around as you explore the gardens unique and many flower displays! It's also the perfect place to immortalise rare flowers like the Hoary Vervain, with its hypnotic purple colour.
Pro tip:
Don't forget to snap a photo of a bluebeard. This flower only blooms in the summer and its lavender-like colours and long sharp petals are really intriguing.
13. Go for a picnic around the city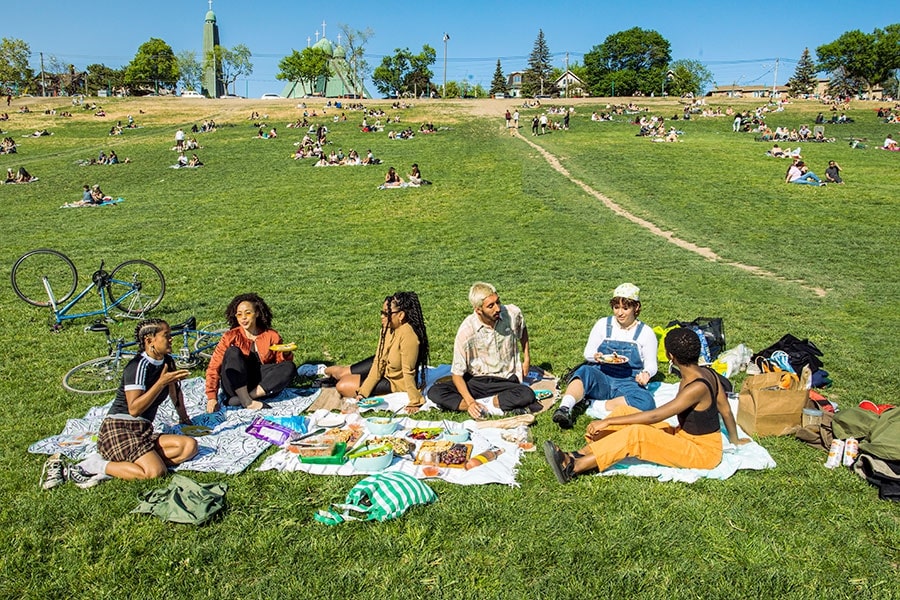 Summer is the best time for a picnic, especially in Toronto where you can find lots of green spaces around the city. Picnics are quite popular during the summer, so expect to see lots of live performances and entertainment happening around every park.
One of our favourite places to have a picnic is at Toronto Island, since it has huge open spaces and large trees that help shield you from the heat.
Pro tip:
If you're going for a picnic, we recommend renting out a fire pit too! Almost all parks in Toronto have a fire pit which you can use to cook some burgers or just warm up if you plan on having a picnic at night.
14. Try paddle boarding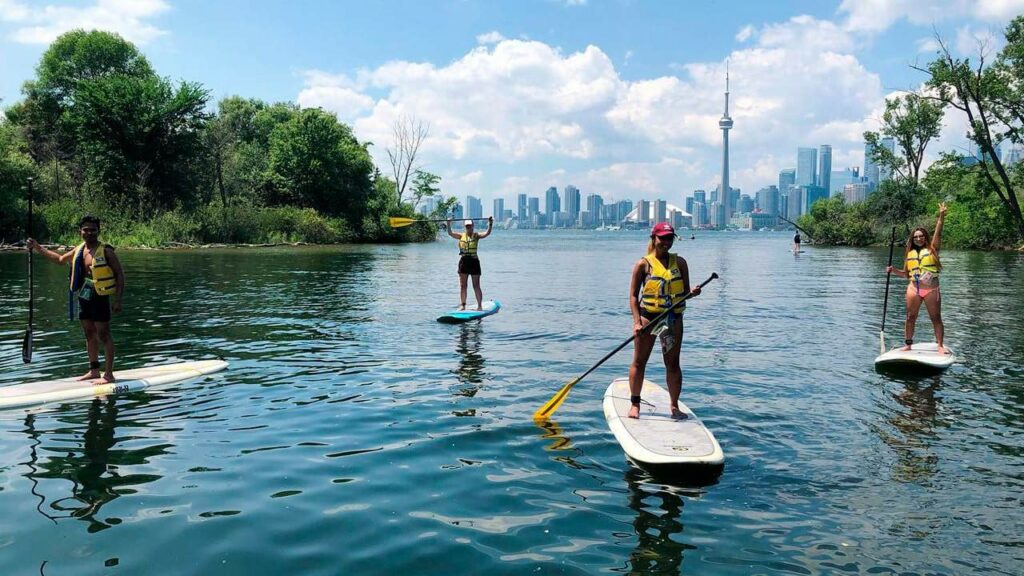 Another fun activity for the summer is paddle boarding around the city's waters, which is a great way to beat the heat. It's a unique experience that lets you admire the beauty of the city in different ways.
There are multiple places to go paddle boarding, but if you want some of the best views of the cityscape, go to Toronto Island. What's great about paddle boarding here is that you get to experience nature and beautiful wildlife in a serene atmosphere.
Pro tip:
We suggest bringing a waterproof camera with you so you won't risk your phone getting soaked. You can get some really good angles of the CN Tower and Harbourfront from by floating on the lake.
15. See Toronto from a helicopter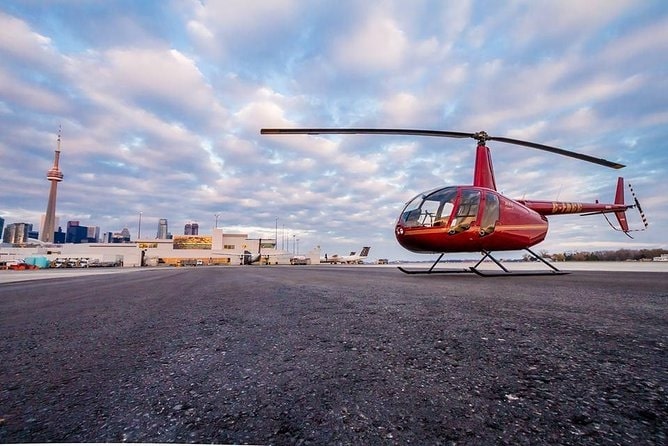 Address: Billy Bishop Toronto City Airport Hangar 1, 2 Eireann Quay, Toronto, ON M5V 1A1, Canada
Operating hours:
Monday – Tuesday: Closed
Wednesday – Sunday: 12:00PM – 6:00PM
If you want to catch the prettiest view of Toronto in the summer, then take a trip on this 14-minute helicopter tour by Toronto Heli Tours. This incredible tour will have you soaring above iconic landmarks like Rogers Centre, Casa Loma, and the CN Tower.
Besides the extensive distance covered by the tour, it's fun to hear insightful narrations about the city's history and culture from the expert tour guide! IMHO, this is one of the best ways to explore the city in style.
Pro tip:
If you ever dreamt about seeing the Rogers Centre with an open roof, well, this is the place to do it. You'll be able to hover over the stadium with its roof open and you might even see the Blue Jays in action!
16. Join the Distillery District Segway Tour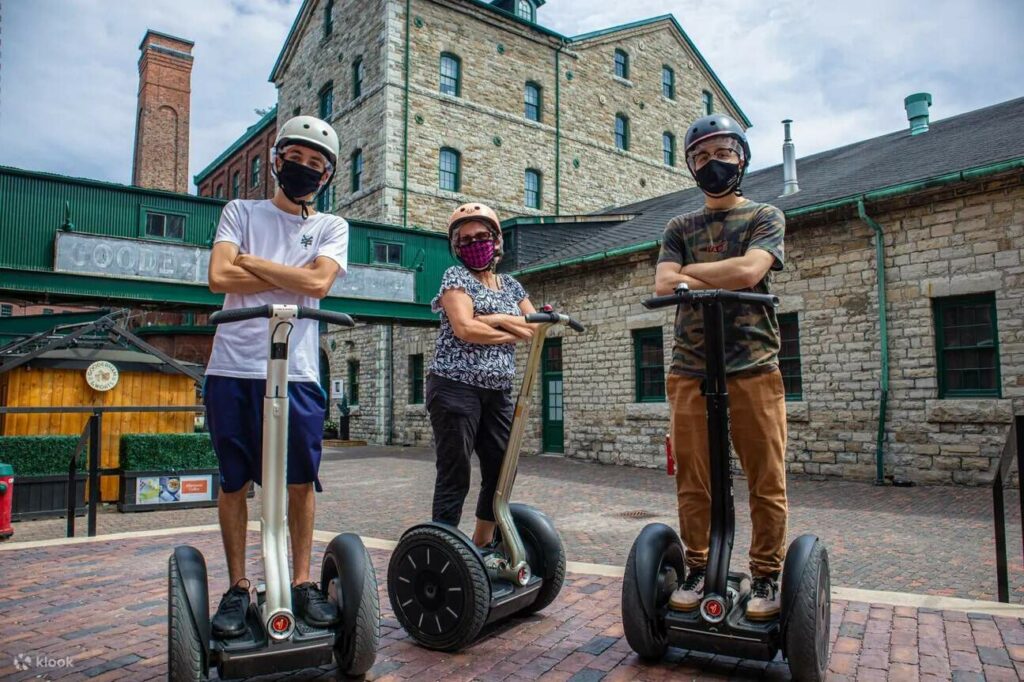 Address: 11 Gristmill Lane, Toronto, ON M5A 3C4, Canada
Price: Per head – $46.33
Operating hours:
Monday: closed
Tuesday – Saturday: 11:00AM – 6:00PM
Wednesday, Friday: 11:00AM – 5:00PM
Another fun activity to do during the summer is to join this fun segway tour in Toronto's Distillery District by Go Tours Canada. It's one of the best guided tours to try during the summer as you zoom through and learn about the district in a mere 30 minutes!
One of the best things about this tour is experiencing the picturesque scenery of the district's Victorian streets and architecture as you ride through them. There's also lots of old buildings, hip shops, public art exhibits, and sculptures to see around the district.
Pro tip:
Don't miss the IT sculpture MIchael Christian. This cool sculpture looks like a freakish spider alien that's actually quite large, it's one of the more interesting pieces in the district worth checking out.
17. Admire art at the Royal Ontario Museum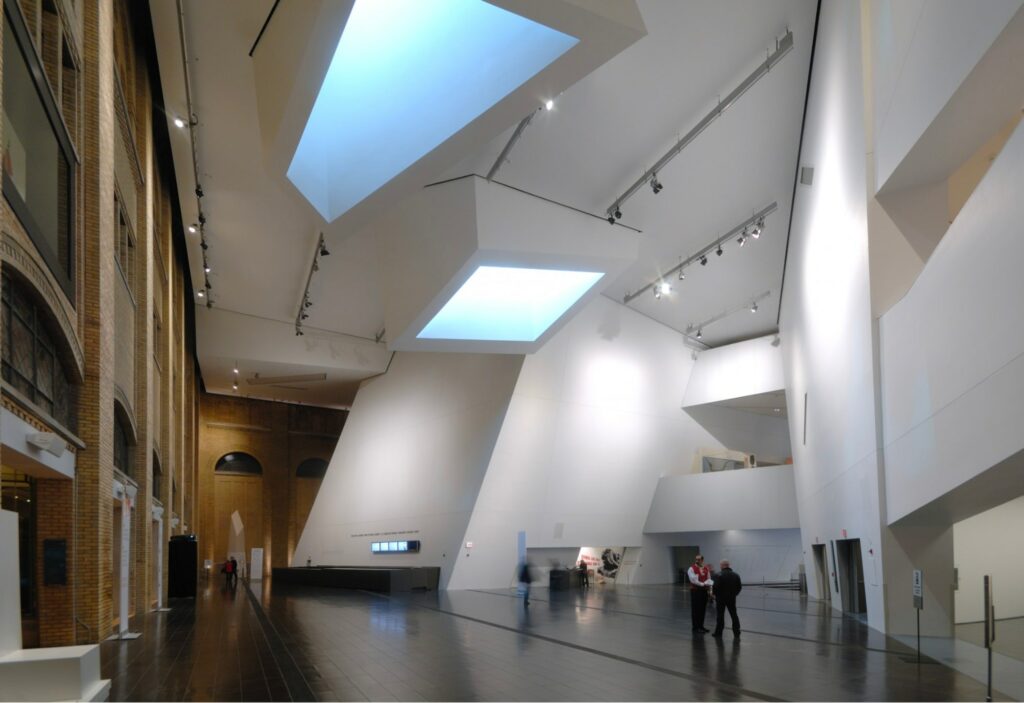 Address: 100 Queens Park, Toronto, ON M5S 2C6, Canada
Operating hours:
Monday: Closed
Tuesday – Sunday: 10:00AM – 5:30PM
When the weather gets too hot for us to stay outdoors, we like to chill out and look at art is the Royal Ontario Museum. This legendary museum is one of the largest in the nation and it's also home to some of the best exhibits in Toronto!
The museum houses over 13 million artefacts and 40 unique galleries. You'll find all types of things here, from dinosaur bones and meteorites from space to psychedelic paintings.
Pro tip:
One gallery we suggest visiting is the Teck Suite of Galleries: Earth's Treasures located on the second floor. This place has minerals the size of briefcases on display along with 3,000 other minerals, meteorites, and gemstones!
18. Go stargazing at Riverdale Park East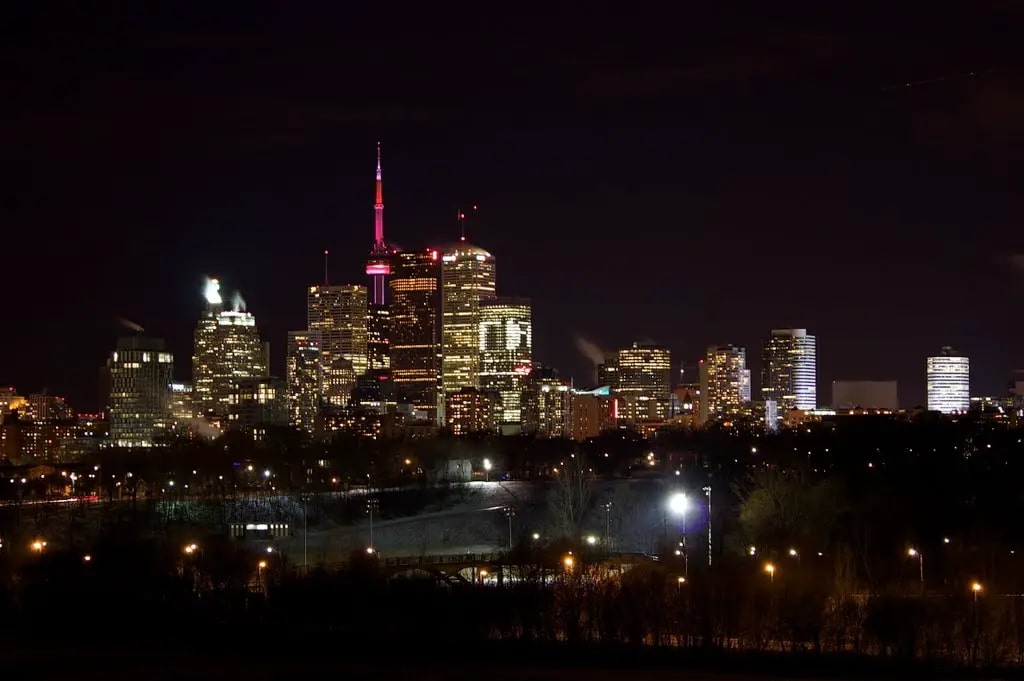 Address: 550 Broadview Ave, Toronto, ON M4K 2N6, Canada
If there's one spot in the heart of Toronto that's great for stargazing and unwinding, it's definitely Riverdale Park East. This park has an abundance of hills that provide fresh air and are comfortable to lay on while staring at the stars above the night sky.
What makes this park so great is the minimal light pollution it has because of its wide fields, which allows you to have a great view of the sky in all its glory. Aside from that, the park has a serene atmosphere which makes stargazing here even better.
Pro tip:
After you're done gazing at the bright stars, you might want to look at the city skyline as well. At night, the view from this park is one of the best with views of the CN Tower lighting up the sky in different colours.
19. Watch a movie at Christie Pits Park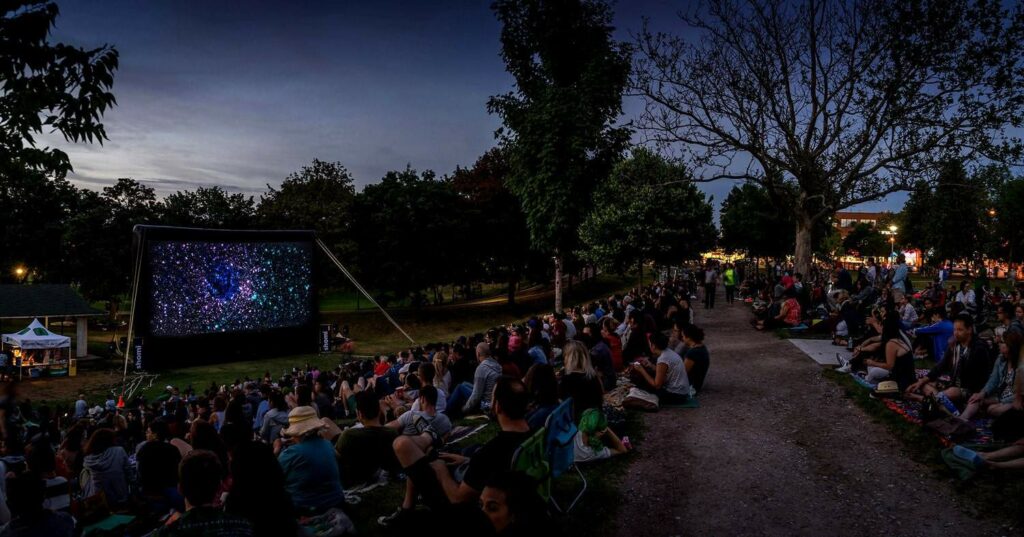 Address: 750 Bloor St W, Toronto, ON M6G 3K4, Canada
If you love watching free movies on a big screen at night, you should drop by the Christie Pits Film Festival, where you can kick your feet up and have a fun movie night every Sunday for free!
The festival has a good line up of action, romance, and comedy movies, which make it perfect for a romantic date night with your partner. The best thing is, you're free to pick any spot in the park to watch the movie – you can bring food too!
Pro tip:
After you're done watching a movie, unwind at the park's community garden, which is full of lovely flowers, plants, and shrubs.
20. Try the CN Tower Edgewalk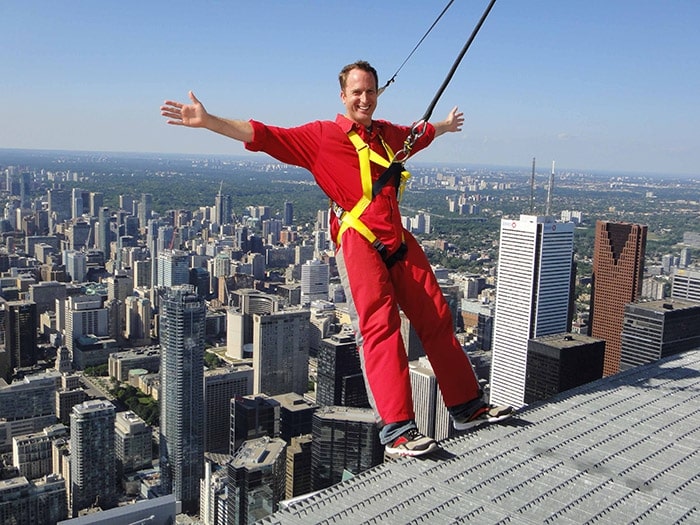 Address: 290 Bremner Blvd, Toronto, ON M5V 3L9, Canada
If you're feeling like a daredevil this summer, we suggest stopping by the CN Tower and trying the Edgewalk.
This activity was designed for adrenaline junkies in mind – because who else would enjoy a death-defying hands-free walk on the exterior of the tower's main pod?
Oh and we forgot to mention that you'll be walking thousands of feet above the ground with only a harness – so buckle up and enjoy the thrill!
Pro tip:
One of the best things most people don't know about is that the Edgewalk is wheelchai-friendly! You can request a special wheelchair for yourself or a family member and enjoy this heart-pounding walk together.